5 Best Kodi VPNs for Secure Streaming (Updated for 2020)
Last Updated by Kate Hawkins on February 01, 2020
To make the most of Kodi's potential as an open-source media player, it is essential to use it with a VPN. Kodi is an excellent, totally free media player with the ability to grant you access to a massive variety of movies, TV shows, music, and more. When choosing a VPN to use with the service, there are several things to consider:
Security: Kodi software has several safety concerns, some of which could leave your devices vulnerable to cyber-attacks. Will your chosen VPN protect you?
Speed: Will the VPN you choose provide you with fast download speeds, ensuring minimal buffering and no lag?
Ease of use: Is the VPN simple to install and compatible with Kodi?
Installing a VPN ensures that you will be able to access Kodi's region-locked content while keeping your location secure, and protecting your identity during use. The VPN will hide your IP address, making you anonymous online. If your ISP is unaware of your online activities, they cannot hand over your personal information to interested parties. This is why we only recommend VPNs with a strict no-log policy.
From a security standpoint, a VPN will encrypt all of your data, helping to prevent malware or hackers from getting your personal information if they sneak in through a third-party Kodi add-on. Some VPNs we've reviewed, like NordVPN , include a malware detection program as an added level of security.
Our top 5 VPNs for streaming anonymously on Kodi
In order to thoroughly examine each VPN, we looked at several key performance areas which we felt Kodi users would benefit from the most:
Speed: Will you experience lag or buffering while streaming via Kodi?
Security: Will you be able to stream anonymously and in a secure way?
No-log policy: Will you feel your personal information is safe?
Ease of use: Is installation and setup simple?
1. ExpressVPN — Fast speeds ideal for lag-free streaming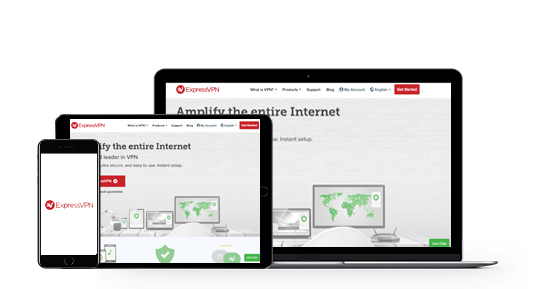 ExpressVPN is our top choice for streaming Kodi anonymously. With 3000+ servers in 160 server locations in 94 countries, we were able to connect to uncongested servers to maximize download speeds. Given the high number of servers, we were able to stream Kodi without experiencing lag or buffering, even when connected to servers overseas.
The large number of servers in various locations means accessing geo-restricted content with ExpressVPN is easy. We found that the peer-to-peer (P2P) streaming many Kodi third-party add-ons require was excellent. P2P streaming isn't restricted to particular servers, but rather users can connect to any server location and experience P2P support.
ExpressVPN is available with one-click downloads on a wide range of OS platforms and devices including Amazon Fire Stick, with support available for setting up the VPN to use with Kodi on the ExpressVPN site. For devices which aren't supported, ExpressVPN can be configured to your router, enabling encryption for all traffic and for Kodi.
In terms of security, we're impressed with what ExpressVPN has to offer. Top-notch encryption, fully hidden IP without leaks, and more, ExpressVPN provides anonymity when using Kodi to stream media. Their "TrustedServer" technology guarantees zero data collection for users, keeping any and all personal information secure. Based in the British Virgin Islands (which is not part of the 14 Eyes Alliance), ExpressVPN falls outside government jurisdictions like the NSA, keeping your data safe.
Speed: We were able to stream on Kodi with zero lags or buffering.
Security: No IP or DNS leaks and fully-encrypted.
No-log policy: TrustedServer technology eliminates logs for personal data safety.
Ease of use: One-click downloads for most platforms, reliable support and 24/7 live chat, simple to use with Kodi.
Money-back guarantee: 30 – days
2. NordVPN — Protects against malware for superior security
NordVPN has incredible security which not only keeps you streaming anonymously with Kodi but also protects your devices from malicious cyber-attacks. Their CyberSec technology focuses on stopping suspicious websites, annoying ads, and botnets, as well as protecting you against malware hidden inside third-party Kodi add-ons.
NordVPN is based in Panama, which also falls outside of the 14 Eyes Alliance, protecting your information from being collected and ensuring their zero-logs policy is upheld. We found the "Double VPN" feature gave us an additional layer of anonymity, although it did slow our download speeds a little.
With 5500+ servers in 60 countries, NordVPN has one of the most extensive server options on our list. Such a wide variety spread across the globe makes accessing geo-blocked content simple, and most servers have P2P support which works with Kodi.
NordVPN is available on a host of different platforms, with one-click downloads available for Windows, Mac, Linux, Android, iOS, Fire Stick and Chrome and Firefox browser extensions. The support pages on the NordVPN site provide information on how to access and use Kodi while the VPN is active.
Speed: We were able to stream without buffering or lag on Kodi.
Security: Double VPN, Tor VPN, and static IP options, plus additions like CyberSec for improved data security.
No-log policy: Based in Panama, guaranteed zero-logs policy.
Ease of use: One-click downloads for most platforms, a helpful support site for installation and setup guidance.
Money-back guarantee: 30 – days
3. CyberGhost — Optimized and secure for Kodi add-ons
One of the most appealing aspects of Kodi is the ability to use third-party add-ons to optimize your user experience, and many of these add-ons require P2P support. CyberGhost servers are specifically optimized to provide P2P support, meaning that customizing Kodi to your liking results in lag-free, secure streaming.
3700+ servers in 60 different countries make accessing region-locked content on Kodi very simple. We found in our CyberGhost review that it had slower download speeds than some of the other VPNs on our list, but we were still able to stream on Kodi without buffering or experiencing lag.
CyberGhost has its own NoSpy servers, a dedicated group of servers based in Romania (outside the 14 Eyes Alliance) which is managed end-to-end by the CyberGhost team. This setup guarantees a no-logs policy and maintains your data privacy to the highest level. Anonymous streaming is guaranteed on Kodi, and the expansive data and bandwidth give you the freedom to stream as much as you want to.
We were impressed by the number of different platforms CyberGhost is available on, including Windows, Mac, Fire Stick, Linux, Android, and iOS, as well as being available for router installation. Guides are available on the CyberGhost site to aid with installation and setup, as well as how to use the VPN with Kodi.
Speed: Slower than some other VPNs, but fast enough to stream without lag or buffering.
Security: NoSpy servers maintain data privacy, 256-AES encryption, anonymous IP address.
No-log policy: NoSpy servers ensure no logs, zero-data collection.
Ease of use: Simple to install and set up, user guides for Kodi available on support site.
Money-back guarantee: 45-days
4. Surfshark — Excellent service at a low monthly price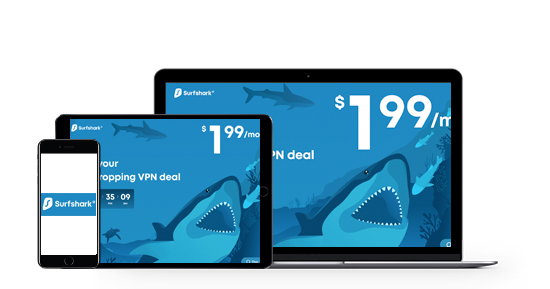 Surfshark provides a vast range of premium features on all of their plans, regardless of which one you choose to subscribe to. Features like MultiHop, which allows for connection via more than one country at once, and CleanWeb, which prevents malware attacks and blocks ads.
800+ servers in 50 countries aren't quite as extensive as some other VPNs on our list, and we did encounter some slower speeds during our Kodi streaming tests. That being said, during our Surfshark review we were still able to stream easily, even if we did experience a few seconds of buffering. The unlimited bandwidth offered by Surfshark means you can download without restriction, which is useful for Kodi add-ons that require P2P support available on every server.
Surfshark enables anonymous Kodi streaming through IP masking, AES-256-GCM encryption, private DNS and leak protection, and an optional kill switch which activates if the VPN connection drops for any reason. Their site outlines their no-logs policy in detail, also informing you as to what kind of data is collected, mainly for diagnostic purposes.
Downloading and installing the software onto various devices and platforms, like Windows, Mac, Fire Stick, Android, and iOS, is easy.
Speed: We encountered some speed-slowing due to the lower number of servers but minimal buffering.
Security: Huge range of top-quality security features included with every plan — MultiHop, CleanWeb, AES-256-GCM encryption.
No-log policy: Secure no-logs policy, site clearly outlines what data is collected for diagnostic purposes.
Ease of use: Simple to download and install on a variety of platforms, currently no dedicated Kodi guides.
Money-back guarantee: 30 – days
5. PrivateVPN — 24/7 service with zero downtime for endless Kodi streaming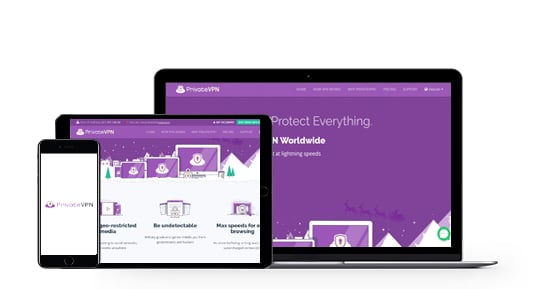 We experienced an incredible 99.98% uptime during our PrivateVPN review . This means that users are always able to use the service and stream on Kodi any time they want to. With the inclusion of unlimited bandwidth and speeds, PrivateVPN enables you to stream Kodi as much as you'd like without fear of throttling.
Located in Sweden, we were concerned that PrivateVPN would be vulnerable under the 14 Eyes Alliance. However, according to their site, Swedish privacy laws ensure there is zero traffic logging, keeping your activity and information secure. PrivateVPN enables anonymous streaming with IP masking and government-level encryption.
P2P functionality is excellent with PrivateVPN, meaning that your third-party Kodi add-ons are supported no matter which server you're connected to. PrivateVPN is a relatively new service, with 150+ servers in 60 countries. They are fast-growing, but speed is often an issue on congested servers. We found that we could stream media in HD, but sometimes connections take longer to become active.
PrivateVPN offers step-by-step guides to installation and setup for all compatible platforms such as Windows, Mac, Linux, iOS, and Android, as well as router installation. They also provide dedicated Kodi setup guide to get your VPN up and running quickly and easily. One clear distinction for PrivateVPN is the offer of remote support, which puts the user directly in contact with developers instead of customer support agents.
Speed: Fewer servers = less speedy connections, but we could stream in HD with minimal buffering.
Security: Anonymous streaming with hidden IP and government-level encryption.
No-log policy: Privacy laws ensure no logs are kept, ensuring your data is secure.
Ease of use: Simple to download and install, dedicated Kodi guide.
Money-back guarantee: 30-days
Why you should always use a VPN with Kodi
Kodi is an extremely versatile open-source media player, which is continuously being updated by both developers and the user community. But its most significant strength is also its most apparent weakness, as much of Kodi's functionality comes from third-party add-ons.
While we can't comment on their legality, the critical point to remember is that these third-party add-ons open up the channels for streaming content on the Kodi software. While the add-ons from the central Kodi repository are actively monitored and controlled by developers, there are also add-ons available on private forums which present a substantial security risk.
"Fan-created" add-ons can potentially contain malicious content which puts your data at risk:
Exposure to software and computer hackers: Many third-party add-ons work with torrents, which means there's a lot of P2P activity. This activity can make it easier for malicious individuals to detect and store your IP address. To make sure this doesn't happen, it's crucial to encrypt your traffic and mask your IP address.
Detecting ISP: One of the reasons individuals use Kodi to stream is so that they can access copyrighted content. If your ISP is able to detect this activity, there are many potential legal repercussions. For this reason, it's crucial to keep your online status anonymous with additional protection while using Kodi.
The most effective VPNs will provide you with airtight security by rerouting your internet traffic across their servers. This ensures you are safe from curious eyes, as it keeps your IP address hidden and your online status anonymous. Most VPN providers will also allow you to access "geo-blocked" content through Kodi.
Why you shouldn't use a free VPN with Kodi
Free VPNs are always tempting, but they simply don't offer you the same protection as a premium service. While some are effective, they are not all created equally. When using a service like Kodi, you want to ensure you are adequately protected.
Some free VPNs have been known to sell logged data and, depending on where in the world they are located, hand over personal user information to government authorities. Free VPNs are more likely to have bandwidth limitations and more often than not, they are also considerably slower than premium VPNs — not ideal when you want to stream media on Kodi.
When streaming via Kodi and using third-party add-ons, you want your security features to be top-notch, which is something you can't rely on some free VPNs to provide.
3 reasons why Kodi is better with a VPN
Safe streaming with add-ons: Mainstream services such as Netflix, Hulu, and Amazon are high-quality, trusted content providers. However, there are lesser-known add-ons and applications which don't have the same level of trust. Generally, these add-ons won't harm your device, but it's essential to protect yourself against the ones that might. By using a VPN, you can secure your device with sophisticated encryption and added security.
Access geo-restricted content: Just like most streaming sites, some of Kodi's content is geo-restricted, rendering it inaccessible unless you are in a particular country. A VPN allows you to overcome this obstacle by tricking the add-on into thinking you are in the right location to access that content.
Avoid buffering and interruptions: Not only can you stream content from anywhere in the world safely and securely, but you can also do so at the fastest speeds possible. Many VPNs focus on providing a high level of security without affecting speed and performance, so you won't experience any interruptions or buffering.
Kodi is one of the most flexible media players available, and while you don't need a VPN to use it, having one will ensure any security issues are tackled right away. With a top-quality VPN like the ones we've listed here, you'll be able to access the content you want and stream anonymously with Kodi.