VPNSecure has a small network that services 33 different countries with around 80 total servers. The site has some mixed information with claims of over 40 countries supported, but I counted through the site's server list and through the application's list to confirm that 33 region figure.
This VPN owns all of its servers. There aren't any third-party entities to worry about VPNSecure sharing your data with. The company states this fact clearly on its server list page.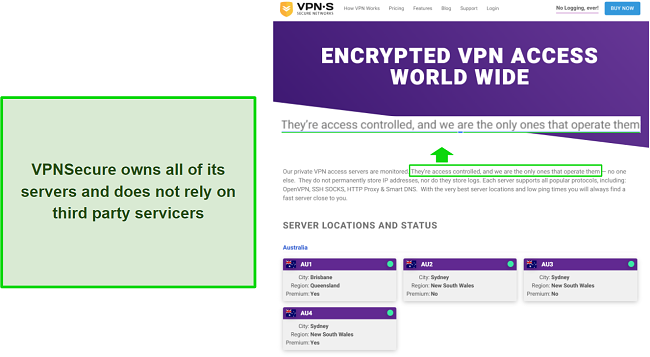 The server list also shows which servers are currently online and where you will be routed through. The application also lists out the use case for each server. VPNSecure has a range of servers optimized for streaming and ad-blocking. With these clear labels, it is easy to find the right server to suit your intended use. However, there are no details regarding the latency or capacity of a given server, so slowdowns due to overcrowding are possible.
VPNSecure's main focus is on security, and this VPN has robust encryption standards that will ensure your data remains safe. You can choose from AES-128 bit and AES-256 bit encryption ciphers, the latter of which is highly regarded as uncrackable. This network makes use of OpenVPN TCP & UDP security protocols. These are industry-standard and offer a fair balance between speed and air-tight security.
There aren't quite as many security protocol options as other VPNs, but the ones here will keep your information safe. The application makes it easy to toggle and view these options by opening up the advanced configuration menu in the settings.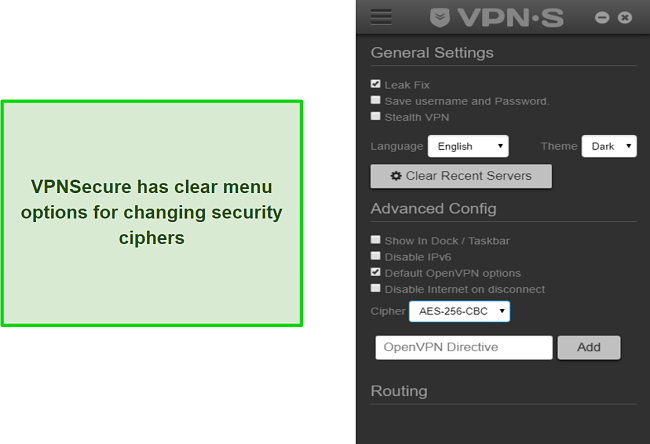 You will also find an easy-access kill-switch option labeled "Disable internet on disconnect" that will ensure your IP isn't leaked even if your connection to VPNSecure breaks or falters. Enabling this feature will make it so that your connection to the internet is completely severed in the event of an outage or break in coverage.
On the face of it, VPNSecure seems to offer a robust, uncompromising no-logs policy. The privacy page clearly states that this VPN doesn't keep any logs regarding user activities, IP, or bandwidth usage. However, digging into the VPN's terms of service revealed that this no-logs policy can be swept away if it suspects you of engaging in illegal activity.

With the VPN being based in Australia, you will have to worry about the rather strict and intrusive privacy laws. If you do not adhere to those laws then this VPN can and will report all of your usage to authorities. Now, this VPN is in the process of mitigating this by moving its central location to Hong Kong. However, this move has not yet occurred at the time of writing this review, and there is no firm timeline as to the completion of this transfer.
While P2P connections are supported on any of VPNSecure's servers, I would not recommend torrenting with this VPN due to Australia's restrictive content sharing laws. With the looming possibility of authorities being able to request your data from this VPN, I would not risk engaging in any sort of P2P file-sharing.
If you do attempt to torrent a piece of content, be sure to confirm that the content is readily available in the public domain. Also, make sure to adhere to and consult your local laws and ordinances before engaging in P2P file-sharing.
The application boasts a "Stealth Mode" that claims to obfuscate your location and bypass restrictive firewalls such as the one used by the Chinese government. As I am not located in China, I was unable to test VPNSecure's claims personally.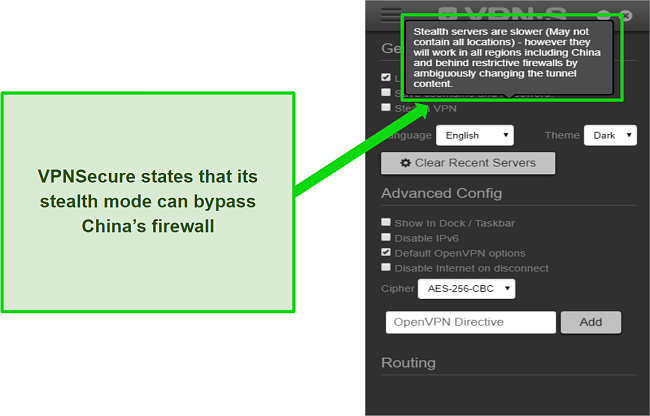 However, reports from users regarding this feature have been mixed. While it does seem as though this VPN can unblock sites for users in China, it does not seem to be able to do this consistently. For a VPN that can consistently bypass Chinese censorship restrictions, I recommend ExpressVPN.
If you do plan on traveling to China, make sure to download your VPN of choice ahead of time. Chinese authorities have been known to block non-approved VPNs, which can make it so that you cannot access content from your home region while you travel. While these policies do exist, there are no reported cases of Chinese officials punishing or fining travelers for using non-approved VPNs.