UltraSurf is not forthcoming with information about its server coverage. UltraSurf connects you to the nearest server to you that will give you the best performance whenever you launch it. While testing the speed and privacy of the VPN, I was automatically connected to the server located in the United States. Providing VPN service for free is one of the major factors contributing to this lack of information.
I attempted to connect and disconnect multiple times, but I kept getting connected to the same location. Summarily, it's difficult to estimate how many servers the provider has, but it's probably in the single digits.
The servers of UltraSurf VPN are protected by 256-bit military-grade encryption. It also comes with an option of using SHA-256 as the cryptographic hash function. It has the above-referenced encryption and security, but it is not mentioned which protocols it uses for tunnelling. There is no information on the website about OpenVPN, PPTP, or SSTP.
It's a proxy service rather than a VPN, as I previously mentioned. So you do not have access to the kind of encryption and security provided by a VPN. Ultrasurf provides HTTPS traffic as an alternative to HTTP traffic over its servers. As a result of this, you are assigned a new IP address.
The app does not have advanced security features and does not even offer a kill switch. Tools such as these are crucial to protecting your data against hackers and governments, yet the Ultrasurf VPN service does not come with them. It's not a good choice if you're most concerned about security, and its speeds are below average, so it may be better to get a VPN service that offers strong encryption and protocols, such as ExpressVPN.
The website of this company is replete with privacy baits — transparency, anonymity, and blocking resilience. Meanwhile, their Privacy Policy and Terms of Service also point out that they log extensive amounts of data. The provider keeps logs of all server communications — your IP address, links you click on its site, time and dates of your visit, websites you visit from its page, as well as some of your personal data, which they may divulge to third parties if required. In addition to the fact that it is a US-based provider, the lack of clarity regarding logging and security technology, combined with the vague retention law, makes this a questionable option.
In one respect, UltraSurf explicitly states that activity logs aren't recorded or stored. However, when you delve a little deeper into the policy, there are some troubling aspects. The company acknowledges that it collects certain data about you, such as the IP address and connection time stamp. The logs are stored for a maximum of 30 days and they are not shared with third parties except when it is necessary to comply with the law.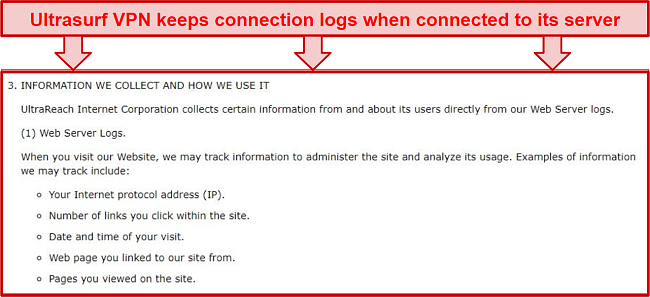 In addition, the provider states that they may disclose personally identifiable information to law enforcement officials, business partners, and for legal purposes. Despite UltraSurf not requiring users to disclose their names, emails, or payment information, this statement is concerning to say the least.
UltraSurf is headquartered in the United States, which is not the best location. Because it is a member of the 5 Eyes alliance, an organisation renowned for excessive government surveillance and breach of privacy. Thus, if a government organisation requests that Ultrasurf VPN provide data on its users, under law they will have to comply with that request. That is if they collect sensitive information. Overall, we are talking about a very basic provider whose website is extremely outdated and offers very few features.
In order to test UltraSurf's leak protection feature, I ran the test through ipleak.net. I was surprised to see that my IP address was hidden and that my DNS requests were handled by UltraSurf in a private and secure manner. There were no WebRTC leaks detected either, something I've seen many VPNs struggle with due to well-known browser problems.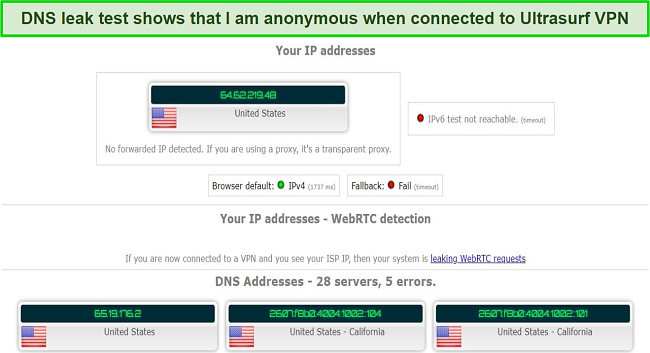 In the screenshot above, the test results show a random IP address that doesn't match my physical address. It is the same with the DNS servers as well. The results are just a list of random DNS servers from the United States. This clearly establishes the effectiveness of UltraSurf's leak protection.
If you don't feel comfortable trusting your data to a company based in the US, I'd recommend ExpressVPN for it's true no-logs policy that is not only foolproof but also one that is proven to work.
UltraSurf VPN supports torrenting, but you're more likely to have your browsing history tracked if you connect to it. The jurisdiction in which this VPN operates falls under the 14 eyes, so torrenting through it is not recommended.
UltraSurf doesn't restrict any P2P traffic from being routed through its servers on any of its platforms. However, there is a distinct difference between granting access to torrents and providing secure torrents. Please remember that other users connected to the same torrent swarm can see your IP address while you are downloading torrents.
It's not just copyright trolls lurking in these swarms, but hackers as well, waiting to prey on the unwitting victim. Consequently, you should ensure you have robust encryption when you visit torrent sites like The Pirate Bay. Sadly, UltraSurf's HTTPS security is just not robust enough to keep your sensitive data secure.
Due to the proxy's browser-based controls, BitTorrent and Ultrasurf cannot sync together when it comes to torrenting. Fortunately, you may be able to torrent large files using the Android app (if you do not mind waiting a few weeks for your files to download). Basically, even if you had access to BitTorrent, the server speeds would prevent you from accomplishing much.
UltraSurf was created with the intention of working around China's Great Firewall. According to the website's "About" section, the company is dedicated to providing a free service to all Chinese users. They wanted Chinese citizens to be able to circumvent censorship and freely access the internet without any restrictions.
The question is, does the VPN really deliver on this front? Absolutely. In its almost two-decade history, UltraSurf has evaded China's Deep Packet Inspection (DPI) safeguards, so residents can freely access censored sites such as Twitter, Facebook, Instagram, and YouTube.
With UltraSurf you don't have to worry about VPN protocols such as OpenVPN that have been heavily targeted by censors. In place of that, it employs a network of proxy servers to ensure its traffic blends seamlessly with normal web traffic.