10 Worst VPN Scams to Avoid in 2022 (+ Tips for Staying Safe)
Last Updated by Kate Hawkins on August 16, 2022
Many VPNs appear to be genuine with all sorts of claims, but sometimes it doesn't work or it's actually logging and selling your data in secret. I've even come across VPNs that are actually malware in disguise.
To ensure you don't get scammed, I've rounded up the 10 worst VPN scams to avoid in 2022 — whether you're new to VPNs or you've used them for years.
If you're in the market for a trustworthy VPN, ExpressVPN has excellent speeds, powerful security features, and an audited no-logs policy. It comes with a 30-day money-back guarantee when you sign up, so you can get a full refund if you're not satisfied. I've even tested this myself and it was completely hassle-free. My refund request was approved in minutes over 24/7 live chat and the money returned to my account in 5 days.
Stay safe online with ExpressVPN
Scam 1: No Data Logged
Most VPNs claim they don't log or store your data. But since both legitimate and scam VPNs make this claim, it's hard to know if they're telling the truth. However, if you look through the service contract and privacy policy, you may find sketchy or vague statements that stand out as suspicious.
Ideally, a VPN that claims it doesn't log your data will have an independent audit to confirm its privacy policy. Alternatively, see if the VPN uses RAM-based servers, as these are physically unable to store data.
For example, ExpressVPN has an independent audit and TrustedServer technology to guarantee it won't log your data. ExpressVPN's no-logs policy was even put to the test in a real-world situation when in 2017, the Turkish government seized a physical server as part of a criminal investigation. No user data was recovered, further proving that ExpressVPN truly doesn't keep any logs.
If you find a VPN that says it logs some data, this isn't necessarily a problem. Look at how they use the data and what their policy outlines. Many times, the data is purely operational to help improve the service.
Scam 2: "Freemium" VPNs
A "Freemium" VPN service is a limited version of a premium VPN. It's designed to attract you with an idea of what the full-price service offers in the hope that you'll upgrade. There are some excellent freemium VPNs, but also severe restrictions like low data caps, few available servers, and speed throttling. While you may get reasonable security, the VPN will annoy you with slow connections and user congestion, so you won't be able to stream, torrent, or play games online.
Alternatively, you can take advantage of a money-back guarantee to use a premium VPN for free. CyberGhost has a long 45-day money-back guarantee, which you can use like a free trial. Just remember to ask for your refund before the 45 is complete.
Scam 3: Dangerous Free VPNs
There are hundreds of free VPNs on the market, and unfortunately most of them aren't safe. Free VPNs have to make revenue, and they do so in a few different ways:
Logging and selling user data — Free VPNs often log user data to sell to third parties. This allows advertisers to target you with ads.
Restricting speeds and data — Small data caps and throttled speeds keep operational costs low. You experience lag and buffering, plus you run out of data after an hour of streaming.
Bandwidth theft — Some free VPNs have been known to steal bandwidth from free users and resell it to others without your consent or knowledge.
Poor security and potential malware — Free VPNs are often missing key security features that don't properly protect your data, causing leaks and privacy issues. Even worse, many free VPNs don't pass antivirus testing — they're loaded with malware designed to steal your data, putting you at risk of identity theft.
Some of the most dangerous and deceptive VPNs market themselves as high-level software. Here are a few VPNs you should avoid:
Betternet VPN — In multiple tests, Betternet VPN was found to contain high levels of malware that puts your personal information at risk. Not only this, but Betternet VPN also logs a lot of user data and tracks your online activity, allowing targeted ads and pop-ups.
Cross VPN — Cross VPN also scored poorly in malware tests, flagged by 11 different antiviruses as containing viruses. This VPN had a particularly alarming score for Trojan viruses, which create a pathway to your device for hackers to exploit and seize your data.
VPNBook — This VPN logs far more data than necessary, including your IP address and connection timestamps. This means you can expect to see location-targeted ads and pop-ups when connected to its servers. If you're looking for complete anonymity, you won't get it with VPNBook.
Using these services just isn't worth the risk to your security and privacy. To ensure your data is always protected, I recommend choosing a top-tier VPN like ExpressVPN. With ExpressVPN you get guaranteed security and privacy, fast speeds, and a global network of reliable connections. Plus, you can buy ExpressVPN with confidence as it's backed by a 30-day money-back guarantee. If you don't like it, you can get a full refund with no questions asked.
Scam 4: Watch Out for Fake VPNs
There are 2 kinds of fake VPNs you need to watch out for. The first is designed purely to take your subscription money without providing any software. These services promise top-tier security at a low price, but all they do is steal your money — there's no VPN to download, no customer service, and no way to get a refund.
The second has software that infiltrates your device to steal your sensitive data. When you connect to a server, the software has a direct line to your information — bank account and social security data, online activity, and more. After logging your data, the company can sell it to whoever is willing to pay.
My team and I've tested over 50 VPNs to shortlist the best in 2022 with a proven track record of security, performance, and customer support. Every VPN on this list will give you no reason to doubt the validity of its software.
Scam 5: Unsubstantiated Claims and Features
Scam VPNs will always promote themselves as the best. They'll claim to have top-tier security, a zero-logs policy, and super-fast speeds — but there won't be any evidence that these claims are true.
Many services make these claims as a marketing ploy and you end up with a disappointing product. Instead of military-grade encryption and blazing speeds, you'll experience data leaks, buffering, and interruptions while you're online. Not only is this frustrating and a waste of time, but it also puts your data and privacy at risk.
Make sure that you always read the fine print and find out if the VPN's claims and security features have been independently verified. A VPN like ExpressVPN has been independently audited by Cure53 and PriceWaterhouseCooper. Its code, servers, privacy policy, and browser extension have all been carefully examined to ensure it lives up to its claims.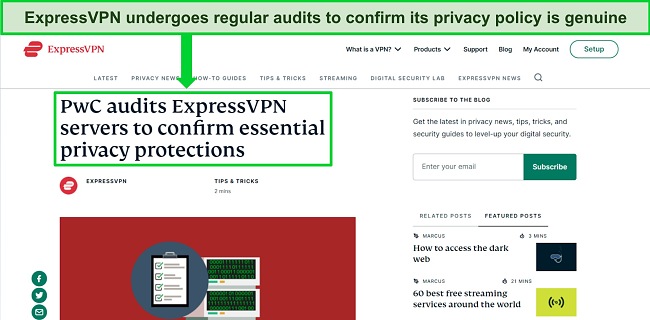 Scam 6: VPNs With Questionable Pricing
While the lure of a cheap service is always tempting, VPNs that are very low-priced often won't live up to their claims. VPNs are expensive to operate and require steady revenue to maintain high-level security and privacy. An extremely cheap VPN is more likely to be missing essential features, like leak protection or a kill switch, to keep costs low.
If you're looking for an affordable option, Private Internet Access is a premium VPN but its long-term plan is only $2.19 per month. It has military-grade encryption, leak protection, and an audited privacy policy, so you can trust it'll keep your internet browsing history safe.
Similarly, you should be cautious about a VPN that has a large upfront cost. Some overpriced VPNs offer a money-back guarantee but won't honor it, so you'll lose money if you're not satisfied with the service. These VPNs often have strict guarantee terms, like only using a certain amount of data — exceed the cap by 1MB, and the guarantee is void. Make sure the VPN has a reasonable money-back guarantee period and terms, plus 24/7 live chat you can contact to quickly arrange a refund.
Scam 7: VPNs That Require Too Much Personal Information
Most VPNs log some data — typically for analytical purposes to help maintain the service at a high level. It's not unusual to see a VPN collect information like rough connection timestamps or the amount of data sent and received to the nearest MB. This data is non-identifying and cannot be linked back to you.
For example, HMA logs a minimal amount of non-identifying data for analytical purposes, keeping it for 35 days before it's deleted from the servers. It's the bare minimum needed to keep the service operating properly. HMA is also very transparent about the third-party analytical trackers it uses on its mobile apps. You can easily opt out of data collection in the "Personal Privacy" settings.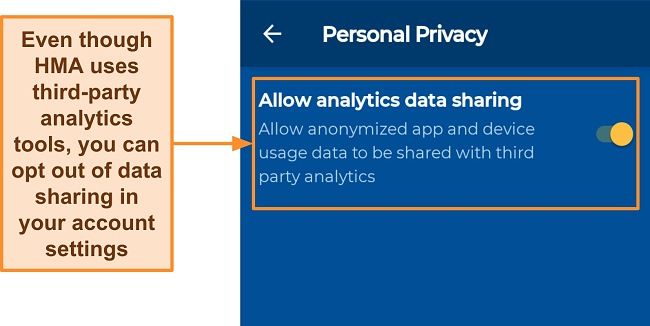 However, some VPNs collect more information than is needed for maintenance. Logging your IP address, websites you visit, and other identifying data means you don't get the online anonymity you want from a VPN. Alarmingly, these VPNs also keep your account details linked to your online activity, making it even easier to identify what you've been doing while connected.
The best VPNs keep minimal information that can't be linked to your identity. Also, it's a good idea to choose a service that allows a variety of payment methods. Some VPNs offer anonymous payment methods, like cryptocurrency or gift cards, to further reduce the amount of information you share.
Scam 8: Fake VPN Reviews, Testimonials, and Comments
To make their services appear genuine, scam VPNs will create fake user reviews, testimonials, and comments. You can find these on the Google Play Store or Apple App Store, social media, Reddit, and even the VPN's own website.
While these may seem real, the truth is that scam VPNs manufacture reviews as a marketing tactic. These reviews could be from paid reviewers marketing the service rather than drawing on an authentic experience. Genuine reviews and comments usually have both pros and cons instead of reading like an advertisement.
Scam 9: VPNs That Don't Work on All Devices
A reliable and authentic VPN service will have app support for multiple platforms. However, many scam VPNs will only provide a connection for a single device or platform and they're not always forthcoming about this. You could end up paying a steep fee for a VPN that only works on one of your devices, leaving the others unsecured and vulnerable.
To get the best protection, you should choose a VPN that can accommodate all of your devices and their various platforms. ExpressVPN has one of the most user-friendly VPN apps for Windows, Mac, Android, iOS, Linux, Amazon Fire Stick, and even routers.
If you've got a lot of devices, a service like IPVanish has unlimited connections and supports multiple platforms. This allows you to protect all of your devices at the same time — you don't have to worry about maxing out your device limit.

Scam 10: VPNs Offering a "Lifetime Subscription"
When browsing third-party websites, you may see adverts for lifetime VPN subscriptions. You pay a single cost and the VPN protects you for life. This sounds like an amazing deal, but a lifetime VPN subscription isn't realistic due to the costs of maintaining a high-quality service.
A top-tier VPN has overhead, like server maintenance, customer support, and continued product development. This requires a steady stream of revenue that lifetime subscriptions won't cover. Consider that a lifetime subscription is usually offered at a ridiculously low price — this is a strong indication that the offer is bogus and won't really last a lifetime.
It's also important to note that a "lifetime subscription" doesn't mean your lifetime, but the lifetime of the company. While you think you're getting VPN protection for the rest of your life, it's not unheard of for companies to revoke lifetime subscriptions and turn them into recurring yearly contracts.
Scam VPN companies also promise lifetime subscriptions to steal your money. The software works well for a month or two, then your speeds slow, data starts to leak, and privacy issues arise. By this time, the opportunity to get your money back has passed — all you're left with is poor service and lost money.
To make sure you don't get caught by one of these scams, choose a reputable VPN provider with a reasonable subscription plan. A service like ExpressVPN offers several subscription options to suit your budget, so you get consistent high-quality security.
August 2022 Update! ExpressVPN has dropped prices for a limited time to a crazy $6.67 per month for the 1-year plan (you can save up to 49%) + 3 months free! This is a limited offer so be sure to grab it now before it's gone. See more information on this offer here.
FAQs About VPN Scams
Do VPNs steal your information?
No, a reliable and secure VPN will not steal your information. Authentic VPN software encrypts your connection so that your data and online activity are hidden and anonymous.
A genuine VPN will also be transparent about any data it collects and what it's used for. For example, ExpressVPN is a verified zero-logs VPN that won't compromise your data security but also collects some non-identifying information. This is purely for analytical purposes, to keep the VPN operating at the highest level. Plus, this information is deleted each time ExpressVPN's RAM-based servers reboot.
However, there are some fraudulent VPNs that are designed purely to steal your data — these are not authentic VPN services. These scam VPNs won't secure your online connection or make your activity anonymous. Instead, they log all the data they can find, from banking details to social security numbers and more, and sell it to third-party advertisers or the highest bidder.
Are VPNs a scam?
No, not if you choose the right VPN. A quality VPN should provide a secure and anonymous connection to the internet. You can even access streaming sites like Netflix US and Disney+, bank and shop online securely, torrent anonymously, and more.
However, shady businesses use the term "VPN" to scam customers looking to improve their online security. Rather than providing a safe and private connection, fake VPNs sell your data to third parties, have weak security, and some aren't even real — they take your subscription payment and vanish!
To avoid being scammed by one of these unscrupulous fake VPNs, make sure you choose a well-established VPN provider. Tried-and-tested VPNs like ExpressVPN, CyberGhost, and PIA provide military-grade encryption, won't log your data, and have thousands of satisfied customers leaving genuine reviews for you to look at.
What VPN is safe?
During my tests, ExpressVPN emerged as the top choice VPN for online safety, security, and privacy.
After multiple rounds of testing, ExpressVPN has proven to be a highly secure service. It features AES-256-bit encryption and DNS, IP, and WebRTC leak protection to secure your data when you're connected to its servers. Plus, ExpressVPN has undergone multiple independent audits to verify that its code, servers, privacy policy, and browser extension are safe.
I strongly recommend that you try ExpressVPN's top-tier security for yourself and see how well it keeps your data safe. Best of all, you can try the service without risking your money — if you're not completely satisfied, you can get a full refund within 30 days, no questions asked.
Stay safe online with ExpressVPN
Don't Get Scammed — Secure Your Data With a Top-Tier VPN
With so many new VPNs flooding the market, it can be hard to tell which ones are genuine and which are fake. By paying careful attention to the terms of service, online reviews, and exercising caution you can avoid being scammed by a fake VPN service. Remember, if it looks too good to be true, it probably is!
There are many secure, reliable, and powerful VPNs that live up to their claims after months of testing. Of all the VPNs I tested, ExpressVPN has powerful security and privacy features. But you don't have to take my word for it — I recommend you try ExpressVPN for yourself to make sure it works for you. If you're not satisfied for any reason, you have 30 days to get a full refund, no questions asked.
---
Summary — The Best VPNs in 2022 (100% Safe to Use)
Top Choice