How to Use ExpressVPN in China. Do This First (It Works! 2023)
ExpressVPN is one of the rare VPNs that still work in China and can help you access your accounts (like Facebook, Gmail, WhatsApp, Instagram, Twitter, and more).
All you have to do is launch the VPN and connect to a server — your internet traffic is immediately secured with military-grade encryption, leak protection, and a kill switch. None of your online activity is ever logged, shared, or sold to third parties either.
Just make sure you download ExpressVPN before you arrive in China as the website isn't available inside the country. ExpressVPN is backed by a 30-day money-back guarantee so if you're not satisfied with its performance, you're entitled to a refund with no questions asked.
Quick Guide: How to Use ExpressVPN in China in 3 Easy Steps
Download ExpressVPN before you arrive in China. You won't have access to ExpressVPN inside China, so make sure it's on your devices before you travel.
Connect to an ExpressVPN server outside of China. Some of the best options for a reliable connection are Japan, the UK, and the US.
Start browsing, streaming, gaming, and more! Now you can connect to your favorite websites and online services risk-free.
Why You Need to Use ExpressVPN in China
China's government imposes strict online censorship and closely monitors online activity, so many popular sites and services are blocked. The only way to access your favorite content from inside China is by connecting to a VPN server in your home country.
However, only a handful of the leading VPNs in 2023 are able to avoid China's Great Firewall restrictions to connect you to Facebook, Google, WhatsApp, and more. Many VPNs promise to work in China but simply don't have the top-tier features needed to bypass China's proxy detection and network censorship.
This is why it's essential to only use a tried-and-tested VPN. ExpressVPN has proven to be the top VPN for reliable, secure connections in China. This is because ExpressVPN provides server obfuscation on every connection, which masks your VPN traffic to look like regular HTTP traffic, avoiding China's VPN detection technology.
Alongside obfuscation, ExpressVPN has top-tier security and privacy features. Every connection is secured by AES-256-bit encryption, DNS, IP, WebRTC leak protection, and a kill switch. Plus, ExpressVPN has undergone multiple independent audits to confirm it never logs your data, so you can rest assured your online activity is always anonymous.
ExpressVPN is also the fastest VPN I've tested, providing blazing-fast speeds across its server network. This means you can stream, torrent, play games, and browse online without lag or interruptions, even when you're traveling to China.
You'll also find ExpressVPN is compatible with a wide range of platforms, including Windows and Mac, mobile devices, smart TVs, routers, and more. The VPN apps are intuitive and easy to use, making ExpressVPN an ideal choice for beginner VPN users who are traveling to China.
To ensure you're happy with the service you receive, every ExpressVPN subscription is backed by a 30-day money-back guarantee. If you change your mind, you can get a full refund within 30 days of purchase, so you can subscribe with zero risk. My refund process was quick and easy, and I had my money back within a week.
Important! The use of VPNs not approved by the government is illegal in China. While there haven't been any reported cases of the Chinese government penalizing tourists using a VPN, please use a basic level of caution and do not use a VPN to commit illegal acts.
Step-by-Step Guide: How to Install ExpressVPN on Your Devices
Mac/Windows
iOS/Android
I recommend purchasing ExpressVPN from the website rather than through an app store. This ensures you're getting a genuine product and that you can benefit from ExpressVPN's money-back guarantee if needed. The app stores often have complicated refund processes that could delay your subscription return for weeks.
Subscribe to ExpressVPN using the official website.
In your account, click the link for Android or iOS. You'll get your activation code, plus a genuine link to the Google Play or Apple App Store to download the app.
Download the app to your iOS or Android device. There are several steps and prompts you need to accept to install ExpressVPN.
Open the ExpressVPN app and sign in. You can use your activation code or an email sign-in link.
Connect to a server. You can now securely access the internet on your iOS or Android device.
Browsers
ExpressVPN's browser extension is available for Google Chrome, Mozilla Firefox, and Microsoft Edge. Unlike other VPNs, ExpressVPN's extension isn't a proxy — it provides the full security and functionality of the VPN app conveniently from your browser.
Visit the official website and sign up for ExpressVPN, choosing your preferred subscription plan and creating an account.
In your account, choose the setup link for your browser. ExpressVPN will display your activation code and a link to download your extension. Note that you will also need the ExpressVPN app for Windows, Mac, or Linux to operate the extension.
Add the ExpressVPN extension to your browser. You'll be prompted to allow the extension to install.
Sign in to your ExpressVPN browser extension. For this, you'll need to have downloaded and signed in to the ExpressVPN desktop app.
Choose a server and connect. Your whole device will be protected by ExpressVPN's secure encryption and privacy features.
Smart TV/Fire Stick
ExpressVPN is compatible with a range of smart TVs (including Apple TV and Android OS TVs) and Amazon Fire TVs and Fire Sticks. If you want to use ExpressVPN with a smart TV that doesn't support a VPN app, you can set up ExpressVPN with a compatible router and link your smart TV to your WiFi.
Visit the official website from a browser and sign up for an ExpressVPN subscription. This ensures you're getting a genuine plan.
Search for ExpressVPN on the app store of your smart TV or Amazon Fire device.
Download the ExpressVPN app. This should take less than a minute, depending on your network speeds.
Open ExpressVPN and sign in to your account. You'll need the email address and password you assigned when you created your account.
Connect to an ExpressVPN server. You're ready to start securely browsing and streaming your favorite content.
How Does ExpressVPN Work in China?
ExpressVPN uses a variety of premium security and privacy features to avoid China's Great Firewall detection. These include:
AES-256-bit encryption — every connection is protected by military-grade encryption to ensure your online activity and personal data are secure and anonymous from even the toughest monitoring and restrictions.
Network Lock kill switch — instantly blocks access to the internet if ExpressVPN's connection is interrupted, maintaining data security and avoiding exposing your activity and information.
Leak protection — stops DNS, IP, and WebRTC leaks from revealing your true location and browsing history.
Server obfuscation — disguises your VPN traffic to look like HTTP traffic, avoiding China's proxy detection technology for easy access to your favorite content.
Secure protocols — including OpenVPN TCP using port 443 — this port is typically used by non-VPN traffic (HTTPS), making it almost impossible for China to block.
No physical servers in China — ExpressVPN does not need to comply with the Chinese government's requirements to log and share user data as it has no physical servers in the country.
Audited zero-log policy — independently proven to confirm ExpressVPN never logs or stores your data when you're connected to its servers — further proven when Turkish authorities seized an ExpressVPN server and were unable to recover any data.
Can't Connect to ExpressVPN From China? Try These Troubleshooting Tips
The Great Firewall of China is regularly updated, so there may be times when you need to adjust ExpressVPN's settings to keep up with the changes.
1. Set Your VPN Protocol to "Automatic"
When you set ExpressVPN's protocol to "Automatic," the VPN examines your network connection and chooses the best possible protocol. This way, you're more likely to make a reliable connection when inside China.
To adjust your protocols, open the "Options" menu and go into the "Protocol" settings. Make sure the protocol is set to "Automatic" as this lets ExpressVPN find the best protocol for connecting from China.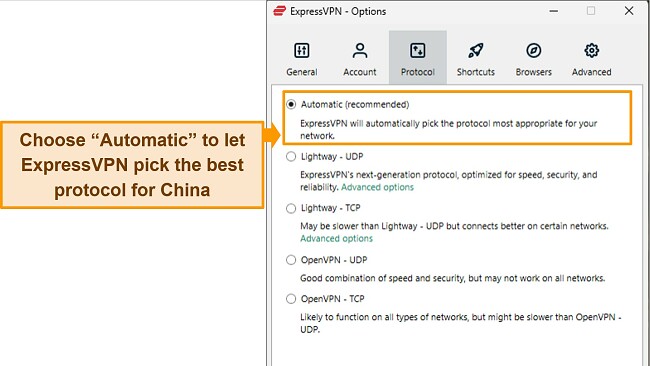 ExpressVPN has different protocols depending on what you want from your connection. Some protocols are more efficient for data transfer, while others provide a more reliable connection. ExpressVPN typically selects its proprietary Lightway protocol for top security, reliable connections, and blazing-fast speeds.
2. Wait for ExpressVPN to Complete the Connection Request
If ExpressVPN is taking a long time to connect, be patient. Your connection could take up to 30 seconds to complete, so only retry the connection if the app tells you that it has failed.
In the event the connection continues to fail, exit the app and restart your device before trying to connect again. It's particularly important to wait if your regular internet connection is slow, as this could be the reason for a delayed VPN connection.
If ExpressVPN has established a server connection but it's not working, try reconnecting the VPN before you continue your online activity. By reconnecting, you refresh the connection which could help fix any technical errors or server interruptions.
3. Clear Your Browser Cache
Websites will most often block a VPN's IP address if it receives too many requests. However, a website can also block your cookies if you keep trying to connect to your account from different servers. To fix this, go into your browser settings and clear your cache and cookies. This removes the block so you can access the site.
Clearing your cache can also help bypass content blocks as cookies sometimes store your location data. If a website sees a conflict between location data in your cookies and the VPN IP address, it can refuse access. Deleting cookies removes that location data so the website only sees ExpressVPN's IP address, enabling access.
4. Connect to a Different Server
I contacted ExpressVPN over 24/7 live chat and asked for a list of recommended servers for China. The agent recommended trying the following servers in this order:
Japan (Yokohama)
US (Los Angeles – 5)
UK (Wembley)
Singapore (Marina Bay)
France (Alsace)
You can switch to one of these servers instead to establish a working connection.
5. Activate the Kill Switch
Your kill switch should always be active when you travel to China, as this secures your data if the VPN connection is unexpectedly interrupted. ExpressVPN's kill switch is called "Network Lock," and it's easy to switch on in the General settings menu.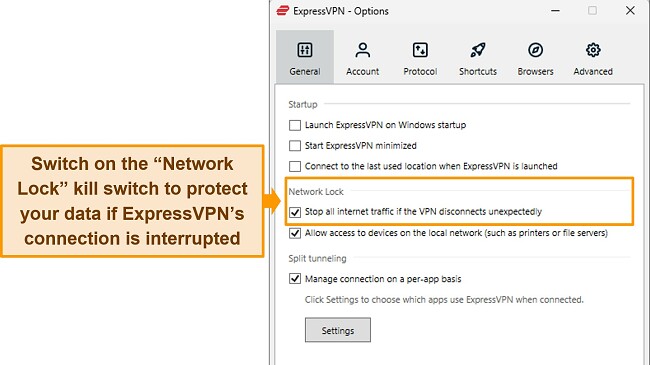 Enabling "Network Lock" cuts access to the internet if ExpressVPN's connection is interrupted, so you can avoid exposing your online activity and personal data to third-party watchers.
6. Contact Customer Support by Email
While ExpressVPN has a live chat feature on the website, it might not be accessible from China. Fortunately, email support is always available. I suggest Hotmail as a working email service in China.
ExpressVPN's customer support team will send you a response promptly — I contacted customer support by email and received a response within 24 hours. Make sure you take note of the customer support email address (support@expressvpn.zendesk.com) in case you can't access the website.
How to Download/Purchase ExpressVPN If You're in China
Access ExpressVPN's Website With a Free Proxy
A free proxy may be able to avoid China's detection technology to connect to ExpressVPN's website. Proxies change your IP address but don't encrypt your connection, and the Chinese government is much less likely to detect and block smaller proxy services.
You can use one of the top free web proxies for a secure connection to ExpressVPN. Simply connect to a proxy server outside of China and enter ExpressVPN's website address to visit the website. Then, you can purchase and download ExpressVPN with ease.
Use a Mirrored Link to ExpressVPN's Website
ExpressVPN uses mirror links to enable access to its website in restrictive locations. These links take you to an exact copy of ExpressVPN's official website. The difference is, the link won't read www.expressvpn.com — it may read something like www.rhhtbv.com/sign-in. Note that this is not a real mirror link, just an example.
There are no fixed mirror links as ExpressVPN changes them almost daily to maintain security. You can contact ExpressVPN's customer support to ask them for a link (support@expressvpn.zendesk.com) or ask a friend abroad to contact ExpressVPN using the 24/7 live chat.
Email ExpressVPN to Get the .apk App (Android Users)
If you have an Android device and an existing subscription, email ExpressVPN's customer support to ask for the official .apk. As you don't need to download the .apk from the Google Play store, government restrictions won't block the installation. Once you've installed the file, sign in to your ExpressVPN app as usual.
Note that you should only install the .apk from ExpressVPN, not an unverified .apk website — this may not be authentic software and could put you at risk of malware and data theft.
Use Your Home Country SIM Card
It's a good idea to get a Chinese SIM card when you visit the country, as you won't experience high roaming charges from your existing provider and you'll have faster network connections. However, your Chinese SIM card will be subject to government restrictions, so you can't connect to ExpressVPN.
Instead, you can switch back to your original SIM card and use it to subscribe to ExpressVPN. As the roaming data doesn't use Chinese ISPs or telecom providers, your connection won't be restricted by China's Great Firewall.
Ask a Friend Who Lives Abroad to Get ExpressVPN for You
You can contact a friend in your home country, or who lives somewhere without restrictive internet, and ask them to purchase ExpressVPN for you. Once your friend has subscribed, they can send you the installation files and login credentials for you to set up ExpressVPN on your devices.
If you need to pay your friend back immediately, China allows payments through PayPal, cryptocurrency, and direct bank transfers. Make sure to use an email address that isn't Gmail as Google is blocked. Hotmail is a suitable and accessible alternative.
Visit Hong Kong, Macau, or Taiwan
If none of the above options are viable, you can try taking a short trip to Hong Kong, Macau, or Taiwan to purchase and download ExpressVPN. While China's internet restrictions and surveillance still happen in these regions, online censorship isn't as strict.
When you travel to one of these locations, you should be able to use the local internet to connect to ExpressVPN's website, subscribe, and download the necessary setup files. Once you have the apps installed, you can return to China and connect to ExpressVPN without issue.
FAQs on Using ExpressVPN in China
Get ExpressVPN for China Today
With ExpressVPN's world-class security and privacy features, you don't have to worry about your internet privacy or being blocked from your usual sites back home. You can continue working on Google Drive, catch up with friends and family on Facebook and WhatsApp, and even read your local news — all without being tracked by anyone who might be watching.
But don't take my word for it. It's possible to try ExpressVPN in China risk-free as it's backed by a 30-day money-back guarantee. If you find it doesn't meet your needs, you can get a refund by contacting the 24/7 customer support team. I tested this process myself to ensure it works and the money quickly returned to my bank account in only 5 days.
---
To summarize, the best VPNs for China in 2023 are…
Top Choice