How to Use ExpressVPN in China in 2020 (Tip: Do This First!)
Last Updated by Kate Hawkins on October 01, 2020
Note! ExpressVPN's website and apps are blocked in the country. You should download ExpressVPN to your devices before you arrive in China to avoid any issues.
Most VPN providers can't bypass the "Great Firewall of China" – but ExpressVPN can. It consistently gets past China's heavy internet censorship due to its impressive security standards. Features like DNS leak protection and an automatic kill switch not only grant you internet freedom, but also keep your location and online activity protected.
Unfortunately, ExpressVPN's website is blocked in China, so you'll need to download the app before you get there. But unlike other VPNs, once you have the app, you can connect to any of the 3,000+ servers and bypass the firewall in just a couple of clicks.
Want to try it out before you subscribe? ExpressVPN offers a 30-day money-back guarantee so you can test the service in China at no risk to you!
Quick Guide: 3 Steps to Using ExpressVPN in China
1. Sign up for ExpressVPN (make sure you do this before you get to China).
2. Open the app in China.
3. Connect to a server and start browsing! It's better to use nearby servers like Hong Kong or Japan for faster speeds.
How Does ExpressVPN Bypass China's Great Firewall?
ExpressVPN is one of the only VPN services that can consistently bypass China's internet restrictions. I tested ExpressVPN for myself and found that its security features and fast speeds really do make it a top option for countries with heavy restrictions like China.
To bypass the Great Firewall and keep your data protected, ExpressVPN uses military-grade encryption and an automatic kill switch. The 256-bit encryption disguises your internet traffic, making it unreadable to ISPs, government authorities, and China's restriction technology. Anyone trying to view your activity will be unable to decipher what you've been doing or where you're located. To guarantee your data is never compromised, the Network Lock automatic kill switch disconnects your internet if your VPN connection becomes unstable.
With no servers in China, ExpressVPN doesn't have to conform to its strict data-logging regulations. You can connect to fast, nearby servers in Hong Kong, Singapore, or Japan worry-free.
You can try ExpressVPN for yourself at no risk with its 30-day money-back guarantee. If you have any issues, you can contact 24/7 customer service by live chat or email support. They'll process a full refund for you, no questions asked!
Bypass China's restrictions with ExpressVPN
How to Use ExpressVPN in China
ExpressVPN doesn't require any special setup to work in China. Once you have the app downloaded to your devices, you can connect to your preferred server and start browsing. But for an extra layer of protection on all your devices, there are some minor adjustments you can make in app settings.
2 Steps to Connect to ExpressVPN Whenever Your Device Is in Use
1. Open the app and go into the "Options" menu.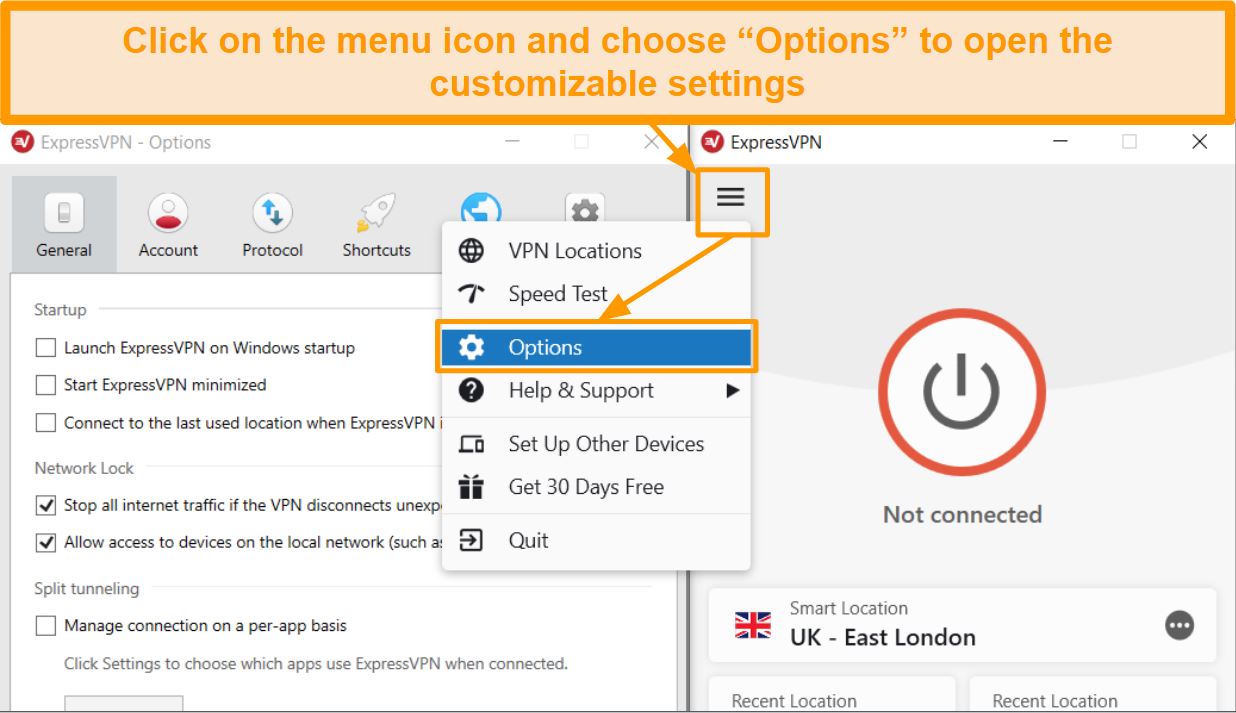 2. In General Settings, check "Launch ExpressVPN on startup." To make sure you automatically connect to an optimal server for China (like Hong Kong, Singapore, or Japan) check "Connect to the last used location when ExpressVPN is launched."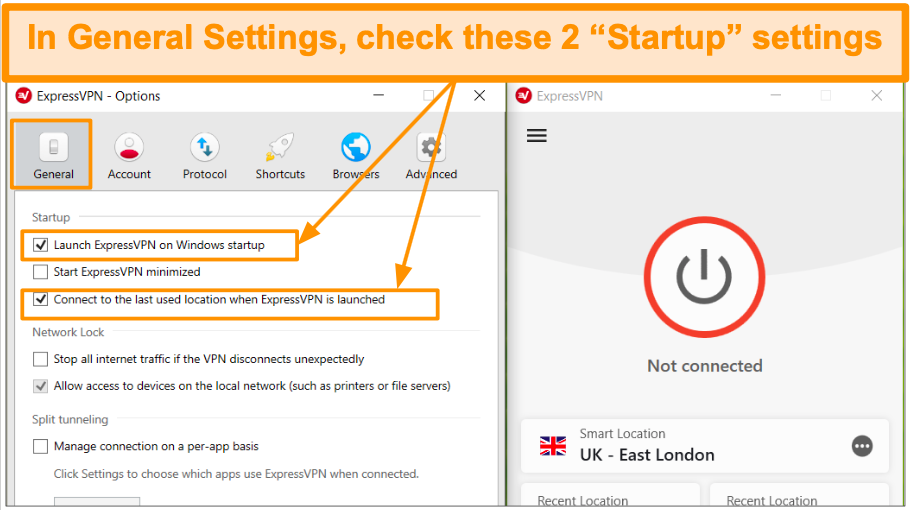 2 Steps to Turn on Kill Switch Protection
1. In General Settings, find the "Network Lock" settings.
2. Activate kill switch protection by checking "Stop all internet traffic if the VPN disconnects unexpectedly."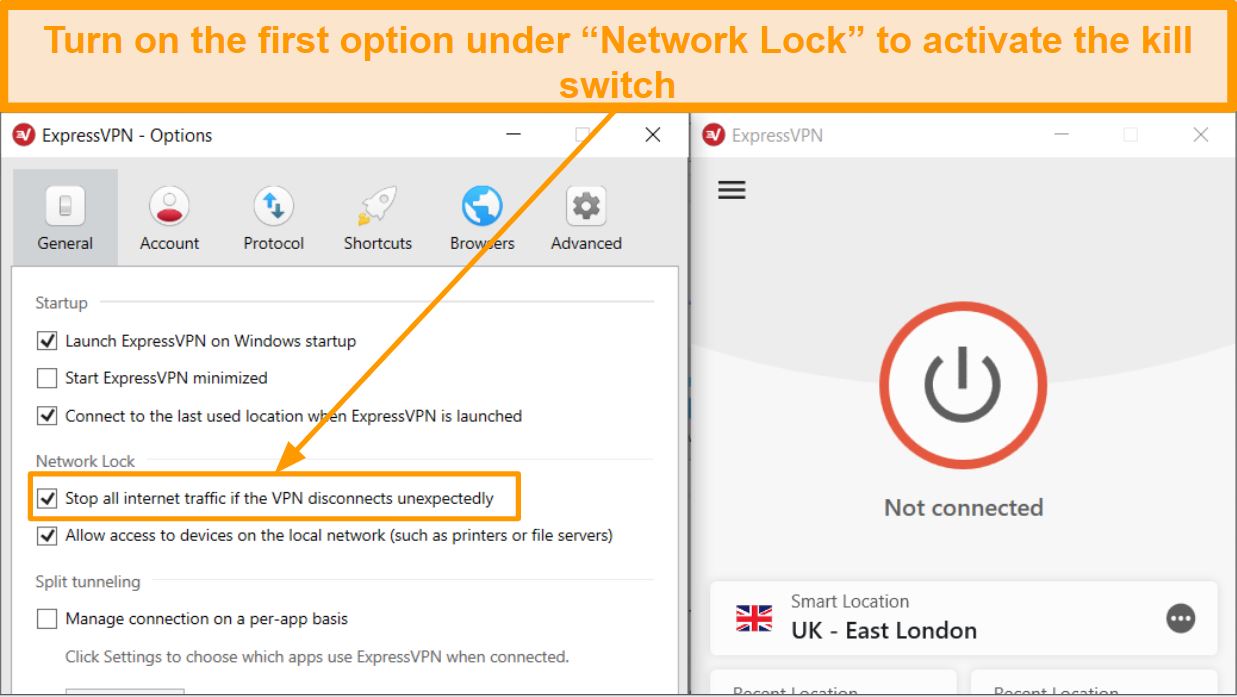 2 Steps to Activate IP and DNS Leak Protection
1. Click on "Advanced" from the Options menu.
2. Tick "Prevent IPv6 address detection while connected" and "Only use ExpressVPN DNS servers while connected."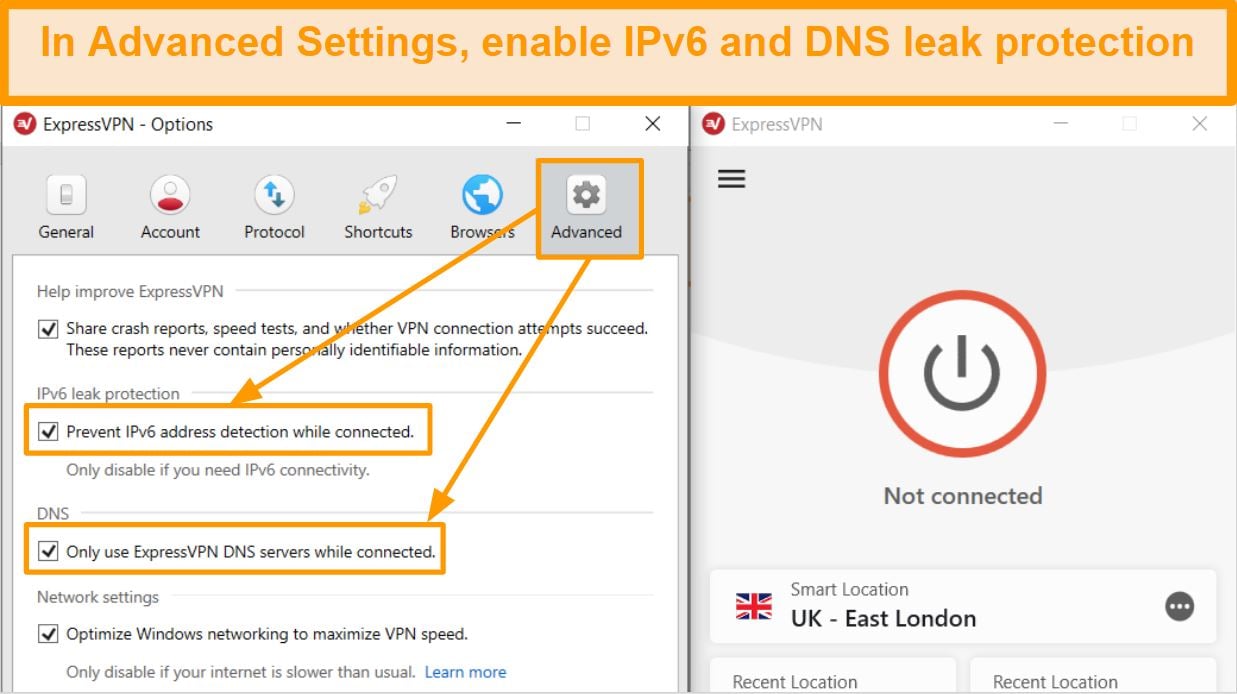 Now that your connection is extra secure, you can connect to a server and start using the service. To ensure fast speeds from China, ExpressVPN recommends using a nearby server, like Hong Kong or Japan. I found ExpressVPN's list of recommended servers in a guide on its website dedicated to troubleshooting connections from China.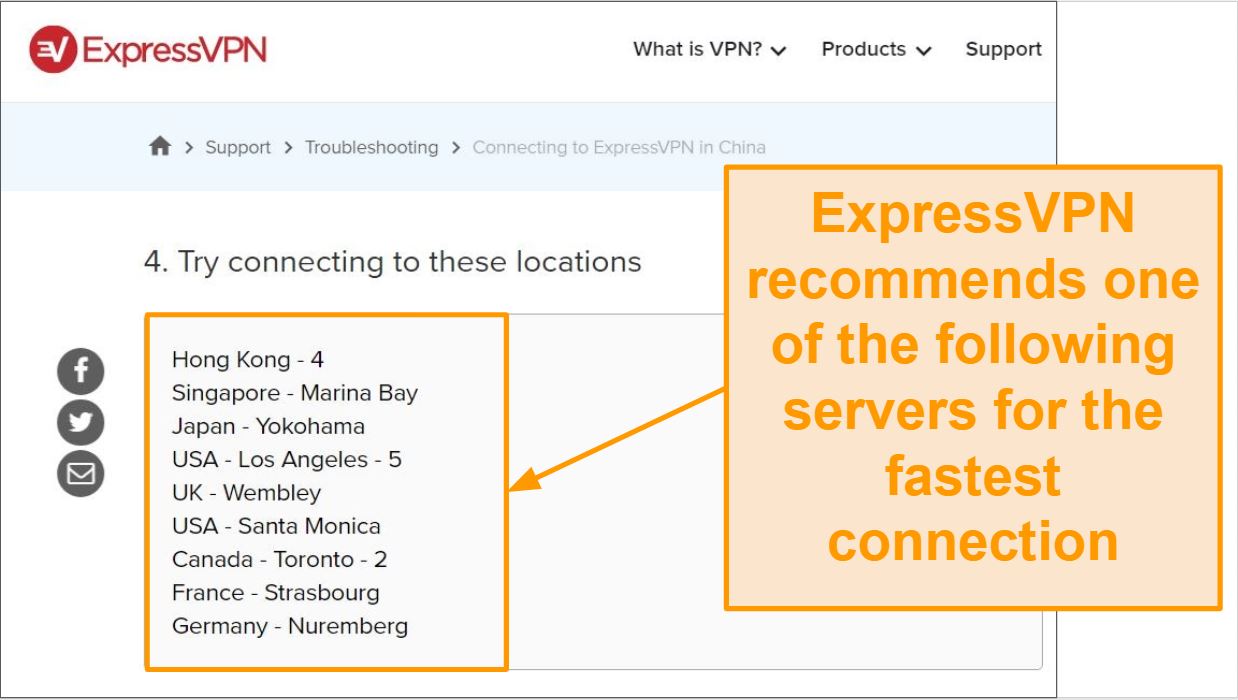 3 Ways to Troubleshoot ExpressVPN If You Can't Connect From China
Even the best VPNs like ExpressVPN occasionally have trouble bypassing China's restrictions. Here are 3 ways you can troubleshoot ExpressVPN if you can't connect when you're in China.
1. Make Sure Your VPN Protocol Is Set to "Automatic"
ExpressVPN has different protocols you can use, depending on what you want from your connection. Some protocols are more efficient for data transfer, while others provide a more reliable connection. To adjust your protocols, follow these steps:
1. Open the
"Options"
menu and go into the
"Protocol"
settings.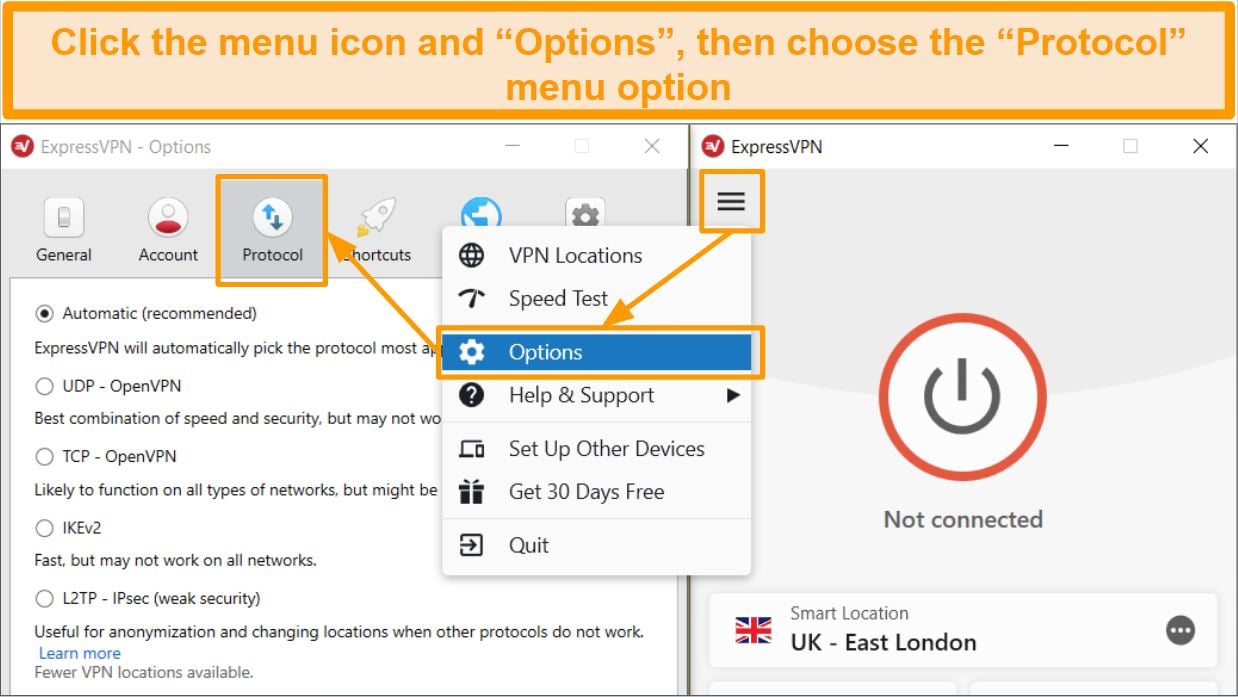 2.
Make sure the protocol is set to "Automatic"
as this lets ExpressVPN find the best protocol for connecting from China.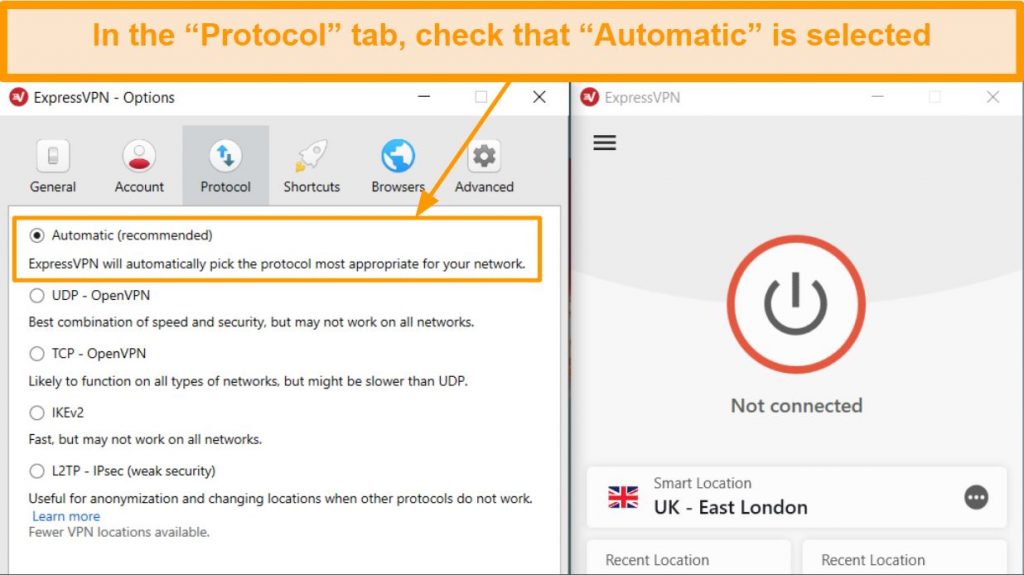 2. Wait For ExpressVPN to Complete the Connection Request
If ExpressVPN is taking a long time to connect, be patient. Your connection could take up to 30 seconds to complete, so only retry the connection if the app tells you that it has failed. If the connection continues to fail, exit the app and restart your device before trying to connect again.
3. Contact Customer Support by Email
While ExpressVPN has a live chat feature on the website, it might not be accessible from China. Fortunately, email support is always available. You can get in touch with ExpressVPN's customer support and tell them the issues you're having. They'll send you a response promptly – I contacted customer support by email and received a response within 24 hours. Make sure you take note of the customer support email address ([email protected]) in case you can't access the website.
Try ExpressVPN risk-free today
FAQs About VPNs in China
🤓 Why do I need a VPN in China?
The Chinese government heavily censors the internet using a combination of laws, technology, and regulations, controlling what its citizens and visitors can access. Many popular sites and services that millions of people use daily are blocked from public view. If you don't have a VPN, you'll be prevented from browsing the internet freely.
China's internet restrictions include social media and messaging apps, like Facebook, WhatsApp, and Twitter – making it hard to stay in touch with friends and family. Watching your favorite shows is difficult as streaming services, like Netflix, are blocked. Even catching up on global news can be a hassle as foreign news sources are also blocked. A VPN will give you full access to the internet and allow you to bypass China's content restrictions.
🤑 Can I use a free VPN to unblock sites in China?
There are several free VPNs that claim to work in China but I don't recommend using them as most free services are severely limited and unreliable. An unstable connection could leave your internet traffic unprotected, putting your data at risk. If the secure VPN connection fails, your internet activity could be monitored by the government or stolen by cybercriminals.
Besides posing a threat to your security, many free VPNs have data limits so you can't use them as much as you want. They deliberately throttle speeds to give paying users priority access, meaning slow browsing and streaming for you. Limited encryption technology means free VPNs struggle to bypass content blocks for Netflix and other streaming services like BBC iPlayer.
If you're in China and want to try out a free VPN, you can use ExpressVPN's 30-day money-back guarantee. I've used this feature to test the service and got my refund in less than 5 business days. All you have to do is request a refund from customer service by live chat or email – easy!
Try ExpressVPN risk-free today
😅 Is ExpressVPN legal in China?
Technically, no. The Chinese Ministry of Industry and Information Technology (MIIT) banned the personal use of non-government approved VPNs in 2018 – and that includes ExpressVPN.
Government-approved VPNs are legal but these must comply with China's regulations and provide access to all logged user data on request. As ExpressVPN has no servers in China and is based in the British Virgin Islands, it is outside of China's jurisdiction. This means it doesn't have to comply with Chinese regulations, but it's also not legal to use it.
A large number of Chinese residents and tourists use non-approved VPNs to access blocked sites and services. Be aware that using a non-approved VPN can result in a fine if you are caught by the authorities.
Why does the Chinese government block some websites?
China's internet restrictions are in place to protect the public from harmful and misleading content. This includes information that could be considered damaging to the government, suggestive material, and gambling. The wording of China's internet legislation is ambiguous at best and only the government can decide what is appropriate for public view.
While the intention to protect the public is respectable, these regulations restrict different political views, foreign media, and free access to the internet. Opinions, news, and other information that doesn't coincide with the Chinese government's views are blocked from public access.
Which websites can't I access from China?
Hundreds of popular sites are inaccessible due to government regulations. The list of blocked sites in China is changing all the time so it's impossible to know just how many you won't be able to view.
China's blocked sites include but are not limited to:
Search Engines – Yahoo, DuckDuckGo, Google (all Google services are blocked)
News websites – NY Times, BBC, The Washington Post
Messaging services – Gmail, WhatsApp, Snapchat
Social media apps – Twitter, Facebook, Instagram
Streaming services – Netflix, YouTube, Twitch
Information providers – Quora, Wikipedia, WordPress
Bypass restrictions with ExpressVPN today
Do other VPNs work in China?
Besides ExpressVPN, there are a few other VPNs that work in China. These VPNs are tested daily to ensure the list is kept up-to-date. The main websites of all of these VPNs are blocked by China's restrictions so if you're already in China, you'll need to use a mirror site to access them.
Can I use my VPN on my smartphone in China?
Generally, VPNs don't work as well on a smartphone when you use it in China. Mobile devices like smartphones and tablets use a protocol called IPSec with your VPN. This protocol has weaker encryption, making it more easily detected by China's Great Firewall.
To use ExpressVPN on your smartphone in China, you can connect your phone to your computer's hotspot. Use ExpressVPN on your computer to securely connect to a server and then set up a personal hotspot through your WiFi connection. Your phone will be secure as long as your computer is connected to the VPN server.
Enjoy Internet Freedom in China With ExpressVPN
In a country with strict surveillance and internet restrictions like China, you need a reliable VPN like ExpressVPN. It keeps your data secure, your online activity anonymous, and protects you from government scrutiny.
With ExpressVPN, you can unblock Netflix US to watch your favorite TV shows, catch up with friends on Facebook, and read global news articles – all from inside China!
If you're traveling to China or want to try the service before you subscribe, use ExpressVPN's money-back guarantee. You can browse the internet freely for 30 days and get a full refund. Simply contact customer support by email and they'll process your repayment, no questions asked.