How to Unblock Spotify for Free (Updated March 2019)
Today, Spotify has more than 100 million users worldwide. The music streaming giant offers all the biggest names in the industry and allows you to choose between a free and a paid subscription. The main difference between these two plans is that the paid one is ad-free.
However, while Spotify is among the most popular music streaming services, it's not available to everyone. Furthermore, you may find that the music you're used to listening to while at home isn't available when you go on holiday. We came up with a list of the Top 5 Free VPNs to get around these blocks.
In this article, we're going to have a look at some of the main reasons you may not be able to access Shopify. We'll also delve deeper into how you can use a VPN to unblock it. Lastly, we'll tell you what makes a good VPN and highlight our top five free services for unblocking the service.
Why You May Not Be Able to Access Spotify
There are two main reasons you may not be able to access Shopify. These include geo-restrictions and firewalls. Let's take a closer look:
Geo-Restrictions
While Shopify is available in 65 countries across the world, others won't allow users to access the platform. There are multiple reasons for these geo-restrictions. The first one is that the music label or legal owner of the piece gets to choose where their music becomes available. Without their permission, Spotify would breach copyright laws, thus putting themselves in serious trouble.
Additionally, certain governments block content because it doesn't align with their political and religious beliefs. With this in mind, they censor the content to stop people from listening to it. These countries with strict censorship laws also often block popular social media platforms like Facebook as well as YouTube and Netflix, among many others.
A Firewall
You may also find that you can't access Spotify while you're at work or college. This is because your institution has likely put up a firewall restricting certain websites and online services. Companies and educational institutions do this to minimize distractions – a poor excuse considering some people work best when listening to their favorite music.
Using a VPN to Unblock Spotify
Luckily, all is not lost. With a VPN, you can bypass geo-restrictions and firewalls by connecting to the internet via a server in a different location. This gives you a completely new IP address. By doing so, the entity blocking your access can't identify where you truly are and, therefore, doesn't stop you from using the service.
But, before you jump online and go for the first VPN that you find, it's important you know that not all VPNs are the same.
What Makes a VPN Good?
Since its inauguration, Spotify has been targeted by hackers twice. With this in mind, it's essential that you choose a VPN that comes with good security features. If you don't, all the hard work you've put into keeping your personal information safe could go to waste. In addition to choosing a service that comes with military-grade encryption, look for the following features:
A choice of servers in your preferred locations
An application for the device on which you like to listen to Spotify
DNS and IP leak protection
For added security, go for a service that comes with an automatic kill switch so that you're not at risk even if your internet goes down.
Top 5 VPN Services to Unblock Spotify for Free
Now that you know why you should use a VPN and what to look for in a provider, here's our list of top 5 VPN services that will allow you to unblock Spotify for free:
1. CyberGhost VPN – Try it free for 45 days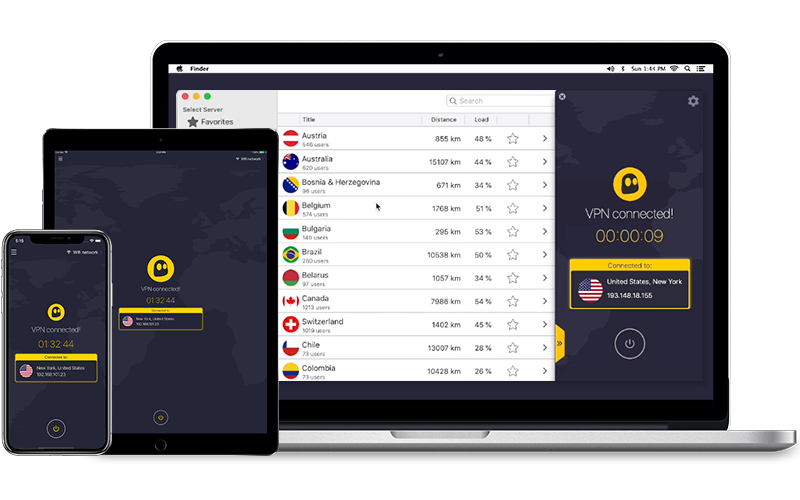 More than 3,600 servers worldwide
DNS and IP leak protection
While CyberGhost isn't free to use, the service only costs $2.5 a month if you go for the 3-year plan. Plus, you'll enjoy a 45-day money back guarantee which will give you plenty of time to establish whether or not it's the right VPN for you. Furthermore, you can use CyberGhost on 7 different devices simultaneously and you'll enjoy unlimited bandwidth and traffic.
Listen to Spotify with CyberGhost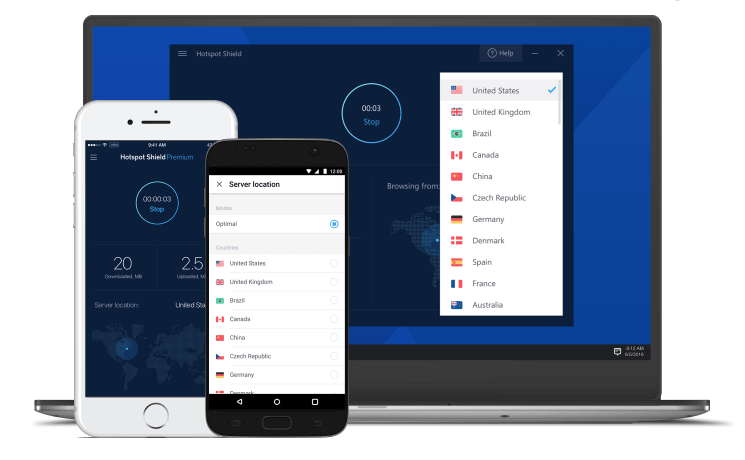 More than 2,500 servers in over 25 countries across the world
With one VPN account, Hotspot Shield allows you to protect up to 5 devices simultaneously. The service is completely free to use and the company has a strict no logs policy so you can rest assured knowing that they're not sharing your data with anyone they shouldn't be. The only catch to the free plan is that you'll have to put up with ads.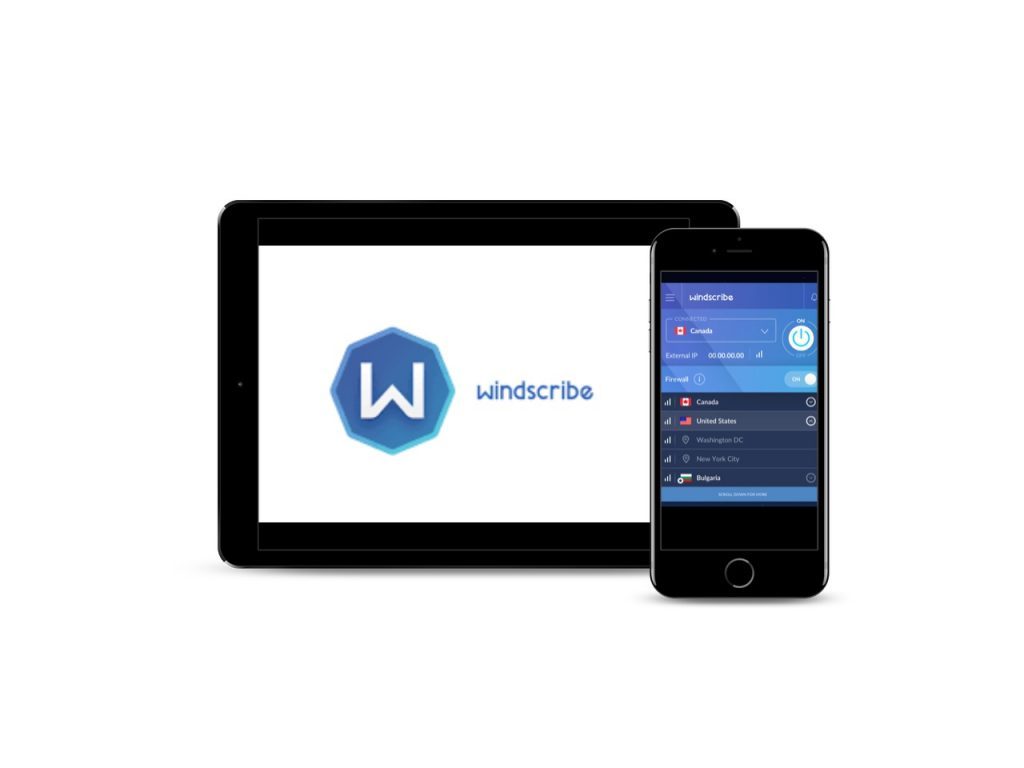 Unique R.O.B.E.R.T technology that blocks malware and ads
Servers in more than 60 countries worldwide
Windscribe VPN is another service that allows you to access Spotify, free of charge. The provider offers a high level 256-bit encryption. With the free plan, you'll get 10GB of data every month as long as you confirm your email address. Additionally, the free plan allows you to connect to servers in a choice of 10 different countries.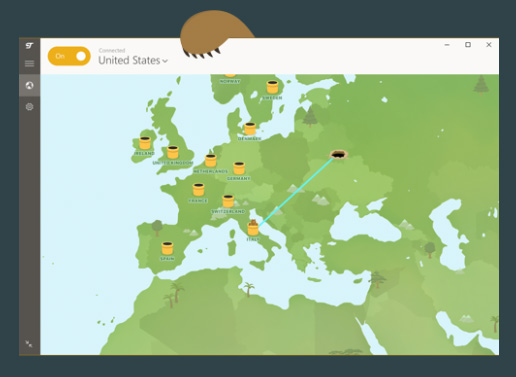 Vigilant mode which blocks traffic while your connection is disrupted
TunnelBear allows you to access Spotify from anywhere completely for free. However, unlike other providers on this list, the company only offers 500mb of free data a month. Once this data is us up, you have the choice to upgrade to a premium plan or wait the following month (use this TunnelBear coupon to save 50%). That said, you can download the application on virtually any desktop or mobile device.
5. ProtonVPN – Excellent security features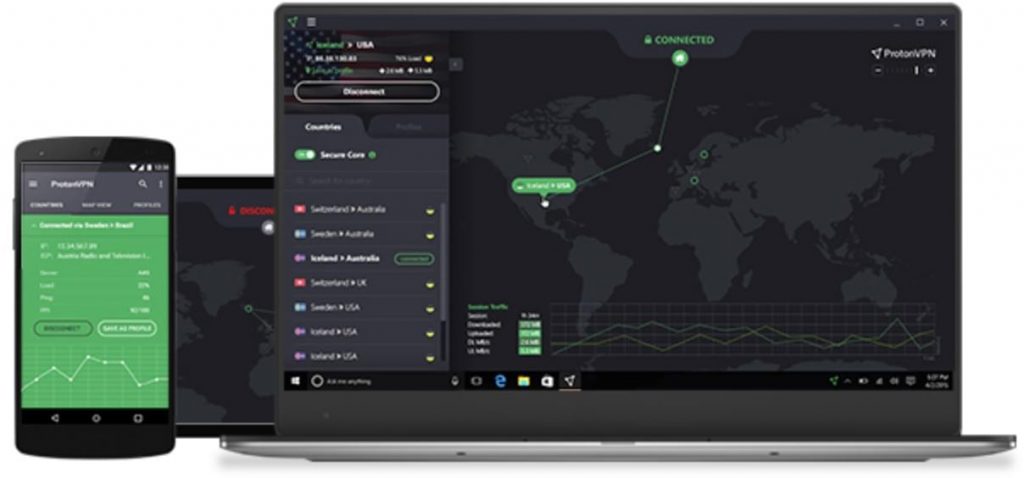 Access to servers in 3 countries
While ProtonVPN's free plan does come with access to a limited number of servers and only allows you to protect one device at a time, you still benefit from its great security features. Aside from its strict no logs policy, the plan also comes with an automatic kill switch so you don't have to worry about your personal information ending up in the wrong hands.
Bottom Line…
All the VPN services above will allow you to access Spotify from anywhere. That said, remember that these plans do come with their limitations. If you plan on using your VPN for more than just accessing Spotify, you may have to upgrade to a paid subscription.
We suggest you spare the $2.5 a month for CyberGhost which will give you full access to unlimited bandwidth and a far larger selection of servers in different locations.