Real 50% off Coupon for TunnelBear & How to Spot the Fakes
Last Updated by John Bennet on June 20, 2022
TunnelBear is a Canadian-based VPN service that features some of the best branding you'll find with VPNs — especially if you're really into bears. Despite the cute gimmick, TunnelBear offers admirable performance in a lot of key areas, some of which are available with their free version, such as:
AES 256-bit encryption
Works in China
Unblocks Hulu and Netflix
Fast speeds despite low server amount
Pay Upfront and get the Grizzly Package for Half Off
While TunnelBear offers a decent free version, it's hampered by low data limits and a few other hindrances as well. The best way to unlock all TunnelBear can do is to get a paid version, which isn't all that much more to be honest.
TunnelBear has a low price for its basic subscription, there's an easy way to get 50% off right upfront – all you need to do is make one lump payment and your bill will be cut in half.
Check out the current prices: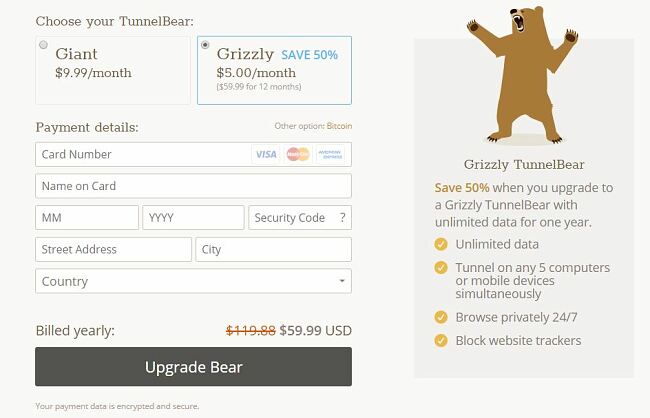 The "Giant" package will cost you $9.99 per month, which is $119.88 per year.
Opting for the "Grizzly" package gives you an instant 50% discount. By paying upfront, you slash the cost down to a mere $60 per year, or $0.16 per day.
Searching for a Bigger TunnelBear discount?
You may see other sites claiming a 72% discount on TunnelBear, or even 100% discount (which is just the free version) but when you click on it you'll see that they have nothing to offer. The best one I've seen actually has an intro like this about fake discounts, and then never even shows a TunnelBear discount, they just try and get you to buy a different VPN. If you read you will see that they claim there have a coupon code that works for three TunnelBear plans, which is interesting since TunnelBear doesn't even have three plans.

These guys are doing fancy tricks with Google search that just plug in your search results into the title. You can tell it's fake because once you leave the page, you won't be able to get back through any link on the page. Only by clicking back, or doing another Google search. Here you can see the exact same text for a different VPN, the only thing that changes is the name of the VPN vendor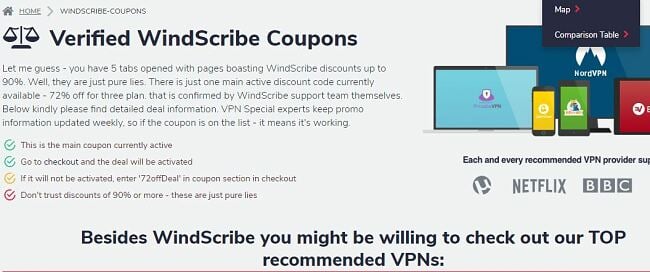 On the other hand, we will only bring you real coupons that we can verify ourselves. We click through all the pages and won't try and convince you to use a coupon that doesn't exists.
VPN prices are always going up.
If you've followed VPN services for any amount of time, you know the price is always increasing.
TunnelBear does offer good prices for a very capable VPN service, but these prices will continue to climb as time goes on.
So, if you want to lock in the best prices, it's a good idea to go ahead purchase TunnelBear today before this deal goes away.
Click on the button to be taken to TunnelBear's signup page and enjoy immediate savings on this VPN or click for more VPN deals and coupons
Deals You Missed
Dec 2019 Christmas offer: 58% off the 2-year plan