6 Best REALLY FREE VPNs for Android in 2022 (Safe to Use)
Last Updated by Eric Raue on August 01, 2022
You can find hundreds of free VPNs with high ratings on the Google Play Store — but unfortunately, most free Android VPNs are actually logging and selling your browsing history without your knowledge in order to make money.
Unless you read the fine print and conduct the right tests, it's nearly impossible to know which free VPNs are actually safe. To save you the risk, I tested 50+ free Android VPNs and ranked the best for 2022.
However, even the best free VPNs have restrictions like limited data or patchy access to Netflix. If you want to unblock the full benefits of an Android VPN, I suggest you try ExpressVPN's dedicated Android app (works on phone, tablet, TV, and more). It's backed by a 30-day money-back guarantee, so you can get a full refund if you're not satisfied.
Try ExpressVPN on Android risk-free
Quick Guide: The Best Free Android VPN Apps in 2022
Try ExpressVPN on Android risk-free
The Best Free Android VPNs (Tested in August 2022)
Key Features:
While it isn't technically free, ExpressVPN is the best Android VPN available. It has fast speeds, a lag-free server network, strong security, and the ability to access almost any streaming site. Once your 7-day trial ends, you can buy a plan risk-free as it's backed by a 30-day money-back guarantee. Plus, you'll get an additional 30 free days for each friend or family member you refer.
When I connected to ExpressVPN on my Android devices, I was impressed by the blazing-fast speeds. I ran tests on servers in the US, UK, Germany, Hong Kong, and Australia — and my download speed never dropped below 89Mbps. This was more than fast enough for lag-free streaming in Ultra HD. I was able to watch an entire movie without interruption whether I used my phone, tablet, or Amazon Fire TV Stick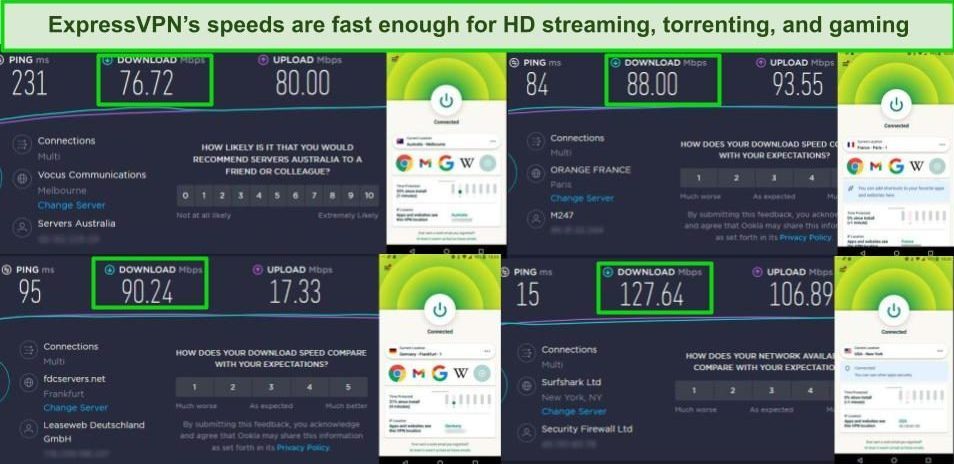 With over 3000 servers in 94 + countries, it's easy to find a fast option near you. Once you've selected a specific country, the Android app automatically connects you to the fastest server. You can even save shortcuts to your favorite websites or apps on the ExpressVPN app's home screen.
ExpressVPN's advanced obfuscation technology hides the fact that you're using a VPN. This lets you easily access your Netflix library from anywhere, as well as other services like Hulu, Disney+, and more. My international colleagues and I tested the service with our local Netflix libraries — ExpressVPN had no trouble accessing any of them.
To keep your online activities safe, ExpressVPN secures your Android's internet traffic with military-grade encryption, leak protection, and a kill switch. As an extra safeguard, its RAM-based servers completely wipe all user data with each reboot. These protection layers keep your IP address hidden at all times, allowing you to safely use sensitive apps (like online banking). In fact, ExpressVPN is one of the best VPNs for online privacy and freedom (it even works in China!).
ExpressVPN's Android version has most of the same features as its desktop apps, like split tunneling and a choice of VPN protocols (OpenVPN or ExpressVPN's proprietary Lightway, which balances speed and security). However, it doesn't include L2TP or IPSec, so you don't have quite the same customizability as on desktop.
You can try ExpressVPN on Android risk-free as it's backed by a 30-day money-back guarantee —you can even sign up and pay anonymously with cryptocurrency. If you find the service isn't for you, you can get a refund. When I tested the policy, my refund was approved in less than 1 minute over live chat — and the money returned to my account in just 4 days.
Try ExpressVPN risk-free on Android
Key Features:
CyberGhost's Android app isn't 100% free, but its 45-day money-back guarantee lets you subscribe, use it for over a month, then get a full refund no questions asked. Every zero-risk CyberGhost plan comes with fast, optimized servers that easily bypass blocks on streaming services.
The Netflix, Disney+, Hulu, and HBO Max specialized servers all let me access my accounts and watch in high quality. My international colleagues performed identical tests and received similar results. As a bonus, I found my speeds on these servers were always fast enough to watch Ultra HD content.
CyberGhost's ad and malware blocker prevents malicious links from infecting your Android devices through its database of millions of known malware, ad, and tracker URLs. In addition to protecting your online privacy, this also speeds up your connection by using less data to load ads.
With its additional WiFi protection, CyberGhost keeps your data safe even on unsecured public networks. Hackers love targeting these networks due to their poor security and large userbase. Enabling WiFi protection gave me peace of mind when I used public networks at airports, hotels, and cafes. Better yet — if you want to protect your other devices, CyberGhost is one of the best VPNs for Windows, iOS, Mac, and more.
To try CyberGhost on Android for free for 45 days,, just use its money-back guarantee. Since there's no data limit this gives you plenty of time to catch up on TV shows or movies, torrent files, play mobile games, or use your Android apps securely and anonymously. I tested the refund policy by asking for my money back over 24/7 live chat. I didn't even have to give a reason — my request was processed in 2 minutes and I had the money 4 days later.
Try CyberGhost for free for 45 days on Android
Key Features:
Hotspot Shield's free Android VPN comes with a very impressive 15GB of data per month. This is more than enough for activities like gaming and downloading files. When I tested Hotspot Shield's speeds, I was delighted to find they exceeded the 2Mbps limit listed on the website. This was fast enough for watching SD video, web browsing, social media, and basic apps.
You'll get the same encryption standard as Hotspot Shield's paid version to keep your data safe, as well as a kill switch — a critical safety feature that shuts off your internet if you lose VPN access. I also found some security features unique to Hotspot Shield's Android version. You can set the VPN to turn on automatically before connecting to some networks (like public WiFi) and exclude certain networks altogether. These options enable a surprising level of customizability for securing your device.
If you want extra connection time, you can earn up to 60 minutes in exchange for watching short ads. Hotspot Shield also lets you choose when you want to see these ads. This means you won't be interrupted in the middle of a game or video chat.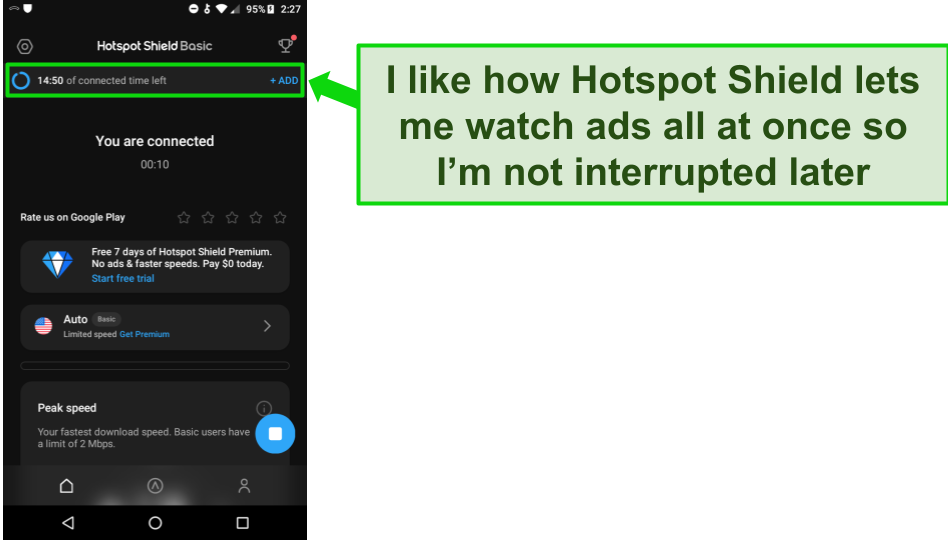 Along with not being fast enough for HD streaming, the main problem with Hotspot Shield's free version is its low time limit. Unless you're happy to watch the ads and increase the time limit, you're limited to just 15 minutes a day.
You can download Hotspot Shield for free on Android. It takes less than a minute to create an account and start using the VPN immediately. You do need to provide an email address, but you can simply create a throwaway email if you want to sign up anonymously.
Try Hotspot Shield for free on Android
Key Features:
TunnelBear has free servers in 48 countries around the world. This provides plenty of options to bypass regional restrictions while traveling. However, TunnelBear doesn't consistently work with popular streaming services like Netflix.
The free version doesn't have ads and gives you the same security as premium, including 256-bit encryption to keep your data safe. This is the same level of encryption used by the US military, so prying eyes won't be able to monitor your online activities. TunnelBear uses the popular OpenVPN protocol, which is known for its excellent security.
You also get SplitBear, a split tunnel to whitelist apps from the VPN. This is useful if you need access to location-sensitive apps (like your bank). The GhostBear and VigilantBear features hide your VPN use and shut down traffic if your VPN fails. There are unique Android features too like Insecure WiFi Auto-Connect, which connects you to a secure server whenever unprotected WiFi is detected.
TunnelBear's 500MB monthly data limit is restrictive but if you tweet about TunnelBear, you can get a one-time data bonus of 1GB. You can get an additional free 1GB by installing the app on your desktop. Finally, referring a friend or relative gets you another 1GB for a total of 3GB. Just keep in mind that your bonus data won't carry over to the next month if you don't use all of it.
If you only need secure browsing, TunnelBear is a solid option. Simply sign up with your email and download TunnelBear for free on Android. You don't have to worry about getting annoying emails after registering — I received 1 message to confirm my email address and haven't heard from TunnelBear since.
Try TunnelBear for free on Android
Key Features:
hide.me's free Android app uses industry-standard protections, encryption, and security to protect your data. Combined with the ad-free app's no-logs policies, this reassured me that my private phone data wouldn't be spied on.
I was surprised to learn that hide.me's free version offers a split tunneling feature. This lets you connect specific apps through the VPN while connecting others normally. It's a great feature if you want to protect your personal email account while checking bank balances.
You can also pick from multiple VPN protocols, which isn't possible with many free VPNs. It automatically picks the best protocol for every situation — but you can also select one manually. IKEv2 is fast, OpenVPN UDP is best for gaming and streaming, and OpenVPN TCP is ideal for web browsing and file transfers.
Aside from solid security, hide.me gave me the fastest speeds of any free VPN. I tested the US server and hide.me was fast enough to make video calls without choppy audio or video. No matter which server I connected to, my speeds were always fast enough to stream in HD.
Unfortunately, hide.me's unblocking capabilities are inconsistent. Sometimes I was able to log into Netflix and watch shows, but other times I'd get the Netflix proxy error.
Despite these limitations, I still believe hide.me's privacy protections make it a good free option for Android. You don't even need to provide your email to sign up — simply download hide.me for free on Android.
Get hide.me for free on Android
Key Features:
ProtonVPN's free version gives you unlimited data to stream, game, and browse as much as you want. Its website claims the free version doesn't support streaming. However, I had no issues accessing my Netflix account using servers in the US, the Netherlands, and Japan when I tested it with my colleagues abroad.
There are no ads and no logs. Plus ProtonVPN has military-grade encryption and a kill switch to keep your data safe even if you lose your connection.
To keep using apps like your online bank without setting off fraud alerts, you can also set up split tunneling. This is helpful when you multitask on your Android as much as I do. With my bank and location-sensitive weather app added to the split tunnel, I could use them even while connected to a ProtonVPN server.
ProtonVPN gives you a choice of 23 servers throughout the US, Japan, and the Netherlands. It's a good selection — but regardless of which location you use, ProtonVPN's free version throttles your speeds. It was fast enough for me to watch Netflix in SD, but I got a little lag while gaming. Overall, ProtonVPN performed most reliably for browsing and watching SD video.
To try ProtonVPN for free on Android, all you need is an email address to get started.
Try ProtonVPN for free on Android
Quick Comparison Table: Which Free Android VPN Is the Best in 2022?
Get the best VPN for Android in 2022
Warning! Avoid These Dangerous "Free" Android VPNs
You should never randomly download a free app onto your Android without doing research beforehand. Nothing is ever truly free — there are always hidden costs. Below are some examples of the downsides you might encounter:
Privacy risks — Even a free VPN needs to make money. Unfortunately, the easiest way for a free VPN to generate revenue is by selling your browsing history to advertisers and other third parties.
Limited servers — Free VPNs can't afford to give you as many servers or locations as premium VPNs, making options extremely limited.
Slow speeds — A smaller network also means slower, overcrowded servers. Many free VPNs throttle your speeds, which means you won't be able to stream or torrent without lag.
Small data allowances — Free VPNs impose restrictive data caps to help offset their operating costs. Unfortunately, you may not be able to watch TV, game, or video chat without getting cut off.
Can't get around content blocks — Free VPNs don't have as many servers or IP addresses to get around firewalls or blocks.
Buggy Android apps — The last thing you want is an Android app that drains your battery, slows down your device, or just keeps crashing.
After extensive testing, I compiled a list of some of the worst VPNs you should avoid:
How I Tested and Ranked The Best Free Android VPNs
I checked each VPN against the below criteria:
No hidden costs — Free VPNs may cap your data use, limit servers, or block streaming platforms to force you to upgrade. Before you sign up, make sure the VPN provides reliable access to the websites and apps you want.
Security and privacy features — VPNs must have military-grade encryption to keep your data secure and hidden from hackers and other third parties. It's even better if a free VPN has Android-specific security features, like mobile WiFi protection and auto-connect.
No-logs policy — Many free VPNs steal your private information and sell it to third parties. Steer clear of providers that display ads, log data, or have a history of installing malware on user devices.
Fast speeds — You need a provider with ultra-fast servers. This will let you stream, game, and enjoy other high-bandwidth activities without worrying about lag or buffering.
Android compatibility — The best free Android VPNs have easy-to-use apps for tablets, mobile devices, and TVs.
Get the best VPN for Android in 2022
Easy Guide: How to Set Up a VPN on Android (Any Device)
The easiest method is to download a top Android VPN provider and install the dedicated app.
How to use an Android VPN App
Manually Configure a VPN on Android
Manually Install OpenVPN on Android
These instructions are helpful if you find a VPN without a native app (like a game console or smart TV). You'll need to get server credentials from a VPN provider, but you can use the open-source OpenVPN Connect app
Set Up an Android APK VPN
If you prefer to download the best Android VPN via an APK file or can't access the Google Play Store, use these instructions:
Samsung devices:
Non-Samsung devices:
Get the best VPN for Android in 2022
FAQs on Android and Free VPNs
Are free Android VPNs safe?
It depends. I tested all the leading VPNs and I shortlisted a few free Android VPNs as truly safe. Each VPN on this list has a no-logs policy so no identifying data is tracked or collected and military-grade encryption to secure your internet connection from outside interference. There's even a kill switch that automatically blocks online traffic if the VPN ever unexpectedly cuts out.
However, I came across plenty of dangerous Android VPNs in my tests. Many compromise your security for profit by exposing you to malware, logging your data, or selling your bandwidth. These practices put you at risk for identity theft, hacking, and other threats.
What's the best free VPN for Netflix?
The best free VPNs work with Netflix but unfortunately, there are strict data limitations so you can only stream for short periods at a time. For example, Hotspot Shield's free Android VPN only works with the US Netflix library — and its data cap limits you to only 1 or 2 episodes of a show per day.
What's the best free Android VPN for torrenting?
While there are some safe free VPNs for torrenting, most are too dangerous to recommend. If you use a service with weak security, you could face legal issues. Since free VPNs usually log user activity and other data, you won't be anonymous when torrenting. If you accidentally download a file containing material that violates DMCA copyright laws, you could get in trouble.
Can I use a paid Android VPN for free?
Yes! While most premium Android VPNs don't have free trials, you can take advantage of the money-back guarantee of a premium VPN like CyberGhost. CyberGhost's money-back guarantee is a whopping 45 days, so you can easily get your money refunded for any reason within that period.
Get the best VPN for Android in 2022
Get a Fast and Safe Free VPN for Your Android
While there are some good free VPNs for Android, it does cost money to run an effective VPN service. However, the best Android VPNs all come with money-back guarantee so you can use it risk-free for a certain amount of time.
ExpressVPN easily outperformed the competition with its industry-leading security features, lightning-fast servers, and compatibility with all Android devices. It's even backed by a 30-day money-back guarantee, so you can try ExpressVPN on Android without risk. If you decide you don't like it, you can get a full refund.
---
The Best Android VPNs in 2022