5 Best & Fastest Free VPNs for Android in 2021 (EASY SETUP)
Last Updated by Eric Raue on February 03, 2021
Some of the most dangerous free Android VPNs have millions of downloads and high ratings on Google Play. Many of these services install malware on your phone or sell your private data. They may also make your device vulnerable to being hacked – in some rare cases, cybercriminals could then use your phone for illegal activity and get you in legal trouble!
Many free VPN apps also have poor performance. Even the best options have data caps, throttle your speeds, and block your access to the streaming platforms like Netflix.
It's hard to know which services keep you safe and work well – especially because other VPN sites recommend providers known to endanger users. For your safety, I tested the top 50 free Android VPNs on Google Play to bring you a list of the best 5 services. They all provide solid security and fast connections. I also checked if they worked with apps and popular streaming sites (only a few could).
To avoid dangerous free Android VPNs, I recommend that you use a trusted VPN provider like Surfshark that has been proven to keep users safe. Plus, Surfshark is great if you're on a budget – you can protect unlimited devices for less than the price of a cup of coffee.
Try Surfshark free for 30 days
Quick Guide: 5 Best Free VPNs for Android in 2021
5 Fastest and Safest Free VPNs for Android in 2021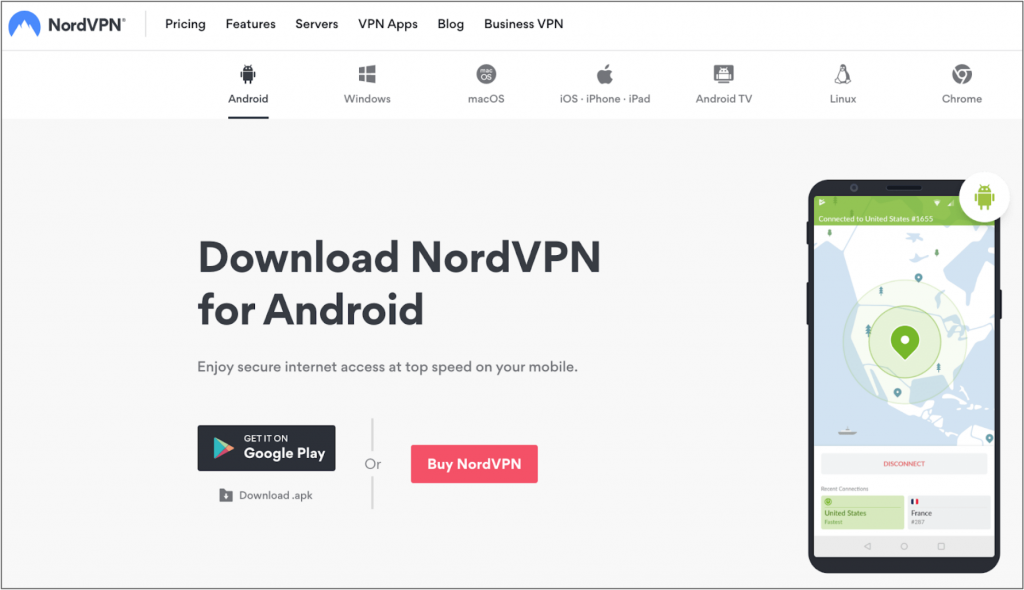 Key Features:
5,750+ servers in 59 countries for fast, reliable connections worldwide
No restrictions on speed, data caps, or security
Military-grade encryption keeps your connection safe and private
Unblocks major streaming sites like Netflix, Disney+, BBC iPlayer, Hulu, and Amazon Prime Video from anywhere
App is perfectly compatible with Android versions 5.0-11
NordVPN is one of the safest, fastest Android VPNs available and you can use it for free for 30 days (the perfect amount of time to catch up on your favorite shows!). It offers military-grade encryption to protect your data even when you connect your phone to unsecured public WiFi. With security like this, you can feel safe accessing your private accounts from anywhere.
NordVPN also has over 5,750+ servers in 59 countries – this is impressive considering that most VPNs on this list only offer around 5 servers. This massive server network lets you bypass geo-blocks on websites and streaming services like Hulu, Disney+, HBO Now, and Amazon Prime. I was excited that NordVPN was even able to bypass Netflix's tough proxy error message and unblock 10+ different Netflix libraries. No other VPN on this list can do that.
To me, nothing is more frustrating than a VPN that bypasses geoblocks only to make you wait through endless buffering. To test its streaming capabilities for myself, I connected to a US server and watched a marathon of Tiger King on Netflix. I was impressed that NordVPN let me stream in UltraHD with zero buffering.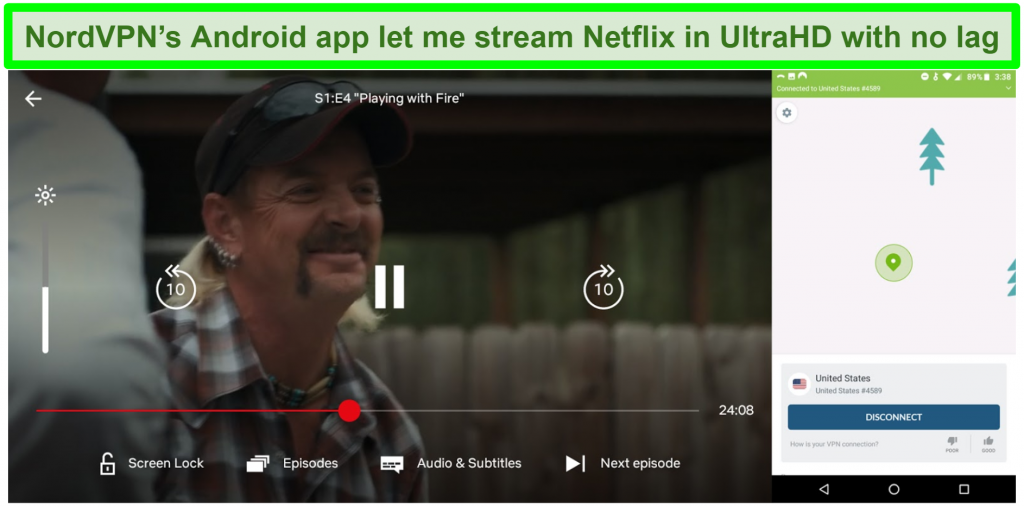 NordVPN is also great for torrenting because it offers optimized P2P servers for fast downloads. It also never limits your bandwidth or data. During testing, I was surprised that I was able to torrent quickly and safely – for example, I downloaded a 28-minute video (500MB) in 2 minutes while I continued to use other apps like Instagram.
Since many free Android VPNs sell user data, I didn't want to take any chances with an unreliable VPN. I was initially skeptical about its no-logs guarantee because almost all VPNs claim they don't keep records of your data. To prove it's not lying like other providers, NordVPN hired cybersecurity experts to audit its security policies and infrastructure. They even published the results to prove that NordVPN doesn't store user data. This evidence reassured me that my phone's browsing data would stay 100% private.
The only potential issue I found with NordVPN is that it doesn't work with Android versions 4.4 KitKat (API 19) or below. But since it is so easy to set up on Android and its apps work perfectly with Android 5.0-11, I didn't see this as a big issue.
Even though there's a 30-day limit to try it for free, I still had to put NordVPN at the top of this list because it is by far the safest, fastest Android VPN. No other service came close to offering the same server variety, streaming compatibility, or tough security. Plus, its customer service is helpful in troubleshooting any subscription or app problems you might have.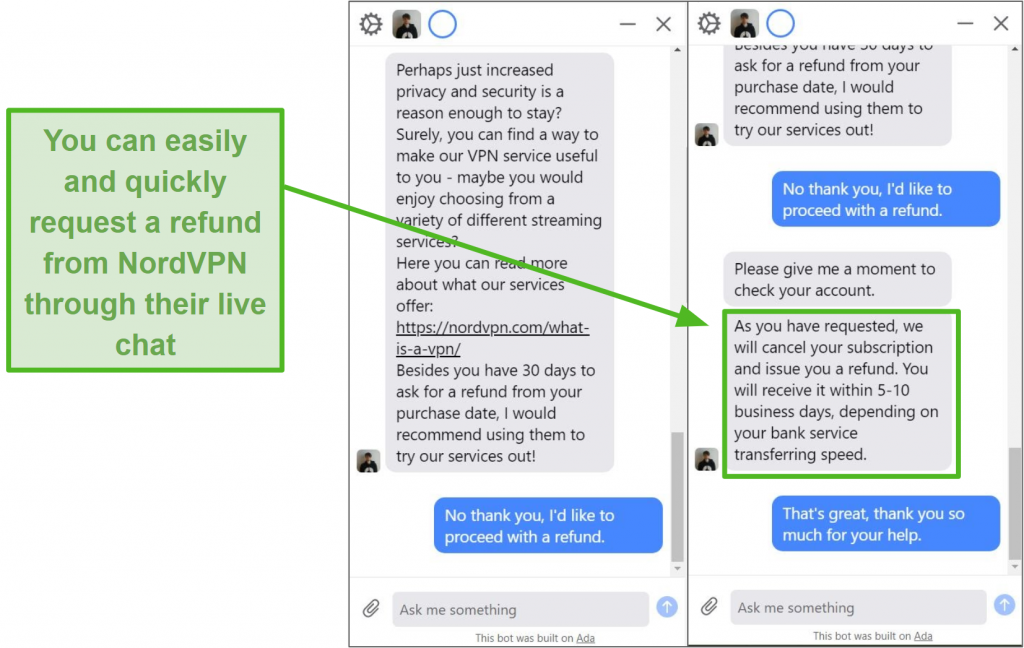 Don't take my word for it – you can take advantage of NordVPN's 30-day money-back guarantee to try it totally risk-free. If you cancel your subscription on time, you can enjoy it for a month without spending a cent. I talked to its customer service via the site's live chat for 2 minutes and got my money returned to my account in 4 days. The representative first tried to troubleshoot to get me to stay, but when I told them I wasn't interested they processed my request fast. The process was fast and no-hassle for me.
NordVPN unblocks: Netflix, Disney+, YouTube TV, BBC iPlayer, FuboTV, Hulu, HBO NOW, Facebook, Spotify, Twitter, WhatsApp, Instagram, YouTube, and more.
NordVPN also works on: Android TV, Android tablets, Amazon Fire TV, Kindle, Windows, macOS, iOS, Linux, routers, Chrome, Firefox, PlayStation, Xbox, Switch, Apple TV, and more.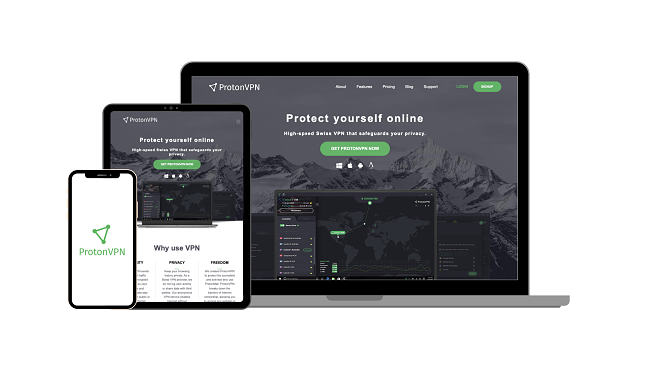 Key Features:
3 secure servers in the US, Japan, and the Netherlands for reliable connections
No data cap for unlimited web browsing and app use
256-bit encryption offers the same solid security as the paid version
Unblocks popular websites and Android apps
App compatible with Android versions 5.0-11
Unlike most services, ProtonVPN's free version has no limits on data use. That makes it a great option to web browse on Chrome and use Android apps as much as you want. With ProtonVPN, you'll never have your service unexpectedly cut off due to reaching a data cap.
Another big advantage is that ProtonVPN doesn't display annoying or dangerous ads in its free version. To me, this was a huge advantage because I was never interrupted by pop-ups while accessing my favorite sites. Having no ads also makes ProtonVPN safer ⁠- if an ad redirects you to a malicious website, your phone could be infected with malware. I was relieved that I didn't have to deal with this potential safety issue with ProtonVPN.
Free users also get the same powerful security features like leak protection and military-grade encryption to keep your data secure from hackers, government spies, and other untrustworthy third parties. To make sure it truly kept my data private, I ran IP address and DNS leak tests while ProtonVPN was running. It gave me peace of mind when I found that ProtonVPN never once revealed my true location.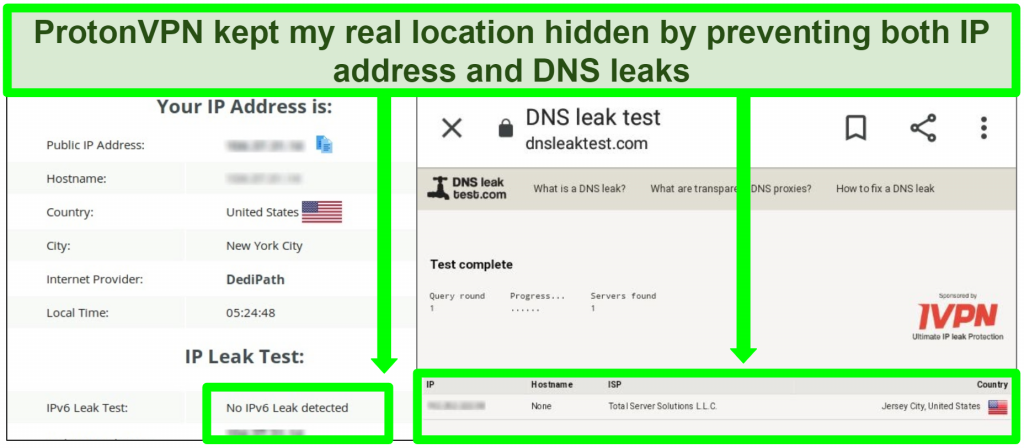 One major downside is that ProtonVPN only offers 3 different servers to free users. The limited options can lead to server crowding, which can cause slow speeds (especially during peak times). During testing, this was a bit frustrating because it caused slow loading times when I was scrolling through Facebook and answering emails.
I was also really disappointed to find that its unlimited free version doesn't work with any popular streaming services, especially since the premium plans work with some platforms like Netflix. This is how the company tries to force you to upgrade your plan. Although this is frustrating, I still think that ProtonVPN is still a great choice if you want a free VPN to safely web browse, access social media, and use game apps.
You can test ProtonVPN yourself – after you download and install it on your Android, you can start browsing immediately.
ProtonVPN unblocks: Facebook, Twitter, YouTube, Instagram, WhatsApp, Wikipedia, Spotify, Telegram, Pinterest, Reddit, Google Meet, and more.
ProtonVPN also works on: Android tablets, Mac, iOS, Linux, Windows, routers, Chrome, Firefox, PlayStation, Xbox, Nintendo Switch, and more.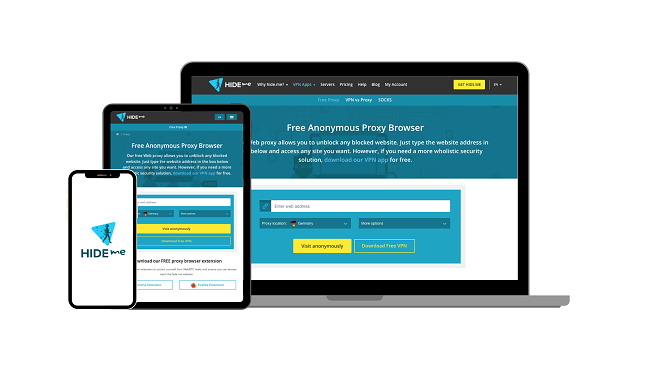 Key Features:
5 free server locations for reliable connections and fast connections
10GB monthly data allotment for web browsing
256-bit AES encryption and no-logs policy keep your data secure
Unblocks popular websites and Android apps
App compatible with Android versions 5.0-11
Hide.me uses industry-standard protections and special security features to protect your privacy. Like the other VPNs on this list, Hide.me uses military-grade encryption to ensure that prying eyes can't intercept your sensitive data. I was also impressed to learn that it invited the cybersecurity experts at DefenseCode Ltd. to inspect its servers. Combined with its no-logs policies, this reassured me that my private phone data wouldn't be spied on.

I was also happy to find that Hide.me's free version offers a split tunneling feature to let you connect specific apps through the VPN while connecting others normally. This is a great feature if you want to protect your personal email account while watching the local news.
Aside from solid security, I was happy that Hide.me gave me fast speeds. When I tested its nearby US server, I was relieved that Hide.me was fast enough to make video calls on Google Duo without any choppy audio or video. When I watched videos on YouTube, they also loaded fast in high quality and I only experienced minor buffering.
Unfortunately, I was disappointed to learn that Hide.me has a 10GB monthly data limit and doesn't unblock streaming services (like Netflix). While the data limit is sufficient for casual web browsing and answering emails, it's limiting if you want to watch YouTube videos or listen to music. I was disappointed that Hide.me's limit only allowed me to watch about 6.5 hours of YouTube videos in HD before I ran out of data – that's not very much for an entire month (especially if you like to listen to music during your workday like me).
Despite these limitations, I still think Hide.me's privacy protections makes it a good option for Android. You don't even need to provide your email to sign up – you can simply download the app and try it for free. Plus, hide.me's customer service can help you troubleshoot any installation or connection problems through live chat or email.
Hide.me unblocks: YouTube, Facebook, Telegram, Wikipedia, Pinterest, Google Hangouts, Spotify, Twitter, WhatsApp, and more.
Hide.me also works on: Android tablets, Amazon Fire OS, Windows, iOS, Linux, Firefox, Chrome, routers, and more.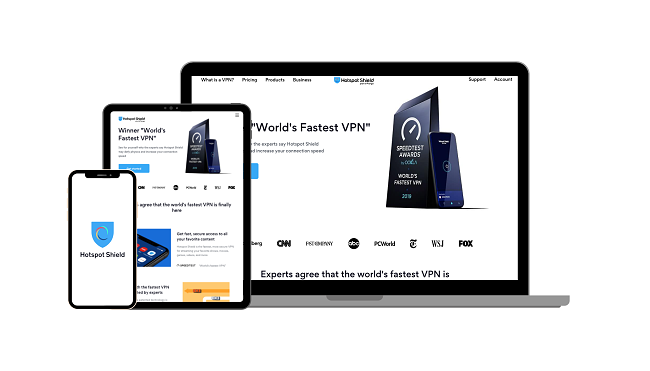 Key Features:
1 free server location
15GB monthly data cap is enough to watch one 30-60 minutes of content daily
256-bit AES encryption and no-logs policy to keep you safe
Unblocks YouTube, social media, and other websites
App compatible with Android versions 5.0-11
Since it only offers 1 server location and caps free users' speeds, I expected Hotspot Shield to be slow. But I was pleasantly surprised that it gave me fast speeds for web browsing, using social media, and watching YouTube videos! My load times were relatively quick and I only experienced minimal buffering. I did notice that my speeds decreased slightly during peak times (probably due to server crowding) but it didn't affect my experience much.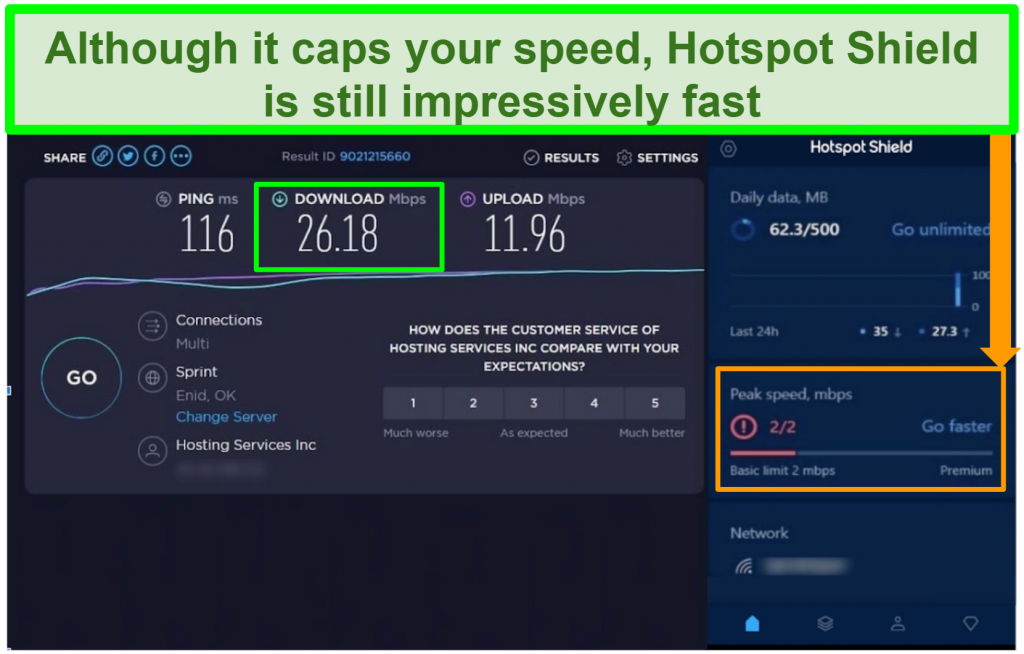 Unfortunately, Hotspot Shield can't give you access to Netflix and Disney+ unless you are located in the US. This was frustrating to me because I otherwise found it to be a good streaming VPN. Its 500MB data limit was enough to watch 30-60 minutes of YouTube content every day, and its fast speeds gave me good streaming quality. I even found that it's compatible with Kodi! However, the fact that Hotspot Shield only lets premium users access streaming platforms abroad is a big limitation.
I also found that its privacy policy wasn't as strong as those used by other VPNs on this list. Hotspot Shield collects some of your private data. This might not be a big deal if you simply want a VPN to web surf more securely abroad, but I personally prefer a service with a strict no-logs policy so that I can stay 100% anonymous online.
If you simply want a VPN to unblock social media and websites while overseas, Hotspot Shield may be a good option for you. To try it yourself, download the app and start streaming.
Hotspot Shield unblocks: YouTube, Instagram, Spotify, Facebook, Twitter, Wikipedia, WhatsApp, and more.
Hotspot Shield also works on: Android TV, Android tablets, Windows, macOS, iOS, Linux, Chrome, Firefox, Smart TVs, and more.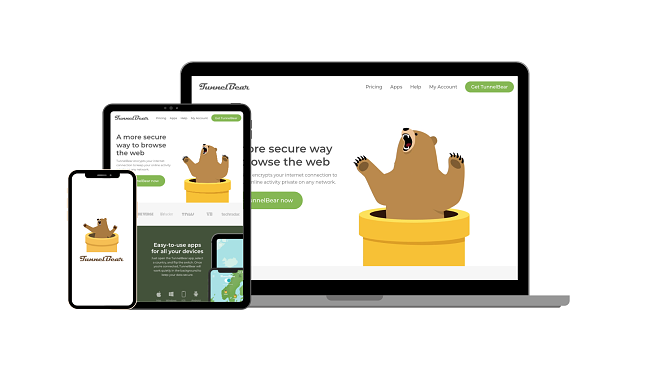 Key Features:
23 free servers
500MB monthly data limit is enough for casual web browsing and apps
256-bit AES encryption and no-logs policy keeps you secure
Unblocks HBO NOW
App compatible with Android versions 5.0-11
TunnelBear is one of the best free Android VPNs to bypass geoblocks because it offers 23 servers in 20 different countries. This large network will give you plenty of options to bypass region-restrictions on your favorite content and websites while traveling.
The free version also gives you the same security features as premium, including 256-bit encryption to keep your data safe. This is the same level of encryption used by the US military, so you can rest assured that prying eyes won't be able to monitor your torrenting and other online activities.
Unfortunately, TunnelBear limits your data to only 500MB per month, which is quite restrictive. The good news is if you tweet about TunnelBear, you can get a one-time data bonus of 1GB. Just keep in mind that this data won't carry over to the next month if you don't use all of it.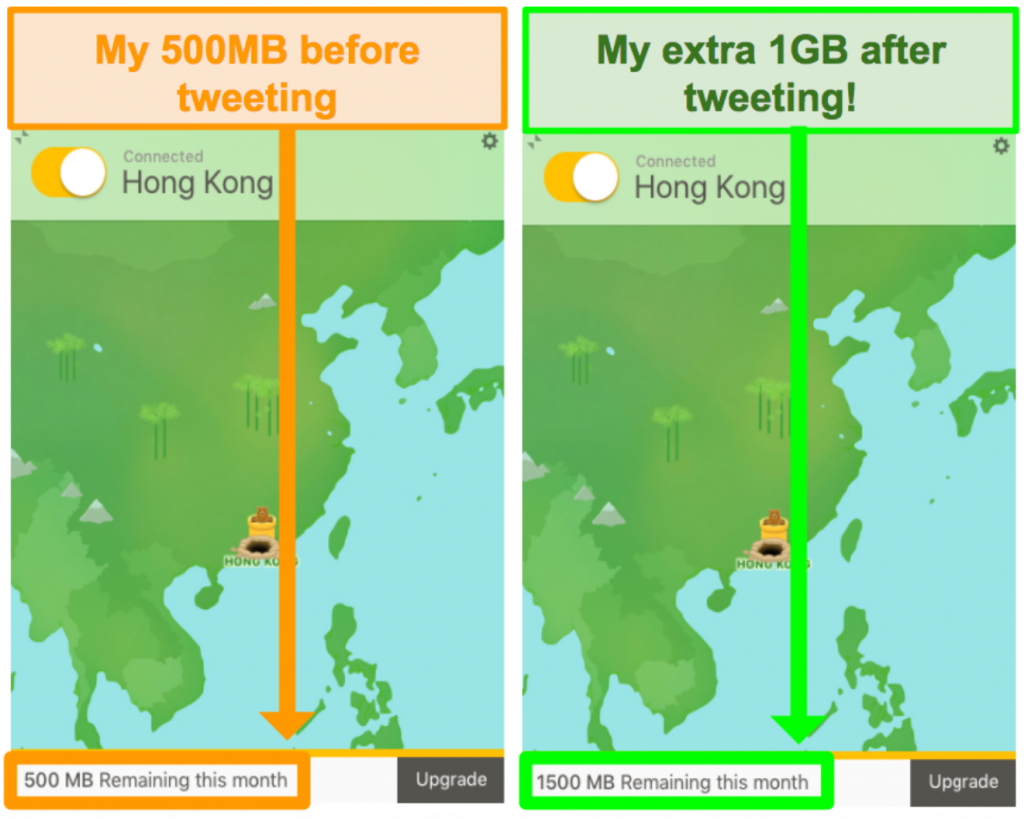 I wanted to test TunnelBear with Netflix to see how long the data cap would allow me to stream, but I couldn't even log in because TunnelBear can't consistently bypass Netflix's blocks (even if you're in the US). Although I was able to log into HBO Go, I was frustrated that the data limit prevented me from watching a single complete episode of Game of Thrones.
If you only want to web browse securely, TunnelBear is a solid option. Simply sign up with your email and download the app to try it yourself.
TunnelBear unblocks: HBO NOW, Spotify, Twitter, WhatsApp, Facebook, YouTube, and more.
TunnelBear works on: Android tablets, Windows, macOS, iOS, Linux, Chromebook, Chrome, Firefox, Roku, Kodi, and more.
How Android VPNs Work and Why You Need One
When you connect to an Android VPN, your internet traffic is encrypted and redirected through a secure server in another location. This process codes your data and gives you a new IP address, which tricks websites into thinking that you're located in another region. That's how a VPN allows you to:
Stay safe on unsecured WiFi networks. Your phone constantly communicates with and may automatically connect to unsafe public WiFi. A quality VPN prevents hackers from using these connections to steal your social media and online bank account credentials.
Bypass content blocks. A top-tier VPN spoofs your IP address to get you access to geo-blocked media content and government-censored apps and websites.
Watch your favorite shows from anywhere. On your next trip abroad, the right VPN can let you stay up-to-date on your favorite series by unlocking region-restricted streaming platforms.
Protect your privacy from prying eyes. Most Android apps, websites, and ISPs track and sell sensitive data about you (like your real location, online history, IP address, and more). Government agencies may also monitor what you say and do online. A high-quality VPN can protect your privacy and keep you anonymous online.
Security and Compatibility Disadvantages of Free Android VPNs
Aside from the recommended services on this list, there are only a few free VPNs that work well and are safe to use on Android devices. However, there are always disadvantages associated with free VPNS like:
Safety Problems
The majority of the VPNs downloaded from Google Play are free apps that promise to protect your privacy. But most free Android VPNs make money in ways that risk your security. They often turn your data into the product they sell to advertisers and unverified third parties.
I also discovered that most of free VPNs on Google Play are owned by Chinese companies with invasive privacy practices. Many of them make you agree to intrusive logging policies and device access permissions that compromise your safety. Even though you may save a few dollars on a monthly subscription, most free Android VPNs are simply too dangerous to use.
Compatibility Issues
Aside from poor security, the majority of free Android VPNs can't give you access to the content you want. Free services offer few servers, which means that they have limited IP addresses to bypass geoblocks. This makes it hard for them to unblock streaming platforms and region-restricted websites. Some VPNs even block free users from popular sites to force them to upgrade.
Warning: Avoid These Dangerous "Free" Android VPNs
After extensive testing, I compiled a list of a few of the worst VPNs that you should avoid at all costs:
HolaVPN
At least 3 other VPN sites still recommend HolaVPN, but they shouldn't. When you sign up, you agree a sister company called Luminati can sell your Android's bandwidth to third parties (including cybercriminals). If your bandwidth is taken by hackers, your phone could be infected with malware or hacked. If cybercriminals then use your phone for illegal activities, you could face criminal charges!
TouchVPN
With a 4.4 star rating and 10 million downloads, TouchVPN's Google Play page makes it look like a great service. Unfortunately, TouchVPN's privacy policy states it logs your browsing, location, and device information for marketing and "research". This data could allow government agencies, cybercriminals, and others to invade your privacy or steal your identity.
Betternet
Although it has millions of downloads in the Play Store, Betternet was caught putting tracking malware on users' phones. It sells the data it collects to anyone who's willing to pay for it – including hackers who could use it to steal your online banking or PayPal account credentials.
How to Choose a Safe and Fast Free VPN for Android
Review the provider's business model. The biggest issue with free VPNs is that many of them put your safety at risk to make money. Steer clear of providers that display ads, log your data, or have a history of installing malware on user devices. To avoid these safety risks, select a provider with an independently-audited no-logs policy.
Check the limitations. Free providers may cap your data use, limit server selection, or block streaming platforms (this is how they force you to upgrade). Before you sign up for a service, make sure it gives you safe, reliable access to the websites and apps you want so you don't waste your time.
Ensure you can sign up anonymously. Free Android VPNs that allow you to subscribe without requesting lots of personal information show they truly value your privacy. Select a provider that allows anonymous signups and payment methods (should you decide to upgrade) to guarantee your privacy.
FAQs: Free Android VPNs
📲 How do I set up a free Android VPN app?
If you want to use the best Android VPN's native app, follow these steps:
Get a VPN. I recommend you try NordVPN as it has the best security and fastest speeds for Android. Plus, you can use it free for 30 days with its money-back guarantee.
Install the Android app. To avoid Play Store refund delays, download it directly from the provider website using your mobile browser.
Sign in with your new account credentials. Connect to a server and start using apps with total privacy on your Android device!
🔧 How do I set up a free Android VPN with an APK file?
If you prefer to download the APK file to install the best Android VPN, use these instructions:
Samsung devices:
Get a VPN and create a new account. I recommend you try NordVPN for its fast speeds and great streaming compatibility on your Samsung device.
Access your device's "Settings".
Tap "Biometrics and Security" and then tap "Install unknown apps".
Choose the browser (like Chrome) from which you will download the APK file
Go to "Allow app installs" and switch ON.
Non-Samsung devices:
Get a VPN and create a new account. You can try NordVPN for its top security and fast torrenting speeds on your non-Samsung device.
Access your device's "Settings".
Tap "Security & Privacy" and scroll to "More Settings".
Select "Install apps from external sources/install unknown apps".
Choose the browser (like Chrome) from which you will download the APK file
Go to "Allow app installs" and switch ON.
🎥 Can I stream Netflix with a free Android VPN?
Although most free Android VPNs are blocked by it, the best VPNs can access Netflix. The few free services that can access it have such strict data limitations that you can only stream for short periods at a time. For example, I found that HotSpot Shield's free Android VPN works with the Netflix app only if you are located in the US – and its data cap limits you to only 1 or 2 episodes of a show per day.
If you're on a budget but want to catch up on your favorite show while abroad, you can use this trick. Before going overseas, download NordVPN to take advantage of its 30-day money-back guarantee. This will give you enough time to enjoy a marathon of your series and then get a full refund when you're done.
⚠️ Are free Android VPNs safe?
No, most free Android VPNs aren't safe. The majority of them compromise your security to make a profit by exposing you to malware, logging your data, or selling your bandwidth. It's also common for free services to display ads that could infect your device with viruses. These practices can put you at risk for identity theft, hacking, and other threats.
Many free services also use outdated encryption standards and intrusive data logging policies. Poor security features like these can make it easy to hack your connection and steal sensitive information about you.
To protect yourself from these risks, I recommend you try a top-tier service like NordVPN that uses military-grade encryption and a strict no-logging policy. With security features like this, you'll never have to worry about prying eyes getting your private information.
🕵️ Are free Android VPNs legal?
Yes, Android VPNs are legal to use in most countries – but don't risk using a free service in places like China, Saudia Arabia, or the United Arab Emirates. Free VPNs' outdated encryption, invasive data logging, and poor server management make them easy to hack. If government agencies realize you're using a VPN, you could be fined up to $500,000 or even jailed!
To stay 100% safe in countries with heavy surveillance, try NordVPN because it has the strongest security features available. If you download the app before going abroad, no one will even know you're using it!
💡 Will my Android VPN work with other devices and operating systems?
It depends – all of the VPNs that I've included on this list are compatible with lots of other devices and operating systems. However, some VPNs available in the Google Play Store only work on Android devices (I wouldn't recommend any of these anyway).
The best VPN for Android (NordVPN) is compatible with a ton of other devices and operating systems, including macOS, iOS, Windows, Smart TVs, Kindle, Kodi, and more. Plus, if you find that NordVPN doesn't have a native app for a particular device, you can always install it on your router. This lets you protect any device you connect to your WiFi. You can even try it risk-free for 30-days before committing to a subscription.
🏆 What's the best free Android VPN for torrenting?
It can be dangerous to use free VPNs for torrenting, but there are some safe options. If you use a service with weak security, you could face legal issues and put your safety at risk. Since free VPNs usually keep user activity logs, IP addresses, and other data, you won't be anonymous when torrenting. That means that if you accidentally download a file containing material that violates DMCA copyright laws, you could get in trouble. Similarly, if you unknowingly download a file containing a virus, a low-quality VPN won't be able to protect you.
Aside from these safety concerns, most free VPNs have technical limitations that make them terrible for torrenting. In order to force users to upgrade, they usually cap your data, throttle your speed, or limit your server options – that means you probably won't even be able to download the content you want.
To avoid these issues, you can try NordVPN for Android because its fast P2P servers are optimized for torrenting. Since it doesn't limit your bandwidth or data usage, you'll be able to torrent as many files as you want. Plus, its no-logging policy and military-grade encryption mean your activity will remain 100% anonymous.
Get a Fast and Safe Free VPN for Your Android
Don't be fooled by positive reviews on the Google Play Store or other VPN sites while looking for a free, safe, and fast Android VPN. Most services have serious safety problems that could lead to hacking attempts, identity theft, or other issues. Others have technical limitations and can't even access the content you want.
After testing the top 50 apps on the Google Play Store, I found that NordVPN is the best VPN for Android. It provides you with industry-standard security features, the fastest speeds available, and seamless compatibility with major streaming, gaming, and torrenting platforms.
I recommend you try NordVPN for free for 30 days using its money-back guarantee. This is the best way to decide if it meets your expectations before committing to a long subscription. If you decide it's not worth it, simply ask for a full refund. Afterward, you can try the other recommended free VPNs on this list until you find the right service to protect your Android device.
---
Other Top Android VPNs in 2021 to Try FREE With Money-Back Guarantees
Rank
Provider name
Our score
Price