How to Use IPTV to Watch Anything Anywhere in 2023
Last Updated by Mariah Shanice Basa on January 13, 2023
On a recent trip abroad, I found myself blocked from my IPTV providers (and the live TV channels I watch everyday). Since I was still paying subscription fees, I was annoyed that I kept getting error messages when I tried to log in. That is, until I used a VPN.
Many VPNs claim to work with IPTV platforms, but only a few do. After testing more than 40 providers, I compiled this list of the best VPNs for accessing IPTV from anywhere.
Of them all, ExpressVPN is the fastest, most reliable VPN for IPTV. Its high-speed servers consistently support UHD picture quality and guaranteed access to your streams. Best of all, you can test ExpressVPN with IPTV risk-free. All plans are backed by a 30-day money-back guarantee, and you can get a refund if you're not happy.
Quick Guide: 3 Steps to Watch IPTV From Anywhere
The Best VPNs to Watch IPTV Streams in January 2023
Key Features:
ExpressVPN's super-fast speeds make it stand out among competitors and guarantee lag-less HD streaming from anywhere. I found this to be true after running multiple speed tests: ExpressVPN's speeds stayed between 200-300 Mbps, just around a 9% decrease from the base connection of 330-340 Mbps. Connecting to an ExpressVPN server makes for a bufferless streaming experience. I had no issues watching YouTube videos and streaming content from platforms like PlutoTV in HD.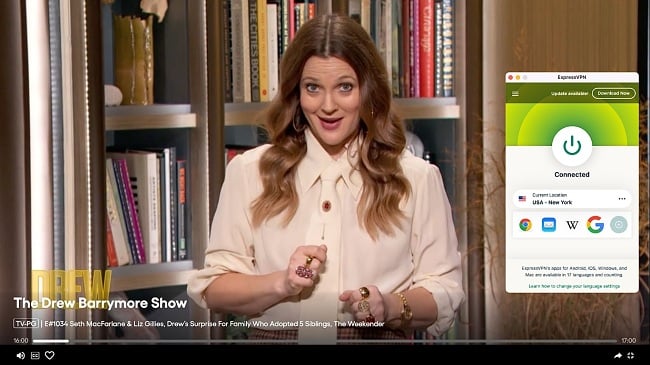 My teammates and I tested various ExpressVPN servers and found that they worked reliably on most IPTV and on-demand platforms, including the following:
| | | | | | |
| --- | --- | --- | --- | --- | --- |
| Sling TV | fuboTV | Peacock | XUMO | Pluto TV | The Roku Channel |
| USTVNow | Philo | DirecTV | BBC iPlayer | Hulu + Live TV | Amazon Prime Video |
| DAZN | Sky Go | CBC Gem | SBS On Demand | France TV | RTE Player |
| TVNZ | ITV Hub | Channel 4 | Netflix | Disney+ | HBO Max |
You can get even faster speeds with ExpressVPN's Lightway protocol. When I switched to Lightway, my speeds were boosted by 15% — perfect for watching live streams of sporting events such as Wimbledon or F1. You can switch protocols with just one click under "Settings."
While ExpressVPN is slightly more expensive than other VPNs, my seamless streaming experience was unmatched. Not many VPNs I tried gave me such crisp video resolution from start to finish of any show, so I think it's definitely worth the price. Plus, when you get a 1-year + 3 months-year plan, ExpressVPN gives you a 49% discount, and you pay just $6.67/month.
You can try ExpressVPN with IPTV for yourself. If you're not happy with it, you can get a refund — it's backed by a 30-day money-back guarantee. When I asked for a refund via live chat, the agent didn't ask why I was canceling or try to get me to change my mind. The money was back in my account after 4 days.
Key Features:
CyberGhost has optimized servers that provide guaranteed access to IPTV platforms, including Hulu, Sling TV, ESPN+, ITV, and Fox. The optimized servers reduce the time you spend looking for the right server; all you have to do is click the "For Streaming" tab, and you can start streaming in less than 20 seconds.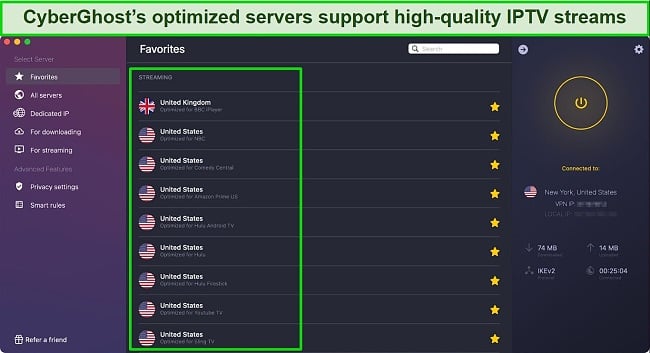 Moreover, CyberGhost's optimized servers are designed to achieve optimal speeds for streaming. Throughout testing, CyberGhost's optimized servers gave me great download speeds of about 220 Mbps, enabling me to stream shows without lagging. This result is pretty good, considering that even some of the best VPNs can oftentimes impact your speeds by over 50%.
These optimized servers handle the user load so well that my speeds didn't drop once during peak times on the weekends and evenings. You'll be able to enjoy live TV from the following platforms without annoying pixelation or buffering:
| | | | | |
| --- | --- | --- | --- | --- |
| Sling TV | fuboTV | Peacock | XUMO | Pluto TV |
| USTVNow | Philo | DirecTV | BBC iPlayer | Hulu + Live TV |
| DAZN | Sky Go | CBC Gem | SBS On Demand | France TV |
| TVNZ | ITV Hub | The Roku Channel | Amazon Prime Video | RTE Player |
I was annoyed when I noticed the optimized servers could sometimes become overcrowded, which meant I couldn't connect to them. Luckily, I found that CyberGhost's standard US servers also helped me watch anything on IPTV without any issues.
Even though CyberGhost proved to be an excellent choice for streaming, I'd still advise you to test CyberGhost's features for yourself with its 45-day money-back guarantee. That way, you'll be able to see if you want to keep your subscription and get a refund if you decide not to. I used the 24/7 live chat to request my money back. A rep approved my request within a couple of minutes, and I had the full fee in my bank account only 6 business days later.
Key Features:
Using PIA allows you to enjoy the largest server network on the market today: 35000+ servers in 84 countries. This means you won't have to deal with overcrowded servers in any country. I tested over 40 US servers and found that each PIA location provided stable traffic without any drops in connection.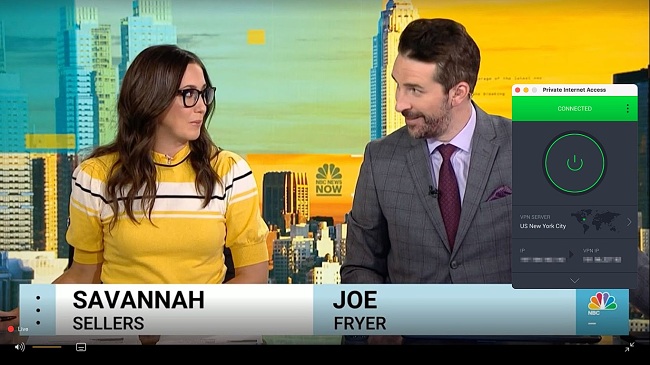 PIA recommends the best server from the get-go, saving time I would have had to spend running speed tests. I didn't have to guess which server to connect to, and I could stream in HD whenever I felt like it. PIA worked well on various IPTV platforms, including:
| | | | | |
| --- | --- | --- | --- | --- |
| Sling TV | fuboTV | Peacock | XUMO | Pluto TV |
| USTVNow | Philo | DirecTV Stream | BBC iPlayer | Hulu + Live TV |
| DAZN | Sky Go | CBC Gem | The Roku Channel | Amazon Prime Video |
When I tested it, PIA's speeds were very fast on nearby servers but dropped significantly on distant servers. On average, PIA servers gave me speeds of around 50-55 Mbps, which is a pretty significant drop from my base speed of 330-340 Mbps. There was some buffering during streams when connected to a US East server from the West Coast, but my colleague from Washington reported excellent video resolution with no lags as his VPN speeds didn't differ from his base traffic.
Before committing to a long-term plan, I recommend you try PIA completely free with its 30-day money-back guarantee. If you're not fully satisfied, simply request a refund through the VPN's customer service. I used the 24/7 live chat — the whole process took less than a few minutes. My money was back in my bank account a week later.
Key Features:
NordVPN is one of the best VPNs on the market — and you can get super cheap prices when you sign up for a long-term subscription. One thing to note, however, is that when it's time to renew your subscription, prices do increase quite significantly.
I was particularly impressed with the high performance of every server I tested. Just because a VPN has thousands of servers doesn't mean they all work. Servers can still struggle to unblock local sites — and some can even fail to connect completely. However, I easily unblocked Netflix, Disney+, Hulu, Amazon Prime Video, BBC iPlayer, and HBO Max on multiple servers in the US and UK.
I did, however, have issues with using NordVPN's native Fire TV app. Although it worked and unblocked some streaming services, it sometimes had issues unblocking Netflix US and kept crashing. I also found that NordVPN's user interface for desktop devices was less user-friendly than ExpressVPN and CyberGhost.
NordVPN has the following security and privacy features:
AES 256-bit encryption
A kill switch that cuts your internet access if your connection to a VPN server drops suddenly
Built-in ad and malware blocker, so you don't need a third-party ad blocker
Fully audited no-logs policy (audited by PwC) – NordVPN doesn't store any personal or identifying data while you're connected to the VPN
In addition, NordVPN includes Threat Protection that protects you from viruses, infected websites, and trackers – and it works whenever you have the NordVPN app open, even if you're not connected to a VPN server.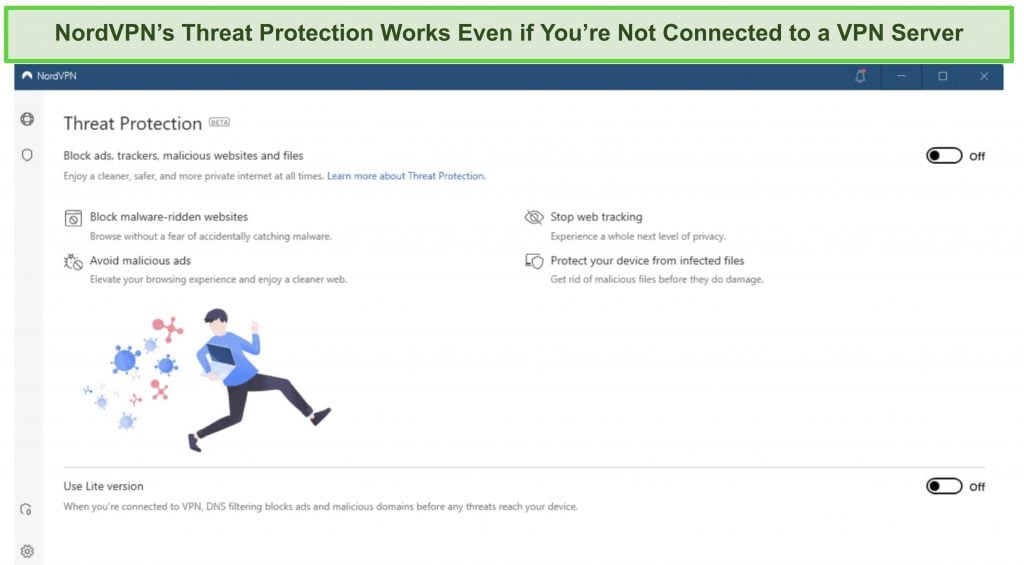 With plans that cost as little as $3.49 per month, it's easy to find a NordVPN subscription plan that suits your needs. You can also stream, torrent, and browse for free for up to 30 days with its money-back guarantee. I tested this to ensure that you'll really get your money back. At first, the support team tried to give me an extended trial period — but they initiated my refund right away after I told them I wasn't interested in the extension. I got my money back in 6 business days.
Key Features:
Surfshark offers the best value for money out of every premium VPN on the market. You can connect an unlimited number of devices with a single subscription, which means you can use Surfshark on all your devices without getting logged out.
I tested Surfshark's simultaneous connections on 2 PCs, 2 phones, a Fire Stick 4K, and an iPad. My connection remained reliable on all 6 devices. Even while I was actively streaming on all my devices, my average speed was 112 Mbps — fast enough for UHD quality.
When I saw the price of this service, I thought it couldn't possibly have top-grade security features for such a low price, but I was pleasantly surprised.
Surfshark has the following security and privacy features:
AES 256-bit encryption on all devices, with ChaCha encryption available for Android users
Wireguard VPN protocol enabled by default
Diskless, RAM-only servers to protect your privacy (no data can be physically extracted from any servers)
Kill switch (although this isn't enabled by default)
IP and DNS leak protection
Surfshark offers two-factor authentication (2FA) on your account. This feature requires you to enter an extra code before you can log in to ensure that only you can access your account.
While Surfshark does have slightly fewer global servers than rivals such as CyberGhost and PIA, I didn't experience any issues during my tests. I easily connected fast working servers every time, and I had excellent speeds for streaming Netflix in UHD, downloading torrents, and browsing the internet.
You can try Surfshark for yourself with the 30-day money-back guarantee. It has plans that cost as little as $2.30. Requesting a refund is easy with Surfshark's live chat feature. Although the support team asked why I wanted to cancel my subscription, I had no problem getting my money back (and it only took 4 days!).
Key Features:
At $2.00 a month for a 3-year plan, PrivateVPN is definitely one of the cheapest VPNs to use with IPTV. You can choose from 3 subscription plans: 1 year, 3 months, and 1 month. If you purchase PrivateVPN's yearly plan, you'll be getting a 85% discount.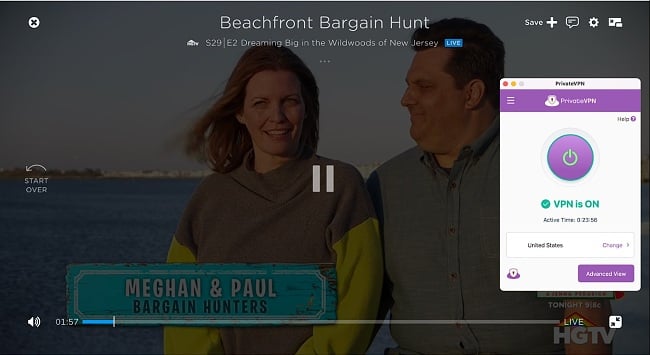 You can enjoy both live TV shows and on-demand streaming services undetected, thanks to PrivateVPN's Stealth VPN feature. This feature uses obfuscation to make your traffic look like normal, non-VPN traffic.
It may not have as many server options as other VPNs on this list, but PrivateVPN's small network of servers works reliably with most IPTV and streaming platforms, including (but not limited to):
| | | | | | |
| --- | --- | --- | --- | --- | --- |
| Sling TV | fuboTV | BBC iPlayer | Hulu + Live TV | DAZN | CBC |
| France TV | RTE Player | TVNZ | ITV Hub | Netflix | Disney+ |
| Hulu | Amazon Prime Video | HBO Max | | | |
If you need a VPN with more servers, I suggest getting PIA for its large network of 200 servers in 63 countries that includes a large selection of servers in the US — at least one server per state.
PrivateVPN is one of the most budget-friendly options for watching IPTV shows from anywhere. You can even try PrivateVPN for free for 30 days, thanks to a reliable 30-day money-back guarantee. The refund process was quick — after giving the agent a reason for canceling, my request was approved, and the money was returned in 5 days.
Key Features:
You can connect all your personal devices to IPVanish at the same time, thanks to its unmetered device connections. IPVanish is also compatible with routers, so it's easier to automatically connect all your devices to your chosen server. You can enjoy the following IPTV platforms on all your personal devices:
| | | | | | |
| --- | --- | --- | --- | --- | --- |
| Sling TV | fuboTV | Peacock | XUMO | Pluto TV | The Roku Channel |
| USTVNow | Philo | DirecTV | BBC iPlayer | Hulu + Live TV | Amazon Prime Video |
Testing IPVanish servers showed great speeds: I got an average of around 280-300 Mbps, which is pretty close to my default. Connecting to IPVanish servers ensures bufferless streaming in HD, even during peak hours.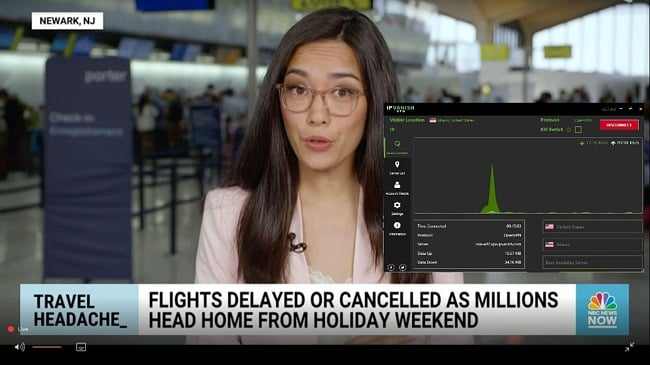 IPVanish has a native app for most IPTV-compatible devices, including Windows, macOS, Android, iOS, Roku, and Fire OS. I appreciated the step-by-step installation guides on the IPVanish website, especially for compatible routers, because setting up a VPN on a router can be complicated.
At $3.99 per month for a 1 year-year plan, IPVanish is a reasonably-priced monthly VPN that you can use with most IPTV platforms.
You can test IPVanish for free and see if it suits your needs, and request a refund if it doesn't. I requested a refund through my account dashboard, and the money was back in my account within the same day.
How Does IPTV Work? (And Why You Need to Use a VPN)
IPTV (Internet Protocol Television) allows you to watch live TV and cable shows through different streaming services. Unlike cable or satellite TV, signals are sent out through IP networks to let you watch your favorite TV shows using your internet connection. Popular IPTV networks include Hulu + Live TV, YouTube TV, Sling TV, fuboTV, and DirecTV Stream. While these are all legal IPTVs, there are unverified ones like Kodi, which falls into a legal gray area due to the presence of unlawful add-ons.
Legal IPTV services have licensing deals with major networks that allow them to broadcast cable channels on digital platforms. This allows users to tune in to live TV channels, major sporting events, and other content that only happens to be available on cable TV. However, if you travel out of the country, you'll likely lose access to your streaming accounts and see an error message — unless you have a VPN.
A VPN solves this issue by hiding your real IP address and giving you a new one from the server country. Your new IP address will make it seem like you're in your chosen location, so you'll be able to access IPTV services from that location.
Even if you're not restricted from accessing your usual shows, using a VPN can boost your streaming experience. Many Internet Service Providers (ISPs) purposefully slow down your traffic if they notice you're using a lot of bandwidth, but a VPN stops them from checking your usage. It reroutes your connection through its independent server network that no one can spy on, keeping your speeds fast and your streams clear and lag-free.
Sadly, not many VPNs work with smart TVs or work reliably with many IPTV platforms like Hulu and DirecTV. I tested 40+ services and found a majority of them weren't compatible with my devices and their slow speeds caused repeated buffering, even on short videos.
You need a VPN that can adapt to new restrictions and ensure an optimal streaming experience. That's why ExpressVPN topped my list. It has consistently rapid speeds to stream shows like Dr. Phil on IPTV platforms such as Pluto TV without annoying pauses.
Better yet, it's compatible with most operating systems and can be installed on routers that automatically connect all of your devices to the VPN. You can even test ExpressVPN yourself without any risk — if you don't like it, you have 30 days to get your money back.
Is IPTV legal?
It depends. IPTV services can be divided into 2 categories: verified and unverified streaming platforms. Verified are what most would call "legal," while unverified platforms are in a legal gray area.
You can get verified IPTV services from any app store, like Google Play or the Amazon Appstore. Some of the most popular verified IPTV apps include Netflix, Disney+, Amazon Prime Video, Hulu, HBO Max, Hotstar, and YouTube TV. As the app distributors approved them, verified IPTV apps are legal because their content doesn't violate any copyright law.
You'll also come across unverified services when using IPTV. Unverified IPTV services are only available to download on third-party websites. Once installed on your device, they simply pull the usual content from the internet and display it live or on-demand. Though you still have to pay a subscription fee to access the unverified services, you usually get a lot more for your buck with 1000s of various TV channels.
However, it's impossible to check whether an unverified IPTV service abides by broadcasting laws, so I'd advise you to avoid them. While it's unlikely you'll get in trouble for watching their content, these platforms are regularly taken offline. If that happens, you'll lose access to your account and saved shows, but you may still be charged the regular fee.
The Best Verified IPTV Streaming Platforms
Some of the most well-known IPTV streaming platforms are:
IPTV Platforms to Avoid
One of the easiest ways to spot unverified IPTV providers is by putting their rates into perspective. To be able to legally broadcast channels on their platforms, IPTV providers must pay TV networks a distribution fee. That fee is often calculated on a per-subscriber basis, ranging from $1 to $7 per subscriber. There's simply no way a small-time IPTV provider can cover distribution fee costs by charging a rate of $20 per month (or less) per subscriber.
In addition to unrealistically low rates, unverified services are often unavailable through popular app stores and must either be accessed through the web or sideloaded onto a device.
Here are some examples of unverified providers that you might be better off avoiding:
How to Install IPTV Apps on Firestick, Roku, Chromecast, Xbox One, and Other Devices
Download Verified IPTV Apps on Amazon Firestick and Fire TV
Install IPTV on Any iOS or Android Device
Watch IPTV on Sony, LG, or Samsung Smart TV
Download IPTV on Nvidia Shield TV
Use IPTV on Xbox One
Install IPTV on PlayStation 4
Watch Any IPTV Show on Roku
Set Up IPTV on Chromecast
How to Use IPTV on Perfect Player, Kodi, and VLC Media Player
You can also access IPTV platforms through unverified sources such as Perfect Player, Kodi, and VLC Media Player. While these sources are convenient, some of the streams accessible on these platforms are in a legal gray area. If you stream using these platforms, make sure you connect to a tried-and-tested VPN to protect your actual IP address, as your ISP can penalize you for watching unlicensed streams.
Do your research before watching a stream on Perfect Player, Kodi, or VLC Media Player. Better yet, watch IPTV from a verified platform. Sites like Xumo, BBC iPlayer, and Peacock offer shows and movies for free.
Create Your Perfect Channel Lists on Perfect Player
Perfect Player is one of the most popular IPTV players that lets you watch your ideal channel list through M3U or M3U8 links. Follow the steps below to curate your content playlist in less than 5 minutes.
Watch IPTV on Perfect Player with ExpressVPN
Set Up IPTV on Kodi
Kodi comes with a built-in IPTV player, so you don't have to download additional software to use it. However, you have to install the IPTV add-on to your program — but, you'll be able to watch IPTV in minutes with this simple guide.
Try IPTV on Kodi with ExpressVPN
Search for Live TV Channels on VLC Media Player
VLC Media Player is another excellent choice as it can play regular files on your device and online streams. I also regularly use it to test if my M3U playlists work correctly. Keep in mind it's only compatible to use on Android, iOS, Windows, and Mac.
What You Really Need Before Using IPTV in 2022
There are a few things that you need to do to make the most out of your IPTV subscription. First, you need at least 10Mbps download speed to watch IPTV in standard quality. For HD streams and minimal buffering, you'll need 25+ Mbps, especially if you're streaming from multiple devices.
Then, carefully consider which IPTV service you'd like to subscribe to and check how much it costs. I found that very often, the higher the price, the better quality service you'll get. Though there are some free IPTV services available, I had many problems finding the channels I wanted to watch — and I didn't have a lot of options to contact customer support.
I recommend you look for a service that supports multiple connections, so you're never restricted on which devices you watch IPTV on. It's also a good idea to make sure it's compatible with every device you want to use. Most verified IPTV services on the market work on Amazon FireStick, a range of smart TVs, Android, Windows, Roku, and many more.
It may be a good idea to invest in a separate TV box that works with IPTV. It's particularly helpful if you own an older TV model, as it'll still let you watch all your favorite channels without swapping to a smart TV.
Of course, don't forget to use a VPN: a good VPN allows you to enjoy stream Netflix from anywhere as well as other platforms such as Hulu, BBC iPlayer, and HBO Max, too.
FAQs on Watching IPTV With a VPN From Anywhere
Is IPTV legal?
Yes, as long as you're using licensed IPTV providers. That's the easiest way to ensure you avoid copyright infringement. However, if you're using Perfect Player, Kodi, or VLC Media Player, it can be challenging to ensure you're streaming properly licensed content.
With so many unverified stream sources on these platforms, it's possible to think you're streaming legally until you get a copyright infringement notice from your ISP. To protect yourself, you'll need a premium VPN that encrypts all your online activities and spoofs your IP address. Then, even if you unwittingly stream content from an unverified service, no one would see that you watched it.
Is using IPTV in the US, the UK, the UAE, India, Japan, and other countries legal?
Yes. it is legal to use and download content from Licensed IPTV providers are legal in the US, UK, UAE, India, Japan, and most other countries. Remember that IPTV services may vary depending on location; Hulu and Hulu TV are only available in the United States.
On the other hand, offering or streaming from unlicensed IPTV services is illegal. For example, the United States Protecting Lawful Streaming Act of 2020 changed illegal streaming from a misdemeanor to a felony. In Canada, copyright holders can track and distribute warning messages to illegal IPTV users through their ISPs. Most countries have corresponding copyright and anti-piracy laws.
How can I use IPTV for free?
Many IPTV services, such as BBC iPlayer and Pluto TV, are completely free. Some IPTV services such as fuboTV or Peacock TV even offer free trials — perfect for keeping up with local TV during quick trips abroad.
fuboTV offers a wide selection of channels, including ABC, Fox, and Comedy Central. BBC iPlayer, on the other hand, has British shows including Top Gear and EastEnders. PeacockTV is home to well-loved shows including American Horror Stories, Cesar Milan: Better Human Better Dog, and The Tonight Show Starring Jimmy Fallon.
Can I watch IPTV on Roku, Nvidia TV Shield, Chromecast, Firestick, Xbox One, and other devices?
Yes, most popular IPTV services are readily available on streaming devices, including Roku, Nvidia TV Shield, Chromecast, Firestick, and Xbox One. You shouldn't have any problems installing BBC iPlayer, Hulu + Live TV, and Peacock on most streaming devices.
Through my research, I found that Amazon Fire TV Stick is one of the best devices to watch IPTV on: all you need to do is plug it into your TV or monitor. The Amazon Fire TV Stick lets you download Hulu, Sling TV, and Pluto TV apps straight from the Appstore, so you don't have to worry about a complicated installation process. Fire TV Sticks even work on devices that aren't "smart" by default, like older TV models, enabling you to watch IPTV on a big screen.
What do I do if IPTV is not working?
A couple of quick fixes are available, depending on the issues you're facing. Connecting to an excellent VPN will solve most location-related issues. If you're having problems loading videos, your internet connection might be the culprit; you can try restarting the router. If you're using a PC or a laptop with an ethernet cable port, connect to the internet via an ethernet cable. You need at least 10 Mbps to get the best streaming experience.
If you're experiencing a blank screen on your IPTV app, check if it's up-to-date, and download updates if necessary. If it's up-to-date, try reinstalling the app. If you're using an IPTV box, check for network issues by disconnecting other devices that are connected to the router.
If you have an IPTV box, check the instruction manual that came with the unit. Most instruction manuals have step-by-step guides to fix the most common issues. If it doesn't, or if the fixes don't work, contact your IPTV provider.
What is an IPTV set-top box (STB)?
An IPTV set-top Box is a device that converts internet data to a format that regular, non-smart TVs can process. These boxes, often connected to TVs through HDMI or AV cables, turn any TV into a device that can stream content from IPTV apps. Set-Top Boxes are a cheaper alternative to replacing your entire TV to access streaming apps.
To use an IPTV set-top box with a VPN, you must connect to a VPN-enabled router. Ensure you're using a router-compatible VPN, make sure you check which VPNs are compatible with your particular router model.
Can I use a free VPN for streaming IPTV?
Yes, but I don't recommend it. Premium VPNs work more reliably with IPTV services. Most free VPNs don't offer enough servers that work with IPTV services or don't have enough bandwidth to allow unlimited, high-speed streaming. Some free VPNs have even been known to infect devices with malware, and some providers are known to sell user data to third parties.
Aside from having more than enough server options and unlimited bandwidth connections, premium VPNs have advanced security features to keep your data safe. If you think a free VPN is the right choice for you, make sure you're using a high-quality free VPN that won't put your online data at risk.
Start Watching IPTV from Anywhere Today
Whether you're subscribed to an IPTV service or a recent cord-cutter, a VPN will give you access to your favorite IPTV platforms wherever you might be. The best VPNs will also keep your streaming activity private.
After testing over 40 VPNs, ExpressVPN proved to be the best choice for streaming IPTV. It worked with all the IPTV services I tested, and had the best speeds for the best possible streaming quality. You don't have to take my word for it — you can test ExpressVPN with IPTV for yourself. With its 30-day money-back guarantee, you can get your money back if you're not satisfied with the service. When I tested the guarantee, I was refunded in 4 days — no-questions-asked.
---
Start Watching IPTV from Anywhere Today