How To Get A Free Trial Avast Secureline VPN (Updated July 2022)
Last Updated by Mackenzie Pringle on July 01, 2022
With many VPN options on the market, it can be overwhelming to know where to start and what will ultimately work best for you. The easiest way to find out if a VPN is a good fit is by taking advantage of free trials.
With free trials, you're able to test out everything so you aren't duped. The most important features include security and privacy protocols, the reliability of servers, connection speeds, and the capability to bypass geo-restrictions.
Avant Secureline VPN offers a 7-day free trial for all users meaning you can install their service and try it out completely risk-free. There are only a few simple steps you'll need to follow to get their free trial:
Visit the website and select the app for your device.
Click Download.
Follow the in-app instructions.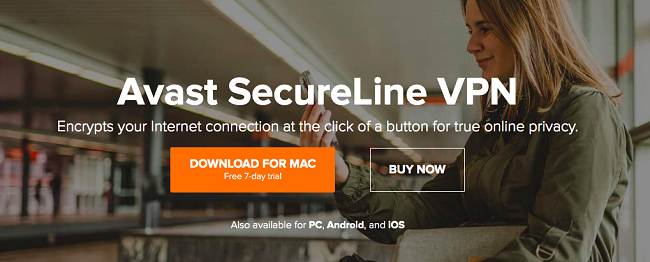 You'll immediately gain access to a 7-day free trial regardless of what device you're using. Just be sure you don't accidentally click the "Buy Now" button for Mac and Windows, or you'll miss out and be asked to pay for the service from the get-go.
Try Avast Secureline VPN Risk Free
Do You Need a Credit Card For the Avast Secureline VPN Free Trial?
The best part about the Avast Secureline VPN is that is doesn't require you to input your credit card details, or any other form of payment, to access their free trial.
It's a breath of fresh air to have a VPN provide a no strings attached free trial. There's no need to keep track of how long you've been using their service for as you won't accidentally be charged at the end of the free trial. It will prompt for you to upgrade to their pro version at the end of the trial period, but that's all. Avast Secureline VPN doesn't force you into anything and puts all the power in your hands.
Do They Also Have A Money Back Guarantee?
If you weren't able to thoroughly test Avast Secureline VPN in the free trial period, they also offer a 30-day money-back guarantee. While you will have to choose a plan and pay up front, if you cancel the service within the first 30 days, you'll receive a full refund.
The money-back guarantee is ideal if you're left undecided after the free trial and it extends your time with the service so you get a feel for how it could work for you in the long run. Money-back guarantees are also great if you only need a VPN for a short time because you're going on an overseas holiday or business trip. They allow you to utilize everything the service has to offer without committing to the VPN.
Try Avast Secureline VPN Risk Free
Does It Work With Unblocking Streaming Sites?
Unfortunately, Avast Secureline VPN is unable to bypass the strict firewalls that streaming sites have in place. Like many other VPN services, they have decided to focus their resources and efforts on the security and privacy rather than the ability to unblock streaming sites like Netflix, Hulu, BBC iPlayer, and Amazon Prime.
Netflix and other streaming sites have teams dedicated to improving their firewalls so VPN servers can't spoof location and access content from another country's library. Streaming companies have to be extremely vigilant as the studios that provide them with content in the first place have threatened to pull material if copyright laws aren't upheld.

It takes a lot of resources, time, and strong determination to consistently bypass blocks and this can be expensive, and many VPN services so many opt out of even trying to add it to their service. Avast Secureline VPN is one of these services that have decided not to attempt unblocking Netflix and other streaming sites and have instead invested in other key features.
If you want your VPN to unblock these streaming sites, we suggest checking out premium services like ExpressVPN or CyberGhost VPN, as they are reliable when it comes to circumventing restrictions.
Do You Need To Have The Avast Security Anti-Virus Also?
If you have a Windows, Mac, or Android device, you have the choice also to protect yourself with Avast Security, a comprehensive antivirus. You can block spam, unwanted ads, and malware with the app. It will also allow you to secure your information.
Avast Security will perform regular scans to detect any threats or vulnerabilities and will ensure you don't accidentally download any malicious apps or click on a malware-corrupted link. Not only does Avast Security protect your devices but it will also enhance your devices' performance and give you insights on your digital habits.
However, Avast Security is not vital, but it will boost your security and add a layer of protection that the VPN can't provide alone. Ultimately, it's your decision if you'd like to install Avast Security and they do have a 30-day money-back guarantee, so you're able to try it out risk-free. We would recommend taking advantage of the money-back guarantee offer to see if it's a product that could add value to your online experience.
Brief Review Of Avast Secureline VPN
Avant Secureline VPN promises to provide you with privacy, secure connections, and access to any content, all with lightning fast speeds. With this VPN you can hide all of your online activity from prying, and your private information won't fall into the hands of unintended recipients.
You'll have full peace of mind connecting to any WiFi network knowing that your data is safe. No ISP or government agency will be able to snoop on what you do online as Avast Secureline VPN also ensures none of your information is logged and provides DNS leak protection. They also have bank-grade encryption protocols that are both approved by and compatible with Windows, Android, and Apple operating systems.
Although Avast Secureline VPN isn't compatible with spoofing streaming services, it does offer unlimited bandwidth and peer-to-peer (P2P) support. You're able to access a broad range of content with a large number of servers located in 34 countries. All these servers have impeccable speeds allowing you to stream, game, and torrent with ease and without buffering or long loading times. Avast Secureline VPN can protect up to five devices simultaneously and is available on several major platforms like Mac, Windows, Android, and iOS.
Avast Secureline VPN also has a support team; however, when we tried to contact them, we were a little disappointed with the level of customer service. You can only get in touch with the team via a form sent through email, and they took over 24 hours to reply to any of our requests. If you had an urgent matter, this could be frustrating.
Overall, we're delighted with the performance of this VPN. If you're on the hunt for a service that puts your privacy and security first, Avast Secureline VPN is an excellent option to consider.
Try Avast Secureline VPN Risk Free
Conclusion
Avast Secureline VPN is a brilliant service that will ensure your privacy and protection at all times. The fact they offer both a 7-day free trial and a 30-day money-back guarantee shows their belief in the product.
The downsides of the service are the lack of customer support and the inability to bypass the firewalls on streaming sites. As an alternative, we would have to recommend you try ExpressVPN instead, as they have a terrific 24/7 support team that replies with minutes and reliable access to streaming sites like Netflix and Hulu.
Regardless, it's effortless to access the free trial offered by Avast Secureline VPN, and with it, you're able to test out the entirety of their service, and you're not limited in any way.