Visit Avast SecureLine VPN Website!
Avast SecureLine VPN Review 2023: Is It Worth Buying?
Avast SecureLine VPN Overview 2023
Avast is a cybersecurity company popularly known for its antivirus software. So I was intrigued when I learned that it also had a VPN. I wanted to find out if this VPN would meet the company's reputation, so I put it through extensive testing.
Based on my findings, Avast SecureLine VPN falls short of the company's reputation, despite its ability to perform certain basic functions. While it successfully unblocks Netflix and Disney+ according to my tests, it struggles with other popular streaming services. Despite offering robust security features and optimized servers for torrenting, it is worth noting that Avast, the parent company, has a troubling history of selling customer data.
Luckily, you can go ahead and test it for yourself. Avast SecureLine VPN's advantage is that you don't have to commit to a lengthy subscription because it offers a 7-day trial period. Additionally, it provides a 30-day money-back guarantee. That means you can try the service for an extended time. If you feel unsatisfied, you can unsubscribe, get all your money back and check out these top VPNs on the market.
Don't Have Time? Here's a 1-Minute Summary
Avast SecureLine VPN Unblocks Netflix and Disney+ (but Can't Access Hulu, HBO Max, Amazon Prime Video, or BBC iPlayer)
I would not recommend Avast SecureLine VPN for streaming as it can't unblock the most popular streaming services. I ran multiple tests to try to see if it could unblock the major streaming sites. I had luck unblocking Youtube, Netflix and Disney+, but it didn't work with Hulu, HBO Max, Amazon Prime Video, or BBC iPlayer.
Netflix and Disney+: Unblocked
Avast SecureLine VPN has several servers around the US, which is perfect if you want to access the American Netflix catalog. When I watched The Witcher on my Netflix US account, I was impressed with the smooth video playback and excellent quality. I also asked a couple of friends in the UK, France, Germany, Sweden, and Canada to test Avast SecureLine VPN with their local Netflix library. It could unblock the content in those regions seamlessly.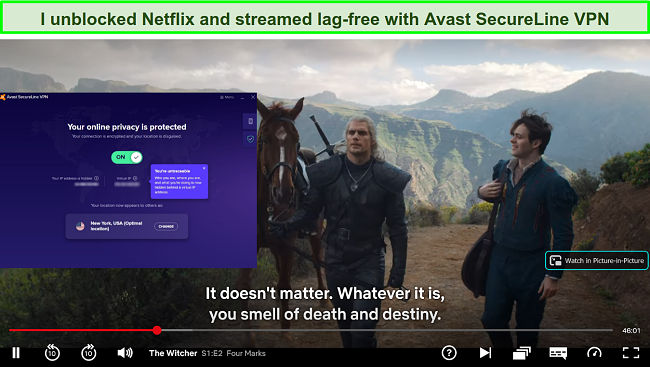 Avast SecureLine VPN also seamlessly unblocked Disney+, letting me watch The Simpsons without any trouble. Speeds were fast enough to stream in HD with zero buffering.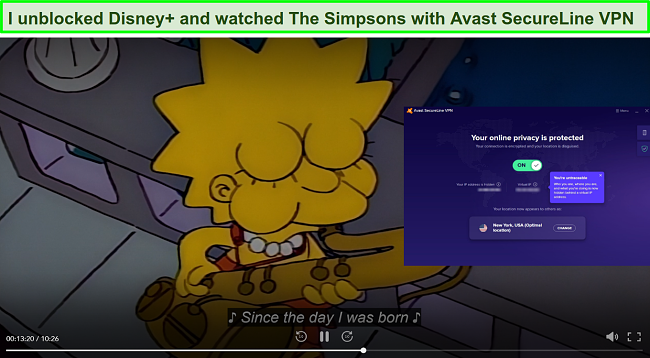 Hulu, HBO Max, Amazon Prime Video, and BBC iPlayer: Blocked
It was disappointing to find out that Avast SecureLine VPN couldn't unblock most streaming services. When I tried to access Hulu while connected to Avast SecureLine VPN, the site blocked my connection. This happened to other services like Amazon Prime Video, HBO Max, All4, DAZN and BBC iPlayer. I got an error message on most streaming platforms despite using one of Avast SecureLine's optimized streaming servers.
It looks like you're using an anonymous proxy or VPN
In my experience, Amazon Prime Video has one of the strictest VPN blocking technologies. Avast SecureLine VPN couldn't get past the restriction, and I couldn't watch any of its streaming content.
Even though Avast SecureLine VPN has a UK server optimized for streaming, it couldn't unblock BBC iPlayer and ITV. The service quickly detected that my colleague in the UK was using a VPN. She tried other UK-based servers (Avast SecureLine VPN has 3 available with 1 optimized for streaming) and had the same result.
Based on the results presented above, Avast SecureLine VPN was only successful in unblocking a few streaming sites. If accessing restricted and blocked streaming services, especially from geo-restricted regions, is what you're looking for, then ExpressVPN is your best bet at unblocking all of your favorite streaming services.
My Base Speed Dropped Significantly
Using the Ookla speed test tool, I found that Avast SecureLine VPN significantly slowed down my internet connection on the majority of its servers. To get an idea of how fast it is, I connected to several different servers and ran a series of speed tests using its OpenVPN protocol. Avast SecureLine VPN claims to have no bandwidth limit. That means you should be able to get speeds up to 2 Gbits/s but this was not my experience.
Speed Test Results
Although I typically enjoy download speeds of 180Mbps, I noticed a 58% decrease when I connected to Avast SecureLine local servers. My connection was even slower for servers further away or under heavy user load.
However, even the slowest connections gave me fast enough speeds to watch my favorite shows in HD. When connected to the server in Melbourne, Australia (the furthest server from my location), I had speeds of 8Mbps. Keep in mind, however, that this isn't quick enough to multitask while you watch.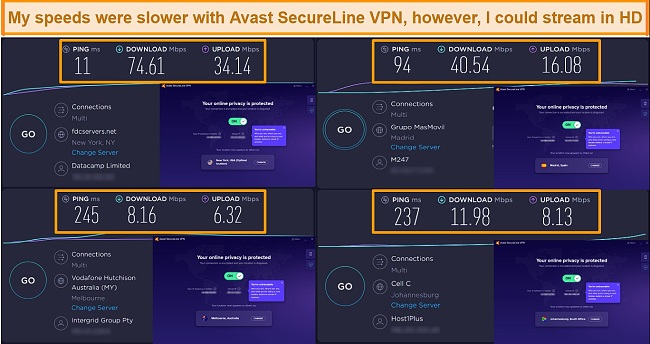 If you run these tests yourself, you may find your numbers differ slightly. Factors like base speeds, geographic distance from a server, and peak-use times, tend to impact download speeds significantly. Avast SecureLine VPN will substantially decrease your connection speeds.
The good news is that, with servers closer to my location, I got low latency, making it suitable for gaming activities. That said, compared to top VPNs like ExpressVPN, you usually don't see a speed drop of more than 20% or a latency drop of more than 15%, even with distant servers.
If you rely on fast internet speeds for gaming or torrenting, you need a VPN that doesn't cause significant speed drops. Several VPNs offer faster speeds for whatever you do online. During my tests, I've found that ExpressVPN is the fastest on the market. It's perfect for multitasking, so you can easily use ExpressVPN to game, stream music, or torrent while watching a movie.
Why Most Speed Tests are Pointless & How We Correctly Test VPN Speeds
Speed determines how fast content uploads, so if you're torrenting or streaming, you want the speed to be somewhat identical to your regular internet speed. Since a VPN encrypts your data, it usually takes a bit longer to send your data back and forth, which can slow down your connection. However, if your ISP deliberately slows down your connection (also known as throttling) a VPN might increase your internet speed. Testing a VPN is somewhat pointless because new servers pop up and affect speed. Your speed can also differ according to your location, so your speed test might not match ours. Having said that, we tested the speed in numerous locations to provide you with the average.
Server Network — 700+ Server Locations in 30+ Countries
From its desktop client, I was impressed to see that more than 53 server locations were available in more than 30 countries. Each location had multiple servers totaling over 700 in number.
You will find a list of regions, including Africa, Asia Pacific, Europe, Middle East, North America, and South America. Alternatively, by selecting the "All" tab, you can choose from the list of countries with different server locations. Avast SecureLine VPN also features two tabs for specialized servers for P2P and streaming. Once you select it, you will find a list of the supported locations for those specialized services.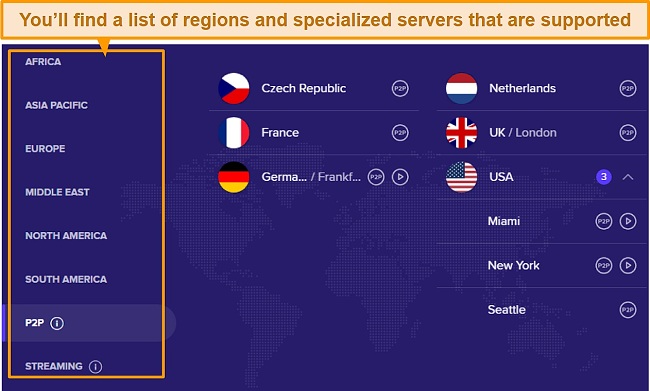 Avast servers can be used in two modes: Manual or Smart. Smart mode allows you to create a bunch of rules that dictate how the app should behave in response to your activities. You can, for instance, configure Avast SecureLine VPN to turn on whenever you connect to a public network, visit torrent websites, access banking websites, or stream videos. On the other hand, the Manual mode lets you switch manually between different servers.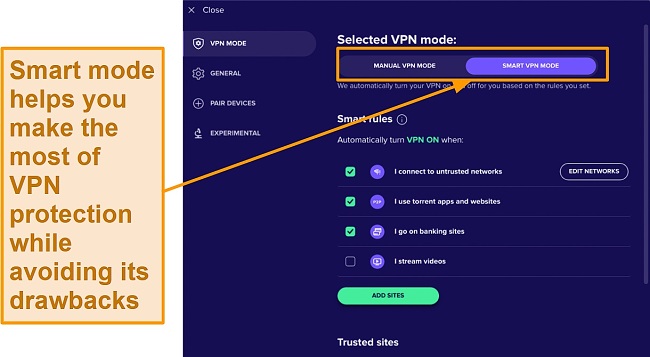 Similarly, selecting and switching between servers on the mobile app is seamless. You simply select the "Server Location" button and scroll down the list of available servers. You will find specialized servers marked as P2P or having the streaming icon.
Security — Military-Level Security Guards Your Information
Overall, Avast SecureLine VPN provides some great security features. Firstly, it uses the popular and reliable OpenVPN protocol. This protocol is open-source, with no hidden code, and securely tunnels your internet connection. It is run with OpenSSL libraries over UDP ports to provide speedy connections while you surf the internet securely. Avast SecureLine VPN uses military-grade AES 256-bit encryption and offers DNS/IPv6 leak protection for its cipher, which makes it impossible to crack. This means that you don't have to worry about your data being hijacked by hackers or leaked while you're online.
On the macOS and iOS client, Avast SecureLine VPN uses IKEv2/IPSec for the security protocol. One other option is the Mimic protocol, designed from scratch by Avast but still considered a beta tool. The protocol mimics the connection you make with each website you visit, providing false information about your identity and location, thus making it impossible for you to be tracked or identified. This protocol, according to Avast, is useful in countries with high censorship where IPsec is unavailable.
I checked for IP, DNS, and WebRTC leaks while connected to SecureLine VPN, and did not discover any leaks. The IPv6 connections were completely blocked as well. Avast SecureLine protects against DNS leaks by forcing DNS requests to go through its own DNS servers. If you want to prevent your IP from being leaked through WebRTC, you must also install the browser extension and enable the WebRTC blocker.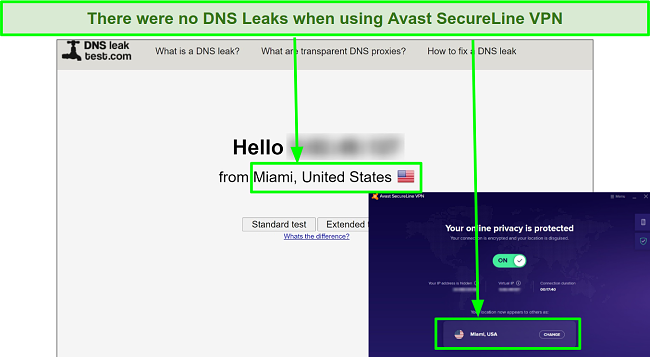 Split tunneling is only available in the Android application of Avast SecureLine VPN. With this, you can select the apps that you wish to use with the VPN based on your preferences. Meanwhile, other applications won't have access to the VPN tunnel.
Avast SecureLine's app includes a kill switch that disables all internet access when your VPN connection breaks, protecting your personal information. I was thus assured that my data would never be accessed if my VPN connection was interrupted abruptly. However, you will have to manually turn on the VPN's kill switch, since it isn't turned on by default. Fortunately, this is simple enough — just go to the settings and check the box with the "kill switch" option.
Privacy — Questionable Privacy History
Avast SecureLine VPN privacy policy is concerning. With Avast's numerous products, it was difficult to find its Avast SecureLine VPN privacy policy. According to its privacy policy, the service records a timestamp of your connection, some part of your IP address, and how much data is transmitted and stored for 30 days.
While it states that it can't identify you based on this information, I'm still uncomfortable with Avast SecureLine VPN logging any information about my online activities. Not just that, Avast has sold user information in the past to advertisers like Facebook and Twitter. I find this to be a huge red flag as a privacy-minded individual.
As I wanted to learn more about its log policy, I reached out to the customer support team. I was told by Avast's support team that the service does not record website or application usage, but keeps connection logs.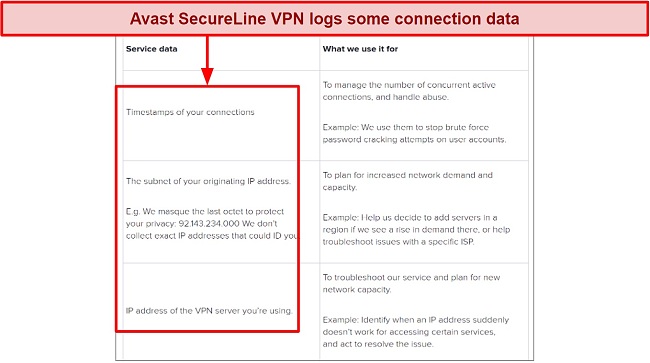 On the bright side, Avast SecureLine VPN owns all its servers and doesn't use virtual servers. This is a plus because using third-party servers may pose some risks. The server providers can install backdoors to leak user data or even hand over the server to law enforcement. On top of owning its servers, Avast maintains a warrant canary, which guarantees that the company doesn't have a backdoor that grants access to its server information.
Avast is headquartered in the Czech Republic, outside of the Five, Nine, and Fourteen Eyes alliances. These are alliances of countries (US, UK, and most European countries) that work together to collect and share intelligence. However, the country collaborates with these alliances.
The alliances' project is a top privacy concern for many VPN users like me. A government agency in your country may intercept your internet activities and share them with other agencies within the alliances. The Czech Republic often works with these countries and complies with their requests for intelligence. If you're worried about a VPN based within one of these intelligence-sharing coalitions, Avast might not be suitable for you.
Since Avast stores some connection logs, I wouldn't recommend it for a privacy-minded VPN user. With a reputation as one of the top private VPN providers, ExpressVPN has become a stalwart of the privacy sector. The company is headquartered in the British Virgin Islands, a jurisdiction with no mandatory data retention laws – and unaffiliated with the five, nine, or fourteen eyes alliance. ExpressVPN also performs well on the no-logging front, and has undergone an independent audit with favorable results.
Torrenting — Has Servers Optimized for P2P Sharing
Avast SecureLine supports P2P file sharing within its network, but the amount of servers available is limited. The service operates dedicated P2P servers in the Czech Republic, France, Germany, the Netherlands, the United Kingdom, and the United States. These servers can be accessed from the main interface under the 'P2P' tab in the navigation menu. You can also locate these servers when searching by country, as they have a 'P2P' icon.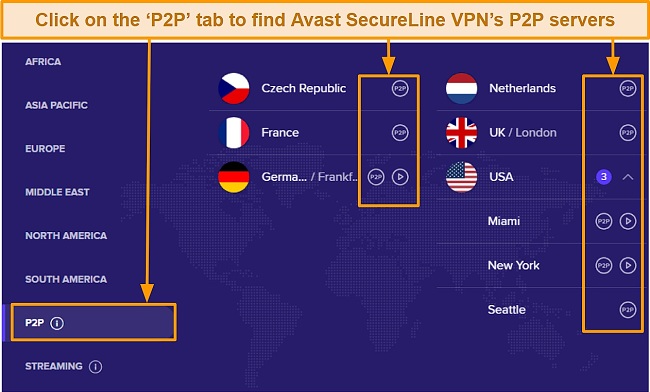 While Avast SecureLine has optimized P2P servers that allow fast torrenting, it captures and stores connection logs — a huge red flag for a privacy-minded individual. Fortunately, other top-tier VPNs like CyberGhost have optimized servers for P2P and don't keep any connection logs.
My team and I don't condone participation in any illegal activities. Please check the rules and regulations in your country to ensure you are not in breach of any laws.
Does Avast SecureLine VPN Work in China? No!
Avast SecureLine VPN may not work in China. I wasn't able to test Avast SecureLine VPN in China since I don't live there. However, I found a blog post by Avast where it listed some countries, including China, where its VPN may not work. I also reached out to Avast support via email, and the agent confirmed that the VPN isn't guaranteed to work in China.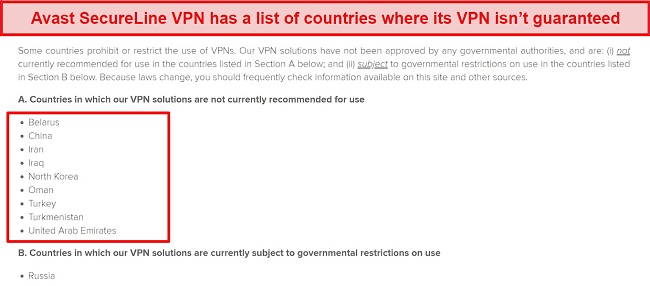 Many VPNs don't work in China because of the Great Firewall of China that blocks most VPNs in the country. If you want a VPN that's guaranteed to work there and has an airtight privacy policy, your best choice is ExpressVPN. You can use ExpressVPN to surf the internet securely in China. It comes with a 30-day money-back guarantee that allows you to get a full refund if it doesn't work for you.
While you should exercise caution when using a VPN within Chinese borders, you are unlikely to suffer any legal repercussions. No public cases have been reported where the Chinese government has taken action against foreigners for using a VPN to access restricted content or websites. The usual practice is that China blocks VPN services by implementing technological measures, rather than pursuing individuals who use them.
Server Locations
Czech Republic
France
Germany
Netherlands
United Kingdom
United States
User Experience
- 6.0
/ 10
Simultaneous Device Connections — Connect up to 10 Devices at Once
Avast SecureLine VPN offers different subscription levels depending on how many devices you want to connect. The lowest price plan only allows for one connection. However, you can pay extra to expand this allowance to up to 10 devices, which should be sufficient for most people.
Device Compatibility — Very Few Compatible Devices
Avast SecureLine VPN is available for leading platforms such as Windows, macOS, Android, Android TV, iOS, and browser extensions for Chrome and Firefox. That said, it is still limited in device compatibility. Avast does not have any manual configuration files so you won't be able to install it on your router, most smart TVs, gaming console, or other devices.
Ease of Setup & Installation — Installation and Use Are Pretty Straightforward
Downloading the desktop client is pretty simple. I tested the app on my Android and Windows devices. I found the mobile app was even easier to use than the desktop client. Once you download the app from the respective app store, you can tap on the "free trial" button to get started. That said, selecting the free trial option on the mobile app requires connecting your credit card information — which is not the case for the desktop app. After signing up, I was able to get connected to the fastest server with a tap within seconds.
How to install and Set Up Avast SecureLine VPN:
Download the app. You can do this from the Avast SecureLine webpage. 

Run the installer.
Launch the app. Once it opens, toggle the "Off" button "On."
Select the free trial. With this you can try the app before you purchase a subscription. 

Connect to a server. Choose a server from the list and click to establish a connection. 

Toggle the connect button "On". Now you're protected by the VPN.
If you need assistance using Avast SecureLine VPN, you can check out the knowledge base or contact support via email, live chat, phone, or Twitter. My first contact with Avast was via its support email inquiring about its VPN's log policy. It took almost 20 hours for Avast to get back to me. It was difficult to obtain accurate and timely assistance because Avast uses the same support email address across all of its products.
I contacted the company again when I had questions about the VPN pairing feature. I used the live chat feature this time around, and was pleased with how knowledgeable and responsive the representative was.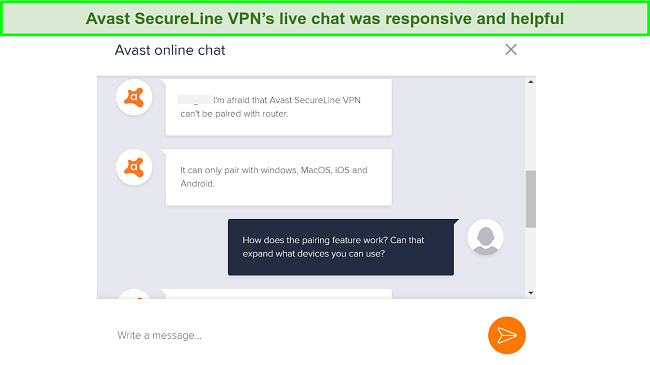 However, you can only get help through Avast SecureLine VPN's live chat if you're a paying customer with an order number. If you're trying the software for free, support directs you to the knowledge base or support forums instead.
How We Test Customer Support and Why Should You Care
We personally test the customer support team of every VPN we review. This means asking technical question through the live chat feature (where applicable) and measuring the response time for email questions. Whether you need to connect to a specific server, change your security protocol, or configure a VPN on your router, finding a VPN with quality customer support should be important to you.
Avast SecureLine VPN offers an annual, 2-year, and 3-year plan for single devices or up to 10 devices. It accepts all major credit cards and PayPal for its subscriptions. If you're a privacy-minded user, these payment methods might be problematic as they link your identity to your account. While its 3-year subscription comes at a low cost, I recommend trying the service before committing to a long-term contract.
Avast SecureLine VPN has a 7-day free trial, so you don't need to pay right away to try it out. To have more time to test the software, I opted to sign up for the 1-year package. After purchasing the plan, Avast sent my account information and activation key to my email. When I tried to sign-in on the desktop client, it didn't accept my login information. Instead, I had to use the activation key, a process I found inconvenient.
After testing the one-year plan for 15 days, I opted for a refund. I found the 30-day money-back guarantee and refund process to be simple. The best part was that canceling and requesting a refund is automated. I didn't have to reach out to customer support to get my money back.
Instead, there's a form to fill out on the website that asks how you want to cancel your subscription. That said, please note that if you've used over 100GB of data or connected more than 100 times, you may not be eligible for a refund.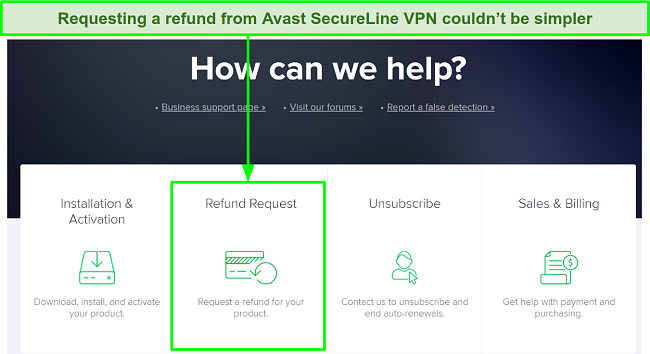 After submitting my refund request through Avast's online form, I got a response in less than 2 hours. Avast refunded my money to my PayPal account the same day. Similarly, purchasing your account through the Google Play or Apple App store may complicate the process of getting a refund. If you buy an Avast SecureLine VPN subscription through these app stores, you need to reach out to the respective mobile store to get a refund. This process can delay how quickly you get your money or prevent you from getting that refund entirely.
Avast SecureLine VPN offers the following plans
Final Verdict
Avast SecureLine VPN may be great if you're looking for a cheap but relatively good VPN service, but it has limitations, especially regarding its log policy. It also fails to unblock some of the most popular streaming sites and has relatively low connection speeds. Additionally, it leaves most of my connected devices unprotected as it has limited device compatibility.
However, many other VPNs provide better value for the price. For example, ExpressVPN has affordable subscription plans coupled with advanced features and a no-logs policy you can trust. You can also test ExpressVPN out completely risk-free as it's backed by a 30-day money-back guarantee — if you don't like it, you can easily get a full refund.
FAQs About Avast SecureLine VPN
Is Avast SecureLine VPN good?
Can I use Avast SecureLine VPN for free?
Yes, Avast SecureLine VPN offers a free 7-day trial without any data caps, speed or server limitations. The trial can be activated within seconds on both Mac and PC with no credit card necessary. However, you must provide payment information to get the free trial on your Android or iOS device.
On top of the free trial, the company also offers a 30-day money-back guarantee. Bear in mind that your refund request will not be granted if you have used more than 100GB of data or connected more than 100 times.
Is Avast SecureLine VPN really safe?
Yes, Avast SecureLine VPN has several safety features that will protect your device and keep your internet connection secure.
This includes AES 256-bit encryption, OpenVPN protocols, and a kill switch. However,
the service has no straightforward log policy
, which is a major concern.