3 Best VPNs for Turkey (Updated with Local Servers in 2022)
Last Updated by Eric Raue on August 01, 2022
Since the Turkish government blocks many VPNs, it's difficult to find one that can bypass censorship and consistently access popular web pages like Facebook or Reddit. A VPN is the only way to get around geo-blocks for local streaming services like BluTV and PuhuTV while you're abroad. After extensive testing, I found many review sites that recommend VPNs for Turkey – but they don't work!
To save you the trouble of finding a provider, I listed the 3 best VPNs that actually work in Turkey. All of these recommended VPNs also have reliable security features to keep your data safe from government surveillance. I also checked to make sure they can access local content, support stable connections, and maintain fast speeds with minimal buffering.
ExpressVPN was the top provider with the most Turkish servers to reliably unblock local websites. You can even try ExpressVPN for free for 30 days with its risk-free guarantee!
Try ExpressVPN for 30 days for free
Quick Guide: Best VPNs for Turkey
ExpressVPN – #1 VPN for Turkey with the most local servers to securely and reliably access censored sites and streaming services.
PrivateVPN – Small but reliable server unblocks Turkish sites and streaming services, but has slower speeds.
VyprVPN – DNS protection doesn't log your IP address and helps bypass government blocks, but the Turkish server slows down during peak hours.
3 Best VPNs for Turkey in August 2022
Key Features
1 secure server in Turkey safeguards your data from prying eyes
Military-grade AES 256-bit encryption protects you from government surveillance
TrustedServer technology deletes any record of your data
Torrent support on all servers for sharing censored or sensitive content
Support for up to 5 devices at the same time
30-day money-back guarantee
You can be sure your data is securely protected and anonymous with ExpressVPN. Its TrustedServer feature doesn't keep any connection or activity records, so your identity won't ever be linked to your subscription. I was impressed that ExpressVPN proved its no-logs policy when Turkish police couldn't find any identifying user information during a 2017 criminal investigation.
Even though Twitter and Instagram are sometimes blocked in Turkey to censor public criticism of the Turkish government, you'll always be able to access all of your social media accounts with an ExpressVPN server outside of Turkey. Whether you want to read independent news on Duvar or browse Wikipedia, you can rest assured that none of your activities will be exposed to the local authorities with ExpressVPN.
I wanted to confirm for myself that ExpressVPN protects my data, so I tested its server in Turkey to check for DNS leaks. The provider passed my test perfectly – the results showed my IP address in Turkey even though I was actually overseas. This means my identity was anonymous and my online activity was private.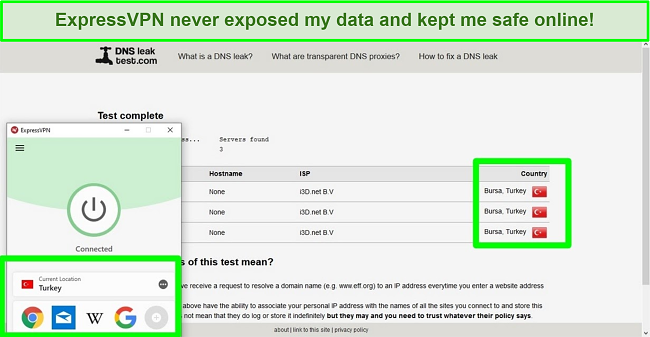 ExpressVPN is great for unblocking content on streaming platforms like Netflix and Hulu. When I tested Netflix Turkey from abroad, I could watch shows like The Gift (Atiye) in HD with only a couple seconds of lag.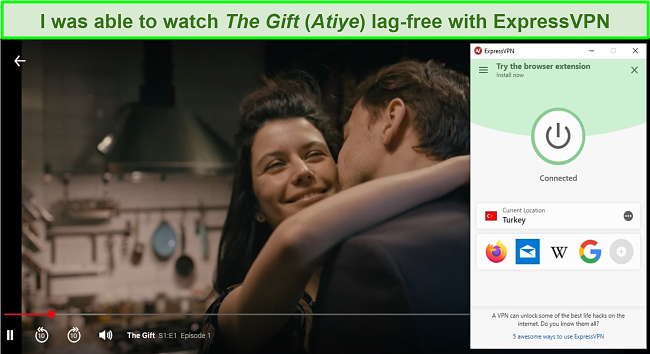 If you have any questions about ExpressVPN's server in Turkey, the provider has 24/7 customer support through live chat. You can also try ExpressVPN risk-free for 30 days and get a full refund with no questions asked. I tried the money-back guarantee myself – I tested ExpressVPN's features for 10 days before requesting a refund through live chat. The agent immediately approved my refund without further questions! I got my money back in just 5 days.
ExpressVPN unblocks: Kanal D, BluTV, PuhuTV, TRT Spor, Netflix, Hulu, Amazon Prime Video, FOX, and BBC iPlayer.
ExpressVPN works on: iOS, Android, Windows, Mac, Chrome, Firefox, and Linux.
Try ExpressVPN for free for 30 days
August 2022 Update! ExpressVPN has dropped prices for a limited time to a crazy $6.67 per month for the 1-year plan (you can save up to 49%) + 3 months free! This is a limited offer so be sure to grab it now before it's gone. See more information on this offer here.
Key Features
1 server in Turkey to unblock local Turkish websites
Military-grade AES 256-bit encryption and strict no-logging policy for safe, anonymous connections
IPSec provides extra encryption for anonymous mobile browsing and apps
Supports P2P downloads, including torrents for private file sharing
Use up to 6 simultaneous connections to protect all your devices
30-day money-back guarantee
PrivateVPN is able to reliably unblock local websites in Turkey. You can smoothly stream sports content on TRT Spor so you won't ever have to miss any of Trabzonspor's games outside of Turkey. When I tried unblocking shows on Kanal D, BluTV, and PuhuTV, it only took a few seconds of buffering before it was smooth for the rest of the stream.
When I tested PrivateVPN's speeds, I had some minor slowdowns when I tried to watch the Turkey vs Portugal game on my Android and my desktop at the same time. After 20 minutes of streaming, I had some buffering and the rest of the video streamed smoothly. Fortunately, I didn't have any issues while watching on just 1 device.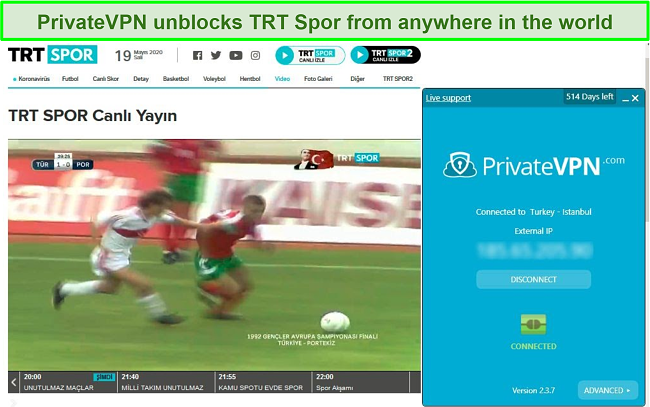 You can try PrivateVPN for free for 30 days. You can submit your cancellation request through a support ticket since you won't be able to get a refund approved through live chat. This process took a few days for a representative to respond then I got my money back within 10 days.
PrivateVPN unblocks: TRT Spor, Kanal D, BluTV, and PuhuTV.
PrivateVPN works on: iOS, Android, Windows, Mac, and Chrome.
Try PrivateVPN for free for 30 days
Key Features
1 server in Turkey to unblock local Turkish websites
256-bit encryption and no-logging policy for secure, private connections
DNS protection keeps you safe from hackers while you use the web
Supports P2P and torrent downloads for anonymous file sharing
Use up to 5 simultaneous connections to protect all your household devices
30-day money-back guarantee
VyprVPN has built-in DNS protection to keep your data private and bypass censorship in Turkey. Your IP address won't be logged and you can prevent "man-in-the-middle" attacks from the government that block websites you're trying to visit. This means you have a better chance of accessing sites blocked in Turkey.
Since it's a smaller provider with fewer resources, I was pretty happy that VyprVPN could unblock Netflix. When I watched Ezel in HD, it started without any delay and minimal lag during the rest of the stream.
After I tested my speeds with the independent speed test Ookla, my download speeds were noticeably slower while connected to VyprVPN. My speeds dropped 10-15% during peak hours, but this has never happened to me with ExpressVPN. Luckily, you can try VyprVPN's 30-day money-back guarantee and get a refund if you're not fully satisfied with the provider.
VyprVPN unblocks: Netflix, BluTV, and PuhuTV.
VyprVPN works on: iOS, Android, Windows, and Mac.
Try VyprVPN for free for 30 days
How to Get a Turkish IP Address in 3 Easy Steps
Get a VPN with Turkish servers. I recommend ExpressVPN for the most Turkish servers to securely unblock restricted websites – plus, you can try it risk-free!
Connect to a server in Turkey. This will give you a new IP address that can unblock websites.
Start browsing securely with a Turkish IP address! Then you can have internet freedom in Turkey.
Tech Tip: You can use this free IP checker tool to test if you're securely connected to a Turkish IP address.
Unblock websites in Turkey with ExpressVPN
Why You Need a VPN in Turkey
The Turkish government censors its internet and streaming services, including Facebook, Twitter, Reddit, and Wikipedia. The authorities claim that removing what they consider cyber threats and criticism are necessary to stabilize the country. This means your online activity can be monitored and get you in serious legal trouble in Turkey. With a VPN in Turkey, you can maintain your cyber freedom and:
Bypass geo-blocks that restrict your access to news stories and censored sites in Turkey.
Use Turkish streaming services abroad to watch local shows on Show TV.
Stream sporting events through TRT Spor and other international sports streaming sites.
Keep your online activity private and avoid government monitoring from the Turkish authorities.
How Does a VPN Unblock Sites in Turkey
A VPN allows you to securely get around censorship to access unblocked websites anonymously. When you use a VPN, you're using an encrypted tunnel to hide your real identity, location, and browsing activity. This means no one – not even the government or your own internet provider – knows what you do online.
When you connect to a server with a VPN, it reroutes your connection through an alternate IP address to disguise your digital identity. Not only is your online activity safe from monitoring, a Turkish IP address allows you to unblock local sites from abroad. All you need to do is connect to a server in Turkey with a reliable VPN to securely bypass government censorship.
How to Choose the Best VPN for Turkey
It's necessary to have a secure VPN to bypass internet censorship and surveillance when connected to a server in Turkey. You also need to protect your personal information when trying to unblock geo-restricted content from overseas. These are the most important features to look for:
Strong encryption to protect personal data like your IP address and login information.
Secure VPN servers to ensure your connections are safe and anonymous.
Strict zero-logs policies to prevent third parties from accessing your browsing history.
DNS leak protection to keep private information from leaking to internet providers and governments.
A kill switch to stop your data from being exposed if you disconnect from your VPN.
Try ExpressVPN's servers in Turkey
FAQs: Unblock Sites in Turkey with a VPN
Why do only 5 VPNs work in Turkey?
The VPNs on this list are the only ones that still work reliably in Turkey to unblock streaming services and anonymously bypass government censorship. After I tested other VPNs that claim to work, they didn't actually connect to Turkey. You need to avoid all other VPNs, especially:
TunnelBear
Zenmate
IPVanish
PIA
Don't waste your time with any other VPN – they don't stand a chance in unblocking content in Turkey at all!
Is it legal to use a VPN in Turkey?
It's legal to use a VPN in Turkey, even if the Turkish government actively bans most providers. Several social media websites like Facebook, Twitter, and Instagram are occasionally blocked in Turkey, but you won't get fined or jailed for trying to access them.
Keep in mind that your online activity can get reported when you publicly criticize the Turkish authorities even if you use a VPN. As long as you use your VPN for legal purposes, you won't get in trouble.
Can I use a VPN with Tor in Turkey?
Yes, you can use Tor with a VPN. This allows you to avoid your ISP or the government from figuring out your identity through your IP address. Tor was banned in Turkey in 2016, so you won't be able to use it without hiding your digital address first through a VPN. You should always connect to Tor with a VPN, especially since Turkish authorities will monitor your online activity.
Which devices work with a VPN in Turkey?
Every VPN on this list is compatible with PC and Mac. You can also download their mobile apps to use on iOS and Android. It's easy to use any of these VPNs for Turkey on the dedicated browser apps for Chrome and Firefox, so you can safely browse on any device.
I recommend that you protect your device with ExpressVPN, which works with the most operating systems. If you want to double-check that it'll work on your device, just ask customer support through the 24/7 live chat to get a quick response.
Is it possible to watch Netflix in Turkey with a VPN?
Yes you can, but not all VPNs work (especially free VPNs) since Turkey actively blocks VPNs. The VPNs on this list have been tested and proven to work. If you want to watch Turkish shows and movies on Netflix from abroad, then you can get PrivateVPN to easily unblock Netflix Turkey.
If you want to watch your favorite titles with Turkish subtitles from the biggest Netflix library, you can easily use ExpressVPN to unblock Netflix US from abroad. ExpressVPN also allows you to watch the most Netflix shows and movies from anywhere by switching to servers in the UK, Canada, and Japan for more exclusive content. With the most servers in Turkey and around the world, it offers the most reliable connections and great speeds for HD streaming. All you have to do is install ExpressVPN, choose a server with Netflix access, and start watching!
Can I use a free VPN in Turkey?
It's possible to use a free VPN, but I don't recommend it at all.
While the Turkish government has blocked most premium providers except the VPNs on this list, there are even fewer free ones that work in the country. If you're able to find a working server for Turkey, it might not unblock any local websites. Not only will you face slow speeds and limited data bandwidth, you'll be compromising your security with a free provider!
Many free VPNs make a profit by selling your data to advertising agencies or the government. In a restricted country like Turkey with intense censorship and internet monitoring, this can put you in serious legal trouble. All of the VPNs on this list offer generous money-back guarantees, so you can try them for a short amount of time for free for up to 30 days before subscribing.
How to Save on VPNs for Turkey
Getting a quality VPN to stream PuhuTV or TRT Spor from abroad doesn't have to be expensive. To make sure you have all the features you need, you can try all of these recommended VPNs for Turkey for free for 30 days.
To save you money, I found these special pages for even better deals on top VPNs:
---
Summary: These Are The Top VPNs That Work in Turkey in 2022
Top Choice