Does ProtonVPN Work in China? — TESTED 2020
Last Updated by Dawn Teh on October 01, 2020
Most VPNs claim to work globally from anywhere — but many of them don't actually work in China. The Great Firewall of China is constantly expanding its list of blocked VPNs, and even premium services like CyberGhost no longer work.
If you already have a subscription with ProtonVPN (or are interested in purchasing it), I tested it to find out if it still works in China (the results might surprise you!).
If you're in a hurry and just need a VPN that is guaranteed to work in China, I highly recommend ExpressVPN for reliability and lightning-fast speeds.
Try ExpressVPN for free for 30 days
Does ProtonVPN Still Work in China?
In my recent tests, I found that ProtonVPN does not work in China anymore. In addition, ProtonVPN made an announcement towards the end of 2019 that the Chinese government has blocked it.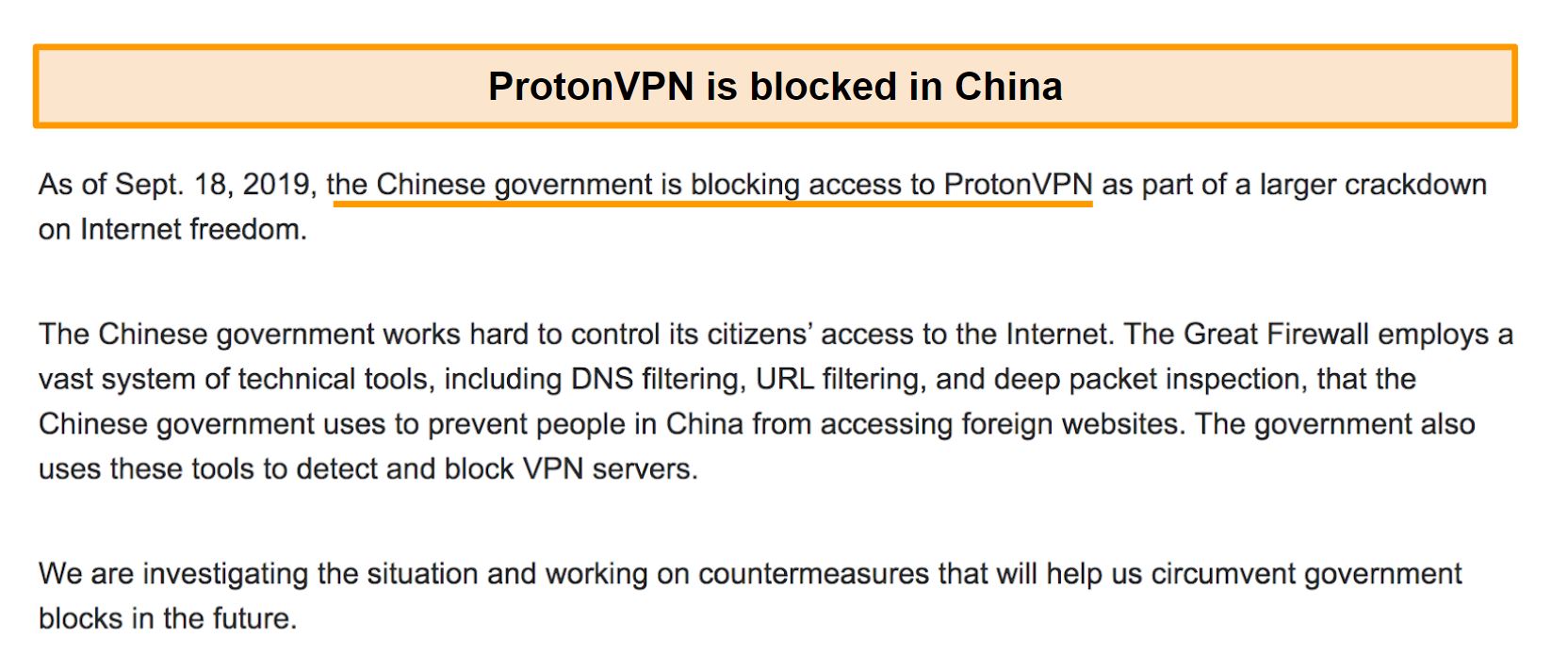 Things to Consider When Selecting a VPN to Use in China
Since you won't be able to use ProtonVPN in China, you'll need to look for other options.
To guide you on your search for the best VPN for your needs, I've included a list of the most important things to consider when deciding on a VPN:
Does it actually work in China? Many premium VPNs don't work in China so you need to find the ones that have been tested recently (and proven to work).
How's the speed? While you can't expect the same speeds as your home country, it should have an acceptable browsing and streaming experience.
Is the connection stable? If you want a pleasant browsing experience, you'll want to make sure that the VPN connection is stable and doesn't disconnect frequently.
Is there a kill switch? Having a kill switch feature means that when your connection drops, will your data be encrypted and kept secure.
Where are the servers located and how many are there? It's best if the servers are close to China, and having multiple servers will give you more flexibility.
Is there after-sales technical support? Make sure that your VPN service provides 24-hour technical support so that you can access help whenever you need to.
Does it support different devices? This will be important if you require a VPN on different devices or platforms (like your phone, laptop, or tablet).
Can you connect multiple devices at the same time? If you need to connect multiple devices at the same time, it's good to check if the VPN provider can support the number of devices you have.
Pro Tip: You need to purchase your VPN before entering China. Once you've entered China, you won't be able to connect to a VPN there as it is restricted by the government.
There are many factors to consider when selecting a VPN to use in China, and the number of VPNs to choose from can be overwhelming. If you want to skip the hassle of researching, get a reliable and tested VPN like ExpressVPN. It has worked the most consistently for me in China and has the fastest speeds.
Try ExpressVPN for free for 30 days
Quick Guide: 3 Best VPNs to Use in China
ExpressVPN — #1 VPN for consistently unblocking restricted sites in China — plus you can try it for free for 30 days.
PrivateVPN — Easy access to popular sites, but there's buffering and lag.
Astrill VPN — Works in China, but keeps temporary logs and does not offer a money-back guarantee.
3 Best VPNs That Work in China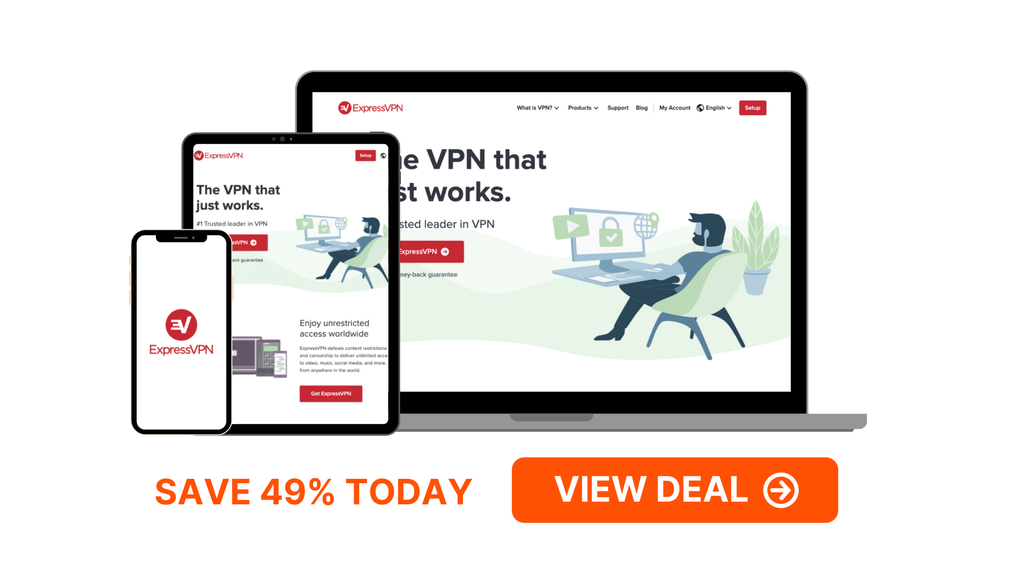 When I had to travel to China for work, I had my doubts about whether or not ExpressVPN would work there. There were mixed reviews online, so I knew I had to put it to the test — and long story short — it worked wonderfully! Not only could I access all the (restricted) sites I wanted, but it ensured my activities were kept hidden from prying eyes.
I was able to get unrestricted access to many popular websites like Google and Facebook when connecting to its US and Japan servers. The speeds were fast enough such that I could stream Netflix and Youtube in HD with minimal lag.
ExpressVPN also features top-notch security features (like an automatic kill switch) to keep you safe if your connection drops. This ensures that your data is kept secure and hidden at all times. And if you need to connect multiple devices, ExpressVPN allows you to connect up to 5 devices simultaneously.
As a bonus, you can try out ExpressVPN risk-free as it offers a 30-day money-back guarantee. So if you're heading to China for less than 30 days, you'll be able to gain access to this premium for free.
Try ExpressVPN for free for 30 days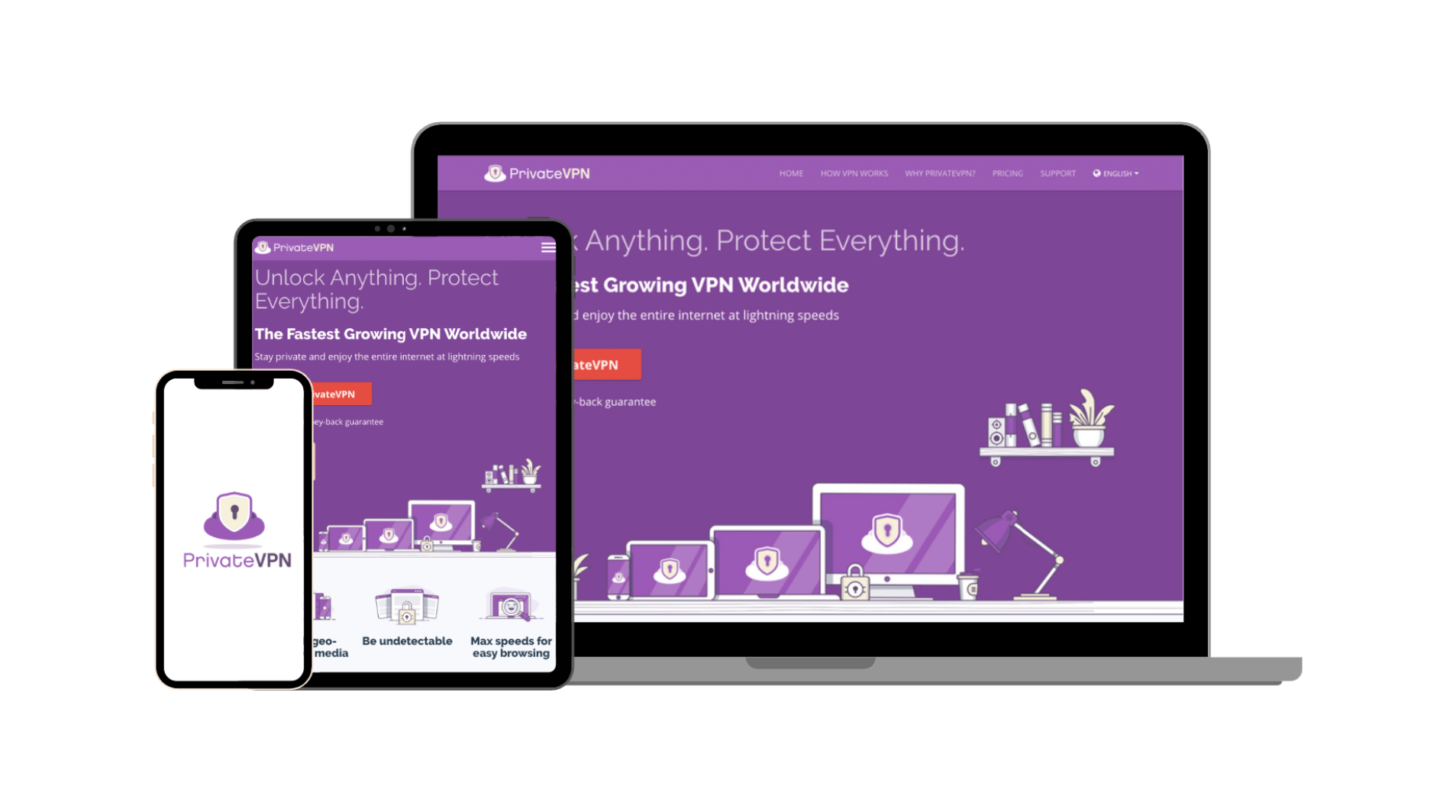 With PrivateVPN, I was able to access popular restricted websites like YouTube, Google and Facebook. Unfortunately, I did experience some lag when streaming videos, and the speeds were inconsistent. If you want more reliability in your streaming, I was able to consistently connect to ExpressVPN servers and watch Youtube without lag.
PrivateVPN is a great VPN for those who are worried about the security of their online data. With features like 256-bit encryption, zero-logs policy and an automatic kill switch, I had peace of mind knowing that I won't be discovered by the Chinese government or have my data accessed by third-parties.
Because PrivateVPN allows up to 6 simultaneous connections, I could also easily switch between my phone or laptop throughout the day. And for added security, PrivateVPN even assigns unique IP addresses to each device.
If maintaining online security in China is your top priority, you can try PrivateVPN with its 30-day money-back guarantee. This is ideal if you are traveling to China for a short period, and want to ensure your online data is kept secure.
Try PrivateVPN for free for 30 days
Astrill VPN has servers close to China (like Taiwan and Japan), so I was able to get pretty decent speeds. I experienced minimal buffering and lag while connected to the VPN. I caught up on new episodes of Kim's Convenience (on Netflix in HD) from China with no issues.
Although Astrill VPN has military-grade encryption to ensure your online security, I was a little skeptical when I found out that it keeps temporary logs of your activity. Especially in a country like China where VPN use is frowned upon, I would want to go with a VPN that promises complete anonymity.
Another major downside for this VPN is the higher price compared to other providers. It has a strict no-refund policy so you can't even test it out before buying (unlike ExpressVPN). I found this rather unfriendly to users because if it doesn't work, I wouldn't be able to get my money back.
Choose a VPN That Has Been Tested in China
The case of ProtonVPN shows that even a reputable VPN can suddenly be blocked by ever-changing Chinese government restrictions. That's why it's important to check that a VPN you're interested in has been tested in China recently.
Additionally, remember to download your VPN before you enter China. Once you've entered the country and you find out your VPN isn't working, there's not much you can do to access blocked websites.
If you're only going to be in China for a short stay, you can always try ExpressVPN with its 30-day money-back guarantee and access blocked content risk-free.