5 Best VPNs for Israel (Updated Local Servers in 2021)
Last Updated by Chase Williams on March 01, 2021
If you're trying to watch MakoTV or log into your bank account from outside of Israel, you'll be blocked. The only way to bypass these annoying restrictions is with an Israeli IP address from a VPN.
However, not all VPNs will work. You'll need a VPN with local servers that can protect your online privacy while accessing websites in Israel.
After testing dozens of VPNs, I've found the 5 best VPNs for a secure and reliable connection to Israel. All of these VPNs have working servers in Israel, dependable security features, real money-back guarantees, and can unblock local TV shows, movies, news, and more!
Access Israeli content with NordVPN
Quick Guide: 5 Best VPNs for Israel in 2021
3 Easy Steps to Get an Israeli IP Address
Tip — How to Check Your IP Address
You can check if your VPN is connected to a Israeli server with this free tool. It should display your device's IP address in Israel if the connection is successful.
5 Best VPNs for Israel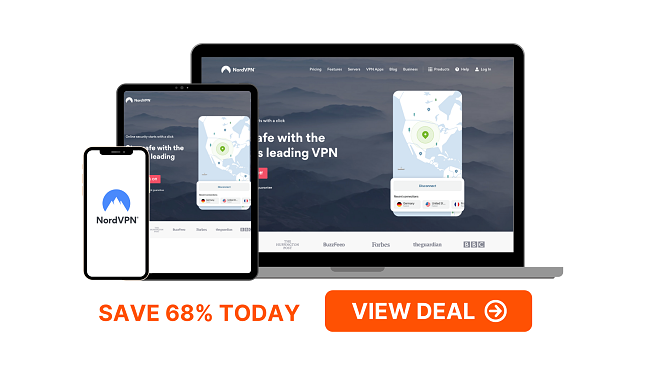 Key Features:
5,800+ global servers and 20 servers in Israel
CyberSec blocks malicious websites
Unlimited bandwidth and SmartPlay gives you the fastest server connection
Secure up to 6 devices on one account
Supports torrenting with Socks5 Proxy
NordVPN is my top choice with the most servers to get a working Israeli IP address. With so many servers, this gives you plenty of options to connect to an Israeli server to unblock local content while you're abroad. I was happy that I never had any issues finding a working server and getting a fast connection from my location in the US.
When I tested NordVPN's security features, I was really impressed with the results. It has a strict zero-logs policy that ensures your online activities are never stored and can't be traced back to you. Its Double VPN encrypts your data through 2 different servers, which makes it harder for anyone to monitor your cyber activity. The CyberSec feature allows you to block annoying ads and harmful websites from tracking your online behavior. I was relieved that my real IP address in the US was disguised with an Israeli IP address when I ran a DNS leak test. This means that the authorities can't detect your actual location using the virtual identifying information connected to your device.
NordVPN has no issues helping you access blocked sites — it even bypasses Netflix's tough location restrictions. I streamed When Heroes Fly within seconds of connecting to an Israeli server. Surprisingly, I didn't experience any buffering or lag despite the distance between my US location and the local servers.
The only way to know if a VPN is right for you is by testing it yourself. You can try NordVPN's money-back guarantee for free for 30 days. If you don't like it, you can get your full refund within the trial period.
I tested NordVPN's refund policy to see how easy it would be to get my money back. Unlike ExpressVPN's no questions asked policy, the live chat agent asked me why I wanted to cancel and tried to troubleshoot any issues. After I explained that I didn't need the service anymore, my refund request was approved. The process was simple and I got my money back in less than a week.
NordVPN unblocks: MakoTV, Netflix Israel, BBC iPlayer, BitTorrent, HBO GO, Hulu, Kodi, PirateBay, and uTorrent.
NordVPN works on: Windows, macOS, Linux, Chromebook, Android, iOS, Blackberry, Windows Phone, Chrome, Firefox, routers, Android TV, and Amazon Fire TV/Stick.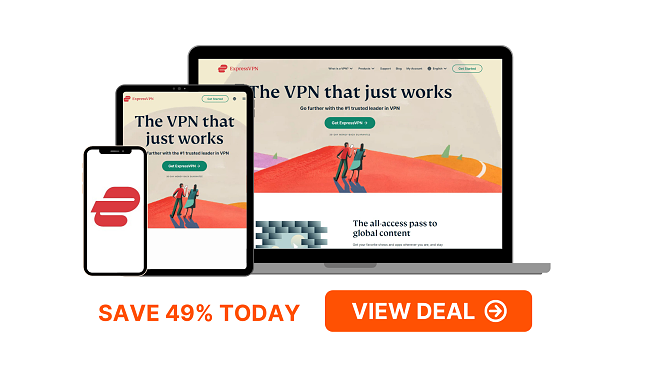 Key Features:
3,000+ global servers and 1 server location in Israel
TrustedServer Technology doesn't retain your data
Unlimited bandwidth for unlimited speeds
Can be used on up to 5 devices at the same time
Torrenting supported — no restrictions on P2P file sharing
Although I was nervous about my cyber activity getting monitored, I was assured that ExpressVPN's security features reliably safeguard my privacy. Its TrustedServer Technology wipes your activity log, which means there aren't any records of your online data. While some VPNs claim to have no-logging policies, ExpressVPN proved it actually had zero logs. During a 2017 Turkish criminal investigation, it didn't have any user information to share even when requested by law enforcement.
ExpressVPN runs its own DNS instead of outsourcing to another service, so your IP address won't accidentally be leaked to third parties. I ran a DNS test to see whether ExpressVPN covered up my identifying data and was pleased that the results showed I was connected to Tel Aviv. This means that my real location was successfully hidden and my online information was secure.
Despite having only 1 server in Israel, I've never had any issues connecting to Israeli online banking or watching addictive local shows like Rising Star on MakoTV from overseas with ExpressVPN. During testing, I thought the server would lag due to overcrowding — but I was wrong. The server speeds were surprisingly fast and I didn't experience long buffering times at all.
I was thrilled that ExpressVPN was also able to unblock global streaming services like Netflix US, Hulu, and BBC iPlayer. When I was traveling in Europe, I was able to quickly stream Star Wars with no buffering by using a US server. Additionally, you can watch as many episodes as you want with ExpressVPN's unlimited bandwidth.
If you're not ready to subscribe, ExpressVPN has one of the most convenient refund policies. You can get a full refund with ExpressVPN's 30-day money-back guarantee — no questions asked. After a few days of testing, I submitted a refund request through its 24/7 live chat. I was surprised that I didn't need to explain why I wanted to cancel before the agent immediately approved my request. The entire process took just a couple of minutes and I had my money back in my account a few days later.
ExpressVPN unblocks: MakoTV, Netflix Israel, BBC iPlayer, BitTorrent, HBO GO, Hulu, PirateBay, and uTorrent.
ExpressVPN works on: Windows, macOS, Linux, Chromebook, Android, iOS, Chrome, Firefox, Safari, PlayStation, Xbox, Nintendo Switch, and Amazon Fire TV/Stick.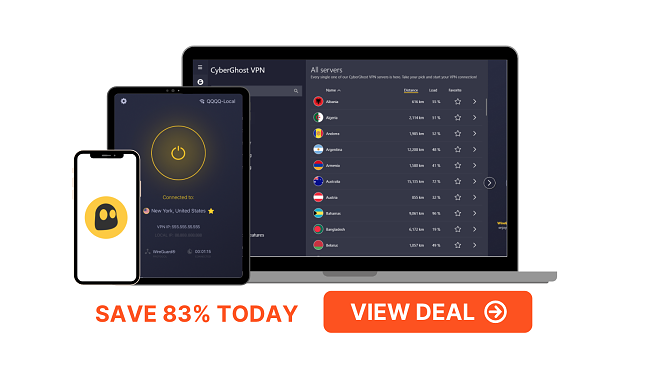 Key Features:
6,000+ global servers and 10 servers in Israel
NoSpy servers with no-logs protect your data
Unlimited bandwidth with no throttling
Protects up to 7 devices at the same time
Supports torrenting with optimized servers
The Israeli government has strict censorship regulations, which means it can track your online activities when you're connected to a local IP address. Fortunately, you can avoid surveillance and interference with CyberGhost's NoSpy technology. Its military-grade encryption and strict no-logs policy protect your sensitive information from third parties — including your ISP, hackers, and governments. Your data is so secure that even CyberGhost doesn't have access to your internet activity. If your WiFi connection is unstable like mine, the kill switch ensures that your IP address and online activity won't accidentally be revealed if your internet connection drops.
While CyberGhost is the only VPN on this list that has optimized servers for torrenting in Israel, I didn't have any Israeli servers dedicated to streaming. This wasn't a problem since its normal Israeli servers could unblock local news, shows, and movies. I had no problems watching MakoTV's Channel 12 live in high quality.
I was disappointed when Netflix Israel didn't consistently work while I was testing CyberGhost. Out of the 3 times I tried to connect, it only unblocked the stream twice. This wasn't a big deal since I could still access Netflix by switching to a US or UK server. Although the catalogs had slightly different content, I was excited to find Shtisel, Unorthodox, and The Spy on both Netflix libraries. After you find a working server, you won't have any issues with buffering or lagging while streaming.
Another issue I noticed is that CyberGhost doesn't work everywhere. If you're planning to travel to China, you'll have to use ExpressVPN to bypass the country's tough firewalls and censorship restrictions.
CyberGhost offers a 45-day money-back guarantee, which is the longest refund policy from these top VPNs. You can try the VPN for free for more than a month — and if it's not the right fit, you can get your money back in full.
CyberGhost unblocks: MakoTV, BBC iPlayer, HBO GO, and PirateBay.
CyberGhost works on: Windows, macOS, Linux, Android, iOS, Chrome, Firefox, Android TV, Amazon Fire TV/Stick.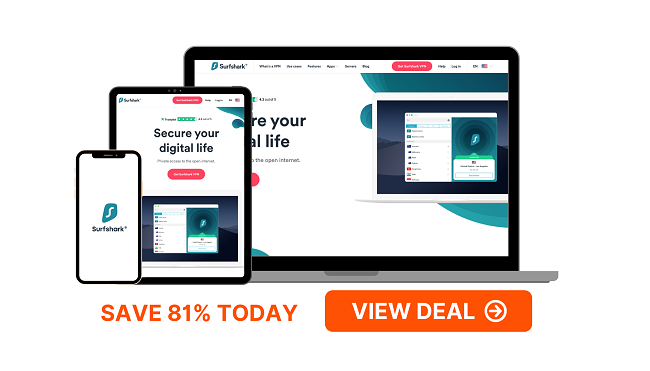 Key Features:
1,000+ global servers and 15 servers in Israel
CleanWeb blocks hackers and spies
Limitless bandwidth
Unlimited device connections
Supports torrenting — compatible with all P2P clients
Surfshark is the only VPN I've tested that can connect to unlimited devices at the same time. You can also share your subscription with your friends or family at no extra cost. This means everyone can catch up with the latest season of Fauda before the next season is released.
I was able to easily unblock Israeli streams with Surfshark's NoBorders feature to bypass internet restrictions. This makes it easy to access your favorite shows from anywhere. While testing Surfshark, I was able to watch For Her Flying Heroes on Mako TV in high quality. It also took less than a minute to start streaming Hostages on Netflix Israel without buffering.
I was confident that my data remained secure with Surfshark's high-level encryption and zero-logs policy. Its two-factor authentication (2FA) feature ensures that you have full control of your device at all times. 2FA requires you to sign in with a separate code sent to your email or an authentication application such as Google Authenticator or Authy. This prevents others from accessing your device if your password is compromised.
It was easy for me to enable Surfshark's CleanWeb feature to stop malware, spyware, and phishing scams from harming my device. You can prevent hackers and spies from stealing your information by simply clicking a checkbox in your VPN's preferences.
While it's one of the most affordable VPNs on the market, you can try Surfshark's money-back guarantee risk-free for a few weeks. If you decide it's not right for you, you can easily get a refund within 30 days.
Surfshark unblocks: MakoTV, Netflix Israel, BBC iPlayer, HBO GO, PirateBay, and uTorrent.
Surfshark works on: macOS, Windows, Linux, Android, iOS, Chrome, Firefox, PlayStation, and Xbox.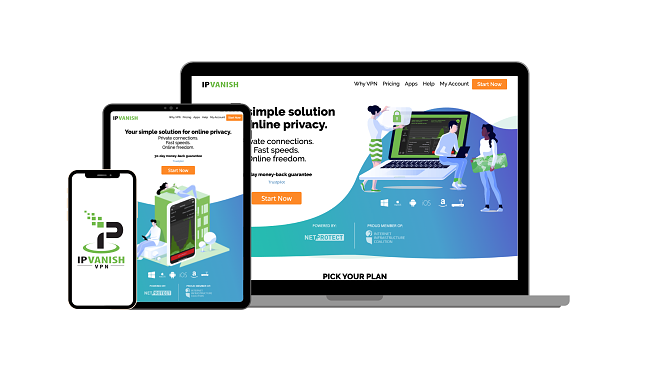 Key Features:
1,400+ global servers and 2 servers in Israel
Military-grade encryption with a strict zero-log policy
Unlimited bandwidth for fastest possible speeds
10 simultaneous device connections
Supports torrenting with a secure proxy
I was amazed that IPVanish owns its entire network and manages its services internally — including app development and customer support. It's rare for a VPN to have full control, which prevents accidentally leaking your data to third parties. IPVanish's industry-standard encryption also keeps your online information anonymous and safe from your internet service provider (ISP), cyber criminals, and advertisers.
During my tests, I was able to watch Netflix Israel and the local news on Walla without any lag or buffering. Not every service worked though — unfortunately, I couldn't unblock MakoTV. You'll need to switch to another VPN (I used NordVPN) to unblock this streaming service.
I found IPVanish's interface really easy to connect to an Israeli server. In the Quick Connect tab, I just had to choose Israel from the country dropdown list. After clicking "Connect", you'll automatically be paired with the best available city and server.
You can try IPVanish's money-back guarantee for free for 7 days. If it's not for you, you can get a hassle-free refund within the trial period.
IPVanish unblocks: Netflix Israel, HBO GO, PirateBay, and uTorrent.
IPVanish works on: Windows, macOS, Linux, Android, iOS, Chrome, and routers.
How to Choose the Best VPN for Israel
With so many VPNs on the market, it's difficult to find the best one for Israel. I've listed the key features to look for:
Global server network — You need at least one server in Israel. If it has international servers, you can also access other global content.
Unblocking ability — It needs to be able to unblock Israeli content from abroad. If you want to access global content, make sure it can unblock international platforms too.
Reliable security — Strong encryption and strict no-logs are necessary to hide your online activity from third parties.
Fast speeds — Browse, bank, stream, and download without interruptions or long loading times.
Money-back guarantee — You should be able to try the VPN's features risk-free before you subscribe. If you're not satisfied, you can get a full refund within the money-back guarantee period.
Why You Need an Israeli IP Address
Watch Israeli shows, movies, and news streams like MakoTV and Netflix Israel while overseas.
Protect your online data from hackers, spies, and government surveillance.
Check your Israeli bank account since many banks block access from abroad.
Unblock Israeli content with NordVPN
How a VPN Gets You an IP Address in Israel
A VPN allows you to route your internet traffic through a server network. When you connect to an Israeli server with a VPN, your real IP address is replaced with an Israeli IP address. This disguises your identity and online activity to remain anonymous to your ISP, websites, and governments.
While Israel has licensing and privacy agreements that limit content access to local IP addresses, your new IP address will make you seem like you're in Israel. Then, you can bypass restrictions to access Israeli websites, shows, movies, and banking from anywhere.
Although the Israeli government is known to censor and monitor online activity, you can rest assured that using a VPN is completely legal.
Can I Use a Free VPN to Get an Israeli IP Address?
It's possible, but I don't recommend it.
There are only a few free VPNs with working Israeli servers. This means you might not be able to connect to an Israeli IP address or unblock websites in Israel. Even if you're able to find a working server, your speeds can be slow and your bandwidth can be limited.
The majority of free VPNs don't have strict no-logs policies and your online security can be in serious danger. Most free services profit by selling your sensitive data to third parties like advertising agencies and governments. If your online activity is reported to your internet service provider or law enforcement, you risk getting fines or even jail time. You can also get malware or annoying ads while using a free service.
Luckily, you can avoid these risks without paying a cent if you try NordVPN's risk-free money-back guarantee. Not only will your data be protected from government surveillance, you can stream, bank, and browse websites in Israel for free for 30 days!
How to Save on VPNs for Israel
A premium VPN doesn't have to be expensive. You can try all of these top VPNs' money-back guarantees — at no risk to you! After you've found your favorite VPN, you can avoid paying full price with these hidden coupons.