5 Best VPNs for Watching Disney+ from Anywhere in 2020
Last Updated by Kate Hawkins on October 01, 2020
Watch Disney+ from anywhere with a reliable VPN!
How to Choose the Best VPN for Disney Plus
Not every VPN can give you access to Disney+. To watch Disney+ from anywhere, you'll need a VPN with these features:
Ability to access Disney+ (plus other streaming services like Netflix, Hulu, and BBC iPlayer)
Multiple servers available in Disney+ locations
Fast streaming speeds for watching Disney+ without lag or buffering
Support for several connections at the same time across different devices
High-level encryption and data security to keep your personal data safe
24/7 customer support with live chat and help guides
After testing a range of VPNs using the criteria above, here's a list of the 5 best VPNs for watching Disney+ from anywhere in the world.
Watch Disney+ with a reliable VPN
5 Best VPNs for Disney Plus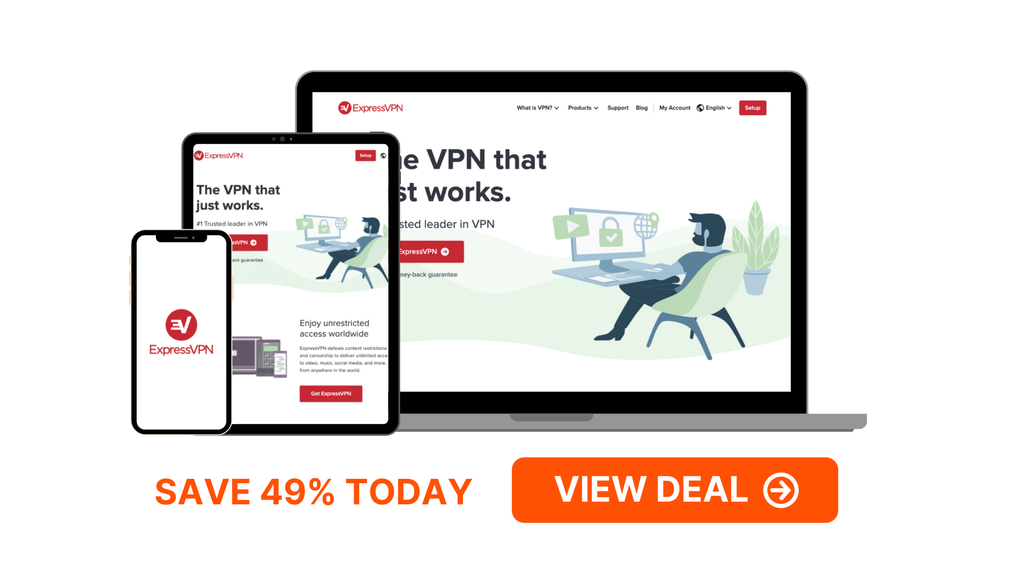 3,000+ servers in 160 locations

— 26 in the US, 5 in Canada, 6 in Australia, 1 in New Zealand, 4 in the Netherlands

Speed test feature to ensure fast streaming speeds
Unlimited bandwidth
Secures up to 5 devices at the same time
30-day money-back guarantee
ExpressVPN is my top choice because unlike other VPNs I tested, I was able to connect to Disney+ on my first try. With other services, I had to connect to several different servers before finding one that worked.
ExpressVPN has servers in all 12 Disney+ locations, including 26 server locations in the US, 5 in Canada, 6 in Australia, 1 in New Zealand, and 4 in the Netherlands. With multiple servers in each Disney+ location, you'll never miss a show. While connected to different ExpressVPN server locations, I managed to stream blocked Disney+ shows from my location in high quality after just 3 seconds of buffering.
To help you use the best server, ExpressVPN's easy-to-use interface includes an in-built speed test. You can check the speed and add the fastest servers to your favorites. Even children or new VPN users can make one-click connections to stream from your list of favorites. However, I found my individual speed tests showed faster speeds than ExpressVPN's speed tests.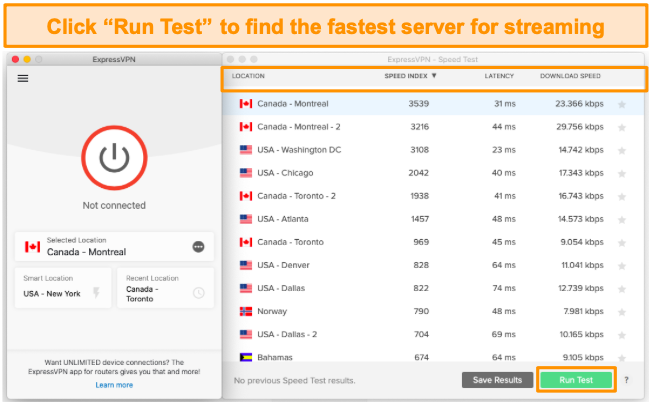 ExpressVPN is known for its fast speeds, so you'll have many fast servers to add to your "Favorites" list. I found its Canada servers are usually the fastest, with average download speeds of 73Mbps. However, during my speed test, US servers weren't much slower at 62Mpbs.
With up to 5 devices secured at once and support for a broad range of apps on different operating systems — the whole family can safely use Disney+ on one subscription!
Express VPN offers a 30-day money-back guarantee. You can request a refund through the live chat. I tested this for myself and got my money back within a week.
ExpressVPN is compatible with: Windows, Android, macOS, iOS, Linux, routers, Chromebook, Kindle Fire, Nook, Chrome, Firefox, games consoles, and Smart TVs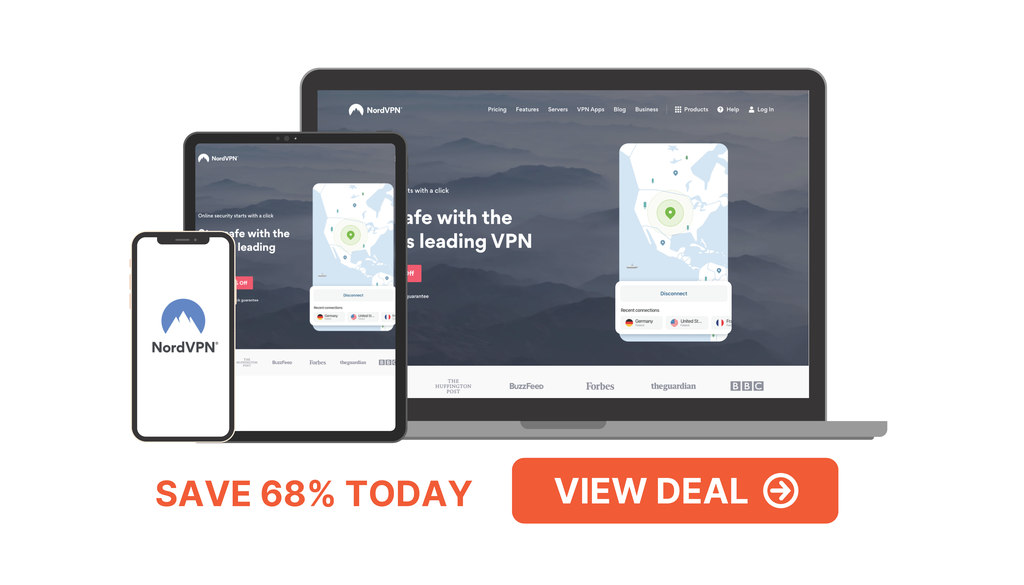 5,500+ servers in 58 countries — 1,600+ in the US, 400+ in Canada, 270+ in Australia, 40+ in New Zealand, 260+ in the Netherlands
SmartPlay technology bypasses geographic restrictions
Unlimited bandwidth
Secures up to 6 devices on one account
30-day money-back guarantee
NordVPN has thousands of servers in Disney+ locations. Unlike any other VPN, it has over 1,600+ servers in the US, 399 in Canada, 273 in Australia, 40 in New Zealand, and 270 in the Netherlands. I tested multiple servers in all 12 Disney+ locations — they can all access Disney+.
Depending on the server I connected to, I experienced slower speeds. NordVPN's customer service helped me find the fastest servers in each location. They explained that NordVPN's "quick connect" button automatically connects you to the fastest server in that region.
Based on my tests, New Zealand #65, Australia #443, Netherlands #391, and Canada #662 were top for each region — US server #3428 was the fastest of them all. I also found NordVPN's speeds were always fast enough for UltraHD, buffer-free streaming, even when latency (the time it takes for data to transfer) was higher.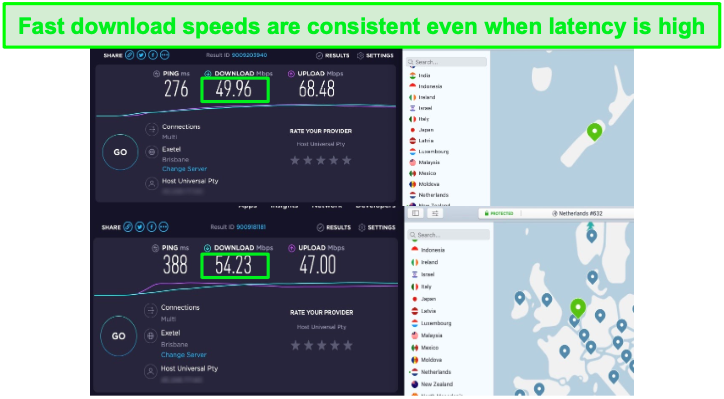 One downside to this service is that the interface can be tricky to use, especially for new VPN users. It's not easy to "Favorite" servers or locate and use the kill switch. If you click "quick connect" without selecting a server, you'll be connected to a server in the country you're located in.
Try NordVPN for 30 days free with its money-back guarantee! You can test every feature for a whole month at no risk to you.
NordVPN is compatible with: Android, Windows, macOS, iOS, Android TV, Linux, Chrome, and Firefox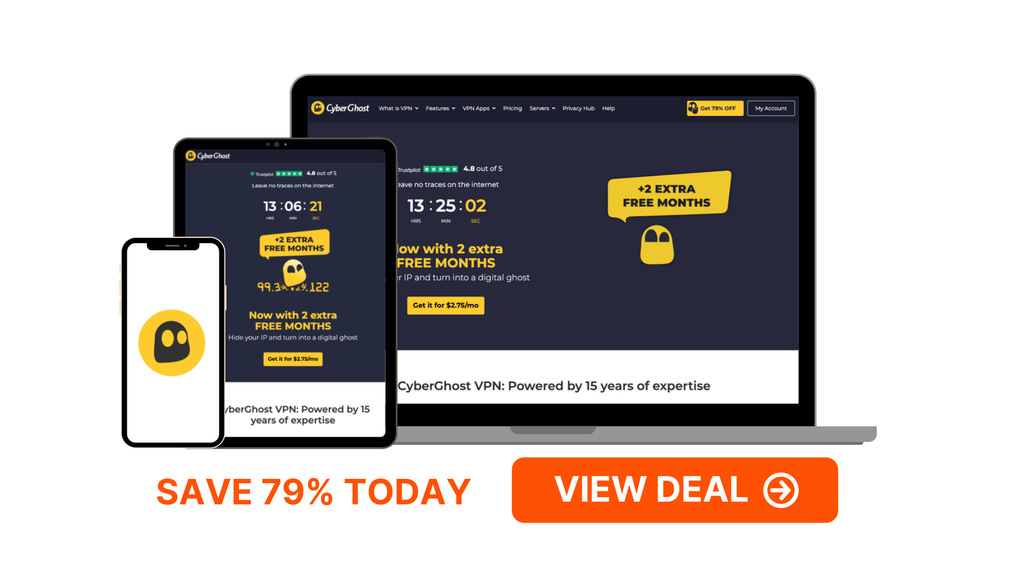 5,500+ servers in 90 countries — 1,000+ in the US, 250+ in Canada, 100+ in Australia, 10 in New Zealand, 200+ in the Netherlands
Optimized servers for streaming
Unlimited bandwidth
Protects up to 7 devices simultaneously
45-day money-back guarantee
CyberGhost has an optimized server for fast speeds and smooth connections to Disney+. It has almost 2,000 servers in Disney+ locations and 1,080+ in the US alone!
Although CyberGhost only has one server dedicated to Disney+ (a US server), it's super fast — downloading speeds were 141Mbps. It's not certain if more optimized Disney+ servers will be added. CyberGhost's live chat agent wasn't able to answer my question about future optimizations.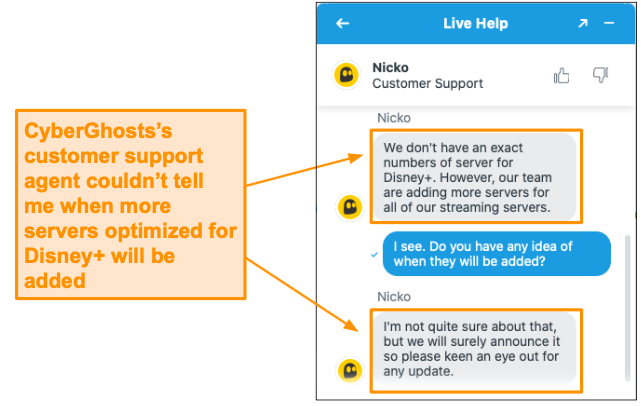 I tested streaming speeds on CyberGhost's non-optimized servers too. By using CyberGhost's "Best Location" feature, I connected to the fastest server and streamed Disney+ buffer-free in all 5 locations.
This user-friendly interface is great for kids or adults new to VPNs. By pushing the star icon, you can add a server to your "Favorites" list for simple connections in the future. The "Favorites" are easily accessible on desktop and mobile devices.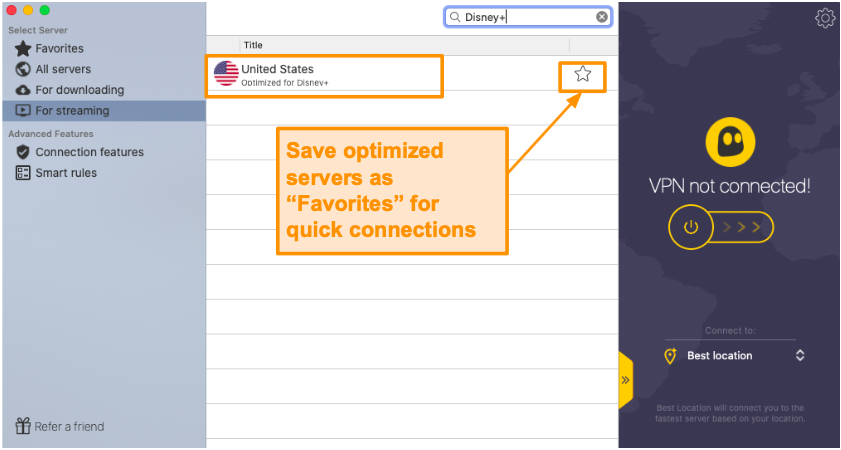 With 7 simultaneous connections, you can stream Netflix while your kids stream Disney+ — and you won't have to worry about lags.
This VPN has a generous 45-day money-back guarantee for 6-month plans or longer. Try it for over a month and get your money back through customer service.
CyberGhost is compatible with: Windows, macOS, Linux, iOS, Android, Chrome, Firefox, Android TV, Fire TV, and Fire Stick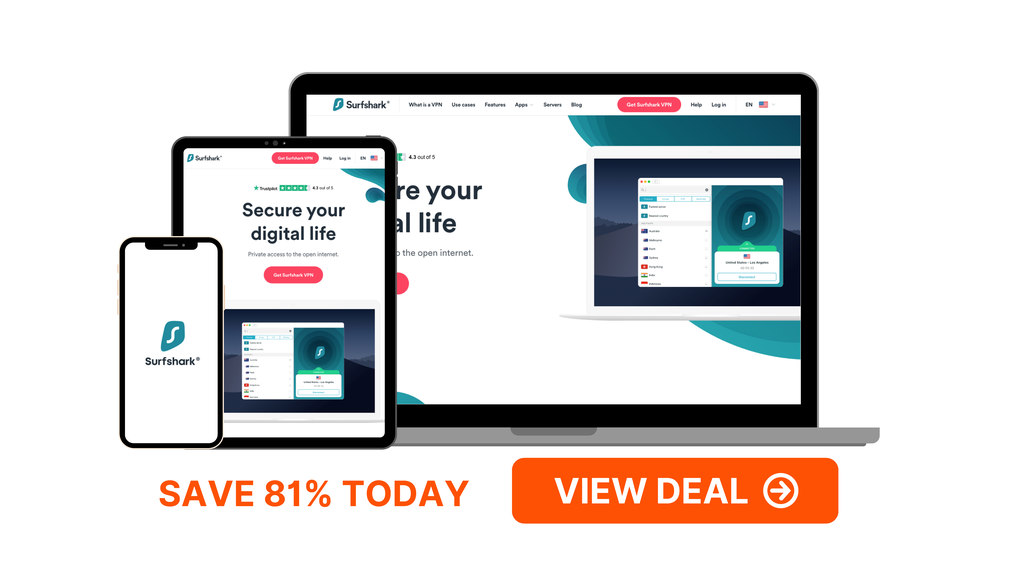 1,040+ servers in 61+ countries with multiple servers in the US, Canada, Australia, New Zealand, and the Netherlands
Camouflage Mode to hide that you're using a VPN
Limitless bandwidth
Unlimited device connections
30-day money-back guarantee
Surfshark offers unlimited device connections! This is a rare feature among premium VPNs. You can connect your entire family and all use Surfshark to watch Disney+ at the same time.
When I tested Surfshark, I connected multiple devices at different times during the day and found my average speed fell from 29Mbps to less than 15Mbps. However, my connection was always fast enough to stream Disney+ without waiting for content to buffer.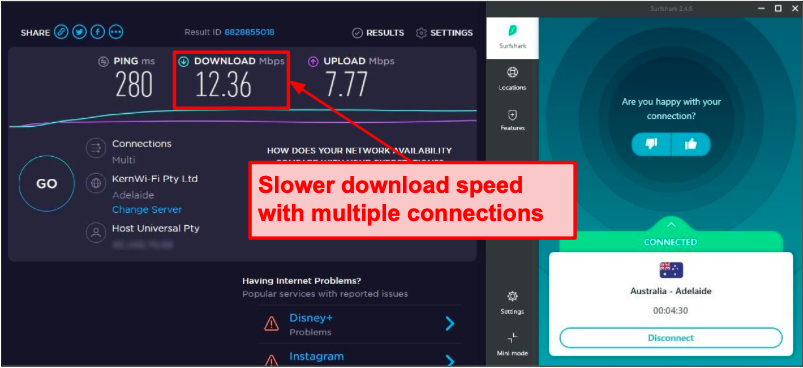 I really like Surfshark's Whitelister feature, which lets specific apps and websites bypass the VPN. It's great if you want to watch Disney+ and browse local websites without having to disconnect. This feature also allows you to maintain parental controls on one connection while streaming anonymously on another.
With Surfshark's CleanWeb protection feature, you don't have to worry about malware infecting any of your family's devices. This is great if you have children streaming freely.
As one of the most inexpensive VPNs on my list, Surfshark is a great option if you're on a budget. With a 30-day money-back guarantee, you can test out every feature to make sure it's right for you.
Surfshark is compatible with: Windows, macOS, Linux, iOS, Android, Chrome, Firefox, Fire TV, Apple TV, Xbox, and PlayStation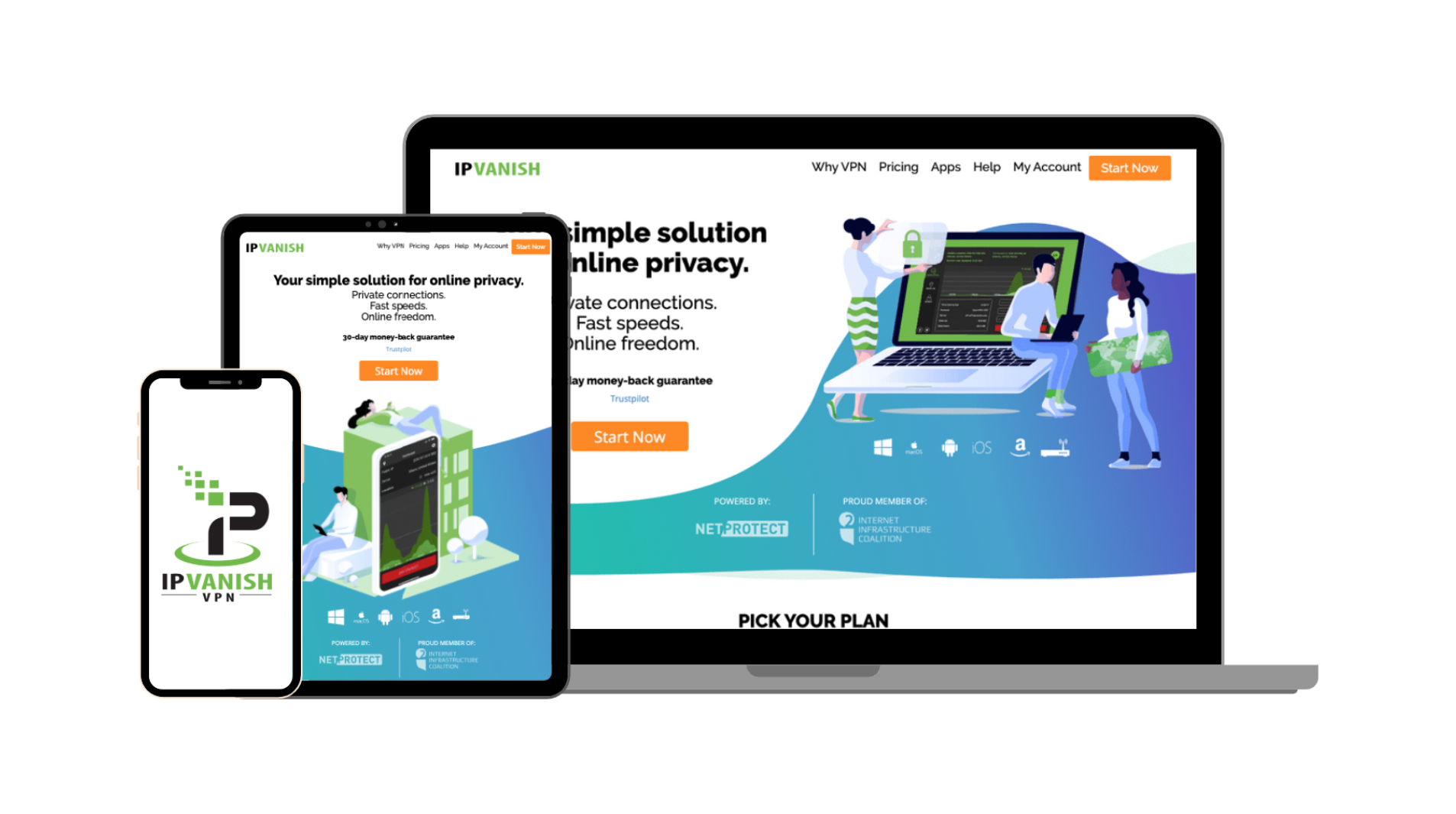 1,300+ servers in 75+ locations — 755 in the US, 33 in Canada, 72 in Australia, 5 in New Zealand, 89 in the Netherlands
Unlimited server switching
Unlimited bandwidth
Supports 10 simultaneous connections
7-day money-back guarantee
IPVanish is one of the most user-friendly VPNs I've tried. Its interface is simple to navigate and I like its Quick Connect feature, which connects you to the best available server effortlessly. All you have to do is choose a Disney+ location!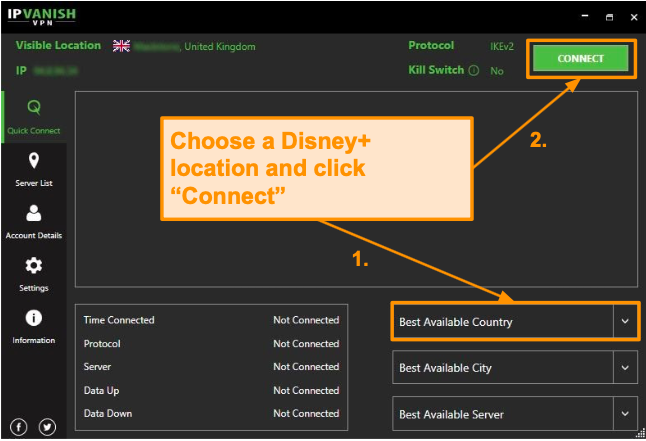 IPVanish has servers in all Disney+ locations but it's limited compared to other VPNs. You may experience some slowdown at peak connection times. However, when I tested IPVanish at peak times, I experienced less than 10 seconds of buffering.
IPVanish offers new users a 30-day money-back guarantee. You can try it free for almost a month to make sure you enjoy its features before you subscribe.
IPVanish is compatible with: Windows, macOS, iOS, Android, Fire TV, Windows phone, Linux, Chrome OS, and routers
What's the Fuss About Disney Plus Requiring VPNs Anyhow?
Disney+ is actively blocking VPN servers. I've tested each service on this list (and 45 others that didn't work) to ensure they'll connect you Disney+ every time. All of my recommended VPNs have money-back guarantees so you can test each one for yourself risk-free!
Disney+ launched with an extensive catalog of new shows and movies! At the moment, Disney+ is only available in certain countries like the US, Canada, the Netherlands, UK, Ireland, Germany, Spain, Italy, Switzerland, Austria, Australia, France, and New Zealand. If you live outside these countries, you'll see this frustrating error message:
"Service Unavailable. Disney+ is unavailable at your location. Learn more by visiting the link below."
Although Disney+ plans to expand its service, it could be a long time before it becomes available in your country. Luckily, there's a way for you to watch Disney+ whenever you want (no matter where you're located): a reliable VPN.
Tip: When you sign up for a Disney+ account, your payment method has to match the country you're signing up from. If you don't have a local credit card, you can use PayPal or pay for Disney+ using a Google Play or Apple Store gift card (both available on Amazon and many stores online). You can follow this step-by-step guide to get a Disney+ account from anywhere with minimal hassle.
Stream Disney+ from anywhere with a reliable VPN!
FAQs
💰 Can I use a free VPN to watch Disney Plus?
Yes, but there's a catch — your streaming quality will be lower. Most free VPNs have limited bandwidth and fewer servers. This means your streaming speeds will be slower and you'll experience buffering and connection errors.
When I tested free VPNs, I didn't find one that could access Disney+ — I always got the dreaded error message. Even if you manage to find one that works, you'll be inundated with ads, which doesn't make for a good streaming experience.
Free VPNs have less resources to protect you and some are known to log and sell your activity. For a connection that is reliable, secure, and free, you can get a quality VPN with a good money-back guarantee.
ExpressVPN gives you 30 days to try the service. This means you have a full month to request a refund using the customer support live chat. I tested this for myself and got my money back within 5 business days.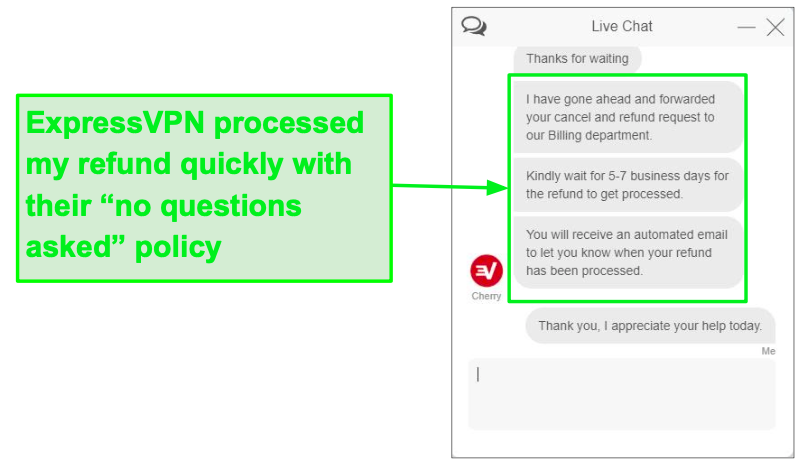 🔓 Will I be banned for using a VPN with Disney Plus?
No, your Disney+ account won't be banned if you try to connect with a VPN.
Disney+ is blocking VPN servers that try to access its content library from outside of the service area. This is why only a few VPNs are able to access the content. It is not banning accounts that have tried to stream Disney+ with a VPN. I streamed Disney+ with a VPN and my account is still active.
🔍 What else can I watch on Disney Plus?
Disney+ has a remarkable catalog of content for you to enjoy. From the highly anticipated original series The Mandalorian to old favorites like Toy Story and Cinderella, there's something for everyone.
You can also stream:
Both animated and live-action movies from Disney's extensive history
All original content created just for Disney+, like Forky Asks A Question
Marvel, Pixar, and National Geographic movies and TV shows
And much more!
During my tests, I noticed that the content libraries in each country are slightly different. For example, the Disney classic Anastasia is currently only available in Australia, and only the US streams Dan in Real Life and Around the World in 80 Days. You'll have access to the most TV shows and movies if you stream from the US.
Disney+ in the US has an expanded bundle deal — you can enjoy Disney+, Hulu, and ESPN+ under one subscription. But if you're not in the US, you'll need a VPN to access content on all three streaming services.
Tip: To find the content you want on Disney+, use accurate search terms. "The Incredibles 2" has different results than "Incredibles 2," which gives you the movie. "Spiderman" and "Spider-Man" give different results too.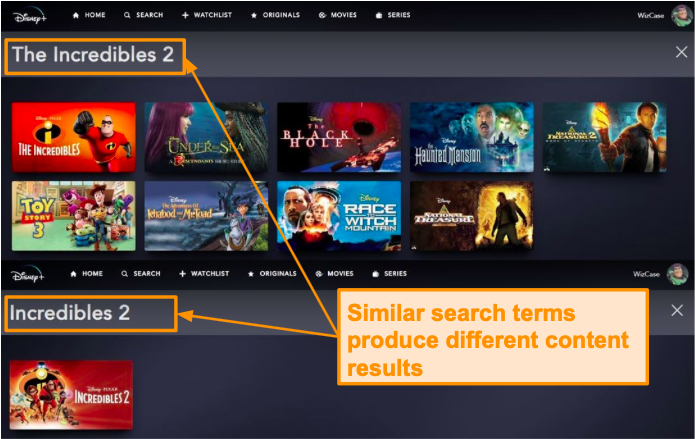 Watch Disney+ with ExpressVPN now
❓ What else can I use a VPN for?
A reliable VPN is a useful tool for accessing restricted content and protecting your data security. Apart from streaming Disney+ from anywhere, you can use a VPN to:
Access geo-restricted streaming services, like Netflix, Hulu, HBO, and BBC iPlayer
Watch sporting events with broadcasting restrictions in your location
Torrent safely with secure peer-to-peer file sharing
Keep your data protected when accessing sensitive information like your bank account
Enjoy a secure connection when using public Wi-Fi
Prevent your ISP from slowing your connection on purpose
And more!
Access global content with ExpressVPN
Don't Miss Out on Disney Plus — Stream from Anywhere in the World
Disney+ is adding hundreds of new TV shows and movies as it expands its service across the world. As its content library grows, you'll want to be able to stream it all. The best way to gain access to Disney+ from anywhere and stream in high-quality is with a reliable VPN like ExpressVPN. A premium VPN will also give you access to other streaming services like Hulu, Netflix, BBC iPlayer, and Youtube TV.
Not sure which VPN to choose? All of my top 5 VPNs have a money-back guarantee so you can try their services for free!