5 Best 100% Free Antivirus For Linux in 2022
Last Updated by Enemali Okwoli on November 01, 2022
I've been using Linux for a while, and I used to feel pretty secure simply by adopting the best practices. However, I noticed that there's been an increasing number of malware attacks on Linux systems recently.
So I decided to test over 20 free antiviruses for Linux to ensure my device was properly protected. It was a difficult task to find a good option as there aren't many options for Linux out there, let alone good ones that are free.
Finally, I found the best 100% free and competent options. They protect Linux desktop users, mail servers, and other Linux-based systems and offer some other cybersecurity tools that are provided in top-tier cross-platform antivirus suites.
Top Tip: It's important to keep in mind that none of these free apps will guarantee your protection the way that paid antivirus apps will. If you're looking for advanced antivirus protection and you understand that your data and your privacy are worth more than 2-3 dollars per month, check out Bitdefender Endpoint Security Tools.
Quick Guide: 5 Best Free Antiviruses for Linux
5 Best Free Antiviruses for Linux in November 2022
1. ClamAV — Best Free and Open-Source Linux Antivirus Software
Key Features:
Perfect malware detection scores.
On-access and on-demand scanning.
Email protection.
Supports multiple distros.
ClamAV is a popular antivirus among Linux users, chiefly because it is open-source and free. However, ClamAV also provides a decent scanner for malware, trojans, and malicious links. During my tests, it picked up every malware sample I planted on my Ubuntu machine, and with a line of command, it removed all the infected files. It also offers a very fast virus scanner.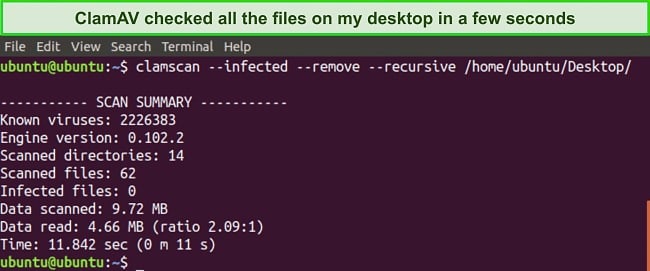 ClamAV is compatible with most distros including:
Ubuntu
Debian
Linux Mint
Fedora
OpenSUSE
One thing I like about ClamAV is that its signature database is constantly updated by the community as new threats are discovered, giving it robust detection abilities. You can run multiple virus scans and remove them by running some commands via the command-line interface. But if you're new to Linux, I recommend using ClamTK, the graphical user interface app built on the ClamAV engine.
ClamAV also provides real-time protection via the on-access scanner. Whenever you open, copy, save or rename a file, ClamAV checks it to ensure it doesn't contain malware, restricting you from accessing the file if it is infected.
I like that ClamAV easily scans all emails for viruses, spam, and other security vulnerabilities. During my tests, ClamAV detected all viruses in file attachments in my inbound and outbound emails. It was also able to detect phishing attacks, trojans, spam, worms, and spyware. The ClamAV mail filter works with popular email clients like Outlook and SMTP mail servers, providing mail gateway protection.
2. Rootkit Hunter — Detects Rootkits Integrated Into System Files
Key Features:
Detects hidden rootkits and backdoors.
Command line interface.
Lightweight software.
Works with popular distros.
Rootkits are some of the most dangerous malicious programs out there. They create administrative-level system access that can modify the codes of an operating system and perform malicious activities and go undetected. For instance, a rootkit can alter the ability of your system to detect a malware file or itself by intercepting the function call of the OS.
RootKit Hunter was developed to address this threat vector. It scans your Linux system for backdoors, rootkits, local exploits, wrong permissions, hidden files, and suspicious strings in the kernel. Once a malicious file is detected, you should take a deeper look at the log file to ensure they aren't false positives before removing the files.
Unlike ClamAV which has a graphical user interface app (ClamTK), Rootkit Hunter is only available via the command-line interface, making it more suitable for advanced users. I had to install the app from Debian's official repository, update the database files, and download the configuration files with a few commands. Luckily, RK Hunter is compatible with major distros like:
Ubuntu
Fedora
Debian
CentOS
Red Hat Enterprise Linux
Rootkit Hunter is popular in the Linux community. The development team is constantly updating the signature database to make it more competent at catching new rootkits. During my tests, it detected 3 suspicious files. Given that RKHunter is a lightweight solution, it's particularly easy to use for Linux systems and servers.
3. Firetools — Best Sandboxing Tool for Linux
Key Features:
Secure sandboxing environment.
Lightweight tool.
Graphical user interface.
Works with multiple distros.
Firetools provides an easy-to-use sandboxing tool for Linux machines. I've been using a sandboxing tool on my Windows PC (via an antivirus) to test untrusted applications in a safe environment. So when I started using Linux, I wanted to experience similar protection.
I found Firetools very useful. It is a GUI of the Firejail security sandbox. You can use it to sandbox different types of processes, including servers, applications, and login sessions, which helped me safely test web scripts that I didn't trust the source on my server.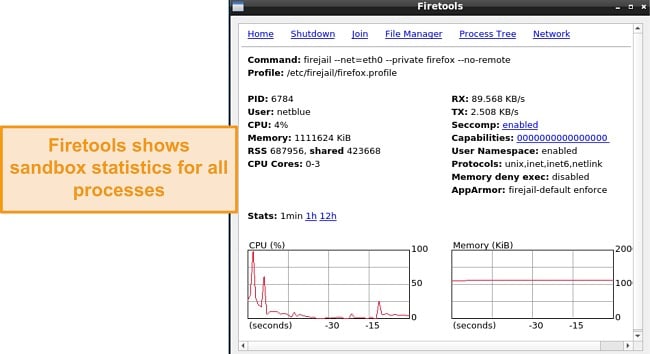 You'll also find Firetools helpful if you just want to surf the web safely on your Linux desktop. Firetools allows you to use different Linux applications like Mozilla Firefox and Chromium securely. Once I sandboxed Firefox, I surfed the internet safely without worrying about a malicious script or malware being installed on my system.
Firetools is a lightweight tool as it doesn't consume many resources. The regular updates and features make it great. It is compatible with many Linux distributions and you can download it from the official repositories:
Linux Mint
Arch Linux
Ubuntu
Debian
CentOS
Overall, Firetools proved to be of great utility. It protected me from downloading malicious files to my Linux machine, helped me use VLC securely, and I accessed my banking site safely without worrying about malicious scripts stealing my personal information.
4. Chkrootkit — Detects Rootkits in Core System Areas
Key Features:
Scans for rootkit-like behavior.
Detects binary modifications.
Command line interface.
Works with most distros.
Chkrootkit is another free security tool that checks for rootkits or rootkit-like behavior on your Linux system. It compares the actual behavior of your system with the expected behavior to detect changes to the system.
It can detect binary modifications or changes made to core system areas including:
interface in promiscuous mode
lastlog deletions
wtmp deletions
wtmpx deletions
signs of LKM trojans
utmp deletions
Chkrootkit scans your system binaries for known signatures. However, it can't automatically detect unknown rootkits. But you can run some commands (Chkrootkit in expert mode) to examine suspicious strings in binary programs that could find malware. This behavior-analysis approach is used by top antiviruses like Bitdefender to detect zero-day Linux-based threats.
Like Rootkit Hunter, Chkrootkit is only available via the command line interface. However, it is a pretty lightweight scanner that works with popular Linux distributions like Ubuntu, Fedora, Debian, and CentOS.
5. Qubes — Create Multiple Virtual Machines on a Single Device
Key Features:
Partitions hard disk to improve security.
Stops the spread of malware to the whole system.
Create multiple qubes for different profiles.
Supports Fedora and Debian distributions.
Based on Linux, Qubes is an OS that focuses on minimizing cybersecurity risks by isolating programs. Traditional operating systems are designed to ensure connectivity among programs. Your email client connects with your desktop and your web browsers interact with other system areas as well. This poses security risks as malware can spread from one source and infect your whole system.
Qubes OS addresses these issues using a grounds-up approach of "security by isolation." It allows you to partition your hard disk into different domains (Qubes) that function as different virtual machines. Each qube is isolated from all other qubes, which means programs running in one qube can't interact with programs in another qube. You can also install a separate OS on each qube. For example, you can install macOS on it and set up an antivirus on it.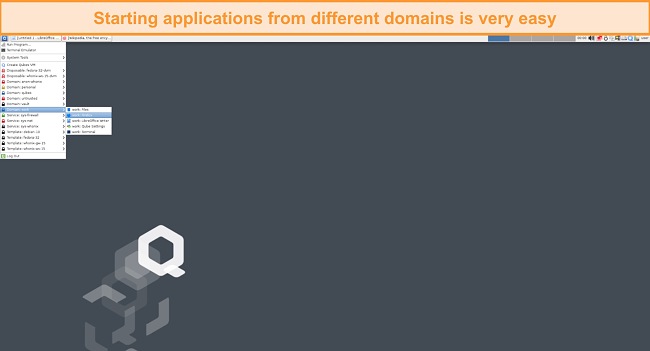 It was pretty easy to set up qubes. Even though it doesn't support every hardware, I was able to set it up on my HP Envy Laptop in a few minutes. I like that I could customize permissions and hardware access for each qube. I created different qubes for work, and personal use, and one to test untrusted applications. I also created a disposal qube that allowed me to browse safely, keeping no history of my activities.
Given that Qubes has been endorsed by top journalists, privacy advocates like Edward Snowden, and Ethereum founder Vitalik Buterin, I'm pretty confident in its security. Most importantly, I found its architecture quite helpful as it prevents malware from infecting my whole system.
Bonus: Affordable Linux Antiviruses that Beat the Free Competition
Bitdefender's GravityZone is marketed toward business users who need email gateway protection and server-wide protection. It provides endpoint security tools, including malware protection (on-access and on-demand scanning), firewall, and anti-phishing protection. Bitdefender is compatible with most Linux distros like Red Hat, Ubuntu, and Fedora.
GravityZone is easy to deploy and can be easily managed by your IT department. It works for all types of businesses and provides an easy-to-use control center that allows you to configure and protect all your Linux systems. You can choose from any of the 3 GravityZone packages, including the GravityZone Business Security Premium plan, which allows you to cover between 5 to 100 devices.
Sophos offers a reliable antivirus for Linux. It detects and removes viruses, worms, and trojans from your Linux machine. It offers on-access and on-demand scanning options and is compatible with major distros, including Ubuntu, Fedora, Red Hat, and Debian. Apart from detecting Linux viruses, Sophos also detects viruses for other operating systems found on your machine.
You can quickly configure Sophos Anti-Virus for Linux from Sophos' web-based platform (Sophos Central), which you can access once you create an account. However, Sophos for Linux is only available for 64-bit Linux systems. To get started with Sophos for Linux, you can subscribe to the Sophos Intercept X Advanced plan.
4 Easy Steps: How to Download ClamAV's GUI (ClamTK) on Ubuntu
Open your terminal — You can press CTRL + ALT + T to start the terminal.


Make sure your packages are up to date — Run the command "sudo apt update" to download and update the package information for your system.
Install ClamTK — You can install ClamTK from Ubuntu's official repositories. Simply run the command "sudo apt install clamtk" in your terminal and enter your password.


Complete the installation — Enter "Yes" to continue the installation.
Quick Comparison Table: 2022's Best Free Antivirus for Linux
| | | | | | |
| --- | --- | --- | --- | --- | --- |
| | Malware scanner | GUI | Server protection | Rootkit protection | Supported distro |
| ClamAV | ✔ | ✔ | ✔ | ✔ | 10+ |
| Rootkit Hunter | ✔ | ✘ | ✔ | ✔ | 5+ |
| Firetools | ✘ | ✔ | ✔ | ✘ | 5+ |
| Chkrootkit | ✔ | ✘ | ✔ | ✔ | 5+ |
| Qubes | ✘ | ✔ | ✘ | ✘ | 2 |
How I Tested & Ranked the Best Free Antiviruses for Linux
Robust antivirus engine — I chose the Linux antivirus software that has a robust anti-malware engine that is regularly updated. I tested each antivirus to ensure it provided perfect or near-perfect detection rates, guaranteeing complete protection for your Linux system.
Free antivirus software — There aren't many Linux-focused antiviruses, but I picked the best options that are truly free. The antiviruses that made it to my list are also open-source and have contributors that keep the software free.
Major Distro compatibility — All the Linux antiviruses on this list are compatible with major distros, including Ubuntu, Fedora, Debian, SUSE, Red Hat Enterprise, CentOS, and Oracle, giving you a wide range of options.
Ease of Use — I chose the free Linux antiviruses that are easy to use. While some of the options offer only the command-line interface (CLI), others offered a graphical user interface. However, they were all easy to install and use.
Top Antivirus Software That Didn't Make the Cut
FAQ — Best Free Antiviruses For Linux in 2022
What is the best antivirus for Linux Mint?
There are a few reliable antivirus programs for Linux Mint. Bitdefender offers a premium antivirus that works on popular distros, including Linux Mint. It is available as part of Bitdefender's GravityZone packages. However, it is only available for business users and works on endpoints and servers.
If you're a consumer desktop user, ClamAV provides a robust and free antivirus for Linux. It works on Linux Mint and other distros, including Ubuntu, Arch Linux, and Fedora. You can use it via the command line interface or download the GUI version (ClamTK) from your official repository.
Do I need an antivirus for Linux?
Yes, it is often believed that Linux systems don't get infected by malware. However, there's been recent developments that have seen the rise of Linux-targeted malware like trojans, viruses, ransomware, and rootkits.
Conventional best practices like using strong passwords and installing updates regularly aren't enough to secure your Linux systems. You need an antivirus to scan and remove Linux-based malware from your Linux device. ClamAV offers a robust antivirus for desktop users. However, if you're looking to protect your endpoints, you can use Bitdefender GravityZone to protect all your Linux systems.
Protect Your Linux Systems With the Best Free Antivirus
Linux is considered safer than other operating systems — and rightly so, but it can still be subject to attacks. Even if you install the latest software updates and implement the best practices, there's still the risk of malware infection from the ever-increasing number of Linux-based threats.
It's crucial to keep your home or business protected, and antivirus provides an additional layer of security for Linux systems. With just a few reliable Linux antivirus options out there, it's difficult to find the best free options. I tested 20+ Linux-based antivirus and found the best free options.
ClamAV stood out. It provided perfect malware detection scores and its regular updates make it robust against new threats, including viruses, trojans, and worms. Other options like Rootkit Hunter and Chkrootkit are effective at catching backdoors and rootkits. However, if you need a premium option for your business, Bitdefender Endpoint Security Tools provides the best antivirus security for your Linux systems.
Best Overall Antiviruses in 2022