5 Best (100% FREE) VPNs for Windows PC in 2022 (That Still Work)
Last Updated by Ashleigh Naidoo on May 03, 2022
Even though you can find hundreds of free VPNs out there, you don't want to download just any free VPN onto your Windows PC or laptop. Especially since shady free VPNs actually harvest your private browsing history and personal data to make money.
To save you from potential risks, I ranked the best free VPNs for Windows in 2022. I carefully tested each VPN to make sure it performs well and is completely safe to use.
That said, all free VPNs come with restrictions on bandwidth, server options, and even speeds. If you don't want any limitations, I recommend you try an affordable premium VPN instead.
Quick Guide: Best Free VPNs for Windows PC in 2022
The Best Free VPNs for Windows 11, 10, 8, and 7 (Tested in May 2022)
Key Features:
Native app for all versions of Windows (any device)
Unlimited data with no daily or monthly caps
3 free servers in the US, Netherlands, and Japan
Military-grade encryption and strict no-logs policy for security and privacy
Customer support available over email
Only 1 device connection allowed at a time
ProtonVPN provides unlimited data on its free Windows app. This is a generous gesture and rarely seen when it comes to free (and safe) VPNs. You don't have to worry about going over your data limit or having to wait until next month to reconnect. You can just leave ProtonVPN connected on your Windows device at all times.
In tests, I found that ProtonVPN's download speeds aren't the slowest (that would be Hotspot Shield and hide.me) — but it's not that fast either. On average, my speed dropped around 65% from 115Mbps to 40Mbps. Luckily, this drop didn't make too much difference for me with a few minor lags on news sites.
You only have access to 3 free servers in the US, Netherlands, and Japan. As soon as you connect to a server, ProtonVPN's strict no-logs policy ensures that no browsing activity is tracked, stored, or shared with third parties. As an extra security measure, I recommend turning on the kill switch to prevent any accidental data leaks while you're switching servers (or if the connection unexpectedly drops).
In addition, each server is secured with AES-256 bit encryption and Perfect Forward Secrecy — this means the encryption key is constantly changing to reduce the risk of your data being compromised. There's also built-in leak protection against IP and DNS leaks. I ran multiple tests on IPLeak.net and every server passed with zero leaks.
Unfortunately, ProtonVPN blocks streaming and torrenting on the free plan to entice you to upgrade to a paid subscription. With some trial and error, I found ProtonVPN's US server #8 could access Netflix, but more often than not, I was met with streaming errors.
For guaranteed access to Netflix, Hulu, and even Disney+, you'll have better luck with a paid service (ExpressVPN has been proven to work with 100+ streaming services worldwide!).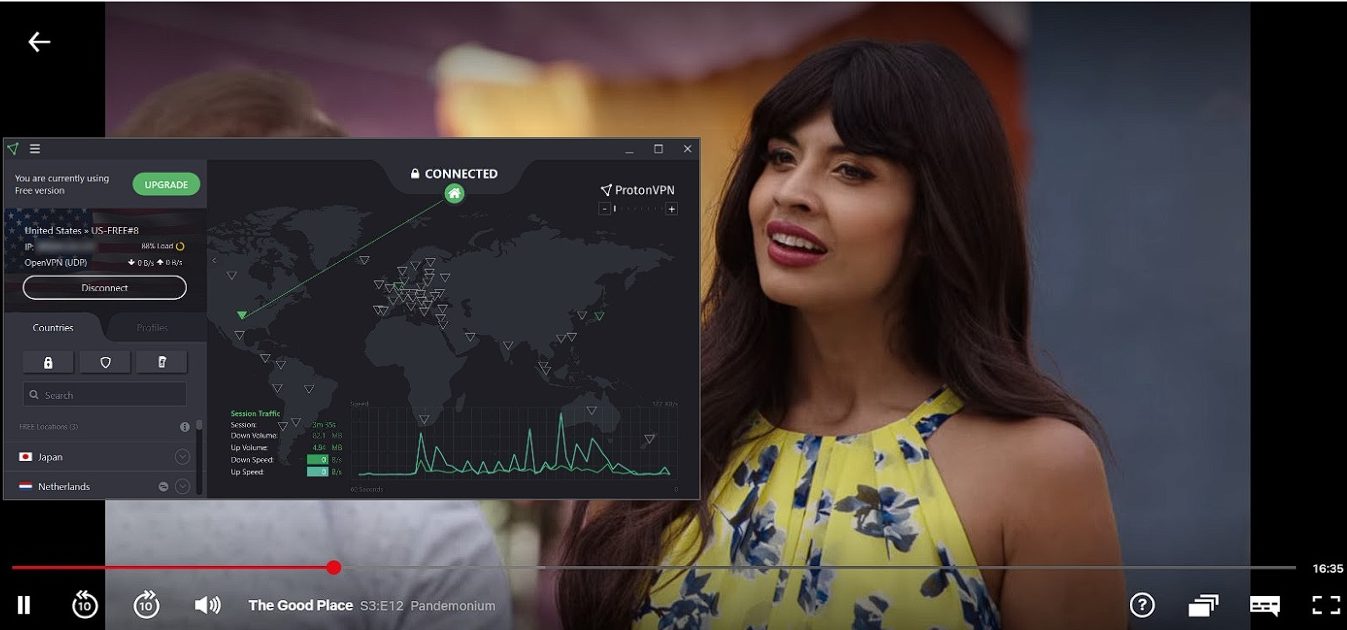 If you want to stay connected to ProtonVPN at all times but you don't want to deal with streaming or torrenting blocks, you can set up split tunneling on the Windows app. This lets you reroute your favorite streaming sites or torrent clients through your regular internet connection (instead of the VPN).
All you need to sign up for a free ProtonVPN account on Windows is an email address making it easy to get connected right away. If you want access to all ProtonVPN's servers and the ability to stream, you'll have to upgrade to its Plus Plan. The cheaper Basic Plan is $8/month but still comes with restrictions on streaming, servers, and only 2 simultaneous device connections.
Key Features:
VPN app works on Windows PC, laptop, tablet, and phone (all versions)
15GB free monthly data with 500MB daily limit
Connect to 1 virtual US server
AES-256 bit encryption, kill switch, leak protection, and some ads
Customer support available via email only
Only 1 device permitted per account
Hotspot Shield's free VPN is ideal for securing your Windows device on public WiFi networks, like cafes, airports, libraries, and hotels. It uses military-grade encryption to prevent anyone from spying on your online activities. The kill switch blocks all traffic if the VPN connection is ever unexpectedly interrupted. If you're like me and forget to activate Hotspot Shield on unsecured networks, the auto-connect feature even keeps you protected without having to manually connect.
The free plan only has 1 virtual server in the US. While Hotspot Shield actively blocks streaming sites on the free plan, its free US server works with Netflix, Disney+, and Hulu.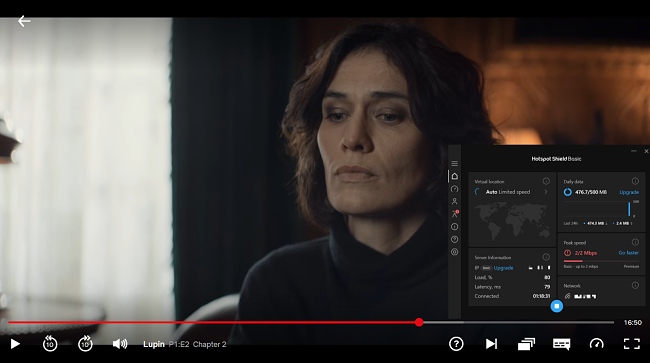 Depending on when you connect to the server, you could experience some buffering and lag. In my tests, my speed dropped from 115Mbps to just 5Mbps (an almost 96% reduction). It's worth considering this slowdown if your regular internet speeds are slower, as you could experience a significant decrease. To give your speeds a boost, you can try switching to Hotspot Shield's own Catapult Hydra protocol as it was designed to improve speeds over long distances.
You have 15GB of free data each month, which is restricted to 500MB per day. To help the data go further, you can set up the split tunneling feature so only specific websites and apps use the VPN connection.
Unfortunately, some data will be used up by Google ads. To support the free plan, your general location is given to Google so you can receive targeted advertisements while browsing online. This isn't a huge breach of privacy, but it's also not the completely anonymous experience I expect from a VPN. Personally, I expect more from a privacy tool and would rather pay $2.19 for totally anonymous and ad-free browsing with PIA.
If you're only using it for a short period of time, Hotspot Shield is a good choice for secure browsing on Windows (especially on public WiFi hotspots). It's quick and easy to set up — it took me less than a minute to sign up for an account, and I only had to provide an email address. You can upgrade to Hotspot Shield's premium plan to get ad-free browsing and unlimited data. At a starting price of $7.99/month for a 1-year subscription, it's the most expensive provider I tested.
Key Features:
Works on Windows 11, 10, 8, and 7
10GB monthly data cap
5 free servers in the US (East and West), Canada, Germany, and the Netherlands
AES-256-bit encryption, kill switch, leak protection, and zero-logs policy
Customer support available through live chat and online ticketing system
Allows 1 device connection
hide.me has high-level security and privacy features on its free Windows VPN. Your traffic is protected by AES-256 bit encryption, a kill switch, leak protection, and an auto-connect function. When I tried to torrent or stream Netflix, I had to reconnect several times to find a working server.
However, there's only 10GB of free data per month — and if you go over your allowance, you can no longer choose to connect to a specific free server. The app will automatically connect you to any of the free servers in the US, Canada, Germany, or the Netherlands.
You can conserve your data allowance by using the split tunneling feature, which lets you bypass certain websites and apps from the VPN connection. This reduces the amount of data used when you're using the VPN. In addition, you can turn on Stealth Guard so only specific apps are allowed to operate when the VPN connection is active.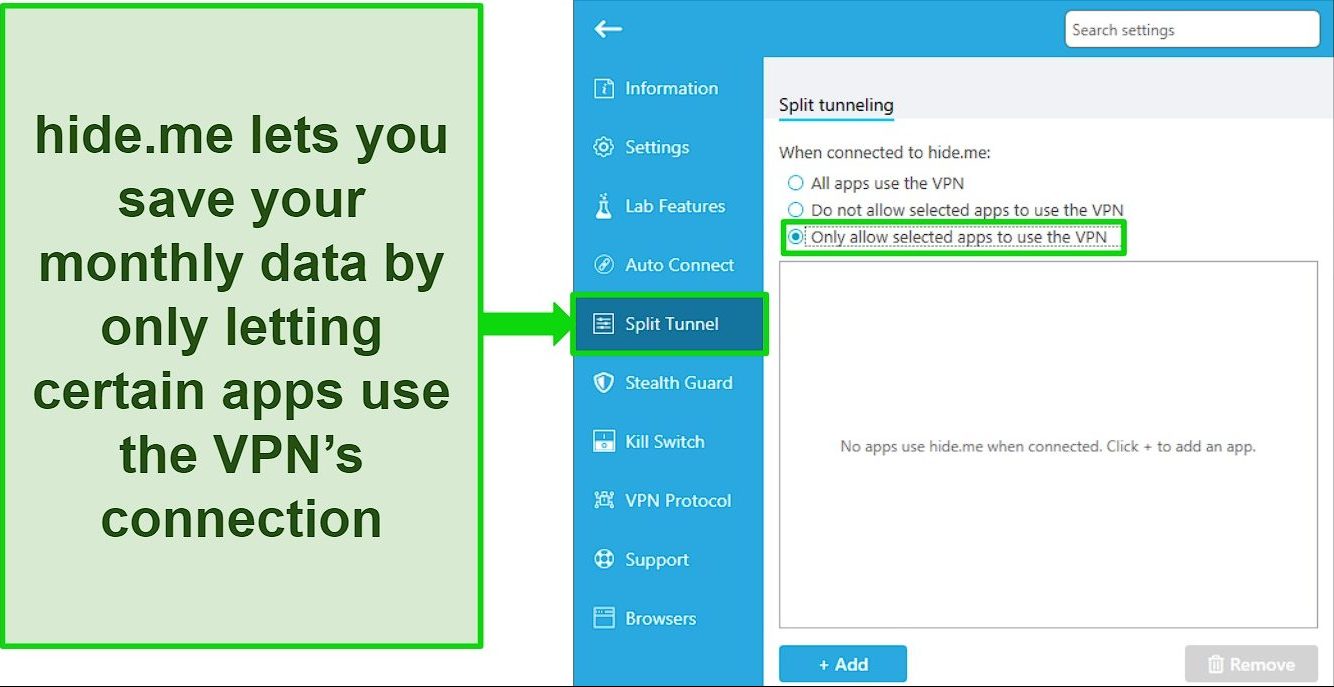 Unfortunately, my average speed dropped by 80% from 115Mbps to around 20Mbps. hide.me doesn't throttle speeds on the free plan, but this is a significant slowdown that may impact you if your base internet speeds are already slow.
If you need a VPN specifically for P2P activity or Netflix, I'd suggest investing $2.29 per month in CyberGhost for its optimized streaming and torrenting servers.
If this isn't a huge issue for you, then hide.me is a decent option for Windows. You don't even need to sign up to use the VPN. Just download the hide.me VPN app for free, and you can get connected on Windows right away. To use all its servers and get rid of the 10GB data cap, you can sign up for hide.me Premium. When you sign up for a 2-year plan, you'll pay $2.59 per month.
Key Features:
500MB data monthly allowance
Servers in 49+ countries
Military-grade security, kill switch, and leak protection, plus zero-logs policy
Connects up to 5 simultaneous devices
TunnelBear works on: Windows, Android, macOS, iOS, Linux, Chrome, Firefox, Kodi, Roku, and more.
Customer support through email ticketing and knowledge base
TunnelBear's free Windows VPN is packed full of premium features, but you only have 500MB of free data per month. The strict data cap means you're limited to casual browsing and checking emails. However, you do have access to TunnelBear's full range of servers in 49+ countries, military-grade encryption, leak protection, a kill switch, and an obfuscation feature called GhostBear (it makes the VPN connection appear to be standard internet traffic).
I ran multiple speed tests and TunnelBear is fast. I only saw a 21% reduction on average (from my base speed of 115Mbps to 90Mbps), which is excellent for a free VPN service. TunnelBear doesn't throttle speeds, so I found I could browse online without any lag. If you've got a slow internet connection, TunnelBear has a TCP Override feature on its Windows app. This forces the app to use the OpenVPN TCP protocol, which improves your connection stability.

You can even use TunnelBear to watch Netflix and BBC iPlayer (although it struggled to connect to Disney+ and Hulu). Unfortunately, 500MB of data per month is barely enough for 30 minutes of SD streaming. If you'd like a data boost, you can post a tweet promoting TunnelBear for an extra 1GB. This is a single-time offer though, after which you'll go back to the 500MB allowance.
To download TunnelBear for free on Windows, you just need to create an account with your email address. While the free plan isn't great for streaming, torrenting, or gaming, you can try TunnelBear's premium plan at $3.33 a month to get unlimited data and stream as much as you want.
Key Features:
Works on Windows, 7, 8, and 10
500MB monthly data allowance
Access to servers in 35+ countries, including the US, UK, India, Japan, and Canada
Military-grade encryption, a kill switch, and a no-logs policy
Unlimited simultaneous device connections
No customer support for free users
Avira Phantom VPN is the only free Windows VPN with unlimited device connections. You can even connect your smartphone to Avira's free VPN (it works on both Android and iOS device). Better still, you can choose from over 35 servers worldwide and you're protected by military-grade encryption, a kill switch, and a strict no-logs policy.
However, painfully slow server speeds make it difficult to use Avira's free VPN for anything other than browsing. In some locations, my speeds slowed down by 87% (from around 110Mbps to 14Mbps). Even if the speeds were faster, Avira's free servers don't work with streaming platforms like Netflix, Hulu, Amazon Prime Video, or Disney+ anyway.
If you're a big fan of streaming, I suggest you try a top VPN like ExpressVPN with unlimited bandwidth and 3000+ high-speed servers that unblock 100+ streaming platforms.
Alternatively, you can upgrade to Avira Phantom Pro. There are 1-month and 1-year plans available, although you'll get the lowest monthly price when you sign up for the longer-term plan.
Bonus: Try a Premium VPN Risk-Free
Key Features:
Works on Windows 7, 8, 10, 11 (plus Microsoft Edge Extension)
Unlimited data for streaming, browsing, torrenting, and more
Access to 3000+ servers in 94+ countries for fast connections worldwide
Military-grade encryption, kill switch, leak protection, and an audited no-logs policy
24/7 customer service through live chat and email for technical support and queries
Supports 5 device connections at the same time
While ExpressVPN isn't free upfront, all plans are backed by a 30-day money-back guarantee. This means that you can try ExpressVPN on Windows for 30 days and get a full refund if you don't like it. With the best combination of speed, security, and privacy, I strongly believe ExpressVPN is worth the small investment to maximize protection for your Windows device.
Unlike the free VPNs I tested, ExpressVPN is exceptionally fast across its global network of 3000+ servers in 94+ countries. On average, my speed with ExpressVPN only dropped by 18% from my regular speed when I tested over 50 servers. This small reduction made no noticeable difference to my online activity. In some cases, ExpressVPN servers even increased my internet speeds instead of slowing it down! This makes it a great option for torrenting (every server supports P2P), streaming, and gaming.
I was especially impressed when ExpressVPN's servers worked with Netflix US, Disney+, Hulu, Amazon Prime Video, HBO Max, and more. This saved me the frustration I experienced with free VPN servers. I didn't have to deal with any buffering and the entire video streamed in HD quality.
For the best possible speeds, I recommend using the proprietary Lightway protocol. This was designed with a mere 1,000 lines of code in comparison to OpenVPN's 70,000. You'll get near-instant server connections and reduce the impact on your Windows device. If you want even faster speeds, you can use the split tunneling feature to exclude selected websites and programs from the encrypted tunnel (like your local news sites).
To maximize security on your Windows device, ExpressVPN has a kill switch automatically enabled to protect your data if your connection is interrupted. There's also built-in protection against IP and DNS leaks — I ran multiple leak tests and ExpressVPN passed every time.
While most free VPNs claim to have strict no-logs policies, ExpressVPN's no-logs policy has been independently audited and it was proven in a real-life government investigation — no identifying data is ever tracked, stored, or shared. Since all its servers are RAM-based and run on TrustedServer technology, they are physically unable to retain information that passes through them.
ExpressVPN is one of the only VPNs with a browser extension specifically for Microsoft Edge, as well as Firefox, Chrome, and Safari. You can even set up a virtual router with ExpressVPN on Windows 10 and 8. The virtual router works just as well as a physical router, and it allows you to share the VPN connection with every WiFi-enabled device in your home. This includes devices that don't typically support VPN software, like gaming consoles and smart TVs.
You can save 49% when you sign up for a 1-year plan and pay just $6.67 permonth. It's backed by a 30-day money-back guarantee, so you can try ExpressVPN on your Windows device completely risk-free. You can get your money back without any hassle if you don't like it — it's a "no questions asked" refund policy.
I tested the process myself and was surprised by how easy it was. I simply contacted a customer support representative over 24/7 live chat and asked for a refund. The representative completed my request in minutes, and I had my money back in 5 days.
May 2022 Update! ExpressVPN has dropped prices for a limited time to a crazy $6.67 per month for the 1-year plan (you can save up to 49%) + 3 months free! This is a limited offer so be sure to grab it now before it's gone. See more information on this offer here.
Comparison Table: 2022's Best Free VPNs for Windows
| | | | | | |
| --- | --- | --- | --- | --- | --- |
| | Free Monthly Data | Unlimited Bandwidth | Server Countries | Device Limit | Works on Windows |
| ProtonVPN | Unlimited | ✓ | 3 | 1 | 7, 8, and 10 |
| Hotspot Shield | 15GB | ✘ | 1 | 1 | 7, 8, and 10 |
| hide.me | 10GB | ✘ | 4 | 1 | 7, 8, and 10 |
| TunnelBear | 500MB | ✘ | 49+ | 5 | 7 (SP 1), 8, and 10 |
| Avira Phantom | 500MB | ✘ | 35+ | Unlimited | 7, 8, and 10 |
Warning! Avoid These Free VPNs for Windows
Betternet VPN
This free VPN has the highest malware levels of any tested free service. Self-proclaimed as an advocate of privacy, Betternet VPN logs an alarming amount of user data including your general location, device-specific information, and non-personal logs of the domains you've visited.
Cross VPN
In tests, Cross VPN was flagged by 11 different antivirus programs as containing malware, particularly Trojan viruses. It's been listed in the top 10 most malware-infected Android VPN apps, which doesn't bode well for its Windows app.
Easy Setup Guide: How to Install a VPN on Windows
Choose a Windows VPN. I recommend ProtonVPN as it's the best free VPN for Windows with unlimited data and top-tier security features.
Download the VPN app. It took me less than 5 minutes to complete the installation process.
Connect to a server. You've now successfully set up the VPN on your Windows device.
How I Tested and Ranked the Best Free VPNs for Windows
To be open and honest about my methods, I tested 50+ VPNs against the following criteria and ranked them based on the results they produced.
100% free — Your money should never be at risk. I personally tested each VPN to make sure it's either completely free or has a proven money-back guarantee.
Generous data allowance — You need at least 500MB per month for checking emails and social media. If you're a fan of streaming, torrenting, or gaming, at least 10GB is ideal.
Strong security and privacy features — Even a free VPN should protect your internet traffic with AES-256 bit encryption, a kill switch, leak protection, and a strict no-logs policy.
Good speeds — Many free VPNs deliberately throttle speeds to force you to upgrade to a paid plan, but the best free VPNs won't make you suffer through buffering or lag.
User-friendly Windows app — Each VPN works on Windows 11, 10, 8, and 7 (including PC, laptop, phone, and tablet).
FAQs: Free VPNs and Windows
Are free VPNs safe for Windows?
You'll find 2 types of free Windows VPNs: "Freemium" VPNs and completely free VPNs. Freemium VPNs for Windows are entirely secure — you can check out this list of the best freemium VPNs in 2022 with military-grade encryption, a kill switch, and a strict no-logs policy. These VPN companies have released a free version of their apps to entice you to upgrade to a paid plan. Your free account is subsidized by other paying users.
However, completely free VPNs should be approached with extreme caution. Free VPNs still need to make money and can easily do so by selling your internet browsing history. The best case scenario is that you're bombarded with ads, which could lead to your online movements being tracked. Worst case, the VPN contains malware designed to locate and steal your sensitive data, putting you at risk of identity theft and malicious hackers.
If you don't want to risk your personal information (but you also don't want to spend any money), you can take advantage of CyberGhost's 45-day money-back guarantee to use it for free. This is the longest money-back guarantee out there — and you'll get unlimited access to all its premium features during this time. Just make sure to ask for a full refund before the 45 days are up.
Which free Windows VPN is best for Netflix?
Hotspot Shield is the best free Windows VPN for watching Netflix. Even though it has a 500MB daily data limit and slow server speeds, its US servers are the most consistent at accessing Netflix.
The other free VPNs I tested struggled to unblock Netflix — I often spent more than 30 minutes each time trying to find a working US server. If you have high baseline internet speeds, Hotspot Shield is a good option for casual viewing and short episodes.
What's the best free gaming VPN for PC?
That depends. If you're looking for fast server speeds and stable connections, Tunnelbear is your best option. However, with a 500MB monthly data limit, Tunnelbear is most suited for casual gamers as you'll be restricted to just 1.5 hours of play per month.
On the other hand, ProtonVPN's offering of unlimited data may be a better option for hardcore gamers. Unfortunately, this comes at the expense of speed and may not even be usable if you don't have super-fast baseline speeds to begin with.
It's virtually impossible to find a "perfect" free VPN since the limitations are meant to incentivize you to become a paid user. If you're playing high-stakes multiplayer games and need a VPN with high server speeds, low ping rates, and unlimited data, I suggest you check out the VPNs with the best monthly deals, so you can get back to gaming without the frustration.
Protect Your Windows PC or Laptop With a Quality VPN
Not every free VPN for Windows is safe to download — some free VPNs log your data to sell to third parties and even infect your Windows device with malware.
I made sure that every free VPN on this list provides high levels of data security and privacy, as well as good speeds and server connections. While they all have some limitations, you won't have to compromise your safety when using these free VPNs.
If you don't want any limitations at all, I recommend you consider an ultra-fast high-quality VPN service. While it may not be free, you'll certainly spend less time and effort trying to access your favorite content. Plus, most premium VPNs come with a "no questions asked" money-back guarantee, so you can get a full refund if you're not 100% satisfied.
---
The Best VPNs for Windows in 2022