Norton vs Avast: Which is Better in 2022?
Last Updated by Osama Zahid on August 05, 2022
Norton currently has a stellar reputation as the industry leader, and Avast was once a respected security solution. However, since the news that Avast was selling users' data, Avast has struggled with its reputation.
While I don't recommend using any company that is willing to secretly sell users' data, I still wanted to see if Avast's base set of features could stand up to the likes of Norton. During my tests, both antiviruses detected and eliminated threats, but Norton outperformed Avast in every category.
While Norton is clearly the better choice, you can try both antiviruses to see which one suits you better. Norton comes with a 60-day-long money-back guarantee and Avast offers a 30-day money-back guarantee, so you can test both risk-free.
Try Norton risk-free for 60-days
No Time? Here's a 1-Minute Summary of Category Winners
| | | |
| --- | --- | --- |
| | | |
| Virus Scanner | Protects your system with 100% malware detection rates | Detects over 99% of malware but also gives false positives |
| Real-Time Malware Protection | Detects and eliminates all the latest threats in real-time | Doesn't offer the best real-time protection against malware |
| System Performance | Only has a minimal impact on system resources during scans | Can consume system resources and slow it down, even when idle |
| VPN | Offers a great VPN that's fast, secure, and great for streaming | Has a secure and reliable VPN |
| Parental Controls | Thorough parental control suite with lots of options | Doesn't come with any parental controls |
| Firewall | Intuitive, secure, and useful firewall | Great firewall but not as customizable |
| Password Manager | Comes with a top-tier built-in password manager | Does not have a password manager |
| Gaming Mode | Tried-and-tested gaming mode that silences notifications and enhances performance | Avast's Game Mode has been replaced by the Do Not Disturb Mode |
| Optimization Tools | Has several optimization tools to help you improve system performance | Doesn't offer that many noteworthy optimization tools |
| Other Features | Offers lots of helpful features alongside the excellent threat protection | Comes with a few useful features that can be beneficial at times |
| Device Compatibility | Works on Windows, macOS, iOS, and Android | Works on Windows, macOS, iOS, and Android |
| Customer Service | Responsive and helpful customer service through live chat, phone, and email support | Offers responsive support but it isn't available 24/7 |
| Price | Excellent value for money on all its plans | Costs more than others and doesn't deliver enough value |
| Free Version | Doesn't have a free plan | Offers a free plan with basic virus scanning functionality |
| Money-Back Guarantee | 60 days | 30 days |
Try Norton risk-free for 60-days
How I Tested and Compared Norton vs Avast
Try Norton risk-free for 60 days
1. Virus Scanner — Norton Successfully Detects and Eliminates All Malware
Norton and Avast are very effective at detecting and eliminating malware during scans. Norton has 5 different scanning options:
Quick scan — Scans the most vulnerable areas of your system for threats.
Smart scan — Analyzes your system's security, performance, and network to ensure everything is optimized.
Full system scan — Runs a full scan of your system, including boot records and any running processes.
Custom scan — Allows you to specify exactly what part of your system you want to scan.
Removable media scan — Scans removable devices you've connected to your system like USBs or portable hard drives.
During all my tests, Norton detected and removed 100% of malware without giving any false positives.
Avast's scans were also quite effective in my tests but not as good as Norton's. Avast offers the following scan options:
Smart scan — A thorough scan that looks for hidden threats, outdated apps, network issues, and also optimizes performance.
Full virus scan — Scans your entire system to locate malware.
Targeted scan — Allows you to pick and choose which files and folders you want to scan.
Boot-time scan — Scans your system before the OS loads at the next startup to detect and remove hidden malware.
Custom scan — Allows you to provide specific parameters for the scan.
All of Avast's scans detect over 99% of malware, which is good but isn't perfect like Norton. I also noticed that Avast gave a lot of false positives during scans, while Norton didn't.
Overall, Norton's perfect detection rate and the fact that it rarely, if ever, gives false positives makes it the clear winner here.
Try Norton risk-free for 60 days
2. Real-Time Malware Protection — Norton Safeguards Your System From All Possible Threats in Real-Time
Avast and Norton are both superb at protecting your system from threats in real-time. During my tests, I found that Norton has a perfect detection rate against most known malware and zero-day threats. This means that you can use your system with confidence if you have Norton installed because it'll repel any threats that try to infect your system.
Avast's real-time detection scores are good, but it simply isn't on the same level as Norton when it comes to safeguarding your system in real-time. After extensive testing, I noticed that Avast successfully detects 99% of malware in real-time and 98.9% of zero-day threats. This is a solid performance, but Norton overtakes it with perfect scores in both areas.
Although both antiviruses are great at keeping your system safe in real-time, Norton's perfect scores make it the better choice.
Try Norton risk-free for 60 days
3. System Performance — Avast Drains More System Resources While Idle
In my tests, both Norton and Avast had a minimal impact on system resources. My system remained smooth and didn't slow down significantly when running scans.
Norton consumed more resources than Avast during scans, but this is made up for by its 100% malware detection rate compared to Avast's 99%. I also want to highlight that Avast's disk utilization during scans is much more than Norton's, which can slow down tasks on your system. During full scans, Avast's disk utilization regularly surpassed 60% and Norton's didn't go anywhere past 40%. Plus, I noticed that Avast's memory utilization during scans went past 70% of my system's memory at times, while Norton didn't even break 40%.
Avast also seems to consume more system resources than Norton does while idle. I often saw spikes in CPU usage up to 50%, even when the antivirus wasn't actively doing anything. So, even though neither antivirus slows down your system by a noticeable amount, Norton is a clear winner here.
4. VPN — You Get a Secure and Fast VPN With Both Antiviruses
Both Avast and Norton offer a great built-in VPN that you can use to further secure your online activity. It's worth highlighting, though, that you can get Norton's VPN on all Norton 360 plans, while Avast's VPN only comes with its highest-end Ultimate plan. If you need more choices, here are some of the best antiviruses that come with a VPN built-in.

You will get fast connection speeds on either VPN no matter what server you're connected to. Both VPNs offer servers in 30+ countries, which I found impressive for a bundled VPN. Of course, this isn't nearly as big as the server networks that high-end standalone VPNs like ExpressVPN offer, but it's good nonetheless. Both VPNs also feature industry-standard AES 256-bit encryption to safeguard your online activity from prying eyes.
Norton's VPN manages to stand out when it comes to streaming, though. I asked a colleague in the US to test it, and they could easily access US Netflix by connecting to one of the US-based servers. However, this wasn't the case when testing Avast's VPN.
Norton's VPN also feels more robust because it offers features like split tunneling, which you don't get with Avast's VPN. So, while both VPNs impressed me greatly, Norton is the winner.
How To Use Norton's VPN on Your Android Device
That's all there is to it! You can enjoy safe, secure, and fast browsing once the VPN is on.
5. Parental Controls — Norton Offers a Broad Suite of Parental Controls
Avast doesn't offer any parental controls, so Norton wins by default here. Norton's parental control suite is easy to use and highly effective. It lets you monitor your children's online activity in various ways and gives you lots of control over it.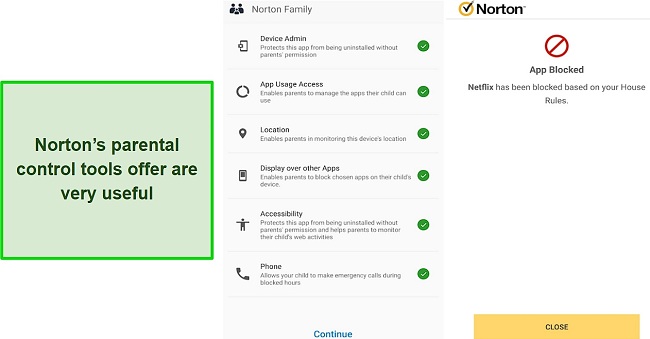 Norton's parental tools include time tracking on certain apps, website history tracking, GPS location tracking, and more. Also, there's a YouTube tracking tool that'll show you exactly what videos your children are watching. You can even block certain apps that you don't want your children using.
Try Norton risk-free for 60 days
6. Firewall — Norton's Firewall Is More Intuitive and Allows More Customization
Although both antiviruses offer a secure firewall to keep you safe online, I found Norton's firewall to be far superior. Norton's firewall comes pre-configured with all the right settings selected from the get-go, but you can still customize it through the intuitive interface.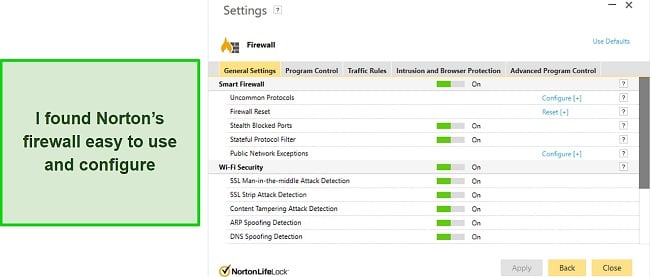 Norton's firewall gives you complete control over its behavior. It even has various WiFi security measures to help further secure your system and lets you make it so specific apps aren't affected by the firewall.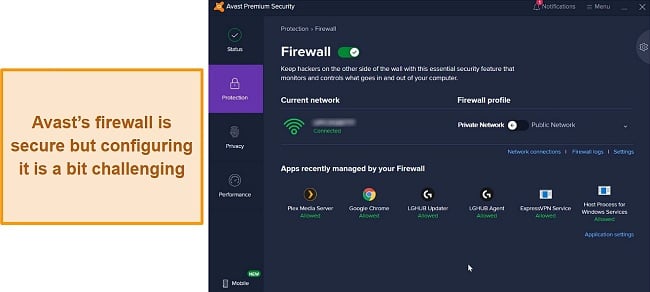 Avast's firewall is just as secure, but I didn't find it nearly as easy to use as Norton's. It comes pre-configured from the beginning, but it's much harder to customize it according to your liking.
While both firewalls are effective at safeguarding you from online threats, I consider Norton the winner because of its firewall's intuitiveness.
Try Norton risk-free for 60 days
7. Password Manager — Norton Comes With a Robust and Reliable Password Management Tool
Avast doesn't come with a password manager, and Norton offers one of the best password managers you can get in an antivirus. I've extensively tested its password manager, and it's always been very impressive. Norton's password manager provides secure storage for your logins and other sensitive information. It also uses military-grade AES 256-bit encryption to safeguard your online activity.
I also found Norton's password manager easy to use. It has a simple setup process and an intuitive interface that's straightforward to navigate. Also, it comes with a password generator you can use to generate secure passwords on a whim. The password manager lets you generate up to 32-character-long passwords consisting of letters, numbers, and special characters.
Norton's password manager also has a convenient auto-change feature that lets you change multiple passwords across different services within minutes. So, all things considered, it's a password manager that you can fully rely on.
Try Norton's password manager risk-free
8. Gaming Mode — Norton's Gaming Mode Provides a Considerable Boost
I was impressed by Norton's game mode, Norton GO, during my tests. It's a great tool that automatically detects games on your system and optimizes performance whenever you play them. Even if it doesn't detect a specific game, you can manually add it in Norton GO to improve performance whenever you play it. Of course, there's also the fact that it silences notifications, so you aren't distracted during gaming sessions.
I looked through Avast's app to try its game mode but actually couldn't find it in the app's latest version. I contacted customer support to ask about this, and they informed me that the Do Not Disturb Mode is its replacement.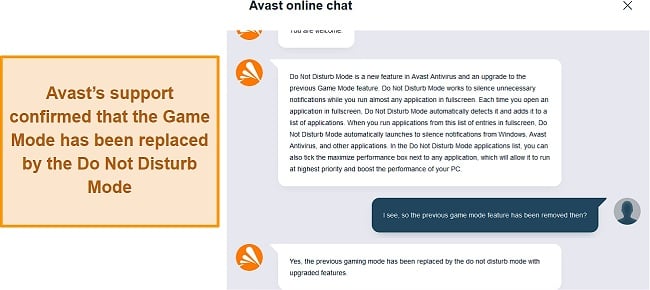 Avast calls its Do Not Disturb Mode an upgrade to the earlier gaming mode, but this wasn't the case in my experience. This mode is great at silencing notifications, so there aren't any disturbances, but it doesn't seem to optimize performance in any way. I wouldn't call Avast's new Do Not Disturb Mode an upgrade over its original gaming mode, so Norton wins here.
9. Optimization Tools — Norton Offers a Variety of Optimization Tools to Improve System Performance
Norton is among the more impressive antiviruses I've tested when it comes to system optimization. Norton offers multiple different tools that you can use to optimize and enhance your system's overall performance. Norton's main optimization tools include the following:
Disk optimizer — Defragments your hard drive and optimizes its performance to make your system faster.
File cleanup — Scans your system for unnecessary temporary files and removes them to free up much-needed storage.
Boot optimization — Maximizes free space in your boot drive and optimizes it to help your system start up faster.
On the other hand, Cleanup Premium is the only useful optimization tool that Avast offers. As the name suggests, it's been designed mainly to clean up unnecessary files and junk taking up space on your system. It'll free up some much-needed space on your device, but it's unlikely to improve performance significantly.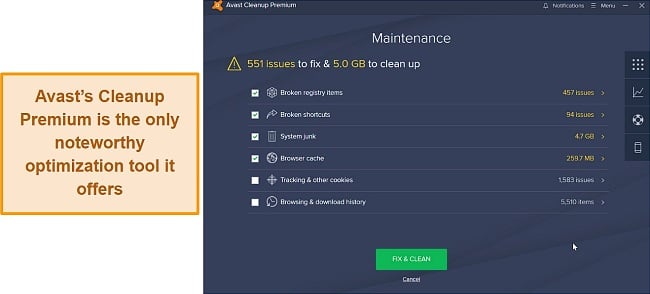 It's pretty clear here that Norton is the superior choice if you want effective optimization tools. It offers multiple ways to enhance your system compared to the single cleanup tool that Avast offers.
Try Norton risk-free for 60 days
10. Other Features — Norton Offers a Much Bigger Selection of Additional Features
Norton offers many features other than its malware and threat protection. These features help you further secure your system and provide a variety of other uses. Avast has its share of additional features but doesn't compare to what Norton offers.
Norton comes with identity theft protection but it is a US-only feature, so you can't use it if you're outside the country.
Globally, Norton offers dark web monitoring to help you check if your passwords are leaked in a breach. There's also webcam protection to prevent unauthorized third parties from spying on your webcam. Plus, Norton offers secure cloud storage that you can use to keep sensitive files and data secure.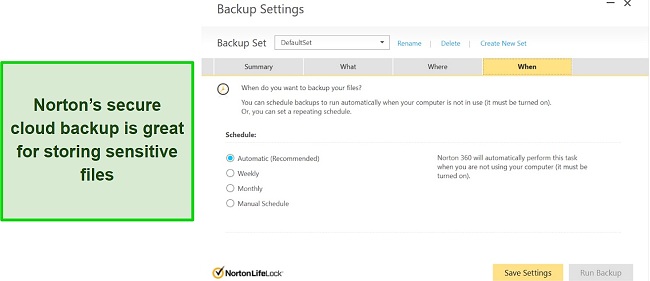 The only noteworthy additional feature I came across in Avast is the Sandbox. You can use Sandbox to run potentially unsafe files in a safe environment so they can't affect the rest of your system.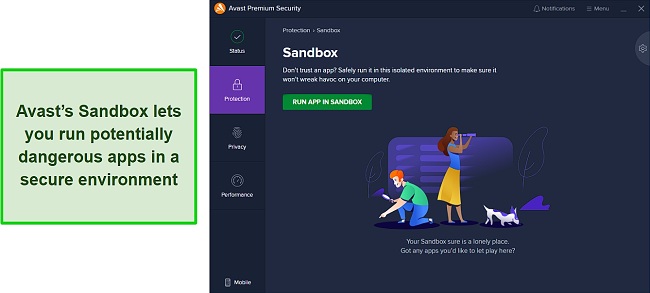 Avast's Sandbox is a useful tool, but it simply can't compete with the large variety of features Norton offers.
Try all of Norton's features risk-free
11. Device Compatibility — Both Antiviruses Work on a Wide Range of Devices
I was very impressed with both antiviruses upon learning that they work on multiple different devices. Norton and Avast offer native apps for Windows, macOS, Android, and iOS, meaning you can easily use them to safeguard most of your devices.
I also found it easy to install both antiviruses on my devices. I tested the Windows and Android versions, and it doesn't take any more than a few minutes to get the antivirus up and running. The installation processes for both are very straightforward, so you should have no trouble at all, even if you don't have prior experience installing an antivirus.
All of Norton's 360 plans can be used on 5 devices simultaneously, while Avast offers 1-device and 10-device plans separately. So, if you want to use Avast to secure multiple devices, you must pay extra.
Both antiviruses support the same range of devices, so it's a tie between Norton and Avast when it comes to device compatibility.
12. Customer Service — Norton's Customer Support Is Very Helpful and Always Available
I was truly impressed by the customer service both antiviruses offer. You can easily reach out to multiple support channels on either antivirus if you have a question or run into trouble. Norton and Avast offer phone support, live chat, and a ticketing system.
Both Norton and Avast also have thorough and informative knowledge bases on their support pages. These consist of all the important information you need to know to set up either antivirus and also help with some common issues that you might face.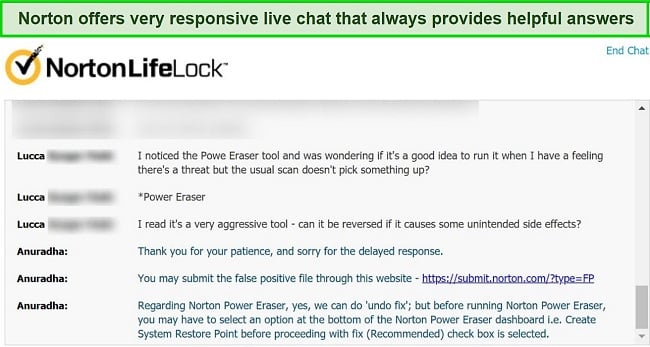 Although I was pleased with both antiviruses' overall support experience, I found Norton's to be better overall. The key difference between the two is that Norton's live chat support is available throughout the day, whereas Avast's live chat support is only available during specified hours.
Live chat is often how most people prefer to contact customer support because of how fast it is, so Norton takes the edge here. Also, Avast makes you pay extra for "premium support" that includes phone calls, which isn't something I like to see coming from an antivirus. It should be as easy and accessible as possible to get help regardless of the type of plan you have.
Try Norton risk-free for 60-days
13. Price — You Get Much More Value for Money With Norton
Both antiviruses have multiple plans you can subscribe to, but I found that Norton's plans offer better value for money. Norton's plans include the following:
Norton Antivirus Plus — Offers antivirus, malware, and ransomware protection, 2GB secure cloud storage, a built-in firewall, and Norton's password manager. Only for Windows or macOS.
Norton 360 Standard — Offers all of Antivirus Plus' features and increases the cloud storage to 10GB, adds a VPN and Norton's SafeCam, and works on Windows, macOS, iOS, and Android.
Norton 360 Deluxe — Comes with all of 360 Standard's features, increases cloud storage to 50GB, adds a privacy monitor, and supports up to 5 simultaneous devices.
Norton 360 with LifeLock Select — Further increases the cloud storage to 100GB, includes all of 360 Deluxe's features, and also adds Identity Theft Protection.
Avast's plans, on the other hand, are as follows:
Avast Free — Free plan that only includes basic virus, malware, and ransomware protection for a single device.
Avast Premium Security — Comes with all of the free plan's features and also adds web protection, phishing protection, and WiFi security. Also, it protects up to 10 devices simultaneously.
Avast Ultimate — Includes everything in Premium Security and also adds Avast's SecureLine VPN, Cleanup Premium, and AntiTrack.
Norton's 360 Deluxe plan, which offers most of its critical features, costs less than Avast's Ultimate plan, which has all its key security features.
Another thing I noticed is that Norton's lower-end plans are more feature-rich than Avast's. You'll have to get the Ultimate plan to make the most of your Avast subscription. However, if you buy Norton, you can get a fair variety of features and solid protection on its lower-end plans as well
All things considered, Norton's plans offer a lot more value for your money. Whether you subscribe to its basic Antivirus Plus plan or the top-end Norton 360 Deluxe, it's more affordable and feature-rich than Avast.
Try Norton risk-free for 60-days
14. Free Version — Avast Offers a Lightweight Free Plan
Although Norton offers affordable pricing, it doesn't come with a free plan. On the other hand, Avast offers a free plan with basic virus scanning capabilities. Avast's free plan will let you scan your system for malware and also give you access to its reliable real-time threat detection and prevention.
Avast's free plan also includes network inspection to check your network for any vulnerabilities. Plus, it has ransomware protection and a CyberCapture feature that uploads suspicious files to Avast's cloud network to see if they're a threat.
Overall, since Norton doesn't have a proper free plan and only comes with a free trial, Avast is the winner in this category. I still wouldn't recommend getting it, though, and I recommend these top antiviruses that you can get completely free.
Try Norton risk-free for 60 days
15. Money-Back Guarantee — Norton's Money-Back Guarantee Is Twice as Long
It's great that both Norton and Avast come with a money-back guarantee. You can use this money-back guarantee to test either antivirus risk-free for yourself before committing to a full purchase.
One thing worth noting is that Norton's money-back guarantee is much longer than Avast's. Avast comes with a 30-day money-back guarantee, while Norton offers a 60-day money-back guarantee, meaning you'll have twice as long to test drive Norton.
Both antiviruses let you ask for a full refund if you aren't satisfied, no questions asked. In my experience, though, I found Norton's refund process incredibly straightforward. I simply contacted customer support via live chat and processed my refund within minutes. I had the money back in my account a few days later, so I was very pleased with the whole process.
Avast also makes it really easy to get a refund via the money-back guarantee. There's a specific form that you can fill with your name, order ID, address, and refund reason and the rest takes care of itself. I applied for Avast's money-back guarantee via this form and received my refund within a week.
Overall, while both antiviruses have a money-back guarantee, Norton is the clear winner because of its money-back guarantee's length.
Try Norton completely risk-free
And the Winner Is… Norton
It's pretty clear that Norton is the better of these two choices. Norton easily outperforms Avast in safeguarding your system against threats through scans and in real-time. Of course, Avast was also secretly selling its users' browsing data, so I wouldn't trust it much to begin with. Also, Norton delivers a wider variety of features, including its useful parental controls, and top-tier VPN. So, it's simply the better choice.
In conclusion, it's fair to say that Norton is a much better choice than Avast in terms of security, features, and overall user experience. Norton's perfect detection scores, a wide variety of optimization, and its other features make it a great choice to keep your system performing at its best. Avast performed well in some areas, but I wouldn't recommend it because it lost my trust after selling private user data.
Norton consistently outperformed Avast in most of the tests I put it through. Norton has more optimization features, a better gaming mode, great parental control tools, and a top-tier password manager. There's also the fact that it simply costs less than Avast, and all its plans offer better value for money than comparable Avast plans.
Norton is the overall winner and the antivirus I recommend getting out of these two. It'll give you much more value for your money, lots of additional features, and excellent protection against threats. Norton also has a 60-day money-back guarantee, twice as long as Avast's 30-day money-back guarantee.
Try Norton risk-free for 60 days!
---
Other Top Antiviruses in 2022