Visit Smart DNS Proxy Website!
Smart DNS Proxy

Review 2023: Before You Buy, Is It Worth It?
Smart DNS Proxy Overview 2023
Smart DNS Proxy appears to have an established presence dating back to 1995. The provider touts the capability to unblock more than 400 websites and digital media quickly. As such, I decided to put it to the test to determine if its longevity and claimed ability to access various streaming sites are superior to those of the leading VPNs in the industry.
Although Smart DNS Proxy performs exceptionally well in streaming, it falls short in other areas. Its services are primarily dedicated to providing access to streaming services such as Netflix, HBO, BBC, and other geographically restricted channels through its dedicated servers and Smart DNS service. However, its limited server network, slow speeds, incompatibility with Netflix, and intrusive logging policy have negatively impacted its reputation.
If you're considering Smart DNS Proxy, you can take advantage of their 14-day free trial to evaluate if it suits your needs. As a first-time user, you can also use its 30-day refund policy on all subscriptions should you decide to continue using the VPN. If it fails to meet your expectations, you can choose from other top-rated VPN providers.
Don't Have Time? Here's a 1-Minute Summary
Smart DNS Proxy Unblocks Netflix, Amazon Prime Video, BBC iPlayer, and Disney+ (But Can't Access Hulu and HBO Max)
Smart DNS Proxy has got some special servers that can help you watch your favorite shows and movies on popular streaming platforms without any geo-blocks. They're able to unblock Netflix in the US, and work with Amazon Prime Video, BBC iPlayer, and Disney+. However, I did have some trouble getting into Hulu and HBO Max.
Additionally, Smart DNS Proxy offers special DNS proxies for unblocking popular streaming websites. Their website claims to provide access to over 400 streaming websites across 20+ countries. Tests of its DNS service proved it could access Netflix, Amazon Prime Video, BBC iPlayer, Disney+, Hulu, and HBO Max.
Just so you know, SmartDNS doesn't use any encryption to protect your web surfing like a VPN does. That's the main difference between them. So, it's not the best for security, but it is faster than a VPN and it's super easy to set up.
Netflix, Amazon Prime Video, BBC iPlayer, and Disney+: Unblocked
Luckily, Smart DNS Proxy works with US Netflix, and you can use the A-NTFX US West server to access it. You can also use this service to access Netflix libraries in Canada, the UK, and Germany. Just connect to a server in one of these countries to access your local account there.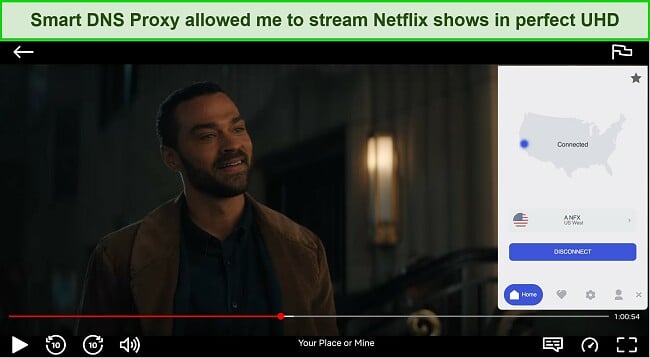 Amazon Prime Video worked also well with Smart DNS Proxy. I accessed my US account by connecting to a US server and was able to watch my favorite shows and movies seamlessly.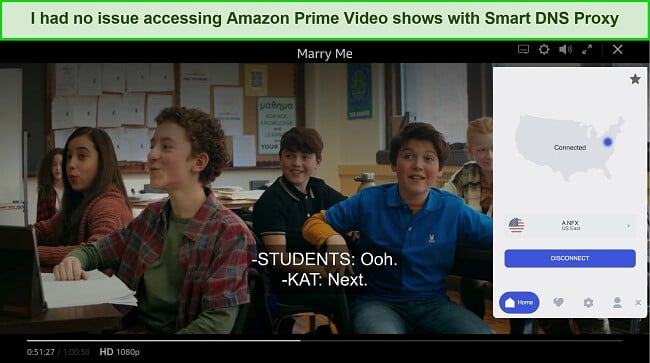 Next, Smart DNS proxy was tested to stream Disney+ and it worked really well. It also worked great in the UK, and it successfully unblocked BBC iPlayer during every test.
Hulu and HBO Max: Blocked
Regrettably, Smart DNS Proxy was unable to connect to Hulu, HBO Max, iTV, DAZN, and Paramount+ during testing. For those searching for a service that can seamlessly grant access to all leading streaming platforms and beyond, CyberGhost VPN is a fitting selection. CyberGhost's extensive range of servers has consistently proven to be capable of bypassing geo-restrictions in numerous countries, making it an admirable option.
Slow Speeds on Far Away Servers
The Smart DNS Proxy service's speed is not the best but neither is it the worst among the competition. I found that the service offered satisfactory speed levels when connecting to servers that were located nearby, but it did noticeably slow down when connecting to servers that were far away.
I did not observe any significant discrepancies in performance while browsing the internet or streaming content. I was able to watch various movies and shows on Netflix, Amazon Prime Video, and YouTube without any buffering delays, and the quality was up to par with UHD standards. Additionally, even during online gaming, my Ping consistently maintained a reasonable range. As an example, while playing PUBG, my pings varied from 33 ms to 170 ms.
Speed Test Results
To establish a benchmark, I connected to my UK-based ISP and recorded 320 Mbps downloads, 13.07 Mbps uploads, and 33 ms pings on my 1 Gbps connection. Then, I tested a local server and found an 80% drop in download speed and an 89.43% drop in upload speed. After this, I wanted to see how Smart VPN Proxy would perform on servers farther away from my location. So, I ran multiple speed tests on different long-distance servers.
First, I connected to a server in New York, about 7505.72 km away, and achieved a download speed of 102.06 Mbps, an upload speed of 8.61 Mbps, and 96 pings. Then, I connected to a server in Mumbai, India and achieved a download speed of 117.73 Mbps, an upload speed of 7.26 Mbps, and 162 ms pings. Finally, I connected to a server in Paris, France and achieved a download speed of 60.16 Mbps, an upload speed of 9.20 Mbps, and 39 ms pings.
Smart VPN Proxy's speeds may not look great on paper, and the results were inconsistent during testing. However, in actual real-world performance, I did not experience unbearably low speeds. If you have a sufficiently fast internet connection, you may not even notice Smart VPN Proxy running in the background.
Why Most Speed Tests are Pointless & How We Correctly Test VPN Speeds
Speed determines how fast content uploads, so if you're torrenting or streaming, you want the speed to be somewhat identical to your regular internet speed. Since a VPN encrypts your data, it usually takes a bit longer to send your data back and forth, which can slow down your connection. However, if your ISP deliberately slows down your connection (also known as throttling) a VPN might increase your internet speed. Testing a VPN is somewhat pointless because new servers pop up and affect speed. Your speed can also differ according to your location, so your speed test might not match ours. Having said that, we tested the speed in numerous locations to provide you with the average.
Server Network — Narrow Server Network
Smart DNS Proxy has a small number of servers available, with approximately 40+ servers in 26 countries around the world. Most of these servers are located in North America and Europe, but some are also found in Africa, Asia, Australia, and South America.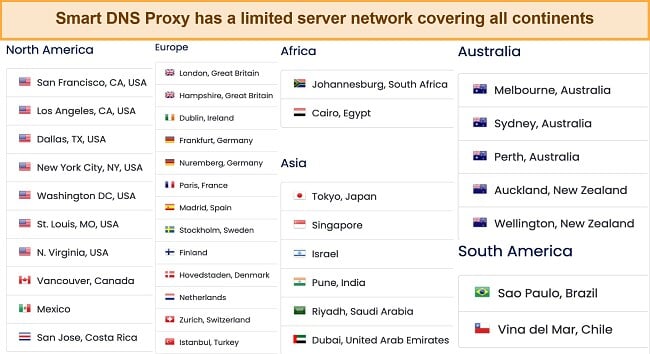 I conducted several experiments to evaluate the servers' ability to handle daily tasks like web browsing, video streaming, and online gaming. Some servers were slow, but I was able to find a reliable server that provided enough speed to stream videos in standard definition. Additionally, switching servers is easy in case of any connection issues.
Smart DNS Proxy has specialized servers for streaming and torrenting, allowing you to stream popular sites like Netflix, Hulu, and BBC iPlayer. However, the servers may not always work correctly, as I experienced difficulties with streaming on Hulu and HBO Max when I tested them.
Compared to CyberGhost's coverage of 91 countries, Smart DNS Proxy's network is relatively limited. As a result, it may be wise to consider CyberGhost if you require a more extensive selection of servers.
Security — Limited Security Features
While lacking in advanced features, Smart DNS Proxy offers fundamental capabilities to ensure your utmost online security. With its reliable protection, you can rest assured that your network traffic remains unmonitored, and your IP address evades detection from potential trackers.
Some of the key security features of Smart DNS Proxy include:
Military-grade encryption – Smart DNS Proxy prioritizes the protection of your data by implementing the highest level of encryption – AES 256-bit encryption, a military-grade encryption standard widely adopted by reputable institutions such as banks and the military. With this encryption, rest assured that your data is highly secure as it would take even the most skilled hacker an unimaginable one billion years to decode.
Secure protocols – the provider offers access to several encryption protocols such as L2TP, IKEv2, and OpenVPN. The custom clients of Windows and Android allow users to access OpenVPN encryption and select between UDP and TCP. However, Mac and iOS solely provide native access to IKEv2, thereby necessitating the use of a third-party client for connecting via OpenVPN.
Kill switch – the kill switch is a feature that makes sure your apps and internet connections stop working if your VPN connection goes down. This helps protect your information from getting leaked out. I tried it out and it worked just like it was supposed to.
DNS leak protection – the primary function of DNS leak protection is to prevent your device from unintentionally exposing your browsing activities to your internet service provider (ISP) or other prying eyes.
Seeing that it offers DNS leak protection, I tested Smart DNS Proxy to see if it had any leaks, and it turned out to be totally safe with no DNS, IP, or WebRTC leaks. I tried different tools to check its security, and it all seemed good.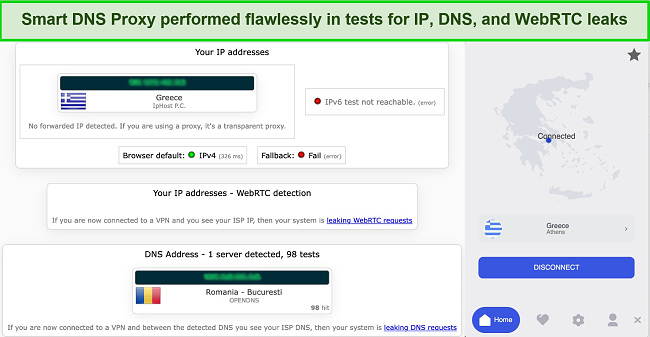 Privacy — Unclear Logging Policy
Smart DNS Proxy's privacy policy page is brief and does not provide any information about what the company logs. The company clearly mentions that it collects personally identifiable information from users through online forms, service orders, and voluntary data sharing, only when it's reasonably necessary to provide users with the requested service and manage account notifications.
While the provider promises to secure the collected data with industry-standard security systems, it admits that it cannot guarantee complete security for data submitted, transmitted, or stored on its systems, which poses a potential risk of unauthorized access.
It's crucial to note that Smart DNS Proxy's privacy policy doesn't mention anything about logging, recording, monitoring, or storing user activity, which is a significant factor to consider, particularly when the service involves accessing restricted content. Lastly, the company has a zero-tolerance policy towards illegal activities on its platform, and accounts that breach its policy will be terminated.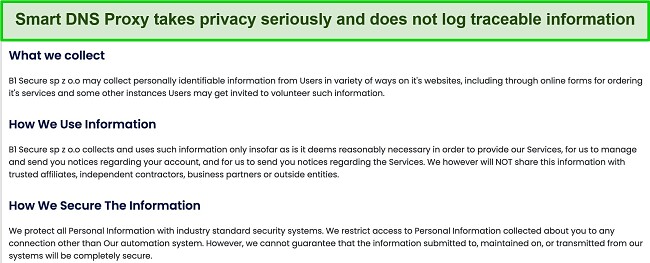 Based on its questionable policy, I would recommend exercising caution when using Smart DNS Proxy. Additionally, it is noteworthy that their law firm is located in Canada, which indicates that despite being registered in Seychelles, it might actually be operated from Canada. As you are probably aware, Canada is a member of the 14 Eyes Alliance, an international surveillance coalition composed of several countries worldwide. These nations cooperate to collect and exchange mass data of their citizens when requested by authorities.
I would have felt better if Smart DNS Proxy made it clear on their website what their policies are. Also, VPNs are starting to hire renowned companies to check that their services are secure for users — it would be great if Smart DNS Proxy did the same.
Torrenting — P2P-Friendly
Smart DNS Proxy offers torrenting access on a select number of servers located in Canada, Netherlands, Sweden, and Switzerland, which can be easily accessed from the dropdown menu. Although these servers are optimized for torrenting, the VPN may not be the fastest option available.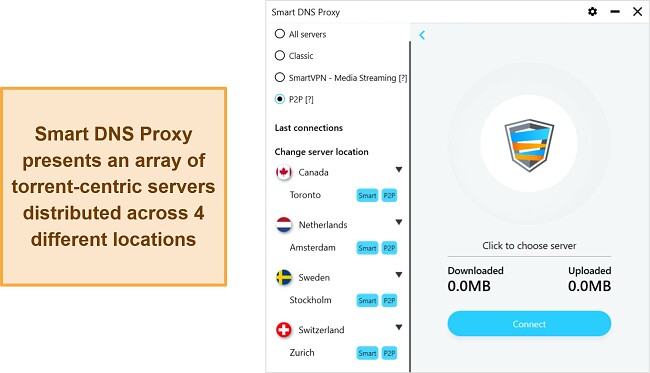 During my testing, I didn't encounter any issues while downloading files due to the excellent initial speed. However, if your speed isn't sufficient, the VPN may experience slow and irregular performance due to the limited number of servers available. Additionally, it is worth noting that Smart DNS Proxy operates in a jurisdiction that is not particularly privacy-friendly, and its data retention policy is unclear, so caution is advised when using its services.
If you desire a VPN that provides both rapid speed and dependable security for maintaining your privacy, my recommendation would be to give ExpressVPN some serious thought for file sharing. Note that my team and I do not support nor encourage illegal torrenting, thus it's vital that you familiarize yourself with your country's laws and regulations to avoid any potential consequences.
Does Smart DNS Proxy Work in China? No!
While I wasn't able to do an in-person investigation due to my location, the Smart DNS Proxy support team confirmed that the service cannot be used in China due to geographical restrictions. I wasn't surprised by this finding as the VPN service doesn't have any methods of disguising its traffic which would have made it easier to get around such restrictions.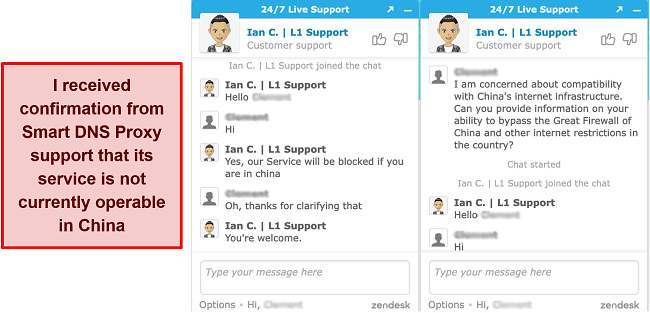 If you plan to visit China and wish to access content available only in specific regions, you will require a VPN. ExpressVPN is a good choice since it functions effectively in China, despite the country's ongoing efforts to enhance its Firewall. It's worth noting that the Chinese government does not allow unauthorized VPNs, but no incidents have been reported regarding travelers being penalized for utilizing them. Instead of targeting individuals who use VPNs, China generally blocks them through technological means.
User Experience
- 6.0
/ 10
Simultaneous Device Connections — Up to 5 Device Connections at Once
The Smart DNS Proxy service lets you link up to 5 devices all at once. This is the most common practice in the industry and is generally deemed sufficient as most individuals don't own more than 5 devices.
But if you require the option to connect more than 5 devices at the same time, it would be wise to consider using CyberGhost instead. CyberGhost permits you to link up to 7 devices without compromising your connection's speed.
Device Compatibility — Available on Popular Platforms and OSes
Smart DNS Proxy offers customized applications for various commonly used operating systems and devices, such as Windows, Mac, iOS, and Android. Additionally, it is compatible with Linux, gaming consoles, routers and streaming devices, but these require manual setup. Although the setup process can be challenging, the website provides a "How to Setup" section that offers detailed instructions on how to configure the service.
Here are all the devices that Smart DNS Proxy supports:
Computer – Chromebook, Mac OS X, Ubuntu, Windows 7, Windows 8, Windows XP, Windows Vista
Phones – iPhone, iPad, Android
Television – LG Smart, Panasonic, Samsung, Sony, Toshiba
Game consoles – PlayStation 3, PlayStation 4, PS Vita, Wii, Wii U, XBOX 360
Streaming devices – Amazon Kindle Fire TV, Apple TV, Boxee Box, Chromecast, Google TV, Roku, WD TV Live
Router – 2Wire, Actiontec R1000H, Airport Extreme, Apple Time Capsule, Asus, Belkin, Bell Aliant Speedstream, D-Link, Linksys, Netgear, TP-Link, Tomato, and DD-WRT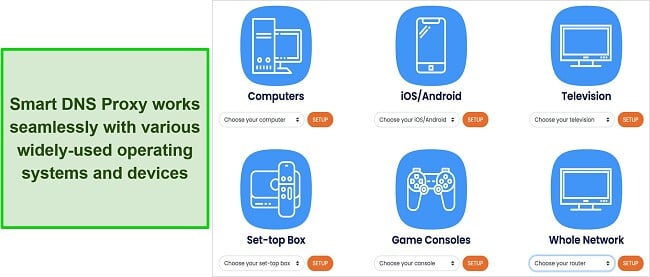 If you have the ability to adjust the DNS settings yourself, then it will function correctly. My own experience testing the configuration on both my SmartTV and Router showed that it was easy to set up. While I did not encounter any problems as expected, I did notice a decrease in internet speed and streaming quality.
Ease of Setup & Installation — Simple to Use
The process of setting up Smart DNS Proxy is quite easy, even for beginners. All you need to do is go to the plans and packages page, choose your desired package, and create an account by providing your email and password. Alternatively, you can try the 14-day free trial that does not require a credit card.
Once you've signed up and selected your plan, you'll be taken to your user dashboard, where you can find useful information about your account, payments, and more. Then, you can download the appropriate software for your operating system from the download section.
I personally downloaded the Windows client, which was a quick and hassle-free process, similar to setting up a standard VPN service. I followed the setup wizard, selected file location and start-up and shortcut options, and then started using the VPN client immediately. When I launched the client, Smart DNS Proxy introduced itself briefly and asked for my login details.
Despite its simplicity, the client has all the necessary features, including a connection slider, traffic usage details, and a list of available servers. The server list even indicates which servers are best for specific activities like P2P file sharing or streaming.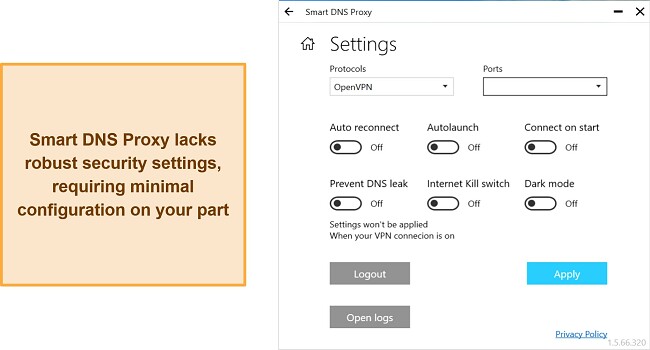 To adjust your preferences, click on the small gear icon located at the top of the software. This will open a new window where you can make changes to your security measures, start-up settings, and other similar options. Nevertheless, it's important to note that the customization options provided are not very extensive and are quite simple.
Steps to Installing Smart DNS Proxy on Windows
Go to the Smart DNS Proxy website. Open your preferred web browser and navigate to the Smart DNS Proxy website.
Sign up for an account. Click on the "Sign Up" button on the homepage and select a subscription plan that fits your needs. Enter your personal information and payment details, then click "Create Account" to complete the sign-up process.
Download the Smart DNS Proxy client. Once you have created your account, log in to the Smart DNS Proxy website and click on the "how to Setup" tab. From there, click the "Download" button under the Windows logo to download the Smart DNS Proxy client for Windows.


Install the client. Locate the downloaded installer file on your computer and double-click it to begin the installation process. Follow the prompts on the screen to complete the installation, making sure to accept any necessary terms and conditions.
Smart DNS Proxy is known for its exceptional customer service, which is available 24/7. The service only offers live chat support, but it stands out from others by providing immediate assistance from a representative within seconds. I confirmed this during my review, as the live chat team was consistently available throughout the day.
For those who prefer to troubleshoot or set up the VPN themselves, Smart DNS Proxy has an extensive knowledge base with online tutorials. These tutorials cover all common issues and questions that users may have, and they are well-written and helpful. By using the knowledge base, you can easily resolve any problems without needing to contact the support team.
How We Test Customer Support and Why Should You Care
We personally test the customer support team of every VPN we review. This means asking technical question through the live chat feature (where applicable) and measuring the response time for email questions. Whether you need to connect to a specific server, change your security protocol, or configure a VPN on your router, finding a VPN with quality customer support should be important to you.
The VPN service has a range of subscription plans to suit different needs, including monthly, 3-month, 1-year, 2-year, and lifetime options. While the monthly and yearly plans are reasonably priced, the lifetime plan offers excellent value. Please take into account that the lifetime plan carries a certain level of uncertainty due to the unpredictable nature of life. Hence, opting for the annual plan could be a wiser choice since it offers flexibility at the end of each year.
One great thing about this VPN service is that all plans come with the same set of features and benefits, making it a fair choice for everyone. Payment security is a top priority for VPN providers, and unfortunately, Smart DNS Proxy only accepts major credit/debit cards. This means that alternative options such as Paypal, Alipay, or cryptocurrency are not available.
Thankfully, Smart DNS Proxy offers a 14-day free trial to anyone who wishes to try out the service before making a commitment. Simply provide your email address on the homepage, and the team will guide you through getting started without the need for a credit card or cancellation.
Additionally, Smart DNS Proxy has an impressive 30-day money-back guarantee, which enables you to claim a full refund if you are not satisfied with the service. This guarantee provides a risk-free opportunity to test the service without putting any hard-earned money at stake, making it a win-win situation for potential customers. If Smart DNS Proxy doesn't fulfill your needs, you may consider one of these VPNs that offer great deals on their monthly plans.
Smart DNS Proxy offers the following plans
Final Verdict
Smart DNS Proxy is an inclusive platform that offers both VPN and Smart DNS capabilities. However, its VPN service has certain limitations, such as unreliable servers and sluggish connection speeds. Additionally, while no data leaks have been detected, the provider's privacy policy lacks clarity about its logging policy. Consequently, it is recommended that users assume their browsing activity may be recorded.
Nevertheless, based on the deficiencies in its VPN service and the ambiguous nature of its logging policy, I do not recommend using Smart DNS Proxy. Furthermore, the provider's emphasis on preventing illegal activities that may lead to account suspension implies that they might monitor user behavior, making it difficult to ensure privacy.
While Smart DNS Proxy is a viable option to consider, there are alternative VPN services that may offer additional functionalities to meet your requirements. ExpressVPN, in particular, stands out as the optimal choice due to its assurance of not retaining any user activity logs and its ability to unblock the majority of well-known streaming platforms. You can test ExpressVPN out for yourself and if you're not satisfied, you have up to 30 days to claim a refund.
FAQs About Smart DNS Proxy
Is Smart DNS Proxy good?
It depends on what you're looking for. I found the offerings of Smart DNS Proxy to be adequate. The provider was able to deliver reasonable speeds on local servers, facilitated torrenting, provided user-friendly applications, and granted access to some well-known streaming services. However, I am disappointed by the lack of clarity in the company's privacy policy, which has raised concerns about whether it maintains logs of user activity or not.
Can I use Smart DNS Proxy for free?
Yes, Smart DNS Proxy offers a free trial period of 14 days to allow prospective users to evaluate the service and determine if it suits their requirements. Additionally, for new customers, there is a 30-day money-back guarantee if you change your mind after purchasing a subscription.
It's important to note that free VPNs do not provide the same level of security and privacy protection as paid VPNs, and some may even disclose your personal information to third parties. If you find Smart DNS Proxy to be unsatisfactory, you may want to consider using one of our suggested reliable free VPN services.
Is Smart DNS Proxy really safe?
Yes, Smart DNS Proxy is a secure service that employs military-grade encryption and a few other security measures to safeguard your privacy. Nevertheless, it is worth noting that the provider's logging policy remains unclear, and its jurisdiction is in Canada, which is part of the 14-Eyes Alliance, a group of countries that collaborate on intelligence gathering. Therefore, it would be wise to exercise caution when using this service.
We rank vendors based on rigorous testing and research, but also take into account your feedback and our commercial agreements with providers. This page contains affiliate links.