Visit iTop VPN Website!
iTop VPN

Review 2023: Before You Buy, Is It Worth It?
iTop VPN Overview 2023
iTop VPN has established a solid reputation thanks to its lightning-fast connections and ability to circumvent regional restrictions, despite being a relative newcomer to the VPN industry. It brags about not keeping any logs of user activity. So, I decided to test iTop VPN to see if it lived up to its claim and if it was worth considering as a VPN solution.
After a few days of testing, I can confidently say that iTop VPN is a service you should look into. Its commitment to maintaining a log-free environment and using top-notch encryption makes it a reliable choice for protecting your online activity. Furthermore, the connection speeds offered by iTop VPN are impressive, ensuring smooth and swift data transmission. There are dedicated servers available for activities like torrenting, gaming, and streaming. The pricing is also reasonable.
In addition to offering a free plan, iTop VPN also provides a money-back guarantee within the first 7 days of a monthly subscription and the first 15 days of a six-month or twelve-month subscription. That way, you can test out iTop VPN for yourself and get out of the contract easily if you're not happy with it.
Don't Have Time? Here's a 1-Minute Summary
iTop VPN Unblocks Hulu, Disney+, Amazon Prime Video, and BBC iPlayer (But Can't Access Netflix and HBO Max)
I was pleasantly surprised to find that I had immediate access to Hulu, Disney+, Amazon Prime Video, and BBC iPlayer on iTop VPN's optimized streaming servers. The streaming quality was excellent, with no lag or buffering issues while streaming in UHD.
Understood. You are a provider of iTop VPN, and your readers are individuals interested in VPN services, particularly those looking for unblocking capabilities. They are budget-conscious users who may be considering the free version of iTop VPN. However, they are also interested in the effectiveness of the service and its ability to access streaming platforms like Netflix and HBO Max. They rely on your accessible and knowledgeable information to make informed decisions about their VPN options.
Hulu, Disney+, Amazon Prime Video, and BBC iPlayer: Unblocked
I found that iTop VPN was an excellent option for streaming on Hulu due to its optimized U.S. server, which allowed for smooth viewing. It also easily unblocked Disney+.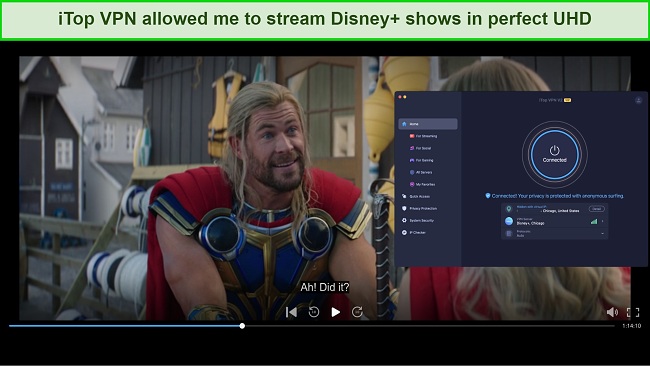 Despite the lack of Amazon Prime Video-specific servers, I was still able to stream it using the same server I used to unblock Disney+. A randomly chosen US server also allowed me to access the platform. Furthermore, I experienced no issues while accessing my BBC iPlayer account with the Quick Access server.
Netflix and HBO Max: Blocked
After successfully logging into Netflix via the suggested optimized server, I was disappointed to find that the content for my location was not available. I tried using other US servers, but I was only able to watch Netflix Originals on these as well.
This isn't surprising though. Netflix has some of the best VPN-detection tools available and only top-quality VPNs can access the US Netflix library.
I had a similar experience with HBO Max — I could access the library but not play any shows. My attempts to resolve the problem by switching to alternative US-based servers failed.
When it comes to streaming services, ExpressVPN is one of the most reliable and trustworthy options available. My tests showed ExpressVPN easily got around Netflix and HBO Max geoblocks.
Fast, Smooth Connection Speeds
I didn't see any drastic change in speed when connected to iTop VPN servers as it provided me with speeds very close to my base speed. However, those with premium accounts may find the greatest benefit from this service, as they can utilize it without any data usage restrictions.
However, individuals who choose the no-cost edition of iTop VPN for PC will have their usage restricted to a daily data limit of 700MB. The Windows application comes with a gauge that monitors the remaining daily bandwidth allocation when disconnected.
Speed Test Results
I tested iTop VPN extensively, and it lived up to its promises of consistently fast speeds. To verify its performance, I used Speedtest by Ookla to measure my download and upload speeds on three different servers. Initially, without being connected to iTop VPN, my internet had an average download speed of 49.53 Mbps and an upload speed of 25.61 Mbps.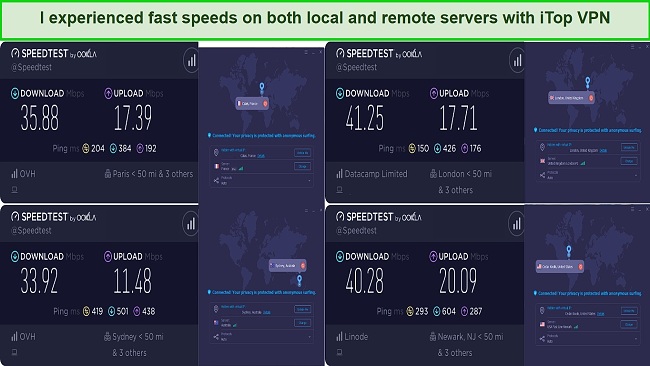 I noticed that the UK server in London had the fastest average speed, followed by the US and France servers. I was surprised to see that even the Australia server, despite being geographically distant, performed well on my speed test. Overall, I was satisfied with the speed and general performance of iTop VPN.
Is iTop VPN Fast Enough for Gaming? Yes!
My connection speed did not fluctuate much when I played games on iTop's gaming servers. iTop VPN offers dedicated gaming servers that are optimized for well-known games like Lost Ark, Minecraft, PUBG, Roblox, and COD Warzone if you're a gamer looking for a VPN to improve your gaming experience. Free Fire, Genshin Impact, Brawl Stars, Roblox, Call of Duty Mobile, and LOL: Wild Rift are just some of the additional optimized servers available via the Android app.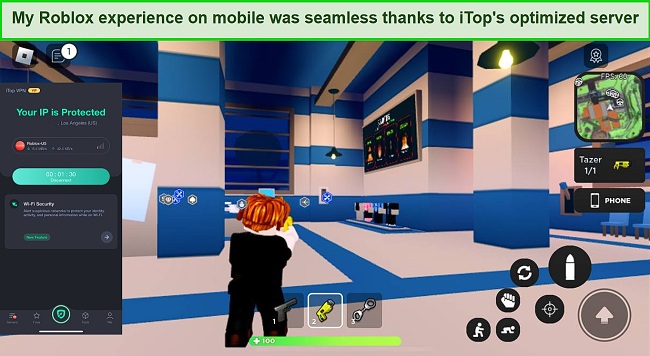 To ensure the best gaming experience, a low ping is essential. I conducted a test on iTop's gaming-optimized servers located nearby and found that the ping times ranged from 46 to 89 milliseconds. Additionally, I had a smooth gaming experience on a dedicated Robox USA server, with no issues such as high average ping, freezes, or blackouts.
Why Most Speed Tests are Pointless & How We Correctly Test VPN Speeds
Speed determines how fast content uploads, so if you're torrenting or streaming, you want the speed to be somewhat identical to your regular internet speed. Since a VPN encrypts your data, it usually takes a bit longer to send your data back and forth, which can slow down your connection. However, if your ISP deliberately slows down your connection (also known as throttling) a VPN might increase your internet speed. Testing a VPN is somewhat pointless because new servers pop up and affect speed. Your speed can also differ according to your location, so your speed test might not match ours. Having said that, we tested the speed in numerous locations to provide you with the average.
Server Network — Over 1800 IP addresses in 100+ locations
Premium users of iTop VPN can connect to any of the service's 1,800+ servers in 100+ different countries, including the United States, United Kingdom, Germany, India, Australia, and Japan. You should know that iTop VPN does not provide any physical server locations. Instead, it has virtual server locations to give you access to IP addresses in many different countries.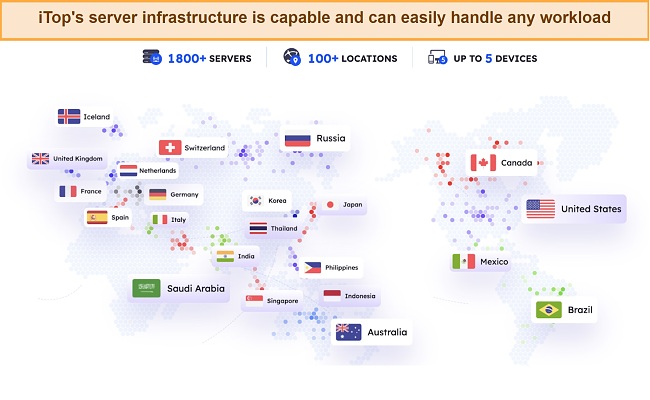 Free-tier subscribers have access to 20 different server options. When you upgrade to the premium plan, you gain access to more servers, which the provider says will decrease your latency and increase your web browsing speed 10 times.
The servers available through iTop VPN are organized into distinct tabs tailored to various uses, such as video streaming, online gaming, social networking, and torrenting. Your location determines which optimized server options you are offered for the fastest internet speed and bandwidth. If your requirements are more specific than those listed above, click the "All Services" tab to see a complete list of iTop VPN servers. But keep in mind that all servers are only accessible to paying customers.
There is a performance icon next to each server option that provides real-time data on the server's health. It's color-coded so you can quickly identify fast and slow servers. You are also provided with a sufficient amount of information regarding the servers themselves. Keeping an eye on the load will help you determine which servers are ideal for your streaming, P2P, or gaming needs.
Even though iTop VPN has servers in a large number of countries, there are other VPNs that have larger numbers of servers at better prices. For example, Cyberghost provides access to 9,600+ servers for just $2.19 per month. More servers mean that you're less likely to run into server congestion when trying to connect to a specific location.
Security — Powerful Military-Grade Encryption
iTop VPN is committed to keeping your data safe and secure, offering a range of advanced features to ensure your protection. Even though these advanced features are mostly only available to paid Windows users, everyone can use iTop VPN's strong encryption to keep their personal information safe.
The security features offered by iTop VPN include:
Three protocol options – iTop VPN offers a selection of protocols for securing data transmission, including HTTPS, UDP, and TCP. The TCP protocol provides additional protection for sensitive activities like online shopping and banking, the UDP protocol can improve your connection speed for gaming and streaming, and the HTTPS protocol helps you unblock restricted sites and adds an extra layer of encryption to your data. When connecting to a server, you can choose one of these protocols or leave it on Auto mode.
Military-grade encryption – iTop VPN uses strong 256-bit encryption to ensure that your inbound and outbound data traffic is secure. This encryption is effective even when you're using public WiFi networks.
Kill switch – iTop VPN's kill switch blocks internet access in case of VPN disconnections. It's crucial to maintain a VPN connection at all times, and iTop VPN makes it simpler with a floating widget on the desktop. Although I was able to conceal my true IP address by using the kill switch, I wish it also prevented traffic from passing through the network when the VPN was disabled.
Split tunneling – This function lets you direct only certain data through the VPN tunnel while letting the rest use your regular data connection. By doing so, VPNs can't slow down your connection and regular traffic can continue at its usual speed.
Adblock – The ad block function can prevent ransomware and other malware from infecting your computer by blocking links to malicious websites. Depending on your preferences, the ad blocker can be set up to allow advertisements to load on selected sites only. It is available for both free and premium users.
Static IP – Static IP provides you with a dedicated address that offers benefits such as secure access to private servers, simplified banking transactions, and fewer captchas, but they can compromise anonymity. My testing showed no difference in IP assignment behavior between dynamic and static IP, so this needs to be fixed or removed by iTop.
Security Reinforce – this feature aids in bolstering your computer's protection against identity theft and hacking. It can find security holes, offer advice on how to fix them, and implement the changes instantly, keeping your device safe.
DNS Protection – You can rest assured that no malicious software on your computer will be able to alter your DNS settings thanks to this function. You can choose to keep using your current DNS configurations or change to one of the DNS services from Google, Verizon, OpenDNS, or Comodo that iTop VPN suggests. You may also choose to manually configure both your primary and secondary DNS servers.
IPv6 Support – IPv6 is the most up-to-date IP protocol, and it allows for distinct identifiers to be assigned to each website, facilitating efficient traffic routing and user authentication for secure content delivery. iTop VPN's support for IPv6 ensures that you can access the internet with the most up-to-date IP address scheme available.
IP Checker – This web-based tool shows your IP address in real time whenever you connect to a server network.
To verify that iTop VPN's leak protection worked as advertised, I subjected it to a battery of tests on both my Windows and Mac machines. Specifically, I ran IP, DNS, and webRTC leak tests to see if any information was being leaked to external sources. I am pleased to report that no leaks were discovered during these tests. This is a testament to the effectiveness of iTop VPN's leak protection tools.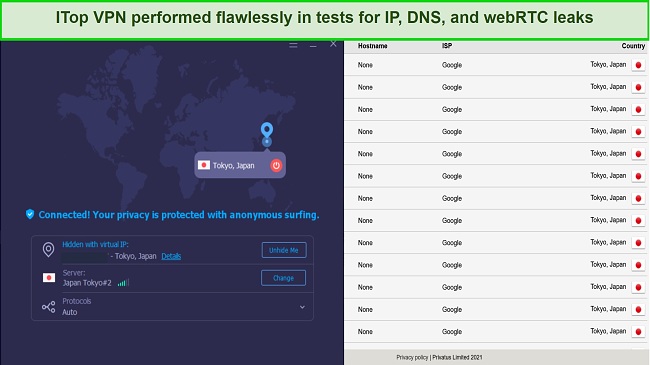 In addition to this, iTop VPN also utilizes IPv6 connections to enhance security and prevent my internet service provider (ISP) from detecting my IP address. This further ensures that my online activity remains private and secure.
Privacy — Zero Logging Policy
If you're looking to stay anonymous online, iTop VPN has your back because it's a log-free VPN service. My research into iTop VPN's privacy policies lent credence to the company's claim that it does not record or store any activity logs.
The company doesn't record your IP address or track what websites you visit, but it does keep contact details like email addresses and phone numbers to confirm accounts and deliver services. These practices do not violate iTop VPN's no-logging policy because they adhere to recognized industry standards.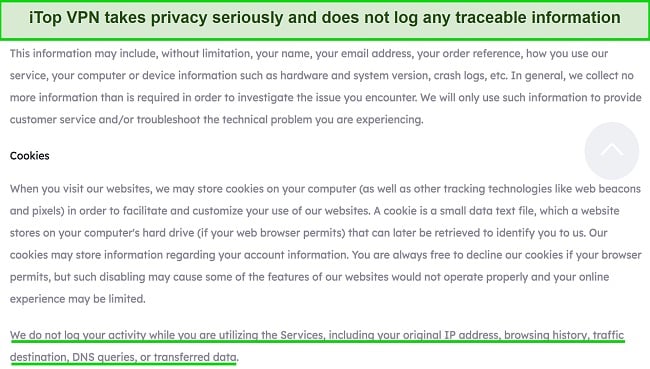 The most reliable VPNs usually have their own DNS servers available. This is critical to ensure that your real ISP or any other company can't see which websites you're connecting to through the VPN. While iTop VPN does not provide its own DNS servers, it does provide a list of other popular options.
Because iTop VPN is headquartered in Hong Kong, it is not subject to the jurisdiction of the 5, 9, or 14 Eye Alliances and is therefore exempt from disclosing user information. While some may be concerned about the national security cooperation between Hong Kong and China, iTop VPN has assured their customers that they do not store any information that could be used to identify or harm them.
Despite assurances that it keeps no records of its users and provides other security features, iTop VPN has never been subjected to an independent audit like many of the top VPNs in 2023 have. This is important information to have when assessing the safety and anonymity of any VPN service. To ensure the highest levels of privacy and security, you need to look into alternative audited solutions.
Torrenting — Supports P2P File Sharing
iTop VPN supports torrenting and peer-to-peer traffic but only on selected VPN servers. The P2P logo used in the app's server list makes it easy to identify the supported servers, which are spread across a total of 5 countries, including the Netherlands, Romania, Spain, Switzerland, and Germany. Note that these servers are only available to paid subscribers.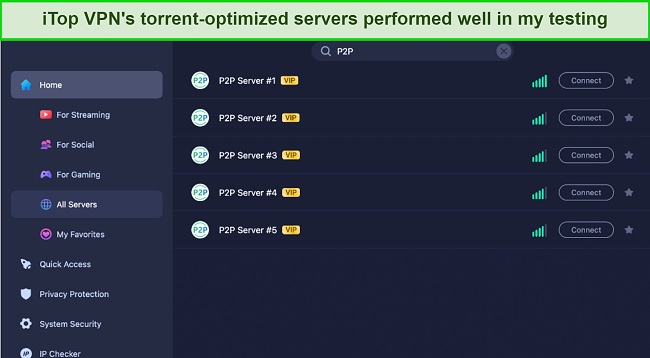 In my testing, torrent-optimized servers enabled me to download large data files quickly and effortlessly. Additionally, iTop VPN provides a kill switch feature to safeguard your anonymity in the event of disconnection and a strict no-logs policy to guarantee that your file-sharing activities remain private.
Be aware of the laws in your country before you download files that are protected by intellectual property rights. To avoid possible legal trouble, only download copyright-free torrents.
Does iTop VPN Work in China? No!
Since I am not currently in China, I am unable to verify if iTop VPN works in the country. However, I contacted the support service and a representative from the company confirmed that the service is not operational in China.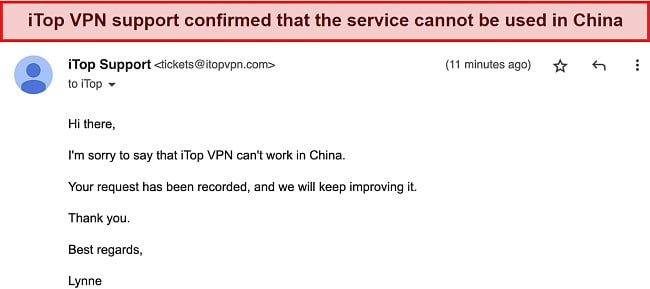 It's worth noting that a VPN's ability to successfully circumvent stringent censorship laws often depends on its use of cutting-edge obfuscation technology. The absence of this technology makes it highly unlikely that iTop VPN would work as intended in a country with such stringent censorship regulations.
Despite the Chinese government's persistent censorship of VPN services, ExpressVPN has proven time and time again to be a solid choice for a VPN for China.
Server Locations
Australia
Brazil
Canada
France
Germany
Iceland
India
Indonesia
Italy
Japan
Mexico
Netherlands
Philippines
Russia
Saudi Arabia
See all supported locations...
User Experience
- 7.0
/ 10
Simultaneous Device Connections — Connects up to 5 Devices Simultaneously
If you're looking to connect multiple devices to a VPN, iTop VPN may be a good option for you. With a single subscription, you can connect up to 5 devices simultaneously without experiencing any issues with speed or performance. This includes desktop computers, laptops, smartphones, and any other compatible devices.
On the other hand, CyberGhost allows for even more simultaneous connections, with a limit of 7. While having many devices may make this a more appealing option, it's important to keep in mind that CyberGhost is typically more expensive than iTop VPN. It's up to you to decide which of these two VPNs is best for you based on your requirements and preferences.
Device Compatibility — Support for Major Device Types
iTop VPN provides native apps for Windows, Android, macOS, and iOS devices, but currently lacks a browser extension, smart TV-compatible app, router app, and a Linux client. This is a disadvantage for people looking for a VPN to secure every internet-connected device they own. However, iTop VPN is a solid choice if your only concern is the security of your computers and mobile devices.
If you're looking for a VPN with wider compatibility, ExpressVPN is an excellent option for a VPN you can use with your smart TV. It's also got dedicated router apps, great browser extensions, and a Linux client so you can make sure all of your devices are always protected.
Ease of Setup & Installation — Under 2 Minutes
Installing and using iTop VPN is a straightforward process that only takes a few minutes. All you have to do to get started is choose a plan, select a payment method, and enter your email address.
Once the program is up and running, you can use the big "Connect" button in the middle to quickly connect to the closest server for the best web browsing experience.
With iTop VPN's Smart Location feature, you are automatically connected to the least busy server in your area. Alternatively, you can manually select a server from the home screen. The home screen also features handy shortcuts for viewing your current speed and adjusting the security settings.
With the main controls on the left and some additional settings in the drop-down menu, the iTop VPN Windows app is simple to use. You can customize the settings to your liking, and that includes the availability of extras like a kill switch, split tunneling, Quick Access, and DNS leak protection.
Steps to Installing iTop VPN on Windows
Create an account. Visit the official website, create an account with legitimate information, purchase the desired subscription, and then activate it.
Download the windows client. Continue to download the iTop VPN Windows app from the official website.

Install the application. The downloaded file should now be accessible from your computer's "Downloads" folder. Simply double-clicking it will launch the setup wizard.

Login into your account. Launch the app, and then use the login information you made in step 1 to log in.
Select server. Choose the desired server location from the list of available locations.

Establish a connection. You can now browse the internet safely and securely through the iTop VPN.
There is no dedicated support system for even paid members. The only ways to contact iTop about VPN issues are through an online form or Facebook Messenger. To test how quickly the support system responds to emails, I inquired about the service's compatibility with China and received a response within 24 hours.
In addition to contacting support, you can look at the FAQs and blog posts to see if your question is already addressed there. Unfortunately, the website is very hard to navigate and I had to resort to Google to answer most of the questions I had. The lack of a comprehensive knowledge base or central location for questions is a definite disadvantage.
How We Test Customer Support and Why Should You Care
We personally test the customer support team of every VPN we review. This means asking technical question through the live chat feature (where applicable) and measuring the response time for email questions. Whether you need to connect to a specific server, change your security protocol, or configure a VPN on your router, finding a VPN with quality customer support should be important to you.
iTop VPN's flexible pricing options make private browsing the internet a reality for even the tightest of budgets. These packages range from one-month to three-year durations and include features such as unlimited data transfer, access to specialized servers for streaming and torrenting, protection against ads and malware, and enhanced browser privacy.
However, those who only occasionally utilize VPN services may find the provider's free option more suitable. Even though it has a lower number of servers, a daily data limit of 700 MB, and slower connection speeds, its free features are enough for casual browsing.
You can test out iTop VPN's services risk-free thanks to its money-back guarantee if you're unsure about using it. This guarantee is available to monthly subscribers for a period of 7 days, and to 6-month and yearly subscribers for 15 days. I personally tested this guarantee and received my refund within 2 days.
iTop VPN accepts payments via PayPal, major credit cards, and electronic bank transfers. You also have the option to set up automatic renewal to avoid the need to manually pay to extend your subscription.
iTop VPN offers the following plans
Final Verdict
My experience with iTop VPN has led me to believe that it is a good option for VPN users of all experience levels. This VPN sets itself apart from others by implementing a strict privacy policy that guarantees the complete confidentiality of your online activities. Moreover, its state-of-the-art features and extensive network of more than 1800 servers worldwide enhance both security and speed.
iTop VPN's interface is both simple and straightforward, with its various functions conveniently placed to prioritize the user experience. Also, its servers are optimized for gaming, streaming, and peer-to-peer activities, which makes it a great choice for these activities. Daily free data of 700MB makes iTop VPN an even more attractive option for those who need a free VPN.
There are, however, a few drawbacks to using iTop VPN. It's not compatible with as many devices as others, and it lacks features like live chat support and global server availability.
Despite these drawbacks, iTop VPN delivers satisfactory all-around service at a low price. Cyberghost is an excellent choice to replace iTop VPN should you find yourself in need of a better VPN service. You are welcome to give Cyberghost a try for yourself, and if you aren't happy with the service, you have up to 45 days to request a refund.
FAQs About iTop VPN
Is iTop VPN good?
Yes,
iTop VPN is a great choice due to its high speeds and solid performance
across a variety of uses, including streaming, torrenting, and gaming. While it shines in these respects, it could be better if it were more device-friendly and offered better customer service.
Can I use iTop VPN for free?
Yes, iTop VPN does offer a free version. Be aware, though, that it has some restrictions, such as a smaller selection of servers, a low daily data cap of 700 MB, and slower connection speeds.
Free VPNs may seem attractive, but they are not recommended because of their unreliable performance, logging issues, and inadequate security. Despite this, there are some reliable free VPN options available if you're on a tight budget.
Is iTop VPN really safe?
Yes! iTop VPN is a safe and sound choice, combining military-grade encryption, ad-blocker, kill switch, and DNS leak protection to protect your data. Furthermore, the VPN follows a firm no-logging policy and does not record any user activity.
We rank vendors based on rigorous testing and research, but also take into account your feedback and our commercial agreements with providers. This page contains affiliate links.