How to Watch TVNow Outside Germany in 2022 (Easy Guide)
Last Updated by Mariah Shanice Basa on July 01, 2022
Most of the shows I enjoy on TVNow are not available outside Germany, due to licensing restrictions. This is really frustrating, especially since I travel a lot for work. I really want to keep up with the TVNow shows I love no matter where I might be, so I had to find a solution.
After trying a few methods, I found that connecting to a Virtual Private Network (VPN) is the easiest way to watch TVNow outside Germany. A VPN redirects your internet traffic to a server in Germany, giving you access to the platform from anywhere.
I tested 30+ VPNs and shortlisted the top 5 that work consistently with TVNow. The recommended choice is ExpressVPN because of its speed and performance. It's backed by a 30-day money-back guarantee so you can try it, risk-free.
Quick Guide: 3 Easy Steps to Watch TVNow Outside Germany
The Best VPNs to Watch TVNow in July 2022
Key Features:
ExpressVPN has lightning-fast connection speeds. I ran multiple rounds of speed tests on various ExpressVPN servers and consistently got rates of around 100 Mbps. My regular speed is 105-110 Mbps, this slight drop was barely noticeable. Since you only need 5 Mbps to stream HD shows, you can stream your favorite TVNow series without any buffering or quality degradation.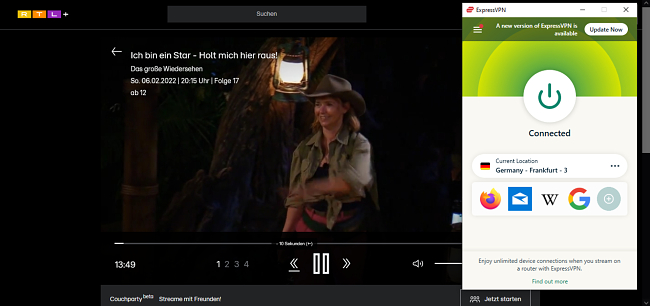 Connecting to an ExpressVPN server protects all your internet activities with AES 256-bit encryption, the same standard used by the US government to secure classified data. It also concealed my actual location by changing my IP address. I ran DNS leak tests on various German servers and found that ExpressVPN's secure tunnels successfully protected my IP address every single time.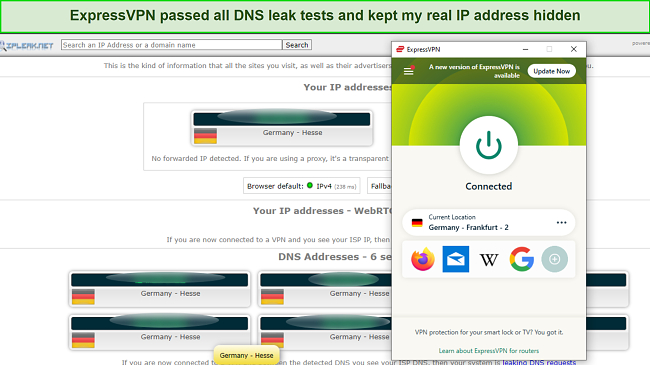 Just like TVNow, ExpressVPN is available in a long list of devices and operating systems including Windows, macOS, iOS, and Android. I like how easy it is to tap ExpressVPN on your device, connect to a server in Germany, and start streaming. If you like to stream shows while you travel, you can connect your mobile device on the go, then continue watching the same show on a Windows laptop or Android TV when you arrive at your destination. When you purchase an ExpressVPN plan, you'll get 5 simultaneous device connections, too, so watching TVNow on all your favorite devices is easy.
All of these features come for a price: ExpressVPN is a bit more expensive than other premium VPNs out there. The good news is you can save a lot if you go for a long-term plan. Purchasing ExpressVPN's 2-year or 3-year annual plan means that you can save up to 49% compared to shorter-term plans. Its 30-day money-back guarantee allows you to test ExpressVPN with TVNow, risk free to see if it's the right VPN for you. If you decide that it's not, you can easily claim a refund through live chat.
To test how dependable ExpressVPN's customer support lines are, I claimed a refund via live chat 27 days into my subscription plan. A few seconds after clicking "Contact Support" on the website, I was connected to a support agent who approved my request in a matter of minutes. The refund was back in my account within a week — I appreciate how fast and hassle-free the entire process was.
Key Features:
CyberGhost offers a vast network of 7900 servers in 91 countries, including over 1000 located in Germany. There are more than enough server options to choose from, so my team quickly found servers that work with TVNow. In the unlikely event one doesn't work, simply switch to another. CyberGhost also has various streaming-optimized servers especially designed for German platforms such as Netflix DE, ZDF, ARD, and 7TV, making it a great option for subscribers who often travel abroad.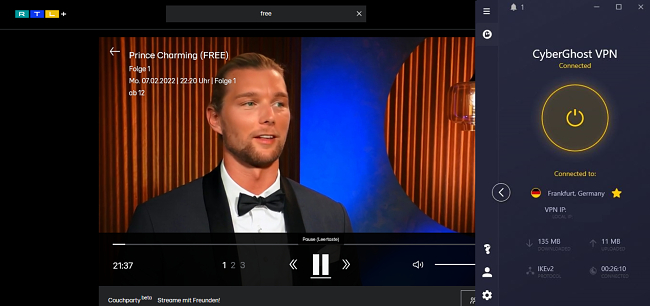 Testing multiple CyberGhost servers showed great connection speeds, around 70-75 Mbps. This is slightly slower than ExpressVPN's 100 Mbps average, but still well above TVNow's recommended 6 Mbps for streaming. I streamed episode after episode without interruptions. CyberGhost's speeds are fast enough to ensure you won't experience any playback errors right in the middle of an episode.
One CyberGhost subscription allows 30 simultaneous device connections at the same time, making it a good choice for a household VPN. It's compatible with all the devices and operating systems TVNow works with, and then some — you can even use CyberGhost on devices commonly incompatible with VPNs (including Playstation, Wii, Apple TV, etc) via the My Smart DNS feature.
Because its short-term plans can be quite pricey (unless you find a special deal), it might not be the best choice if you're only looking for a temporary VPN. CyberGhost's longer-term plans definitely make it one of the cheapest monthly VPNs in the market: at $6.67/month, you will be saving up to 49% if you purchase a year-long plan, making it an excellent long-term VPN option.
Like ExpressVPN, you can try CyberGhost out in confidence: it's backed by a 30-day money-back guarantee. If you decide that you don't like it, you're eligible for a refund. I tested CyberGhost's money-back guarantee by asking for a refund (via live chat) 15 days after I purchased a 1-year plan, and my request was approved within minutes. The refund was credited back into my account after 5 days.
Key Features:
PIA (Private Internet Access)'s "small packets" option boosts the WireGuard protocol for added speeds while streaming TVNow. During testing, the default OpenVPN protocol setting yielded speeds of around 60-70 Mbps; switching to WireGuard and enabling the "small packets" option gave me speeds of around 80 Mbps. This is a good go-to option if you're connected to a slightly-slower WiFi connection as you'll still be able to stream without any irritating lag.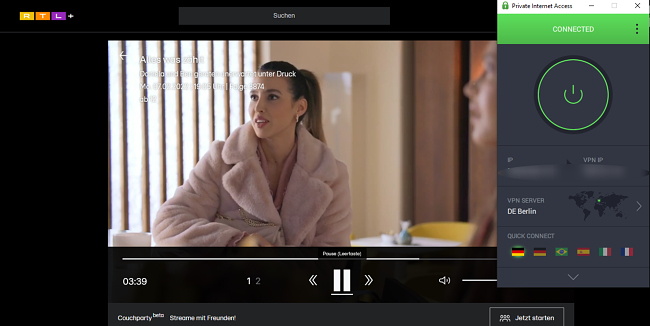 While I couldn't find exactly how many servers it has in Germany, PIA has the largest global VPN network of 35000 servers in 80 countries. You can choose between servers in two German cities: Frankfurt and Berlin. Each of the tests my team and I conducted proved that its servers have reliable connections, and I never experienced any sudden drops in connection.
Like CyberGhost and ExpressVPN, PIA's servers come with a kill switch feature which disconnects your device from the internet when the VPN connection drops, preventing your real IP address from leaking. Its "Advanced Kill Switch" option stops your device from automatically connecting to the internet before the PIA app is launched. This is perfect if you're traveling through public WiFi hotspots.
However, keep in mind that PIA is headquartered in the US and is a part of the 5 Eyes alliance. This means that, should authorities send a request for your data, PIA is expected to hand it over. To reassure its users, PIA has made it clear that they do not keep any information about their users, and have proven that claim in court when called to testify against customers.
Although the VPN is already wallet-friendly, you can save 82% off your subscription with its latest deal. Plans start from just $2.19/month.
Try PIA out yourself: it's backed by a 30-day money-back guarantee. When I asked for a refund via PIA's live chat feature, the representative asked me for a reason (I explained that I didn't need a VPN anymore). They then promptly approved my request. The full refund was in my account within a week.
Key Features:
PrivateVPN's smaller network of 200 server options in 63 countries use high-quality bandwidth (also known as HQN), resulting in a consistently stable performance. I got speeds of around 45-60 Mbps while connected to servers in Germany, and not even once did I experience drops in connections or interruptions. PrivateVPN uses bandwidth purchased directly from IP transit providers (not from hosting companies) in order to offer higher-speed connections to their users, so you'll get to enjoy TVNow shows without any issues while connected to one of its 2 German locations.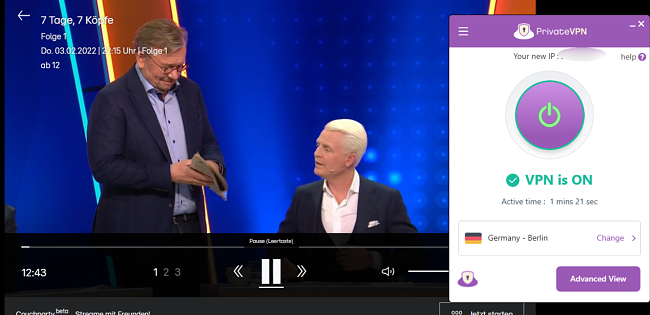 The Stealth VPN feature uses obfuscation to make your traffic look like normal, non-VPN traffic, allowing you to access TVNow undetected. This feature may cause speeds to slow down a little, but it can help to give you immediate access to geoblocked platforms and stop the annoying warning message popping up on your screen.
The headquarters are located in Sweden and, like PIA, that also raises some concerns when it comes to privacy. Sweden is a member of the 14 Eyes alliance (which includes all the member-states of the 5 Eyes alliance plus some other EU states). PrivateVPN has an indisputable no-logs policy, however: it clearly states that it does not log any data, so a surveillance agency would find no personal information.
In terms of speed and protocol options, PrivateVPN is definitely one of the top VPNs to use with TVNow abroad. You can even try it for free by taking advantage of its 30-day money-back guarantee. Watch all of your favorite TVNow shows, and if you're unsatisfied, you can claim a refund via live chat. I tried it, and the entire process took around 10 minutes; I was fully refunded in 5 days.
Key Features:
IPVanish's unlimited simultaneous device connections lets your entire household enjoy TVNow shows at the same time. You'll be able to stream all your favorite TVNow series on holiday, while your household members at home connect and protect their devices using the same IPVanish account. IPVanish is a solid choice if you're looking to share the costs of a VPN.
This is one of the fastest VPNs I've used with TVNow. I got speeds of around 60-70 Mbps, allowing for smooth and bufferless streaming. You'll be able to binge watch an entire season of any show without experiencing any interruptions or quality reduction.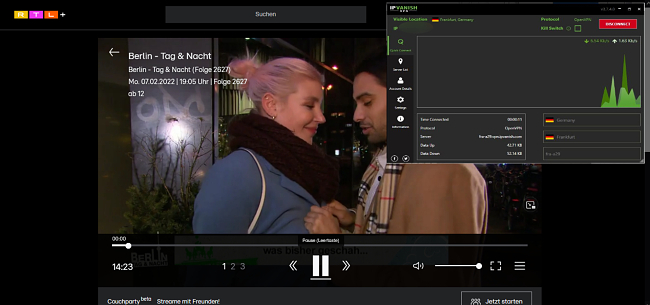 Another thing I liked about IPVanish is the interface: the list view displays information such as ping rate and server load to help you choose the best server. IPVanish has 56 servers in Frankfurt, so this comes in handy — you can find the one with the lowest ping rate and server load to ensure optimal streaming speeds.
However, one issue is that it doesn't unblock a lot of platforms. While IPVanish is definitely one of the best VPNs to access global Netflix libraries including US, UK, and DE, it failed to access BBC iPlayer, Hulu, HBO Go, or any other German streaming platforms like ARD, ZDF, DAZN, and Pro Sieben. But IPVanish is an excellent option if all you need to access is TVNow.
Prices start at $3.33 per month which is a tad more expensive than CyberGhost's lowest monthly rates. But considering you can split costs with as many people as you'd like, IPVanish's rates provide definite value for money. Because it's backed by a 30-day money-back guarantee, you can try IPVanish out and use it to enjoy your TVNow subscription, then claim a refund if you're unsatisfied. Requesting the refund can be done quickly via your account dashboard. It only took a couple of clicks to reset my account status, and I was fully refunded after a few hours.
How a VPN Helps You Watch TVNow Outside Germany
Due to broadcasting rights, TVNow restricts the viewing of its shows to specific locations within Germany. If you travel a lot, expect to see this message whenever you try to play a geo-blocked video:
Moreover, your internet service provider (ISP) or even TVNow themselves can accidentally block your IP address while you're in Germany. To regain your viewing rights in the event of an ISP block, you'll need a good quality VPN.
A VPN redirects your connection through encrypted servers located in your chosen country, giving you an IP address from that location. Your new fully-encrypted German IP address unblocks TVNow and secures your internet data, so you can make the most out of the TVNow streaming plan you've already paid for.
ExpressVPN is the best VPN for TVNow (and regularly tops other best VPNs lists, too) for good reason: it allows me to enjoy all of my favorite TVNow shows in stunning HD. Try ExpressVPN out, risk-free: it's backed by a 30-day money-back guarantee. If you decide that it's not for you, you can easily claim a refund.
How to Choose the Best VPN for Watching TVNow
There are hundreds of VPNs that have servers in Germany, but not all of them offer high-speed access to TVNow. I made sure that all of the VPNs recommended above come with:
Multiple servers in Germany – The top VPNs have German servers that reliably work with TVNow
Superfast server speeds – The recommended VPNs have fast speeds so you can enjoy bufferless streaming in HD
Advanced security features – All of the listed servers come with top security and privacy to protect your data at all times
Reliable customer support – In the unlikely event you run into a problem, customer support is easy to contact and has extensive knowledge
Money-back guarantee – All of the top VPNs give you enough time to test how well the VPN works with TVNow and offer a full refund if you're unhappy.
The top choice for TVNow is ExpressVPN because of its blazing-fast speeds and reliable German servers. You can test ExpressVPN with TVNow yourself, risk-free, it's backed by a 30-day money-back guarantee.
How to Securely Sign up for TVNow
You can sign up for TVNow via prepaid card, credit card/direct debit, or Paypal. Remember that you need to sign up for TVNow before you travel, because signing up for TVNow outside the EU while using a VPN could breach its terms and conditions.
Prepaid Card Method
Credit Card/Direct Debit Method
Paypal
How to Watch TVNow on Different Devices
There are multiple ways to watch your favorite shows on TVNow online, as it works on a variety of devices, including desktops/laptops, smart phones, Amazon Fire Stick/TV, Android TV, etc.
FAQs on Watching TVNow With a VPN
What is TVNow and what can I watch on it?
TVNow (formerly RTL+) is one of the most popular streaming platforms in Germany. It features series, movies, and live TV that you can watch on most major browsers or through a native app. While TVNow offers a wide variety of free, ad-supported content, the most well-known shows like Temptation Island, Deutschland sucht den Superstar, Frauentausch, Berlin Tag & Nacht, and Der Bachelor are available through its paid package. International shows such as Keeping Up With the Kardashians, Smallville, The Vampire Diaries, and 90210 are also available on the platform.
TVNow also offers live TV channels, including (but not limited to):
Nitro
RTL Zwei
Vox
Super RTL
Geo Television
Now
Toggo Plus
Whether you're paying or not, most of these shows and channels are unavailable outside Germany. You'll need to use a top-tier VPN such as ExpressVPN to ensure access to your TVNow account while abroad.
Can I watch TVNow for free?
Yes, TVNow has a good selection of content — although limited — that you can enjoy for free. A Premium or Premium Duo account gives you access to TVNow's entire library, and will allow you to watch shows via the TVNow app. Signing up with an email address is good enough to watch a couple of free shows; you can even enjoy one-off episodes without signing up. TVNow offers a free 30-day trial period for its Premium account, so you can check out everything the platform has to offer before having to pay for anything.
To enjoy all these shows outside Germany, you'll need a reliable VPN. CyberGhost comes with a 45-day money-back guarantee, more than enough time to help you make the most out of your 30-day free TVNow trial. If you end up not liking CyberGhost, you can easily claim a refund via their live chat feature.
Which devices does TVNow work on?
You can access TVNow on most major devices and operating systems including:
PC/Mac (Windows 7 onwards or macOS X 10.6)
iOS or Android app (for Premium/Premium Duo subscribers only)
Airplay
Chromecast (for Premium/Premium Duo subscribers only)
Amazon Fire TV/Fire Stick (for Premium/Premium Duo subscribers only)
Roku
Android TV (for Premium/Premium Duo subscribers only)
Samsung smart TV (for Premium/Premium Duo subscribers only)
LG smart TV (for Premium/Premium Duo subscribers only)
Unitymedia Horizon Box/Legacy Box
Telekom MagentaTV
Vodafone Select Video
Keep in mind that one TVNow account has a maximum limit of 5 devices. Once you hit the limit, you would have to delete a device from the "device management" settings to be able to watch TVNow on another device.
Why can't I access TVNow with my VPN?
You might be connected to a blacklisted server, using a port blocked by TVNow, or using a browser that contains location-identifying cookies. You shouldn't run into any issues when you use a quality VPN but if you're still seeing the proxy error, try:
Reconnecting to a different server in Germany. You can also check if you're connected to the correct location by using an IP address checker.
Clearing your cache and cookies. This will ensure your browser is clear of any trackers and will present you as a brand new TVNow user. You can also try to access your TVNow account through an incognito tab to see if the problem has something to do with cookies.
Changing your encryption protocol and a VPN port. You can try switching to a different protocol, particularly secure socket tunneling protocol (SSTP) offered by PrivateVPN and IPVanish, or switching to a different port such as 443 (for unencrypted traffic so it's less likely to be blocked), or port 80.
Talking with your VPN's customer service. If you're still experiencing any issues, a customer service representative will walk you through the solutions, step-by-step. This is why it's important to use a VPN with a reliable customer support service.
Do I need a German payment method to access TVNow?
No, you can enjoy a few TVNow shows without having to pay for an account. But if you want to enjoy all TVNow content, the easiest way is to sign up for TVNow Premium/Premium Duo using a gift card from a participating retailer. You can also pay with a credit card or via direct debit, with a payment method from the Single Euro Payments Area (SEPA) countries: EU states, plus Norway, Liechtenstein, Iceland, Switzerland, and Monaco. Don't forget to connect to a good VPN like ExpressVPN — it will help you access all the TVNow shows you've paid for even while you're abroad.
What other benefits do I get from using a VPN to watch TVNow?
Aside from allowing you to access your TVNow account outside Germany, a good VPN can also help:
Protect your sensitive data. Connecting to public Wi-Fi hotspots can put your data at risk. By encrypting your internet traffic, a VPN keeps you safe from online security attacks.
Keep your online activities private. Random, seemingly-unimportant pieces of information — from your IP address, to your computer hardware, to the language that you've chosen for your browser — all make up a unique "fingerprint" that third-party observers use to identify your movements all over the internet. A VPN helps protect your privacy and anonymity online.
Speed up your connection. In some cases, ISPs can slow connections down for high-bandwidth users (people who are streaming, gaming, torrenting, etc). This is called bandwidth throttling. A VPN, by keeping all of your traffic hidden, stops you from being a target.
Can I use a free VPN to watch TVNow outside Germany?
You can, but quality VPNs work better with TVNow. While there are some good free VPNs out there, most of them don't have enough servers for users to choose from, meaning you'll have to suffer from frequent buffering and quality degradation due to overcrowding.
Unless you're using a high-quality free VPN, the free VPN you're planning to use might not have enough server options that work with TVNow. Some free VPNs even put rigid data caps in place, in which case, you'll reach your bandwidth limit halfway through one video. There have also been reports of free VPN providers selling network access and user data to third parties. Instead of putting your privacy at risk, choose a premium VPN with advanced security features and a proven track record of keeping users' data private, like ExpressVPN.
Don't Miss Your Favorite Shows on TVNow While Abroad
TVNow is the home of a lot of amazing shows (that you won't be able to find anywhere else), so it would be a shame to not have access to it just because you're traveling. A VPN will allow you to make the most of the streaming subscription you've already paid for, and let you access TVNow from anywhere.
After rounds and rounds of extensive testing and evaluation, I found that ExpressVPN is the best VPN for watching TVNow outside Germany. Not only does it offer the fastest speeds for streaming, it's also compatible with all my personal devices. Its state-of-the art security features keep me protected when connecting to WiFi hotspots in airports and hotels. If you're looking for a VPN that works with TVNow, try ExpressVPN — it comes with a 30-day money back guarantee. Should you decide that it's not for you, simply claim a full refund.
---
Summary — These Are the Best VPNs to Watch TVNow in 2022