How to Watch TV NOW Germany From Anywhere Abroad in 2021
Last Updated by Rob Harvey on June 20, 2021
I get angry that TVNOW.de stops me from watching content outside Germany even though I pay for an account. When I tried logging in abroad, it said my password was wrong or blocked me with this error message:
WE'RE SORRY! For legal reasons, we can't make some of our videos available in countries outside Germany. Unfortunately, the video you chose is part of it.
Don't worry though, you can use a VPN to log in to your TVNOW account from anywhere. This software gives you a local IP address so you can watch German exclusives, like Tatort, no matter where you are.
For research purposes, I tested 27 providers to shortlist the 3 best VPNs that can still go around TVNOW's detection in June 2021. To get started fast, you can try ExpressVPN's blazing-fast speeds to stream TVNOW risk-free with its 30-day money-back guarantee.
Note: Though it's unlikely for TVNOW to chase individual VPN users for watching its content abroad, using a VPN to change your location may go against the platform's T&Cs. Be sure to check before you start watching TVNOW.
Quick Guide: 3 Easy Steps to Watch TVNOW.de Abroad
Get a VPN. I suggest you use ExpressVPN's super-fast speeds to watch TVNOW lag-free. It also comes with a 30-day money-back guarantee!
Connect to a server in Germany. This will provide your device with a local IP address required to watch your favorite shows on TVNOW.
Start streaming TVNOW Germany! Simply log into your existing account or sign up to access the best German content immediately.
Watch TV NOW Germany with ExpressVPN
How a VPN Helps You Watch TVNOW.de From Anywhere
Due to copyright laws, TVNOW restricts its content to users physically located in Germany. The platform determines where you are by using your device's IP address. Some forums claim you can unblock TVNOW from anywhere with the right browser and specific extensions, but these methods don't change your IP address — so they won't work. To regain your viewing rights, you need to connect to a Virtual Private Network.
A VPN redirects your connection through encrypted servers to give you an IP address from your chosen location. That means that sites like TVNOW can't see you're abroad to enforce region-based blocks. Instead, TVNOW sees your German IP address and rightfully gives you access to your account. A premium VPN can also help you use your subscriptions on other local platforms, like German Netflix, JOYN, and DAZN, as well as other popular sites, including Disney+.
Though it doesn't happen often, your Internet Service Provider (ISP) or TVNOW may accidentally block your IP address when you're in Germany. Since a VPN channels your traffic through its own server network which easily solves any technical streaming problems. So with just one click of a button, you can regain access to your account no matter where you are.
Platforms like TVNOW constantly update their anti-VPN technology, so only top VPNs can bypass its geoblocks. My testing showed that ExpressVPN easily unblocks TVNOW and lets you stream buffer-free in UltraHD. I was also impressed that it regularly adds new IP addresses to its database so you never struggle to access your favorite shows, movies, and live content. You can even try ExpressVPN risk-free with its money-back policy for 30 days after subscribing!
3 Best VPNs for Watching TVNOW.de in June 2021
Key features:
3000+ global servers and 4 servers in Germany to access TVNOW and other platforms
Lightning-fast speeds let you stream your favorite content in UltraHD with no buffering
Watch TVNOW on up 5 devices simultaneously
24/7 live chat and email support available to answer any of your questions
30-day money-back guarantee
If you like your streams to load instantly, you'll be pleased to know that ExpressVPN offers download speeds that guarantee high-quality video streaming from anywhere. My testing found that the VPN stands out amongst its competitors with unbelievable speeds on its servers — including the 4 locations in Germany.
Despite so few available connections, you can make the most of ExpressVPN's unlimited bandwidth to watch all shows in HD with zero lag. I could always set up my connection in 4 seconds and my traffic was never interrupted, even when I was streaming on 3 different devices. This meant I watched Bundesliga Football on NITRO on my PC and a TVNOW exclusive, Are You The One?, on my phone without compromising on video quality. It was really important to me as I often torrent files while streaming and didn't want to pause my downloads to browse TVNOW.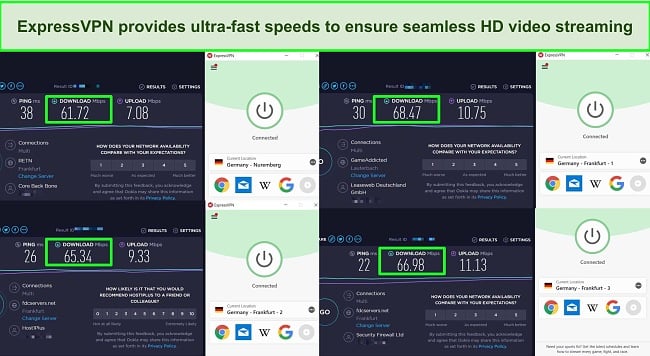 I tested ExpressVPN with other local streaming platforms and noticed the VPN bypassed all geoblocks every time. Within a few seconds, I was able to watch Letzter Atemzug on JOYN and experienced only a few seconds of buffering at the start of the stream. I also watched Dogs of Berlin on Netflix Germany.
ExpressVPN's security is so strong that it works even in the most censorship-heavy countries around the world. With my team's help, I found that it could easily bypass the online firewalls in China, India, and the UAE. That means you'll maintain your access to German websites and streaming platforms no matter where you travel.
The best way to determine if the service is right for you is to try ExpressVPN's lag-free TVNOW streams risk-free for 30 days with its money-back guarantee. When I tested it, I was pleased to find that its return policy really was no-questions-asked. I used the service for a week, then requested to cancel my subscription through its 24/7 live chat. The agent immediately processed my refund without trying to get me to stay. I got my money back within 4 days.
ExpressVPN also unblocks: ARD, ZDF, DAZN, JOYN, RTL, Pro Sieben, Netflix, Disney+, Amazon Prime, and more.
ExpressVPN works on: Windows, Android, iOS, macOS, Linux, Chrome, Firefox, and more.
June 2021 Update! ExpressVPN has dropped prices for a limited time to a crazy $6.67 per month for the 1-year plan (you can save up to 49%) + 3 months free! This is a limited offer so be sure to grab it now before it's gone. See more information on this offer here.
Key features:
6900+ servers around the world and over 600 German servers
Fast speeds on optimized servers to watch your favorite German shows uninterrupted
Stream TVNOW on up to 7 devices at the same time
24/7 live chat, email, and remote tech support available
45-day money-back guarantee
With CyberGhost's 600+ servers in Germany, you'll never have an issue finding a reliable connection that can unblock TVNOW. During testing, I was able to connect to a server in Frankfurt in about 8 seconds to watch Das Amt (The Office) and Love Island Germany. My traffic remained stable with speeds above 27Mbps which meant I didn't notice any buffering while streaming the shows on TVNOW in HD on any server connection.
While it doesn't have this option for TVNOW, CyberGhost has 9 optimized servers in Germany to give you the best streaming experience on many platforms. Configuring my connection through these specialized servers was very simple. To find an optimized server, I simply selected "For streaming" and typed "Germany" into the search bar. From there, I could connect to various streaming servers within a few seconds. The technology applied to these servers meant an episode of Berlin Station loaded within 10 seconds and didn't stop to buffer at all.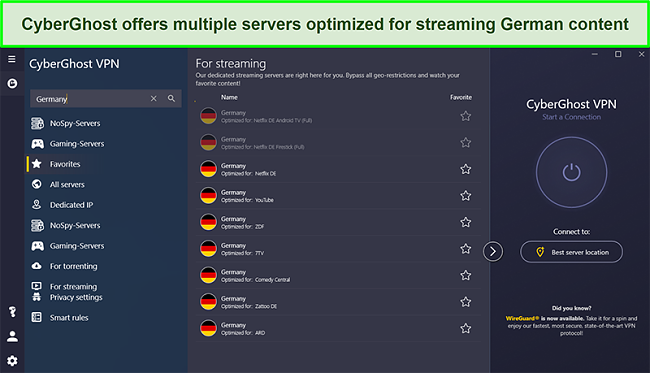 While I overall enjoyed CyberGhost's optimized servers, I noticed they sometimes became overcrowded and affected my video quality. Though the video resolution was still good enough to stream with minimal buffering, I improved my video quality by connecting to another optimized or even regular server.
I was disappointed that CyberGhost can't go around heavy online restrictions in countries like China and the UAE. This was frustrating since I frequently travel to China on business and am really bothered by the streaming restrictions I have to deal with. If you'd like to access TVNOW and other German-exclusive content from there, I suggest choosing another service, like ExpressVPN.
The VPN allows all of its new customers to test CyberGhost's optimized server list risk-free risk-free for 45 days with its money-back guarantee which is one of the longest refund policies offered by VPNs. I was worried it'd be more difficult to receive my refund after so long, but the agent processed my request without problems. My money was sent back to my PayPal within 6 business days.
CyberGhost also unblocks: ARD, ZDF, DAZN, JOYN, RTL, Pro Sieben, Netflix, Disney+, and more.
CyberGhost works on: Windows, Android, iOS, macOS, Chrome, Firefox, and more.
June 2021 Update: CyberGhost has dropped prices for a limited time to a crazy $2.25 per month for the 3-year plan (you can save up to 83%)! This is a limited offer so be sure to grab it now before it's gone. See more information on this offer here.

Key Features:
34400+ servers in over 78 countries, but only 2 German servers
Stable and fast speeds that ensure you can watch TVNOW lag-free
Log in to TVNOW on up to 10 devices at once
24/7 live chat and email support if you need any help
30-day money-back guarantee
Private Internet Access (PIA) lets you choose your preferred security settings and protocols so you can stream TVNOW at the fastest speeds. I suggest swapping to 128-bit encryption to give your streams an extra boost for buffer-free HD video. It was still powerful enough to stop my IP address from leaking and I experienced zero lag and fewer quality reductions when I watched Der Bachelor.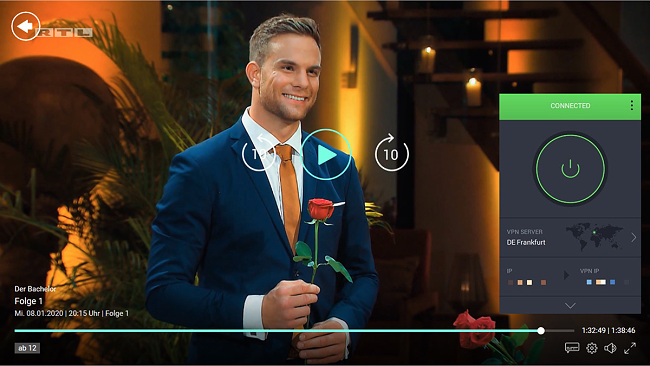 Many vendors offer their unique features only on selected operating systems, so I was surprised that I was able to change my PIA settings on all compatible devices. This let me keep up with top TVNOW content in equally high quality on my Windows laptop, Samsung phone, and iPhone.
You'll be able to avoid constant ads interrupting your stream as PIA comes with an integrated ad and malware blocker. This feature stops advertisements and background trackers from slowing down your streaming speeds. I found the blocker very efficient as I never had to deal with lags, buffering, or quality drops as I streamed live TV on TVNOW for 3 hours.
I found that PIA speeds were slower if I was connecting to its German servers from further away. I travel a lot so I often watch TVNOW from various countries worldwide — and PIA gave me the best speeds when I was connecting to the platform from Europe. However, I had to sit through multiple buffering stops if I wanted to stream Love Island Germany from the US and Australia. Swapping my encryption and VPN port boosted my speeds, so it's not a deal-breaker though.
Before you commit, I recommend you use PIA with its money-back guarantee to watch TVNOW risk-free for 30 days. The guarantee lets you get a refund if you're not completely satisfied. I went through the refund process myself — I had to explain that I didn't need the VPN anymore and the agent quickly approved my request. The full subscription fee was back in my bank account within a week.
PIA also unblocks: ARD, DAZN, JOYN, RTL, Pro Sieben, Netflix, Disney+, and more.
PIA also works on: Windows, Android, iOS, macOS, Chrome, and more.
Can I Use a Free VPN to Watch TVNOW.de While Abroad?
Though some guides recommend using free VPNs, I wouldn't suggest it because they can't reliably unblock TVNOW or keep you safe.
To offer their services without any charge, even the best quality free VPNs limit their users and don't have the technology needed to bypass restrictions on any streaming sites. The few providers which successfully helped me access TVNOW, DAZN, and JOYN capped my data so my stream stopped after 3 minutes into Der Bachelor. Another problem I encountered was the low number of servers in Germany I could choose from. Most of the available locations became overcrowded in less than 30 minutes which slowed down my streams, causing a drop in video quality and major buffering.
Given the possible security risks, I can't recommend using free VPNs because a majority of these services gamble your online safety. As they don't make money off subscription fees, free vendors log and sell your user data to advertisers, the government, and even cybercriminals. I also found that some free VPNs plant malware and viruses on your devices to collect more information and expose you to fraud!
For a low-cost way to access TVNOW, I suggest you take advantage of ExpressVPN's money-back guarantee in combination with TVNOW's free trial. This will let you watch all of your favorite shows without stretching your budget for 30 days. During that time, you can decide whether you want to keep either of the services. After using ExpressVPNVPN for a few days, I requested a refund from its customer support through the 24/7 live chat. The money was sent directly to my bank account within 4 days. Similarly, I canceled my TVNOW premium account by logging into my profile and selecting the "Cancel TVNOW Premium" option.
How to Choose the Best VPN for Watching TVNOW.de
Although there are hundreds of VPNs that offer servers in Germany, they don't always work with TVNOW as the platform constantly upgrades its VPN-blocking technology. To provide you with the list of services that actually unblock TVNOW, I made sure the recommended VPNs have:
Multiple servers in Germany to give you as many options as possible to get a working local IP address to unblock TVNOW
Fast speeds with short loading times so you can enjoy high-quality streaming
Reliable encryption to encode your data so you can evade VPN-blocking technology
24/7 customer support so that you always have an expert available to recommend the fastest servers for streaming
Money-back guarantees to allow you to test its compatibility with TVNOW and your other favorite streaming platforms for free for at least 30 days
FAQs on Watching TVNOW From Outside Germany
Do I have to pay to access TVNOW from abroad?
There are multiple ways to watch TVNOW from anywhere without spending a penny.
First, TVNOW lets you set up a free-of-charge account. Keep in mind the free profile will only give you access to less popular German shows and you'll have to wait a few minutes of ads before watching anything. To avoid these restrictions and unblock TVNOW original shows and live channels in HD video quality, choose a Premium or Premium+ subscription plan. These come at a small monthly charge, but the platform allows you to try it out for free for the first 30 days.
As a German resident, you can create any TVNOW account from anywhere by connecting to a VPN with a money-back policy, such as ExpressVPN. Though you have to pay to create your account, the 30-day money-back guarantee lets you test ExpressVPN without getting locked in a long-term subscription straight away. If you change your mind before the policy ends, you'll be able to get a full refund — no questions asked.
Why can't I access TVNOW.de with my VPN?
As TVNOW frequently updates its VPN-detection methods, you may find your VPN blocked from accessing the content on the platform. Even though lower-quality VPNs are more likely to get blocked, even the best services can become temporarily restricted. If you use a top streaming VPN and are experiencing issues, try the following:
Reconnect to a different server in Germany. You can also check if you're connected to the correct location by using an IP address checker.
Clear your cache and cookies. This will ensure your browser is clear of any trackers and will present you as a brand new TVNOW user.
Change your encryption protocol and a VPN port. I'd suggest using SSL/TLS encryption and a 2018 port as they're the best at bypassing geoblocks.
Contact your VPN's customer service if you're still experiencing any issues. A rep will walk you through solutions step-by-step!
What can I watch on TVNOW.de?
TVNOW offers hundreds of on-demand TV shows and movies, including the platform's originals and remakes of popular programs. When you set up your VPN, you'll get access to Prince Charming, Everyone Loves Jimmy, Die Bachelorette, Temptation Island, and many other shows. Additionally, you can use TVNOW to live stream popular German TV channels, such as RTL, VOX, Nitro, VOXup, Now!, Toggo Plus, NTV, RTL Passion, and Geo Television.
Don't Miss Your Favorite Shows on TVNOW.de While Abroad
You can use a high-quality VPN to access your TVNOW account at home or during your travels. After connecting to a German server, you'll be able to stream your favorite local shows like Next Generation, Temptation Island, Die Bachelorette, and Prince Charming. Additionally, you can use a VPN to log in to other streaming platforms you pay for, such as DAZN, Netflix, Disney+, and Amazon Prime.
After conducting extensive testing, I found that ExpressVPN is the best service to unlock TVNOW from around the globe. It can reliably bypass geoblocks in Germany with its hundreds of servers and give you access to TVNOW shows in a few seconds. You don't have to blindly follow my recommendation — try ExpressVPN yourself and unblock your TVNOW streams with its 30-day money-back guarantee. If you don't like it, simply ask for a refund and you'll receive it without any problems!
Try ExpressVPN to stream TVNOW
Summary — These Are the Best VPNs to Watch TVNOW.de in 2021
Top Choice