Does Ivacy VPN Work with Netflix (Tested October 2020)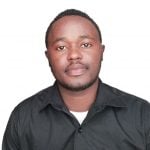 Last Updated by Joel Timothy on October 01, 2020
Unblocking Netflix opens you up to thousands more featured titles that are otherwise unavailable in your location. However, it's not easy to do as Netflix blocks VPN access.
Only specific VPNs can actually unblock Netflix successfully, and Ivacy VPN claims to be one of them. To certify their claim, we decided to do a couple of tests using the service.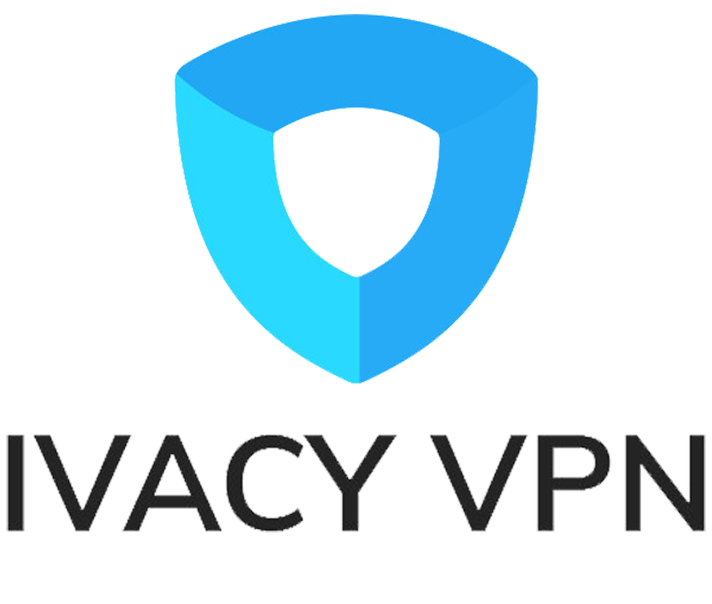 Additionally,
Ivacy
also provides other
useful features
, including:
1,000+ servers, 100+ locations
Unlimited bandwidth
256-bit encryption
Internet kill switch
Does the VPN work with Netflix US?
Ivacy VPN's client has an optimized streaming mode that allows you to select the service you want to use, including Netflix US, Hulu, and Amazon Prime, instead of specific locations. We used this mode to test the connections.
Establishing a connection, we opened Netflix US and selected shows which are exclusive to the American branch, and the streaming worked seamlessly.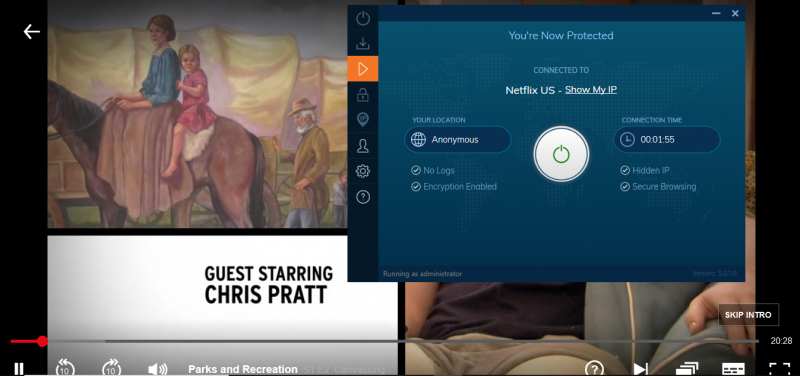 Next, we wanted to see if you can choose any US server without having to use the designated Netflix mode. We tested various servers and were glad to see that all of them work.
What this means is as long as you connect to a US server, you can use Ivacy to watch Netflix US. However, since Netflix keeps on blocking servers, it's advisable to use the streaming mode which has been optimized for Netflix and other services.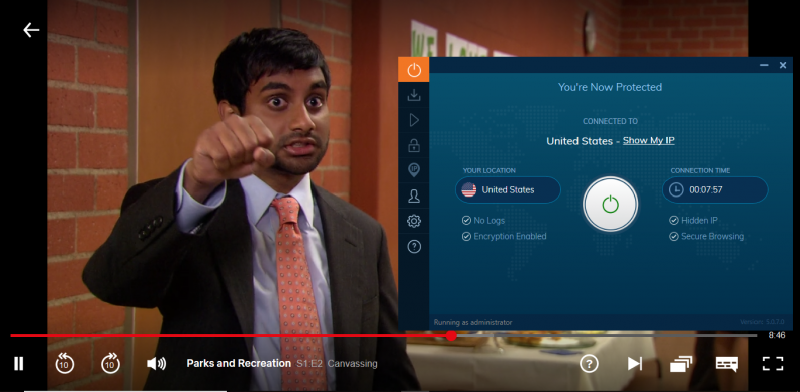 Does Ivacy VPN work with other Netflix Libraries?
Unfortunately, if you are interested in Netflix UK, Canada, France, Japan, or any other location, Ivacy may not be the VPN for you. According to the official website and the customer care team, Ivacy VPN only optimizes its servers for Netflix US.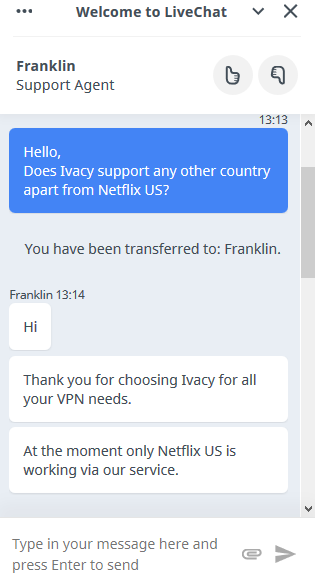 However, there's always the option of trial and error. We carried out a few tests with Netflix UK, Canada, and France, and we found that some servers could access various Netflix regions although most of them couldn't.
Ivacy VPN is only reliable for watching Netflix US, which could be worse since Netflix US does actually posses the most extensive content library.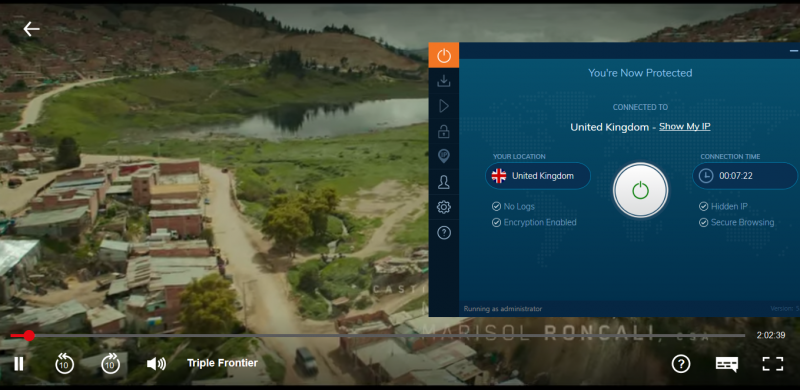 Ivacy worked in the UK, but not in Canada
Pardon the interruption
You seem to be using an unblocker or proxy. Please turn off any of these services and try again. For more help, visit netflix.com/proxy.
Error Code: M7111-5059
Alternatives for Watching other Netflix Libraries
If Ivacy doesn't do the trick for you, there are still other options that you can use to watch movies or shows.
1

Try torrenting the shows you want
With torrents, you can watch almost any show you want. Various torrent sites that host even the latest movies and episodes. However, you will still need a secure VPN like when NordVPN when using torrents.
Torrenting pirated shows is illegal, and Wizcase neither recommends nor promotes it. Thousands of users have received DMCA notices for partaking in P2P file sharing of copyrighted material, and your ISP can also throttle your connection for accessing illegal content or consuming a lot of bandwidth.
2

Look for content on an alternative streaming site
Though it's the most popular, Netflix is not the only streaming site out there. The show you are looking for can be available on another site.
Some of them like Hulu may require you to have a subscription, but there are also other free and legal sites like BBC iPlayer, Tubi.tv, Popcornflix, Crackle, etc.
3

Get a VPN that will access various Netflix Libraries
Many other VPN services offer even better circumvention services than Ivacy. If you are within the first 30 days of your subscription, you can still get your money back from the VPN. To do this, just contact their live chat agents or log in to the member area.
After that, you can choose between any of the three services recommended below.
Three Alternative VPNs that work with Netflix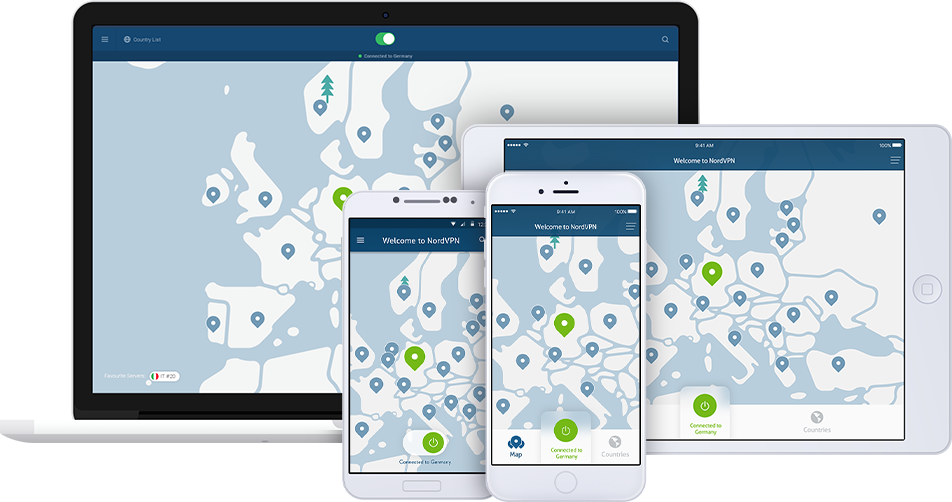 Unlimited bandwidth
5,000+ global servers
Compatible with Windows, Mac, iOS, Android, and more
24/7 customer support
NordVPN is another great alternative for watching Netflix. Actually, almost every server on their network works with Netflix.
Thanks to their SmartPlay feature which connects you to Netflix US whenever you use a server in a country whose Netflix they don't provide. The supported libraries are Netflix US, UK, Germany, and France.
The VPN is also one of the best in the market, and you will get to enjoy its super speed service thanks to the largest server network in the market. For any plan you choose, you will get a 30-day money-back guarantee.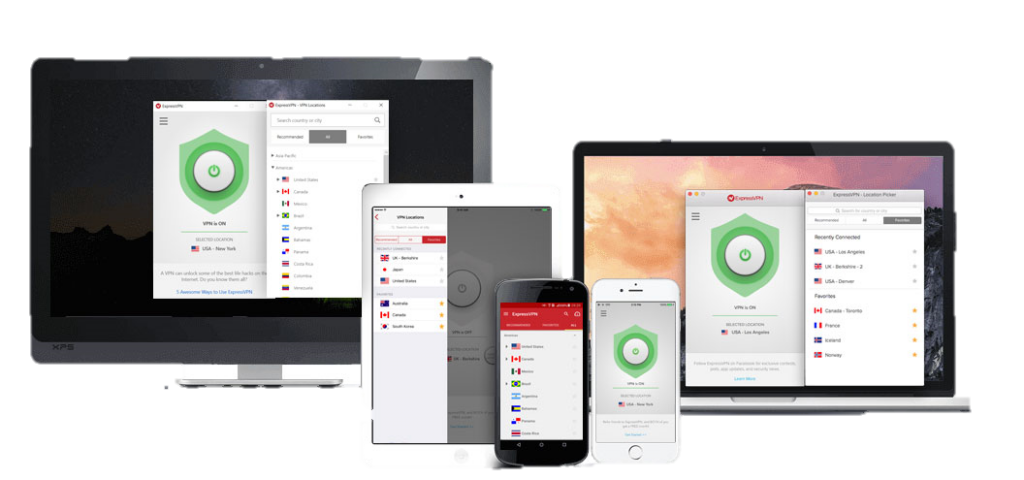 Unlimited bandwidth
3,000+ global servers
Compatible with Windows, Mac, iOS, Android, and more
24/7 customer service
ExpressVPN is one of the fastest VPN services around, and it's excellent when it comes to streaming on Netflix. The VPN has four servers that are dedicated to streaming Netflix US.
There are also servers that let you stream Netflix UK, Canada, Germany, France, Japan, Netherlands, India, and various other countries.
Apart from that, you can also unblock almost any other streaming services, as well as overcome restrictions in highly censored countries. For all its plans, ExpressVPN offers you a 30-day money-back guarantee to try out their service comfortably.
Stream Netflix with ExpressVPN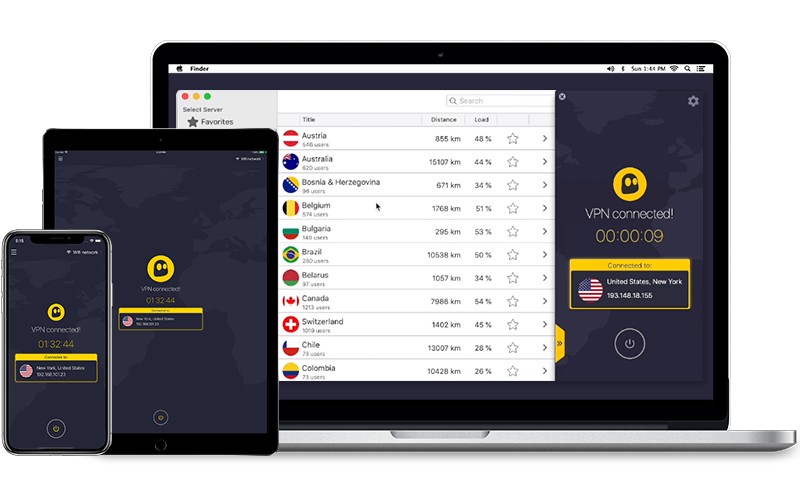 Unlimited bandwidth
Simultaneous connections on up to seven devices
Compatible with Windows, Mac, iOS, Android, and more
24/7 customer support
CyberGhost VPN is an awesome alternative for streaming on Netflix. The VPN has dramatically improved in the recent past, and it offers various Netflix libraries. These include Netflix US, UK, Germany, and France.
To select any of them, the VPN has a dedicated streaming mode where each server clearly states what it offers.
Apart from Netflix, you can also stream most of the other popular services. You will get to enjoy the VPN's 3,700+ servers in 60 countries, and your subscription will be covered with a 45-day money-back guarantee.
Stream Netflix with CyberGhost
What other streaming sites does it work with?
Even if Ivacy only unblocks Netflix US, there are various other streaming services that you can watch with the VPN. These include:
Amazon Prime Video
BBC News
Hulu
ABC
HBO Go
ITV
BT Sports
BeinSports
Fox
NBC, and many more.
Why Netflix blocks VPNs
Netflix doesn't allow VPNs on their network. The company implemented the policy after pressure from copyright holders.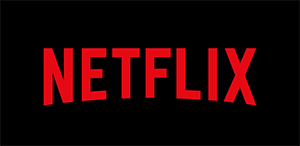 These content owners operate by selling distribution rights, and so they have to make the most out of every region.
To provide certain shows in a region, any distributor has to pay for the rights. Since a VPN offers a way to circumvent these restrictions, Netflix was under pressure to respond.
When you connect to an online service, your IP address determines your location. With Netflix, this also determines what library you can access.
Using the amount of traffic sharing specific IP addresses, Netflix servers can distinguish with some accuracy which is part of a VPN network and can routinely blacklist any that flag up. The IP blacklist is continually updated.
Why Netflix is better with a VPN
Using a VPN helps you overcome all the restrictions that have been placed on your region. Depending on location, various countries are treated differently even when it comes to releasing movies and episodes that will later be available everywhere.
Here's how you can make the most out of Netflix with a VPN:
Unblock a particular Show
To watch shows like The Big Bang Theory, VPNs like CyberGhost or ExpressVPN, which will give you access to Germany Netflix, are required. This applies to thousands of other shows that can only be found in certain countries.
Watch Netflix Home
If you have traveled abroad for business, holidays, or as an expat, there are shows that you will no longer be able to watch. A VPN can eliminate these issues.
Get Shows Early
Netflix releases episodes and movies depending on which region you are. Some episodes that you are waiting to get on Netflix might already be available in Netflix US and other libraries.
Just as they claim, Ivacy VPN is very reliable at unblocking Netflix US. During our tests, the VPN clients also functioned very well with quick connections and high speeds for streaming in 1080p. However, the Ivacy VPN doesn't work with most other libraries, and so you may have to select another option for that.
ExpressVPN, NordVPN, and CyberGhost
are the top alternatives for unblocking libraries for
UK, US, Canada, France, Japan, Germany, Netherlands
, etc.