25 Best Dark Web Links in 2023 (Use Dark Web Sites Safely)
The Dark Web can be a weird and wonderful place — it's a haven for people fighting against censorship and oppression as well as an access point to uncensored news, anonymous messaging services, and decentralized financial services. However, it's also a hotspot for hackers and shady third parties.
To get you started, I've shortlisted 25 of the most popular and interesting Dark Web links and put together a guide on safely accessing them with the Tor browser (your regular browser won't work). I strongly suggest connecting to a VPN before visiting the Dark web to keep your activity fully private.
ExpressVPN is my top pick for the Dark Web — it has top-tier security features to keep you anonymous and fast speeds to counteract Tor's sluggishness. Plus, you can try ExpressVPN with Tor completely risk-free. It's backed by a 30-day money-back guarantee, so you can claim a refund if you're not satisfied.
Explore the Dark Web with ExpressVPN
Note! My team and I don't condone any illegal behavior. While surfing the Dark Web is legal, it does contain sites that are not legal to visit. Please exercise a basic level of caution when visiting sites through the Dark Web and make sure to do your research.
Quick Guide: 25 Best Dark Web Links in 2023
Explore .onion sites with ExpressVPN
The 25 Best Dark Web Sites (Updated in 2023)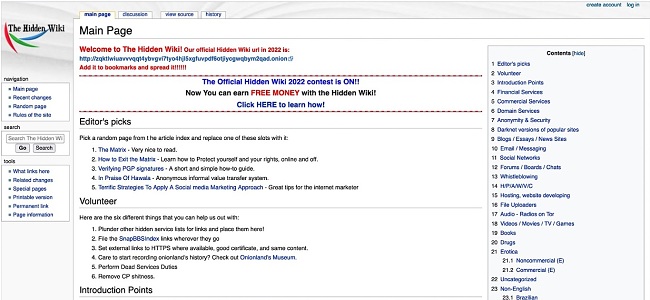 The Hidden Wiki is the Dark Web version of Wikipedia: a directory that indexes links of .onion sites to help you navigate the Tor network. It gives you access to Dark Web social networks, anonymous chat rooms, blogs, and more.
Directories like The Hidden Wiki play a crucial role in navigating the Dark Web since .onion URLs lack the descriptive information commonly found on the standard web. Consequently, locating specific websites becomes challenging. However, The Hidden Wiki simplifies the process by offering an extensive directory categorized by different subjects, facilitating easy access to a variety of sites.
Keep in mind that since it's such a popular resource, there are many counterfeit versions of The Hidden Wiki on the Dark Web. It's best to stay away from these spin-offs, as they could host links to malicious sites you wouldn't want to visit.
The Hidden Wiki URL: http://zqktlwiuavvvqqt4ybvgvi7tyo4hjl5xgfuvpdf6otjiycgwqbym2qad.onion/wiki/index.php/Main_Page
Note: The Hidden Wiki is uncensored, which means it indexes both legal and illegal websites — you'll find legitimate websites alongside those that cater to pedophiles, scammers, and money launderers. Not all the links listed may be functional or safe either because anyone from anywhere can edit the URLs showcased on The Hidden Wiki. Avoid these illegal categories and protect your private data using a trustworthy VPN.
2. TorLinks — A Backup Directory of .onion Sites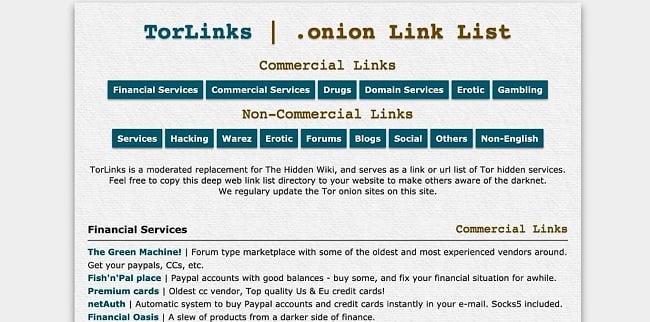 TorLinks is similar to The Hidden Wiki, allowing you to find .onion sites quickly and easily. If The Hidden Wiki goes offline or is unavailable, your first choice should be TorLinks. It also allows you to find alternatives for many sites that are no longer available on the Dark Web.
However, when compared to The Hidden Wiki, TorLinks isn't as detailed and is harder to navigate due to The Hidden Wiki's close resemblance to Wikipedia — which many of us are familiar with.
TorLinks URL: http://torlinksge6enmcyyuxjpjkoouw4oorgdgeo7ftnq3zodj7g2zxi3kyd.onion/
3. DuckDuckGo — A Surface Web Search Engine That Doesn't Track You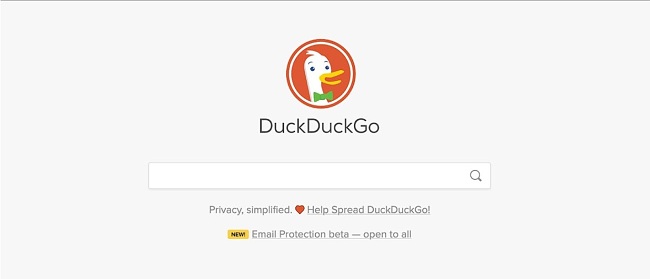 If you want to access the Surface Web through Tor, you'll be able to use DuckDuckGo for added privacy and anonymity.
DuckDuckGo is a private search engine that allows you to access regular websites and the Dark Web without collecting or sharing your personal data. In doing so, you'll acquire added protection from the Tor Network and DuckDuckGo simultaneously.
DuckDuckGo URL: https://duckduckgogg42xjoc72x3sjasowoarfbgcmvfimaftt6twagswzczad.onion/
4. Dark Web Search Engines (Torch, Ahmia, Daniel, and Haystak)
As an alternative to directories like The Hidden Wiki and TorLinks, you can use search engines for Dark Web websites. Some of the most popular Dark Web search engines include:
Torch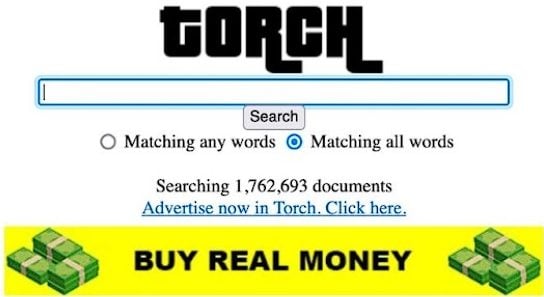 Torch, being the longest-standing search engine on the Tor network, possesses the vastest collection of .onion links, comprising more than 1 billion indexed .onion pages. Additionally, it provides supplementary details regarding search outcomes, such as page sizes for your reference, all while ensuring the non-logging of your activities.
Torch doesn't censor search results.
Torch URL: http://xmh57jrknzkhv6y3ls3ubitzfqnkrwxhopf5aygthi7d6rplyvk3noyd.onion/
Ahmia
Even though it's a Dark Web search engine, Ahmia is also available on the surface web and accessible from regular browsers. Of course, you still won't be able to follow any links without the Tor browser, but it's a good way to see what's available before downloading Tor.
Ahmia URL: http://juhanurmihxlp77nkq76byazcldy2hlmovfu2epvl5ankdibsot4csyd.onion/
Daniel
If you're new to the Dark Web, Daniel is a great place to start. While it functions as a search engine, Daniel also lets you explore over 7000 categorized .onion links. This is particularly helpful if you don't know what you're looking for.
The best part about Daniel is that it shows whether a particular onion site is online or not. This is very helpful, especially since onion links are notorious for going offline.
Daniel URL: http://danschat356lctri3zavzh6fbxg2a7lo6z3etgkctzzpspewu7zdsaqd.onion/
Haystak
Haystak has a friendly interface and an index of 1.5 billion pages over 260,000 onion sites. Like Ahmia, Haystak filters out dangerous content.
Haystak URL: http://haystak5njsmn2hqkewecpaxetahtwhsbsa64jom2k22z5afxhnpxfid.onion/
Important! Like many tools on the Dark Web, most Dark Web search engines don't censor search results. Stick to safe categories to avoid illegal content, scams, and malware.
5. ProtonMail — Anonymous & Ultra-Secure Email Services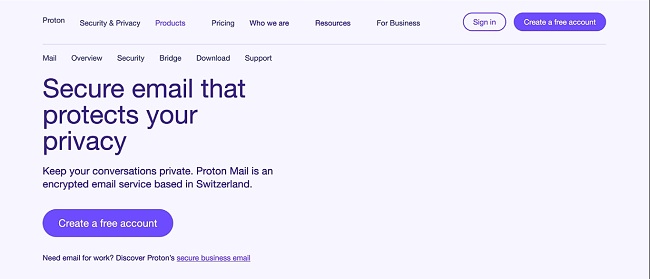 One of the most recommended and trusted private email providers with over 70 million active users in over 150 countries, ProtonMail allows you to send and receive encrypted emails for free without interception.
One of the widely used email services on the Dark Web is highly popular and even offers a version for the surface web if you prefer. It employs end-to-end encryption to safeguard user anonymity and provides reliable access to high-quality email services. In addition, it offers an automated login recovery system to help users regain access in case of credential loss. It is noteworthy that this service offers superior security compared to well-known platforms like Gmail and Hotmail.
ProtonMail URL: https://protonmailrmez3lotccipshtkleegetolb73fuirgj7r4o4vfu7ozyd.onion/
6. RiseUp — An Invite-Only Secure Communication Platform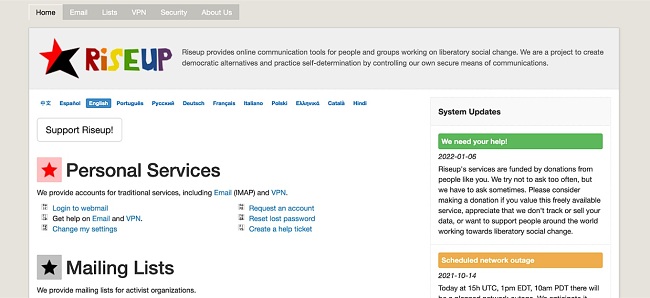 Developed in 1999 for people working towards social change, RiseUp provides a secure communication platform protected from government interference and cyber attacks by holding no record of communication. You'll be unable to create an account without an invitation code, but you can visit its security section to find tips on how to improve your privacy and security.
RiseUp URL: http://vww6ybal4bd7szmgncyruucpgfkqahzddi37ktceo3ah7ngmcopnpyyd.onion/
7. The Intercept — Publishes Fearless and Unfiltered Political News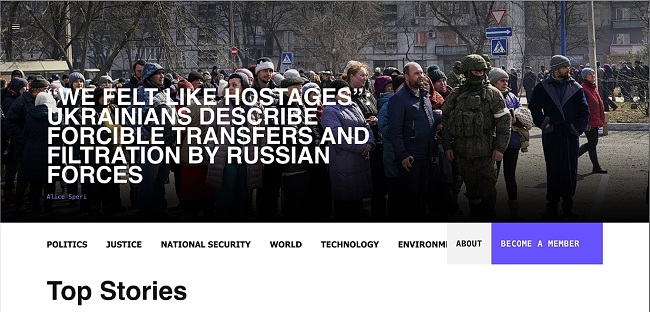 The Intercept operates as a news platform, dedicated to presenting bold and confrontational journalism. Our emphasis lies in affording journalists the essential editorial independence and legal backing to delve into instances of corruption and various forms of injustice. Numerous pieces we feature hinge on disclosures and confidential insiders. To ensure utmost security, our .onion address encompasses SecureDrop, a tool designed for whistleblowers. This mechanism empowers users to contribute documents without exposing their identities.
To stay anonymous when reading or contacting a news source like The Intercept, use a VPN with a strict no-logging policy like ExpressVPN before connecting to your Tor browser.
The Intercept URL: https://27m3p2uv7igmj6kvd4ql3cct5h3sdwrsajovkkndeufumzyfhlfev4qd.onion/
8. Darknetlive — Discover How to Use the Dark Web From Anywhere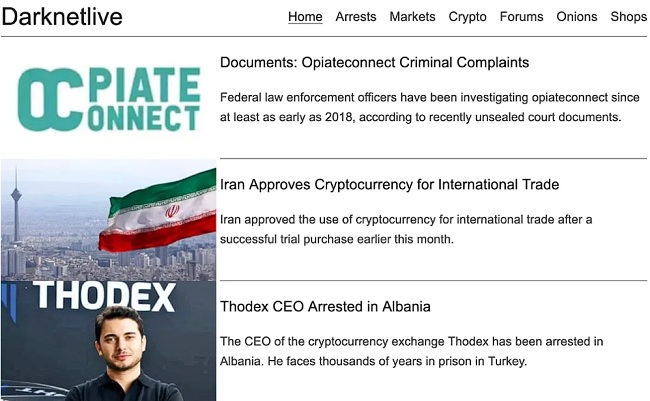 Darknetlive is a news site covering information related to the Dark Web, including darknet market sites, cryptocurrency resources, onion link indexes, and arrests related to Dark Web activities.
Darknetlive URL: http://darkzzx4avcsuofgfez5zq75cqc4mprjvfqywo45dfcaxrwqg6qrlfid.onion/
9. Kilos — The Most Extensive Search Engine on the Dark Web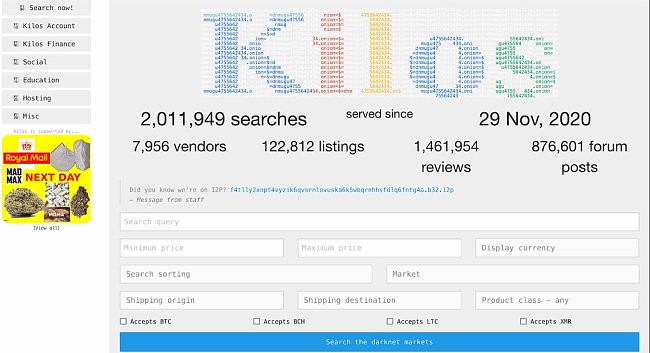 Kilos is one of the newest and most extensive search engines on the Dark Web, with an expanding index of 7 darknet marketplaces and 6 forums. It also offers its own members-only live chat and, most recently, a Bitcoin mixer called Krumble.
Its most popular feature is its advanced darknet market search, which lets you find vendors and listings for the products you want to buy, and filter results by price, shipping destination, and currency.
Kilos URL: http://mlyusr6htlxsyc7t2f4z53wdxh3win7q3qpxcrbam6jf3dmua7tnzuyd.onion/
10. ProPublica — Pulitzer Prize-Winning News Publication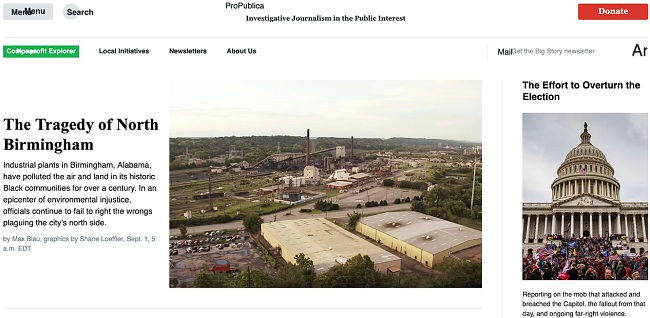 ProPublica is a five-time Pulitzer-winning news organization that uses investigative journalism to expose corruption and the betrayal of public trust at the highest levels of government. You can find its articles in Spanish and English, ensuring its content is easily accessible wherever you are.
While it is accessible on the clearnet, ProPublica also maintains a Tor website. Accessing it via Tor gives you a layer of anonymity and lets you bypass blocks in countries with strict online censorship.
ProPublica URL: http://p53lf57qovyuvwsc6xnrppyply3vtqm7l6pcobkmyqsiofyeznfu5uqd.onion/
Other news publications with mirror .onion sites include:
BBC News URL: https://www.bbcnewsd73hkzno2ini43t4gblxvycyac5aw4gnv7t2rccijh7745uqd.onion/
The New York Times URL: https://www.nytimesn7cgmftshazwhfgzm37qxb44r64ytbb2dj3x62d2lljsciiyd.onion/
Deutsche Welle URL: http://dwnewsgngmhlplxy6o2twtfgjnrnjxbegbwqx6wnotdhkzt562tszfid.onion/en/top-stories/s-9097
11. SecureDrop — A Secure Way to Share Sensitive Information With the Media
SecureDrop is an open-source whistleblower submission system that media organizations use to securely accept documents from anonymous sources.
Over 50 news organizations use SecureDrop worldwide, including The New York Times, The Washington Post, The Intercept, The Globe and Mail, and ProPublica. Advantages of SecureDrop include:
No third-party involvement.
Encryption.
The use of best practices to ensure your protection from hackers.
SecureDrop URL: http://sdolvtfhatvsysc6l34d65ymdwxcujausv7k5jk4cy5ttzhjoi6fzvyd.onion/
12. Dread — The Reddit of the Dark Web
As Tor's equivalent to Reddit, you'll be able to make an account and leave your thoughts on a variety of topics without compromising your privacy or anonymity. Dread was created in 2018 when Reddit banned 200k+ users on an Infinity War sub — the largest mass ban in its history — to overcome censorship and strict moderation.
However, the anonymity of its users and lack of moderation makes it difficult to regulate. For example, trolling, the spread of misinformation, and offensive comments are common on Dread, while they're usually quickly removed from similar forums on the clearnet.
You can find useful information and help on many topics, but I suggest you proceed with caution due to its lack of moderation.
Dread URL: http://dreadytofatroptsdj6io7l3xptbet6onoyno2yv7jicoxknyazubrad.onion/
13. Invidious — An Ad-Free & Tracker-Free YouTube Alternative
Invidious is an open-source front-end alternative to YouTube. This means you can access your favorite YouTube channels and videos without Google tracking you. Plus, you'll never be asked to sign in or create an account to start watching, and it's totally ad-free!
Invidious URL: http://c7hqkpkpemu6e7emz5b4vyz7idjgdvgaaa3dyimmeojqbgpea3xqjoid.onion/
14. Facebook — An .onion Site for Privacy-Focused Facebook Users
Facebook's onion site works exactly like its clearnet page, allowing you to communicate with your friends and family without anonymity. This means that Facebook, your friends, family, ISP, and governmental organizations can see what you like, comment on, and post.
The rising popularity of Tor and internet privacy is what urged Facebook to develop its .onion site, as many Tor users would regularly experience blocks and be unable to access Facebook's services.
Using a VPN and Tor to access Facebook improves your privacy and security compared to using the Surface Web, as you're no longer susceptible to cyber attacks. If you're looking for information on political upheaval, war, oppressive government crackdowns, and secure communication with your family and friends, Facebook's onion site is a good option.
Facebook URL: https://www.facebookwkhpilnemxj7asaniu7vnjjbiltxjqhye3mhbshg7kx5tfyd.onion/
15. Imperial Library of Trantor — Access Over One Million Books for Free
The Imperial Library has over 1 million books separated into 40+ categories, ensuring you can find your favorite genres like fantasy novels, self-help books, or a biography. However, since this is a Dark Web site, there is the possibility that the content you access and download is copyrighted and, therefore, against the law to access without permission. Because of this, we neither encourage nor condone the use of the Imperial Library.
If you're worried about reading books without permission, you can use its online forum to participate in discussions about books you've read with people with similar interests. Plus, if the book has been published for over 70 years (after the author's death), it is no longer protected by copyright in the UK and can be downloaded without breaking any laws. In some countries, you can overcome copyright in less than 50 years, making it safe to download older manuscripts and participate in research.
Imperial Library URL: http://kx5thpx2olielkihfyo4jgjqfb7zx7wxr3sd4xzt26ochei4m6f7tayd.onion/
16. Comic Book Library — The Best Dark Web Site for Comic Book Lovers
The Comic Book Library is one of the best onion sites for comic book lovers, giving you direct access to thousands of downloadable comics ranging from niche titles to more popular ones. Similar to the Imperial Library, in the sense that it provides copyrighted content, you should always be vigilant to make sure you don't break any laws.
Comic Book Library URL: http://nv3x2jozywh63fkohn5mwp2d73vasusjixn3im3ueof52fmbjsigw6ad.onion/
17. Deep Web Radio — Listen to 20+ Radio Channels While Using Tor
Deep Web Radio is the perfect place to find good music while browsing the Dark Web, ensuring access to over 20 different channels depending on your favorite genre. The benefit of using Deep Web Radio is that you don't have to use the clearnet while exploring the Dark Web.
Deep Web Radio URL: http://anonyradixhkgh5myfrkarggfnmdzzhhcgoy2v66uf7sml27to5n2tid.onion/
18. Wasabi Wallet — Buy & Sell Bitcoin Anonymously
Wasabi Wallet is one of the most popular platforms on the Dark Web, allowing you to buy, sell, and manage your cryptocurrency anonymously. It combines unique features and protocols to maximize your protection and ensure the anonymity of your Bitcoin transactions, including:
CoinJoin: A process that allows strangers to anonymize their Bitcoin transactions by mixing coins with strangers online. This lets you hide which transaction was yours, making it almost impossible to trace back to you.
Neutrino protocol: Used to verify payments and maximize your security by compressing a block of transactions before sending it to a client. In doing so, it doesn't have to rely on servers to protect its user's data, and it becomes the task of the client.
Wasabi Wallet URL: http://wasabiukrxmkdgve5kynjztuovbg43uxcbcxn6y2okcrsg7gb6jdmbad.onion/
19. Beneath VT — Explore Virginia Tech's Steam Tunnels
Beneath VT is an onion site dedicated to exploring the steam tunnels below Virginia Tech University in the US. The tunnels carry steam, electricity, and telecommunications lines throughout the campus. The site features log entries, maps, videos, and an extensive list of the dangers the various tunnels can pose to people who enter them.
Beneath VT URL: http://bvten5svsltfpxrxl72ukqxixwo2m5ek5svmcxgrmkta4tbmiemuibid.onion/
20. Tor Metrics — An Archive of Historical Data With Interesting Stats
Tor Metrics collects data from the public Tor network and archives historical data, making it an excellent place for you to gain more information about the Tor project. You will be able to use Tor and the Dark Web to find statistics for use at college or university. However, some of the information found on Tor Metrics can be considered sensitive information and may not be appropriate for public consumption.
The data collected within Tor Metrics is required for understanding, monitoring, and improving the Tor network. Without it, it'd be difficult to enhance the security and anonymity provided and may make it more difficult to detect cyber attacks against the network itself.
TorMetrics URL: http://hctxrvjzfpvmzh2jllqhgvvkoepxb4kfzdjm6h7egcwlumggtktiftid.onion/
21. Webpage Archive — Compare Dark Web Sites Over Time
Like the clearnet's Wayback Machine, Webpage Archive takes and stores snapshots of onion sites so you can see what any site looked like at an earlier date. Snapshots of webpages are submitted by users, so you can share your findings with others and preserve interesting and valuable information in the archive.
Webpage Archive URL: http://archiveiya74codqgiixo33q62qlrqtkgmcitqx5u2oeqnmn5bpcbiyd.onion/
22. Impreza Hosting — Dark Web Site Hosting Services
Even sites on the Dark Web need to be hosted somehow, and Impreza Hosting is one of the best services to get your Dark Web site up and running. Even though you need technical expertise to set up a website with them — you can rent its servers to run your site, register your domain name, host email services, and everything else that services like GoDaddy have on the regular internet.
Impreza Hosting URL: https://imprezareshna326gqgmbdzwmnad2wnjmeowh45bs2buxarh5qummjad.onion/
23. The CIA — Secure Communication for Whistleblowers
The CIA (Central Intelligence Agency) created its own .onion site to expand its online communication with the public. The site is aimed at people who want to anonymously share information with the CIA but are wary of being tracked. It also provides the same information as its clearnet site.
Interestingly, the CIA is responsible for the Tor network, aiming to protect American intelligence communications online.
The CIA URL: http://ciadotgov4sjwlzihbbgxnqg3xiyrg7so2r2o3lt5wz5ypk4sxyjstad.onion/
24. The Hub — The Most Popular Social Forum on the Dark Web
One of the Dark Web's most popular social forums, The Hub allows you to access multiple boards and discussions relating to various topics, including general news, marketplaces within the Dark Web, cryptocurrency, and more. However, you'll need to create an account to access the forums and chat with like-minded individuals.
The Hub URL: http://thehubmcwyzwijjoqvdtpmu36npcueypjbgnvbqz4jliwjmmnpfkzkqd.onion/
25. Keybase — Combine All Your Online Identities to Avoid Scammers
Keybase makes it impossible for hackers to impersonate your profile by combining your online identities cryptographically. To do this, you can get a PGP key from the platform itself or upload your own, allowing you to link your GitHub, Twitter, Bitcoin address, and Facebook accounts together.
Keybase URL: http://lkqtqdg3huidb2w4nzobusvpq5iuveqc6ok6ma3od5jzxcnbwkriimqd.onion/
What is the Dark Web and How to Stay Safe From The Dangers
Considered a dangerous place where the general public can access sensitive information and illegal products and services, the Dark Web is often misconstrued and has a bad reputation compared to the Surface and Deep Web. However, there are many safe and legal products and services accessible through the Dark Web, including journal articles, bitcoin wallets, secure communication channels, and search engines.
The Surface Web is the most accessible part of the World Wide Web, readily available for the general public to use and consume from standard search engines (like Google).
The Deep Web is an inaccessible part of the World Wide Web, requiring passwords and specific IP addresses to access sites that aren't indexed using search engines and are, therefore, difficult to locate.
The Dark Web is a subset of the Deep Web that is intentionally hidden, requiring a specific browser (Tor) to access unindexed sites anonymously without attracting prying eyes and unwanted attention from Internet Service Providers (ISPs).
Using The Onion Router (Tor) is the best way to access the Dark Web, providing multiple layers of encryption and rerouting your internet traffic through random servers called nodes to maximize your protection and ensure your anonymity. Connecting to Tor ensures that the only recognizable data shared between its servers are where the node has come from and where it is going.
Despite your anonymity being assured while connected to the Tor browser, you are still susceptible to the cyber-attacks and scams that are prominent on the Dark Web. Additionally, your ISP can see that you downloaded Tor onto your devices and used the internet to access Tor servers.
With one of the best VPNs in 2023, you can hide your IP address and location from your ISP, ensure it can't see you using Tor to access the Dark Web, and protect yourself from potential harm.
Here are some tips to ensure your safety while using Tor to access the Dark Web:
Don't download anything, as scammers may use files to install malware, spyware, ransomware, trojans, and viruses onto your device without your knowledge.
Don't click links you aren't familiar with unless found on reputable web pages.
Never use your personal email address for anything on the Dark Web, as this can be traced back to you.
Create your own Dark Web email address (such as ProtonMail) to maximize your protection online.
Install a VPN to acquire greater protection using IP and DNS leak protection, military-grade encryption, an automatic kill switch, and a strict no-logs policy.
Create strong passwords and turn on two-factor authentication to reduce the chances of hackers accessing your accounts.
Cover your webcam and turn off your microphone to stop prying eyes from seeing you or listening to your conversations.
Keep contacts to a minimum to ensure you don't engage with people who may not have the best intentions (like online chat rooms).
Reduce the number of items you purchase through the Dark Web to avoid the thousands of scams you could click on accidentally.
Access onion sites using ExpressVPN
The Best VPNs to Access the Dark Web — Full Testing & Analysis
Key Features:
3,000+ servers in 94 countries to access the Dark Web from anywhere
RAM-only servers, military-grade encryption, DNS/IP leak protection, Network Lock kill switch, and an audited no-logs policy ensure your anonymity
Access onion sites on up to 8 devices simultaneously
Compatible with Windows, Mac, Linux, iOS, Android, and more
A 24/7 live chat and an email helpdesk
30-day money-back guarantee
ExpressVPN has fast server speeds and top-of-the-line security for accessing the Dark Web. Using a Tor browser is usually slower than regular web browsing because your data must hop through multiple servers (known as "nodes"). Since I wanted to use DuckDuckGo, I was worried that a VPN would reduce my speeds, so I tested it.
While connected to a nearby ExpressVPN server, DuckDuckGo loaded results in only 3 seconds, while other VPNs often took up to 6-10 seconds. I didn't notice any increase in loading time compared to regular web browsing, but I was impressed that ExpressVPN maintained fast speeds even on .onion sites.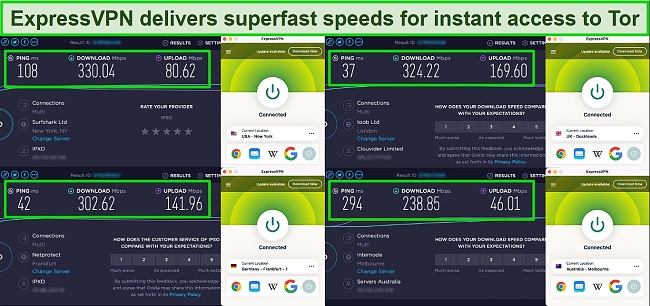 Aside from speed, privacy was a big concern to me — just like the regular web, the Dark Web is full of hackers looking to take advantage of unprotected information. In my testing, I was relieved that ExpressVPN used industry-leading security and privacy measures, including:
RAM-based servers to ensure none of your can ever be written to hard drives or stored.
Network Lock kill switch ensures no unencrypted data leaks from your device if you're on a shaky internet connection.
Server obfuscation disguises your VPN as regular traffic and adds an extra layer of protection.
An audited zero-logs policy, so you can rest assured that your browsing activity is never recorded.
A range of protocols, including its cutting-edge proprietary Lightway protocol, so you can customize your connection based on your speed and security needs.
Split tunneling feature so you can use the encrypted connection for Tor activities while other online traffic uses your regular connection. This will improve the loading speeds of your Dark Web links.
Military-grade encryption to keep your identity, location, and internet activity from being exposed.
DNS/IP leak protection prevents your IP address from being exposed to hackers, cybercriminals, and your ISP.
Even though ExpressVPN has its own IP leak test, I ran some of my own tests on the third-party site ipleak.net while connected to servers in 3 locations — the US, UK, and Australia. My testing showed that I had no leaks on any of ExpressVPN's servers over 3 days. My real IP address and location never showed up in my tests, and I could browse on Tor without worrying that my ISP or any snoopers would know what I was doing.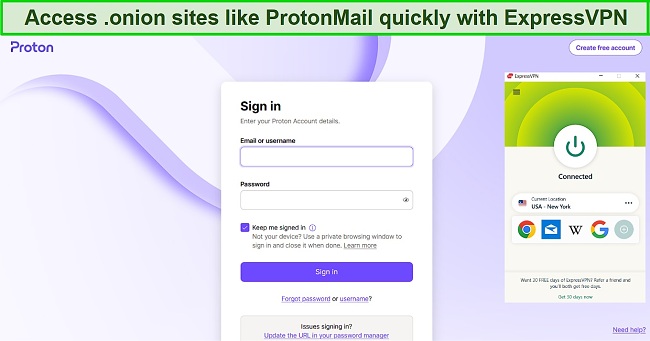 You can download dedicated ExpressVPN apps for virtually any device, including Windows, macOS, iOS, Android, and Linux. If you want to extend its protection to every device you own, you can also download ExpressVPN's firmware for your router and connect all the devices on the network.
Although it's a bit more expensive than other VPNs, ExpressVPN is worth the price for providing reliable, high-speed connections and robust security for the Dark Web. Plus, when you opt for a long-term 1-year + 3 months plan, you'll save 49% and pay just $6.67/month! You can even pay with Bitcoin or Mint to keep your account from being tied to you.
You can try ExpressVPN with Tor completely risk-free, and if you're not satisfied, you have up to 30 days to claim a refund. To test the guarantee, I contacted customer support via live chat. It only took a few minutes for my refund to be approved, and the money was credited to my PayPal account 4 days later.
ExpressVPN works with: Windows, macOS, Linux, Chromebook, Android, iOS, Chrome, Firefox, Edge, PlayStation, Xbox, Nintendo Switch, Amazon Fire TV, Nvidia Shield, Xiaomi Mi Box, Google Chromecast, Roku, Android TVs, smart TVs, routers, and more.
Browse securely with ExpressVPN and Tor
2023 Update! ExpressVPN has dropped prices for a limited time to a crazy $6.67 per month for the 1-year plan (you can save up to 49%) + 3 months free! This is a limited offer so be sure to grab it now before it's gone. See more information on this offer here.
Key Features:
9,600+ servers in 91 countries to access the Tor network
256-bit encryption, an automatic kill switch, a no-logs policy, DNS/IP leak protection, and RAM-based servers with DDoS protection
Explore the Dark Web on up to 7 devices simultaneously
Compatible with Windows, Mac, Linux, iOS, Android, and more
24/7 live chat and announcements section
Generous 45-day money-back guarantee
CyberGhost's NoSpy servers add an extra layer of protection while you explore the Dark Web. These servers automatically delete your browsing data when you log off. This means your activity won't be stored and can't be seen by anyone, even if they manage to access the servers. What's more, the NoSpy servers are located in privacy-friendly Romania and exclusively maintained by CyberGhost to ensure the highest level of privacy.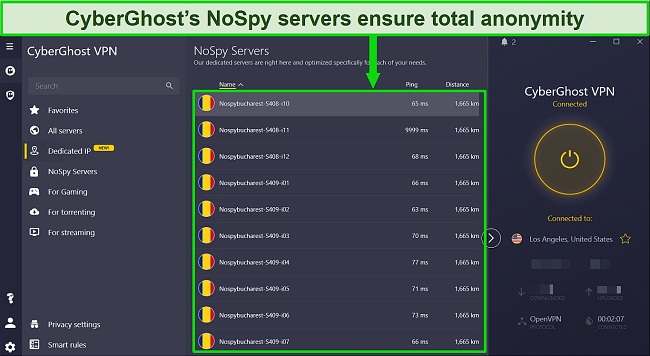 CyberGhost also provides the following privacy and security features:
Data leak protection ensures you remain anonymous by preventing DNS, IP, and WebRTC leaks while browsing Tor.
A 256-bit encryption cipher to obscure and protect all your internet traffic from DDoS attacks, hackers and WiFi snooping.
A strict no-logs policy and RAM-based servers ensure your identity and browsing data are never logged or linked to you.
A powerful automatic kill switch disconnects you from the internet if the VPN connection drops for any reason.
Its network of 9,600+ servers in 91 countries includes specialized torrenting, streaming, and gaming servers. CyberGhost's nearby servers were superfast and loaded most onion pages in 6-10 seconds. However, on more distant servers, I had to wait up to 20 seconds for a page to load fully.
Thanks to its Smart Rules feature, I set CyberGhost up to automatically connect when I opened Tor. Doing this meant I couldn't start browsing the Dark Web without being connected to a VPN.
Like ExpressVPN, CyberGhost allows you to access Tor on your Windows, Mac, Linux, and Android devices. You'll also be able to use it on 7 devices simultaneously on a single subscription. This allows you to browse the Dark Web on one device while your kids use CyberGhost's optimized servers to stream Netflix US on another.
The only issue I had with CyberGhost is that some of its best features are only available on the Windows app. For instance, you'll only have access to the NoSpy servers and gaming servers on a Windows PC and don't have the option of turning the kill switch off on a Mac. This isn't too much of a hassle — I suggest always keeping the kill switch on anyway.
If you're looking for a great deal, you can get CyberGhost for $2.19/month on its 2-year + 2 months subscription — you'll even get 3 months free! I recommend paying with crypto and signing up with a dummy email address for total anonymity.
You can also use its generous 45-day money-back guarantee to try CyberGhost's NoSpy servers for the Dark Web completely free! The refund process was easy — an agent approved my request in 15 minutes, and I only waited 3 days for the money to be returned.
CyberGhost works with: Windows, macOS, Linux, Android, iOS, Raspberry Pi, Chrome, Firefox, PlayStation, Xbox, Nintendo Switch, Amazon Fire TV, Amazon Fire TV Stick, Roku, smart TVs, routers, and more.
Get CyberGhost for the Dark Web
2023 Update! You can subscribe to CyberGhost for as low as $2.19 per month + get extra 2 months free with the 2-year plan (save up to 83%)! This is a limited offer so grab it now before it's gone. See more information on this offer here.
Key Features:
35,000+ servers in 84 countries, the largest network on this list
Integrated MACE ad and malware blocker, automatic kill switch, audited no-logs policy, 256-bit encryption, and data leak protection
Connect up to unlimited devices simultaneously
Access the Dark Web on Windows, Mac, Linux, iOS, Android, and more
24/7 live chat and email support
30-day money-back guarantee
Private Internet Access (PIA) comes with a host of advanced security features to protect you on the Dark Web, including:
A powerful integrated MACE ad blocker stops ads, malware, and trackers from loading. This allows faster loading times and protection against malicious scripts and software that run rampant on the Dark Web.
An automatic kill switch blocks internet access if your VPN connection is interrupted to keep your data from being exposed.
Independently audited no-logs policy ensures your data is never logged, stored, or shared with anyone.
Military-grade encryption and DNS/IP/WebRTC leak protection on every server.
To ensure my private data was hidden with PIA, I connected to a server in France and ran a DNS leak test to check if my real IP address leaked on PIA's servers. I was glad that my DNS test only detected the IP address for PIA's encrypted VPN server, confirming I was anonymous on the Dark Web.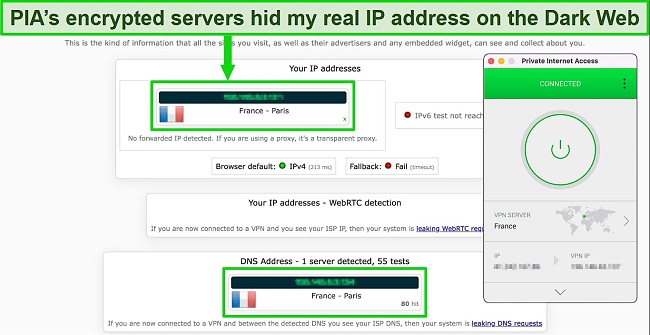 With 35,000+ servers in 84 countries, PIA has the largest server network of any VPN I tested. This means that you'll always be able to find a nearby server and won't have to deal with server overcrowding and slowdowns. While it's not as fast as ExpressVPN or CyberGhost, PIA performed well when I tested it with Tor.
One minor issue is that Private Internet Access is headquartered in the US — a founding member of the 5 Eyes intelligence-sharing network. Although I was initially concerned over this detail, I was reassured upon discovering that PIA has a proven no-logs policy. In 2016, Russia ordered VPN providers with local servers to keep logs. Rather than comply, PIA simply removed its servers from the country. I appreciate this commitment to user privacy and am confident that PIA's no-logs policy is legitimate.
If you only want a VPN to try the Dark Web out for a short time, PIA has one of the best monthly deals. You can also sign up for a 2-year + 2 months plan to get a 82% discount on the monthly fee.
Plus, you can try PIA free with Tor thanks to its 30-day money-back guarantee. Just reach out to support via the 24/7 live chat and request your money back before the 30-day period ends. When I tested the policy, I had to give a reason for canceling (I just said I regretted the purchase), and my request was processed right away. The money was back in my bank within a week.
PIA works with: Windows, macOS, Linux, Android, iOS, Chrome, Firefox, Opera, Amazon Fire TV, Amazon Fire TV Stick, routers, and more.
2023 Update! You can subscribe to PIA for as low as $2.19 per month + get extra 2 months free with the 2-year plan (save up to 82%)! This is a limited offer so grab it now before it's gone. See more information on this offer here!
Key Features:
Short and long-term subscriptions available
30-day money-back guarantee
5,700+ global servers in 60 countries
Unlimited bandwidth
Protect up to 6 devices at once
NordVPN is one of the best VPNs on the market — and you can get super cheap prices when you sign up for a long-term subscription. One thing to note, however, is that when it's time to renew your subscription, prices do increase quite significantly.
I was particularly impressed with the high performance of every server I tested. Just because a VPN has thousands of servers doesn't mean they all work. Servers can still struggle to unblock local sites — and some can even fail to connect completely. However, I easily unblocked Netflix, Disney+, Hulu, Amazon Prime Video, BBC iPlayer, and HBO Max on multiple servers in the US and UK.
I did, however, have issues with using NordVPN's native Fire TV app. Although it worked and unblocked some streaming services, it sometimes had issues unblocking Netflix US and kept crashing. I also found that NordVPN's user interface for desktop devices was less user-friendly than ExpressVPN and CyberGhost.
NordVPN has the following security and privacy features:
AES 256-bit encryption
kill switch that cuts your internet access if your connection to a VPN server drops suddenly
built-in ad and malware blocker, so you don't need a third-party ad blocker
fully audited no-logs policy (audited by PwC) – NordVPN doesn't store any personal or identifying data while you're connected to the VPN
In addition, NordVPN includes Threat Protection that protects you from viruses, infected websites, and trackers – and it works whenever you have the NordVPN app open, even if you're not connected to a VPN server.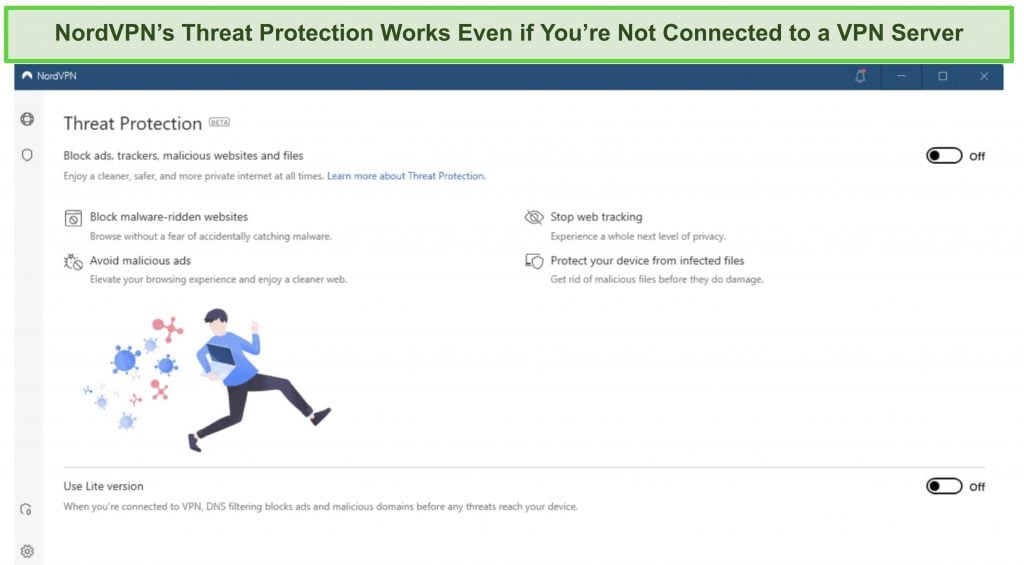 With plans that cost as little as $3.19 per month, it's easy to find a NordVPN subscription plan that suits your needs. You can also stream, torrent, and browse for free for up to 30 days with its money-back guarantee. I tested this to ensure that you'll really get your money back. At first, the support team tried to give me an extended trial period — but they initiated my refund right away after I told them I wasn't interested in the extension. I got my money back in 6 business days.
NordVPN unblocks: Netflix, Amazon Prime Video, BBC iPlayer, Hulu, Disney+, SkyTV, HBO Max, SHOWTIME, DAZN, ESPN, YouTube TV, and more
NordVPN works on: Windows, Mac OS, Android, iOS, Windows Phone, Chromebook, Linux, Chrome, Firefox, Fire Stick, and Android TV
Key Features:
Short and long-term plans available
30-day money-back guarantee
3,200+ global servers in 100 countries
No bandwidth restrictions
Connect unlimited devices at once
Surfshark offers the best value for money out of every premium VPN on the market. You can connect an unlimited number of devices with a single subscription, which means you can use Surfshark on all your devices without getting logged out.
I tested Surfshark's simultaneous connections on 2 PCs, 2 phones, a Fire Stick 4K, and an iPad. My connection remained reliable on all 6 devices. Even while I was actively streaming on all my devices, my average speed was 112 Mbps — fast enough for UHD quality.
When I saw the price of this service, I thought it couldn't possibly have top-grade security features for such a low price, but I was pleasantly surprised.
Surfshark has the following security and privacy features:
AES 256-bit encryption on all devices, with ChaCha encryption available for Android users
Wireguard VPN protocol enabled by default
diskless, RAM-only servers to protect your privacy (no data can be physically extracted from any servers)
kill switch (although this isn't enabled by default)
IP and DNS leak protection
Surfshark offers two-factor authentication (2FA) on your account. This feature requires you to enter an extra code before you can log in to ensure that only you can access your account.
While Surfshark does have slightly fewer global servers than rivals such as CyberGhost and PIA, I didn't experience any issues during my tests. I easily connected fast working servers every time, and I had excellent speeds for streaming Netflix in UHD, downloading torrents, and browsing the internet.
You can try Surfshark for yourself with the 30-day money-back guarantee. It has plans that cost as little as $2.30. Requesting a refund is easy with Surfshark's live chat feature. Although the support team asked why I wanted to cancel my subscription, I had no problem getting my money back (and it only took 4 days!).
Surfshark unblocks: Netflix, Amazon Prime Video, Disney+, BBC iPlayer, Sling TV, Hotstar, HBO Max, DAZN, and more
Surfshark works on: Windows, Mac OS, Android, iOS, Linux, Fire Stick, Samsung Smart TVs, LG Smart TVs, Android TV, Kodi, and selected routers
Access The Dark Web Safely in 3 Easy Steps
Get a VPN with advanced security. I recommend you get ExpressVPN for top-tier protection while browsing the Dark Web.
Connect to a VPN server close to your location. Connecting to a nearby server will keep speed loss minimal.
Start browsing the best .onion sites. Once connected, no one (including your ISP) will know that you're using the Dark Web to access your favorite onion sites.
Access the Dark Web with ExpressVPN
FAQs: The Dark Web, The Onion Router (Tor), and VPNs
Is it illegal to visit Dark Web sites?
It depends — in most countries, the Dark Web is completely legal to access as long as it's not used for criminal purposes. Despite thousands of safe and legitimate .onion sites on the Dark Web, it's common to find illicit content, illegal products and services, copyrighted material, and malware that could get you into trouble if you accidentally click on it. To make sure you don't access illegal content or compromise your security, never click on links you don't recognize, and download a reliable VPN that protects you using IP and DNS leak protection.
Please note that my team and I don't condone participation in any illegal activities. You should check the rules and regulations in your country to make sure you don't break the law.
How dangerous are onion sites (really)?
Onion sites aren't dangerous when you use reputable links and access sites you're familiar with. However, the Dark Web hosts malicious links, scams, and phishing schemes due to its lack of regulations, meaning that without a reliable VPN to protect you, you're more susceptible to cyber-attacks.
Some onion sites on the Dark Web can be copied by scammers to trick users into clicking on links designed to download malware and viruses onto your device. To stay safe and protect yourself from prying eyes and scammers, I recommend you protect yourself with ExpressVPN's cutting-edge security.
What is the best way to find .onion sites?
The best way to find onion links is by visiting Dark Web directories like The Hidden Wiki and TorLinks. You can also use Dark web search engines like Torch to find .onion sites, but sometimes they return a sea of irrelevant results.
Since .onion sites often go offline suddenly, Dark Web directories always have some dead URLs and links to illegal or dangerous content — but this is a common danger on all Dark Web sites. To stay safe while looking for .onion sites, always use a VPN with powerful security features like military-grade encryption, a kill switch, and leak protection (at a minimum).
What are the best cryptocurrencies for .onion sites?
Bitcoin is the best cryptocurrency for .onion sites — it's easy to obtain, and you can use and store your Bitcoin on secure .onion pages. It has become the Dark Web's native currency, and since it has grown far beyond the Dark Web, it's easy to buy even on the surface web.
If you buy bitcoin on the Surface Web, your identity will be exposed, and you won't be able to purchase anything through the Dark Web without being traced. Plus, buying Bitcoin from other Dark Web users is a bad idea, as you open yourself up to potential scams that could lose you a lot of money.
Another option you can try is coin mixing, a Wasabi Wallet feature that allows you to hide your Bitcoin transactions by mixing them with other transactions along the blockchain. However, you still need to be cautious when buying products and services on the Dark Web and should always connect to a VPN before accessing Tor.
Can I access the Dark Web from my iPhone or Android device?
Yes, but you should exercise caution if you do so. Although the Tor browser and Dark Web websites are available on Android devices, you'll need to use a third-party application for iOS called The Onion Browser.
If you don't like The Onion Browser app, try "Dark Browser" — it works with Tor and I2P networks and can be downloaded easily through the Apple App Store. However, accessing the Tor network using third-party mobile devices can be dangerous and should be avoided. To access Tor and remain as safe as possible, use your Windows, Mac, Android, or Linux devices instead so you can access the Tor browser directly.
What are the best browsers to access the Dark Web?
The best browser to access the Dark Web is the Tor Browser, as it's the oldest and most reliable browser available. Despite this, there are 4 more browsers that you can use with a VPN to safely access the Dark Web:
Invisible Internet Project (I2P) — A decentralized anonymization network layer run by a volunteer network with over 55,000 computers distributed worldwide.
Subgraph OS — A Linux computing and communications platform designed to be resistant to network-borne exploit and malware attacks.
Tails — The Amnesic Incognito Live System is a security-focused distribution aimed at protecting against surveillance and censorship and preserving anonymity.
Waterfox — An open-source web browser like Firefox, built to prevent trackers from following you around the internet and collecting data about your internet activity.
Can I access the Dark Web without Tor?
Yes, you can gain access to the Dark Web with popular Tor alternatives like I2P, Subgraph OS, and Tails. However, you won't be able to access any .onion sites. Instead, you'll have to look for other browser-compatible websites and links.
While the demand for alternative Dark Web browsers is growing, they're still a long way from Tor's established network infrastructure. This means you'll need to do much more manual configuration for I2P than Tor. Plus, the Tor browser lets you switch between the clearnet and the darknet, which its alternatives don't allow.
Whichever browser you choose, it's essential that you use it in combination with a high-quality, no-logs VPN.
Can I use the Dark Web without a VPN?
It's possible but definitely not recommended if you care about your security. Using the Dark Web without a quality VPN to hide your identity is extremely dangerous, leaving you unprotected against a variety of online scams, viruses, and malware that can steal your information or access your personal accounts,
Simply clicking on an unfamiliar link can infect your device, leading to spyware, ransomware, and other forms of cyber attacks. Without a VPN, you can't prevent hackers from accessing your information and may even notify your ISP that you're using the Dark Web, which can lead to blocks and a slower internet connection.
Can I use a free VPN to access the Dark Web?
Technically yes, but I don't recommend it. There are good uses for some free VPNs, but using the Dark Web isn't one. While premium VPNs offer anonymity and encryption, free VPNs may pose a risk to your security — some providers intentionally violate your privacy by selling your data to make money.
Even the safest free VPNs lack the resources to keep up with paid providers. They may be able to encrypt your connection and mask your IP, but their slow server speeds can make the already-slow Tor browser unbearable to use.
Rather than risk your privacy, I suggest getting a premium VPN and using its money-back guarantee to use it totally free. All the top VPNs have money-back guarantees that I tested myself by reaching out to each VPN's live chat support. In every case, my refund was processed the same day.
Browse safely with Tor and ExpressVPN
Safely Browse Dark Web and .onion Sites With a Secure VPN
The Dark Web can be an interesting and valuable resource, but visiting .onion sites comes with major risks. You need a VPN with top-notch security, and privacy features to keep you safe from hackers, web trackers, and other malicious users.
Of all the VPNs I tested, ExpressVPN is the best option to browse the Dark Web securely — it has advanced encryption to hide your identity, fast speeds to load .onion sites quickly, and a 30-day money-back guarantee. Best of all, you can try ExpressVPN with .onion sites for yourself. If it doesn't meet your needs, it's easy to get a full refund over 24/7 live chat. I tested it myself, and my money was returned within 4 working days — no questions asked.
Explore the Dark Web with ExpressVPN
---
Summary — The Best VPNs for .onion Sites in 2023