10 Best Dark Web Links in 2020 (+ How to Visit .onion Sites)
Last Updated by Dawn Teh on October 02, 2020
I've been using the dark web for years to access tons of unique, legal resources. But if you're new to the Tor Network, finding the .onion sites you want can be frustrating and even dangerous. This is because .onion sites don't appear on Google and seemingly safe content may contain illegal material!
The good news is that you can access the best .onion sites safely. To save you time figuring out how, I'll share 10 of the best dark websites and give you a step-by-step guide on how to access .onion sites securely. Don't worry if you're new to this part of the internet — I've made this guide easy to understand for beginners.
Keep in mind that the dark web has dangers that you need to protect yourself from, even when using the best .onion sites. Malware, criminal activity, and surveillance are just a few threats. That's why you should always use a secure VPN with the Tor browser.
Quick Guide: Best .onion Sites on the Dark Web
Tip: How to Access .onion Sites Safely
It's true that your ISP won't be able to see your activity once you've connected to the dark web. But it can see everything you do before — including when you click on the Tor browser. I was terrified to learn that in many countries, authorities may investigate you if your ISP reports that you simply accessed the Tor network!
But I have good news: if you connect to a VPN before clicking on your Tor browser, no one will even be able to see that you've visited .onion sites. A VPN is a cybersecurity software that encrypts your data and reroutes your internet traffic in order to spoof your IP address. It works on both the surface and dark web, and it prevents your ISP (and others) from seeing your online activity and true location.
Using a VPN with a Tor browser on the dark web also protects you from cybercrime. Since the dark web isn't regulated like the surface web, .onion sites may host viruses, malware, and scams. The best VPNs can stop you from entering harmful websites.
If you want secure and 100% anonymous Tor browsing, you can try ExpressVPN totally free using its 30-day money-back guarantee. Simply contact its customer service via the live chat before the end of the month — they helped me get my refund in 4 days.
Try ExpressVPN free for 30 days
10 Best .onion Sites in October 2020
1. The Hidden Wiki — Index of the Dark Web
The Hidden Wiki is the dark web version of Wikipedia. It's a directory that indexes links of .onion sites to help you navigate the Tor network. Directories like this are important because .onion URLs aren't as informative as the ones used on the surface web. Take a look at the URL for Wikipedia on the surface web: http://en.wikipedia.org/. It clearly tells you the page's name, that it's an organization, and that the page appears in English. On the other hand, the link to The Hidden Wiki http://zqktlwi4fecvo6ri.onion/wiki/index.php/Main_Page is nonsensical.
Keep in mind that The Hidden Wiki is uncensored. This means that it indexes both legal and illegal websites and not all the links listed may be functional or safe. It has been known to file legitimate websites as well as those that cater to pedophiles, scam users, or offer illicit services like money laundering. To keep yourself and others safe, avoid these categories and only access The Hidden Wiki after you connect to a reliable VPN.
2. ProtonMail — Anonymous Email Service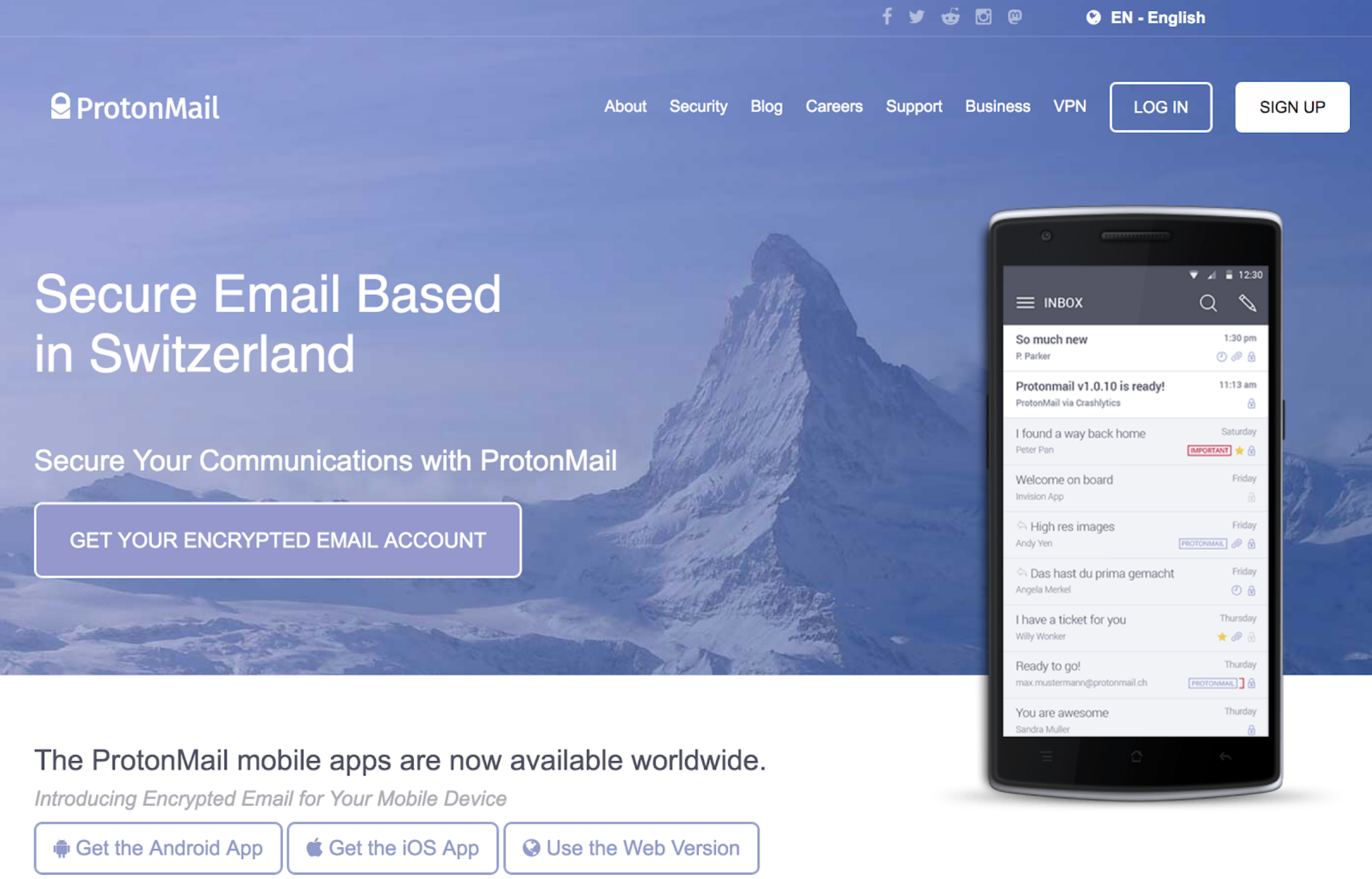 If you want to communicate securely using the Tor network, ProtonMail may meet your needs. It is one of the most popular email services available on the dark web. It keeps users anonymous while giving them access to quality email. Unlike other services, it even includes an automated login recovery system if you lose your credentials. Plus, it is much more secure than popular surface web services like Gmail and HotMail!
To keep your communications 100% private, you can access ProtonMail while connected through a VPN with secure servers.
ProtonMail link: https://protonirockerxow.onion/
3. DuckDuckGo — A Search Engine That Doesn't Track You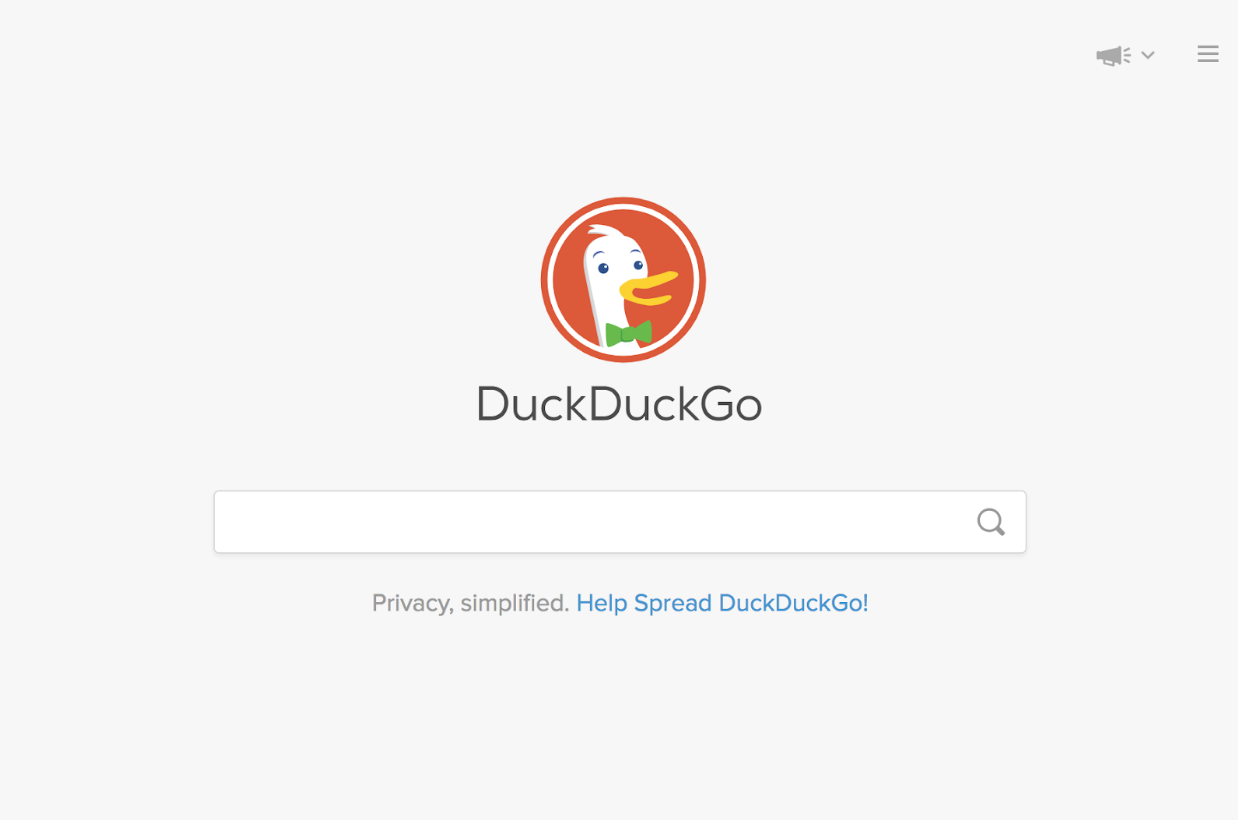 I was tired of web crawlers logging my searches and sending me targeted ads, so I decided to try DuckDuckGo. This search engine works on the surface web (so it's a good alternative to Google) as well as on the dark web.
Since it doesn't have anywhere near the same level of resources as Google, I didn't expect it to work very well. However, I was surprised that DuckDuckGo provided tons of relevant search results during testing.
Aside from the flexibility it gives you to search different corners of the internet, DuckDuckGo offers great user privacy. It doesn't log your search history and it blocks ad trackers. You can enjoy total anonymity on the dark web if you use DuckDuckGo with a quality VPN.
DuckDuckGo: http://3g2upl4pq6kufc4m.onion/
4. Library Genesis — Get Free Books on This File-Sharing Website
As a huge reader, I was excited to learn about Library Genesis. This platform is one of the world's largest free virtual libraries on the Tor network— and it's growing fast. LibGen expands rapidly by integrating other existing library catalogues into its system. The platform claims to have over 2.4 million non-fiction books, half a million magazine issues, 80 million academic articles, 2.2 million fiction books, and over 2 million comics. The collection covers technology, business, science, and other subjects. Plus, it has an active forum to encourage you to interact with other users.
If you want to safely and quickly torrent large files from LibGen, make sure to use a VPN with torrenting-specialized servers.
Library Genesis: http://genotypeinczgrxr.onion/
5. Sci-Hub — Free Scientific Research Papers
I was thrilled to discover Sci-Hub — it lets you download millions of scientific articles for free. Sci-Hub makes it possible to access important discoveries without paying.
Gaining access to scientific research papers on the surface web can be difficult and expensive. Many databases and journals impose expensive membership fees or charge high one-time prices to view a single paper. As an independent researcher myself, I am constantly frustrated by barriers like this — accessing enough papers to write one review can cost thousands of dollars!
To protect yourself, make sure you connect to a secure VPN before downloading anything from Sci-Hub!
Sci-Hub: http://scihub22266oqcxt.onion/
6. The Intercept — Publishes Fearless, Unfiltered Political News
The Intercept is a newsource that seeks to publish fearless, adversarial journalism. It prides itself on giving journalists the editorial freedom and legal support they need to investigate corruption and other injustices. Many of its articles rely on leaks and secret sources.
Their .onion address offers Safe Drop for whistleblowers. This platform lets users submit documents without revealing their identities.
To stay totally anonymous when reading or contacting a newsource like The Intercept, use a VPN with a strict no-logging policy before connecting to your Tor browser.
The Intercept: http://xpxduj55x2j27l2qytu2tcetykyfxbjbafin3x4i3ywddzphkbrd3jyd.onion/
7. ProPublica — Pulitzer Prize-Winning News Publication
Even if you're new to the dark web, you may have heard of ProPublica. This Pulitzer Prize-winning non-profit newsource seeks to expose the abuses of power by governments and institutions. They cover a wide range of topics including politics, health, finance, and the environment. Whatever the topic, journalists at ProPublica aim to provide in-depth investigative pieces that are thought-provoking and impactful.
In 2016, the organization launched a .onion domain to help readers access articles anonymously and bypass censorship. Whistleblowers can submit information on this page. You can also use a VPN to stay 100% anonymous.
ProPublica: https://www.propub3r6espa33w.onion/
8. Wasabi Wallet — Buy Bitcoin Anonymously
Over the past several years, Bitcoin has increased in popularity with the general public and is still the most used cryptocurrency for dark web transactions.
Wasabi Wallet is one of the best platforms for buying, selling, and managing your cryptocurrency anonymously. Its unique wallet-mixing features let you combine coins with other users to make your transactions harder to trace. When you use its .onion website, you'll stay private as all your data is anonymized on the Tor network.
For even greater safety managing your transactions on the dark web, I recommend you use a VPN to protect your sensitive financial data with tough security like DNS leak protection and an automatic kill switch.
Wasabi Wallet: http://wasabiukrxmkdgve5kynjztuovbg43uxcbcxn6y2okcrsg7gb6jdmbad.onion
9. Secure Drop — A Secure Way to Share Sensitive Information With the Media
Secure Drop has earned a reputation as a whistleblowing platform for those who want to share sensitive information with the media safely. The platform allows users to send information to news outlets without revealing their identity. Since whistleblowers may risk being punished for revealing information, the anonymity that Secure Drop offers is key to protecting them. As soon as a user submits data on this platform, it is automatically encrypted. Since it doesn't log your IP address, you can feel safe that you won't be traced on this .onion site. For even greater peace of mind, connect to it using a secure VPN.
Secure Drop: http://secrdrop5wyphb5x.onion/
10. Torch Search Engine — The Largest Search Engine on Tor
As the oldest search engine on the Tor network, Torch has access to the largest database of .onion links available. It claims to have indexed over 1 billion .onion pages. This means Torch probably has a relevant link available, no matter what you're looking for.
Like DuckDuckGo, Torch doesn't log any of your activity. It also gives users additional information about search results like the size of the pages they might want to access.
Be careful — like many other tools on the dark web, Torch doesn't censor search results. That means you should try to stick to safe categories to avoid illegal content, scams, and malware. But even seemingly safe pages might hide dangerous content. A VPN can help you detect security risks like malware and prevent you from entering sites that could put you in harm's way.
Torch: http://xmh57jrzrnw6insl.onion/
How to Use a VPN With Tor to Access .onion Sites Safely
3 Best VPNs for Accessing .onion Sites Securely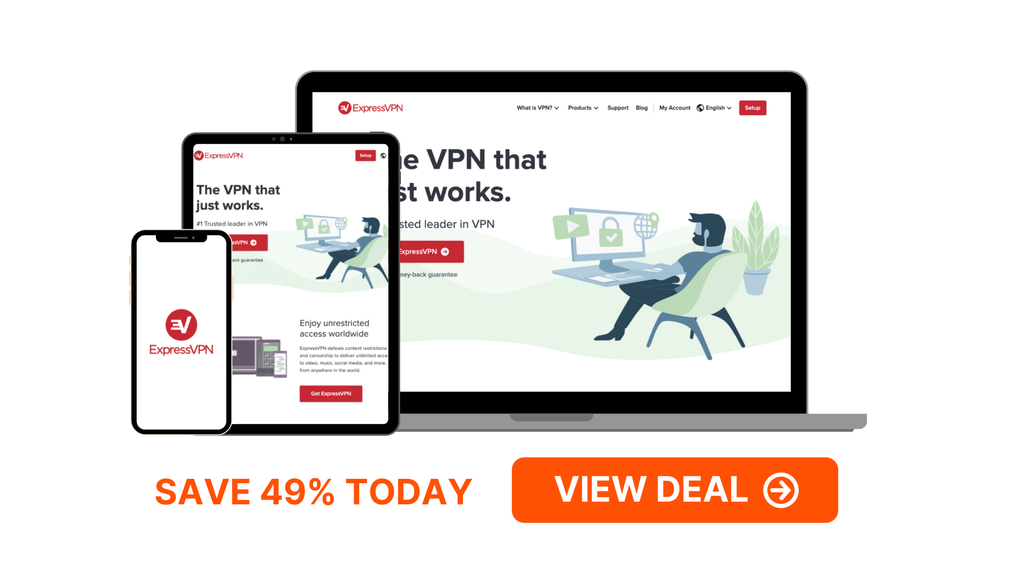 Key features:
Fast servers and unlimited bandwidth for quick browsing and loading on the Tor network
Military-grade 256-bit encryption and TrustedServer technology to erase any trace of your online activity
Automatic kill switch and DNS leak protection to keep you safe even if your internet connection is interrupted
Strict no-logs policy audited by international cybersecurity experts so there's no record of your activity
Has its own .onion site on the Tor Network for anonymous sign-up and accepts numerous cryptocurrencies as a payment method
ExpressVPN is the #1 VPN on this list for accessing the dark web because it has fast server speeds and top-of-the-line security. Using a Tor browser is usually slower than regular web browsing because your data must "hop" through multiple servers (or nodes). Since I wanted to use DuckDuckGo, I was worried that a VPN would reduce my speeds — so I put it to the test.
When I used other VPNs, it often took up to 30 seconds to load a DuckDuckGo results page. These slow speeds were frustrating to me. With ExpressVPN, I was surprised that I didn't have this problem. I didn't notice any increase in page loading time compared to regular web browsing. I was impressed that ExpressVPN maintained fast speeds even on .onion sites.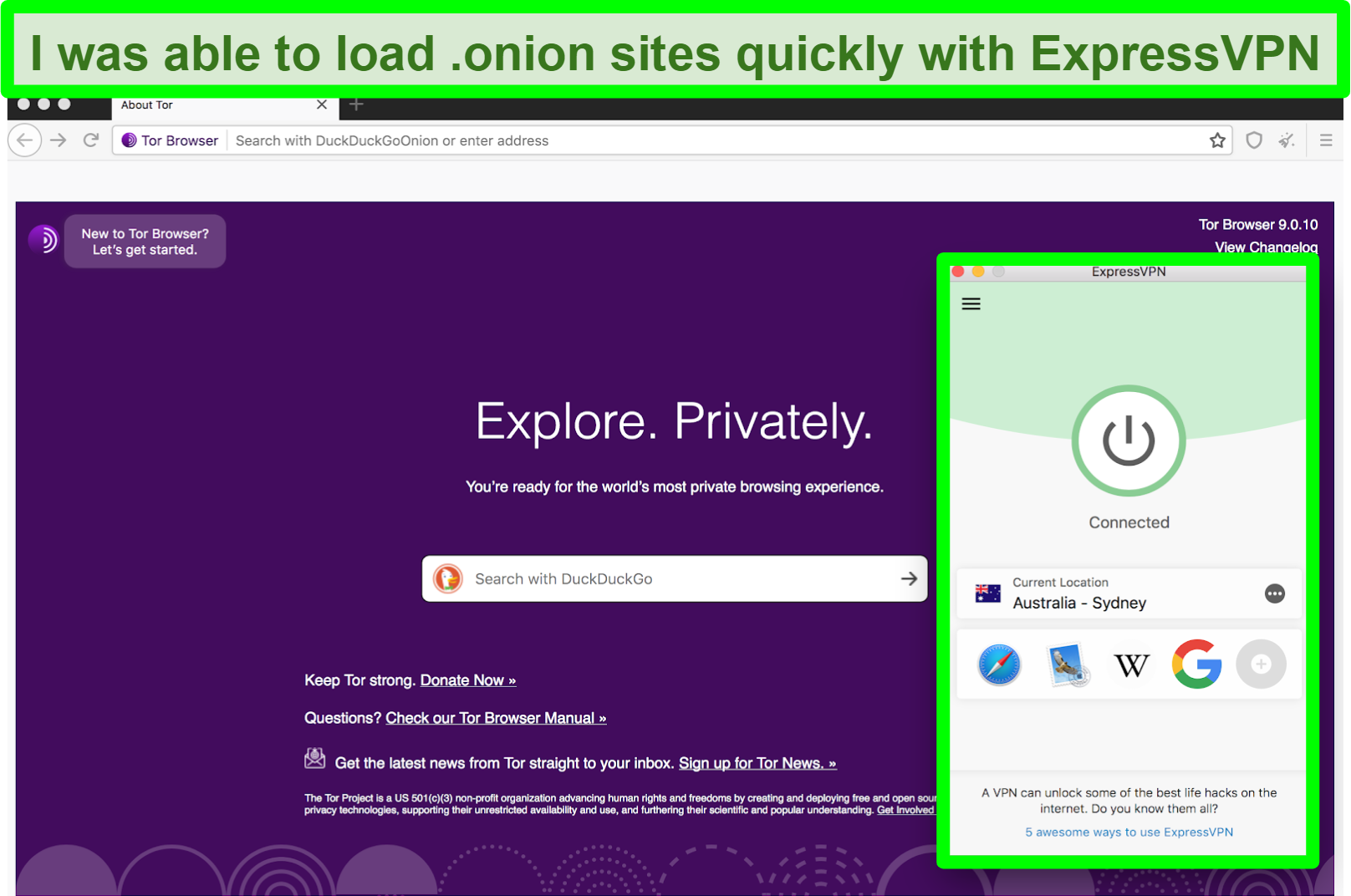 Aside from speed, privacy was a big concern to me — I often travel to countries (like the US) where the government could investigate you for using the dark web. In my testing, I was relieved to find that ExpressVPN offers the best security features available. It uses the same level of encryption as US military intelligence and an automatic kill switch to keep your activities private even if your connection drops. It also uses TrustedServer technology to erase any trace of your data every time a server reboots. That means that if hackers were somehow able to access ExpressVPN's servers, they wouldn't find much because of this feature.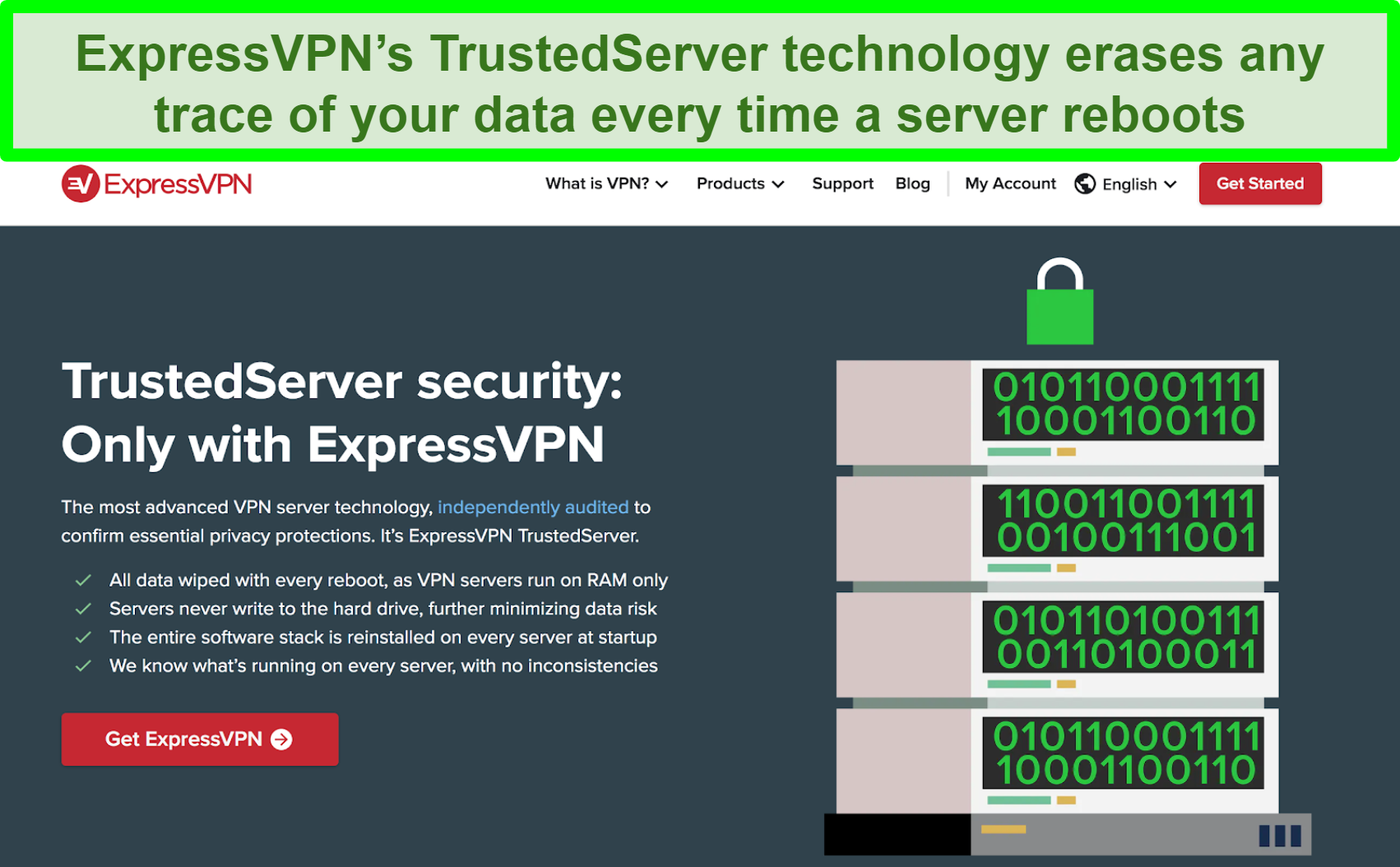 ExpressVPN has also proven that it abides by its strict no-logs policy. Almost all VPNs claim to have a no-logging policy — but many services actually sell records of your online history, IP address, and other data. Unlike these services, ExpressVPN has demonstrated that it doesn't log your data. When Turkish authorities seized ExpressVPN's servers as part of a murder investigation in 2017, they couldn't find any user information. This shows how serious ExpressVPN is about your privacy.
In addition to TrustedServer technology and a strict no-logs policy, ExpressVPN also uses military-grade encryption and an automatic kill switch. If prying eyes try to view your online activities, your information will be nearly impossible to decode. Plus, ExpressVPN's kill switch prevents any data leaks even if your connection is interrupted. With this level of protection, ExpressVPN reassured me that I would remain anonymous even on .onion pages.
The only slight downside is that ExpressVPN is a bit pricier than other services. But considering that it offers strong security and maintains fast speeds even on .onion sites, I think spending a few extra dollars is worth it.
Although ExpressVPN's service perfectly met my needs, I still think that the best way to decide if a VPN is right for you is to try it yourself. You can take advantage of ExpressVPN's 30-day money-back guarantee to try its fast Tor browsing and top security features for free. If you're not completely satisfied with the service, simply contact ExpressVPNs's customer service and request a refund. I tried it myself and it only took 4 days to get my money back, no questions asked.
Try ExpressVPN free for 30 days
October 2020 Update: ExpressVPN has dropped prices so you can save up to 49%!!! This is a limited offer so be sure to grab it now before it's gone. See more deal information here.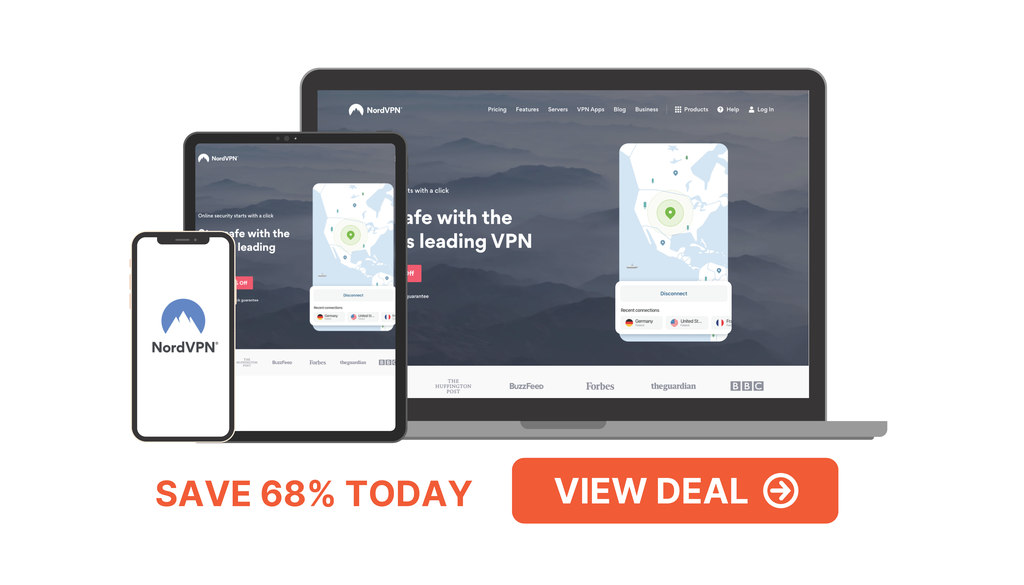 Key features:
Fast servers and unlimited bandwidth for great loading and downloading speeds on the dark web
Military-grade AES 256-bit encryption and CyberSec (malware and ad blocker) technology
Automatic kill switch and DNS leak protection to keep your data private
Independently audited no-logs policy to keep your activities hidden
Accepts some cryptocurrencies for anonymous payments
NordVPN's Onion over VPN feature makes it possible for users to access the dark web without the Tor browser. This is the only VPN on this list with this unique feature. I liked this option because it was more convenient to use my usual browser to search the dark web. I simply connected to an Onion over VPN server and all my online traffic was sent through the Tor network. This process made it extremely easy to read the latest news on ProPublica's .onion site.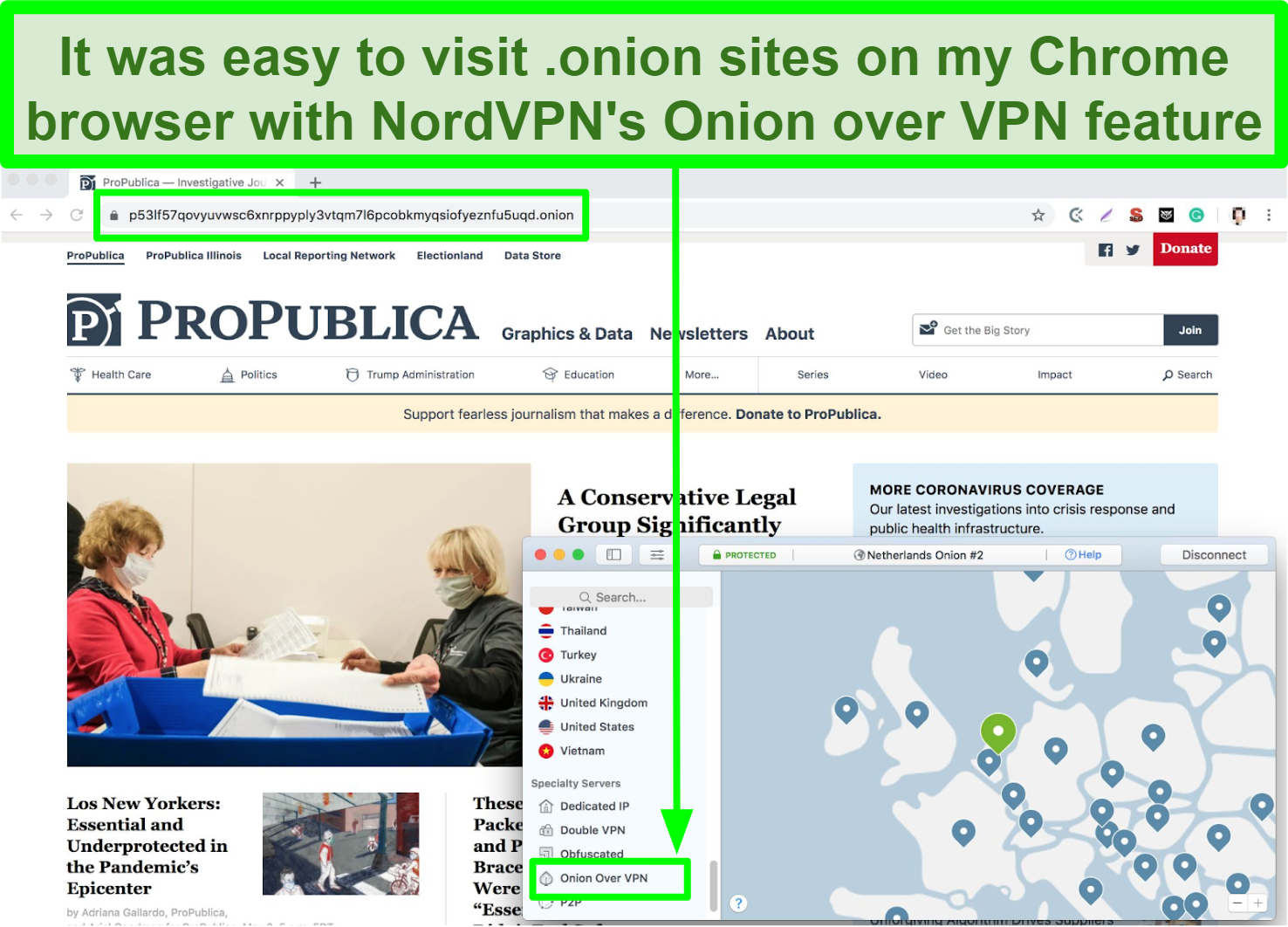 The only slight con with this feature is that NordVPN has a limited number of Onion over VPN servers, so I wasn't always able to connect to one. This wasn't much of a problem though, because NordVPN also lets you access the dark web through a Tor browser. If the Onion over VPN servers are unavailable, that means that you'll still be able to connect to the dark web as you would with any other VPN.
Malware and cybersecurity attacks are serious security threats on the dark web. Due to lack of regulation, these dangers are more common on .onion pages than they are on the surface web. I was really worried about these dangers, so I wanted a VPN that would keep me safe. In my testing, I was impressed that NordVPN has some of the strongest security features available to keep you safe on the dark web. Its CyberSec ad and malware blocker prevent you from even entering websites with harmful content. Since seemingly normal .onion sites are notorious for hosting malware and viruses, this layer of protection helped me feel safe.
I discovered that NordVPN hired world-class cybersecurity experts to audit its security features and later published the testing results. The company showed that NordVPN's top-of-the-line encryption and strict no-logs policy live up to the company's security promises. With proof like this, I felt secure using NordVPN to connect to .onion pages and torrent books from Library Genesis.
Since I wanted to use both Windows and iOS devices to access the dark web, I was worried that I might not be able to find a VPN that's compatible with both operating systems. However, I was happy that the NordVPN Windows client offers the same features as the Mac OS app — and they both work well on .onion sites. NordVPN is the #1 VPN for Windows compatibility. Since some VPNs don't offer the same protections on Windows, this was a big relief to me.
If you're still not ready to commit to a long-term subscription, I recommend you try NordVPN risk-free for 30 days with its money-back guarantee. If you decide you don't want the service at the end of this period, contact the 24/7 customer support chat. They helped me process my refund within 6 business days.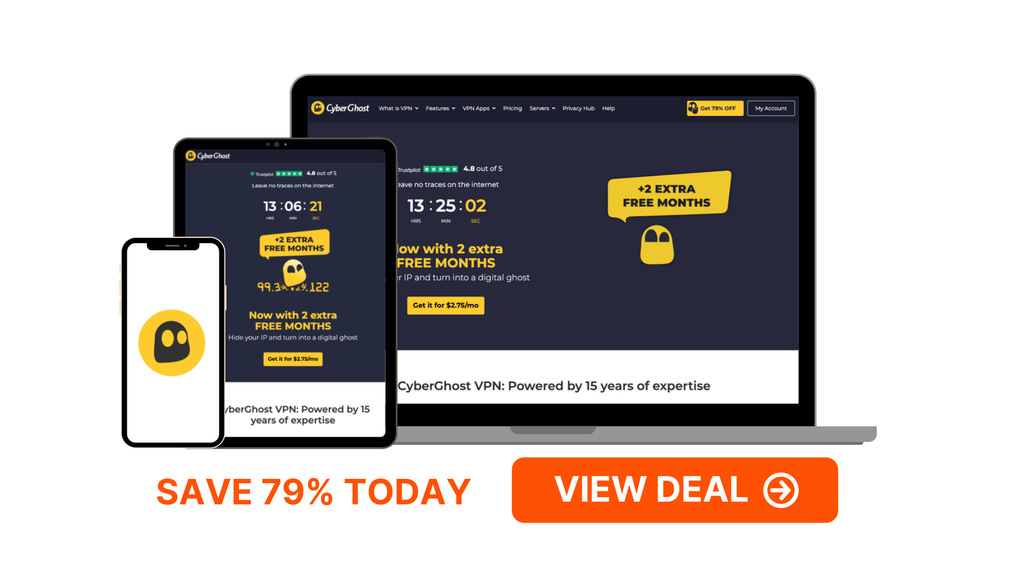 Key features:
Fast NoSpy servers and unlimited bandwidth for good speeds on the dark web
Top-tier encryption and an ad and malware blocker
Automatic kill switch and DNS leak protection to keep your information private
No-logs policy to keep your sensitive data hidden
Accepts Bitcoin for anonymous payments
CyberGhost's top-tier technology keeps you secure even on the dark web. Aside from industry-standard security features like 256-bit encryption and a kill switch, CyberGhost also offers NoSpy servers for extra privacy. These servers are based in Romania, which is a privacy-friendly nation. Local laws don't promote surveillance or mass data gathering. I was also surprised to find that CyberGhost owns and operates its entire server network, allowing it to closely monitor its network for security breaches. This combination of protections reassured me that prying eyes would never be able to track the papers I downloaded from Sci-Hub.
Since many other VPNs don't have NoSpy servers, I was worried that it might be difficult to connect to them — but I was wrong. Connecting to CyberGhost's NoSpy servers is quick and easy. I simply opened the app, searched for "Romania" from the server list, and scrolled to the bottom of the list to find all their servers beginning with "NoSpy". I was impressed that I was able to connect to one of CyberGhost's NoSpy servers in less than 10 seconds.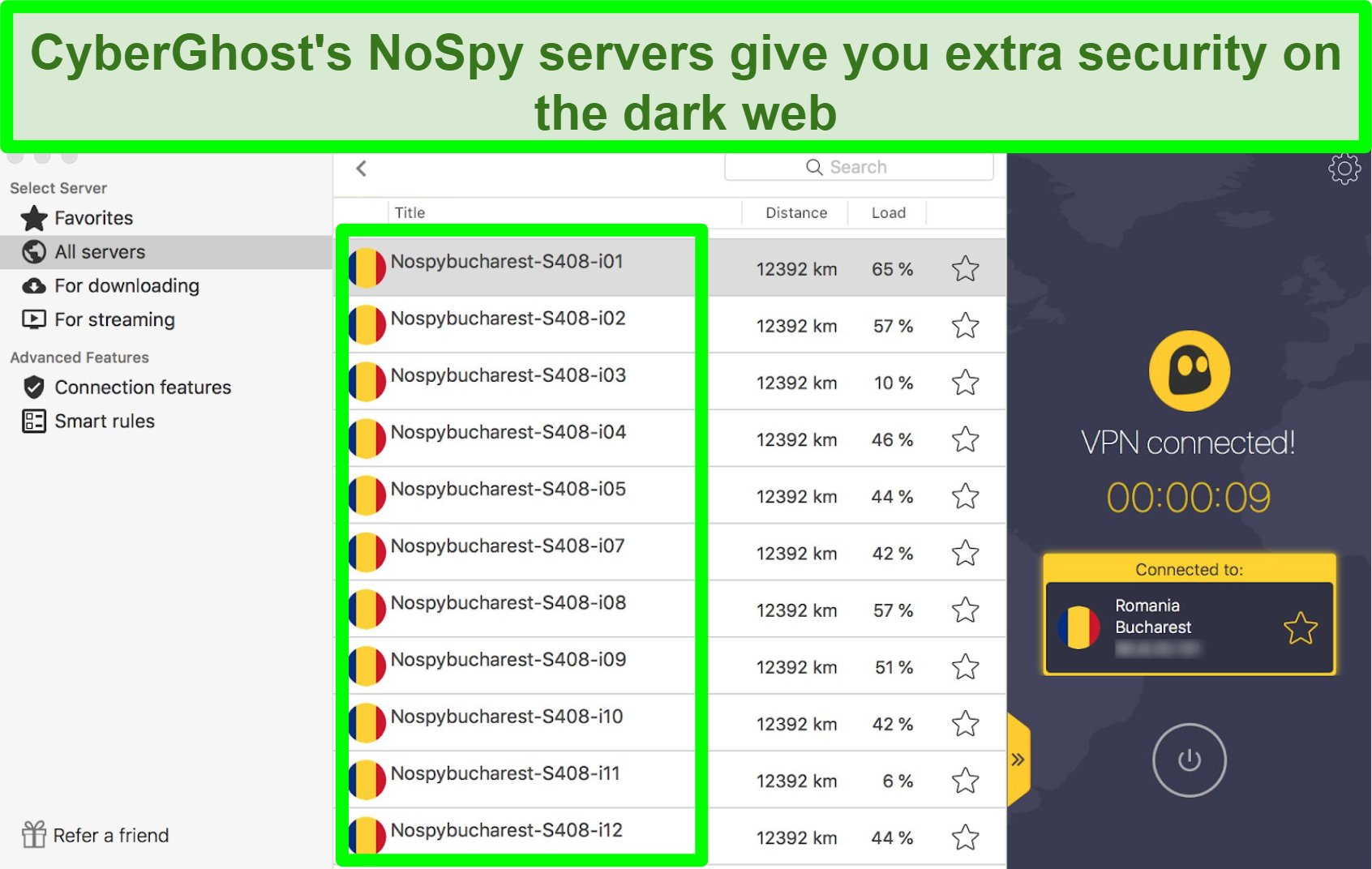 In my testing, I was relieved to find that CyberGhost also offers built-in protections against ads and malware to protect you against malicious websites. Since .onion sites frequently try to infect users' devices with malware and viruses, these features reassured me that I would be safe.
The only issue I faced was that CyberGhost gave me slower loading than the other VPNs. It took about 4-6 seconds to load most pages, which I considered to be tolerable. However, these slower speeds might be a serious issue if you plan to torrent large files from Library Genesis, Sci-Hub, or another .onion site.
Although the other VPNs on this list offer a standard 30-day money-back guarantee, I was excited that you can try CyberGhost for 45 days at no risk to you. This is the longest refund period of all the VPNs in this article. When I tested it out, CyberGhost's helpful customer service helped me get my money back in 5 days, no questions asked.
Try CyberGhost free for 30 days
CyberGhost's Latest Deal October 2020: Get an 18-month subscription for the price of the 12-month plan — which means you get 6 months completely free!!! Prices start at only $2.75/month. See more information on this offer here.
FAQs on .onion Sites and VPNs
🙃 Can I use a free VPN to stay safe on the dark web?
No — I would never recommend using a free VPN to access .onion sites. While there are a few good free VPN services for the surface web, you need the best technology to stay safe on the dark web. Free services don't meet these standards, so they can't protect you.
Since they don't collect subscription fees, many free services offer poor security to cut down on costs. They may use outdated encryption standards or leak protection. Other services intentionally log your data and sell it to unverified third parties to make money. A few providers even participate in cybercrime by installing malware on your device or stealing your bandwidth.
When it comes to using the dark web, don't risk your safety to save a few dollars. I recommend you use a quality service like ExpressVPN that has been proven to protect you. If you simply want to explore the dark web but don't plan on using it regularly, you can take advantage of ExpressVPN's 30-day money-back guarantee. This will let you access .onion sites safely for a few weeks, then you can get your refund. During testing, I got my money returned in 4 days.
Use ExpressVPN free for 30 days
😅 How dangerous are .onion sites (really)?
The dark web can be very risky to use — unless you protect yourself with the right technology. Using a VPN is the best way to stay safe on .onion sites because of surveillance, malware, and other risks.
In some countries, simply accessing the dark web may give law enforcement the right to spy on you or search your computer (even if you're doing completely legal things). Government entities won't be able to easily track your activity once you're past the Tor network entry point — but your ISP can see if you install or launch a Tor browser. That could be enough to get you red-flagged.
Aside from unwanted surveillance, the lack of regulation on the dark web means that viruses, fraud, scams, and cybercrimes are common on .onion sites. Even websites that seem reputable can host malware that can infect your devices and expose you to hackers.
To stay safe from prying eyes and cybercriminals on .onion sites, I recommend you protect yourself with ExpressVPN's cutting-edge security.
😎 How can I stay safe on .onion sites?
Before you even launch your Tor browser, connect to a top-tier VPN with tough security features. This will protect you from surveillance, hackers, and other risks. You can also follow these tips to protect yourself on the dark web:
Research .onion websites on the surface web before visiting them on the dark web to make sure they're legitimate.
Cover your webcam with tape to stay safe from prying eyes.
Close all other apps on your device before connecting to Tor.
Avoid downloading anything on .onion sites. If you do download or torrent something, make sure you disconnect your device from the internet before you open the files to prevent any malicious online exposure.
Don't share personal information and be careful interacting with others on the dark web.
Be very wary if you decide to make a purchase. Since the dark web is unregulated, it's easy for vendors to sell you faulty, fake, and dangerous products — or to take your money and run. If you do decide to make a purchase, use a cryptocurrency, and never give your credit card information.
Don't alter the Tor browser's pre-configurations unless you're an expert in programming and the dark web — otherwise, you could expose your private data to dangerous third parties on .onion sites.
Don't use Tor2Web or other proxy services to access .onion sites. They don't have the security standard necessary to protect you on the dark web and they may even log and sell your private data!
😇 Is the dark web illegal?
It is legal to access the dark web, but illegal activities may take place there.
Crime is common on this part of the internet because it's less regulated than the surface web. Even if you're careful, you may come across stolen information (account credentials and credit card information), illicit substances (drugs, guns, controlled chemicals), and down-right disturbing content (organs for sale, human trafficking, hit men for hire). If you interact with material like this and law enforcement finds out, claiming ignorance might not be a strong enough defense to keep you out of trouble.
Cybercrimes are also common on the dark web. Many .onion sites contain harmful material like viruses and malware that infect your devices. Hackers may use them to steal your credentials, financial information, and identity. They could even take control of your webcam to spy on you. The prevalence of illegal activity is why authorities may investigate you for simply accessing the Tor network.
While there is illegal activity on the dark web, there are also a ton of unique, interesting resources that you can't find anywhere else. That's why you should always protect yourself with a VPN like ExpressVPN whenever you access .onion sites.
🤓 What are the best .onion sites for books?
The dark web has a ton of online libraries available — but take safety precautions before you download anything from an .onion site. I highly recommend that you use one of the reputable VPNs on this list when accessing these pages to maximize your security. After you've taken the right steps to protect yourself, here are some of the best .onion sites for exploring books:
Library Genesis
Library Genesis is part of the list of top .onion sites to visit on the dark web because it has a huge collection of scholarly articles and books. You'll find over 4.6 million books, thousands of magazine issues, 80 million academic articles, and over 2 million comics here.

Website link: http://genotypeinczgrxr.onion/

Z-Library
With over 3 million books and 73 million articles on this page, you'll never run out of reading here. Z-Library offers content in multiple languages dealing with subjects from literature to academic topics.

Website link: http://2bu5puxp6afwjgql.onion/

Clockwise Library
Although Clockwise Library has a comparatively smaller collection of books (30,000+), it's really popular among those interested in arts and science.

Website link: http://clockwise3rldkgu.onion/
🙂 What is the best way to find .onion sites?
The best way to explore .onion sites is to use a Tor search engine like The Hidden Wiki, DuckDuckGo, or Torch. Looking for .onion sites can be tricky because their domain names are usually a string of nonsensical numbers and letters. You can't type in "fishing.onion" and expect to find a website about fishing. These search engines work similarly to Google, but instead of indexing websites on the surface web they gather Tor websites.
To avoid danger, you should always research .onion sites on the surface web before accessing them. See if there are people talking about them on forums and if others say they're safe. Even with all these safety measures, many links could still lead to websites that are illegal or host malware. That's why it's always important to protect yourself with a top-tier VPN when you're on the dark web.
The Hidden Wiki website link: http://zqktlwi4fecvo6ri.onion/wiki/index.php/Main_Page
DuckDuckGo website link: https://3g2upl4pq6kufc4m.onion/
Torch website link: http://xmh57jrzrnw6insl.onion
🤑 What are the best cryptocurrencies for .onion sites?
There are lots of cryptocurrencies you can use on the dark web — but make sure to take steps to protect yourself before you even think about making a purchase. It's important to use a reputable VPN before connecting to the dark web and to research vendors before making purchases. Since .onion sites aren't regulated, it's common for fake and dangerous products to be sold (and for vendors to take your money without ever sending you anything!).
After you've taken those steps, you can decide which cryptocurrency you want to use. Bitcoin is still the most popular form of payment used on the dark web. However, many folks have sought out alternatives because Bitcoin transactions are not always 100% private. As a result, more users have been using Monero and Zcash as alternative cryptocurrencies so transactions can't be used to figure out your identity. They're also somewhat cheaper than Bitcoin, which is another factor that has caused these altcoins to rise in popularity.
Visit .onion Sites Safely With the Right VPN
The dark web provides many opportunities for accessing research for free, enjoying freedom of speech, and conducting activism anonymously online. However, it does have its dangers. With the right VPN, you can visit .onion sites safely without third parties (like your ISP) finding out.
I recommend you use ExpressVPN to access .onion sites because it has the fastest server speeds and strongest security features. You can also take advantage of its 30-day money-back guarantee to use it for free. If you're not happy with it, you can contact their customer service and get a refund before the end of the period — I got my money in 4 days.