McAfee vs Kaspersky: Which Antivirus Is The Best in 2023?
McAfee and Kaspersky have both been prominent players in the malware protection industry for several decades, each striving to secure the leading position. However, I was curious to find out which of the two antivirus brands had the upper hand in terms of actual performance.
I tested both antivirus programs across 15 different areas. From my tests, I discovered that while both antiviruses have consistently maintained high-security standards, McAfee is the top choice, outperforming Kaspersky in most categories.
Although it didn't influence my review, it's important to note that authorities like the FCC have warned against using Kaspersky due to concerns about its ties to Russia. McAfee, on the other hand, has continued to stay reputable over the years, providing strong security features. You can try McAfee risk-free using the 60-day money-back guarantee.
No Time? Here's a 1-Minute Summary of Category Winners
McAfee and Kaspersky provide robust security features. After testing them thoroughly, I found that McAfee outperformed Kaspersky in malware detection rates, ease of use, and extra features.
| | | |
| --- | --- | --- |
| | | |
| Virus Scanner | Detected 100% of threats during my tests | Detects 99.97% of threats but has more scanning options |
| Real-Time Malware Protection | Automatically blocks 100% of threats in real-time | Blocks all real-time threats but collects user data |
| System Performance | Has minimal impact on system performance | Doesn't slow down the PC, but slightly consumes more system resources |
| VPN | Offers a basic VPN with poor streaming abilities | VPN unblocks major streaming sites |
| Parental Controls | Feature-rich and simple-to-use parental control apps | Good parental control tools |
| Firewall | Customizable firewall features with robust protection | Smart firewall with excellent protection, but the features are scattered across the app |
| Password Manager | Decent password manager for organizing all your logins | Decent range of features for password management |
| Gaming Mode | ✘ | Blocks notifications during full-screen activities |
| Optimization Tools | Offers App and Web Boost tools | Include privacy cleaner, duplicate file finder, hard drive health monitor, and PC speed-up tools |
| Other Features | File shredder, ransomware coverage, and ID theft protection | Webcam protection, secure banking, and encrypted file storage |
| Device Compatibility | Windows, Linux, Mac, ChromeOS, Android, and iOS | Windows, Linux, Mac, Android, and iOS |
| Customer Service | Live chat, phone, and community forums | Live chat, Email, phone, and community forums |
| Price | Premium features and available on every plan and budget-friendly | Lots of premium features, but not rich in extra features on top-tier plans |
| Free Version | ✘ | Antivirus protection, limited VPN, password manager, and parental controls for free |
| Money-Back Guarantee | 60-day money-back guarantee | 30-day money-back guarantee |
Protect your devices with McAfee
How I Tested and Compared McAfee vs Kaspersky
I used 15 different criteria to compare both antivirus options so you can find out the best one among the duo. Here's what I looked out for:
1. Virus Scanner — McAfee Offers Perfect Malware Detection Scores, While Kaspersky Has More Scan Options
McAfee offers perfect malware detection rates, while Kaspersky only achieved near-perfect rates. During my tests, McAfee detected 100% of malware samples on my test machine, whereas Kaspersky caught 99.96% of threats.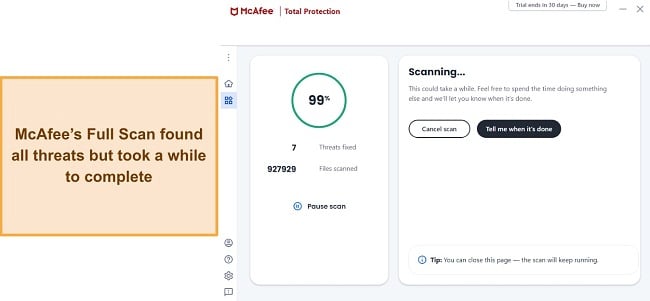 To further compare the antiviruses, I looked at the scan types they offer.
McAfee supports the following types of scans:
Quick Scan — checks critical areas of your system.
Full Scan — scans the entire disk of your computer.
Custom Scan — allows you to check specific folders or drives for threats.
Kaspersky offers the following types of scans:
Full Scan — carries out a thorough scan of the entire device.
Quick Scan — checks files and folders most susceptible to risk.
Selective Scan — inspects specific folders for threats.
Instant File Scan — allows you to search a separate object, hard drive, or folder.
Removable Drive Scan — scans USB sticks and external hard drives for threats.
Background Scan — searches for infected files when your device is idle.
Application Vulnerability Scan — checks for vulnerabilities in your applications.
While Kaspersky offers more scanning options, you'll most likely need to run only the Quick scan often and the Full Scan occasionally. So, having more scanning options doesn't make an antivirus more robust.
When it comes to scan times, Kaspersky is the faster choice, especially for the full scan. Here's a breakdown of how much time both antiviruses take for each scan type:
| | | |
| --- | --- | --- |
| | Quick scan | Full scan |
| McAfee | 5 minutes | 2 hours |
| Kaspersky | 5 minutes | 45 minutes |
In summary, both antivirus programs are capable of protecting you from different malware strains. While Kaspersky antivirus has more scanning options and faster scan times, McAfee is more potent at catching malware. Therefore, this round ends in a draw.
2. Real-Time Malware Protection — McAfee Provides Real-Time Protection Without Collecting Your Data
Both McAfee and Kaspersky are excellent choices for real-time protection, each scoring 100% during tests. Real-time protection allows your antivirus to set up defenses against cyberattacks. In simple terms, it is an active defense that blocks malware in real time so they don't infect your system.
During my tests, I loaded my test PC with hundreds of malware files, phishing links, and other web threats. McAfee and Kaspersky equally detected every instance of these threats and blocked them immediately, ensuring that my device was always protected. McAfee's WebAdvisor blocked every web threat like phishing and crypto-jacking threats. Similarly, Kaspersky's web protection achieved the same feat.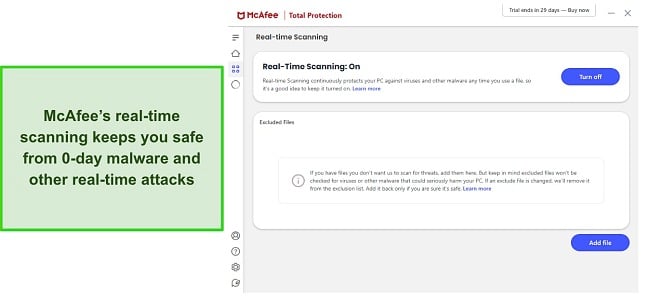 McAfee and Kaspersky secure your device from zero-day threats. McAfee's cloud-based Global Threat Intelligence technology analyzes the behavior of malware and predicts threats. With this technology, it can catch both existing and novel threats.
Kaspersky uses a similar technology called Kaspersky Security Network (KSN) to protect you from zero-day threats. KSN collects complex cyber data from users to offer the highest protection. It does this by having artificial intelligence and human experts analyze user data with science-based algorithms to uncover threats. Unfortunately, this systematic and global data collection level raises privacy concerns for many individuals.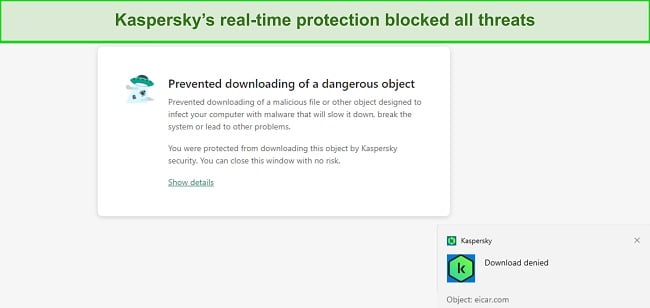 I was impressed with McAfee's Ransom Guard protection. McAfee monitors your device for suspicious file changes, notifying and protecting you from ransomware and spyware attacks. Similarly, Kaspersky's System Watcher reduces the risk of ransomware by automatically detecting and acting on suspicious behavior.
Overall, both antiviruses provide real-time protection from different types of threats. However, Kaspersky's data collection practices are unwelcome, and as such, I recommend opting out of KSN. This would mean, however, less protection. Hence, McAfee wins this round as it protects you without collecting your data.
Get real-time protection with McAfee
3. System Performance — McAfee Has Minimal Impact on Your System
McAfee and Kaspersky are both lightweight antivirus programs. When running in the background, both programs consume fewer system resources, thereby allowing them to protect your system without interfering with normal processes.
To measure the exact impact of both antivirus programs on my system, I recorded my CPU, Disk, and Memory utilization before and during a scan and compared the values. Here's what I found:
| | | | | | | |
| --- | --- | --- | --- | --- | --- | --- |
| Test Type | CPU Utilization % (no scan) | Memory Utilization % (no scan) | Disk Utilization (MB/s) (no scan) | Full Scan CPU Utilization % | Full Scan Memory Utilization % | Full Scan Disk Utilization (MB/s) |
| McAfee | 7 | 80 | 70 | 28 | 84 | 85 |
| Kaspersky | 4 | 80 | 1 | 31 | 88 | 49 |
I found that McAfee increased my CPU utilization from 7% to 28%, which didn't lead to any significant slowdown of my system. Similarly, Kaspersky saw my CPU utilization move from 4% to 31%, yet another negligible value. I didn't experience any lag while carrying out resource-intensive activities on my PC.
Here's an idea of how both antiviruses impacted my system performance when carrying out different activities.
| | | |
| --- | --- | --- |
| | McAfee | Kaspersky |
| Slower copying of files (locally and in a network) | 1% | 0% |
| Slower download of frequently-used applications | 0% | 2% |
| Slower launch of standard software applications | 10% | 14% |
Overall, McAfee had minimal impact on system performance, likewise Kaspersky. However, after detailed tests and running different activities, McAfee had the least impact on my system performance, so it wins this round.
4. VPN — Kaspersky's VPN Is Faster and Accesses More Streaming Platforms
Kaspersky's VPN is superior to McAfee's in almost every area. I tested the speeds, streaming abilities, server coverage, security, and privacy features to determine the better VPN service. During my tests, Kaspersky's VPN performed overwhelmingly better across all these areas.
A VPN encrypts your connection by creating a secure tunnel, allowing you to browse the internet safely. It also allows you to access your home content when traveling and protect your data from cybercriminals. Both McAfee and Kaspersky's VPN protect your online activities from hackers using military-grade encryption technology, but for other activities, Kaspersky VPN is better.
When it comes to streaming, Kaspersky Secure Connection VPN accesses all the popular streaming platforms including, Netflix, HBO Max, Hulu, Prime Video, and Disney+. The servers are fast, so you won't experience lags when catching up with your favorite shows. In contrast, McAfee's VPN couldn't access any other platform other than Netflix, and even then it wasn't always reliable.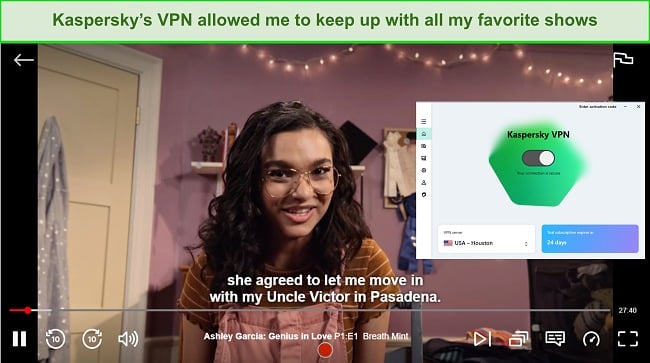 Kaspersky offers more server locations (85+ servers in over 65 countries) whereas McAfee only offers a fewer number of servers in 50+ countries. Luckily, both VPNs passed my DNS, WebRTC, and IP leak tests, so you can trust that they're as secure as the best built-in antivirus VPNs.
In summary, while the antivirus-bundled VPNs of McAfee and Kaspersky are both secure, you will get more utility when using Kaspersky Secure Connection VPN, especially for streaming, gaming, and P2P.
Browse securely with Kaspersky
5. Parental Controls — McAfee's Parental Control Apps Are More User-Friendly
McAfee and Kaspersky offer excellent parental control features, but I found McAfee's app more intuitive and easy to use. Both apps allow you to monitor your kid's activities online and offline, helping to ensure your kids are always safe.
Here are the features offered by both parental control apps:
| | | |
| --- | --- | --- |
| | McAfee | Kaspersky |
| Websites and App filtering | ✔ | ✔ |
| Screen-time controls | ✔ | ✔ |
| Location tracking | ✔ | ✔ |
| Geofencing | ✔ | ✔ |
| YouTube Monitoring | ✘ | ✔ |
You have to download McAfee's standalone parental controls app (McAfee Safe Family) and configure it to protect your kids. The app is lightweight, and it takes less than 3 minutes to get everything up and running. Once you've installed it on your device and your child's device, you can create multiple child profiles and set the appropriate restrictions.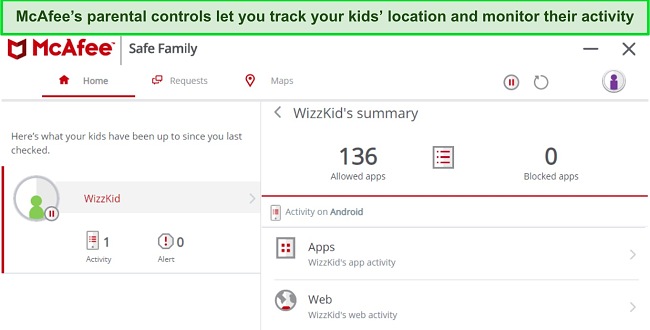 McAfee's Safe Family lets you block inappropriate sites, set time limits for accessing specific apps or the internet, track your child's location, and view their browsing history. I also like that Safe Family alerts me if any changes are made to the app on my child's device or if rules are breached. This is a very important feature, considering that kids a very tech-savvy nowadays.
Kaspersky's parental controls (Safe Kids) are also good. It offers similar functions to McAfee, allowing you to block inappropriate sites, among others. You can use some of the features like content filtering on the free plan — this is a good offering in my opinion. Like McAfee, you can install the standalone Safe Kids app, or just use the Kaspersky browser extension to implement the parental controls.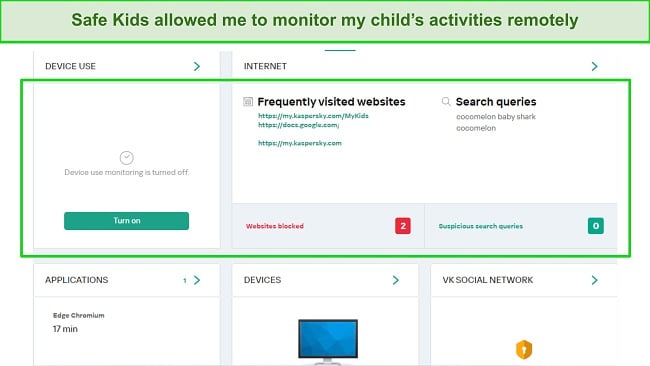 Overall, McAfee and Kaspersky will protect your kids' activities, keeping them safe online. Even though both programs offer robust features, I was more comfortable with the experience on McAfee's app, so it wins this round.
6. Firewall — McAfee's Firewall Features Are More Well-Organized Than Kaspersky's
McAfee and Kaspersky both offer smart and customizable firewalls, but I found McAfee's firewall to be much more robust. A firewall is essential for an antivirus because it creates a layer of protection that filters suspicious network connections, thereby protecting you from exploit attacks.
McAfee's firewall is among the best in the industry due to its top-tier features and the robust protection that it offers. It offers many advanced features missing in the built-in firewall for Windows and macOS. You can adjust how each program connects to the internet, allowing you to filter out suspicious network connections.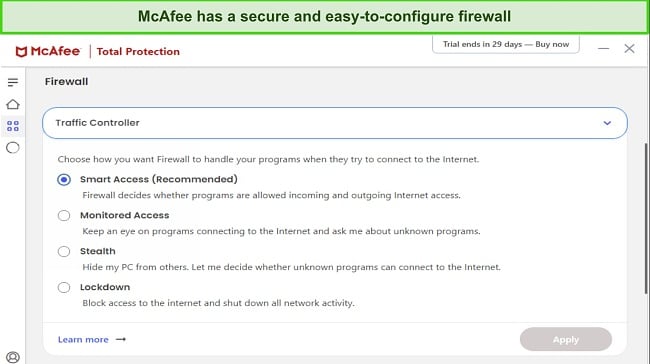 If you find all the options overwhelming, you don't have to touch anything — the firewall is automatically set up to provide the best protection without any need for you to make changes. The Net Guard feature has proven to be highly valuable in my experience, as it actively monitors programs and prevents them from establishing harmful connections.
Kaspersky also offers an excellent firewall. With the ability to create rules for individual applications, you can conveniently allow, restrict (with permission requests), or outright deny connection requests. I even like how Kaspersky's firewall works round the clock, even when your PC is in sleep mode.
The standout features for me were:
Network Monitor — displays all current network connections on your device.
Network Attack Blocker — safeguards your computer against harmful network activities.
Intrusion Prevention — oversees all active processes and regulates access to your computer's resources for individual programs.
Smart Home Monitor — displays your home Wi-Fi and all connected devices.
Unfortunately, accessing customization options for these features requires navigating the security tab, which I found to be a bit scattered. I would have preferred if Kaspersky had consolidated all network protection features under the firewall tab.
Overall, the firewall options of McAfee and Kaspersky are smart, customizable, and robust, but I prefer McAfee's firewall due to how simple to use it is.
Secure your device with McAfee
7. Password Manager — Both Programs Offer Decent Password Managers
The password managers of both McAfee and Kaspersky offer a wide range of decent features, but if you're looking for exceptional functionality, you'll have to look elsewhere. Both password managers offer the essential features that allow you to:
store all your passwords in a secure vault (away from hackers)
generate secure passwords
auto-fill your logins across multiple sites
check if your passwords have been compromised in a data breach, etc.
Like McAfee, Kaspersky's password manager allows you to store login credentials, credit card details, addresses, social security information, confidential notes, and more while securing your data with military-grade AES-256-bit encryption. Keep in mind, however, you can only store 15 passwords on the free versions of both McAfee and Kaspersky.
McAfee's password manager (True Key) proved to be very user-friendly. The auto-fill feature worked exceptionally well, enabling me to complete complex online forms quickly. True Key's compatibility extends to most operating systems, including Windows, Mac, iOS, and Android, and is designed to work seamlessly with popular browsers such as Chrome, Firefox, Edge, and Safari.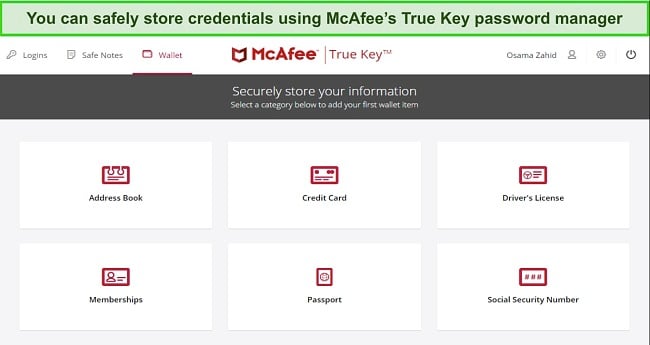 I found Kaspersky's auto-fill feature equally user-friendly when signing in to my Twitter, Google, and PayPal accounts. When I logged in to my vault, Kaspersky's Password Check alerted me about weak logins I created for test purposes and recommended that I change them. However, this process was manual. I would have preferred that Kaspersky offered an automatic password changer that would let me update my passwords with a single click.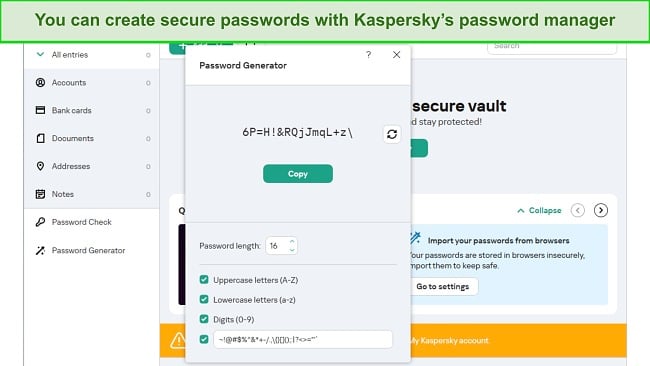 In summary, McAfee and Kaspersky's password managers offer decent tools to organize and securely use all your passwords and other sensitive information. While not close to the capabilities of standalone password managers like Dashlane and 1Password, you still get a decent range of features. So, this round ends in a draw.
8. Gaming Mode — Kaspersky Stops Notifications When Using Full-Screen Apps
McAfee doesn't have a dedicated Gamer Mode feature, but I found Kaspersky's gamer mode feature pretty basic. Gamer mode minimizes system resource usage and reduces interruptions during gaming sessions.
Kaspersky's Game Mode and Do Not Disturb features are designed to prevent scans, updates, and notifications from interrupting full-screen activities such as gaming and streaming. These features allow you to have a more enjoyable and uninterrupted experience while still maintaining protection from potential threats. I tested it while playing Call of Duty: Warzone, and I didn't experience interruptions throughout the time I was gaming.
Overall, Kaspersky's gaming mode feature is effective and allows you to game without interruptions. Together with the Do Not Disturb feature, they allocate system resources to you and block notifications to optimize your gaming experience.
Game without interruptions using Kaspersky
9. Optimization Tools — Kaspersky Offers Tons of Performance-Enhancing Features for Your Device
Both McAfee and Kaspersky have system optimization tools, but Kaspersky offers way more optimization tools. Keep in mind, however, that these features aren't available on the free plan.
Kaspersky offers a range of tune-up tools, including:
Quick Startup — allows you to disable autorun apps, thereby speeding up system boot time.
PC Speed-Up — removes unused system temporary files, recycle bin files, and registry issues that slow down your PC.
Hard drive health monitor — displays the health and temperature percentage of all drives on your computer.
Duplicate File Finder — checks your system for duplicate files that consume space.
Unused App Checker — helps you find applications you haven't used in at least 3 months, so you can remove them to save space.
Privacy Cleaner — removes cookies and trackers from your PC.
Battery Saver — postpones scans and updates when your laptop is not charging to conserve battery life.
After testing each optimization feature, I found Kaspersky's Hard Drive Health Monitor to be the most valuable. The sudden failure of a hard drive can be a painful experience resulting in significant data loss. However, with this feature, you can monitor your hard drive's health and receive alerts before it crashes, allowing you to back up your data in time.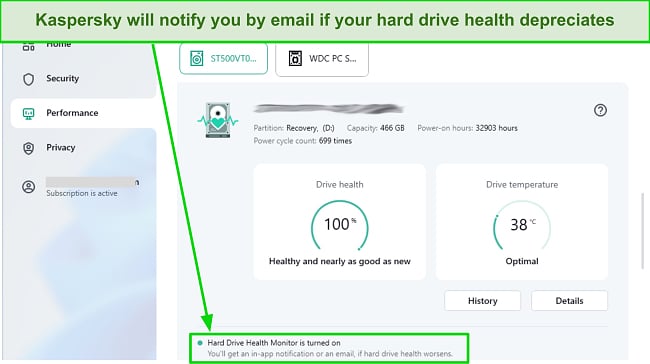 McAfee has fewer optimization tools, but the main options are very useful. McAfee's App Boost and Web Boost can significantly improve app performance and web browsing experience. App Boost automatically analyzes frequently used apps and optimizes them for faster launching. On the other hand, Web Boost, a Chrome browser extension, prevents auto-playing videos on websites, resulting in smoother browsing and less data consumption.
Overall, I was impressed by Kaspersky's wide range of optimization features, especially the Hard Drive Health Monitor. McAfee also has 2 great optimization features, which it will be retiring soon. For this reason, Kaspersky is the winner of this section.
Optimize your device with Kaspersky
10. Other Features — McAfee Offers Lots of Useful Extra Features
Both antiviruses come with extra features, but I found McAfee's additional security features to be more valuable. McAfee offers a range of security-focused features that are more useful to me than Kaspersky's.
Here's a table comparing the extra features offered by both antivirus programs:
| | | |
| --- | --- | --- |
| | McAfee | Kaspersky |
| Browser Extension | ✔ | ✔ |
| Ransomware Protection | ✔ | ✔ |
| Ransomware Coverage | ✔ | ✘ |
| Network Monitor | ✔ | ✔ |
| Webcam and Mic Protection | ✘ | ✔ |
| File Shredder | ✔ | ✘ |
| Identity Theft Protection | ✔ | ✔ |
| Encrypted Storage | ✔ | ✔ |
| Secure Banking | ✘ | ✔ |
McAfee's File Shredder is a great tool for deleting sensitive files securely. Unlike traditional or somewhat advanced methods, which may still allow for file recovery, File Shredder makes files permanently inaccessible, providing an extra layer of security for sensitive data. I was also impressed with McAfee's ransomware coverage which offers up to $25,000 insurance on the McAfee+ Ultimate plan.
Kaspersky's Safe Money allows for secure online payments. To use it, simply add the website URL under the Safe Money tab and visit the site. A green box will appear in the bottom right corner to confirm that the site is secure for making transactions. This feature blocks plugins and browser synchronization, and also offers an on-screen keyboard for added security.
Overall, both antivirus programs offer a good number of useful extra features. However, after testing and comparing the features, I found more value in using McAfee's extra features.
11. Device Compatibility — Both Apps Are User-Friendly, but McAfee Supports More Platforms
Both McAfee and Kaspersky are compatible with popular operating systems, including Windows, macOS, Android, and iOS devices. They offer user-friendly interfaces across the supported devices and make navigation very easy.
| | | |
| --- | --- | --- |
| | McAfee | Kaspersky |
| Windows | 8.1, 10, and 11 | 7, 8, 8.1, 10 |
| macOS | 10.12 or higher | 10.12 or higher |
| Android | 7.0 or higher | 4.4 or higher |
| iOS | 13 or higher | 12 or higher |
| ChromeOS | ✔ | ✘ |
| Linux | ✔ | ✔ |
McAfee's desktop apps are intuitive on both Windows and macOS. The app's features are conveniently located in a sidebar that you can access at any time. Despite identical designs, the Windows app offers more features including, optimization tools, Tracker Remover, and ID Theft Protection.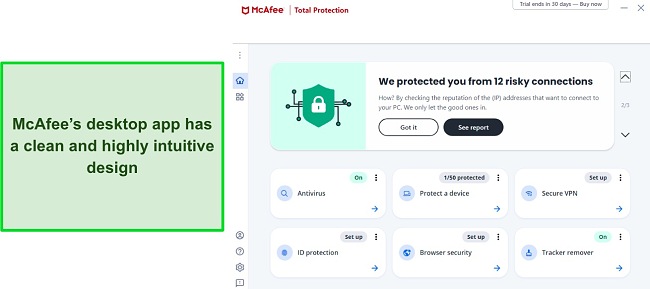 Similarly, Kaspersky's desktop apps are intuitive and feature-rich. It takes only a few minutes to get the app up and running. However, I don't like how Kaspersky's free version forces you to make an account before accessing it.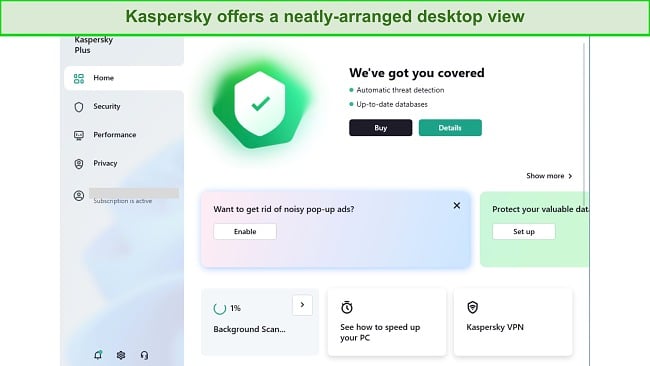 Both apps offer decent mobile apps for Android and iOS devices. Their clean interfaces make all the features easy to find and use. While the iOS versions of both McAfee and Kaspersky come with web protection, data breach alerts, and VPN, it doesn't allow you to scan for malware. For enhanced security, you'll need to get iOS-focused antivirus programs.
In summary, McAfee and Kaspersky antivirus provides user-friendly and feature-rich apps for desktop and mobile devices. However, McAfee supported more platforms and was much easier to use, so it's the winner here.
Protect your devices with McAfee
12. Customer Service — Kaspersky Offers More Support Options
Kaspersky stands out in this category, providing various support options, including 24/7 live chat, email ticketing, and phone support. McAfee offers similar customer support channels but lacks the email ticketing option.
Here are all the support channels offered by both antivirus programs:
| | | | | | |
| --- | --- | --- | --- | --- | --- |
| | Live chat | Email | Phone | Community forums | FAQs and knowledgebase |
| McAfee | ✔ | ✘ | ✔ | ✔ | ✔ |
| Kaspersky | ✔ | ✔ | ✔ | ✔ | ✔ |
I found McAfee's 24/7 customer support helpful. The representatives on live chat answered my questions satisfactorily, even though their response time was slow. You can also get help via phone if you prefer to talk to an agent directly. Wait time is usually less than 10 minutes, depending on where you're calling from.
McAfee's forums provide a platform to get help from experts and other users. It covers a wide range of topics, allowing you to get the assistance you need. In addition, you can also browse through the rich online knowledge base that contains answers to FAQs and other articles.
In comparison, Kaspersky's live chat service is both swift and efficient. However, to access the chat, you will be required to complete a form first. I found this tedious, especially as I had to pass through this process for every support channel.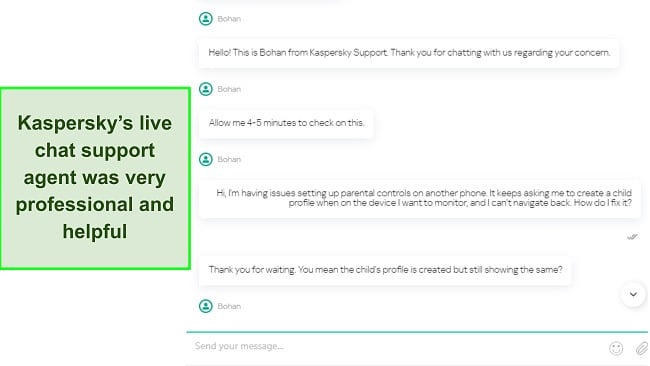 If you prefer to seek assistance via phone, you'll be pleased with the phone support provided by Kaspersky. During my test, I was able to connect with a customer representative in less than five minutes, which is impressive. Email support is also helpful, while the online knowledge base and community forums provide answers to a great variety of questions and answers.
Overall, both antiviruses offer helpful support across different channels. You'll get the assistance you need from the representatives whenever you contact them.
13. Price — McAfee Offers Better Value at Budget-Friendly Price
Although Kaspersky is cheaper (without the discounts), McAfee provides excellent value across all its plans. It offers 2 groups of plans — Total Protection and McAfee+, each with top-tier features for your overall security.
McAfee Total Protection offers 2 plans:
McAfee Total Protection Basic — This plan includes the core antivirus and web protection features found in Antivirus Plus, along with McAfee's ID Monitoring, password manager, File Shredder, and VPN. However, it only provides protection for a single device.
McAfee Total Protection Plus — This version has everything that the Basic plan offers, but it allows you to protect up to five devices and includes five licenses for the VPN. This makes it an excellent choice for families or small businesses.
The McAfee+ plans are the top-tier plans available for McAfee. There are 3 plans — McAfee+ Premium, McAfee+ Advanced, and McAfee+ Ultimate. These plans cover unlimited devices and provide reliable ID theft coverage, ransomware coverage, Personal Data Cleanup, and more. However, some of the features in McAfee+, like credit monitoring, are only available for US customers. McAfee's lowest price starts at $44.99, which is a decent starting point.
Kaspersky also has multiple plans to ensure your security. They include:
Kaspersky Standard — provides anti-malware features, limited VPN and password manager, data leak checker, and parental controls. It also offers a firewall, anti-phishing, device optimization, and payment protection.
Kaspersky Plus — supports all the features in the Standard plan and unlimited VPN, Hard Drive Health Monitor, and File Shredder.
Kaspersky Premium — adds unlimited parental controls and password manager, Identity Theft protection, and 2GB cloud backup.
Kaspersky's Premium plan doesn't add much value when compared to the previous plans. The only standout feature is the ID Theft protection. You can get started with Kaspersky for as low as $41.99. Overall, McAfee offers more value across all its plans, and as such wins this round.
14. Free Version — Kaspersky's Free Plan Is Very Feature-Rich
Only Kaspersky has a free version, so it wins this round. In addition to antivirus protection, it offers a wide range of features including:
Cloud protection — enhances your real-time protection using cloud-based architecture.
VPN — encrypts your internet traffic so you can browse safely, but has a data cap of 200MB per day.
Password manager — stores up to 15 passwords and quickly auto-fills logins on multiple sites.
Safe Kids parental controls — monitor your child's online and offline activities and set screen time limitations remotely.
Data Leak Checker — checks if your email address or logins have been compromised in a data breach.
Mail Antivirus — scans incoming and outgoing emails for malware attachments and spam.
Network Attack Blocker — blocks malicious network activities.
In summary, Kaspersky has one of the best free versions out there. It's packed with lots of features that ensure your online security. You will need to create a free Kaspersky account before you can use the antivirus software.
15. Money-Back Guarantee — McAfee Offers 60 Days While Kaspersky Offers 30 Days
Both antivirus programs offer money-back guarantees, but McAfee's policy is the longest at 60 days. You can get a refund from McAfee:
within 30 days of purchasing a new plan
within 60 days of auto-renewing a plan
at any point, if McAfee fails to remove malware from your system
McAfee's refund process is straightforward. I tested it by subscribing to McAfee's Total Protection plan. After using it for 28 days, I visited the support page and clicked "Request a Refund," which gave me a number to contact. After placing the call, the agent approved my refund, and I had my money back within 7 business days.
Kaspersky offers a 30-day money-back guarantee if you buy directly from their website. The refund process was also straightforward. I requested a refund via the online form, got approval in a day, and received my money back in a week.
Overall, it's easy to get a full refund from both McAfee and Kaspersky. However, McAfee offers more refund options and a longer money-back guarantee period.
Protect your devices with McAfee
And the Winner Is… McAfee
After a tough battle between the 2 worthy antivirus contenders, McAfee was victorious, solidifying its position as the best antivirus among the duo. It won in 8 categories as Kaspersky contested intensely in 2 categories that ended up in a draw.
McAfee is a top-tier antivirus with excellent security features. While contesting with Kaspersky, McAfee was superior in malware detection rates, usability, and extra features. Plus, it's surprisingly low-impact on your system, considering the intensity and thoroughness of its scans. You can try McAfee's premium plans risk-free for 60 days if you sign up for auto-renewal.
Kaspersky is also a solid antivirus, capable of protecting you from different types of threats. It provides robust security features, excellent malware detection rates, and a few helpful extra features. However, authorities around the world have warned against using antivirus over possible ties to Russian intelligence.
Overall, both antivirus programs provide robust features against known and emerging threats. You can depend on them to secure all your devices from the latest threats.
How to Install McAfee on Your Device
Since Windows is very popular and more prone to malware, this step-by-step guide will focus on how to install McAfee on your Windows computer. Note, however, that McAfee is also available for other operating systems like macOS, Android, and iOS.
FAQs About McAfee vs Kaspersky
---
Summary — The Overall Best Antivirus Software in 2023