Bitdefender vs Kaspersky: Full Side-By-Side Comparison (2023)
Both Bitdefender and Kaspersky are well-established names in the antivirus industry. To determine which one was better at keeping me safe on and off the web, I extensively tested both across 15 different categories.
Bitdefender came out to be the better contender overall. It gave me 100% detection scores across repeated tests with near-perfect real-time protection. However, Kaspersky wasn't too bad either. It offers more features on its free and paid plans than Bitdefender does.
Various authorities like the FCC have warned against using Kaspersky due to concerns about its ties to Russia. That's another potential reason to choose Bitdefender over Kaspersky. You can try Bitdefender risk-free with its 30-day money-back guarantee.
Protect yourself with Bitdefender risk-free
No Time? Here's a 1-Minute Summary of Category Winners
| | | |
| --- | --- | --- |
| | | |
| Virus Scanner | Detects 100% of malware and has 6 scan types | Detects 99.96% of complex viruses and includes 7 scan types |
| Real-Time Malware Protection | Blocks 99.5% of threats in real-time, including phishing attacks and ransomware attacks | Blocks 99.2% of real-time threats, including complex cyber attacks on the web |
| System Performance | Lets you play games and browse the web without lag during full scans | Has a moderate impact on performance but lets you browse the web and stream online without slowdowns |
| VPN | No VPN on the free plan, but the one on the paid plan only has 25+ servers and offers unstable speeds | Includes a limited VPN on the free plan, but the full version has 80+ servers and provides fast speeds and excellent unblocking abilities |
| Parental Controls | Doesn't have parental controls on the free plan, but the paid version lets you monitor your child's activities remotely | Offers parental controls on its free plan, but limits function to site and app blocking only |
| Firewall | Includes advanced controls like Stealth Mode to give you complete control of your internet traffic | Has an advanced firewall with customizable features but can be a bit difficult or technical to use for beginner users |
| Password Manager | Easy-to-use password manager with no storage limits and excellent auto-fill capabilities | Beginner-friendly password manager available on the free plan with limited storage, but the auto-fill function is glitchy |
| Gaming Mode | Optimizes system resources for smoother gameplay | Doesn't optimize system resources but only silences notifications and postpones scans while gaming |
| Optimization Tools | Provides a One Click Optimizer with only a junk and duplicate file cleaner | Includes a range of optimization tools and lets you see your hard drive's health continuously |
| Other Features | Includes webcam and audio protection, payment protection, and mail protection | Offers webcam and microphone protection, a data leak checker, and payment protection |
| Device Compatibility | Has more intuitive interfaces across multiple apps and is easier to use | Has intuitive interfaces but its features are scattered across multiple tabs, making them hard to find |
| Customer Service | Provides faster support with an average email waiting time of 2 hours | Wait times can be inconsistent via emails with up to 24 hours |
| Price | Has fewer features at the same price point | Packs more features at a lower price point |
| Free Version | Includes advanced threat detection, anti-phishing, and web filtering | Offers a data leak checker, mail protection, network attack blocker, parental controls, and a limited VPN |
| Money-Back Guarantee | 30-day free trial with a 30-day money-back guarantee, which took 5 days to process | 30-day free trial with a 30-day money-back guarantee, which took 7 days to process |
Try Bitdefender risk-free for a month
How I Tested and Compared Bitdefender vs Kaspersky
I tested Bitdefender and Kaspersky and rated them across the following 15 categories to determine which one is better overall.
Use Bitdefender risk-free for 30 days
1. Virus Scanner — Bitdefender Detects 100% Of Complex Threats
Bitdefender has slightly better virus detection capabilities than Kaspersky. I planted over 750 malware files on my testing machine, including rootkits, trojans, adware, worms, keyloggers, and ransomware. Bitdefender removed all of them, giving me a perfect detection score — it even caught new viruses that were discovered just a few months ago.
Out of its 6 scan types, I recommend running Bitdefender's System Scan as it checks your entire hard drive. Complex threats can evade scans by temporarily moving to unassuming areas of your disk — a full scan doesn't let that happen. The full scan took about 48 minutes to analyze over 2.1 million files and it flagged 7 legitimate files as viruses.
Kaspersky has a cloud-based antivirus engine that matches potential threats with its online database to detect malware. I subjected Kaspersky to the same test as Bitdefender, and it gave me a score of 99.96%. It missed just 1 rootkit packed inside in a zip file, which isn't unexpected because viruses in zip files are more difficult to detect.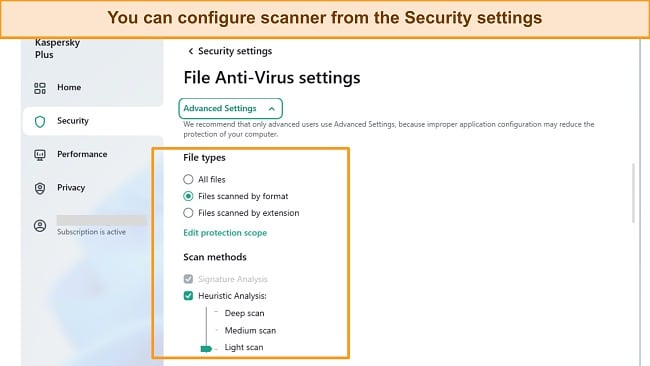 Kaspersky offers 7 scan types but an average user will only mostly use the Quick and Full scans. I'd recommend not using the quick scan too much as it only checks critical drive locations. The full scan took about an hour to inspect my entire hard drive containing 980GB worth of data. You can customize Kaspersky's scans by tweaking the heuristic and signature analysis parameters.
Overall, both Bitdefender and Kaspersky have well-equipped virus scanners. While Kaspersky's full scan gave me 1 false positive compared to Bitdefender's 7, Bitdefender's detection accuracy was slightly better and that's more important to me. It also beat Kaspersky in terms of scan times since every subsequent scan took less time than it did before.
Try Bitdefender risk-free for 30 days
2. Real-Time Malware Protection — Bitdefender Has a Near-Perfect Protection Score
Bitdefender gave me better real-time protection than Kaspersky. It detected 99.5% of all the real-time threats I exposed it to. I opened several emails and websites with confirmed malware infections on a PC, and Bitdefender blocked all of them. It warned me with a pop-up notification — when I clicked it, the Notifications window opened up where I could see the summary of the threats.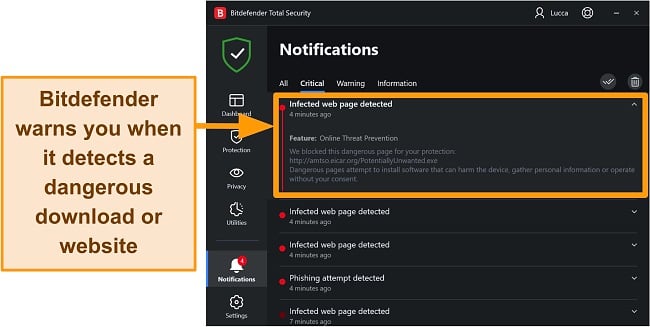 I also got a decent score of 99% against phishing attacks with Bitdefender. Phishing happens when hackers trick you into entering your login details or payment information in a look-alike site and stealing them. Bitdefender has URL filters to match malicious sites with its database and a heuristic filter to check for emails with key spam characteristics.
In addition, Bitdefender's Behavior Monitor tool prevents ransomware from altering your files or taking them hostage. Its Ransomware Remediation tool will undo the ransomware attack, decrypt the attacked files, and recover your sensitive documents — that's extremely useful if your data isn't backed up on an external drive or cloud.
Kaspersky has powerful real-time malware detection too. It blocked me from opening malicious URLs in scam emails and downloading infected files from the web. Its web protection activated kept me from visiting 15+ known phishing sites. Its proprietary infrastructure uses AI and human experts to analyze data via the latest algorithms and guard you against real-time attacks.
I was impressed by Kaspersky's dedicated email protection tool that scans incoming and outgoing messages for malware. It scans all emails received or sent via the POP3, SMTP, IMAP, and NNTN protocols. You can set the security level to low, optimal, or extreme. I suggest only using extreme if you regularly deal with risky sites and downloads.
The System Watcher is Kaspersky's effective anti-ransomware tool that constantly monitors your files for suspicious behavior. I ran the ransomware simulation and Kaspersky immediately detected the malware and prevented it from locking any of my files. You can also set certain key combinations on your keyboard to override malicious lock screen attempts.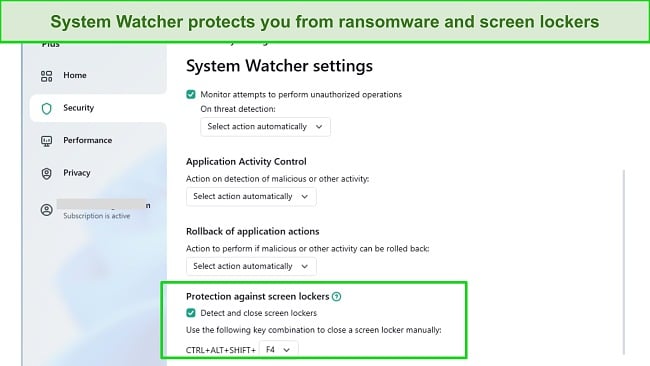 Overall, Bitdefender's real-time protection score is better but Kaspersky doesn't lag behind too much either. Both contenders provide phishing and ransomware protection and are excellent at detecting and blocking real-time threats.
Protect yourself with Bitdefender
3. System Performance — Bitdefender Is Faster and Consumes Fewer Resources
Bitdefender had slightly less impact on my system performance than Kaspersky. I initially measured my baseline levels of CPU and RAM usage levels and then compared them with the new numbers I got while running a full scan of each contender. I also opened web pages and installed a couple of programs during the full scan to experience any slowdowns.
During Bitdefender's full scan, my CPU and RAM levels jumped by 8% and 13%, respectively. I browsed multiple web pages at once with no noticeable slowdown and even installed MS Office without any lag. It took playing a resource-heavy game like Forza Horizon 5 to notice some jitteriness.
Kaspersky was extremely lightweight on my PC too, but it spiked my CPU and RAM usage levels by 12% and 18%, respectively. Like Bitdefender, the slowdown wasn't noticeable until I started installing MS Office and Adobe Photoshop during the full scan. However, I couldn't even tell if the scan was running in the background in everyday use.
In summary, Bitdefender was a bit lighter than Kaspersky. Both contenders are designed to not slow down your system. My experience was the same with both but Bitdefender won by a small margin in the numbers department.
Get Bitdefender free for 30 days
4. VPN — Kaspersky's VPN Has More Servers and Better Security Features
Kaspersky's VPN has a more extensive server network and gave me faster average speeds than Bitdefender's VPN. However, both have a daily data limit of just 200MB — it was barely enough for me to run a couple of speed tests, let alone stream or play online games. With Kaspersky, you can increase the data limit to 300MB if you connect your Security Cloud account.
Unlike Bitdefender, Kaspersky's free plan has a VPN, albeit with data limits. For unlimited data, you can upgrade to the Plus or Premium plan. Besides bandwidth restrictions, I liked that Kaspersky's VPN includes military-grade 256-bit encryption, a kill switch, smart protection, split tunneling, and more than 85+ servers in several countries.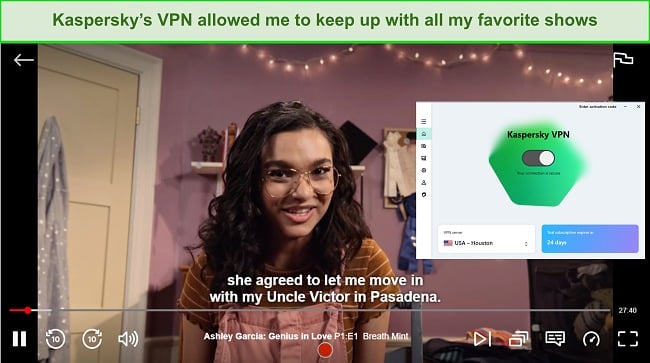 Bitdefender includes a VPN starting from its basic plan but not on its free plan. Unless you're on the Premium plan, Bitdefender limits your data usage to 200MB per day. It has servers in just 25+ countries, so it's not as good for accessing global platforms like Disney+ and HBO Max.
I got fast speeds on nearby servers using Bitdefender's VPN. However, the drops increased substantially on distant connections and I experienced buffering while streaming YouTube videos in UHD.
After extensively using both VPNs, I learned that none of them is as good as a standalone VPN like ExpressVPN. However, Kaspersky's VPN is much better than Bitdefender's in terms of performance, server coverage, and unblocking abilities.
Stream unlimited content with Kaspersky
5. Parental Controls — Kaspersky Includes Parental Controls Even on Its Free Plan
I liked both Bitdefender's and Kaspersky's parental controls, but Kaspersky wins this round because it offers this feature even on its free plan. In contrast, Bitdefender offers parental controls in its Internet Security plan or higher. Both contenders let you monitor your child's online and offline activities remotely, but Kaspersky has a few extra features like geo-fencing.
Kaspersky's Safe Kids parental controls on the free plan only let you limit app usage and set screen time. On the premium plan, you can monitor your child's location and Facebook activities. You can also get real-time alerts and set up geo-fencing so that you'll be alerted any time your child goes outside safe areas.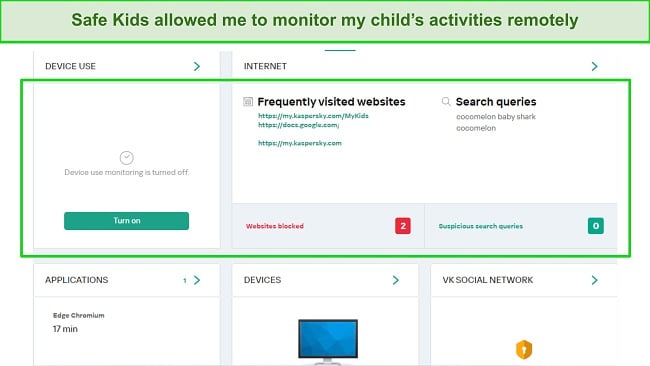 Bitdefender's parental controls are available on the Internet Security plan and above. They're beginner-friendly to use. It took me less than 2 minutes to get familiar with the interface and set block sites. Instead of inserting separate URLs, Bitdefender lets you select categories you want to block. For instance, I selected the gambling category to block all sites relevant to online betting.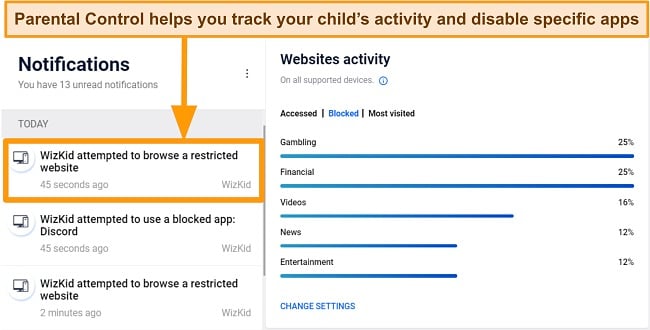 The parental controls were quite different on Bitdefender's apps. For instance, the iOS app didn't have features like daily device limits and blacklisting websites. Overall, it'll keep your children safe on and off the web and let you monitor their activities remotely.
In summary, Kaspersky is the better antivirus in this department because it offers basic parental controls even on its free plan. The upgraded version has more features than Bitdefender's parental controls.
Monitor other devices with Kaspersky
6. Firewall — Bitdefender's Firewall Is Better Equipped to Block Malicious Connections
I was happy to see both options having advanced firewalls. After testing them, Bitdefender's firewall came out on top as it gives you complete control over your incoming and outgoing traffic. It adds an extra layer of security and prevents apps from connecting to the internet without your permission.
Bitdefender's Stealth Mode hides you from other devices sharing the same network. I found this feature very useful while using my laptop on public WiFi, which can serve as a conduit for hackers to creep into your system via the open network. I also liked the Alert Mode as it immediately notifies you when an app tries to connect to the internet.
Kaspersky's firewall blocked all malicious traffic it detected on my network, including suspicious packets that Windows Defender failed to identify. It offers more customizability than Bitdefender's firewall as you can create and manage application and packet rules. However, it's a bit technical so I won't recommend it for beginner users.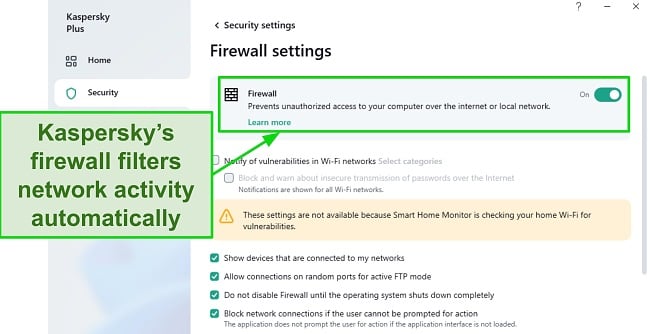 The firewall has multiple security components like Network Monitor, which shows all active network connections on your system. I especially liked Intrusion Prevention, which monitors all running processes and identifies suspicious ones. However, these customizability options are scattered in the Security tab.
In terms of performance, both firewalls gave me similar detection scores but Bitdefender's firewall is more user-friendly. The added customizability in Kaspersky's firewall is great for more technical users, though.
Get protected online with Bitdefender
7. Password Manager — Bitdefender's Password Manager Is More Intuitive and Beginner-Friendly
I found Bitdefender's password manager easier to use than Kaspersky's. While Kaspersky offers it on its free plan, it's quite restricted — you can save up to 15 passwords, which isn't enough for most users. To get the full version, you'll have to upgrade to Kaspersky's premium plan.
Bitdefender's password manager has no storage limits and lets you organize data into multiple categories. For instance, I stored my passport details in the Identity tab, website login information in the Web Pages tab, and credit card details in the Online Banking tab. Bitdefender auto-filled my saved data on 15+ sites and complex web forms without any delay.
Kaspersky's password manager is beginner-friendly with multiple categories to organize your data — these include Accounts, Bank Cards, Documents, Addresses, and Notes. It uses military-grade 256-bit encryption to keep your passwords safe from hackers. In addition, you can use its password generator to create strong passwords with just a click.
The auto-fill feature on Kaspersky's password manager worked but it wasn't as seamless as Bitdefender's. While logging into my Reddit account, I noticed a slight delay as it fetched my password. Overall, Kaspersky's password manager is adequate but doesn't compare with Bitdefender in terms of ease of use and features.
Store passwords safely with Bitdefender
8. Gaming Mode — Bitdefender's Game Profile Optimizes System Resources for Uninterrupted Gaming
Bitdefender's Game Profile is better because it optimizes system resources while gaming. Kaspersky doesn't do so and only silences notifications and postpones scheduled scans. During my tests, Bitdefender's Game Profile suspended unnecessary background processes and programs to free up as many resources as possible for seamless gameplay.
With Bitdefender's gaming mode, I played resource-heavy games like Forza Horizon 5 and The Witcher 3 without getting any frame drops. When I opened my task manager, I noticed that unnecessary background apps I rarely ever use like uTorrent and Skype weren't running anymore.
Kaspersky's gaming mode only disables unnecessary notifications from popping up on your screen while gaming. It also postpones scheduled scans if you start gaming so that they don't get in the way of your gaming session. Although this allowed uninterrupted gaming, I wish Kaspersky offered a system resource optimizer.
Overall, Bitdefender's gaming mode is better because it optimizes system resources for uninterrupted gaming. It gave me a much better gaming performance than Kaspersky.
Enjoy seamless gaming with Bitdefender
9. Optimization Tools — Kaspersky Has a More Comprehensive Tune-up Facility
Kaspersky's optimization toolset is much more feature-rich than Bitdefender's. My favorite tool was Kaspersky's Hard Drive Health Monitor, which lets you see your hard disk's health so you can back up your important files before it crashes.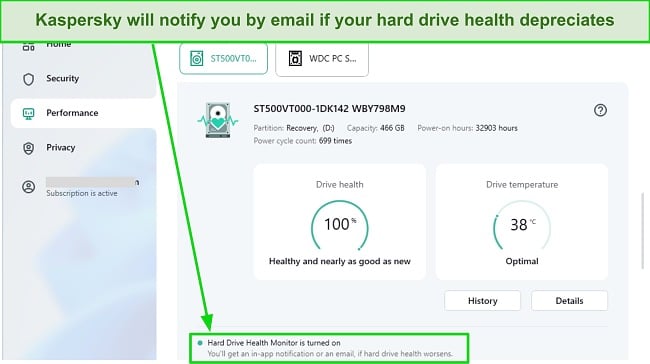 Besides that, you can find a range of optimization tools in the Performance and Privacy tabs on Kaspersky's main dashboard. These include:
Quick Startup — disables unnecessary auto-run apps to prevent them hogging your system resources and speeds up your computer's boot time.
PC Speed-Up — removes unused system temporary files, registry issues, and recycle bin files to clear up RAM and improve system performance.
Duplicate File Finder — deletes duplicate files on your computer to clear up space on your hard drive.
Unused App Checker — finds applications you haven't used in the last 3 months and recommends you delete them to save space.
Privacy Cleaner — clears cookies and trackers on your browsers to prevent websites from profiling you.
Battery Saver — postpones scans and updates when your laptop isn't charging to save battery.
In contrast, Bitdefender's One Click Optimizer has 3 tools — a disk cleaner, a registry cleaner, and a privacy cleanup feature. The disk cleaner freed up 68MB of space on my hard drive by removing 30 junk and duplicate files. You can see these files by clicking the View Details Button. However, it didn't give me the exact file name but rather directed me to the folder in which it was in — that was frustrating because I didn't know what I was deleting.
In summary, Kaspersky's optimization tools offer much more value. The only issue was that they were scattered across multiple tabs, making them a bit difficult to find. All in all, they improved my system performance significantly.
10. Other Features — Bitdefender Offers More Value-Added Features
I was happy to see both competitors have a range of useful extras, but Bitdefender has better privacy-focused features than Kaspersky. I first tried its Antispam feature, which automatically linked to my Outlook account and filtered out all my junk and spam emails. However, this feature is only available on Bitdefender's Total Security plan.
Bitdefender's webcam and audio protection feature gave me peace of mind while browsing the web. Your webcam and microphone can easily be hacked, but Bitdefender blocks any unauthorized access to these vulnerable devices. You'll get this feature in the Internet Security plan or higher.
With the SafePay feature, I could make online transactions securely without the fear of keyloggers recording my keystrokes. When you launch SafePay, a completely different desktop environment opens up that blocks data interception, keylogging, or screenshotting from hackers.
Kaspersky's webcam protection identifies any application using your camera. You can temporarily ban access to the webcam for all apps (even trusted ones). In addition, the Data Leak Checker checks if your email address has been compromised in a past data breach. There's also a Safe Money feature available on the Plus and Premium plans.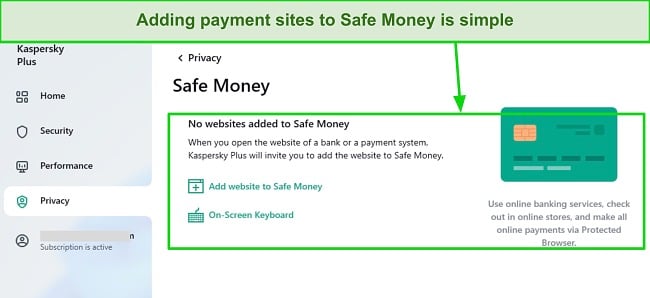 Overall, I was happy with both contenders' extra features. However, Bitdefender had a slight edge over Kaspersky due to its anti-tracking browser extension, which blocks advertisers from monitoring your online activities. I also found Bitdefender's extra features easier to find, whereas Kaspersky's features are a bit scattered around the interface.
Secure yourself online with Bitdefender
11. Device Compatibility — Bitdefender Is Easier to Use With a User-Friendly Interface
After rigorously using both options, I found Bitdefender easier to use with a beginner-friendly layout. Advanced users have the freedom to tweak security configurations as they see fit. Both contenders have apps for Windows, macOS, Android, and iOS. I've charted a compatibility table below:
| | | | | |
| --- | --- | --- | --- | --- |
| | Windows | macOS | Android | iOS |
| Bitdefender | 7 or higher | 10.10 or higher | 5.0 or higher | 12 or higher |
| Kaspersky | 7 or higher | 10.12 or higher | 4.4 or higher | 12 or higher |
Bitdefender's Windows and Mac apps are customizable and well-designed. I arranged my dashboard to quickly access my favorite features like SafePay. The Mac app lacks webcam and microphone protection, anti-theft, and vulnerability assessment, relying heavily on Apple's built-in security.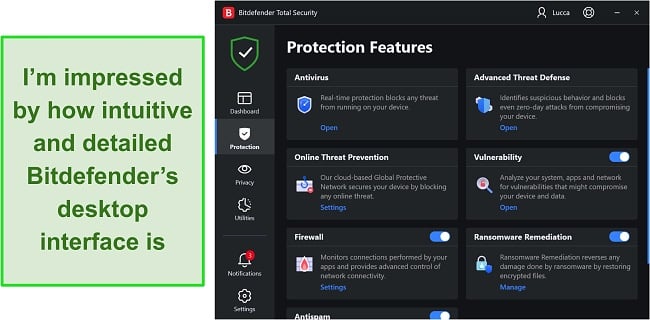 The mobile apps are super easy to use as well, but the iOS app only has web protection, a VPN, and account privacy features. In contrast, the Android app additionally includes threat scanning, anti-theft, and app lock features. If you're an iPhone user, I suggest checking out these top 5 iOS antivirus apps.
Kaspersky gave me a fluid user experience. The desktop apps are feature-rich and intuitive, and it took me less than 5 minutes to install them on my Windows PC and Macbook. Both the Windows and macOS apps have a similar dashboard with 4 tabs in the sidebar.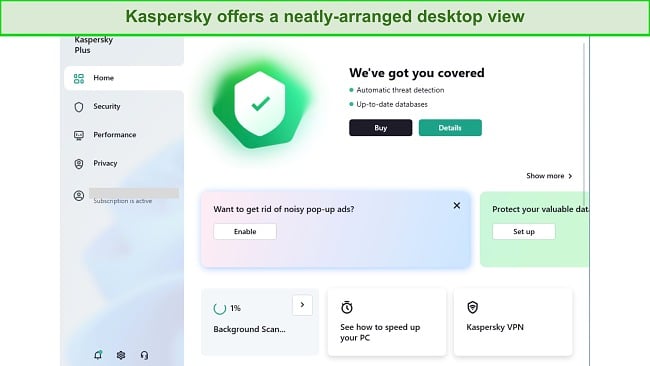 Kaspersky's Android app is pretty impressive but the iOS app only offers a data leak checker, anti-phishing, and WiFi security checker. With the Android app, you'll get the following extra features:
App Lock — controls access to apps from your phone via biometric verification.
Call Filter — blocks specific numbers on your phone.
Anti-Theft — remotely locks your phone if it's lost and helps you find it.
Overall, Bitdefender is easier to use as its features are neatly organized. With Kaspersky, I had to switch between tabs to access features. I also would've preferred if tools like Speed-Up, Duplicate File Finder, and Privacy Cleaner were under a single tab.
Protect your data with Bitdefender
12. Customer Service — Bitdefender's Support Options Are Faster
I was happy to see 24/7 live chat and email and phone support on Bitdefender's and Kaspersky's customer care options. After testing each, Bitdefender's customer support was faster on average, especially via email.
The best way to contact Bitdefender's support team is via 24/7 live chat. It took me less than a minute to connect to an agent. I asked a question about the file shredder and free trial and got a prompt and helpful reply immediately.
I sent an email asking about the feature differences between the Internet Security and Total Security plans and got a detailed comparison in just 75 minutes. Phone support is available in 17 countries and multiple languages, including French, German, Spanish, and more. I had to hold for about 10 minutes before I connected with an agent. I recommend phone support if you have a technical issue that can't be resolved via chat or email.
Kaspersky's 24/7 live chat was fast and helpful too but I had to fill out a form on its website first. I asked the agent how to set up parental controls on an iPhone and got an immediate and helpful reply. To access phone support, I had to fill out the same form and got connected to an agent after being on hold for 8 minutes. They answered all my questions without any upselling.
Kaspersky's email support wasn't as fast as Bitdefender's. I got a reply in 18 hours, which isn't bad but much slower than Bitdefender. I suggest reading its knowledge base if you have any general queries. Overall, Bitdefender won this round as it provided faster support.
Try Bitdefender risk-free for 30 days
13. Price — Kaspersky Offers Better Value for Money
After rigorous research, I learned that Kaspersky is more feature-rich and offers a better price than Bitdefender. I compared each contender's basic, mid-tier, and premium plans and drew up a comparison chart below:
Basic Plans
Mid-tier Plans
Premium Plans

Bitdefender Antivirus Plus

Kaspersky Standard Plan

Bitdefender Internet Security

Kaspersky Plus

Bitdefender Total Security

Kaspersky Premium

Annual price
$24.99
$19.99
$34.99
$29.99
$39.97
$31.99
Real-time protection

✔

✔

✔

✔

✔

✔

Webcam protection

✘

✘

✔

✔

✔

✔

Advanced firewall

✘

✔

✔

✔

✔

✔

Optimization tools

✘

✔

✘

✔

✔

✔

Unlimited VPN
200MB per day
200MB per day
200MB per day
Unlimited
200MB per day
Unlimited
Parental controls

✘

Limited version

✔

Limited version

✔

Unlimited version
Overall, Kaspersky has more features than Bitdefender for the same price. The Kaspersky Plus plan offers the best value at just $41.99 a year. It includes all the protection features and an unlimited VPN. Though the parental controls will have limited functionality, it'll be enough for an average user. In comparison, Bitdefender doesn't offer unlimited data with its VPN at a similar price tag of $29.99 a year.
Try Kaspersky free for 30 days
14. Free Version — Kaspersky's Free Plan Is More Feature-Rich
Kaspersky's free plan is loaded with useful features that I couldn't find on most free antiviruses. It's one of the few options on the market that doesn't lock ransomware protection behind a paywall. Both the free and paid plans use cloud protection, so Kaspersky's free version has the same virus-scanning capabilities as the paid ones. In addition, it offers:
Data leak checker — checks if your email address has been involved in a past data breach.
Mail Antivirus — scans your emails to identify spam or dangerous emails sent across multiple protocols, including POP3, SMTP, and IMAP.
Network Attack Blocker — protects your computer against malicious network activities like a hacker trying to access your system via public WiFi.
Parental controls — block sites and apps by categories but you can't access extra features available on the paid plans.
VPN — accesses global content with fast speeds for uninterrupted UHD streaming, but the free version has a daily data cap of 200MB.
In contrast, Bitdefender's free plan has fewer features — but they're still more than most free antiviruses. Thankfully, it has real-time protection to keep you safe from threats in real-time. In addition, it includes:
Advanced threat detection — detects zero-day threats and ransomware in real-time with advanced heuristic analysis.
Anti-phishing and Anti-fraud protection — protects you from phishing attacks but this feature is only available for Windows devices.
Web filtering — ensures secure browsing by blocking malicious sites from opening in the first place.
Overall, both free plans are well-equipped to guard you against complex threats in real time. But Kaspersky wins this round in the sheer number of features it offers on the free plan.
Protect your data with Kaspersky
15. Money-Back Guarantee — Bitdefender's Refund Is Faster and Easier to Submit
After testing each competitor's refund guarantee firsthand, I found Bitdefender's money-back policy to be easier to avail. I got my money back after 5 days, compared to 7 days with Kaspersky. However, I was happy that both contenders offer a 30-day free trial with no upfront payment and a 30-day money-back guarantee — that gives you 60 days to test each antivirus risk-free.
I submitted my refund request to Bitdefender via email and got a reply a day after — that was surprising as email support had been quite prompt in my tests earlier. However, the agent didn't try to convince me to stay or offer a few free extra months, which saved me a lot of time. Once I got their email confirmation, I had my refund within 5 days.
With Kaspersky, I had to fill out a form on its website to submit my refund request. Filling out forms for everything was getting annoying at this point, but it took me 2 minutes to do so. The support team got back to me after a day and the money arrived in my bank account after 7 business days.
Overall, it was much easier to submit a refund request with Bitdefender than with Kaspersky. Bitdefender also processed my request faster, though it'd have been better to have gotten a reply a bit sooner. I recommend you submit your request a few days before the money-back window expires just to be safe.
Try Bitdefender risk-free for 30 days
And the Winner Is… Bitdefender
Although this wasn't a one-sided contest, Bitdefender outperformed Kaspersky in most categories. I found it more beginner-friendly and intuitive as all its features are neatly arranged on the dashboard. Bitdefender kept me safe from complex and fast-emerging threats in real time, so I rest assured that I was safe while browsing the web.
That said, Kaspersky didn't fall too behind in the competition and gave me excellent detection scores. You should get Kaspersky's free plan as it's one of the most feature-rich free antiviruses on the market. Upgrading to the paid plans will give you extra features like an unlimited VPN or full parental controls.
Buy Bitdefender with confidence
How to Install Bitdefender on Your Device
Installing Bitdefender on your device is easy. If you're using an iOS or Android device, just download the app from the store and log in with your Bitdefender credentials. Desktop users can install Bitdefender on their Windows or Mac systems with the following steps:
Download and install Bitdefender
FAQs About Kaspersky vs Bitdefender
---
Summary — The Overall Best Antivirus Software in 2023