How to Watch The Mandalorian Season 2 From Anywhere
Last Updated by Kate Hawkins on June 19, 2022
If you loved season 1 of The Mandalorian and can't wait to see more Baby Yoda, Darksaber, or Skywalker, you'll be excited to hear that you don't have to wait too much longer. Season 2 of The Mandalorian has an official release date of October 2020. If you want to watch this bounty hunter adventure, you'll need a Disney+ account as it's the only service The Mandalorian is streaming on.
Unfortunately, Disney+ is only available in 12 locations —the US, Canada, the Netherlands, UK, Ireland, Germany, Spain, Italy, Austria, Switzerland, Australia, and New Zealand. If you try to stream either season of The Mandalorian from outside of these locations, you'll get an annoying error message like this:
"Service Unavailable. Disney+ is unavailable at your location. Learn more by visiting the link below."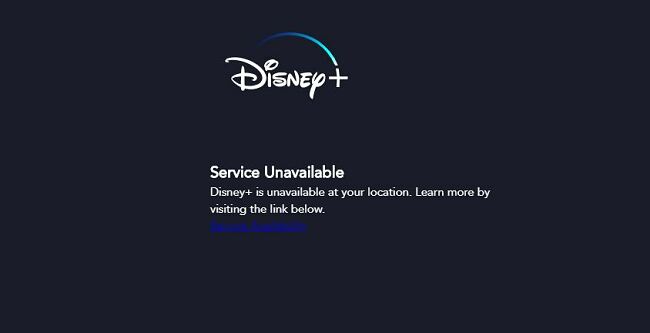 A reliable VPN will mask your true location so you can watch Disney+ from anywhere in the world!
I've tested over 30 VPNs and found 3 that will connect you to The Mandalorian on Disney+ hassle-free. I'll show you how easy it is to sign up and start streaming Disney+ with a reliable VPN.
3 Easy Steps to Watch Season 2 of The Mandalorian on Disney Plus
Download and install a premium VPN — I recommend ExpressVPN as all of its servers can bypass Disney+ location restrictions and offer fast speeds for quality streaming.
Connect to a server in a Disney+ location.
Open Disney+ and log in to your account and start streaming The Mandalorian!
Tip: To sign up for a Disney+ account, you'll need a payment method linked to a Disney+ service area. You can use PayPal or purchase a gift card (available at Amazon and many stores online) and credit your Apple or Google account.
Watch Season 2 of The Mandalorian with ExpressVPN
How to Choose the Best VPN for Watching Season 2 of The Mandalorian
Disney+ is actively blocking VPN servers. I've tested each service on this list to find the best VPNs for streaming Disney+ and watching The Mandalorian. During testing, I considered these features:
Ability to access Disney+ (plus other streaming services like Netflix, Hulu, and BBC iPlayer)
Multiple servers available in Disney+ locations
Fast streaming speeds for watching Disney+ without lag or buffering
Support for several connections at the same time across different devices
High-level encryption and data security to keep your personal data safe
24/7 customer support with live chat and help guides
3 Best VPNs to Stream The Mandalorian Season 2 on Disney Plus
1. ExpressVPN — #1 VPN for Streaming The Mandalorian Without Buffering
3,000+ servers in 160 server locations
Speed test feature to guarantee fast streaming speeds
Unlimited bandwidth
Watch Disney+ on up to 5 devices at once
30-day money-back guarantee
ExpressVPN is my top choice because every server I tested was able to access Disney+ right away. While testing other services, I had to connect to several different servers before I found one that worked.
ExpressVPN has 26 server locations in the US, and at least one in every other Disney+ service location. With many servers to choose from, I could consistently access Disney+ in every service location. Apart from the initial loading time of three to four seconds, The Mandalorian played with no interruption.
I used ExpressVPN's built-in speed test feature to find the fastest servers for streaming The Mandalorian. Once I found the best server in each Disney+ location, I saved it to my favorites list for easy access in the future.
However, my individual speed tests showed faster speeds than ExpressVPN's speed tests.
ExpressVPN's servers were consistently fast. I tested at different times of the day, including peak UK connection times — my speed never dropped below 40Mbps. This is fast enough to stream in HD with no buffering.
When connected to ExpressVPN, I found these servers gave me the fastest speeds:
USA — New York (48Mbps), Miami (41Mbps), New Jersey 1 (40Mbps)
Canada — Toronto (44Mbps), Montreal 2 (40Mbps)
The Netherlands — The Hague (46Mbps), Amsterdam (48Mbps)
Australia — Sydney 2 (41Mbps), Sydney 3 (40Mbps)
New Zealand — Average speed 40Mbps
ExpressVPN has a 30-day money-back guarantee. You can use it to watch Disney+ for a month at no risk to you! Getting a refund is quick and easy with the "no questions asked" policy. I tested this myself by requesting a refund through live chat — I had my money back within 5 business days.
Try ExpressVPN for free today!
2. NordVPN — Thousands of Fast Servers for Streaming The Mandalorian
5,300+ servers in 59 countries
SmartPlay technology to bypass geographic restrictions
Unlimited bandwidth
Connect up to 6 devices simultaneously
30-day money-back guarantee
NordVPN offers thousands of server options for streaming both seasons of The Mandalorian. As the VPN with the most servers, you have more than enough options in each Disney+ service location.
During my tests, not all of NordVPN's servers could access Disney+ right away. I had to change servers in the US and Australia several times before I could stream The Mandalorian without getting an error message. NordVPN's customer service team recommended that I clear my cache and try connecting again — I didn't have any issues after that.
NordVPN's interface makes switching servers easy. You can save servers as "Favorites" for one-click connections to the fastest servers in the future. But be mindful when you click "quick connect" without selecting a server, as you'll be connected to a server in the country you're located in.
I couldn't test every NordVPN server individually, but I found these servers to be consistently fast and reliable during my tests:
USA — #4463, #3379, #3100, #3036, #3379
Canada — #505, #844, #769, #800, #484
The Netherlands — #626, #590, #638, #78, #594
Australia — #401, #358, #336, #445, #459
New Zealand — #59, #63, #27, #53, #35
My streaming speeds were fast enough for HD quality (above 25Mbps) and I experienced zero interruption when I started watching Disney+.
Try NordVPN for 30 days with the money-back guarantee! You'll have a full month to stream seasons 1 and 2 of The Mandalorian and try out its features.
3. CyberGhost — Optimized Streaming Servers for Watching The Mandalorian
5,500+ servers in 90 countries
Optimized servers for streaming
Unlimited bandwidth
Secures up to 7 devices
45-day money-back guarantee
CyberGhost has an optimized US server for Disney+. Although loading took about 5 seconds, once it loaded I could stream The Mandalorian instantly. While connected to this server, my speeds averaged at 35Mbps. I didn't experience any lag or buffering.
CyberGhost hasn't said if more servers will be optimized for Disney+. When I spoke to customer service, they weren't helpful and didn't seem knowledgeable about Disney+.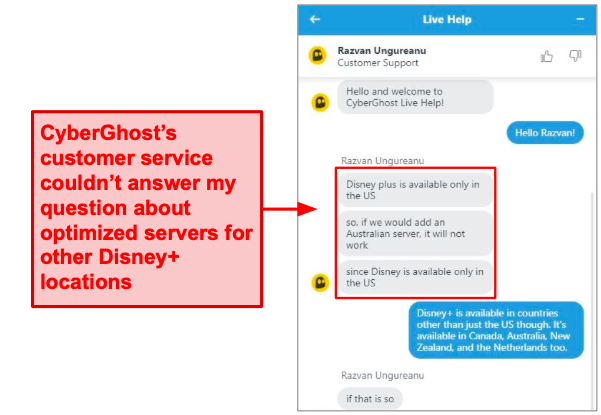 Not every server is optimized for Disney+, but many are optimized for streaming. However, CyberGhost has a huge number of servers in Disney+ locations.
Although CyberGhost's download speeds aren't quite as fast as ExpressVPN or NordVPN, they are consistent. During my tests, unoptimized server connections were fast enough to stream in HD without any issues — my speeds never dropped below 32Mbps.
CyberGhost gives you 45 days to test its services for yourself. You can get your money back easily by contacting customer service.
What You Need to Know About Disney Plus
While it's only currently available in 12 locations, Disney+ has plans to expand in the coming years.
Disney+ offers content for everyone in the family. All your favorite Disney classics (like Toy Story and Cinderella) are available to stream as well as new content from National Geographic and Marvel. Original series like Loki, WandaVision, and Star Wars: The Clone Wars are also coming soon. You can download the Disney+ app on a range of different devices and stream your favorite content on 4 devices at the same time.
Disney+ is available on: Amazon Fire TV and tablets, Roku, Chromecast and Chromecast-enabled devices, iOS devices, Android devices, Apple TV, Xbox One, PlayStation 4, and Smart TVs.
Can I Watch Season 2 of The Mandalorian Using a Free VPN?
Yes, there are free VPNs available, but they won't let you stream either season of The Mandalorian. When I tested free VPNs like Hide.me and TunnelBear, I couldn't find one that would allow me to access Disney+.
If you do find an unblocked connection, you'll see that most free VPNs have data caps, which prevent you from finishing a single season. Free VPNs also have less servers, so your connection will be slow as many users are connected to the same server.
Even worse, free VPNs often have weak encryption that compromises your security. Some even sell your information to third parties like advertising agencies!
A free VPN isn't worth the risk. ExpressVPN gives you 30 days to try the service. This means you have a full month to request a refund through the customer support live chat. I tested this for myself and got my money back within 7 business days.
Try ExpressVPN for free today!
What Else Can a VPN Do for You?
If you sign up through a US server (using a VPN), you can bundle Disney+ with Hulu and ESPN+ under one subscription. You'll get access to content like Rick and Morty and A Quiet Place as well as live college football games.
You'll also gain access to other restricted content like Netflix US exclusive shows, your favorite British series on BBC iPlayer, and more.
As an added benefit, a reliable VPN will protect you when you're online by encrypting your internet traffic, making your activity anonymous, and defending your devices from malware. This way you can stream Disney+ and protect your personal data and devices at the same time!
Watch The Mandalorian with ExpressVPN
Start Streaming Season 2 of The Mandalorian with a Premium VPN
Disney+ is constantly adding new shows and movies to its content library. To watch seasons 1 and 2 of The Mandalorian as well as your other Disney favorites, you need a VPN that can bypass geographic restrictions. With a reliable connection, you'll gain access to restricted content from around the world like Hulu, Netflix, BBC iPlayer, and Youtube TV.
Not sure which VPN is best for you? All of my top VPNs offer a money-back guarantee — test each one before deciding on a subscription.