How to Watch Disney+ Abroad in 2022 on Mobile & More
Last Updated by Kate Hawkins on June 01, 2022
As someone who grew up on Disney movies, I've been paying for Disney+ since it came out. My only frustration with Disney+ is that depending on where I travel, I can't access it. If Disney+ is restricted where you are, you can use a VPN to access the entire catalog. A VPN changes your device's IP address so you can watch the content you pay good money for even when you travel or use restricted networks.
Not every VPN is able to unblock Disney+ since many of them don't have the technology needed to do so. After testing 20 providers, I found the 3 best VPNs to access Disney+ on mobile, PC, and other devices. ExpressVPN is one of the best providers to watch Disney+ in 2022 with reliable servers to unblock the platform in seconds. But you don't have to take my word for it — I suggest you test ExpressVPN with Disney+ for yourself. It's backed by a reliable "no questions asked" 30-day money-back guarantee, so you can test it worry-free.
Watch Disney+ with ExpressVPN today!
Quick Guide: 3 Easy Steps to Watch Disney+ From Anywhere
Get a VPN. I recommend you try ExpressVPN as it reliably unblocks Disney+. You can test it out for yourself risk-free with its 30-day money-back guarantee.
Connect to a server in the Disney+ country where you live. This gives you a new IP so you can watch the shows you pay to see with your subscription.
Start watching Disney+! Once you log in, you'll have access to all your favorite Disney masterpieces.
How a VPN Can Help You Watch Disney+ From Anywhere in 2022
You can watch Disney+ in a few countries like the US, Canada, India, Italy, and Australia, but you'll get blocked by this error if you try to watch from a country where it isn't licensed to stream:
Sorry, Disney+ is not available in your region.
Disney+ finds out where you're located by looking at your device's IP address. If you're on a restricted IP (like at work) or are outside a country with Disney+, you'll be blocked even though you're a paying customer. The only way to sneak around these blocks and see the content you pay good money to see is by masking your IP with a VPN.
Connecting to a VPN gives you a new IP address by rerouting your traffic through a server in another country. This means Disney+ won't be able to detect your actual location and you can trick it into thinking you're in a supported country to get unrestricted access to its content. Even if Disney+ is available where you are, you can use a VPN to find more titles by switching to a library in a different country.
Rest assured that using a VPN isn't against the Disney+ User Agreement. However, it may violate the terms of service to log in and watch from outside the Disney+ service area (even though you pay subscription fees). If you want to take extra precautions, be sure to use one of the VPNs on this list to protect your identifying information while you stream.
I found that ExpressVPN has a ton of features to ensure you'll stay anonymous as you access Disney+. I could choose from its 30 high-quality servers equipped with the latest unblocking technology.
Even better, ExpressVPN offers a 30-day money-back guarantee so you can try it out for yourself completely risk-free. If you change your mind or no longer need a VPN, you can always get a full refund. It looks less than a week for me to get mine after reaching out customer support using the 24/7 live chat feature.
Note: It's perfectly legal to use a VPN with Disney+, but unblocking content or creating an account from outside countries where it's licensed might violate copyright. I don't condone or recommend breaking any laws or agreements, with or without a VPN.
3 Best VPNs to Watch Disney+ From Anywhere in June 2022
Key Features:
3000 servers around the globe with over 1,000 in Disney+ locations
Fast streaming speeds to instantly load any Disney show buffer-free
Watch Disney+ on up to 5 devices simultaneously
24/7 customer support available through live chat and email
30-day money-back guarantee
ExpressVPN gives you unbeatable speeds and reliable connections to watch your favorite Disney classics. I was surprised that every server provided me with rapid speeds of approximately 60Mbps during my tests, which is even faster than my baseline connection! This meant I never experienced any buffering and my streams loaded instantly as soon as I clicked on a title to watch. The speeds remained consistently quick at all times so I could watch The Mandalorian and Thor in 4K on my smart TV.
When you use a VPN, you may notice that server speeds change depending on their user load and time of the day. This is completely normal, but it means that connecting to the same server twice may not always give you identical results. Luckily, ExpressVPN can help you find the fastest server with its built-in speed test. Using this feature enabled me to locate the best connection in about 20 seconds and ensured I didn't have any lags when watching Onward.
I liked that ExpressVPN lets you create website shortcuts within its app, so I could launch Disney+ immediately after connecting to a server. This is extremely easy to set up on all devices — simply open the "Shortcuts" tab in "Settings" and add the Disney+ URL. It saved me a few minutes I would have otherwise spent manually opening the app on my phone or smart TV.
Though ExpressVPN is a slightly pricier option, you can find a much more affordable deal through this hidden pricing page. ExpressVPN gives you 30 full days to test it out for yourself. If you decide you don't like it, just reach out via live chat. As it's the only VPN on the list to offer no-questions-asked refunds, the representative processed my request without pushing me to explain why I wanted to cancel. I received my refund only 4 days later.
ExpressVPN also unblocks: Netflix, Hulu, Amazon Prime Video, BBC iPlayer, HBO Max, HBO NOW, Sky TV, SHOWTIME, Sling TV, and more.
ExpressVPN works on: Windows, Android, macOS, iOS, Chrome, Linux, Chromebook, Amazon Fire Stick, Chromecast, routers, and more.
June 2022 Update! ExpressVPN has dropped prices for a limited time to a crazy $6.67 per month for the 1-year plan (you can save up to 49%) + 3 months free! This is a limited offer so be sure to grab it now before it's gone. See more information on this offer here.
Key Features:
8100 global servers with over 2,000 that work with Disney+
Quick speeds to let you stream Disney+ buffer-free
Watch Disney+ on up to 7 devices simultaneously
24/7 customer support available through live chat and email
45-day money-back guarantee
CyberGhost has a selection of servers dedicated to smooth streaming with multiple locations optimized specifically for Disney+. Using these connections helped me unblock the streaming platform in just 5 seconds. While CyberGhost's speeds are generally slower than the other VPNs on this list, I still watched WandaVision without any interruptions.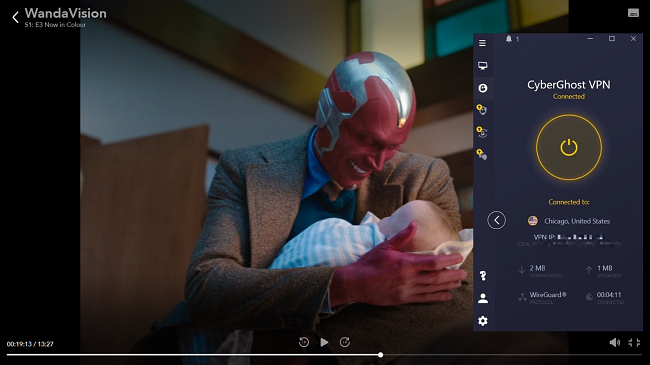 Though there are many optimized connections available, you can easily find CyberGhost's Disney+ servers by using the search bar. The VPN displays all available servers in the "For streaming" tab — I just had to double-click on the location and I was connected in seconds. I was relieved that I didn't have to waste time fussing with manual configurations to get this set up!
As there aren't many Disney+ servers to choose from, they can sometimes become full so you won't be able to connect to them immediately. But that doesn't mean you won't be able to watch Disney classics though — I could also access Disney+ on CyberGhost's regular servers in the US. I didn't notice much change in my streams aside from the beginning of each movie taking 5 seconds longer to load.
You can try CyberGhost for yourself with its money-back guarantee for 45 days. This risk-free policy lets you keep up with the latest releases on Disney+ at no cost to you. Just remember to cancel before the trial ends. I received my refund within a week of requesting it through CyberGhost's live chat.
CyberGhost also unblocks: Netflix, Hulu, Amazon Prime Video, BBC iPlayer, HBO Max, HBO NOW, Sky TV, SHOWTIME, Sling TV, and more.
CyberGhost works on: Windows, Android, macOS, iOS, Chrome, Linux, Chromebook, Amazon Fire Stick, Chromecast, routers, and more.
June 2022 Update! You can subscribe to CyberGhost for as low as $2.23 per month + get extra 4 months free with the 3-year plan (save up to 83%)! This is a limited offer so grab it now before it's gone. See more information on this offer here.
Key Features:
35000+ international servers with more than 20,000 servers in Disney+ countries
Fast speeds to let you enjoy Disney+ with minimal buffering
Watch Disney+ on up to 10 devices at the same time
24/7 customer support available through live chat and email
30-day money-back guarantee
Private Internet Access (PIA) has a huge server network across over 80 countries that give you tons of options to connect in Disney+ locations. During my tests, I worked with my colleagues abroad and instantly connected to 30+ servers across the world, and they all gave me access to my favorite Disney titles. If the server became crowded or my speeds changed, I could manually find a location with a smaller user load in just a few seconds. This improved my streaming quality letting me watch WALL-E without any issue.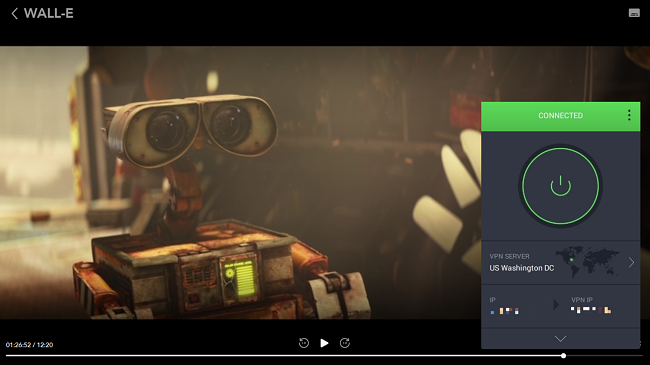 Unfortunately, not all PIA servers can unblock Disney+ on browsers. After trying dozens of US servers, I found only the Washington DC server let me access the homepage and start streaming. If you prefer to watch Disney+ shows on your laptop, you can easily add this server to your favorites for faster access. That said, I didn't think this slight limitation was a big deal because all of PIA's servers worked well when I tried them with the Disney+ app on mobile.
If you're not sure if you want to commit to a long contract, I suggest you take advantage of PIA's money-back guarantee to try it risk-free for 30 days . If you don't like it for any reason, you can send a refund request through email or submit a support ticket online. I got the approval email within 24 hours and my refund was returned 7 days later.
Private Internet Access also unblocks: Netflix, Amazon Prime Video, HBO Max, and more.
Private Internet Access works on: Windows, Android, macOS, iOS, Chrome, Linux, Chromebook, Chromecast, routers, and more.
Free VPNs Won't Help You Unblock Disney+ and Here's Why
There are a few ways you can unblock Disney+ at no added cost, but I don't recommend using free VPNs as one of them. Taking advantage of a high-quality VPN's money-back guarantee works better and is safer. It's important to note that most free VPN services don't work with Disney+. Even some providers that could previously unblock it aren't able to bypass the latest updates to the platform's anti-VPN technology in 2022.
Though there are some good free VPNs available, I found they were unusable for streaming Disney+ due to slow speeds and limited data allowance. This happens because free providers cut their costs by restricting your bandwidth and available server connections. These servers become overcrowded quickly, resulting in major reductions in your speed. During my tests, my Soul stream went from HD to 480p (below standard resolution) in a few minutes. Worse yet, I ran out of my data allowance in only 20 minutes!
That's not all though: free VPNs often make a profit in ways that put you in danger. They commonly track and sell your personal data to advertisers, government agencies, hackers, and any one else willing to pay for it! This is very dangerous and could result in you becoming a victim of identity fraud just because you used a free VPN service.
Considering the poor quality streaming and safety issues, I don't think using a free VPN is worth the risks. With a top tier VPN, you'll be able to unblock Disney content from anywhere without compromising your security. You can put ExpressVPN to the test with Disney+ and start watching your favorite Disney shows right away. I'm confident you'll love its fast streaming speeds, but if you don't like it you can get a refund easily.
How to Pay for Disney+ Without a Local Credit Card in 2022
In order to subscribe to the platform, you'll need to provide payment details that match the Disney+ country you're connecting to. For example, if you're trying to sign up using a VPN server in the US, you'll need either a US credit card or PayPal account.
Don't worry if you don't have either — you can easily pay for Disney+ from anywhere on your Android or iPhone with a gift card from GooglePlay or iTunes.
Subscribe to Disney+ on Android Devices With a Google Play Gift Card
Buy a Google Play gift card from Amazon.com. It'll be sent directly to your email address.
Set up a brand new Google Play account. You can do so in the "Google" tab found in "Settings" on your phone. Make sure to use a throw-away email address that's not associated with your main Google Play profile.
Log in to Google Play using your new details and redeem your gift card. You'll have to confirm your zip code (like 11377) or phone number (such as
734-985-9413).
Download the Disney+ app and create your account using Google Play balance as your payment method. Remember to top up your Google Play wallet with another US gift card when your Disney+ subscription is due for renewal.
Start streaming Disney+!
Pay for Disney+ with ExpressVPN
Pay for Disney+ Using iTunes Gift Card and a New Apple ID
Sign out of your Apple ID on your App Store.
Visit Apple website and create a new Apple ID. Make sure to select "US" as your "Country/Region" and leave the "Payment Information" empty.
Purchase an App Store and iTunes gift card on Amazon.com. You'll find it in your email inbox once you complete your transaction.
Log back into the App Store using your new Apple ID. You'll have to agree to the "Terms & Conditions" by selecting the checkbox.
Select "None" as your payment option and provide a random US address and phone number. You can use 20 W Main St, Ansonia, CT 06401, and 203-734-8482.
Redeem your App Store gift card in your account.
Open the Disney+ app and sign up using iTunes as your payment option. Disney+ will take the funds directly from your iTunes balance so make sure to redeem another gift card before your next payment is due.
Start watching your favorite Disney+ shows!
Sign up for Disney+ with ExpressVPN
Sign up for a Hulu, ESPN, and Disney+ Streaming Bundle
To save money on all of your favorite streaming platforms, I recommend taking advantage of this bundle deal. You can bypass the local payment requirement with this hack:
Connect to a VPN server in the US. I recommend you use ExpressVPN as it can reliably unblock Hulu, Disney+, and ESPN from anywhere.
Purchase a Hulu gift card from MyGiftCardSupply. Make sure it covers the price of the annual bundle subscription.
Go to Hulu and select the streaming bundle at the bottom of the screen.
Fill in your details and pay the monthly fee with the gift card. You may be asked to provide a US zip code as a confirmation, but you can enter any valid zip code (like 11377).
Start using your account! You can now stream all your favorites from all 3 sites.
Use This Trick to Save Money on Your Disney+ Subscription
To save money on your Disney+ subscription, you can connect to a server in a country where the plans are cheaper. When I checked prices in regions in Disney's service area, I found that I could save the most money by connecting to a server in India. Doing so will let you purchase the Disney+ Hotstar annual subscription for about 70% less than it costs in the US!
Keep in mind that you will be required to provide a local payment method used in India to subscribe to Disney+ Hotstar. You can set up a Disney+ Hotstar account when you follow the guide to setting up your subscription through Google Play — but connect to a server in India and visit Amazon.in instead!
Watch Disney+ with ExpressVPN today
Fast Fixes for the Disney+ Streaming Error
Even if you use a high-quality VPN to unblock Disney+, you may still occasionally run into the streaming error. This can happen if the platform detects that a certain server's IP address belongs to a VPN. But there's no need to worry — you can fix streaming errors with these easy tricks:
Restart and update your VPN app. This is often enough to fix your connection.
Connect to a different server. Once your connection is established, see if your VPN is leaking your details using an IP address checker.
Delete your cookies and cache. This will remove any possible trackers that Disney+ may have planted in your browser and you'll seem like a brand new user.
Enable the SSL/TLS encryption protocol and 2080 VPN port in your VPN settings. These will give you a better chance of unblocking Disney+.
Use the Disney+ app. Geoblocking technology works differently on browsers than in apps, so it may be easier for your VPN to bypass detection on the app version.
Contact customer service. The VPNs on this list have helpful agents available 24/7!
Unblock Disney+ with ExpressVPN
FAQs on Watching Disney+ With a VPN in June 2022
Can I watch Disney+ for free?
While it's not 100% free, I have a few tricks to help you get Disney+ at a more affordable price. As Disney+ subscription fees vary by country, you can use a VPN to connect to a server in an area with lower prices (like India) to get a much better deal.
If you'd also like to subscribe to Hulu or ESPN, you can save money on Disney+ by getting a streaming bundle that includes all 3 platforms. This will let you access sporting events on ESPN (like Bundesliga or UFC) as well as popular reality TV shows on Hulu! You'll be charged one monthly fee for access to the 3 streaming services, which is much cheaper than subscribing to each separately.
What devices can I watch Disney+ on?
Disney+ is supported on many devices and operating systems. The good news is that the best VPNs to unblock Disney+ from abroad are also compatible with many devices that work with the platform. These are a few of my favorites to watch Disney+ with:
Phones: iPhone, Android, Google Pixel, and Windows
Tablets: iPad, Android, Windows Surface, and Amazon Fire tablet (the latter is available only in the US and Canada)
Computers: Windows, macOS, and Chromebook
Smart TVs: Apple TV, Android TV, Amazon Fire TV, and Roku TV
Streaming devices: Chromecast, Roku, and Amazon Fire Stick
Gaming consoles: PlayStation 4 and 5, Xbox One, and Xbox Series S and X
If you're in the UK, you could also use your Sky Q box to watch any show on Disney+ as the app can be integrated as a part of your Sky bill.
Despite rumors that Disney+ was working with Nintendo, it isn't confirmed whether the platform will ever become available on the Nintendo Switch. As the Disney+ app is also only compatible with the newer consoles, you won't be able to download it on PlayStation 3 and Xbox 360.
To unblock Disney+ on all available devices from anywhere, you need a VPN that's also compatible with a broad range of operating systems. ExpressVPN is one of the best VPNs for Windows, iOS, macOS, Android, and most smart TVs. You can also install it directly on your router and protect every single device that uses the same internet connection! Better yet, if you make the most of ExpressVPN's risk-free money-back guarantee, you can use it for 30 days and then get a refund if you're not satisfied.
What can I watch on Disney+?
Disney+ is perfect for viewers of any age as its library is filled with hundreds of movies and shows from various franchises. After you connect to a VPN server, you'll be able to watch:
Classic Disney movies, new releases, live-action remakes and exclusive content, such as Mulan, Cinderella, The Lion King, and more.
Pixar movies and short stories like Toy Story, Cars, The Incredibles, Monsters, Inc., and others.
Marvel content from all eras, like Iron Man, Thor, and Avengers: Endgame.
Star Wars saga and shows such as The Mandalorian and Lego Star Wars
Popular musicals like Hamilton, Annie, and High School Musical
National Geographic documentaries including The World According to Jeff Goldblum and Magic of Disney's Animal Kingdom
Additionally, Disney started releasing its new content across all categories directly to its library instead of theaters. This will save you time and money you'd otherwise spend on traveling and tickets — now you can avoid the hassle and watch the releases directly from your home!
What else can a VPN do for me?
A top-tier VPN offers thousands of servers across the world, letting you change your virtual location to a country of your choice. This means you can easily bypass georestrictions on other popular streaming platforms you pay good money for like Netflix, Hulu, Amazon Prime Video, HBO Max, and many more. If you travel often or find yourself blocked due to a network glitch, don't have an account on any of these sites, a VPN can help you get maximum value from your paid subscriptions.
Additionally, connecting to a VPN provides you with an extra layer of online security by encrypting your traffic. This gives you complete anonymity and stops anyone from intercepting your connection to spy on your activity or steal your data. It's particularly useful when you're subscribing to streaming platforms or making any online purchases as your payment details are fully invisible to others.
Is Disney+ better than Netflix?
Both platforms have unique strengths, so it's tough to say. Picking between the platforms depends entirely on your own preferences. Regardless of which one you prefer, you need a VPN to effectively bypass the error message on Netflix and Disney+. I recommend you use a VPN to unblock each platform to see which you like best!
In terms of the overall amount of content, Netflix offers more shows and genres. However, Disney+ has its own exclusive collection of movies and shows, which the company has been growing since the platform launched. But if you want to watch any Marvel Universe movies, Disney classics, or the latest releases and remakes, your only option is Disney+. That's because all Disney content has been removed from other websites and is exclusively available on Disney+. Netflix's own Marvel Originals series (like Jessica Jones and Iron Fist) remain on Netflix, but any future seasons were canceled as Disney now owns the rights to Marvel content.
As it's been around for much longer than Disney+, Netflix is available in many more countries. Disney+ regularly expands its service area as the platform is planning to head in a similar direction, but it's going to take some time to reach the same availability as Netflix.
The good news is that you can easily access both platforms using ExpressVPN's money-back guarantee so you can enjoy their content at no added cost.
Start Watching Disney+ From Anywhere Today!
A subscription to Disney+ is the only reliable way to watch your favorite shows and movies, but even as a paying subscriber you can't watch any time you want. However, as the platform is available only in some countries and blocks certain networks, you'll need a top-tier VPN to unblock it from many places around the world.
With ExpressVPN, you get high quality streams and unrestricted access to Disney+ and other geoblocked sites like Netflix, YouTube, Hulu, BBC iPlayer, and more. Better yet, you can try ExpressVPN risk-free with its money-back guarantee for 30 days. I tested it myself and easily got my money back in just 4 days!
Watch Disney+ with ExpressVPN today!
---
Summary: These Are The Best VPNs to Watch Disney+ Abroad on Mobile & More
Top Choice