How to Get an Indian IP Address in 2 Steps (Tested April 2020)
Last Updated by Benjamin Walsh on April 01, 2020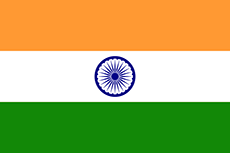 If you haven't visited India, then you need to. The country is brimming with vibrant culture, incredible food, and spectacular entertainment.
If you can't the journey, you can get an Indian IP address to browse and watch all of the best Indian online content. It's the next best thing.
Getting an Indian IP address is easy if you use a VPN. No matter where you are in the world, you'll be able to access Indian content by connecting to an appropriate VPN server.
By following these steps, you'll have an Indian IP address in no time:
Get a VPN with servers in India. We recommend ExpressVPN which has servers in Mumbai and Chennai.
Connect to an Indian server.
Get an Indian IP Address with ExpressVPN
In this article, we'll show you
why you would want an Indian IP address
how to test if your VPN works and your IP address has changed
the benefits of using a VPN, and our top three VPN picks

.
The Advantages of having an Indian IP Address
Access Geo-restricted Websites
Like many countries across the globe, India has a plethora of geo-restricted content that can only be accessed if you're actually in the country.
Whether you're living abroad or just traveling, you may have had difficulty accessing specific sites like online banking. Banks and other companies/sites block those out of the country from visiting their website to prevent potential threats from stealing information, malware, and viruses.
To overcome this, all you need to do is connect to an Indian server, open a new webpage, and visit the site. Now, you'll have full access.
Watch Your Favorite Indian Content
Hotstar, India TV, Bollywood, cricket, and football are just some of the content that can be watched in India, or by using a VPN.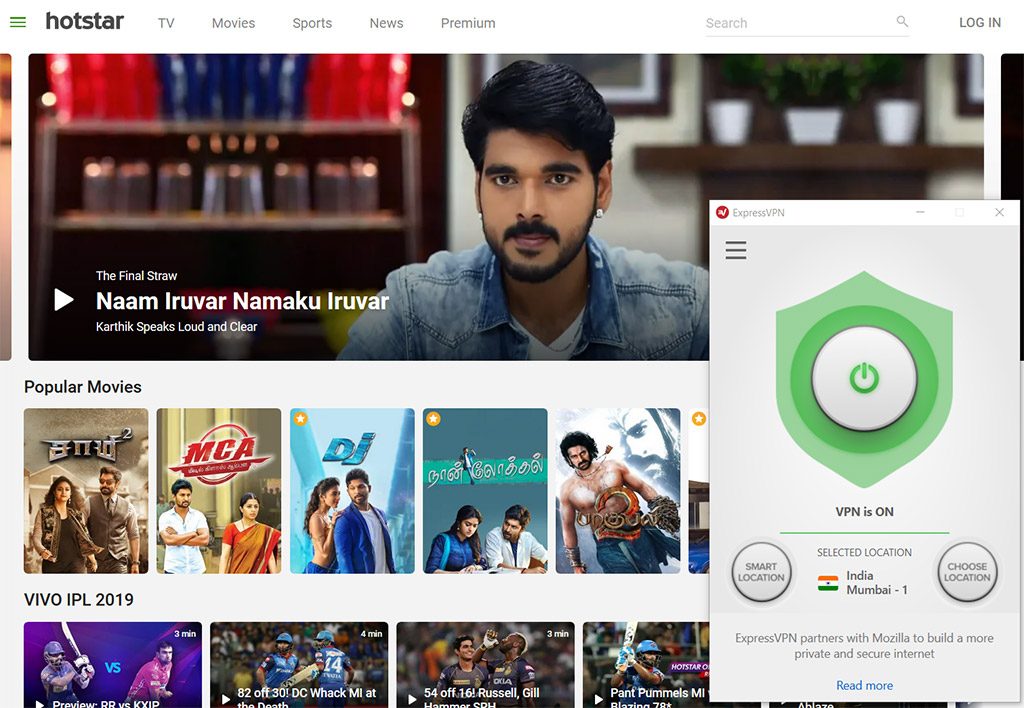 If you want to watch the Indian Premier League, Indian Super League, and Pro Kabaddi, you can do so on Indian sports channels like Star Sports.
The same goes for Bollywood movies and popular TV shows like Sacred Games. Unfortunately, all of this content is only available in India, which is why you need to use a VPN.
Get an Indian IP Address Today!
How to Test If You Have an Indian IP Address
Once you've installed a VPN found an Indian server, you won't know whether it's worked or not. Fortunately, there is a way you can check your IP address to see where your device appears to be.
To do this, all you need to do is use an IP leak tester like the WizCase IP checker. By using this, you'll know what your devices IP address is and where its located.
If the IP checker tells you that you're in a country other than India, then the VPN doesn't work. Try and connect to a different server and retake the test. Alternatively, contact the VPNs support team for help.
The Benefits of Using a VPN
One of the essential features of a VPN is its security.
Most premium VPN providers offer an AES 256-bit encryption
, a standard of protection that has yet to be breached, and is used by many major corporations, including the US military, and the NSA.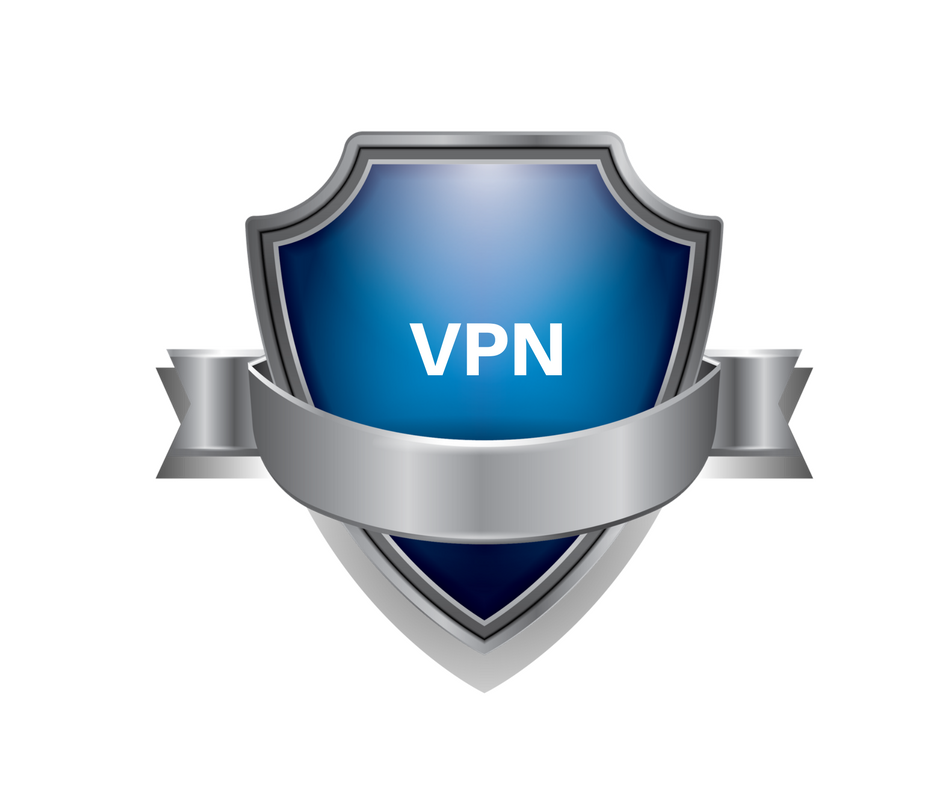 On the other hand,
free VPNs typically give you an AES 128-bit encryption
, which is still secure, but not as reliable. When you're connected to a VPN,
all traffic passing through your device becomes encrypted
, and as a result,
only you and the intended recipient have access to it
.
Additionally, a VPN allows you to change your appeared location at will. By connecting to different servers, your device mimics the location of that server. Then, when you visit websites, they will think that you're in the location of the server, thereby allowing you to watch and access content from around the world.
VPNs can include plenty of other features. A no-throttling policy allows your connection to be the fastest it can. A no-logging policy means the VPN stores none of your data, maintaining your online anonymity.
An automatic kill switch cuts your internet connection when you disconnect from the VPN, leaving no room for vulnerabilities.
These features are just a few in a long list of security and privacy benefits a VPN can offer.
Get an Indian IP Address Today!
Three Best VPN for Getting an IP Address from India
Below are three of our favorite VPNs. All offer high speeds, exceptional security, and servers in India.
Each of these VPNs requires a paid subscription, but have a money-back guarantee should you want to cancel.

1
ExpressVPN – Best VPN for India
Impressive speeds and performance

Servers in India

AES 256-bit encryption

No throttling policy
ExpressVPN tops our list for its incredibly high speeds and amazing performance, especially in India. Connections have proven to be consistent and reliable. With ExpressVPN, it won't even feel like you're using a VPN.
While you're accessing content and websites in India, you can do so knowing you'll be safe.
You'll be protected by an AES 256-bit encryption
so you can
stay secure from hackers, snoopers, other cybercriminals
.
ExpressVPN also has a no throttling policy, which means that you get maximum internet speeds while connected to the VPN. This is perfect for streaming Indian content as you won't experience buffering or interruptions.
If you aren't satisfied with ExpressVPN or no longer need it, there is a 30-day money-back guarantee you can utilize.
Get an Indian IP address with ExpressVPN
2
NordVPN 15+ Servers in India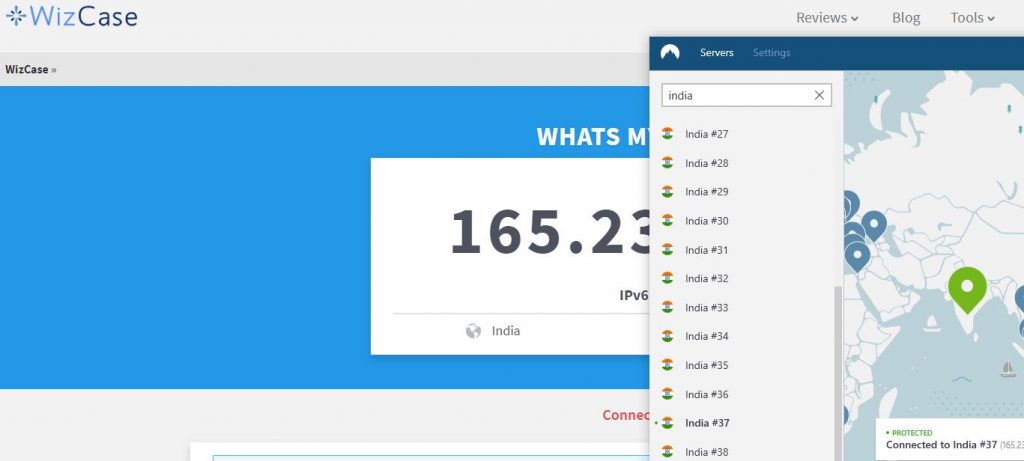 Unbeatable security

SmartPlay technology

5,000+ servers in 62 countries

Unlimited bandwidth
NordVPN is renown for its uncrackable security measures. With an AES 256-bit encryption, NordVPN implements the ultimate level of protection. Additionally, there is a double VPN option which, unsurprisingly, doubles your security.
If you're more into streaming and wanting online content,
SmartPlay technology
optimizes NordVPN servers for streaming. Be sure to do this when you're watching the next Bollywood blockbuster.
With the highest server count on this list, NordVPN has servers in just over 60 countries including India. Regardless of whether you're looking to watch your favorite shows, movies, sports or even trying to access restricted Indian sites, NordVPN as you covered.
There's also a 30-day money-back guarantee should you want to cancel.
Get an Indian IP address with NordVPN
3
Surfshark VPN – Servers in Mumbai and Indore

Servers in India

Above average speeds

Easy to use

Cheaper one and two-year plans
Surfshark provides you with the ability to connect to their servers in India and bypass any geo-restrictions that are in place.
Their easy-to-use interface makes navigating this VPN extremely simple. The interface is perfect for those who want to access Indian content, but aren't too familiar with the intricacies of Virtual Private Networks and their capabilities.
Surfshark also offers CleanWeb, unlimited bandwidth, connections to unlimited devices, MulitHop, and NoBorders mode.
Get an Indian IP address with Surfshark
Can You Use a Free VPN to Get an Indian IP Address
Free VPNs like TunnelBear are an option, but they typically have privacy and security flaws as well as speed and data caps. Therefore, we recommend using only a trusted premium service.

TunnelBear can get you an Indian IP address, but the free version limits your monthly data
Regardless of which VPN you choose from this list, we can guarantee that you will be able to overcome any Indian geo-restrictions and access all the sites you desire.