5 Best VPNs for India (Updated with Local Servers in 2020)
Last Updated by Yan Zhuang on October 01, 2020
Considering punishment is so severe even for minor infractions in India, I didn't want to take any chances with a VPN that could expose me. But since the Indian government blocks VPNs, it requires a ton of research to know which services keep you 100% safe.
I was relieved to find that the top-recommended VPNs in this article still work in India and let you anonymously access blocked content by changing your IP address. That means that these services keep you 100% hidden when you use censored sites like Reddit and Telegram in India. Plus, they'll let you access your favorite Indian content while abroad.
It's nerve-wracking to test VPNs in India without knowing if they truly keep you safe. For your security, I've tested and compiled a list of the best 5 VPNs for India and 3 easy steps to get started fast. These VPNs can all get you an Indian IP address while you're abroad as well as protect you from surveillance. Out of all the services I tested, NordVPN was the best option for India. To try it yourself, you can take advantage of its money-back guarantee and try it risk-free for 30 days.
Quick Guide: 5 Best VPNs for India in October 2020
3 Easy Steps to Get an Indian IP Address
Get a VPN with Indian servers. Try NordVPN because it bypasses Indian censorship easily and has the most local servers on this list to access blocked content.
Connect to an Indian server. VPN technology will make it look like you are physically located in India.
Start streaming India-exclusive content! You can anonymously access local content while abroad.
5 Best VPNs for India to Access Local and Global Content Fast and Securely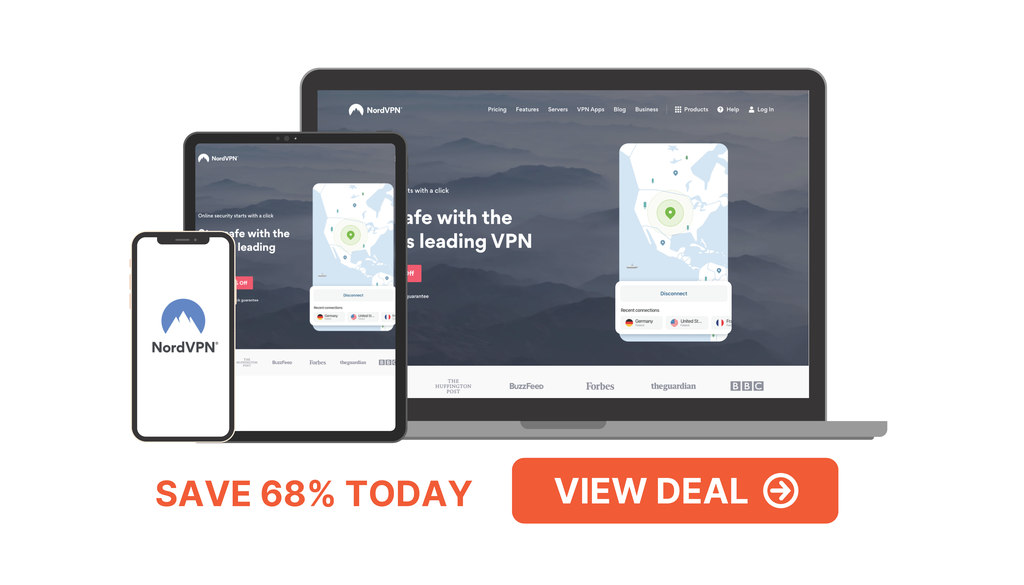 Key Features:
30+ servers in India and 5,500+ globally to access content anywhere in the world
Military-grade AES 256-bit encryption, a strict no-logs policy, and Cybersec technology keeps your online activity 100% anonymous and secure
Unlimited bandwidth to watch as much content as you want in Ultra HD with no buffering or slow loading
Supports torrenting with dedicated P2P servers and no throttling
Use up to 6 devices on 1 account
NordVPN has 5,500+ total servers and 30 Indian servers (the most of any VPN on this list), so you'll always be able to get an Indian IP address. This huge server network is important — websites and governments blacklist IP addresses they suspect belong to VPNs. Choosing a VPN with more servers means you'll have better chances of getting an IP address that hasn't been blocked. NordVPN's massive server selection means you'll have no problem getting an Indian IP address capable of bypassing Starz TV's geo-restrictions to watch Yeh Hai Mohabbatein abroad.
To see how well the service worked for myself, I tested all 30 of NordVPN's Indian servers and found they had blazing speeds — servers #9 and #22 were the fastest for me. I put them to the test by streaming an episode of Mahabharat on Hotstar. It took under a minute to load and I was able to watch the episode in HD with zero buffering. I found that speeds didn't differ much between peak and off-peak times, so you can expect stable streaming. Plus, with NordVPN you won't need to waste time clicking through all the servers — its SmartPlay feature automatically connects you to the fastest option.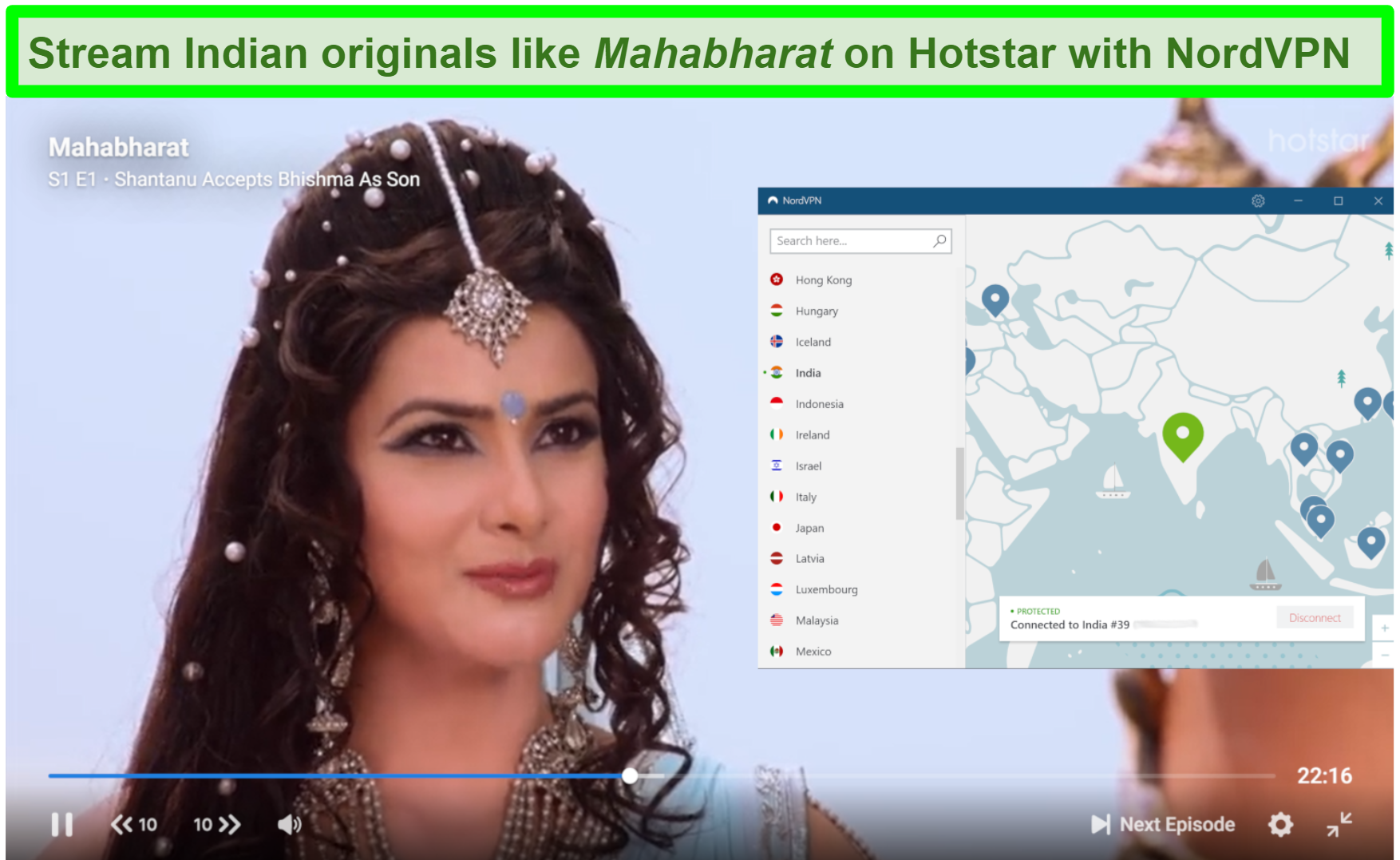 Aside from great streaming compatibility, I was worried about finding a VPN that would keep me 100% safe. Since you can be imprisoned if you do or say the wrong thing online in India, I didn't want to take any chances using a VPN with weak security. NordVPN has advanced military-grade encryption, so you can be confident that hackers, government agents, and ISPs can't intercept your data. In addition, security features like a kill switch and DNS leak protection mean your data will never be exposed (even if your internet connection drops).
As if this protection weren't enough, NordVPN's strict no-logs policy means no information about your online activities is ever stored. Even if Indian or international authorities tried to get information about you from the company, they wouldn't find anything. Although a lot of VPNs claim not to store users' logs, NordVPN has actually proven it. It invited the cybersecurity experts PricewaterhouseCoopers to audit its no-logs policy in 2018. PWC confirmed that NordVPN doesn't keep logs of users' internet activity, IP addresses, or connections.
NordVPN also offers features that other top providers don't. For example, NordVPN's CyberSec feature blocks ads, pop-ups, and suspicious websites that might contain malware or phishing scams. This keeps you safe from hackers trying to infect your device, prevents ads from interrupting your streaming, and can even speed up your browsing. I tested it by surfing some websites that use lots of ads and was impressed that they all disappeared.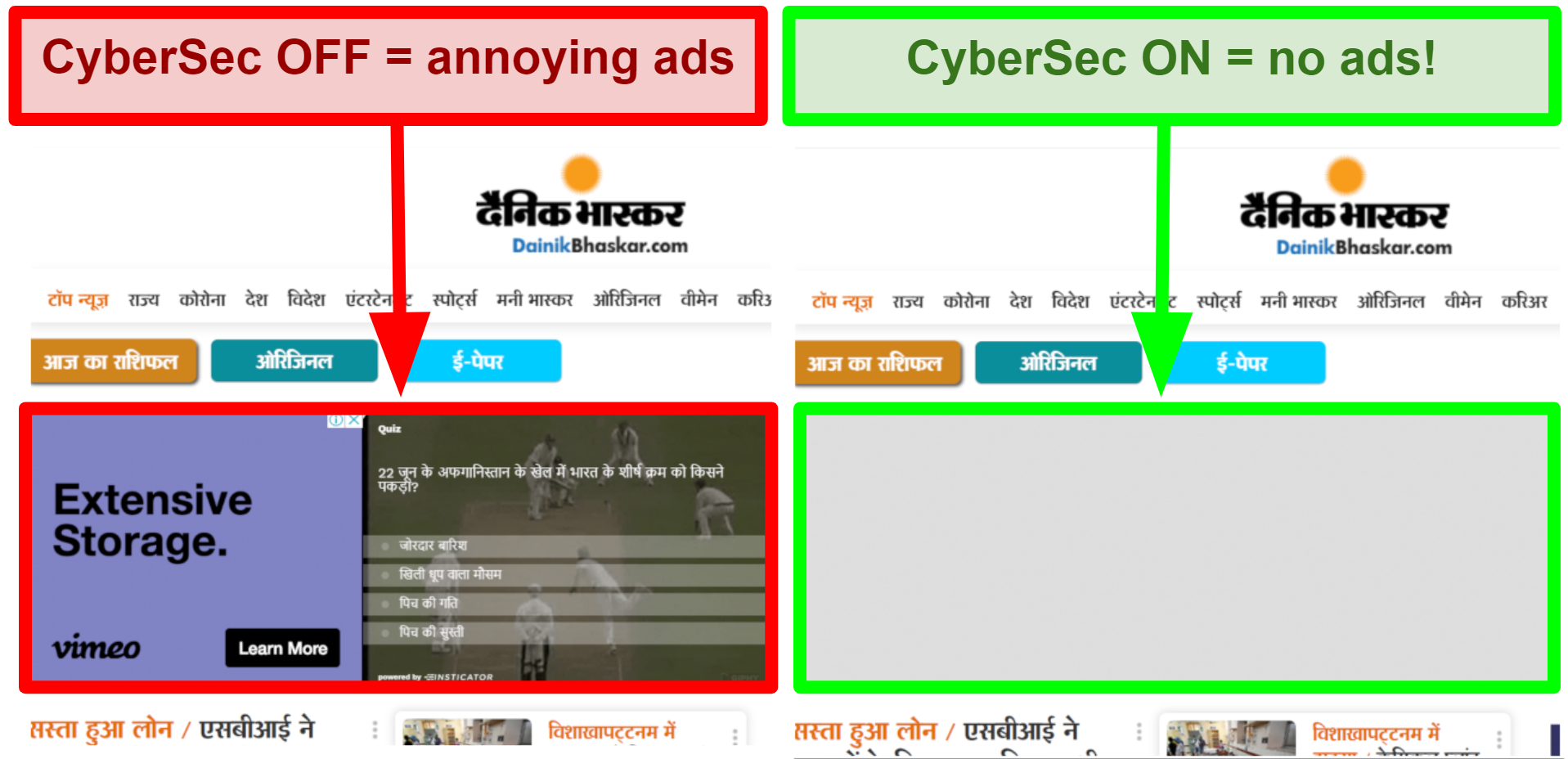 One minor con I found is that NordVPN does not work in China. If you're planning to travel there, ExpressVPN is a better option for China because it can bypass the Great Firewall.
If you're only taking a short trip to India, you can use NordVPN completely risk-free with its 30-day money-back guarantee. I tested its refund policy and got my money back in 5 days. I was able to contact a customer representative via the website's live chat function. He spent some time troubleshooting to try to convince me to stay — but when I said I wasn't interested, he quickly processed the refund.
NordVPN also unblocks: Disney+ Hotstar, Voot, Star Sports, India TV, Zee TV, Netflix, Amazon Prime, BBC iPlayer, Hulu, and more.
NordVPN works on: Mac, Windows, Linux, iOS, Android, Chrome, Firefox, Android TV, and some routers.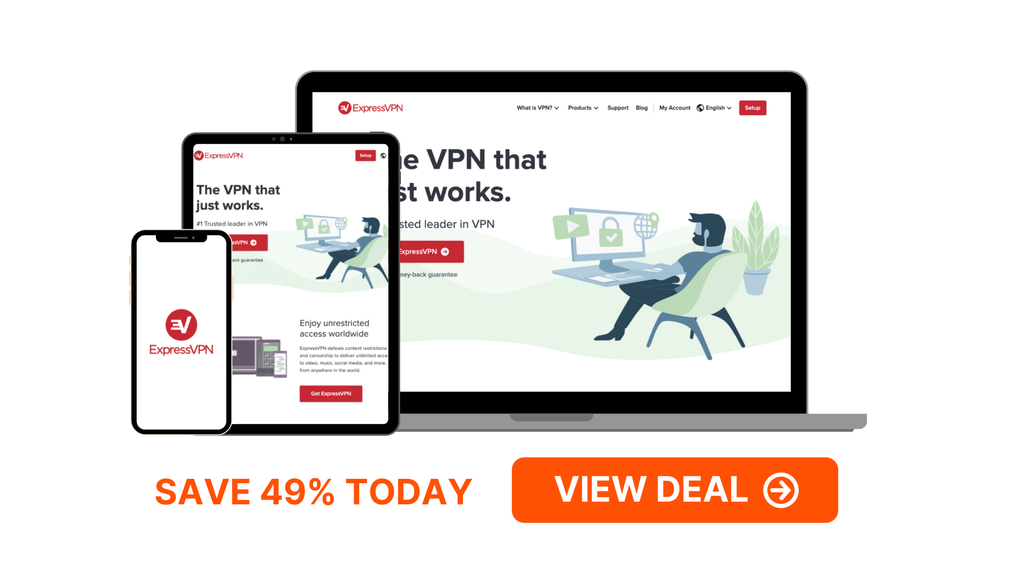 Key Features:
3+ servers in India and 3,000+ worldwide for easy access to local and global content
Military-grade AES 256-bit encryption and TrustedServer technology protects your personal data
Unlimited bandwidth to stream all the shows you want
Supports torrenting on all available servers and has no throttling
Connect up to 5 devices on 1 account
Considering that India has been called the third-worst internet surveillance state in the world (behind China and Russia), I wanted to make sure my VPN would keep my data 100% private. Since ExpressVPN is one of the most secure VPNs on the market, I was excited to learn that it works in India and has servers there.
To begin with, ExpressVPN uses TrustedServer technology to run all of its servers on RAM, which prevents records of your online activity from being created. Every time a server reboots, any trace of you is permanently erased. In 2017, ExpressVPN showed how serious it is about user privacy during an assassination investigation. Turkish police tried to obtain user information from ExpressVPN and even seized its servers, but couldn't find anything.
You can feel safe accessing even the most sensitive data knowing ExpressVPN's encryption will keep it safe from government agents and hackers. ExpressVPN uses 256-bit AES encryption (the same as what the US military uses) and OpenVPN (the most secure VPN protocol available). If a cybercriminal somehow managed to hack your connection, ExpressVPN's strong encryption would only allow them to see a string of random letters and numbers rather than your data. With these features, I felt comfortable using ExpressVPN to log into my Bank of India account while using unsecured hotel WiFi.
The only reason ExpressVPN isn't my number one pick is because it only has three Indian servers (compared to NordVPN's 30!). I thought this would cause slower speeds due to overcrowding — but I was wrong. In my testing, I found that ExpressVPN's servers were blazing fast. I was surprised to find that my download speeds had virtually no drop when I performed a baseline test without a VPN vs when I connected to an Indian server.
With these fast server options, I was able to stream an Indian Premier League match rerun on Star Sports in HD with almost no buffering. I was also surprised to learn that ExpressVPN unblocks more Netflix libraries than any other provider on this list as well as BBC iPlayer, Hulu, and other top streaming platforms.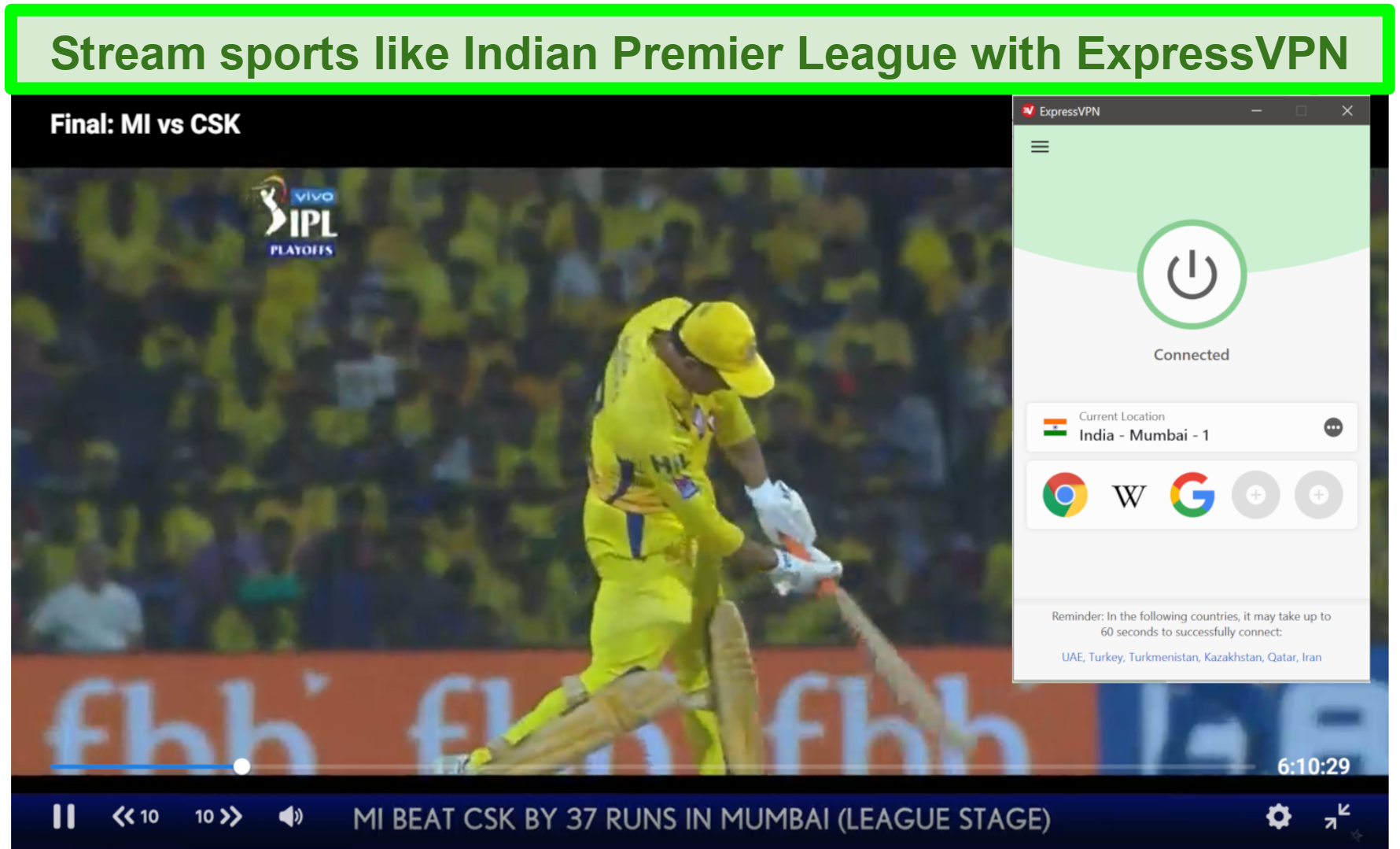 I was really satisfied with ExpressVPN, but I still think the best way to know if a VPN is right for you is to test it yourself. You can try ExpressVPN risk-free with its 30-day money-back guarantee. If you're not completely satisfied, you can get a full refund. I was impressed by how quick and easy the process was. In less than 2 minutes on a live chat, I was able to process my cancellation and I got my money back in 4 days. Plus, the representative didn't pressure me to stay.
ExpressVPN also unblocks: Disney+ Hotstar, Voot, Star Sports, India TV, Vudu, Amazon Prime, DAZN, HBO Now, and more.
ExpressVPN works on: Mac, Windows, Linux, iOS, Android, Chrome, Firefox, Android TV, and some routers.
Try ExpressVPN risk-free today
October 2020 Update: ExpressVPN has dropped prices so you can save up to 49%!!! This is a limited offer so be sure to grab it now before it's gone. See more deal information here.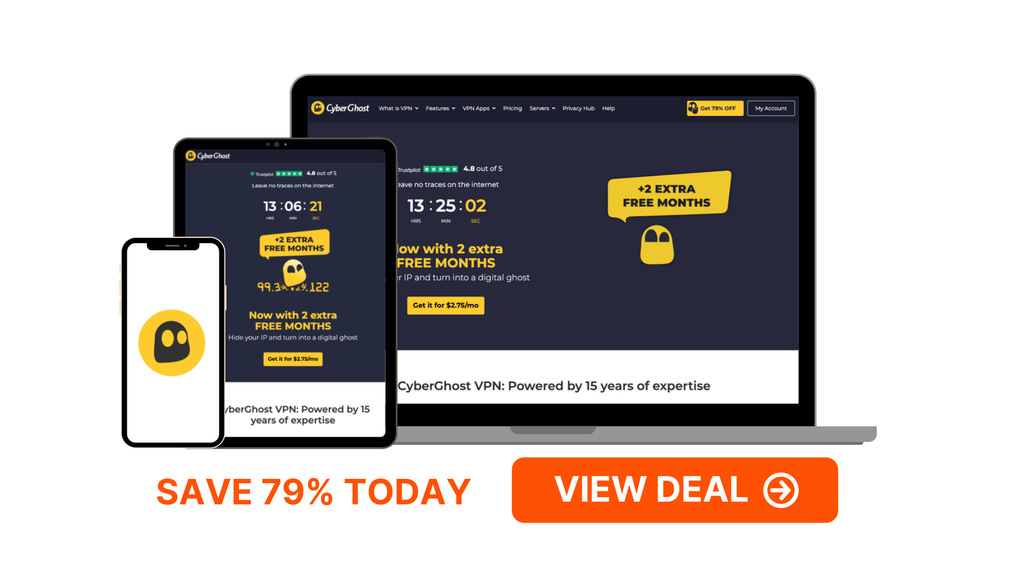 Key Features:
20 servers in India and 6,500+ globally to watch shows from around the world
AES 256-bit encryption and a no-logs policy for maximum security
Unlimited bandwidth means you can stream as much as you want
Anonymous Torrenting Mode lets you torrent safely and quickly
Secure up to 7 devices at the same time
CyberGhost's dedicated streaming servers mean you won't have to deal with annoying lags while streaming your favorite international shows while in India. I used one of these servers to watch an episode of Kim's Convenience from US Netflix. I was impressed to find that even from 15,000km away, I was able to load it within a minute and watch it in HD with only a little buffering. With over 6,500+ servers in 110+ countries, you'll be able to stream exclusive content from around the world without delays.
If you travel outside of India, CyberGhost's 20 Indian servers can also unblock your favorite Bollywood shows and let you stream without buffering. I put these servers to the test by streaming an episode of Kundali Bhagya on Zee TV's website. It loaded in around a minute and I was able to watch it with minimal lag. In my tests, servers #23 and #15 were the fastest.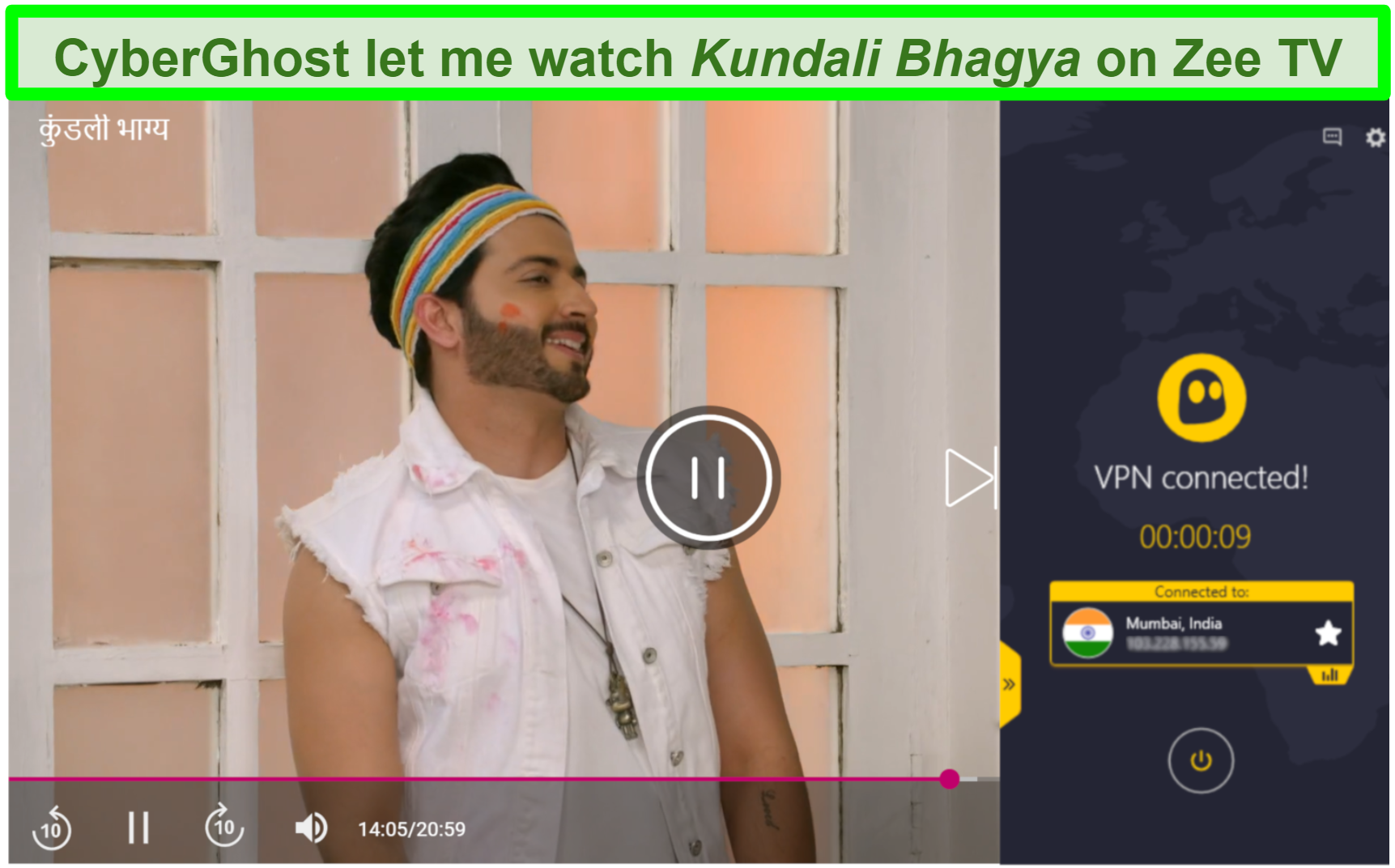 If you're a frequent traveler like me, you probably connect to unsecured WiFi networks at airports or hotels often. With CyberGhost, you won't have to worry about your security — you can configure CyberGhost to automatically launch when you connect to certain WiFi networks. This way, you'll be protected even if you forget to turn on your VPN while using unsecured public WiFi to access your online banking or private email.
A small downside is that CyberGhost can't bypass the Great Firewall of China and it doesn't work in Turkey or the UAE. If you're planning to travel to these places, your best bet would be to use ExpressVPN because it is proven to work in these censorship-heavy countries.
Don't take my word for it — test CyberGhost yourself to see if it's right for you with its 45-day money-back guarantee (one of the most generous policies on the market). CyberGhost's refund process is hassle-free too. When I requested my money back via their live chat, they didn't ask me any questions and I was refunded in 5 days.
CyberGhost also unblocks: Netflix, Disney+ Hotstar, Voot, Star Sports, India TV, Amazon Prime, Hulu, and more.
CyberGhost works on: Mac, Windows, Linux, iOS, Android, Chrome, Firefox, Android TV, and some routers.
Try CyberGhost risk-free today
CyberGhost's Latest Deal October 2020: Get an 18-month subscription for the price of the 12-month plan — which means you get 6 months completely free!!! Prices start at only $2.75/month. See more information on this offer here.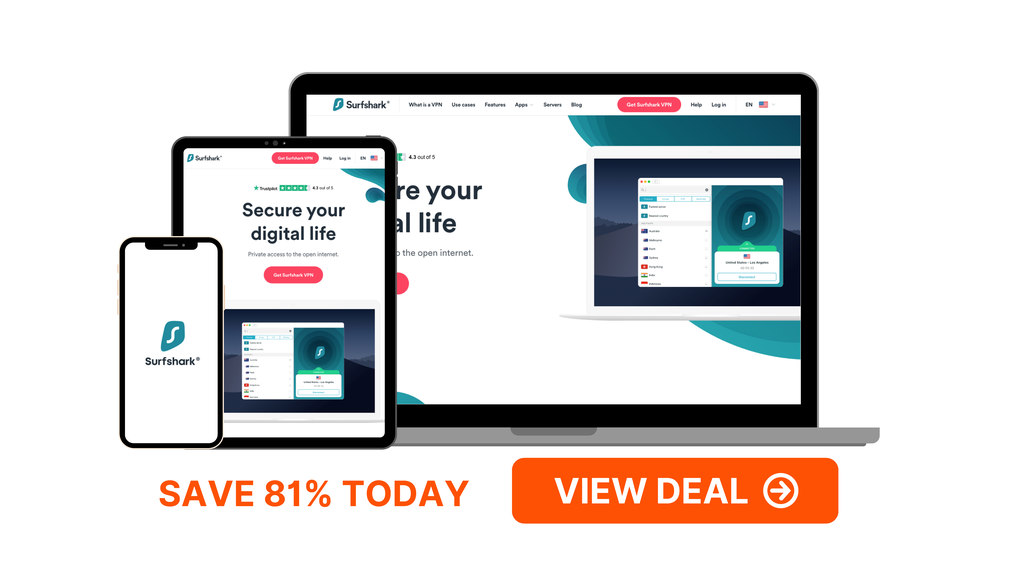 Key Features:
3+ servers in India and 1,700+ globally
AES 256-bit encryption and CleanWeb technology for top security
Unlimited bandwidth and no throttling
Dedicated torrenting servers for fast download speeds
Connect as many devices as you want
I was amazed that Surfshark's monthly subscription protects an unlimited number of devices for less than the price of a cup of coffee. You can even share the subscription with all your friends and all catch up on the latest episode of Kahaan Hum Kahaan Tum together.
At such an affordable price, I was suspicious of how Surfshark's speeds would handle multiple device connections. To test it, I first connected my 4 devices (2 smartphones, 1 laptop, 1 tablet) at the same time and found that there wasn't any noticeable drop in speeds. I then added the rest of my family's devices (3 laptops, 4 smartphones, 3 tablets) and was amazed that I could stream Stranger Things from US Netflix on all devices with only minimal buffering. My testing found that Surfshark's 3+ Indian servers had fast speeds.
Aside from fast speeds, Surfshark is also able to bypass geo-restrictions to let you watch Indian shows abroad. When I tested all 3 of Surfshark's Indian servers, I could stream the local news live on India TV with minimal lag. I only experienced a minor drop in my speed using its Indian servers compared to my baseline speed.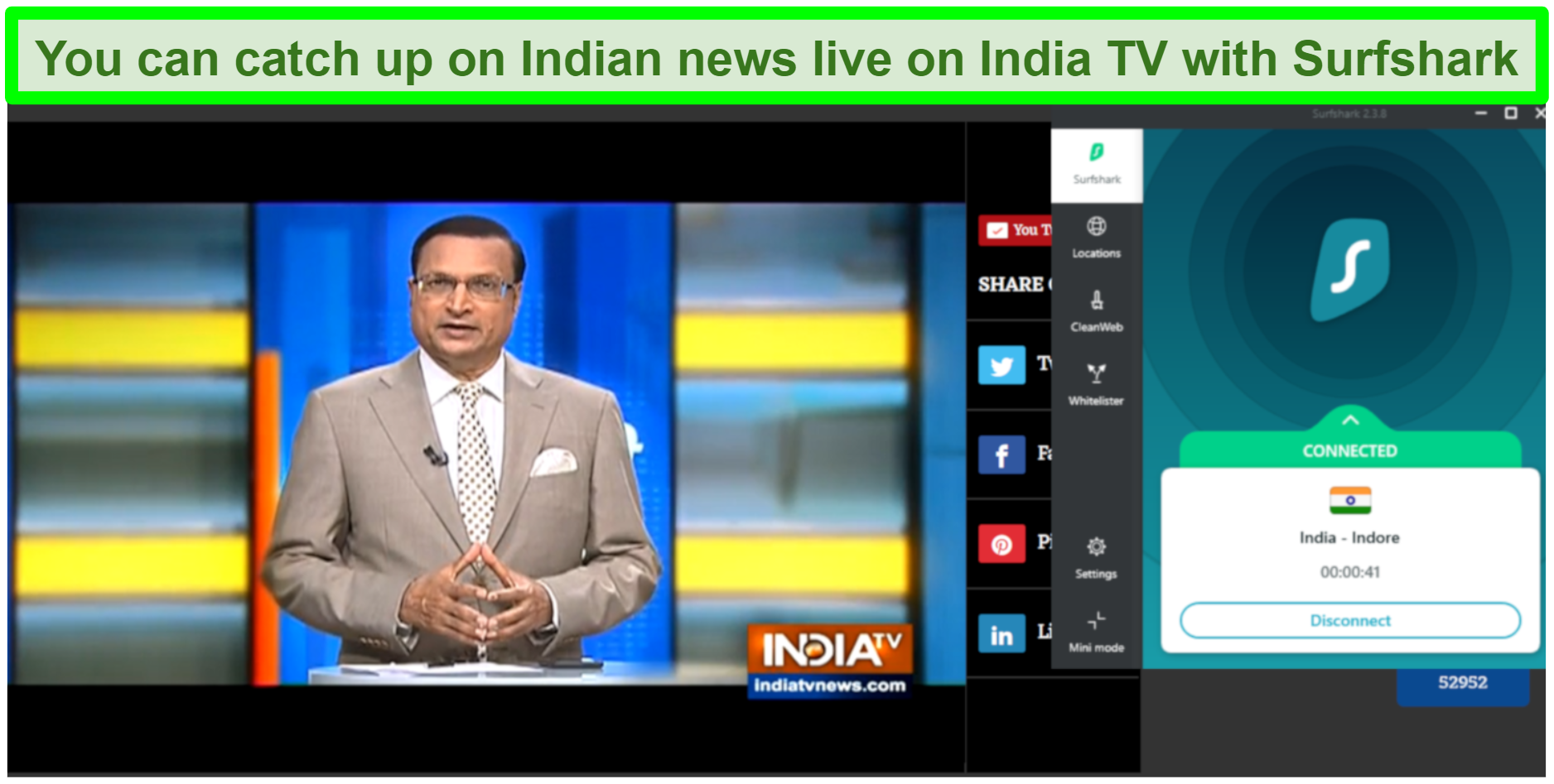 In addition to great streaming compatibility, Surfshark's security features also reassured me that my online activities would stay safe from surveillance. With military-grade encryption, you know government agents won't be able to hack your connection or access your personal information. Surfshark is also based in the British Virgin Islands (located outside the 5/9/14 Eyes Alliances), so there's no chance it will share your data with other governments.
A minor downside is that with 1,700+ servers globally, Surfshark's server network is smaller than other top-tier VPNs. Generally, more servers give you faster speeds and more consistent connections. I personally didn't run into any issues when I tested Surfshark servers, but there's a chance some servers could get blocked or give you slow speeds because of crowding.
You can test Surfshark yourself with its 30-day money-back guarantee. I tried its refund policy and got my money back in 5 days. The customer representative spent some time troubleshooting my problems, but when I said I wasn't interested she quickly processed the refund.
Surfshark also unblocks: Netflix, Disney+ Hotstar, Voot, Star Sports, India TV, Amazon Prime, and more.
Surfshark works on: Mac, Windows, Linux, iOS, Android, Chrome, Firefox, Android TV, and some routers.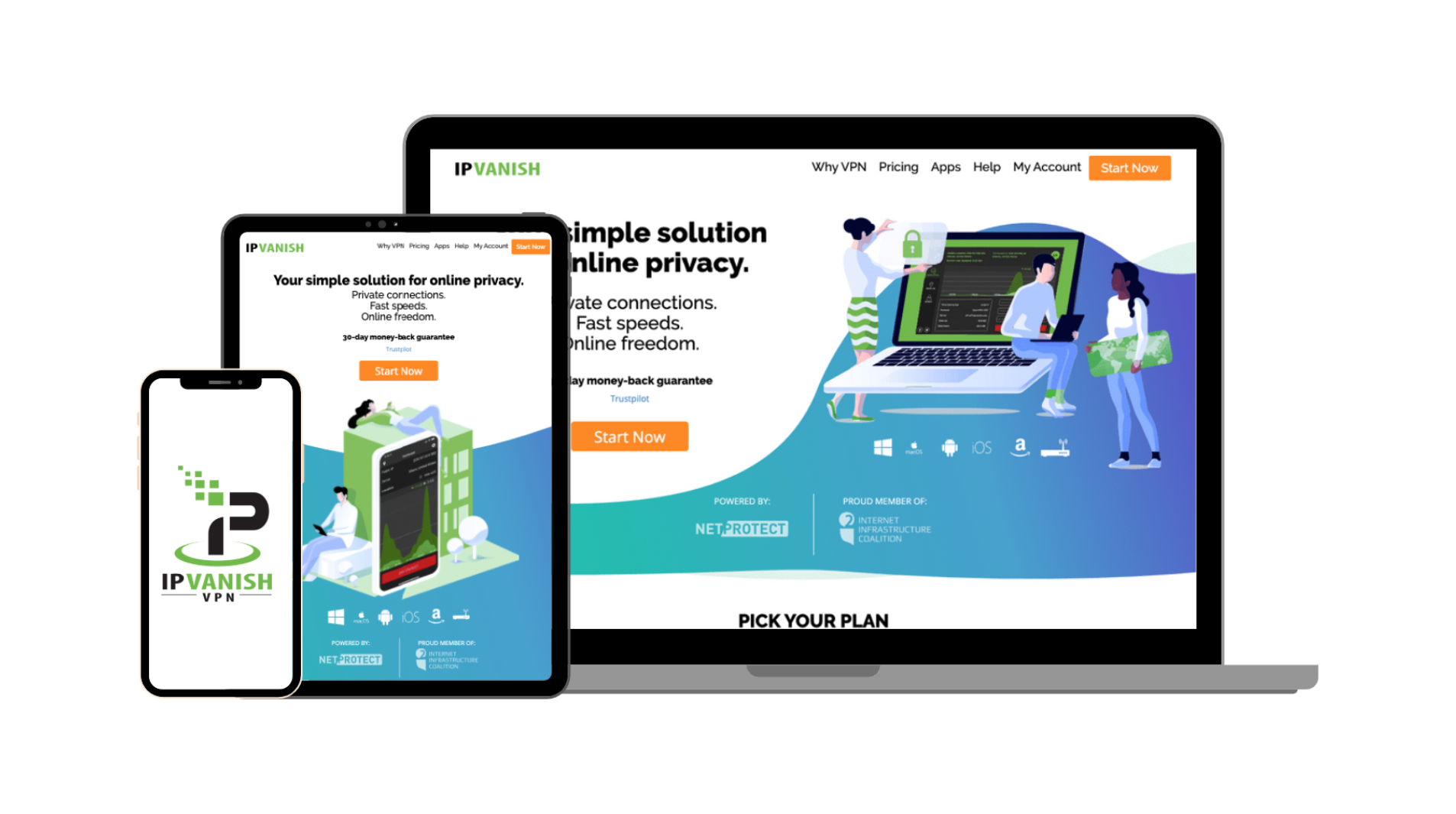 Key Features:
6 servers in India and 1,400+ globally to watch local and international shows
AES 256-bit encryption and a no-logs policy protect your data
Unlimited bandwidth to stream your favorite shows
Supports torrent downloading and no throttling
Secure 10 devices at the same time
IPVanish owns all its own servers and doesn't rely on third parties for maintenance to keep you safe. This prevents sneaky external server owners from spying on your online activity and private data. It also has industry-standard security features like military-grade encryption and a strict no-logs policy. Together, these features mean you can be confident that the Indian government won't be able to intercept your data while you're using IPVanish.
IPVanish has 6 Indian servers to access your favorite websites and streaming content. Its Mumbai server let me bypass Voot's geoblocks to watch Illegal without any issues. Its UK server network also let me access BBC iPlayer to stream The Graham Norton Show easily.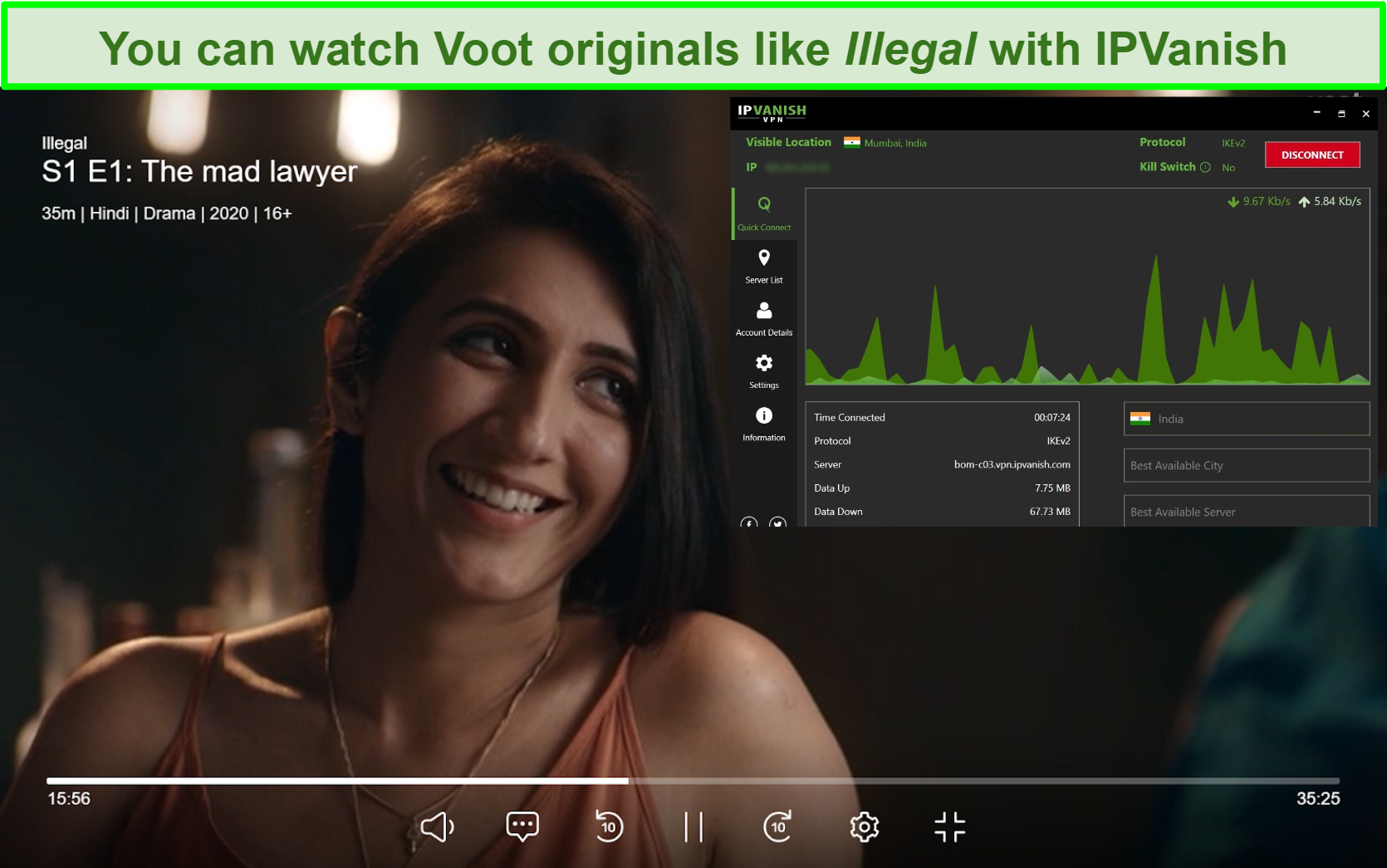 I found IPVanish's Split Tunneling feature was convenient for streaming because it let me choose which apps connected through the VPN and which I wanted to connect through my ISP. The Split Tunneling feature's compatibility with Fire Stick allowed me to get around geoblocks while streaming and enjoy faster speeds on other devices by connecting straight through my ISP.
Unfortunately, IPVanish was a bit slower than other VPNs on this list. When I streamed The Marvelous Mrs. Maisel on Amazon Prime, it took a few minutes for the show to load. I was able to watch it in 720p definition without any lag — but when I tried to watch it in HD, I experienced some buffering. This wasn't a big problem, but it did affect my streaming experience.
Another downside is that IPVanish can't bypass Netflix's advanced VPN blocking technology. When I tried to access US Netflix, I couldn't connect using servers #1, 2, 4, or 6. I was redirected to the "streaming error" page every time. This won't be an issue at all if you mainly want to watch local Indian content. But if accessing Netflix is one of your priorities, I'd recommend you use a VPN that can reliably bypass Netflix's proxy error.
You can take advantage of IPVanish's 7-day money-back guarantee to test it. I got my money back in just 4 business days and the refund process was fast and easy.
IPVanish also unblocks: Disney+ Hotstar, Voot, Star Sports, Amazon Prime, BBC iPlayer, and more.
IPVanish works on: Mac, Windows, Linux, iOS, Android, Chrome, Firefox, Android TV, and some routers.
How to Choose the Best VPN for India
I ranked the top-recommended VPNs for India using the following criteria:
Servers in India — In order to get an Indian IP address to unblock local sites and streaming content, you'll need a VPN with 1 or more servers in India. More local servers generally give you faster speeds because they don't experience crowding.
Advanced encryption — The only way to make sure hackers, governments, and spies can't track your online activity is by choosing a VPN that uses the best encryption standards on the market, including 256-bit AES encryption with OpenVPN or IKEv2 encryption protocols.
Demonstrated ability to bypass geo-blocks — If you want to access Indian content from abroad, use a service like NordVPN that can get around strict geo-blocking technology.
Zero-logs policy — If a VPN logs your data, you are at risk of being tracked by hackers and government authorities. Make sure your VPN has a strict, independently-audited no-logs policy.
Fast speeds — You don't want a VPN that makes you sit through buffering, so make sure you select one that offers fast speeds.
Why You Need an Indian IP Address
Stream Indian shows and news when abroad using local services like Disney+ Hotstar and India TV that can't be accessed without an Indian IP address.
Use online banking portals overseas like the Bank of India's from anywhere in the world.
Watch local sports matches like the Indian Premier League, Indian Super League, and Pro Kabaddi on Star Sports.
Access Indian content with NordVPN
How a VPN Gets You an Indian IP Address
A VPN provides you with an Indian IP address by encrypting your data and redirecting your internet traffic through a local server.
Imagine your internet activity as a car driving along a road. Without a VPN, anyone can recognize your car, see where it came from, and track where it's going. Using a VPN is like driving your car through a tunnel that stops others from seeing your vehicle and route. Websites, hackers, governments, and other prying eyes are stuck outside of the tunnel. This is how using a VPN with top-tier security gives you total anonymity online.
When you connect to the internet, your ISP gives you an IP address that reveals your physical location to websites and prying eyes. A VPN reroutes your connection through a server in India (or whichever country you choose). This process gives you a local IP address. It tricks websites into thinking you're in that country and keeps your real location hidden.
With an Indian IP address, you can get around geo-blocked websites that are only supposed to be accessed by people in India. Websites, governments, and others also won't be able to figure out where you really are or track what you're doing online.
Can I use a free VPN to get an Indian IP address?
Yes — but I definitely wouldn't recommend it. Some free VPNs may be able to get you an Indian IP address. But their security issues, poor performance, and slow speeds outweigh any money you save.
Most free VPNs make money in ways that expose you to danger online. They may sell your data to advertisers or infect your devices with malware. Some display annoying ads in their apps or even engage in fraudulent activity.
The majority of free VPNs often also have weak security that puts your privacy at risk. Considering that India's intense internet surveillance can get you imprisoned, saving a few dollars with a free service isn't worth it. Remember that Indian authorities have filed cases against hundreds of people in Kashmir for using VPNs to access banned social media apps — they were discovered because their VPNs had weak encryption and security features.
Many free VPNs also can't access blocked content. That means you won't be able to see your favorite shows on Hotstar, India TV, and Netflix or bypass the restrictions banking platforms use.
For these reasons, I recommend you use a top-tier VPN like NordVPN over any free services. Top services like NordVPN keep you safe with military-grade encryption and bypass geoblocks easily. Plus, if you only need it for a short period of time you can use it for free up to 20 days using its money-back guarantee.
Warning — Why You REALLY Need a VPN in India
Important: India is one of the worst surveillance states in the world (only behind China and Russia!) because of its mass online spying and heavy censorship. Citizens have been jailed for using VPNs and for minor infractions (including accessing games and social media sites).
For this reason, using a reliable VPN when you are physically located in India is essential to your safety. A top-tier VPN protects your privacy better than proxies in countries like India and prevents prying eyes from monitoring your online activity and private messages. If you plan to travel there soon, I recommend you install your VPN before traveling to India to avoid any censorship-related issues in accessing the vendor website.
How to Save on VPNs for India
You can avoid paying full price on the best VPNs for India using hidden discounts and money-back guarantees. To save you time, I've found some of the best deals available for some of the VPNs on this list: