How to Get a Free Trial Hotspot Shield (Updated August 2022)
Last Updated by Joel Timothy on August 01, 2022
Hotspot Shield is one of the priciest VPNs especially if you decide to go for the 1-month plan. This can be attributed to the fact that you will barely notice any drop in speeds, and you'll get to enjoy the VPN's excellent performance.
However, the VPN is generous enough to offer a free plan as well as a free premium trial to let you test the premium service without spending a penny.
Hotspot Shield Free VPN
Hotspot Shield's free plan lets you use the VPN even without the need of creating an account. This free plan is however very limited, and it was recently changed to 30 minutes a day. Other limitations include:
500MB a day
Can only connect to the US
Doesn't unblock Netflix or any other streaming service.
To test Hotspot Shield Premium VPN without spending a penny, you need to use the 7-day free trial.
This is a complete Hotspot Shield package that lets you try out the service for a whole week without paying. Within the trial period, you will be able to use all the premium features you'd get with a paid plan. These include:
Unlimited bandwidth
Ad-Free browsing
2,500+ servers in 29 countries
5 simultaneous connections
24/7 Live tech support
With this package, you'll also be able to stream Netflix US and Netflix UK, as well as various other geo-restricted services. If you are happy with Hotspot Shield and want to continue using their premium VPN services after teh free trial is over, be sure to use our exclusive Hotspot Shield coupon to get the best deal!
Note: To get the 7-day free Trial, you will need to use a credit card/ PayPal. If you do not cancel within the given days, you will be automatically subscribed to the monthly plan.
Nevertheless, you will still be eligible for a 45-day money-back guarantee, which gives you ample time for testing the VPN services.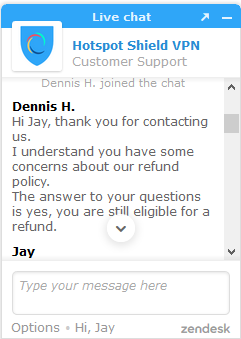 How to get a Free Premium Trial for Hotspot Shield
You won't easily find the free trial link on the VPNs website, and so you need to use the link below.
From there, you will need to provide your details if you want to use your card. For PayPal, you'll just need to sign in to your PayPal account using a page that will pop up.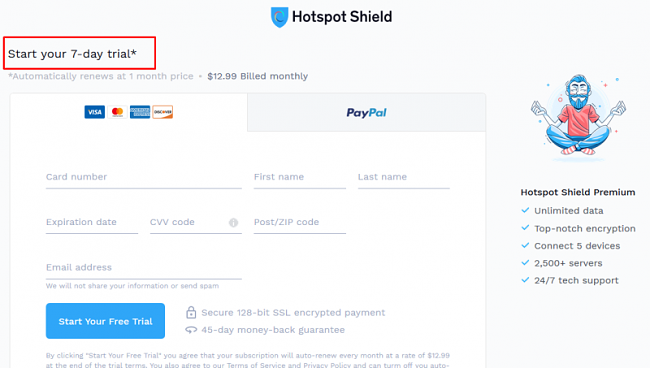 After your payment method has been verified, you will then be redirected to enter your password.
After that, your account will be complete and you'll receive a confirmation email. Enjoy Hotspot Shield Premium free of charge for 7 days!
Note: If you don't wish to be charged, ensure you cancel your account within the first 7 days!
So how good is Hotspot Shield?
Hotspot Shield is a quite popular VPN option especially for people who want a VPN for streaming. This is thanks to the VPN's excellent speeds and the fact that you can actually get an incredible 76% off discount with our special coupon.
To help you decide whether you really want to cancel your free trial, here's a short review of the VPN.
Privacy & Security
Hotspot Shield is a product of Anchor Free Inc. a company based in California. Being registered in the US isn't one of the ideal scenarios for VPN due to the invasive digital privacy laws and high government monitoring.
Hotspot Shield however clearly states that they "do not keep logs of your online activities and never associate any domains, or applications that you access while the Hotspot Shield VPN is connected with you, your device, or your email."
This privacy policy covers both free and paid versions of Hotspot Shield.
As for security, the VPN encrypts your traffic using TLS 1.2 with perfect forward secrecy (ECDHE), and 128-bit AES GCM data encryption technology. Though this is quite lower than the industry standard (AES 256-bit), it's still sufficient and is one of the reasons behind the VPN being so fast.
Speeds
Speed is one of the areas where Hotspot Shield excels. The VPN is one of the fastest options in the market, and with it you can be able to stream in HD and 4K without even worrying about buffering issues.
To give you an idea of how fast Hotspot Shield is, we did a few speed tests. The first speed test was done with no VPN connected, and it's meant to act as a bench mark for the other tests.

After that, we then connected the VPN to a nearby server, and here's the average of our results.

When connected to a distant server, the VPN still managed to offer very good speeds.

Servers & Locations
Hotspot Shield won't give you as many servers as the likes of NordVPN and ExpressVPN, but the VPN still manages to offer super-fast and stable connections. With a premium account, you'll be able to choose from their 1,000+ servers in 25 countries.
These servers are well distributed across the Americas, Asia, Europe, the Middle East, and Oceania.
Features
Unfortunately, when it comes to features, Hotspot Shield VPN won't promise you much. The app however still offers the basic security features that any top VPN should. Its features include:
An automatic kill switch
IP Leak protection
Auto-protect unsafe hotspot
Catapult Hydra VPN technology (optimizes multiple server connections that are stronger and faster over long distances)
Dedicated live tech support
Up to 5 simultaneous connections
Compatibility
Hotspot Shield supports a good range of products with their apps. You can install their apps on:
Windows
Mac
iOS
Android
Chrome
You can also configure the VPN manually on routers and other devices.
Hotspot Shield Streaming Capabilities
With the VPN, you can unblock various streaming services like Netflix, Hulu, BBC iPlayer, and others.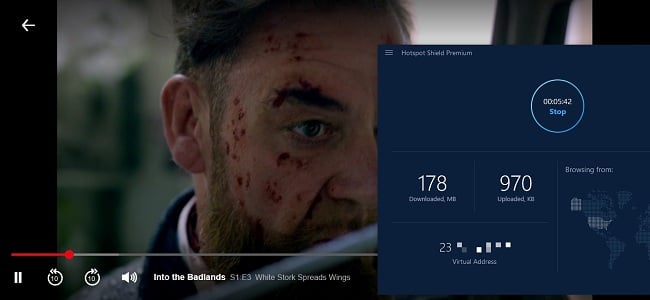 This means you can watch your favorite TV shows regardless of your location.
Pricing & Plans
Hotspot Shield offers various plans that offer the same package, with the only difference being in the subscription lengths. Here is a breakdown of their pricing plans:
The Monthly Plan: This is the most expensive plan, and it costs $12.99 paid monthly.
The 6 Month Plan: This plan goes for $8.99 per month. It costs $53.94 paid after a half year.
The 1 Year Plan: This plans equates $5.99 per month and is paid $71.88 yearly.
The 3 Year Plan: This plans equates $3.49 per month and is paid $125.64 yearly.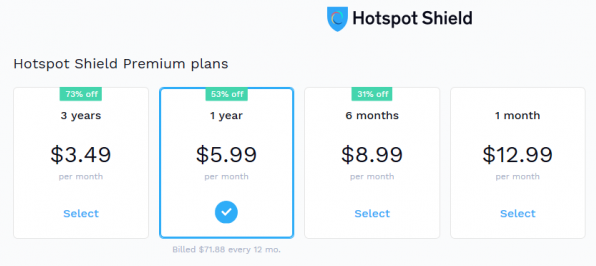 Note: Hotspot Shield regular plans are not the cheapest in the market. However, we have managed to get a special deal for Wizcase readers. The coupon gives you 2 years of Hotspot Shield VPN with a 76% discount.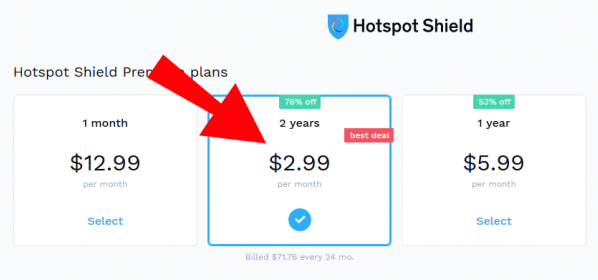 To get this deal, use the link below.
Get Hotspot Shield 76% Disciunt
Wrap Up
Hotspot Shield is a pretty decent VPN, and it gives you the chance to try out the service with a free plan, 7-day free trial, and a 45-day money-back guarantee. With the VPN, you'll get to enjoy superb speeds, unblock various streaming services, and protect your online privacy and security. However, to avoid denting your wallet, subscribe using our special discount.