4 Best VPNs for Venezuela (Updated Local Servers in 2020)
Last Updated by Kate Hawkins on October 01, 2020
Important! Recent crackdowns on Venezuela's financial sector means you can no longer access your money there without a Venezuelan IP address. If you're outside the country, you'll need a VPN to bypass this restriction.
Outside of Venezuela, you might find yourself having difficulty accessing local Venezuelan websites — including online banking, government, and streaming services. Unfortunately, without a VPN to mask your IP address, you won't be able to bypass Venezuela's advanced geo-blocking restrictions.
It's not always easy to find a reliable VPN that will connect you to Venezuela. To save you time from searching, I've tested numerous VPNs and identified the 4 best providers for Venezuela.
Not only will you get a reliable Venezuelan IP address, but you'll also be able to browse the internet freely and securely at high speeds.
Get a Venezuelan IP address with a VPN!
3 Easy Steps to Get a Venezuelan IP Address
Tip — How to Check Your IP Address
Check if your VPN is masking your true location and showing a Venezuelan IP address by using our
easy IP address tool
.
Browse safely with a reliable VPN!
4 Best VPNs for Venezuela
1. ExpressVPN — Consistent Geo-Unblocking Capability
Key Features:
Best-in-class encryption
No-logs policy
High speeds for buffer-free streaming and browsing
Virtual server locations in Venezuela via Brazil
Up to 5 device connections at the same time
Torrenting available on all servers
ExpressVPN is my top recommendation for its ability to bypass geo-blocking with ease. Its military-grade encryption will also keep your personal and financial data secure — especially important when logging in to your Venezuelan bank account.
You won't have to worry about a quality connection either, as ExpressVPN's fast server speeds will minimize buffering and keep video chats lag-free.
Due to Venezuela's strict internet regulations, ExpressVPN uses virtual servers via Brazil. I ran multiple speed tests, and these virtual servers provided the same connection quality as physical servers. There was very little difference between upload and download speeds — with or without ExpressVPN.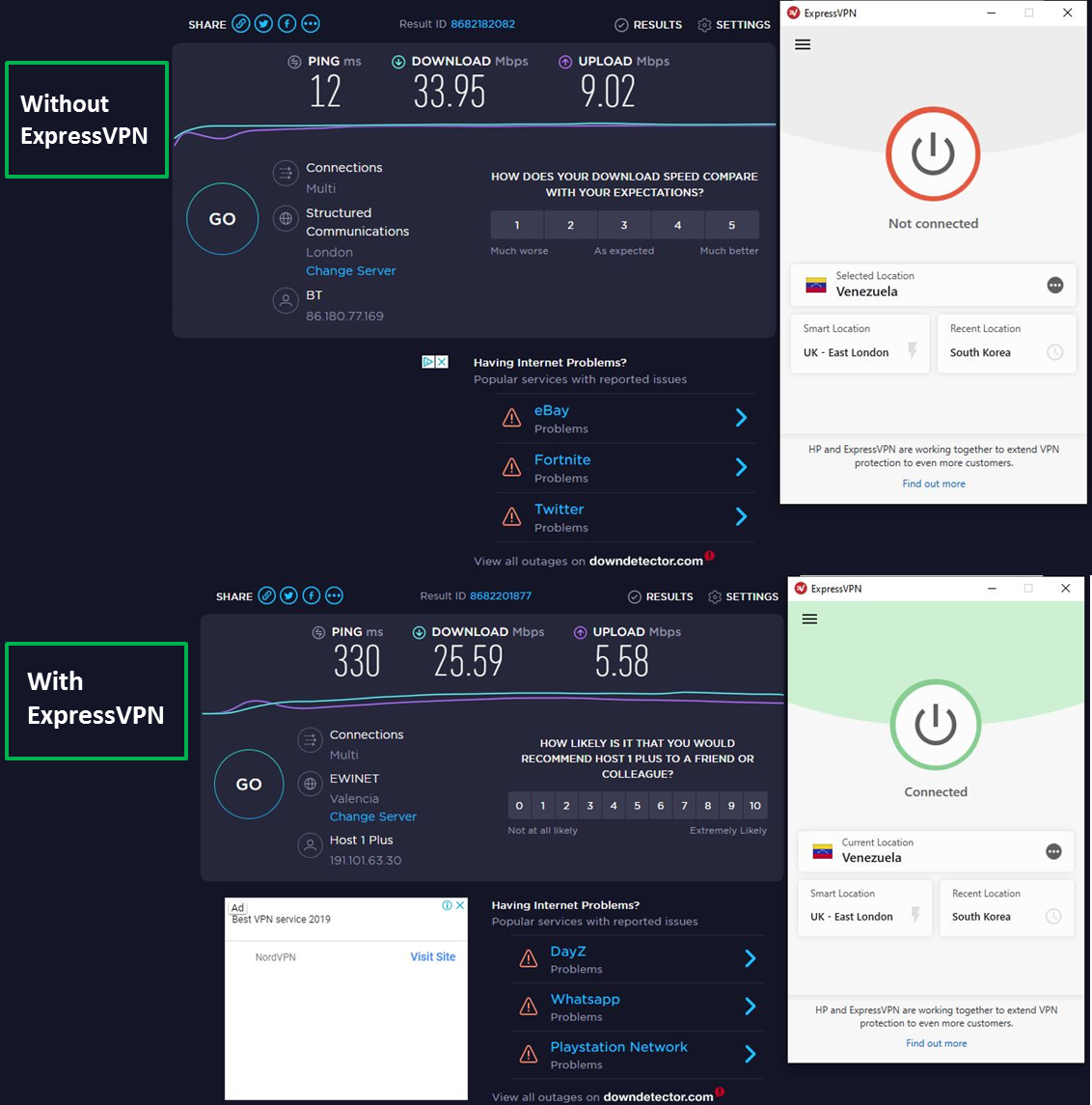 These speeds mean you'll be able to stream Netflix from around the world — thanks to ExpressVPN's ability to unblock global Netflix — without buffering or annoying interruptions.
ExpressVPN doesn't come cheap, but I found this hidden page that gets you 3 months for free.
ExpressVPN unblocks: YouTube, Hulu, Facebook, Twitter, WhatsApp, and more.
ExpressVPN works on: Mac, Windows, Linux, iOS, Android, Chrome, and Firefox.
2. CyberGhost — 24 Virtual Servers in Venezuela
Key Features:
Military-grade encryption
No-logs policy
Connects you to the fastest available server
24 virtual servers in Venezuela
Connects up to 7 devices at the same time
Virtual servers are torrent-compatible
CyberGhost has the highest number of virtual server locations in Venezuela, so you'll get fast and reliable connections while banking or streaming.
Its geo-unblocking technology and dedicated streaming servers will ensure your connection is always reliable. CyberGhost's military-grade encryption will also keep your information secure from government surveillance and hackers.
With its 45-day money-back guarantee — no questions asked — CyberGhost has one of the most generous return policies available in the market.
CyberGhost unblocks: YouTube, Twitter, Instagram, Facebook, Netflix, and more.
CyberGhost works on: Windows, macOS, iOS, Android, Amazon Fire TV & Fire Stick, Android TV, and Linux.
Browse freely with CyberGhost today!
3. Hotspot Shield — Fast Connections and Strong Security
Key Features:
Military-grade encryption
No information tracking, logging, or storing
Catapult Hydra technology keeps speeds fast and your data secure
Virtual server location in Venezuela
Protect up to 5 devices with 1 subscription
Supports torrenting on Windows, macOS, Android, and iOS
I recommend Hotspot Shield for its Catapult Hydra technology, which keeps your data secure and ensures fast connections.
If you want to watch your favorite Venezuelan TV channels, Hotspot Shield can also unblock local content. However, if you want to watch Netflix in Venezuela, the provider unfortunately can't bypass Netflix's proxy error when connected to virtual locations outside the US.
You can try out Hotspot Shield with its 45-day money-back guarantee, although you will have to contact Customer Support in order to process your refund.
Hotspot Shield unblocks: Hulu, YouTube, Facebook, Twitter, Instagram, and more.
Hotspot Shield works on: Windows, macOS, Android, iOS, Chrome, and Firefox.
4. HMA — Auto-Connects to the Best Available Server
Key Features:
Military-grade encryption
Doesn't store your IP address, DNS requests, or online activity
Optimizes speeds for smooth browsing
2 servers in Venezuela with 6 IP address connections
Protects up to 5 device connections at once
Supports torrenting
HMA has servers in over 190 countries, including two in Venezuela. HMA will automatically connect you to the closest server in your requested country, so you can browse, stream, and access your bank account quickly and easily.
HMA's interface is easy to navigate, which makes it a great VPN for both beginners and experienced users. One click immediately connects you to the right IP address, so you can bypass Venezuela's geo-restrictions in seconds.
With Venezuela's strict internet censorship, it's vital to keep your personal and financial information private. HMA uses military-grade encryption to keep your internet activity anonymous and untraceable.
You can try HMA for 30-days for free with its money-back guarantee.
HMA unblocks: Netflix, YouTube, Facebook, Twitter, WhatsApp, and more.
HMA works on: Windows, macOS, Android, iOS, and Linux.
Why You Need a Venezuelan IP Address
There's a lot of geo-restricted content in Venezuela. I've encountered a variety of error messages when trying to view Venezuelan content. You won't be able to access any blocked content unless you have a Venezuelan IP address that matches the required location.
IP addresses inform any online service or websites you visit of your location. With my real IP address located in the UK, I had no access to any online content in Venezuela. A secure and reliable VPN is also handy if you're a Venezuelan and need to access your bank account. It will save you the trouble from lengthy verification processes that may not even guarantee you access when you're abroad.
With a quality VPN, you can connect to a Venezuelan server of your choice and get a local IP address — and pretend you're inside the country.
Regain access to Venezuelan content with a VPN today!
How a VPN Gets You a Venezuelan IP Address
A VPN reroutes your online traffic through a private server within its own network. This means your online traffic now has a new IP address based on the VPN's private server, not your own.
When you connect with your VPN's server in Venezuela, you'll get a Venezuelan IP address.
By masking your true IP address, your VPN allows you to access restricted content while keeping your identity anonymous online. This is especially important when connecting to a country with strict internet censorship like Venezuela.
Can I Use a Free VPN to Get a Venezuelan IP Address?
It can be tempting to use a free VPN. However, I strongly advise against it — especially for accessing confidential information, like your online bank account.
Using a free VPN can be a serious risk to your privacy and security. Unfortunately, the majority of free VPNs will track your internet activity and sell your data to advertisers. Some are even dangerous and filled with malware.
Even though there are free VPNs that you can trust, unfortunately, most providers will have limited or no servers in Venezuela. This results in connection restrictions, slower speeds, and bandwidth limitations. As someone who values a safe and enjoyable online experience, I don't believe free VPNs are worth the risk (or the frustration).
If you only need a VPN for a short amount of time, I recommend you download a quality VPN and take advantage of its money-back guarantee or free trial.
Get a free trial for ExpressVPN today!
How to Save on VPNs for Venezuela
Getting a quality VPN for your Venezuelan internet activity doesn't have to be expensive.
Top VPN providers regularly release hidden discounts so you can get a good deal. You can also get the cheapest price by purchasing a long-term VPN subscription.
If you're unsure about committing to a long-term subscription, every VPN I've recommended has a money-back guarantee. This means you can try any provider for free and get a full refund if you're not satisfied.
Hack your way to more savings on your VPN!