7 Best VPNs for the UK to Stay Safe and Anonymous in 2023
Last Updated by Daniel Knight on March 01, 2023
The UK is a Five Eyes Alliance country that watches you online 24/7. Whether you're a native or visitor, you need a VPN to preserve your basic right to internet privacy. Top VPNs also unblock crucial services like your home bank account and your usual streaming sites while you travel in the UK.
The problem is, most VPNs aren't reliable. Either they're too slow for streaming, or weak security features can't protect your data from spies and hackers. These threats are extra rampant on public WiFi in the UK, like at airports and pubs.
I tested many different VPNs and found that ExpressVPN was the best because of its content-unblocking abilities, super-fast speeds, and privacy and security features. You can try ExpressVPN without risk as it has a 30-day money-back guarantee.
Quick Guide: Best VPNs for the UK in 2023
The Best VPNs for the UK — Updated 2023
Key Features:
ExpressVPN is the fastest VPN I have tested, with only a minor slowdown (compared to base speed) while connected to local servers in the UK. Even when connected to US servers thousands of miles away, the slowdown was only between 10% and 15%.
With ExpressVPN, I could stream my favorite shows on Netflix in UHD without any buffering at all. With reliable servers all around the world, ExpressVPN can unblock the following services:
| | | | | |
| --- | --- | --- | --- | --- |
| BBC iPlayer | ITV Hub | All4 | Sky Go | GOLD |
| Netflix | Amazon Prime | Hulu | HBO Max | Disney+ |
The built-in MediaStreamer feature was useful for quickly changing my location on a smart TV and a gaming console. However, this feature doesn't offer the same level of security as a proper VPN connection, so use it cautiously.
ExpressVPN's Lightway encryption protocol is lightning-fast and uses military-grade AES-256 encryption (which has never been cracked). You also have the option of the more traditional OpenVPN and IKEv2 protocols, which also use AES-256 encryption to protect your data.
In addition to its advanced protocols, ExpressVPN includes the following security and privacy features:
DNS and IP leak prevention, which prevent leaks of any personal information about your network
Independently-audited and verified no-logs policy that ensures none of your activity is logged by the VPN
Split tunneling feature that lets you choose which sites are accessed with a VPN connection
Automatic kill switch that instantly stops your internet connection if your network becomes unreliable, stopping any data from being exposed
RAM-based servers that automatically delete your data after every browsing session, helping you stay anonymous
ExpressVPN's 24/7 customer support is also extremely impressive. I managed to reach customer support agents via live chat at various times of the day and got responses within 2 minutes every time. The agents were very helpful and shared plenty of information on how to use split tunneling and other features.
For all these features, ExpressVPN costs $6.67 a month for the 1-year + 3 months plan. This is a little more than other premium VPNs, but I found it worth it. What's more, you can get ExpressVPN without risk, as a 30-day money-back guarantee is available in case you find it isn't right for you.
Key Features:
CyberGhost's NoSpy servers are entirely RAM-based and automatically delete all user data after each browsing session, which is great for keeping you anonymous. What's more, these servers are also based in privacy-friendly Romania, where laws don't require VPN providers to share data logs with government agencies. Despite being housed in Romania, the servers offer a range of virtual locations, including the UK.
CyberGhost has an impressive 640 servers in the UK. I tested the speed on 10 CyberGhost UK servers and only experienced very minor slowdown of 5% to 10% compared to my base speed. All allowed me to watch BBC iPlayer with minimal to no buffering. CyberGhost's "streaming-optimized" servers are even designed specifically to reliably unblock streaming services. Using these, I managed to access the following:
| | | | | |
| --- | --- | --- | --- | --- |
| BBC iPlayer | ITV Hub | All4 | Sky Go | GOLD |
| Netflix | Amazon Prime | Hulu | HBO Max | Disney+ |
With this VPN, you can choose four different AES-256 encryption protocols — L2TP/IPSEC, WireGuard, IKEv2, and OpenVPN. CyberGhost also offers the following features for privacy and security:
IP and DNS leak prevention, which prevent personal information from being leaked
Strict no-logs policy that has been independently verified by professional services firm Deloitte
Split tunneling feature for accessing different sites with different IP addresses
Automatic kill switch that instantly terminates your connection if your network becomes unsteady
RAM-based NoSpy servers that store none of your data
I found the customer support options useful, and my questions were answered via 24/7 live chat in less than a minute. For less urgent questions, email support is also good, with detailed answers being provided within a day. On top of this, the online help center is full of in-depth tutorials and guides.
CyberGhost's short-term subscription plans only come with a 2-week money-back guarantee, and the one-month plan lacks the option for NoSpy servers. However, the 2-year + 3 months plan costs just $2.11 a month, and includes NoSpy servers and the full 45-day money-back guarantee. You can use CyberGhost for free for 45 days before deciding if it's right for you. I had my money back in under a week when I tried this.
Key Features:
Private Internet Access has more servers than any other VPN tested, with over 400 just in the UK. I found it very quick and easy to connect to PIA servers in the UK and elsewhere and start streaming my favorite shows from all over the world.
I used PIA to access BBC iPlayer in the UK and other streaming services overseas and had little trouble as there are so many servers to choose from. I also managed to access these channels and streaming platforms:
| | | | |
| --- | --- | --- | --- |
| ITV Hub | All4 | Sky Go | GOLD |
| Netflix | Amazon Prime | HBO Max | Disney+ |
PIA's protocols — WireGuard and OpenVPN — are both encrypted with AES-256, so there is no chance of hackers accessing your data. You can also benefit from the following security and privacy features with PIA:
IP and DNS leak prevention to protect your personal information
No-logs policy that has been independently verified by Deloitte
Split tunneling feature allows you to choose which sites and apps are accessed via VPN
Dedicated IP address option for faster speeds and secure online payments
Automatic kill switch that ends your internet connection if you lose your VPN connection
RAM-based servers that store no data after you stop browsing
One drawback of this VPN compared to others is that the company is based in the US, a notable member of the intelligence-sharing 5 Eyes Alliance. However, consulting and advisory firm Deloitte has verified PIA's no-logs policy and found it to be accurate, so your information will be safe.
You can subscribe to PIA for 2-year + 3 months for just $2.11 a month. You can get a dedicated IP address for only a few extra dollars each month. I tested out PIA's 30-day money-back guarantee and had my money back in my bank account in 5 days.
Key Features:
NordVPN is one of the best VPNs on the market — and you can get super cheap prices when you sign up for a long-term subscription. One thing to note, however, is that when it's time to renew your subscription, prices do increase quite significantly.
I was particularly impressed with the high performance of every server I tested. Just because a VPN has thousands of servers doesn't mean they all work. Servers can still struggle to unblock local sites — and some can even fail to connect completely. However, I easily unblocked Netflix, Disney+, Hulu, Amazon Prime Video, BBC iPlayer, and HBO Max on multiple servers in the US and UK.
I did, however, have issues with using NordVPN's native Fire TV app. Although it worked and unblocked some streaming services, it sometimes had issues unblocking Netflix US and kept crashing. I also found that NordVPN's user interface for desktop devices was less user-friendly than ExpressVPN and CyberGhost.
NordVPN has the following security and privacy features:
AES 256-bit encryption
A kill switch that cuts your internet access if your connection to a VPN server drops suddenly
Built-in ad and malware blocker, so you don't need a third-party ad blocker
Fully audited no-logs policy (audited by PwC) – NordVPN doesn't store any personal or identifying data while you're connected to the VPN
In addition, NordVPN includes Threat Protection that protects you from viruses, infected websites, and trackers – and it works whenever you have the NordVPN app open, even if you're not connected to a VPN server.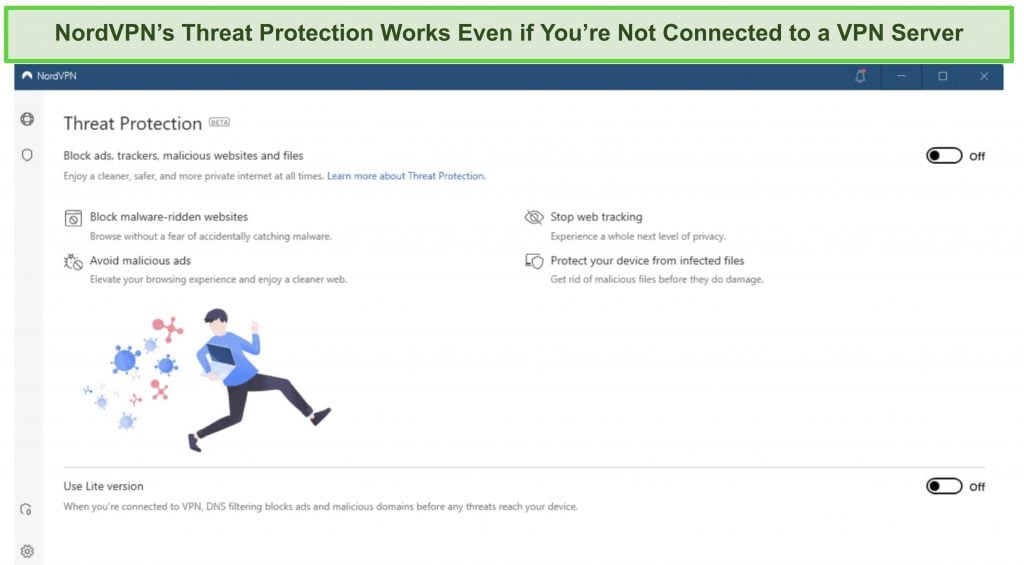 With plans that cost as little as $3.29 per month, it's easy to find a NordVPN subscription plan that suits your needs. You can also stream, torrent, and browse for free for up to 30 days with its money-back guarantee. I tested this to ensure that you'll really get your money back. At first, the support team tried to give me an extended trial period — but they initiated my refund right away after I told them I wasn't interested in the extension. I got my money back in 6 business days.
Key Features:
Surfshark offers the best value for money out of every premium VPN on the market. You can connect an unlimited number of devices with a single subscription, which means you can use Surfshark on all your devices without getting logged out.
I tested Surfshark's simultaneous connections on 2 PCs, 2 phones, a Fire Stick 4K, and an iPad. My connection remained reliable on all 6 devices. Even while I was actively streaming on all my devices, my average speed was 112 Mbps — fast enough for UHD quality.
When I saw the price of this service, I thought it couldn't possibly have top-grade security features for such a low price, but I was pleasantly surprised.
Surfshark has the following security and privacy features:
AES 256-bit encryption on all devices, with ChaCha encryption available for Android users
Wireguard VPN protocol enabled by default
Diskless, RAM-only servers to protect your privacy (no data can be physically extracted from any servers)
Kill switch (although this isn't enabled by default)
IP and DNS leak protection
Surfshark offers two-factor authentication (2FA) on your account. This feature requires you to enter an extra code before you can log in to ensure that only you can access your account.
While Surfshark does have slightly fewer global servers than rivals such as CyberGhost and PIA, I didn't experience any issues during my tests. I easily connected fast working servers every time, and I had excellent speeds for streaming Netflix in UHD, downloading torrents, and browsing the internet.
You can try Surfshark for yourself with the 30-day money-back guarantee. It has plans that cost as little as $2.30. Requesting a refund is easy with Surfshark's live chat feature. Although the support team asked why I wanted to cancel my subscription, I had no problem getting my money back (and it only took 4 days!).
Key Features:
It's very straightforward to connect to PrivateVPN servers without much technical knowledge due to its intuitive, minimalistic user interface. The VPN's Simple Mode only shows the most essential features and is the default option. However, you can also access and configure more advanced features like split tunneling and changing encryption protocols with just the click of a button.
PrivateVPN has 6 servers in the UK, which varied in speed when I tested them. Some worked with around 10% slowdown while others caused around 30%. Unblocking capabilities were reliable, with the following services available from UK servers and while connected to foreign ones.
| | | | |
| --- | --- | --- | --- |
| BBC iPlayer | ITV Hub | All4 | Sky Go |
| Netflix | Amazon Prime | HBO Max | Disney+ |
PrivateVPN lets you choose from four AES-256 encryption protocols — OpenVPN, WireGuard, IKEv2, L2TP/IPSec, and PPTP. The VPN also offers these security and privacy features:
DNS and IP leak prevention that shields your personal information
Easy-to-use Stealth VPN mode hides that you're using a VPN, so you can bypass VPN-tracking technology that often blocks access to sites
A no-logs policy that confirms none of your data is stored
A split tunneling feature so you can choose which sites and apps are accessed with a VPN connection
An automatic kill switch to prevent data exposure in the event of an outage
Despite PrivateVPN having a no-logs policy, it has not yet been audited or verified. The VPN is also headquartered in Sweden, which is part of the 14 Eyes Alliance. However, VPNs are exempt from data collection laws in Sweden, so your data is most likely to be safe.
PrivateVPN's 3-year subscription costs $2.00 a month. One minor drawback is that you can't buy it with Google Pay, although you can use PayPal, most debit or credit cards, and even some cryptocurrencies. I decided to try PrivateVPN and get a refund using the 30-day money-back guarantee. This was straightforward, and I had my money back within one week.
Key Features:
The best thing about IPVanish is that you can use it on all your devices simultaneously. If you don't want to install and configure the app on each device separately, you can even set the VPN up on your router itself so all devices on that network benefit from it.
IPVanish has over 100 servers in the UK, and Quick Connect and Best Available Server options automatically connect you to the fastest servers. This is particularly useful if you just want to launch the app and start using it quickly without spending time choosing a server. While IPVanish's servers were fast (I only experienced 30% slowdown while connected to US servers), and I managed to watch these streaming services reliably:
| | | |
| --- | --- | --- |
| BBC iPlayer | ITV Hub | All4 |
| Disney+ | Amazon Prime | Hulu |
You can choose from the WireGuard, IPSec, OpenVPN, and IKEv2 encryption protocols (all of which offer highly secure AES-256 encryption) with IPVanish. The VPN also includes these security and privacy features:
IP and DNS leak prevention stops any information from being leaked
An internally-audited no-logs policy gives you peace of mind that no data is stored
Split tunneling lets you access some sites with a VPN connection and others without
An automatic kill switch terminates your browsing session instantly if you lose connection to the VPN, preventing data exposure
Despite the fact IPVanish no longer has a free trial, its price is competitive at $3.33 a month for the 2-year subscription. This even includes access to the SugarSync add-on, which gives you useful cloud storage. You can try IPVanish risk-free using its 30-day refund policy, which gave me my money back in just an hour.
How to Choose the Best VPN for the UK
To find the best VPNs to use in the UK, I checked VPN providers for:
Strong security and privacy features: I only tested VPNs with military-grade AES-256 encryption to keep your activity safe and identity anonymous.
Global server network: A lot of online content is only accessible from certain locations. The more servers a VPN has around the world, the more content you can access from anywhere.
Fast speeds: For quick loading times and streaming without lag, I narrowed down the choice to only the fastest VPNs.
Apps for popular devices: I chose VPNs that offered apps for a range of operating systems, so you can browse the internet safely on all of your devices.
Customer support: However good a VPN is, you may have questions about how to use it best. The best VPNs have 24/7 support to answer questions whenever you have them.
3 Easy Steps to Get a VPN in the UK
FAQs on VPNs for the UK
Is using a VPN legal in the UK?
Yes. Some countries ban VPNs, but the UK is not one of them. Using a VPN is completely legal in the UK. However, you still need to obey the laws of any country you're in, as illegal activity is still illegal regardless of whether or not you're connected to a VPN.
Can I use a proxy in the UK instead of a VPN?
Yes. However, proxies are often unsafe, as some monitor your online activity and do not encrypt your data. These issues are especially common with free proxies. Paid proxies are often more secure and reliable, but I recommend paying for a premium VPN instead if you're willing to part with money.
How do I check if my VPN works?
Our IP lookup tool can show you if your VPN is working. The tool shows your current UP address, where it is, and if it is protected. This is a reliable way of testing if your VPN is working as well as it should be.
Is it safe to use a free VPN in the UK?
Not necessarily — the safety of free VPNs varies. While many free VPNs are excellent, many others lack adequate security features. Others set data limits or throttle your bandwidth, making them inconvenient to use for purposes like streaming.
For peace of mind and a faster browsing experience, a premium VPN is recommended. Paid VPNs like CyberGhost include free trials and money-back guarantees — you can use CyberGhost for free for 45 days and then get a refund if you want to.
Get a VPN (That Works) for the UK Today!
The VPNs on this list are some of the very best VPNs available for browsing and streaming in and outside of the UK. They offer strong security and privacy features, excellent unblocking capabilities, and impressive speeds.
The best VPN for the UK is ExpressVPN. Its Lightway encryption protocol is faster and more secure than other leading protocols, it can help you access content from all around the world, and its security and privacy features are extensive and high-quality. Express VPN also has a 30-day refund policy, so you can use it in confidence.
---
Summary: These Are The Best VPNs for the UK in 2023