3 Best VPNs for Streaming & Security in Norway (Updated Servers)
Last Updated by Kate Hawkins on June 22, 2022
The Norwegian government not only monitors your internet activity, but can even share your data with other countries. Even though a VPN can help you hide what you do online, many VPNs aren't actually secure. Some will sell your data to third-parties, endangering your safety by exposing you to hackers and data leaks.
That's why I tested 25 VPNs to find the 3 best options to use in Norway for security, streaming, and fast speeds. Whether you're in Norway and want to protect your privacy and watch global content, or you're abroad and need to stream Norwegian channels, you'll need a VPN that actually works.
If you're short on time, my top recommendation is ExpressVPN for its reliable connections and security features. You can even try it for free for 30 days with its money-back guarantee before you commit.
Try ExpressVPN for free for 30 days
Best VPNs for Norway July 2022
ExpressVPN — TrustedServer technology means your data is never stored, but it has a more premium price than the other VPNs on this list.
CyberGhost — Based outside the government data-sharing alliances to protect your privacy, but no optimized streaming servers for Norway.
Private Internet Access — Uses split tunneling to keep your connection private and secure, but can't consistently unblock global content on Netflix US.
3 Best VPNs for Streaming and Privacy in Norway
Key Features:
3,000+ servers globally and 1 server in Norway
Best-in-class encryption keeps you safe from prying eyes
TrustedServer technology ensures your data is never stored
Connect up to 5 of your devices to Norway with 1 subscription
30-day money-back guarantee
ExpressVPN uses TrustedServer Technology and runs its servers on RAM in order to safeguard your personal data from the Norwegian government. This means no hard drives are used and your information is wiped from the server each time it's rebooted, so you can securely access your personal information online (like your Bank Norwegian AS account). It also provides the same encryption that the US military uses to make sure your data is indecipherable by third-parties.
To make sure that my actual location remained private while I was connected to ExpressVPN's server in Norway, I did a DNS leak test. The test results showed that I was in Norway (although I'm in the UK), so ExpressVPN passed my security test!

Almost all VPNs claim that they don't keep logs, but ExpressVPN actually proves it. During an investigation in 2017, Turkish authorities demanded access to an ExpressVPN server. Despite forcing their way to the server, they were unable to find any information on users. This means your identity, location, and online activities are completely hidden when you use ExpressVPN.
Although ExpressVPN currently only has 1 server in Norway, I tested it over 15 times and was always able to get a fast connection. ExpressVPN consistently provided speeds of 32Mbps on average during my tests. My speeds only dropped by a few Mbps after connecting, which meant I could still watch Norwegian shows totally lag-free.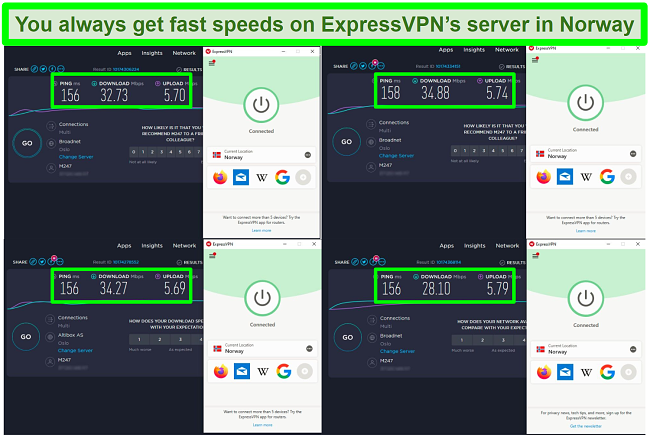 With so many providers offering different features, picking a VPN can be tricky — luckily, you can try ExpressVPN for free for 30 days with its money-back guarantee. If you don't like it, you can easily get your refund with no questions asked. Sure enough, when I used the 24/7 live chat to ask for a refund, the rep processed my request immediately. The money appeared back in my bank account just 8 days later.
ExpressVPN unblocks: NRK TV, TV2, Netflix, Disney+, Hulu, BBC iPlayer, Amazon Prime Video, and more.
ExpressVPN works on: Android TV, Linux, Android, Windows, Chrome, macOS, iOS, and Firefox.
Try ExpressVPN for free for 30 days
July 2022 Update! ExpressVPN has dropped prices for a limited time to a crazy $6.67 per month for the 1-year plan (you can save up to 49%) + 3 months free! This is a limited offer so be sure to grab it now before it's gone. See more information on this offer here.
Key Features:
6,000+ servers worldwide and 30+ servers in Norway
Military-grade encryption and a zero-logs policy to keep you safe
Optimized servers to flawlessly stream your favorite global shows
Connect up to 7 of your devices to Norway simultaneously
45-day money-back guarantee
CyberGhost is based outside the 5, 9, and 14 Eyes Surveillance Alliance, so it isn't part of the global intelligence network that collects and shares your data with other countries. With its location in Romania — a country that doesn't spy on you when you use the internet, unlike Norway — CyberGhost keeps your online activities away from prying eyes. Plus it has a no-logs policy that ensures none of your data is recorded. This means that even if the government accessed CyberGhost's servers, they would come away empty-handed.
With specialized servers for streaming Netflix, BBC iPlayer, Disney+, and more, CyberGhost easily unblocks international TV and movie content. Although it doesn't have an optimized streaming server for Norway, it wasn't really necessary. With over 30 local servers that work with local streaming services, I didn't have an issue getting a fast streaming connection when I watched Team Bachstad on NRK TV.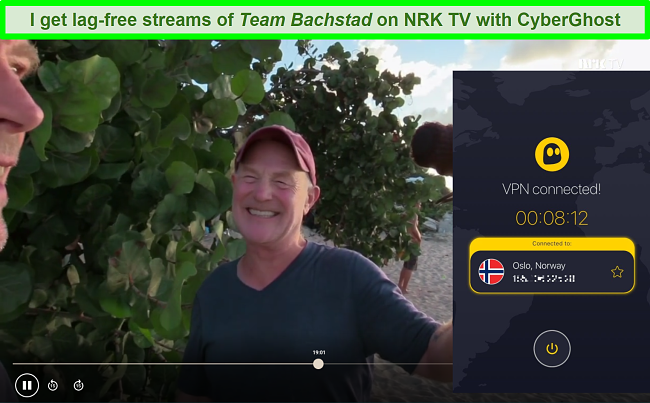 You can use CyberGhost to unblock Netflix content from other countries. After connecting to a New York server, I was able to log into Netflix US and watch episodes of Kim's Convenience with no delays or lag.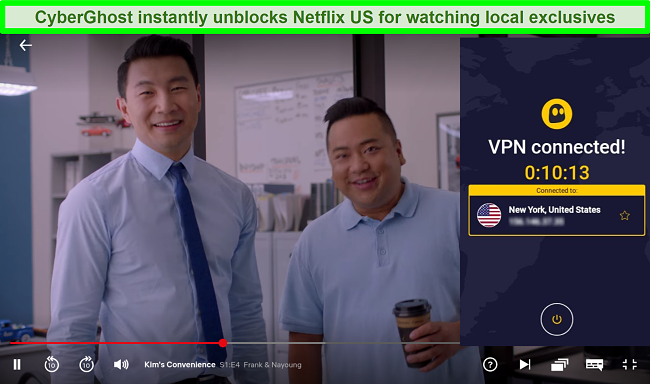 CyberGhost also helps you keep up with your favorite Norwegian shows while you're abroad. By connecting to a Norwegian server, I could watch Annika Bengtzon: Crime Reporter while I visited my cousins in Denmark even though it isn't available there.
If you're planning on traveling, CyberGhost works in almost every country except China. While only a few VPNs can get around the Great Firewall of China, CyberGhost isn't one of them unfortunately (but ExpressVPN is!). If you still aren't sure if it's the right VPN for you, you can try CyberGhost for free for 45 days with its money-back guarantee (that gives you 15 extra days of service compared to other VPNs on this list).
CyberGhost unblocks: NRK TV, TV2, Netflix, Disney+, Amazon Prime Video, and more.
CyberGhost works on: macOS, iOS, Android TV, Linux, Android, Windows, Firefox, and Chrome.
Try CyberGhost for free for 45 days
July 2022 Update! You can subscribe to CyberGhost for as low as $2.29 per month + get extra 3 months free with the 3-year plan (save up to 83%)! This is a limited offer so grab it now before it's gone. See more information on this offer here.
Key Features:
3,000+ servers and 20+ in Norway
AES-128 bit encryption and a no-logs policy
Unlimited bandwidth for uninterrupted streaming of Norwegian shows
Connect up to 5 of your devices to Norway at the same time
30-day money-back guarantee
Private Internet Access (PIA) uses split tunneling to ensure that apps can't be opened if you aren't connected. Its customized filters work in the background, so you'll never accidentally open your Norwegian bank account app or streaming service without an encrypted connection. I tested it by setting a "VPN only" filter for Firefox, then I closed out of PIA. When I opened Firefox to browse the web and it couldn't connect, proving that PIA prevented me from using Firefox with an unsafe connection. After I reopened PIA and connected to a server in Norway, I was able to use Firefox to read Norwegian news stories on www.NRK.no.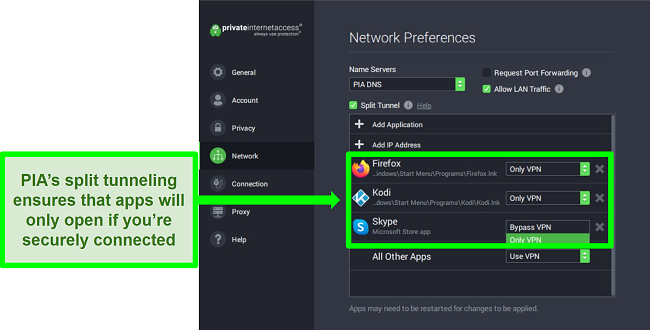 PIA protects up to 5 of your devices with one account. When I tested its multiple connections, I could watch TV2 and NRK TV on my Android phone, Windows laptop, and iPad at the same time with minimal interruptions (under 20 seconds of buffering). While speeds were slower than other VPNs on this list, I could still watch Nyhetskanalen Live on TV2.
One downside of Private Internet Access is that it can't unblock Netflix US from abroad. However, it can unblock other global platforms like BBC iPlayer, Hulu, and others, so you still have access to many of the biggest streaming sites. If you want to make sure this is the right VPN for you before committing, you can try PIA for yourself using its 30-day money-back guarantee.
PIA unblocks: NRK TV, TV2, Netflix, Hulu, BBC iPlayer, and more.
PIA works on: Linux, Chrome, Android, Windows, Firefox, iOS, Android TV, and macOS.
Quick Guide: 3 Easy Steps to Get an IP Address in Norway
Pro Tip — How to Check Your IP Address
Make sure your data is hidden by checking if you're connected to a server in Norway! Use this helpful IP address tool to confirm your VPN is connected.
Get connected in Norway with ExpressVPN
Why You Need a VPN to Get an IP address in Norway
A VPN masks your IP address (which shows the physical location of your device) and replaces it with one from another location. For example, when you connect to ExpressVPN's Norwegian server, it looks like you're connected through an IP address in Norway instead of your actual internet provider. This hides your real location and identity, sending your data through the VPN's encrypted servers. Then it's more difficult for internet providers, hackers, and the Norweigan government to link your identity to your online activities. You can browse the web privately, anonymously download files, and log into your Norwegian bank account from abroad without setting off fraud alerts from anywhere.
You can also connect to a VPN server in other countries to unblock international streaming content not licensed for viewing outside of Norway. Since most content on services like Netflix and Amazon Prime are exclusive to countries like the US and UK, you can get much more out of your streaming subscriptions by using a VPN!
Try ExpressVPN for free for 30 days!
How to Find the Best VPN for Norway
To make sure you get the best VPN for keeping your personal data safe and to unblock both local and global content in Norway, here are the features you should look for:
Lightning-fast speeds for HD streaming: You need at least 25Mbps to watch Netflix in high-quality.
Best-in-class encryption to keep you secure and anonymous: To keep your data hidden from hackers and the government, it needs to be encrypted. All of the VPNs on this list have military-grade encryption to keep your personal information safe.
A zero-logs policy to protect your privacy: If your VPN stores your data, it can be sold to advertising agencies, seized by Norway's government, or stolen by hackers.
Advanced security features: DNS leak protection prevents you from revealing your true IP address to third-parties. An automatic kill switch instantly shuts off your internet if your VPN unexpectedly disconnects to keep your data from being exposed.
Stream and browse securely with ExpressVPN
Common FAQs on VPNs for Norway
? Can I use a free VPN to connect to Norway?
Technically yes — but I don't recommend it:
Even with reliable free VPNs (there aren't many), you'll be limited by slow speeds that cause frequent lag as they will be overloaded with too many users on not enough servers.
Free VPNs don't have the resources and technology to get around content blocks. This means you won't be able to watch local channels like NRK and TV2. Global streaming platforms such as Netflix US and HBO Max are also likely to be blocked.
Worst of all, many free VPNs log and sell your data to the highest bidder to make a profit. To make sure your personal information is secure, I recommend that you try ExpressVPN for 30 days for free.
Luckily, you can avoid these risks and try all 3 VPNs on this list for free for up to 30 days with their money-back guarantees.
? Which devices work with VPNs in Norway?
All of the VPNs on this list are compatible with macOS, Windows, iOS, Android, Firefox, and Chrome. However, ExpressVPN is compatible with many other operating systems and device types as well. You can use it with Blackberry, Windows phones, and even on routers to protect all devices on your home network at once. Its online installation guides make it easy to set up no matter what kind of device you use. With more servers in Norway than any other VPN, you get the most reliable connections.
Protect all your devices with ExpressVPN
? What should I do if my VPN won't connect to Norway?
Don't panic — it often takes less than a couple minutes to get your VPN to work. Here are 3 easy things you can try:
Reboot your VPN. On a computer, you can do this by right-clicking on the icon and selecting "quit". Then log in and try connecting again. On a mobile device, simply close the VPN app entirely and restart.
Try a different server. When many people use the same server at once, it will get really slow. You can easily bypass this issue by switching to a different server. ExpressVPN has several servers in Norway, so you have lots of options that will have a working connection.
Contact customer support. In the unlikely event that neither of these steps work, you can ask customer support for help. ExpressVPN's live chat feature is available 24/7 and the support team is super responsive and helpful.
? What else can I do with a VPN in Norway?
Here's what you can do while connected to a server in Norway:
Watch global content from Norway by unblocking channels like NRK, TV2, and Viasport. You can also stream popular series and newly released movies on Netflix, BBC iPlayer, Disney+, Hulu, and more.
Access your Norwegian online banking from anywhere while keeping all of your information secure.
Safely use P2P servers to download torrents without being tracked by your ISP or the government.
Encrypt your data to keep you completely anonymous (and safe from hackers, governments, and other interested parties) while browsing the web.
Stay anonymous online with ExpressVPN
How to Save on VPNs for Norway
Protecting your online data doesn't have to be expensive. To save you valuable time and money, I listed these working deal pages to help you save on your subscription to one of these trusted services. All of the VPNs on this list also have money-back guarantees — so you can try all their features with zero financial risk.