5 Best FlixTor Alternatives — Stream Free Movies & TV in 2023
FlixTor may be back for now after a short break in late 2018, but chances are it may go down again. The site also restricts some of its movies and TV shows to VIP users, and only VIP users can access content when servers are full. It's always good to have a backup plan in case you can't watch something on FlixTor.
After testing over 50+ movie streaming websites, I've compiled a list of the 5 best and safe alternatives to FlixTor. However, you should always use a VPN whenever you stream online to ensure your anonymity and prevent your ISP from throttling your speeds.
ExpressVPN is my top choice because of its excellent security features and lightning-fast speeds. Try all ExpressVPN's features completely risk-free with its 30-day money-back guarantee.
Short on time? Here Are 5 FlixTor Alternatives for Free Streaming (Updated 2023)
Use ExpressVPN for safe torrenting
5 Alternatives to FlixTor for Streaming TV Shows and Movies
My team and I thoroughly tested 25+ websites in terms of safety, quality, and reliability. These 5 websites stood out as the best FlixTor alternatives as they do not require signup for watching their content.
1. Popcorn Time
Popcorn Time is an application rather than a website, but I had to mention it because it's one of the best FlixTor alternatives that allow you to stream movies and TV shows for free. Also, you get to watch most of its content in HD.
The app provides a rich and stylish user interface with all the TV shows and movies indexed beautifully. When I opened the app, I felt as if I had just opened Netflix, except there is one difference – you get all the movies and TV shows you could possibly want – all for free.
Here at Popcorn Time, we take pride in offering our readers accessible and user-friendly apps designed for Android, Windows, Linux, and macOS, ensuring compatibility with most devices. Installing our app is a breeze, and you'll be up and running in no time. In my personal experience, downloading and installing Popcorn Time on my Windows Laptop took less than 45 seconds – a seamless process that impressed me with its efficiency.
Popcorn Time gets its content from various torrent websites, which can be illegal in some countries. My team and I highly condone any illegal activities. So be sure to check your local laws before streaming content on Popcorn Time.
2. MoviesJoy
MoviesJoy is a new movie streaming site that has quickly become one of my favorites. It's clean, fast, and has almost zero popups. You can stream movies and TV shows in HD without any hassle.
Every video on MoviesJoy comes with either "HD" or "Cam" tags. HD videos are usually good and come in either standard HD (720p) or full HD (1080p). Cam is short for "camera," which means it's a digital copy of the movie recorded in a cinema using a camera. The video and audio quality of these movies are not that great.
Another thing I like about MoviesJoy is that it doesn't show any intrusive ads like most other free movie streaming sites. Also, it doesn't require registration to watch movies or TV shows, meaning you don't have to leave any personal information behind. Just visit the site, find something you want to watch, and hit play.
One downside I discovered while testing MoviesJoy is that you cannot remove captions from a video because they're hard-wired. Fortunately, they're not very intrusive, so you can still enjoy your favorite movies or TV shows.
3. SubsMovies
SubsMovies has a clean interface and looks like a simple video index. It sorts movies, and TV shows by the source and quality so you can always find the best version of the video you're looking for. Also, the videos play directly on the site, so you're never redirected to third-party streaming platforms.
The coolest thing about SubsMovies is that it offers subtitles in multiple languages. So if you're not a native English speaker or want to translate subtitles in your native language, SubsMovies has got you covered. You can pause the video any minute and translate the subtitles with a click of a button.
SubsMovies gets its content from various sources on the internet — mainly through torrents. The website itself is based in France, which has very lenient internet laws. However, some movies and TV shows on SubsMovies might be geo-blocked in your country. In that case, you'll need a VPN service to unblock them.
4. TorrenTV
TorrenTV actually provides you with a media player to watch movies and TV shows, which is available for Windows, Mac, and Linux. Once you have the player installed, streaming is pretty straightforward — all you have to do is drag and drop the desired torrent file into the media player, and it will start downloading and playing simultaneously.
The only downside of TorrenTV is that it doesn't index movie or TV show files itself. So you'll have to find a compatible torrent file or magnet link from another source before streaming on TorrenTV.
5. Zona
Zona is a Russian streaming service that offers movies and TV shows in various languages, including English. The interface is available in Russian and English, so you can easily switch between the two languages.
Zona is another BitTorrent client with a neat and well-designed interface. Also, it boasts 90,000+ movies, 1000+ TV shows, and 150 channels in its library. You can filter content by genre, year, top IMDB, and country. And if you want to download a movie or TV show to watch later, Zona lets you do that too.
Another thing I like about Zona is that it also offers live sports streaming. You can watch live football, hockey, tennis, and more. In addition, there are 1400+ games that you can download and play on your device.
To use Zona, you'll first need to install the Zona app. Then, you can browse through the library and start streaming any movie or TV show for free. Unfortunately, the app is available for Windows users only.
Beware of Copycat FlixTor Sites
When FlixTor went down in 2018, many spammy copycat sites popped up. These sites use FlixTor's name and logo to trick people into thinking they're the real deal. But in reality, they're nothing but ad-ridden malware traps. Some even try to scam you into buying a premium subscription.
FlixTor had to issue a letter to their loyal fans promising they would be back and to be wary of any other site claiming to be FlixTor. Many of these sites are still online and can be a threat to your financials and computer's security.
Furthermore, FlixTor has officially declared that they're only accessible through the following domains:
FlixTor.to
FlixTor.ch
FlixTor.se
FlixTor.vc
FlixTor.nu
FlixTor.sx
FlixTor.tk
FlixTor.cz
Any website with a similar domain name is an imposter, known for phishing attacks and installing malware.
So be very careful when searching for FlixTor alternatives online. Make sure you only visit trusted sources like the ones I've listed above.
Try ExpressVPN for complete security
The Importance of Using a VPN While Streaming TV Shows and Movies on the Internet
You should always use a VPN while streaming movies and TV shows on the internet. Hackers are always on the prowl to gain access to your computer and steal valuable information like your login details and mobile banking information.
A VPN makes you go incognito. Whether you're at home on your private internet or streaming shows from a public wifi hotspot, no one can access your device if you use a VPN. Also, the best services have strict no-logs policies meaning they don't sell your browsing preferences to advertisers.
Also, if your ISP sees you streaming shows online, it'll throttle your bandwidth. This means it slows down your internet connection to avoid congestion and improve customer satisfaction rates.
But, as we mentioned above, your ISP can't see you if you use a VPN. The only way they can personally identify you is via your IP address. Without access to that, you may as well not be online. A VPN is the safest way to stream free movies and TV shows online.
Quick Guide: How to Use a VPN for Streaming Movies and TV
The Best VPNs for Streaming Free Movies and TV Shows Online (Updated 2023)
Key Features:
ExpressVPN's blazing-fast speeds allow you to stream movies and TV shows in HD without any buffering. In my tests, the speeds were consistently above 300 Mbps, even when I connected to one of its servers in the US. Also, the Lightway protocol that ExpressVPN uses is faster and more stable than the OpenVPN protocol that most VPNs use.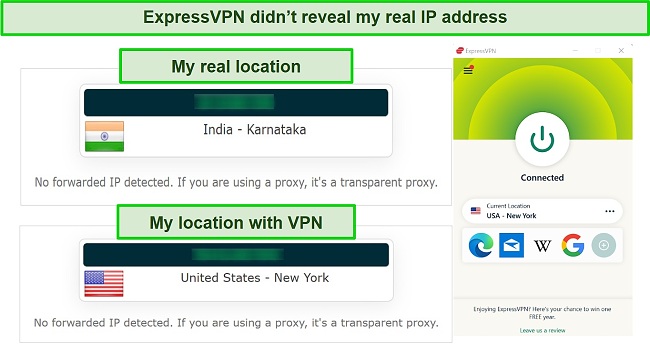 It uses military-grade AES-256 encryption to protect your online activity. This is the top-level encryption that government organizations use to protect their data. Additionally, its kill switch ensures that your data is never exposed, even if the VPN connection suddenly drops. It also prevents IP and DNS leaks. So ExpressVPN makes sure that none of your data will be accidentally exposed.
ExpressVPN is based in the British Virgin Islands, which is a British Overseas Territory. The BVI has no data retention laws, so ExpressVPN isn't legally required to retain any user data. Also, ExpressVPN protects your privacy with a strict no-logs policy. This means it doesn't store any of your browsing data or metadata. You can safely stream content even from torrent-based streaming platforms.
One minor downside is that ExpressVPN is a little more expensive than other VPNs on the list. The 1-year + 3 months plan starts at $6.67/month. However, ExpressVPN provides the best value out of this price than any other VPN does.
You can try ExpressVPN for streaming completely risk-free with its 30-day money-back guarantee. I tested its refund policy using its live chat, and the agent immediately processed my request after explaining the reasons. Also, the money was back in my account within 3 days.
Key Features:
CyberGhost is an excellent choice if you want to stream movies and TV shows from torrenting sites. It has over 8200+ servers in 91 countries, which is more than enough to unblock any content you want. Additionally, CyberGhost provides P2P optimized servers that are preconfigured for torrenting. So you can easily download and stream content from the sites I've mentioned above.
Another thing that I like about CyberGhost is that it has a reliable malware blocker. It checks the URL of the website you want to visit to ensure it does not contain malware or expose you to phishing attacks. This means you can safely watch videos hosted on third-party websites with CyberGhost.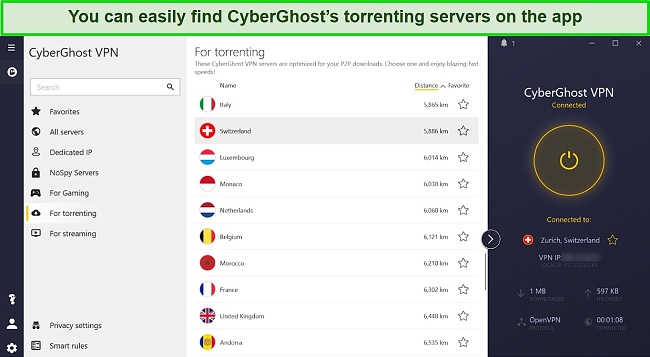 CyberGhost is based in Romania, which has very lenient data retention laws. This means the company is not required to store your data or browsing history. Also, its strict no-logs policy ensures that your privacy is always protected.
While CyberGhost's short-term plans can be a little expensive, you'll find its yearly plans to be super affordable. You can get CyberGhost's 2-year + 3 months plan for $2.11/month. Also, all its plans are backed by a 45-day money-back guarantee, so you can use it for the whole 45 days without risking your money.
Getting a refund is also very easy. I simply asked them to cancel my subscription on day 32, answered a couple of questions, and the customer representative processed my refund. I got my money back in 4 days.
Key Features:
PIA has special customizations for users who want to stream movies and TV shows from torrent-based streaming sites. It lets you choose between AES-128 and 256-bit encryption, where AES-128 can speed up your connection while the latter is more secure. In addition, its "Connection Automation" automatically blocks torrenting activities when you don't have an active VPN connection.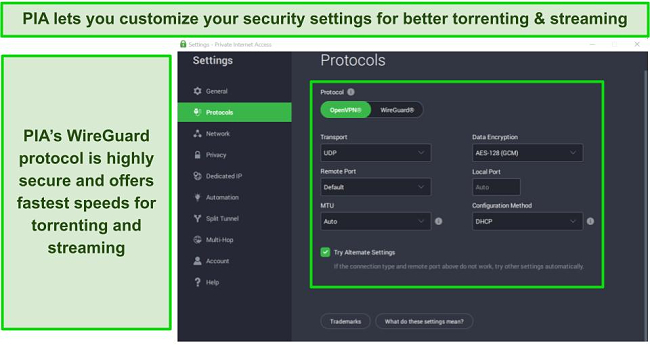 The average speeds I got on PIA were around 55 Mbps. While the speeds weren't as good as ExpressVPN, you'll be able to stream movies and TV shows in HD without any buffering or lag. I recommend connecting to the nearest servers for a speedy connection.
One concern for me was that PIA is based in the US, which is not a great location for a VPN provider since it's a part of the 14 Eyes alliance. However, it does not store any logs of your data or browsing activities – thanks to its reliable no-logs policy.
I checked all PIA's plans and found its long-term plans to be the most economical. You can get its 2-year + 3 months plan for only $2.11/month. However, if you want a shorter subscription, you can go for its monthly plans, which can be a little expensive.
If you're still undecided, you can try PIA for streaming with its 30-day money-back guarantee. I canceled my subscription by contacting customer support through live chat. The agent was very helpful and processed my refund immediately. The money was back on my credit card after 5 days.
Key Features:
NordVPN is one of the best VPNs on the market — and you can get super cheap prices when you sign up for a long-term subscription. One thing to note, however, is that when it's time to renew your subscription, prices do increase quite significantly.
I was particularly impressed with the high performance of every server I tested. Just because a VPN has thousands of servers doesn't mean they all work. Servers can still struggle to unblock local sites — and some can even fail to connect completely. However, I easily unblocked Netflix, Disney+, Hulu, Amazon Prime Video, BBC iPlayer, and HBO Max on multiple servers in the US and UK.
I did, however, have issues with using NordVPN's native Fire TV app. Although it worked and unblocked some streaming services, it sometimes had issues unblocking Netflix US and kept crashing. I also found that NordVPN's user interface for desktop devices was less user-friendly than ExpressVPN and CyberGhost.
NordVPN has the following security and privacy features:
AES 256-bit encryption
kill switch that cuts your internet access if your connection to a VPN server drops suddenly
built-in ad and malware blocker, so you don't need a third-party ad blocker
fully audited no-logs policy (audited by PwC) – NordVPN doesn't store any personal or identifying data while you're connected to the VPN
In addition, NordVPN includes Threat Protection that protects you from viruses, infected websites, and trackers – and it works whenever you have the NordVPN app open, even if you're not connected to a VPN server.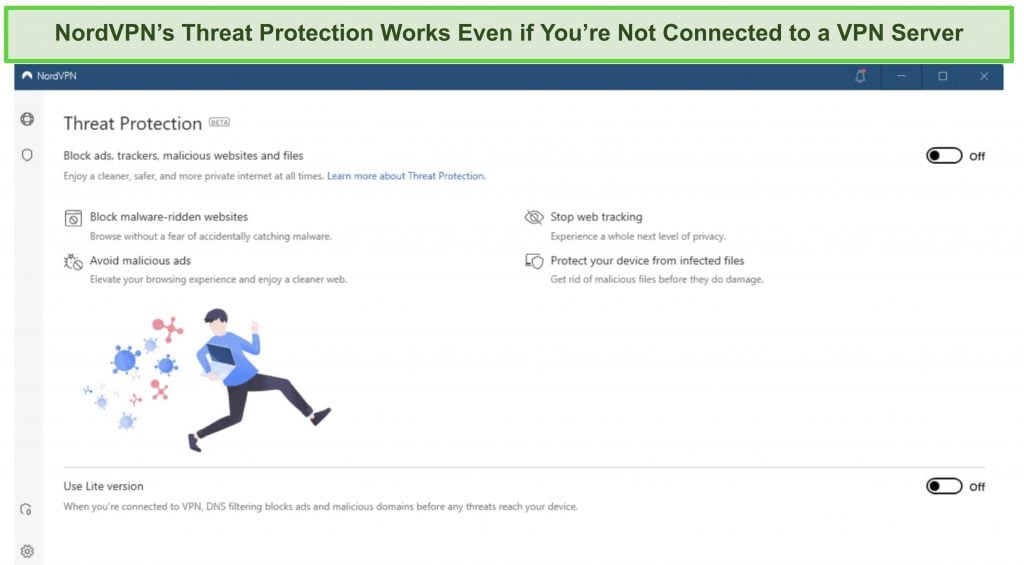 With plans that cost as little as $3.19 per month, it's easy to find a NordVPN subscription plan that suits your needs. You can also stream, torrent, and browse for free for up to 30 days with its money-back guarantee. I tested this to ensure that you'll really get your money back. At first, the support team tried to give me an extended trial period — but they initiated my refund right away after I told them I wasn't interested in the extension. I got my money back in 6 business days.
Key Features:
Surfshark offers the best value for money out of every premium VPN on the market. You can connect an unlimited number of devices with a single subscription, which means you can use Surfshark on all your devices without getting logged out.
I tested Surfshark's simultaneous connections on 2 PCs, 2 phones, a Fire Stick 4K, and an iPad. My connection remained reliable on all 6 devices. Even while I was actively streaming on all my devices, my average speed was 112 Mbps — fast enough for UHD quality.
When I saw the price of this service, I thought it couldn't possibly have top-grade security features for such a low price, but I was pleasantly surprised.
Surfshark has the following security and privacy features:
AES 256-bit encryption on all devices, with ChaCha encryption available for Android users
Wireguard VPN protocol enabled by default
diskless, RAM-only servers to protect your privacy (no data can be physically extracted from any servers)
kill switch (although this isn't enabled by default)
IP and DNS leak protection
Surfshark offers two-factor authentication (2FA) on your account. This feature requires you to enter an extra code before you can log in to ensure that only you can access your account.
While Surfshark does have slightly fewer global servers than rivals such as CyberGhost and PIA, I didn't experience any issues during my tests. I easily connected fast working servers every time, and I had excellent speeds for streaming Netflix in UHD, downloading torrents, and browsing the internet.
You can try Surfshark for yourself with the 30-day money-back guarantee. It has plans that cost as little as $2.30. Requesting a refund is easy with Surfshark's live chat feature. Although the support team asked why I wanted to cancel my subscription, I had no problem getting my money back (and it only took 4 days!).
Key Features:
PrivateVPN is the best option for someone new to VPN because of its user-friendly apps. It has native apps for platforms, all of which come with a clean and simple interface that anyone can understand and use without hassle. I was able to install its app on my Windows laptop in less than a minute.
You get two interfaces with PrivateVPN: simple and advanced. You may want to stick to a simple view if you only want a location change for anonymous streaming. However, the advanced view lets you choose the fastest servers based on real-time ping, allowing a fast streaming experience.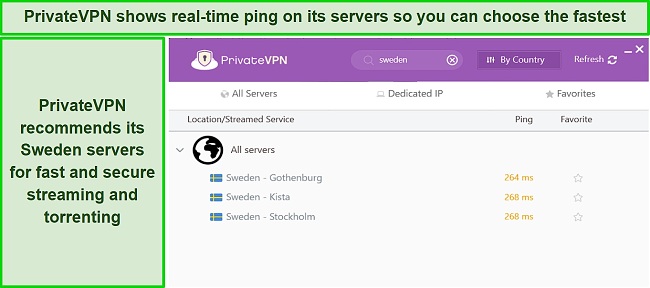 PrivateVPN is based in Sweden, which is part of the 14-Eyes alliance. This means the government can request user data from the company. However, PrivateVPN is a no-logs VPN, which means it doesn't store any logs of your data or browsing activities. So you're safe because there is no data to hand over.
If you're on a budget, you'll be glad to know that PrivateVPN has one of the most affordable prices for both short-term and long-term plans and is one of the best monthly VPNs. You can get its 3-year plan for only $2.00/month.
All PrivateVPN plans come with a 30-day money-back guarantee, which is more than enough time to test the service. I contacted customer support to cancel my subscription on day 28, and the agent processed my refund immediately. I got my money back in my PayPal account within 5 days.
Key Features:
Being one of the few VPN providers that lets you connect an unlimited number of devices simultaneously on one subscription, IPVanish is one of the best VPNs for free streaming. I downloaded its apps on my iPhone, Windows laptop, and Android tablet and could use it on all three devices simultaneously. The connection was fast and stable on all three devices while I was streaming content on all of them simultaneously.
When it comes to security, IPVanish is second to none. It uses military-grade AES-256, the highest level of encryption you can get. It's also equipped with an automatic kill switch, which automatically shuts down your internet connection if the VPN connection is lost for any reason.
IPVanish is based in the US, which means it's subject to the country's data retention laws. But your personal data is protected by IPVanish's strict no-logs policy.
I tested IPVanish's speeds on different servers and found them good enough for HD streaming without any buffering or lag. Also, it lets you choose the fastest available server for the fast streaming experience.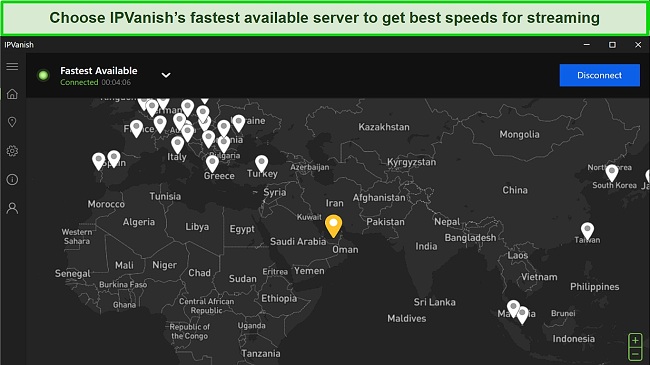 After checking the pricing of all its plans, I recommend subscribing to IPVanish's 2-year plan, which is currently available for only $2.99/month.
IPVanish offers a 30-day money-back guarantee. If you're unhappy with the service, you can cancel your subscription by logging into your account and clicking on the "Cancel Subscription" button. I tested the process myself and got my money back within 3 business days.
How I Tested and Ranked the Best VPNs for Streaming Free Movies and TV
While testing these VPNs, I considered the following factors:
Fast speed: Speed is the main criteria for bufferless streaming. I tested the speeds of different servers using different devices and listed the VPNs are fast enough for HD streaming without any buffering or lag.
Security features: The main security features I checked were encryption protocols, kill switch, no-logs policy, and IP/DNS leaks. All the VPNs on the list use the highest levels of security.
Torrenting-Optimized Servers: Since most of the FlixTor alternatives on the list are based on torrenting, I checked which VPNs offer the best servers for torrenting. They'll ultimately result in faster streaming.
Ease of use: I downloaded the apps of different VPNs on my devices and tested their interface to see how user-friendly they are.
Device compatibility: A quality VPN for streaming should be compatible with most platforms and devices. All the VPNs on the list have native apps for Windows, Android, iOS, macOS, and more. These VPNs also let you connect multiple devices at the same time.
Pricing: I checked both short-term and long-term plans of different VPNs and whether they offer any discounts.
Money-back guarantee: I checked which VPNs offer a money-back guarantee and how easy it is to get your money back if you're not satisfied with the service. All VPNs on the list have a trustworthy money-back guarantee, and claiming a refund is easy.
FAQs on Streaming Free Movies and TV shows
Stream Free Movies and TV With a Quality VPN
Watching copyrighted movies and TV shows without paying is considered piracy in most countries. Even if streaming for free is legal in your country, I still recommend using a quality VPN service. Free streaming platforms often have a lot of ads, and some of them might be malicious. By using a VPN, you can not only stream content anonymously but also protect your online activity from prying eyes.
If you want my top recommendation, I suggest going with ExpressVPN. It's one of the market's fastest and most reliable VPNs with top-level encryption that's virtually impossible to crack. It also unblocks Netflix, Hulu, BBC iPlayer, Amazon Prime Video, Disney+ Hotstar, and many other global streaming platforms.
The best part? ExpressVPN's trustworthy 30-day money-back guarantee lets you try it risk-free. If you don't find the service helpful or worthy, you can get all your money back within 30 days. All you have to do is request cancellation over the live support, and your money will be refunded without any hassles.
---
In Summary — These Are the Best VPNs for Streaming Free Movies and TV