Visit VPNArea Website!
VPNArea

Review 2023: Before You Buy, Is It Worth It?
VPNArea Overview 2023
With VPNArea being known for its robust security protocols and extensive torrenting support, I was curious to see if a VPN of this size could truly deliver on these claims. To find out, I set out and conducted a wide array of comprehensive tests to see if this VPN could live up to my expectations.
I found a lot of benefits in its use after conducting a comprehensive review. This VPN had many worthwhile features such as an air-tight privacy policy, torrent-safe servers, and a reliable server network. While the basic user interface could use an upgrade and I was disappointed but its speeds, the level of security is great when you consider the Double VPN and Stunnel options.
Unfortunately, I could not find a free trial of VPNArea, which was disappointing as free trials are a unique selling point for VPNs and typically result in a purchase. Nevertheless, you have a 14-30 day money-back guarantee that allows you to get your money back if you are not satisfied with the service. The length of the money-back guarantee is dependent on the plan that you choose. If you do not like VPNArea after testing it, you can try one of these popular VPNs to find one that fits your exact use case.
Don't Have Time? Here's a 1-Minute Summary
VPNArea Unblocks Netflix, Amazon Prime, and BBC iPlayer (But Can't Access Hulu and Disney+)
VPNArea is good for streaming platforms, but I experienced a lot of lags and interruptions during my use. While I had luck with Netflix, Amazon Prime, and BBC iPlayer, I couldn't access Hulu or Disney+.
Netflix, Amazon Prime Video, and BBC iPlayer: Unblocked
Along with Netflix, VPNArea also worked with Amazon Prime Video and the BBC iPlayer services. However, I encountered some connectivity issues while streaming on the dedicated streaming servers.
I was able to stream US Netflix while connected to the USA-0-NFLX and USA-0-NFLX-EU-Hub dedicated servers. I streamed episodes of the series Colin in Black & White and encountered some video quality problems. Similarly, my colleagues in the UK, Canada, and Italy were able to unblock their respective Netflix libraries.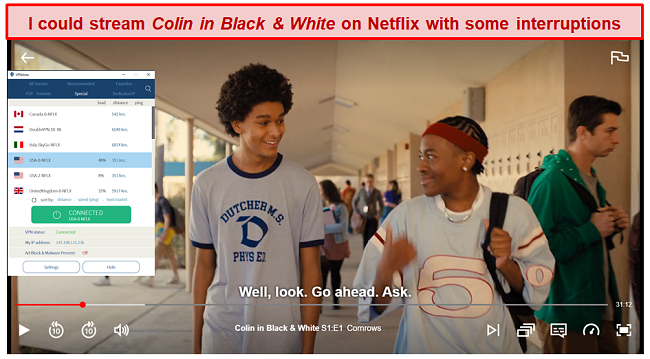 VPNArea is capable of unlocking Amazon Prime Video, but I was disappointed with the quality of the streaming experience. When streaming a movie or a show, it may require a bit of time for the content to load smoothly. However, the server you choose can impact the occurrence of interruptions or delays. Such buffering issues and potential stuttering or lag can significantly hinder your viewing experience, which is certainly not desirable.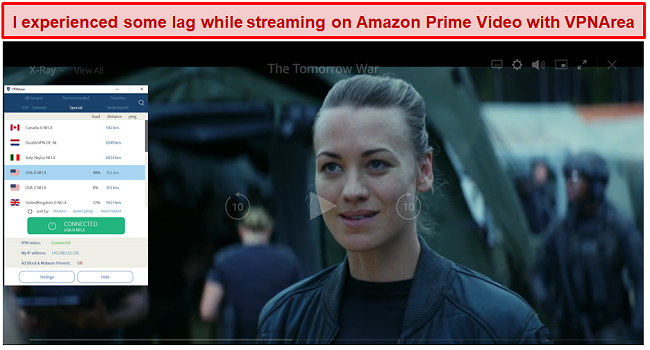 Along with streaming platforms popular in the US, my colleague in the UK was also able to watch BBC iPlayer with VPNArea's UnitedKingdom-0-NFLX server. However, there was a bit of buffering when he watched the movie The Outlaws.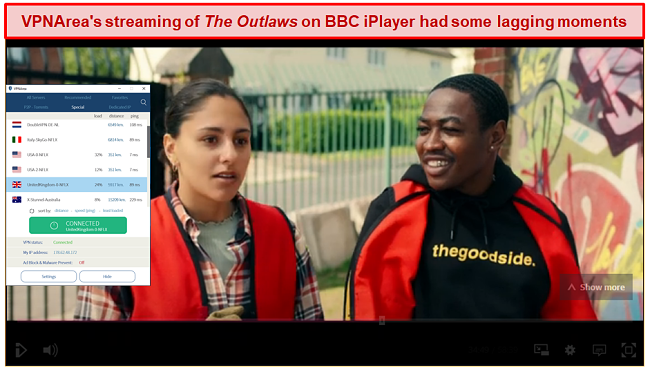 Despite being able to unblock a handful of popular streaming services, the overall experience fell far short of my expectations. I found that my connection suffered from frequent lags, buffering, and drops in visual fidelity.
Hulu and Disney+: Blocked
I had no success unblocking Hulu and Disney+ using the VPNArea recommended streaming servers.
Hulu seemed like it might work at first. However, after I clicked on the "login" button, I was greeted with an endless loading screen. I also tested Disney+, but it didn't work. The platform immediately locked me out as soon as it detected that I was using a VPN.
"Sorry, Disney+ is not available in your region."
An established option such as ExpressVPN would be a better choice for streaming. Aside from unlimited bandwidth and comprehensive unblocking capabilities that allow you to access your home region's content, it also has optimized servers that are built specifically for streaming.
Disappointing Speeds Across All Servers
I had a noticeable drop in my internet connection on both nearby and distant servers. My upload speeds were often higher than my download speeds on all servers, which isn't very common. These poor results caused me to experience a lot of buffering when watching my favorite shows.
Speed Test Results
After connecting to VPNArea and testing various servers worldwide, I found an average loss of 55-65% speed. To determine how VPNArea affected my connection, I ran a speed test on my home network and got a download speed of 58.10 Mbps and an upload speed of 321.96 Mbps.
Next, I connected to a VPNArea server in New York. For this particular server, I was interested in finding out what effect a short distance had on my connection speed. I experienced a substantial 55.9% drop in my connection speeds from my baseline.
Following that, I connected to an Australian server, which was the most distant server from where I was located. I noticed a significant 65% drop-off in my speed when compared to my base speed. UK and Canada servers retained 56% and 62% of my benchmark speed, respectively.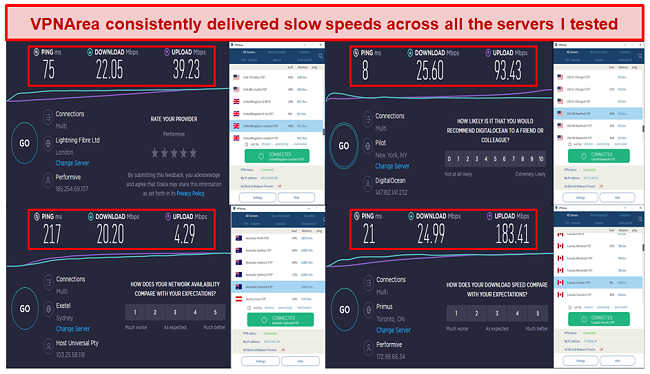 VPNAreas's servers have consistent speed across countries, confirming their strong and reliable hardware infrastructure. The performance of servers on opposite ends of the USA is within 5Mbps of one another, which is much less variation than with many other providers. On a local connection, it was quite evident that download and upload speeds both slowed down noticeably. This problem became even more apparent when connecting over long distances. While the speeds were consistent, they were still below average.
Why Most Speed Tests are Pointless & How We Correctly Test VPN Speeds
Speed determines how fast content uploads, so if you're torrenting or streaming, you want the speed to be somewhat identical to your regular internet speed. Since a VPN encrypts your data, it usually takes a bit longer to send your data back and forth, which can slow down your connection. However, if your ISP deliberately slows down your connection (also known as throttling) a VPN might increase your internet speed. Testing a VPN is somewhat pointless because new servers pop up and affect speed. Your speed can also differ according to your location, so your speed test might not match ours. Having said that, we tested the speed in numerous locations to provide you with the average.
Server Network — Small Server Network Spanning 61 Countries
The company has 130 server locations strategically located in 70 countries. Even though there are fewer servers than some competitors, the network is extensive and covers all continents.
On the desktop applications, you have access to a list of labeled dedicated servers for options like streaming, dedicated IP addresses, and torrenting.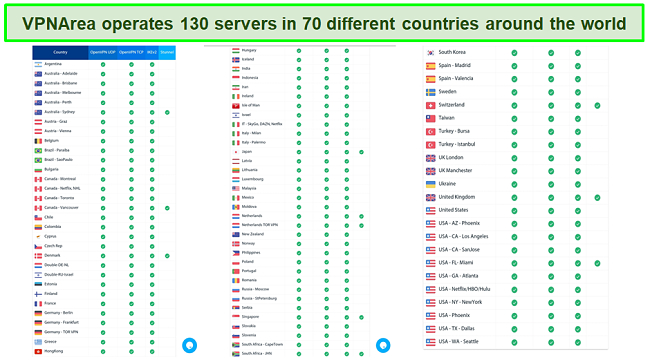 Additionally, VPNArea's server network utilizes an unlimited bandwidth policy that does not allow bandwidth throttling. Both the applications and the member's area of the website provide stats on bandwidth and server usage.
Security — Many Advanced Features to Boost Security
VPNArea provides strong and up-to-date encryption solutions. In terms of encryption, it utilizes the AES-256 cipher with 4096-bit RSA keys and the SHA-256 algorithm, which means hackers will have a very difficult time decoding the data being sent.
The software supports OpenVPN and IKEv2, which are considered to be military-grade encryption protocols. WireGuard, considered to be the most secure and fastest VPN protocol, is not currently supported.
VPNArea has a kill switch if you use a Mac or PC. This feature will automatically disconnect you if your VPN connection is suddenly lost. By using this tool, your traffic won't get leaked to your ISP's servers where it could be exploited. The option, however, isn't available if you're using the mobile app, which I found concerning.
Though VPNArea's basic features like the kill switch and custom DNS servers behind AES-256 encryption are sufficient for the majority of people to feel safe online, it goes a step further to offer specialized VPN servers if you feel that your security can still be compromised.
Specifically, there are Double VPN and Stunnel servers. In a double VPN server, your connection takes two hops instead of one to reach your desired location. The difficulty of tracking your online activity is heightened, and this drastically reduces the chances of cracking the tunnel.
A Stunnel server, on the other hand, makes it more difficult for websites or government agencies to figure out that you are using a VPN. VPNArea also offers an ad-blocker and malware prevention to block malicious websites and annoying advertisements.
The company's website even has a bug bounty program that invites white hat hackers to earn money by finding vulnerabilities in VPNArea clients. This is impressive and demonstrates the firm's commitment to ensuring platform security.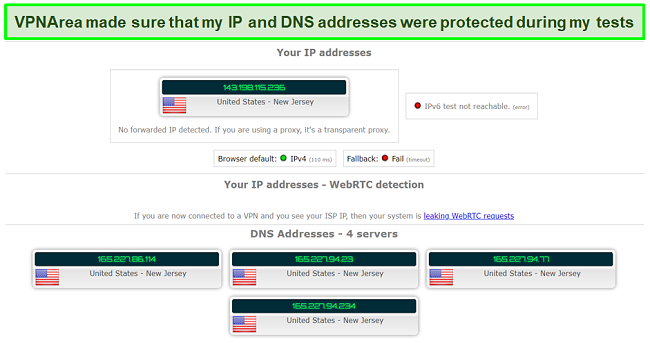 To verify if VPNArea leaks IP addresses or DNS information, I connected to the company's server in the US and then used an IP checker to check for leaks. As can be seen in the screenshot above, the IP address displayed matched the server location of my choice and did not leak my actual location.
Privacy — Truly a No-logs Service
VPNArea ensures privacy and anonymity while maintaining security when transmitting information. I reviewed VPNArea's privacy policy to understand its stance on the retention of logs. I found that the service does not collect or store any information about you. These include DNS requests, IP addresses, browsing history, and timestamps.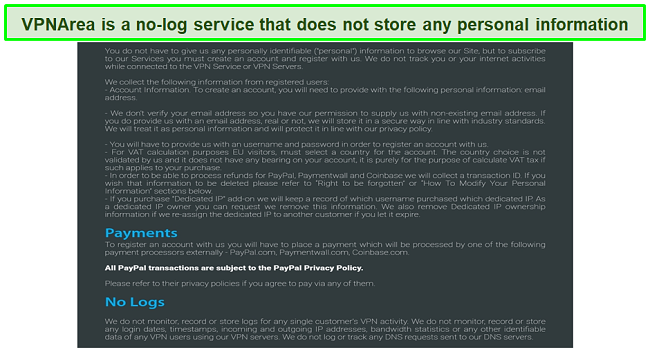 To clarify this further, I reached out to VPNArea support to find out the company's policy regarding logs. A representative of VPNArea assured me that the company does not log data on its servers. He also stated that the company does not insert ads into your website traffic, a practice some companies have employed. He further explained that it doesn't earn revenue from sharing your data with third parties.
Additionally, VPNArea's Bulgarian headquarters, Swiss-hosted emails, and administration servers ensure excellent privacy protection. With this, your data is protected from invasive jurisdictions such as the ones in the UK and US.
Torrenting — P2P Allowed on Most Servers
VPNArea is optimized to make downloading via P2P file-sharing safe. In addition to torrenting being enabled on all of the servers, many of the servers have been built specifically for P2P activities.
VPNArea doesn't restrict or limit torrent traffic, in contrast to many other VPN service providers. It makes torrenting easy and worry-free with its kill switch, excellent DNS leak protection, and fast upload speeds.
Sharing copyrighted material is illegal in many countries. Therefore, you should only torrent content that is in the public domain to avoid criminal and civil penalties, regardless of whether you are using a VPN.
Does VPNArea Work in China? Yes!
You will be able to use VPNArea in China if you plan on using it on your desktop computer while you travel there. VPNArea has X-Stunnel servers across a range of server locations. Connecting to these X-Stunnel servers will disguise your connection as regular HTTPS traffic, allowing you to get through China's secure firewall.
VPNArea provides servers in Singapore, Japan, and China, allowing you to connect to a server close to China, further bolstering VPNArea's reputation as a good choice if you wish to access content in China.
Please note that this feature is only available via Mac or Windows desktop devices. Since X-Stunnel servers are not accessible on Android and iOS, VPNArea is ideal for you if you're using a computer in China. VPNArea's reliability extends not only to China but also to other countries with high levels of censorship. This includes countries such as Saudi Arabia, Turkey, the UAE, and Iran. However, please note that non-government-approved VPNs are illegal in China, but there have been no cases of tourists being penalized by the Chinese government.
Server Locations
Argentina
Australia
Austria
Belgium
Brazil
Bulgaria
Canada
Chile
Colombia
Cyprus
Czech Republic
Denmark
Estonia
Finland
France
See all supported locations...
User Experience
- 7.0
/ 10
Simultaneous Device Connections — Supports Up to 8 Devices
VPNArea's generous 8 simultaneous connections feature particularly impressed me. Having so many supported connections allows you to protect many of your devices using a single subscription. This makes VPNArea an ideal solution for households with many mobile devices, desktops, and tablets.
During my testing, I discovered that VPNArea only supported 5 devices a short time ago and 4 before that. The service is committed to improving your experience by allowing more connections and, as a result, more account-sharing options.
You may want to consider other VPN options if you need a VPN that allows you to secure more than 8 devices simultaneously. IPVanish is one of the few VPN providers that offer unlimited connections.
Device Compatibility — Available on Popular Platforms & Devices
You can use VPNArea's range of VPN applications across a variety of devices and operating systems. The company offers excellent apps for Windows, Mac OSX, iOS, Android, and Linux VPN GUIs on several distributions. Each client comes with a host of features that makes your VPN experience seamless.
You can also use VPNArea with several different streaming devices and gaming consoles. All you have to do is connect them to your router running the VPN, and all of your connected devices will be protected on your home network. If you want to install VPNArea manually on any other platform, including routers, there are numerous guides on the VPNArea website. Unfortunately, browser extensions are not currently available as part of the VPNArea service.
Ease of Setup & Installation — Easy Setup and User-friendly Apps
Downloading and installing VPNArea was simple and took no more than 5 minutes. As is typical for most VPN service providers, the setup involves a straightforward signup and download process. With VPNArea's registration form, you only need to provide your email address and password to register before beginning the payment process.
Upon successful payment, you will be taken to a member page where you can download the appropriate software package for your chosen system. Installation begins after the download has been completed, and following the setup instructions was straightforward.
Following the selection of your desired system, you will receive a simple yet thorough tutorial that will lead you through the VPN download and installation process. Another thing I liked about this program is that I didn't have to restart my computer after installation, which saved me a lot of time.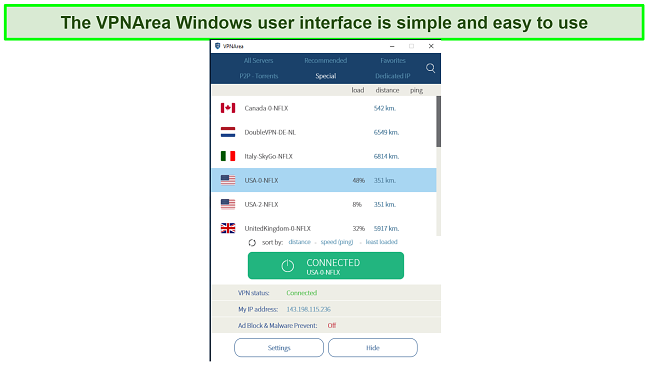 VPNArea is easy to use once installed. It's a simple matter of opening the application, filling out your login credentials, choosing a server, and hitting connect. The rest of the process is taken care of automatically. If you wish to connect to a specific server/country or change the torrent proxy, you can access the settings area to adjust these options.
You can contact VPNArea support via live chat, email, or support ticket. You can find answers to some of the most commonly asked questions on the "FAQ" page. Disappointingly, some resources on the site are only accessible to paid members. I would prefer that these resources be made available to everyone, as it may help potential customers determine whether VPNArea is right for them.
My thorough testing of VPNArea live chat found it to be reliable. I received a prompt response from its customer support team, and the staff was fully knowledgeable and completely professional.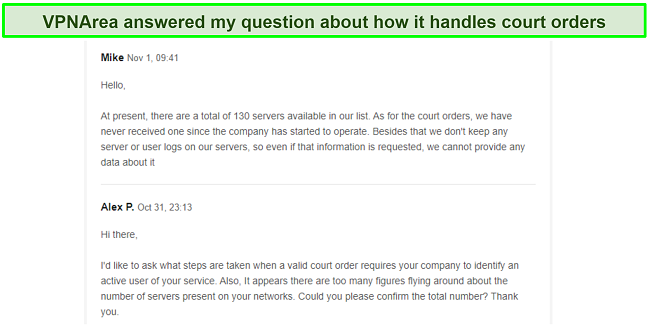 In response to an extremely complicated question I had regarding the steps taken when a valid court order requires the company to identify an active user of its service, I was told I would receive the answer via email. The answer to my question came within 12 hours in a courteous and direct manner. When you have a pressing question, it is sometimes best to send an email directly to the company.
How We Test Customer Support and Why Should You Care
We personally test the customer support team of every VPN we review. This means asking technical question through the live chat feature (where applicable) and measuring the response time for email questions. Whether you need to connect to a specific server, change your security protocol, or configure a VPN on your router, finding a VPN with quality customer support should be important to you.
Even though VPNArea offers a number of solid features, its cheapest monthly rate is still less than most other VPNs on the market that offer more competitive features. If you do plan to use this service, I recommend the three-year plan as it provides a hefty discount over the standard monthly subscription.
VPNArea offers a classic pricing structure along with a variety of other services that you can choose from if you have decided that VPNArea is the right choice for you. VPNArea's payment gateways include all major credit/debit cards including Visa, MasterCard, and American Express. You can also pay with Bitcoin or via e-wallets such as PayPal, Webmoney, and Payza. This allows for easy payment and gives you the option of paying anonymously if you prefer.
VPNArea does not offer a free trial. Instead, you get a money-back guarantee that varies based on the plan you subscribe to. With the 12-month and 3-year subscriptions, the refund period is 30-days, whereas it's only 14-days with the 1-month subscription. To request a refund, simply contact VPNArea via live chat or email, and your refund will be issued within 48 hours, as was the case for me.
VPNArea offers the following plans
Final Verdict
On the whole, it is clear to me that VPNArea is a good product and there is much to like about it. Even though it isn't one of the most well-known VPNs out there, it has several great features that compete with some of the best.
VPNArea has a variety of security features with which I am particularly impressed. Its no-logs policy and advanced privacy features are guaranteed to offer you full peace of mind. Plus, you can mask your use of a VPN with its stealth technology, thus bypassing censorship more effectively. I was, however, slighlty disspointed with its speeds and the fact that I couldn't unblock all my streaming accounts.
VPNArea's plans are relatively reasonable in price, and it offers a variety of payment options that are tailored according to the needs of its customers. It also offers a 30-day money-back guarantee so you can see if it suits your needs.
FAQs About VPNAreo
Is VPNArea good?
Yes, VPNArea is a good option if you want a VPN that offers decent functionality and that you can feel secure using.
With its AES-256 encryption, no-logs policy, and a kill switch
if you use a desktop, VPNArea has some of the best privacy features around. It also offers a double VPN, obfuscation, technology, and an ad blocker.
Can I use VPNArea for free?
No, VPNArea does not offer free trials. The refund policy, however, allows you to cancel your subscription for a full refund within the first 14-30 days. VPNArea subscribers with a one-month subscription are entitled to a 14-day refund, while 12-month and 36-month subscribers enjoy a 30-day period. It allows you to try out the service before committing or canceling.
If you are not satisfied with VPNArea, you could try one of our recommended free VPNs. Unfortunately, free VPNs aren't as secure as paid VPNs, and they may leak your information. Free VPNs collect your personal data and sell them to other companies for a profit.
Is VPNArea really safe?
Yes, VPNArea allows you to protect your privacy and browse the internet anonymously and securely.
The provider encrypts all communications using a high-quality AES algorithm to ensure no gaps in your privacy are discovered. The combination of this and the
no-logging policy makes for an extremely secure VPN
.
We rank vendors based on rigorous testing and research, but also take into account your feedback and our commercial agreements with providers. This page contains affiliate links.