HideIPVPN is a solid service with one of the widest choices of encryption protocols — so I was surprised to see it wasn't a popular VPN. After all, it even has some features that top-tier vendors offer, like OpenVPN encryption.
I found that HideIPVPN was able to unblock major streaming services like Netflix and Hulu, which is impressive for a small network.
However, I discovered some unpleasant surprises. HideIPVPN comes with slow connection speeds that are almost too low for HD streaming, and it buffered on several occasions.
Torrenting is forbidden on all of HideIPVPN's servers (aside from Holland and Germany), and I wouldn't recommend trying it with such slow speeds. Bypassing Chinese firewalls is also a feature HideIPVPN fails to provide.
HideIPVPN comes with an alarming 30-day money-back guarantee that isn't easy to claim — making its 24-hour free-trial the best way of testing the service without paying. Unlike HideIPVPN's difficult money-back guarantee, the top-recommended VPNs on the market all have a reliable 30-day money-back guarantee.
I was surprised HideIPVPN could unblock various popular streaming services with its small network of 20+ servers — having fewer servers (and network addresses) makes it easier for streaming platforms to recognize connections, which can then be blocked.
For now, Netflix, Hulu, and YouTube all stream successfully. It did unblock HBO Max, but I encountered lag when using the service.
Netflix, Hulu, HBO Max, and YouTube: Unblocked
I successfully bypassed geo-restrictions on Netflix and experienced minimal buffering when streaming The Office (U.S.).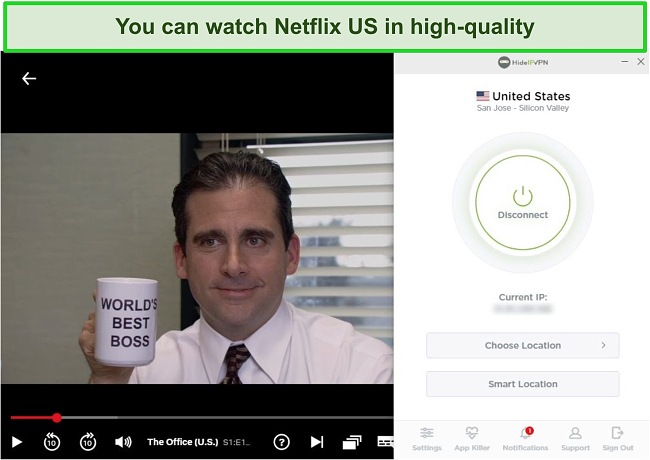 I also experienced 6 connection drops while connected to one of HideIPVPN's US servers. This caused an annoying error, which prevented me from viewing any content. To bypass the Netflix proxy error, I simply needed to reset my browser and VPN connection.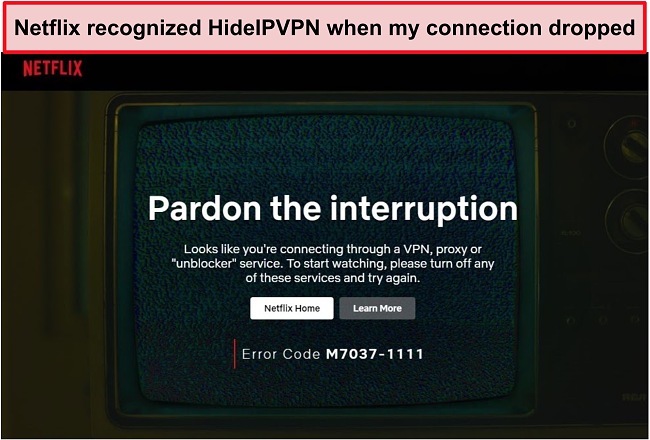 I continued testing and successfully bypassed geo-restrictions on Hulu, which allowed me to stream Brooklyn Nine-Nine in high-quality.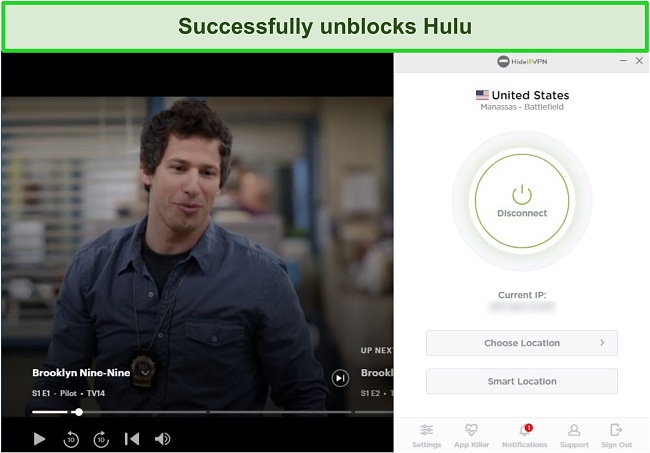 When streaming Detective Pikachu on HBO Max, I did experience buffering throughout the movie. It stuttered on occasion and paused to buffer 5 times — however, the quality remained decent.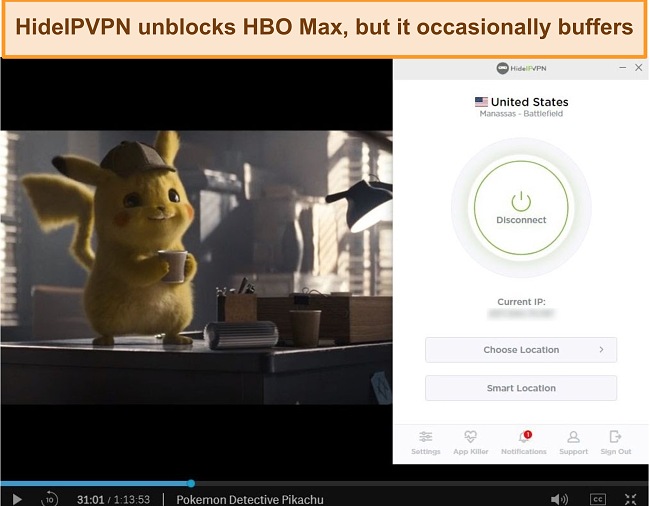 Disney+, BBC iPlayer, Amazon Prime Video, ITV Player, ESPN+, Kodi: Blocked
For Disney+, BBC iPlayer, Amazon Prime Video, ITV Player, ESPN+, and Kodi, I came up against repeated error messages and restricted libraries. I tested each platform on multiple servers and browsers — alongside trying the services without a VPN to ensure everything was still fully functional.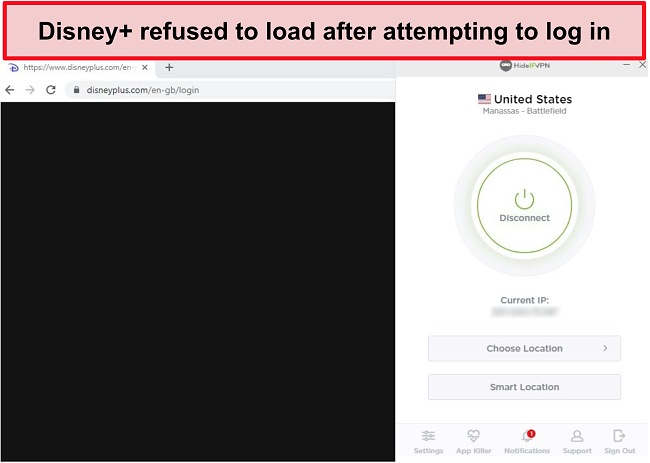 After trying to access the Disney+ library, it never managed to load past the login screen when connecting with HideIPVPN. Later, I noticed HideIPVPN didn't work with Disney+ as it identified my real IP address.
HideIPVPN failed to gain access to BBC iPlayer even when I tried connecting with 3 different UK servers. Each attempt resulted in the same message.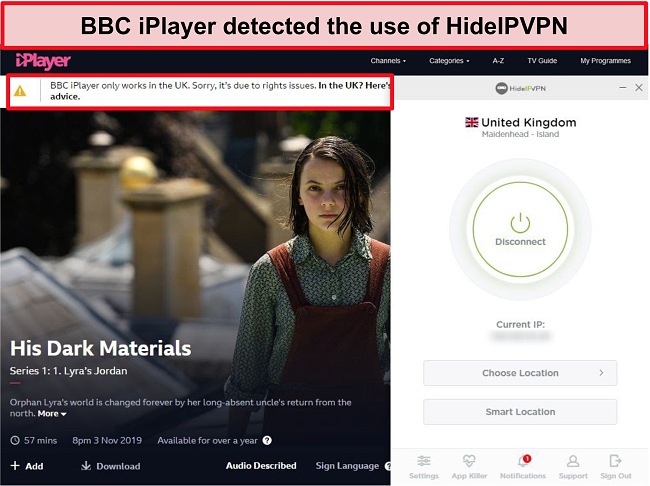 For Amazon Prime Video, the browser failed to make it onto the actual website. Each time I tried, Amazon closed and refused the connection.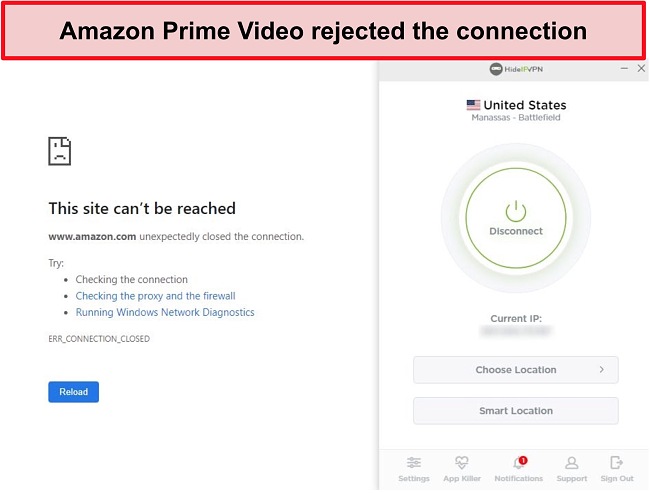 ITV Player allows you to access its website, but any attempt to stream shows prompts the message "The video isn't available right now." HideIPVPN is detected immediately, making it an unreliable VPN for streaming content on this platform.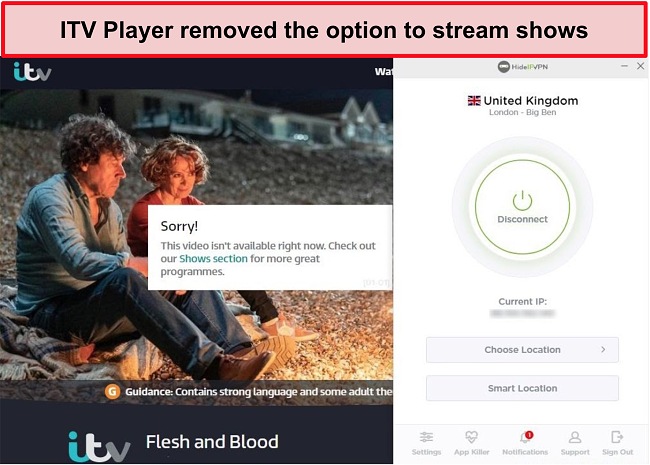 HideIPVPN failed to bypass geo-restrictions on ESPN+ and gave me an "unexpected error occurred" message.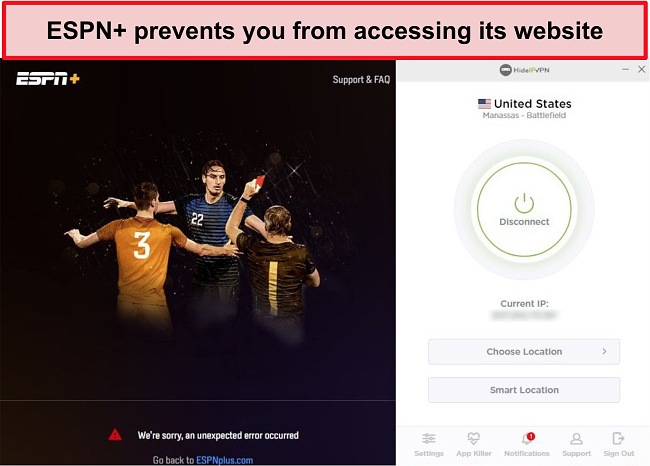 If you want to view any of these blocked services, try NordVPN to easily bypass restrictions on a fast connection with minimal to no buffering.