Visit AirVPN Website!
AirVPN

Review 2023: Before You Buy, Is It Worth It?
AirVPN Overview 2023
AirVPN was launched in Italy in 2010 by a loose collective of hackers, activists, and lawyers hoping to ease fears over internet security. I've decided to put this VPN to the test to see if its security measures stacked up to the industry standard.
I tested AirVPN extensively and found it to be an underrated gem for anyone seeking encryption and censorship workarounds at affordable prices. While it does have a number of advanced options and allows for unlimited switching between servers, its main selling point is that it caters to users who value control over their own privacy. There are some disadvantages to consider, including a sparse server network and a lack of streaming capabilities.
A 3-day free trial of AirVPN can be obtained by contacting the company via email and explaining why you're interested in trying the service. With a 30-day money-back guarantee included in all plans, you can try out the AirVPN's features risk-free.
Don't Have Time? Here's a 1-Minute Summary
AirVPN Unblocks Netflix (But Can't Access Amazon Prime Video, Disney+, BBC iPlayer, Hulu, and HBO Max )
One snag you may find is that AirVPN servers are not optimized for streaming services. Although I successfully streamed with Netflix, I did not have any luck unblocking other streaming platforms. I did not experience any speed issues, pixelated images, or buffering while streaming movies on Netflix. The main problem that cropped up with other servers was AirVPN's inability to connect all together or my streaming service alerting me that I was using a VPN it doesn't allow.
Netflix: Unblocked
I've found AirVPN to be robust enough to bypass Netflix's VPN blockers and DPI firewalls. I tested several server locations in the US to see if Netflix worked with AirVPN. Each time, I was able to connect and watch shows and movies on my Netflix US account. Interestingly enough, the video started playing the very moment I clicked on it with no long load times.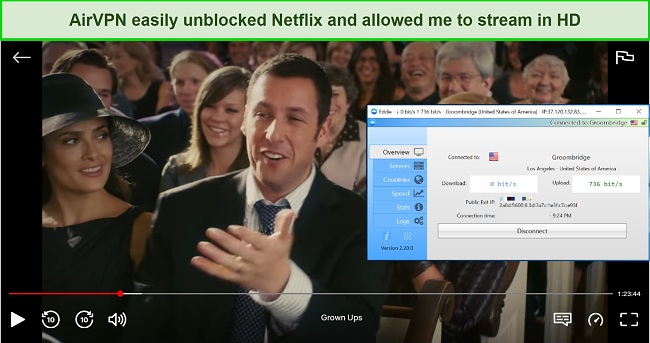 The video played in HD quality since the VPN server is fast and reliable enough to support it. I did not notice any video buffering, and there were also no indications of a potential technical issue.
Amazon Prime Video, Disney+, BBC iPlayer, Hulu, and HBO Max: Blocked
Following an easy connection with Netflix, I expected the same results with other streaming services. Sadly, I could not access any other streaming service due to geographical restrictions and/or detection of the VPN connection. After checking with the customer support team to make sure I did this correctly, I learned that the streaming services mentioned above are not accessible through the infrastructure.
I tried using AirVPN to access Amazon Prime Video, but I kept getting an ambiguous "Service Area Error" message. I connected to a number of other US servers to confirm that AirVPN was the issue, but the error remained.
AirVPN also didn't work with Disney+, Hulu, HBO Max, or BBC iPlayer. If you're traveling abroad but still want to watch your favorite shows and movies, Cyberghost's diverse server locations make it a great streaming choice.
Inconsistent but Fairly Quick on Nearby Servers
If you're looking for a stable connection, AirVPN's reasonably large network should be sufficient. And while its speeds aren't mind-blowing, it's considerably quicker than the majority of VPN services. I was still able to play games, watch videos, and surf the web without any problems.
Speed Test Results
The results of my server speed tests revealed that AirVPN was reliable for both download and upload speeds. However, picking the right server is crucial for optimal performance.
To set a baseline for my experiment, I first ran a speed test on my home connection, recording download speeds of 50 Mbps and upload speeds of 420 Mbps. Then I went with the client's recommendation, which was Belgium. The speeds were good, achieving 34 Mbps download speed and 23 Mbps upload speed. With the Netherlands connection, download speeds slowed to 32 Mbps and upload speeds to 13 Mbps.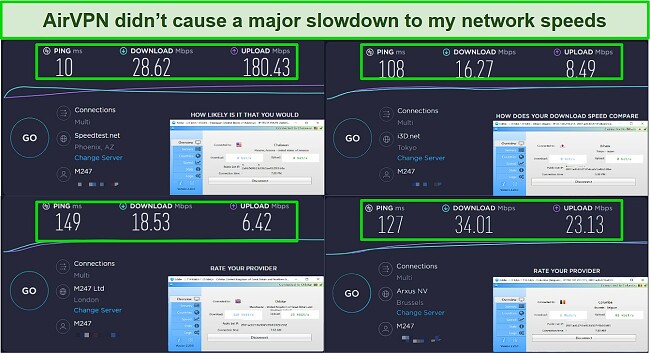 When I switched to a server in the United States, my download and upload speeds dropped by 42% and 57%, respectively. Subsequent evaluations showed that the service could be relied upon in Japan, the UK, and throughout Europe. There was a degree of inconsistency in the outcomes, but the performance was still passable overall.
Is AirVPN Fast Enough for Gaming? Yes!
If you connect to a server that is geographically close to you, even the fastest games will run smoothly. Using servers that are thousands of miles away can cause significant performance drops, making it difficult to overcome the effects of high ping.
AirVPN's average speeds are satisfactory for establishing connections to servers located at a distance, but the service has a notable impact on your latency. For instance, connecting to a server in Japan caused my ping to exceed 100, resulting in occasional lag that affected my gameplay.
That said, it worked fine overall. There were no significant drops that prevented me from playing, and picking a server close to my location made it much easier to maintain a constant connection.
Why Most Speed Tests are Pointless & How We Correctly Test VPN Speeds
Speed determines how fast content uploads, so if you're torrenting or streaming, you want the speed to be somewhat identical to your regular internet speed. Since a VPN encrypts your data, it usually takes a bit longer to send your data back and forth, which can slow down your connection. However, if your ISP deliberately slows down your connection (also known as throttling) a VPN might increase your internet speed. Testing a VPN is somewhat pointless because new servers pop up and affect speed. Your speed can also differ according to your location, so your speed test might not match ours. Having said that, we tested the speed in numerous locations to provide you with the average.
Server Network — Several Options and Unlimited Switches
There are over 200 servers spread across 20+ countries in AirVPN's lean network. AirVPN's few servers are more likely to become overburdened during peak usage times, in contrast to CyberGhost's extensive presence in 94 countries. Having more server locations means you'll be more likely to find one nearby, increasing performance and location spoofing options.
A major drawback in comparison to some of the competition is the lack of server locations outside of North America, Europe, and Asia. AirVPN does have an Australian routing server, but it does not have any servers in Oceania, Africa, or the Middle East.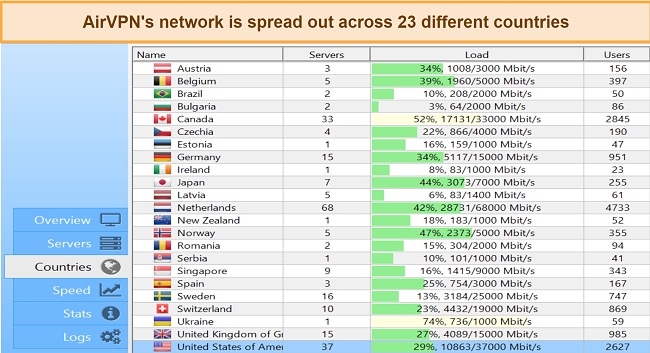 In addition, the AirVPN service has routed servers in the US, the Netherlands, France, Italy, Canada, Holland, Switzerland, Germany, Sweden, and Australia. When you use AirVPN with a streaming service like Netflix or Hulu, for instance, the service will send your location data through its dedicated routing servers. However, you will need to make use of AirVPN's private DNS to access the routing servers.
If you're having trouble choosing a server, the provider's website and client application both feature a comprehensive server status page that shows real-time data about each server. By clicking on any server, you can see detailed statistics, including historical bandwidth graphs, available codes, and even latency between that server and others. Given how uncommon it is in the VPN industry, I applaud AirVPN for giving its users complete server transparency.
Security — Impenetrable Protection at a Great Price
If you want complete command over the safety of your network, you should look into AirVPN's more advanced features because they are sure to pique your interest. The security structure is fully customizable, with strong configuration options and sufficient safety measures.
The security features of AirVPN include:
Military-grade encryption – On the OpenVPN control channel, AirVPN employs AES-256 GCM encryption with 4096-bit RSA keys and HMAC SHA384. The widely-used AES cipher is replaced by the supposedly three-times-faster CHACHA20-POLY1305 cipher on the WireGuard channel. With perfect forward secrecy, the encryption key is rotated every 60 minutes to prevent data from being decrypted using an old key.
Two solid protocols – AirVPN supports both the OpenVPN and Wireguard protocols. AirVPN supports running OpenVPN over TCP port 443 to bypass VPN blockers, and you can even encrypt OpenVPN protocols with SSL to avoid deep packet inspections. Wrapping a code in SSL makes it appear as regular traffic, enabling you to access content in countries with firewall restrictions.
Network lock (kill switch) – This feature will automatically disconnect you from the internet in the event that there is a disruption to your network connection. The kill switch, along with all of the other features, can be configured to your exact specifications. There are options for blocking incoming and outgoing traffic, allowing certain IP addresses to bypass the kill switch, or allowing some types of traffic, like DNS queries, to continue using the network.
Tor Integration – The app also incorporates Tor Browser, which provides an additional layer of privacy and allows you to browse the internet anonymously. You have the option of configuring Tor over a VPN or VPN over Tor, depending on your preference.
Split Tunneling – With this feature, you can specify which connections should use the secure VPN tunnel and which should bypass it. It's ideal for activities that require a lot of bandwidth but are relatively safe, such as streaming and gaming.
Given the extensive security features offered by AirVPN, I have little reason to doubt the safety of its servers, and I successfully tested many of them to confirm this to be the case. After I had successfully established a connection, I went to ipleak.net to perform the necessary leak tests. As is obvious from the results presented below, AirVPN did not exhibit even the slightest sign of an IP or DNS leaking at any point during my tests.
I experienced no DNS leak problems even without enabling the Network Lock feature. The client effectively blocks IPv6 and WebRTC leaks when Network Lock is enabled. Additionally, AirVPN proves to be quite dependable, as I seldom encounter VPN disconnections while using it.
Privacy — No Logs, No Worries
AirVPN is perfect for anyone who values privacy and wants to keep as much of their online activity under wraps as possible. As per the company's policy, no records of user activity, session lengths, connection timestamps, originating IP addresses, or VPN IP addresses, are kept. That's the sort of reassurance you should expect from your VPN provider.
The company does, however, collect some necessary technical information to set up and maintain your VPN connection. These details are only kept in RAM for the duration of the session and are never written to disk or any other permanent storage. Data is handled entirely by automated systems and deleted as soon as it is no longer needed to fulfill its original purpose.

Creating an account with AirVPN doesn't even necessitate a working email address. So long as the email address follows standard email address format, a temporary email address can still be used. According to its privacy policy, AirVPN deletes all payment notifications it receives so that it does not store any of your personal information. It is also worth mentioning that AirVPN maintains its own DNS servers, thus keeping your personal information safe by limiting the parties that your data has to go through.
The fact that AirVPN has its headquarters in Italy and is a member of the 9-14 Eyes Alliance, a network of intelligence-sharing nations, is cause for concern. The company, however, has made it clear that the service is subject to EU law, contrary to the 14-Eye agreement. Regardless of future data retention laws, AirVPN will not have any personally identifiable information to disclose since it doesn't log anything.
Torrenting — Supported
AirVPN allows torrenting and other P2P file sharing with no throttling or bandwidth limits. The VPN's inclusion of a kill switch and leak protection makes it a safe and secure choice for torrenters. Advanced torrenters will also appreciate AirVPN's port forwarding, which supports up to 20 simultaneous port connections.
Just bear in mind that sharing content that is copyrighted is typically prohibited. Even if you're hiding your IP address behind a VPN, you could still face legal consequences for torrenting non-public domain content.
Does AirVPN Work in China? Yes, With a Little Work
AirVPN support confirmed that there are a few manual configuration options to get the VPN working in China, like using separate entry and exit IP addresses. While TCP organizes your data before it transmits it, AirVPN's UDP helps ensure it won't take too long. Even though it's quick, it is still thorough when weeding out potential viruses or other compromising data between you and the servers or sites you use. On AirVPN forums, users have created detailed guides to assist you.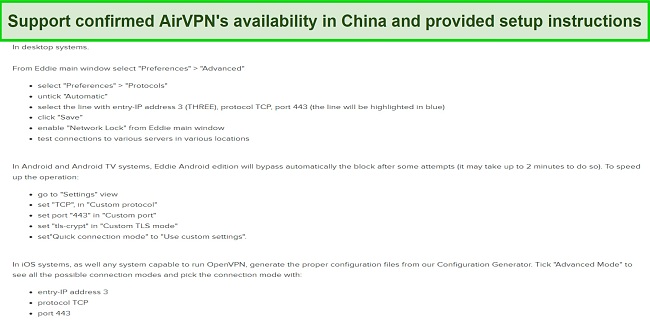 Beyond its ability to get past the Great Firewall of China, AirVPN has pretty good security and should provide fast speeds. Countries with internet censorship, such as Iran and Turkey, still don't seem to prevent AirVPN from working, thanks to its access to TOR and additional tunneling through SSH and SSL. Ensure you look at the available server locations as speed may be an issue if there are no local servers in your area.
Only a small number of VPNs are still operational in China because non-government-approved VPNs are forbidden there. Still, no one seems to have ever been fined for using them. China's government instead employs cutting-edge technological measures to prevent access.
Server Locations
Austria
Belgium
Brazil
Bulgaria
Canada
Czech Republic
Estonia
Germany
Ireland
Japan
Latvia
Netherlands
New Zealand
Norway
Romania
See all supported locations...
User Experience
- 7.0
/ 10
Simultaneous Device Connections — Up to 5 Devices
You can use your AirVPN account on up to 5 different gadgets at once. I'm constantly on the lookout for multi-device functionality because I need to be able to share networks with both my personal devices and those of my friends. From what I've seen, using AirVPN on multiple devices simultaneously doesn't slow down your connection or prevent you from watching videos online.
If you need to secure more than 5 devices at the same time, you might want to consider using Cyberghost instead. With 7 simultaneous connections, I never had any connection problems or slowdowns while using it on seven different devices at the same time.
Device Compatibility — All Major Platforms & Routers Are Supported
Cross-platform compatibility is one of AirVPN's most impressive features. The VPN platform works on Windows, macOS, Linux, Android, IOS (iPhone, iPad, and iPod), Routers (DD-WRT, Tomato, AsusWRT, and pfSense), ChromeOS, TOR anonymous browsers, and SSH and SSL Tunnels. When configured on a router, AirVPN can also be used with a wide variety of streaming devices and game consoles.
Compared to most VPNs, this VPN offers more Windows client applications. It provides different download options based on the Windows OS version, including XP, Vista, 7, 8, and 10. It will be very difficult to find a device that AirVPN does not support.
Setting up AirVPN on an iOS device is a little trickier than on Android, PC, or Mac. The client is not available here, so you will need to download the .ovpn files from the AirVPN website and install OpenVPN Connect software.
Ease of Setup & Installation — Simple Setup but Unintuitive
AirVPN is not an especially complex software to set up, but the service is geared more toward advanced users than beginners. There were multiple platforms for which the client "Eddie" could be downloaded, and I chose the Windows version. Following that, I followed the standard installation and setup steps and quickly had access to the client.
There was nothing particularly impressive about AirVPN's desktop interface. The app appeared outdated and unintuitive, and users who aren't proficient can easily become confused by its comprehensive customization options. Despite the mobile app appearing to be less complicated and more user-friendly than the desktop version, it lacks some features that could simplify navigation for beginners, such as explanations of the app's settings.
Upon launching the application, you will see a screen asking you to connect to the nearest and best server. Once connected, I could view the server's speed and toggle a network lock that would allow only the connections originating from the VPN to get through.
Steps to Installing AirVPN on Windows:
Get the Windows client. Visit the provider's website, then click the Windows logo to start downloading the installation file.

Run the installer. The setup wizard will guide you through the process step by step, so you won't have to worry about missing anything.
Login with your credentials. The application will launch automatically after installation is complete. Next, enter your login information to access the server and connection interface.

Establish connection. Be sure to select your preferred VPN server from the server list before connecting.
AirVPN offers support through FAQs, Email ticketing system, and extensive forums. I contacted AirVPN's customer support team as part of my evaluation of its customer service. I was astonished to get a response to my question just three minutes after sending it. While the email support team was polite and eager to help, their responses are often so technical that users who aren't experts in the field may have trouble following them.

The AirVPN support ticket system does not require you to provide a real email address as responses will populate on the site. If you do provide an email address, you will receive an email when your ticket is answered and the option to view the response directly on the AirVPN site.
Numerous official and unofficial guides covering all aspects of the VPN's setup, configuration, use, and troubleshooting can be found in the community forums. However, some of the more sophisticated terms may be beyond the comprehension of newcomers. Whether it's a member of the AirVPN community or a member of the AirVPN support team, someone is always on the message board ready to help you out.
How We Test Customer Support and Why Should You Care
We personally test the customer support team of every VPN we review. This means asking technical question through the live chat feature (where applicable) and measuring the response time for email questions. Whether you need to connect to a specific server, change your security protocol, or configure a VPN on your router, finding a VPN with quality customer support should be important to you.
With several affordable subscription plans, AirVPN makes for an attractive VPN service. You can choose between seven different plans, which differ based on the duration of your subscription. You will receive higher discounts when you sign up for a longer subscription period. You can, for example, save up to 60 percent of your total fee if you choose a three-year prepaid plan.
For simplicity, all plans are equipped with the same features. It's just a matter of choosing between different contract durations. The prices will show up in euros since AirVPN is based in Italy, but the European Central Bank will provide real-time exchange rates for overseas customers.
Paying for AirVPN is a breeze when you have so many payment methods. Apart from PayPal, you can use the 2Checkout payment processor that works independently and accepts payments made through MasterCard, Visa, Discover, American Express, JCB, PostePay, iDEAL, Diners Club, Maestro, Giropay, and wire transfer. Various cryptocurrencies like Bitcoin, Ethereum, Dash, Doge, Litecoin, Bitcoin Cash, and Monero are also accepted.
A free version isn't available, but a free trial can be arranged by contacting the company. It is valid for three days, and it includes access to all of the features of AirVPN. If you'd like to try out this VPN before purchasing it, but are unable to do so through a free trial, I recommend signing up for a cheap three-day subscription.
AirVPN also offers a 30-day money-back guarantee provided you haven't violated their terms of service. Refunds are usually processed to your bank within 2 business days with no questions asked.
AirVPN offers the following plans
Final Verdict
Using AirVPN gives you access to a fully functional VPN service that prioritizes your anonymity and security. Although it's designed for more experienced users, even newcomers can benefit from this service if they learn to bypass the unnecessary fluff and focus on the core features.
Thanks to a detailed server map and innovative routing servers, setting up the VPN and gaining access to your favorite sites is a breeze while being protected by various top-notch encryption algorithms. Furthermore, the service is operational in China, it allows torrenting, it has respectable download speeds, and it does not keep any logs that could be used to track you down.
While I highly recommend AirVPN, it is not without its flaws. Major drawbacks include a limited selection of servers and an inability to access geo-blocked streaming services. ExpressVPN is a significantly more reliable service all around when compared to AirVPN. While the interface is simple enough for first-time users to enjoy, advanced users will also have all of the functionality they need at their disposal. You can test ExpressVPN out completely risk-free as it's backed by a 30-day money-back guarantee — you can get a full refund if you don't like it.
FAQs About AirVPN
Is AirVPN good?
Yes, it is a strong competitor to some of the major VPN providers on the market
. The security features are excellent, and
the VPN even unlocks Netflix
and lets you torrent. Although the VPN is based in Italy, it doesn't mean it's unsafe as there are no leaks or security incidents.
Can I use AirVPN for free?
Yes, AirVPN offers a free trial. However, you'll have to send a message to AirVPN's support staff via their contact form to obtain it. Alternatively, you can try AirVPN for 3 days for €2 before committing to a longer subscription.
Free VPNs are generally not recommended due to their shady nature. If you are unable to sign up for AirVPN's free trial, or if the 3-day subscription is still too much, you may want to consider some other reliable free VPN options.
We rank vendors based on rigorous testing and research, but also take into account your feedback and our commercial agreements with providers. This page contains affiliate links.