Valid Net Nanny Coupon for June 2023: Save up to 30% Today
It seems like you're never more than a Google search away from finding a parental control coupon, that's probably how you ended up here. The tough part is knowing which coupons and deals are real, and which are just click-bait – making up a non-existent deal just to bring you on the website.
So that you can avoid fake risky coupons, I personally test each of the coupons to make sure that not only is the discount real, but still valid.
Currently, Net Nanny is offering a generous discount on all 3 of its premium packages, with savings up to 30%. All packages include a 14-day money-back guarantee, which gives you time to test the app on your kid's phones and tablets risk-free.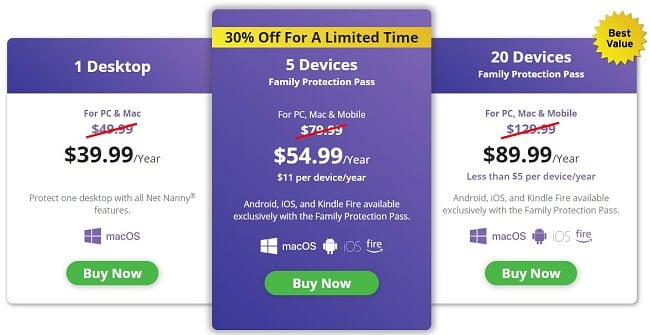 Deal 1: Get 30% discount on a 5-Device Family Protection Plan
This is the most popular plan for small to medium-sized families. As a parent, you'll be able to monitor up to 5 devices and pay just $11 per device.
Deal 2: Get 30% discount on a 20-Device Family Protection Plan
While it may seem like 20 devices is a lot, if you want to monitor smartphones, computers, and tablets you'll bypass the 5 device limit in no time. Even if you just want to monitor 6 or 7 devices, it makes sense to grab this deal now.
Deal 3: Get 20% discount on a Single Desktop Plan
If your kids don't have a smartphone or tablet, this is the deal for you. Net Nanny works on both Windows and Mac computers and can filter the web and allow you to set screen time limits.
Save 20% on Net Nanny Desktop Plan!
How to Use the Net Nanny Coupon
These Net Nanny coupons are easy to use. There is no need to copy down a coupon code, instead, I've found a hidden page on the Net Nanny website that automatically applies the discount.
Watch Out for Fake Net Nanny Coupons
It's a safe bet that if you see a headline screaming about a 95% Net Nanny discount, that it's a fake coupon. Just to be sure that we are offering the best coupons, I clicked on some of the ads, and, no surprise, the deals were either "expired" or I couldn't even find the coupon on the pages.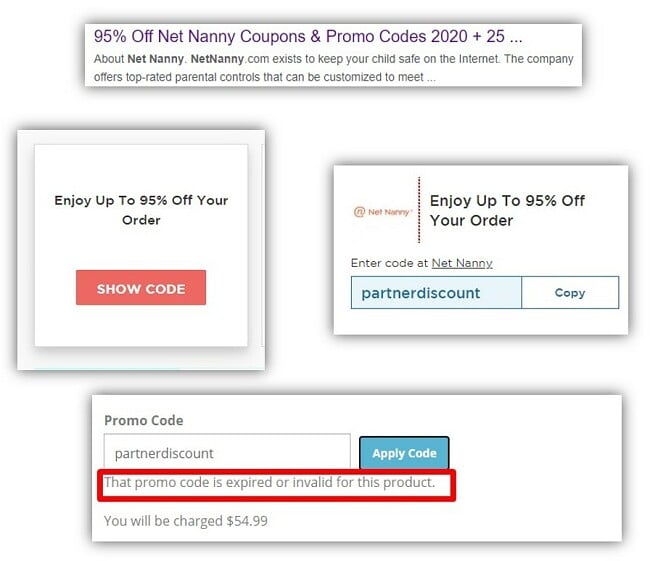 FAQ
?Is there an expiration date on Net Nanny coupons?
Yes! I often see great deals becoming unavailable, therefore, I wouldn't wait too long as the current discounts listed here are only for a limited time.
?Is there a free version of Net Nanny?
While there is no free version of Net Nanny, each package includes a 14-day money-back guarantee. This allows you to test out the web filters and parental control features before you commit to a long-term plan.
⚙️How do I set screen time limits with Net Nanny?
There are two ways to create screen time limits. Either use the schedule feature to create "restricted times" or set a daily usage limit. You can use both limitations tools at the same time, so the kids can have up to 2 hours per day, but regardless of whether they reached the limit or not, the device is paused at 6:00 for dinner or homework. For more details,
read my review of Net Nanny
here.
❓Does Net Nanny have YouTube Monitoring?
There is YouTube Monitoring with Net Nanny, but it only monitors the browser-based YouTube activity and not the app. To prevent kids from just using the app and bypassing all monitoring, you can block the kids from using the app, so they'll have to go through a browser.
Bottom Line
Net Nanny is one of the easier parental control apps I've tested. It has all the features responsible parents need to monitor their kids on both mobile devices and computers. From customizing the web filter to real-time location tracking, all the data is clearly displayed in the parent dashboard.
Use this hidden deals page to get the best deal for your family and stop worrying so much about what the kids are doing all the time. In addition to the deal, Net Nanny has a 14-day money-back guarantee, so you can test it out risk-free.