Bypass the NFL Blackouts & Save $169 with this Proven Hack
Last Updated by John Bennet on October 02, 2019
You don't need the DirecTV NFL Sunday Ticket in order to catch every game of the NFL season. Here are three easy steps to get the NFL Game Pass and bypass blacked out and geo-restricted games.
Get a Fast VPN with servers in India
Connect to servers in India and buy the NFL Game Pass for just 124.99 ( a savings of $169! Read on to see how)
At game time, connect to any non-US server and enjoy the game
For a more detailed description of this great hack, continue reading. To jump directly to our recommended VPNs click here.


Don't Sign a 2-Year Contract with DirecTV Just Yet
You might think that the only legal way to have access to every NFL game during the season is to subscribe to DirecTV and order the NFL Sunday Ticket. This will allow you to watch Every out of market game, plus the Red Zone channel. This package will require you to sign a contract for 24 months at $50.00 a month. During this season, there is no extra cost for the Sunday Ticket, but next season you would have to pay $293.94 ($73 a month during the 4 month season) on top of the regular $50 a month. If you live in an area or building that can't get DirecTV then you will have the option to buy just the NFL Sunday Ticket for $293.94. I don't know about you, but that seems like a lot of money to spend, even when we're talking about a league as exciting as the NFL.

We've worked out a way for you to save $124.99 by purchasing the NFL Game Pass with a VPN and avoiding DirecTV completely.
For past several seasons, the NFL has made every game available for fans outside of the US available through the NFL Game Pass app (In the States if you have the Game Pass you can watch replays and highlights, but no live games).
A VPN Will Save You Lots of Money
To get the Game Pass you will need a fast VPN that is ideal for streaming so that you can enjoy the game in HD. Once you've purchased a VPN can connect to a non-US server and then head over to the NFL Game Pass website and buy the package you want. Even if you don't live in the US you will want to use a VPN when buying Game Pass, because the price changes based on your location. When we had our VPN connected to a UK server the price was $179.99 (still cheaper than the NFL Sunday Ticket).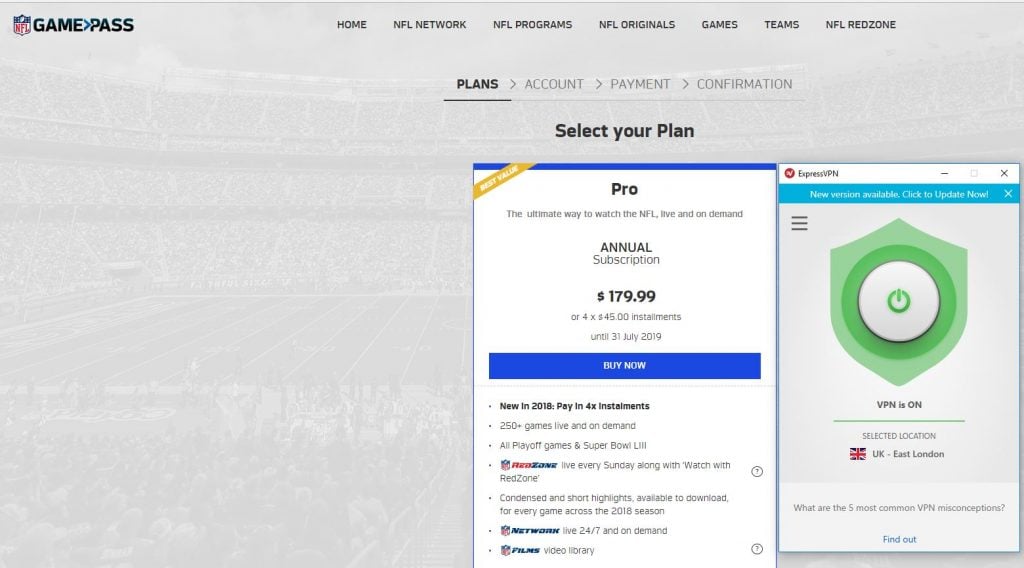 After changing to quite a few different locations we found the best deal while connected to a server in India – just $124.99 for the complete package – a whopping $169 savings! The website design in India is different than the European site and the package is called Season Plus instead of Pro, but other that everything is the same.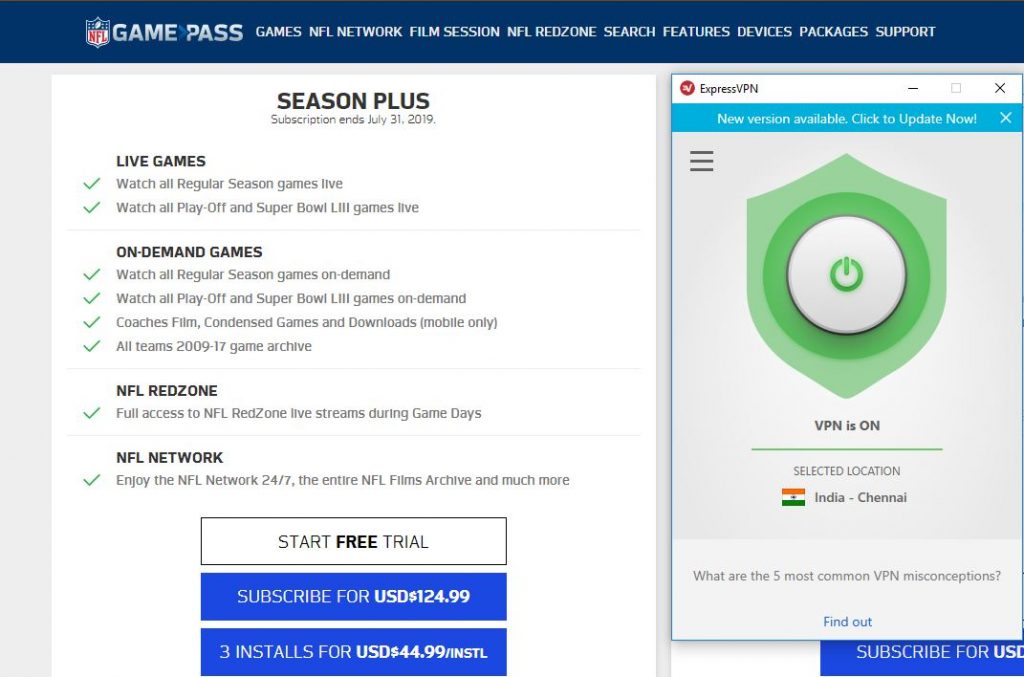 Top 3 VPNs for Buying Game Pass and Watching the NFL
If you are in the US you will need to have the VPN turned on while watching the game otherwise you won't be able to watch. This means you will need a VPN that has the following three features:
Fast Speeds
Bypasses Geo Restrictions
Server in India (to purchase the 124.99 package)
Here are our top 3 recommended VPNs for watching the non stop action of the NFL.
With great speeds and over 4,600 servers worldwide, including 13 in India, NordVPN is consistently one of the best VPNs that we've reviewed. You will barely notice a drop in your internet connection and watch every game live or on-demand in crystal clear HD. If you buy NordVPN before August 31 you can take advantage of their 3-year plan with a 70% discount, just $125.64 for three years.
ExpressVPN is a great choice for watching the NFL from anywhere in the world. Once you connect to their high speed servers you may forget that you are connected through a VPN. With several security protocols to choose from, you will remain anonymous and bypass any geo-restrictions that may try and block you. ExpressVPN comes with a 30-day money back guarantee, so if you aren't satisfied with the service after the first game, you can receive a full refund.
CyberGhost recently added hundreds of new servers that has really increased their speed and improved their streaming capabilities. The interface is easy to use, you don't have be a tech wizard to connect to the server in India and get the NFL Game Price at this ridiculous low price.