Tested 2022: NordVPN Works With Netflix US, UK & Other Countries
Last Updated by Kate Hawkins on January 01, 2022
I don't think it's fair that I'm restricted in the Netflix shows and movies I can watch, especially when I'm paying for a full subscription. Luckily, by using a VPN — I can access any Netflix library I want!
However, it's not always that simple. Most VPNs on the market claim to be able to access Netflix, but I test VPNs daily and many of them can't consistently bypass its strong VPN-detection technology.
I personally tested NordVPN with the most popular Netflix countries (including the US, UK, and Japan) and it works. That being said, ExpressVPN outperformed NordVPN so it's my top choice for Netflix. You don't have to take my word for it though. You can try ExpressVPN for yourself risk-free with its 30-day money-back guarantee.
Quick Guide: 3 Easy Steps to Use NordVPN With Netflix
Install NordVPN.
Connect to a server in the Netflix country you want to access.
Start watching your favorite shows and movies! All you have to do is sign in.
Server Test: NordVPN Unblocks 10 Out of 11 Global Netflix Libraries
I found that NordVPN could unblock the main Netflix libraries really easily (US, UK, and Canada) but it did have some trouble with other regions like France and India. However, the main libraries contain 90% of Netflix's exclusive content, so you won't have a problem finding popular shows and newly released movies. Here's a quick summary of my test results:
Summary of Netflix Countries Unblocked With NordVPN
Netflix US — 9 Out of 10 Servers Connected to Netflix in Under 3 Seconds
Servers that work to unblock Netflix US: #4185, #5078, #5080, #5082, #5083, #5085, #5087, #5135, #5601
Netflix US is known for having the largest content library, so I thought it would be extra difficult to access from abroad (as I've had issues connecting with other VPNs). I was surprised to find out that I could easily watch Netflix US with NordVPN. I watched several episodes of shows like The Good Place in HD-quality with no buffering at all.
NordVPN has over 1,500 servers in the US, so I couldn't test every single one. From the 10 servers I did test, I got the proxy error message once (with server #3903). When I contacted NordVPN's customer service team, they recommended using server #5077 and up as these servers don't fill up as fast as the others. When I tested this for myself, I found it to be true — all of the servers I tested connected in less than 3 seconds and started streaming instantly.
Netflix UK — Every Server I Tested Worked (With Varying Speeds)
Servers that work to unblock Netflix UK: #807, #1035, #1412, #1470, #1484, #1516, #1524, #1771, #1829, #1840
If you like British TV shows and movies, NordVPN can help you stream Netflix UK. I was able to watch shows like Sherlock from Netflix UK without seeing the error message even once. However, I did my testing from the UK, so this could be the reason I had such good results.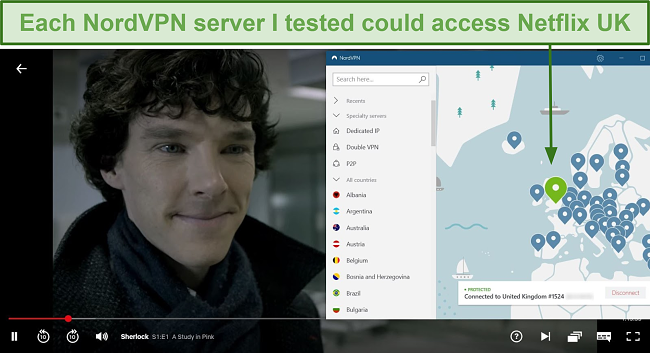 With some servers (#1771 and #1412), I did have to wait over 10 seconds for my show to load. Solving the problem was simple for me though. All I had to do was refresh the page and select my show from the library again.
Netflix UK has almost just as many options as Netflix US, so if you have any problems connecting to other Netflix libraries, I recommend trying this one.
Netflix Canada — 10 Out of 10 Servers Bypassed the Block
Servers that work to unblock Netflix Canada: #465, #489, #585, #605, #638, #688, #708, #715, #755, #924
Connecting to NordVPN's servers in Canada was simple — I bypassed the block and streamed with no buffering every single time I tried.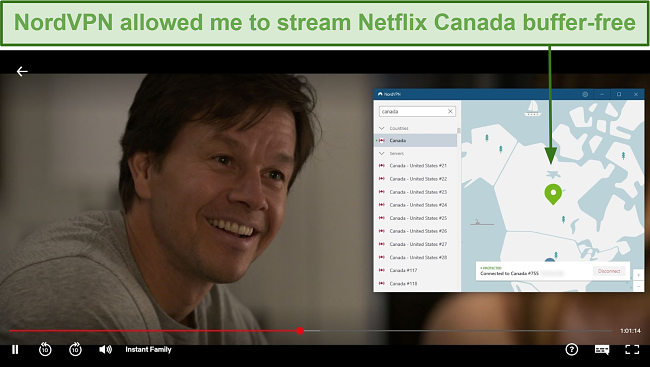 Although some servers (#489 and #708) took more than 8 seconds to connect, when I used NordVPN's "Quick connect" feature, my connection was almost instant. This is because NordVPN uses a "smart algorithm" to connect you to the best server for your needs.
Netflix Germany — 8 Out of 10 Servers Avoided the Error Message
Servers that work to unblock Netflix Germany: #416, #501, #504, #525, #580, #651, #717, #793
Compared to other European countries I tested, NordVPN's Germany servers worked well with Netflix. I was able to connect to the first server I chose randomly from the list and stream with less than 3 seconds of buffering.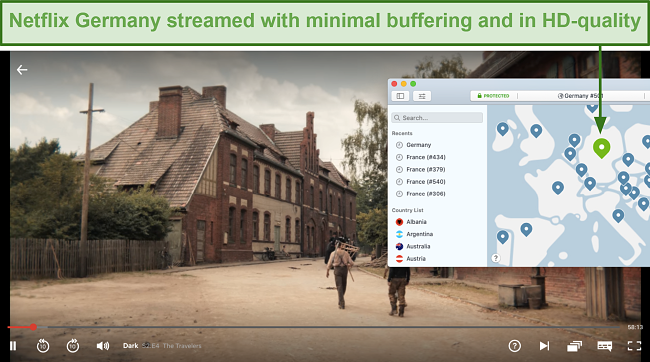 While testing Netflix Germany, I noticed less interruptions in general (compared to countries like France and Spain). I never had to wait more than 10 seconds to connect to a server or load Netflix.
Although I got the error message twice (with server #488 and #740), after clearing my cache like customer service recommended, I had no problem streaming popular series like Dark.
Netflix France — Only 3 Out of 20 Servers Tested Worked
Servers that work (sometimes) to unblock Netflix France: #288, #379, #414
Unfortunately, I experienced the most issues while testing Netflix France. Out of the 20 servers I tested, I could only successfully access Netflix from 3 of them. Server #414 was the fastest server of these 3, and it still took over 15 seconds to connect. Once connected, I could watch The Hook Up Plan (Plan Coeur) after 6 seconds of buffering.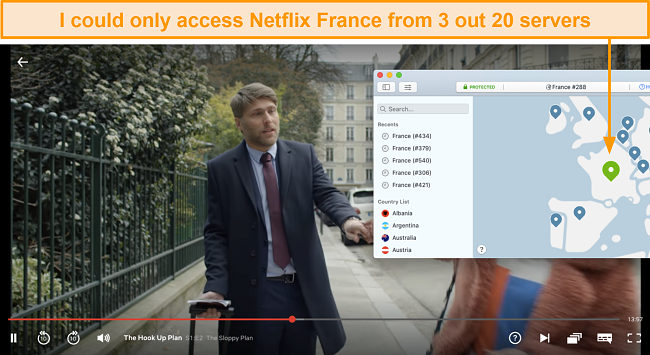 NordVPN does have 200+ servers in France for you to try so I'm sure you'll find more working servers. To save time, you can also check with customer support for alternative servers that work.
Netflix Italy — 6 Out of 8 Servers Worked Right Away (2 Redirected Me to Netflix US)
Servers that work to unblock Netflix Italy: #67, #88, #92, #104, #130, #149
Unlike my experience connecting to France, NordVPN connected me to Netflix Italy right away and it only took 5 seconds to load my content (on 6 out of 8 servers). My stream quality was HD the whole time I watched Arrivano i Prof.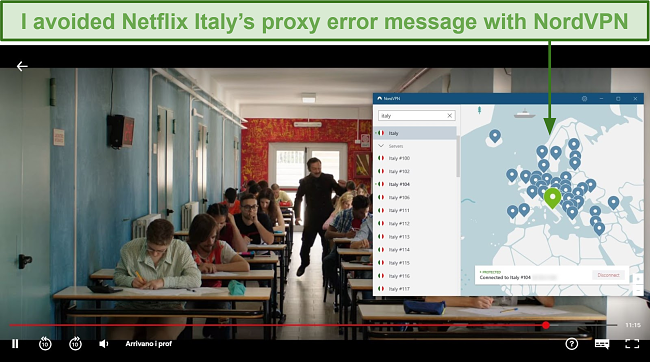 During my tests, 2 servers redirected me to Netflix US while I was trying to access Netflix Italy. This was surprising as NordVPN usually only redirects you to Netflix US when you try to access a Netflix country it doesn't claim to support (like South Korea). If this happens to you, simply refresh the page.
Netflix Netherlands — 8 Out of 10 Servers Connected to Netflix in Less Than 4 Seconds
Servers that work to unblock Netflix Netherlands: #576, #607, #611, #634, #677, #680, #705, #707
Similarly to Germany, connecting to Netflix Netherlands with NordVPN was easy. Some of the servers took a little longer to connect (4 seconds) — but once I got connected I could usually watch local shows and movies like The Untouchable with no interruptions.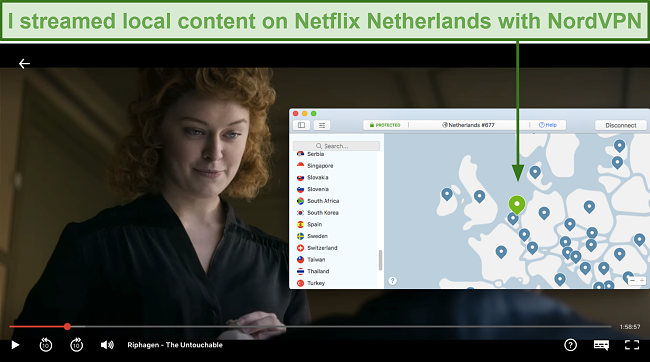 When the proxy error message popped up (this happened twice), all I had to do was refresh the page and click on what I wanted to watch again. Sometimes the movie took more than 5 seconds to buffer, but I didn't have any other issues.
Netflix Spain — 5 Out of 10 Servers Let Me Stream Without Interruptions
Servers that work (sometimes) to unblock Netflix Spain: #54, #109, #121, #123, #126
It was fairly difficult to connect to Spain as I had to try 5 different servers before I could stream Netflix. Luckily, server #126 let me stream trending shows like Money Heist without any interruptions.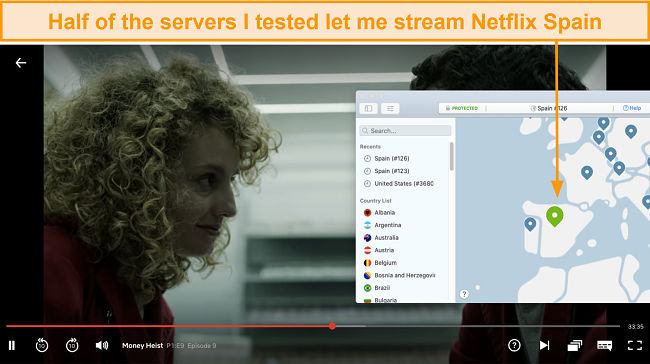 NordVPN bypassed the error message with half of the servers I tested
I tested 10 servers, but only half of them could avoid the error message. One of the servers I connected to (#75) allowed me to start watching Money Heist, but then the screen froze. Sadly, when I refreshed the page to try and fix the problem, I got the error message.
If you have trouble connecting to Netflix Spain, try finding your show or movie on Netflix US, UK, or Canada as they have way more content available.
Netflix India — Tested 12 Servers Before I Could Start Streaming
Servers that work (sometimes) to unblock Netflix India: #45, #47, #52, #56, #57, #62
India is the newest addition to NordVPN's list of supported Netflix countries. Just last week when I asked about connecting to India, I was told I'd be redirected to Netflix US. I tested the new arrival to see how it compared to other large Netflix libraries — and it was hard to find a server that worked. I tested just under half of the 29 servers before I could successfully stream The Sky Is Pink.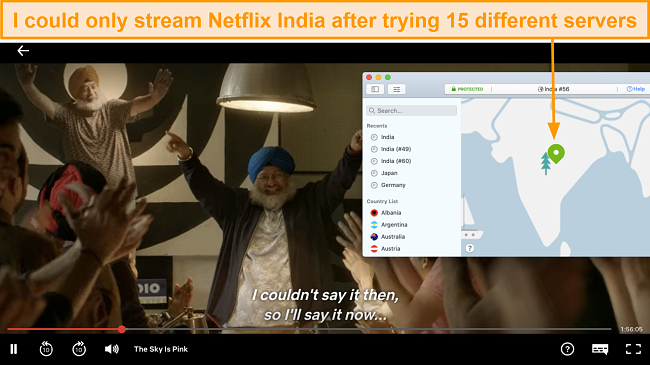 In the end, I could only stream with 6 of the servers I tested. When I was connected to server #48, I couldn't even open the Netflix page. With server #49, I started watching my movie, but after 5 minutes of streaming I got a "something went wrong" redirect message. As for server #60, it buffered for 30 seconds before I refreshed the page — after waiting another 30 seconds, I gave up and connected to a different server.
If you want to watch local Indian shows and movies on Netflix India, you'll likely have to try quite a few servers before you find one that works. You can also try connecting to one of the larger Netflix libraries (like Netflix UK) and see if it has what you're looking for.
Netflix Australia — 7 Out of 10 Servers Worked (But Speeds Weren't Reliable)
Servers that work to unblock Netflix Australia: #204, #309, #318, #415, #417, #431, #525
I was surprised that it was so painless to connect to Australia with NordVPN. Even though it's far from my location in the UK — 7 of the 10 servers I tested let me stream sitcoms like Brooklyn Nine-Nine. However, the initial load time took longer (15-25 seconds) and my video quality occasionally dropped to standard definition. In my experience, the video quality usually went back to HD-quality after around 10 seconds of buffering.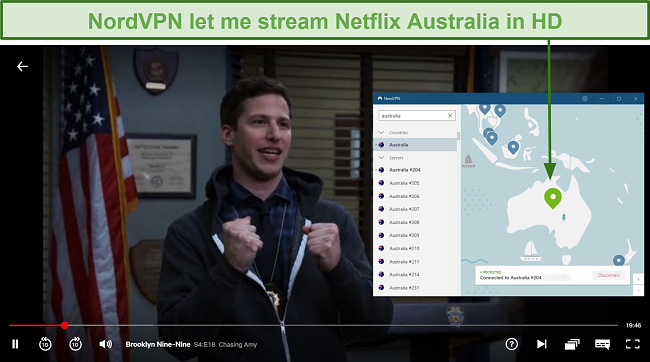 If you're in Asia and you want faster connection speeds and a variety of English content to choose from, this is a good option for you to try. Remember that servers closer to your location will usually offer faster streaming speeds (and higher quality as a result).
Netflix Japan — 7 Out of 10 Servers Let Me Stream Instantly
Servers that work to unblock Netflix Japan: #201, #247, #396, #508, #511, #513, #520
Netflix Japan is the perfect option for anime fans as it recently expanded its selection of anime titles. Just like Australia, connecting to Japan was simpler than I expected. For my tests, I tried to watch Cowboy Bebop. Almost every NordVPN server connected to Japan in less than 4 seconds. Once connected, I could stream with absolutely no buffering.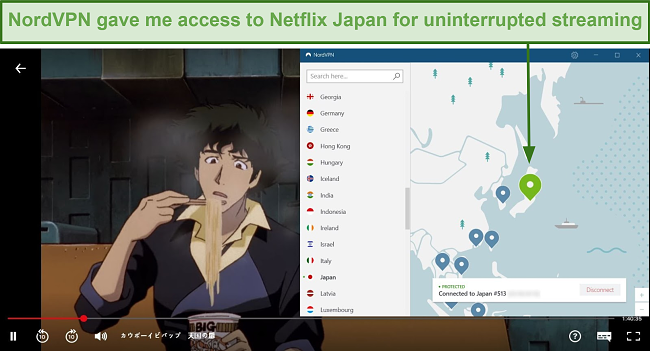 I only experienced minor issues with a couple of servers, but refreshing the page was enough to give me access to all the anime I wanted.
Speed Test: NordVPN is Fast Enough to Stream Netflix in Ultra HD (In All 11 Countries)
I ran speed tests on each server I connected to and included the average speed for each country in the table below. Netflix recommends a minimum of 25 Mbps for streaming in Ultra HD (4K) — and all of the servers I tested were nearly double this speed!
| | |
| --- | --- |
| Country | Average Speed |
| UK | 169Mbps |
| Germany | 140Mbps |
| Netherlands | 131Mbps |
| Italy | 128Mbps |
| Canada | 120Mbps |
| Spain | 118Mbps |
| US | 116Mbps |
| France | 115Mbps |
| Japan | 108Mbps |
| India | 72Mbps |
| Australia | 63Mbps |
I found that when I connected to servers far from my location in the UK, I experienced slower speeds. To get the fastest speeds, you should connect to a server in a country close to you.
4 Solutions to Try When NordVPN Is Not Working With Netflix
Out of all the VPNs I've ever tested with Netflix (over 100!), NordVPN can bypass Netflix's blocks. However, Netflix is constantly working to improve its VPN-detection technology, so there may be days when you get the proxy error message. That being said, I rarely saw this message when I used ExpressVPN to watch Netflix.
Pardon the interruption.
You seem to be using an unblocker or proxy. Please turn off any of these services and try again. For more help, visit netflix.com/proxy.
Error Code: M7111-5059
It's no big deal though — these are tried-and-tested solutions to get around the block and start streaming again. Even if you did everything on this list, it wouldn't take you more than 10 minutes to solve the problem.
1. Choose a Different Server
Netflix's detection technology might be good, but NordVPN has over 5,700 servers in 59 countries — so you'll always be able to find a server that gets around the Netflix blocks (unlike other VPNs which fail consistently).
Close Netflix.
Type the country name into the search bar and double-click to connect to the fastest server.

Reopen Netflix and load the show or movie you want to stream.
2. Clear Your Cache
Sometimes Netflix is able to detect your true location because of information stored in your browser's cache. To prevent this from happening, clear your default browser's cache and cookies before you connect to a server in a Netflilx country.
On your mobile device, you can clear your browser cache or the cache of individual apps in "storage" — these steps will differ depending on your device.
If you're on your desktop or laptop, you can open "Advanced Settings" and clear your cache that way. As most of us browse with Google Chrome (and I struggled to clear my cache on my own), I've included the steps below.
How to Clear Your Cache on Google Chrome
Open Google Chrome and click the 3 dots in the right-hand corner. Select "More Tools" from the list and then click on "Clear Browsing Data."

Clear your cookies and other data from the last 24 hours.

Connect to a NordVPN server in a Netflix country, load Netflix, and try again.
3. Disable NordVPN's CyberSec Feature
Although CyberSec is great for blocking ads, malware, and malicious websites — but it could be the reason you're getting the error message. When you enable CyberSec, your traffic is routed through DNS servers, which can sometimes be easier for Netflix to detect as VPN servers. While I don't recommend permanently disabling this feature, NordVPN's other safety features will protect you while you stream Netflix.
Open the NordVPN app.
Click on the 3 horizontal lines to open "Preferences."
Untick the box next to CyberSec to disable it.
4. Contact Customer Support
If you've tried everything on this list and you're still getting the error message, contact customer support by live chat or email (they're available 24/7). I've used live chat many times and the support team is always friendly, responsive, and helpful.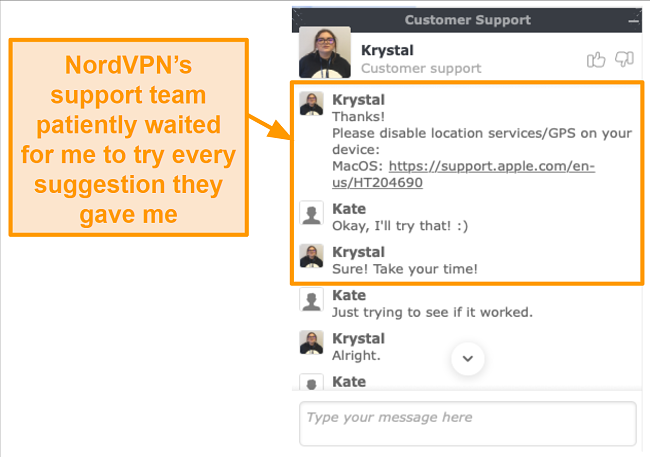 Common FAQs: NordVPN and Netflix
Will Netflix ban my account if I use a VPN?
No, Netflix won't ban your account. Its Terms of Use don't specifically mention VPNs — so you don't have to worry about encountering any issues for using one.
Netflix's Terms of Use
"You may view the Netflix content primarily within the country in which you have established your account and only in geographic locations where we offer our service and have licensed such content."
The reason Netflix doesn't want you to use a VPN is because copyright holders sell its country-specific distribution rights.
Can I use a free VPN to watch Netflix anywhere?
The short answer is yes — there are some free VPNs you can try with Netflix. However, even premium VPNs sometimes have issues avoiding the error message. Free VPNs usually don't have the technology to consistently access Netflix, which means finding a server that works will be a hassle.
Can I watch Netflix with NordVPN on my Android TV?
Yes — and the NordVPN app is easy to install! In the past, I had to install NordVPN on my Android TV through my router, but NordVPN recently came out with an app just for Android TV. I tested it on my own Samsung TV and completed the set up in less than 3 minutes.
How to Download NordVPN on Android TV (In Under 3 Minutes)
Open the Google Play store and search for NordVPN.
Download the NordVPN app and sign in to your account.
Connect to a server and start streaming Netflix!
Does NordVPN work with Netflix on Amazon Fire Stick?
Yes — but NordVPN only works with second-generation Amazon Fire Stick versions and later. Luckily, installation is a quick 3-step process.
3 Simple Steps to Set up NordVPN on Amazon Fire Stick
On the Fire Stick home screen, search for NordVPN and click "Get" to download the app.
Open the app and sign in to your account.
Connect to a server, open the Netflix app and start watching!
NordVPN supports all major devices and allows you to connect up to 6 at once. However, if you want to connect NordVPN to your Apple TV, Roku, Chromecast, or video game consoles — you'll have to install it through your router as these devices don't have built-in VPN functionality.
Can I use NordVPN to stream Netflix in China?
The short answer is no. Netflix is one of the many blocked websites in China, but NordVPN can't bypass the Great Firewall. Only the most powerful VPNs are capable of overcoming China's firewalls.
Which country has the best Netflix?
Netflix US, UK, Canada, and Australia are all great options for streaming a variety of content — they have the largest libraries of all the Netflix countries NordVPN supports. With NordVPN, you can change your Netflix location in 3 simple steps and access them all!
Netflix Country
Content Library Size
(Number of Shows and Movies)
Netflix US
5,900+
Netflix UK
5,700+
Netflix Canada
5,600+
Netflix Australia
5,300+
How does NordVPN avoid the Netflix proxy error message?
NordVPN's SmartPlay technology is the main reason it can bypass content blocks and access Netflix and other streaming services.
It combines the benefits of a VPN and a smart proxy, routing your internet connection to a server located in the Netflix region you want to access. This way, Netflix thinks you are in the right location and gives you access to the blocked content.
Connect to a Quality VPN and Unblock the Best Content on Netflix
NordVPN can get around Netflix's content blocks in multiple countries. However, it simply doesn't work as well as other VPNs (like ExpressVPN).
ExpressVPN has a 30-day money-back guarantee, so you can watch your favorite shows and movies on Netflix risk-free. If you're not satisfied, it's easy to get a "no questions asked" refund through 24/7 live chat.
---
Summary: These Are the Best VPNs for Netflix US in 2022
Top Choice