Tested: NordVPN with Netflix US, UK & Other Countries – Updated 2020
Last Updated by Bethany Chester on April 01, 2020
Update: After a recent Netflix update NordVPN Can't Access US Netflix on Android TV and Amazon Fire devices. We've contacted NordVPN for confirmation, they are aware of the situation and working on a solution.
Does NordVPN Work With Netflix?
While many VPNs have given up on trying to unblock Netflix, NordVPN is one of the few VPNs that I tested that can bypass the Netflix proxy error.
Our tests show that NordVPN can access Netflix content in seven countries; US, UK, Canada, France, Italy, Japan, and Germany. On top of that, I found that it is fast enough to stream Netflix in HD even from the other side of the world, whilst its SmartPlay feature and unlimited bandwidth make for seamless buffer-free streaming. Read on to see how NordVPN consistently succeeds in unblocking Netflix content.
Unblock Netflix with NordVPN now
Quick Guide: Unblock Netflix with NordVPN in 3 Easy Steps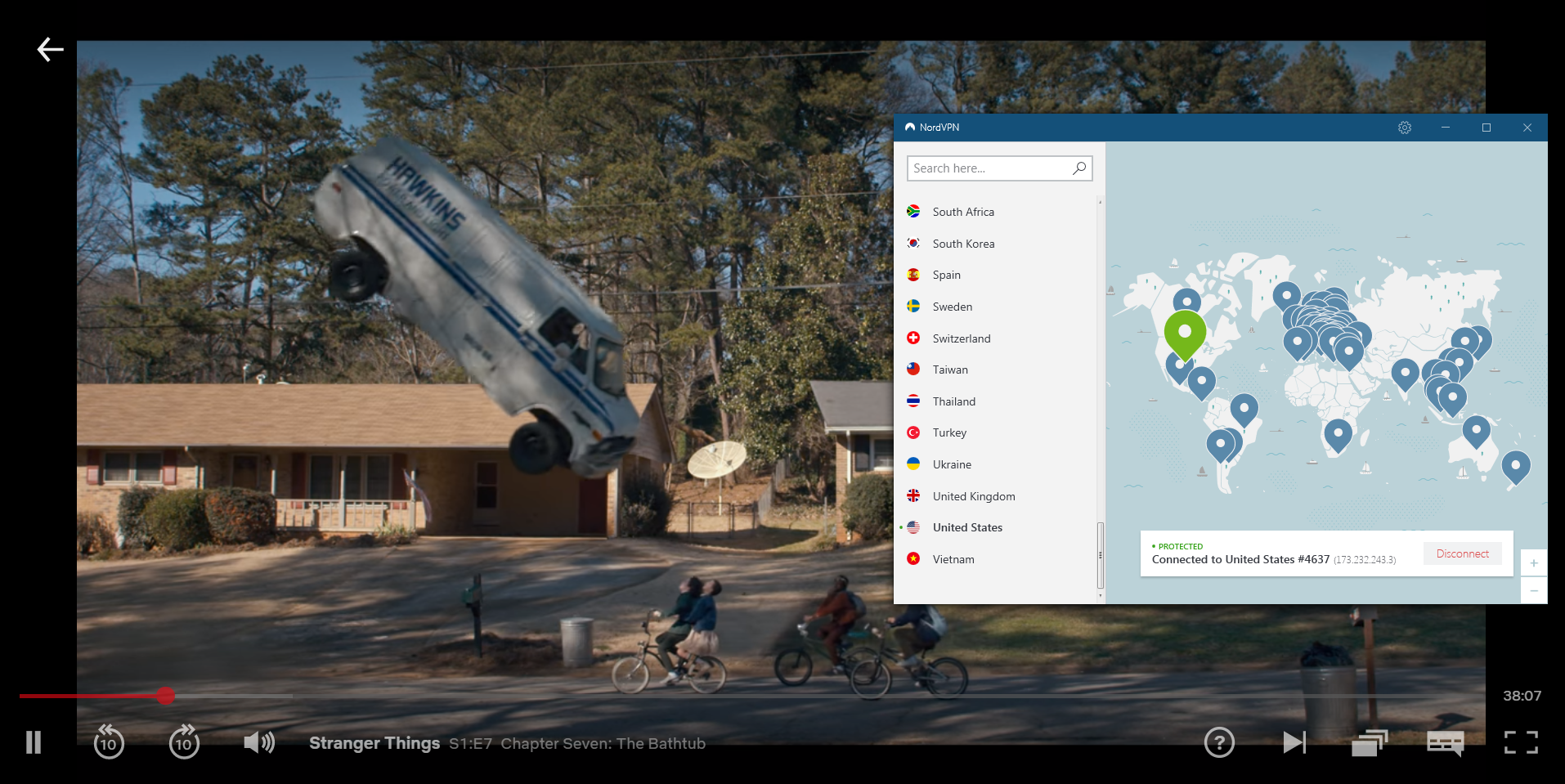 Get NordVPN. Take advantage of the deal on this hidden page and save 75%.
Connect with a server where you want to watch Netflix
Log in to Netflix and enjoy
Is NordVPN fast enough to watch Netflix in HD?
NordVPN may allow you to access Netflix, but will your connection be fast enough to stream it?
Here are Netflix's minimum speed requirements:
Ultra HD: 25 Mbps
HD: 5 Mbps
Standard: 3 Mbps
I tested NordVPN out to get an idea of server speeds in the countries with the largest Netflix libraries. These were the results. All tests were carried out in the UK.
USA: 38 Mbps
UK: 42 Mbps
Canada: 25 Mbps
France: 45 Mbps
Japan: 14 Mbps
Germany: 10 Mbps
Italy: 24 Mbps
For most countries, speeds were above the 25 Mbps required to watch Netflix in Ultra HD. However, in countries which were very far away (like Japan), speeds did sometimes drop below this. When I tested New Zealand (the country furthest away), the speed went down to 5.2 Mbps — but this was still fast enough to stream in regular HD and I was able to do so without buffering. So not only can you unblock Netflix with NordVPN, but the results from our speed tests show that the service is more than fast enough to stream content in high definition.
Stream Netflix in HD with NordVPN
Detailed guide to unblock Netflix with NordVPN
1. Buy a NordVPN subscription. The 3-year plan provides the best value:

2. Download the NordVPN app. It's available for Windows, Linux, macOS, Android, and iOS, as well as Chrome, and Firefox. Once the NordVPN app is installed, log in and connect to a server in your desired country. Use the Quick Connect button to automatically connect to the recommended server, or choose one manually from the list.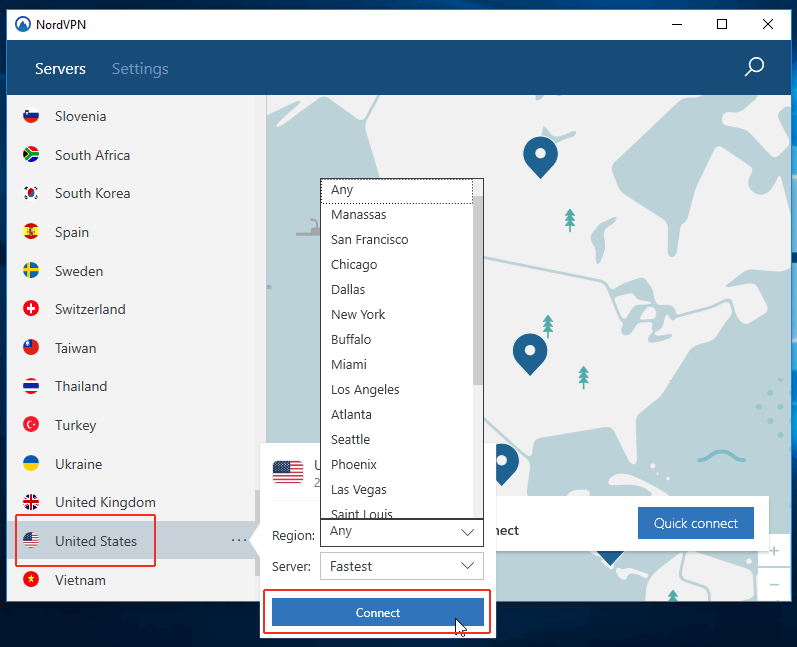 3. Then, all you have to do is go to the Netflix app or website and start streaming!
NordVPN's plans are already great value for money, but we're giving away a discount coupon to give you a bigger bang for your buck. Use our NordVPN coupon to get 75% off the 3-year plan, 66% off the 2-year plan, or 41% off the 1-year plan.
Get the NordVPN discount coupon here
I tested NordVPNs servers to see if they really work with Netflix
The method for my testing was fairly straightforward. I connected to servers in all seven countries that NordVPN claims to unblock and then I logged into my Netflix account. Testing was done on a Windows, Linux, Android, and iPhone. I used Unogs.com to confirm that I was really getting access to those countries Netflix content. One interesting that I found out is that if you connect with any server other than the UK, Canada, France, Italy, German, or Japan you will receive Netflix US.
I started out with Netflix US by testing three servers in the US, located in New York, Buffalo, and Chicago. All three US servers allowed us to stream The Nutcracker movie.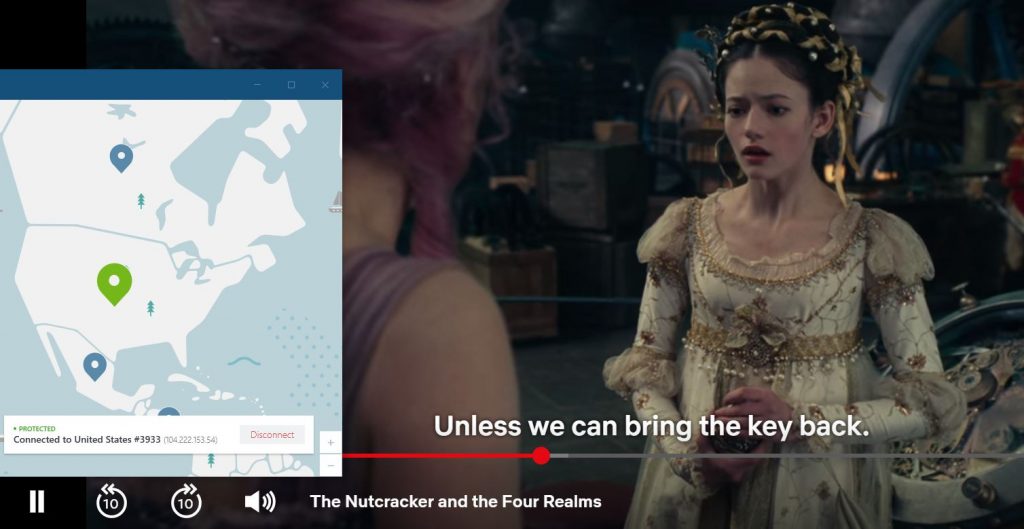 I was able to stream Netflix US
Next up was Canada. I saw the Instant Family movie is on Netflix Canada and I was able to stream it on all three servers that I tested it on.
This movie is only on Netflix Canada, but I was able to watch it with NordVPN
For the UK test, I wanted to watch Celebs Go Dating, which is exclusive to Netflix UK.
Netflix UK was no match for NordVPN
I was excited to test out the France servers because I've had issues connecting to Netflix France previous testing. I'm happy to update that those issues have been resolved and I was able to watch Huge in France on all three random servers I tested.
NordVPN has no trouble working with Netflix France
I had slow speeds when I connected with the German servers, and it showed in the quality of the stream as you can see in the screenshot below.
I tried watching a German documentary call Versicherungsvertreter 2
I continued my day of watching Netflix with a "trip" to Italy where I watched an Italian film called Una questione privata. All three servers I tested worked and maintained a fast enough speed so I could watch without any buffering or low-quality streams.
Watching an Italian movie on Netflix with NordVPN
The first Japanese server I tried didn't work and I encountered the Netflix proxy error. However, the next two allowed me to stream with no errors. I then retried the first server and found it was working, so it seems the error was just a temporary glitch.
Watching Billions on Netflix Japan
So we can conclude that the answer is yes — you can consistently and reliably unblock Netflix with NordVPN.
Start Watching Netflix with NordVPN Now!
Why is Netflix better with NordVPN?
The easy answer is that with NordVPN you can watch shows and movies that aren't available in your area. Additionally, there are a number of factors which make it convenient for users to unblock Netflix with NordVPN. These include:
1. A lower chance of being blocked
Due to the number of servers it has, NordVPN is one of the few VPNs which has been able to take on Netflix. Some VPN services have as few as 200 servers, and if Netflix detects hundreds of people using the same range of IP addresses, it knows they're using a VPN. Then, all Netflix has to do is block that range of IP addresses.
On the other hand, NordVPN has over 5700 servers spread across 62 countries, and it's adding more servers all the time. Any servers which are blocked by Netflix will quickly be replaced. This makes it difficult for Netflix to keep up with and block all NordVPN's servers, allowing users to access virtually any content they like.
2. Stream geo-blocked content undetected with SmartPlay
NordVPN has a built-in feature called SmartPlay to help you stream online content. This combines the features of a VPN with those of SmartDNS, which allows you to stream geo-blocked content by masking your IP address. SmartDNS doesn't provide any added security and requires some technical knowledge to set up, whereas SmartPlay is integrated into NordVPN and enabled by default — so you don't have to do anything extra to enjoy the benefits.
3. NordVPN's obfuscated servers help you remain invisible to Netflix
Netflix can sometimes detect when a user's traffic is encrypted, which can give away that they're using a VPN. But many of NordVPN's servers are obfuscated, meaning they hide the fact that the data is encrypted. This makes it look like ordinary traffic, so Netflix can't detect that you're using a VPN.
4. No speed throttling and unlimited bandwidth
Some ISPs restrict users' bandwidth in certain situations, like when a lot of data is being uploaded or downloaded. By keeping your activity private, NordVPN will prevent your ISP from slowing down your internet speed.
Unlike many VPNs, NordVPN also doesn't restrict your bandwidth, allowing you to stream as much as you like with no buffering.
5. No-logs policy
Most VPNs claim not to keep logs of user activity, but this isn't always true. However, NordVPN's no-logs policy is extremely strict, and it has even been independently audited to show that its claims are accurate. The company is also based outside of EU and US jurisdictions, so it has no legal obligation to collect any user data. That means you can be confident your activity will stay private.
6. Customer support available 24/7
If you do run into problems when trying to access Netflix, NordVPN's customer support team is available at all hours via the live chat feature on the website.
7. Use NordVPN on multiple devices
When you buy a NordVPN subscription, you can use your account on up to six devices, so you can stream Netflix on your phone, tablet, computer, and more.
8. 30-day money-back guarantee
With NordVPN, you have the option to be refunded within 30 days of purchase if you aren't satisfied with the service, so there's no risk involved.
Try NordVPN now with a 30-day money-back guarantee
So, which NordVPN servers work with Netflix?
NordVPN states on its website that all its servers allow you to watch Netflix. The results of our tests (discussed earlier) support this claim. To recap, we tested three servers each in seven different countries and found that they all allowed us to stream Netflix, with the temporary exception of one Japanese server.
To access US Netflix content, just connect to any of NordVPN's servers worldwide except for the United Kingdom, Canada, Japan, France, Germany, and Italy.
Tip: For better speeds, choose a server in the country closest to where you are streaming from. For example, if you want to watch US Netflix content from France, it would be better to connect to a server in Spain than one in the US. And if you do decide to connect to a US server, it's better to pick one on the east coast rather than one further west, since the east coast is closer.
To access content from Netflix Canada, Japan, Germany, UK, France, and Italy, simply connect to a NordVPN server in your chosen country.
Help! I'm using NordVPN but I still can't access Netflix!
If you're having problems accessing Netflix, try the following:
Clear your cache if you're on a computer, or restart the Netflix app if you're on a mobile device.
Restart the NordVPN application.
Set up the following DNS addresses on your device: 103.86.96.100 and 103.86.99.100. Tutorials can be found on the NordVPN website.
Restart the device.
If problems persist, you can try contacting customer support.
We contacted NordVPN's support team via live chat and they quickly confirmed that NordVPN does not currently support Netflix on TV devices nor Fire devices. It's an issue the team is trying to resolve, but as of now, no ETA has been announced.
Be aware that most smart TVs, video game consoles, AppleTV, Chromecast, and Roku do not support NordVPN's native app at this point in time.