7 Best Free + Safe VPNs to Download for Mac (Tested in 2021)
Last Updated by Chase Williams on May 01, 2021
There are a ton of free VPNs on the App store, but they can't all be trusted to keep your personal data or your Mac safe. Many free VPNs log or sell your data to advertisers for revenue, and a few have even been known to include malware, spyware, and phishing scams. This can put your information at serious risk — not to mention that a lot of VPNs don't have native apps for Mac, which can make installation a complicated process.
To save you time and reduce the risk of downloading a dangerous VPN, I tested 34 free services to find the fastest and safest options for your Mac. Every VPN on this list is operated by a trustworthy company, works on macOS 10.12 or later, and is 100% free.
There's a catch though — free VPNs have limitations like data caps, server restrictions, and restricted access to Netflix and other premium streaming sites. If you want a truly unrestricted VPN experience for a low monthly price, I recommend ExpressVPN. It has unlimited data, thousands of servers for streaming and torrenting, and high-quality encryption to protect your data and devices. Best of all, you can test ExpressVPN for yourself risk-free for 30 days and get a full refund if you're not satisfied.
Try ExpressVPN risk-free today!
Quick Guide: Best Free VPNs for macOS in 2021
7 Best (100% FREE) VPNs for Mac — Updated 2021
Key Features:
Unlimited data to stream, torrent, and browse as much as you want — no monthly caps
Military-grade encryption keeps your online activity anonymous
3000+ global servers for fast connections from anywhere in the world
Unblocks sites like Netflix, Hulu, Disney+, and Amazon Prime Video with ease
While it's not free upfront, ExpressVPN is the best VPN for Mac and has a 30-day money-back guarantee. This means you can test out ExpressVPN without any risk or commitment. If you're not satisfied, you have a full 30 days to claim a refund.
When I connected to ExpressVPN on my MacBook Pro, I was especially impressed by the blazing-fast speeds on its global servers. I ran speed tests on servers in the US, UK, Germany, and Australia — and my internet speed never dropped below 89 Mbps. This is more than fast enough for data-intensive activities on Mac, like streaming, torrenting, and gaming.
In fact, I easily unblocked Disney+ to watch the show The Mandalorian on every server I tested. I could stream an entire episode without being interrupted by buffering or lag.
With 3000+ servers in 94+ countries, it's easy to find a fast server near you. You don't have to manually scroll through ExpressVPN's entire server list either. Once you've selected a specific country, the Mac app automatically connects you to the fastest server when you click the giant power button. You can even save shortcuts to your favorite websites or apps on the ExpressVPN app's home screen. All you have to do is connect to a server and click on the shortcut icon.
Once connected, ExpressVPN secures your Mac's internet traffic with military-grade encryption, leak protection, and a kill switch. As an extra safeguard, the RAM-based servers completely wipe all user data with each reboot. These layers of protection keep your IP address hidden at all times, allowing you to remain anonymous online. In fact, ExpressVPN is one of the best VPNs for both online privacy and freedom (it even works in China!).
You don't have to take my word for it. It's completely risk-free to try ExpressVPN with the money-back guarantee for 30 days. Unlike other VPNs, ExpressVPN even has a "no questions asked" refund policy. This makes it quick and easy to use the money-back guarantee if you don't feel it's right for you. When I tested it myself, my refund was approved in less than 1 minute over live chat — and the money returned to my account in just 4 days.
Compatible with macOS: 10.9 (Mavericks), 10.10 (Yosemite), 10.11 (El Capitan), 10.12 (Sierra), 10.13 (High Sierra), 10.14 (Mojave), 10.15 (Catalina), and 11 (Big Sur).
ExpressVPN also works on: iOS, Windows, Android, Linux, Chromebook, Blackberry, Raspberry PI, Windows Phone, PlayStation, Xbox, Nintendo Switch, Amazon Fire TV, Amazon Fire Stick, Chromecast, routers, and smart TVs.
Try ExpressVPN for Mac risk-free
May 2021 Update! ExpressVPN has dropped prices for a limited time to a crazy $6.67 per month for the 1-year plan (you can save up to 49%) + 3 months free! This is a limited offer so be sure to grab it now before it's gone. See more information on this offer here.
Key Features:
Unlimited monthly data — no caps for streaming and browsing as much as you want
Guaranteed zero-logs privacy policy and no ads
1,000+ servers in Japan, Netherlands, and the US with decent speeds
No access to premium streaming services like Disney+
ProtonVPN provides unlimited data and reliable security features that are ideal for safely streaming on Netflix and YouTube — all for free with zero ads. This is particularly impressive as many free VPNs restrict data and keep advanced security features like ad blocking for paying customers. I was able to watch Netflix in HD quality with all the servers I tested without having to keep an eye on my data cap.
If you're a fan of the encrypted email service ProtonMail, you'll be happy to know that ProtonVPN was developed by the same team with a focus on privacy and security. All of your internet traffic is secured with military-grade encryption and none of your data is collected due to the strict no-logs policy. That said, you should be aware that ProtonVPN's Mac app only supports IKEv2 connections. Although IKEv2 is still quite secure, I would have liked to see OpenVPN support too, as it's a more trusted protocol.
When it comes to performance, the biggest downside is that you can only connect to servers in Japan, Netherlands, and the US on ProtonVPN's free plan. This is the smallest server network of any VPN on this list, and limits your options if you want to access content in other countries. I was also disappointed to find that ProtonVPN's free plan doesn't allow for simultaneous connections. If you want to use it on multiple devices, you'll need to upgrade to a ProtonVPN premium plan.
My speeds were also inconsistent when I tested each server. The Netherlands option was fastest at 45Mbps — but my speeds slowed to 29Mbps for the US and just 15Mbps for Japan. Since free users have the same choices to connect to, it's likely that servers are overcrowded so speeds will be slower.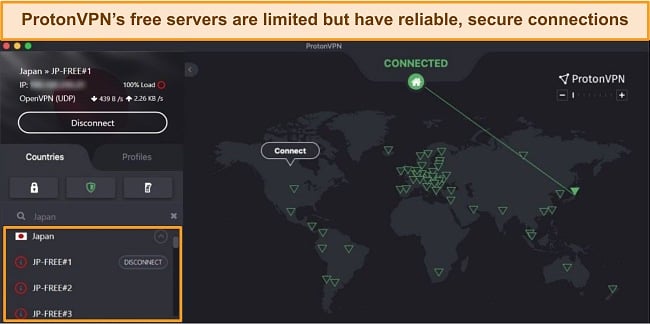 While I expected customer service to be slow for free users, I was satisfied with ProtonVPN's detailed and friendly response. When I emailed ProtonVPN to confirm which servers were available on the free plan, I received a response just 7 hours later.
Every free user automatically gets a 7-day risk-free trial of the paid plan. The app reverts back to the free version afterward with many premium features now off-limits. I felt frustrated by the limitations of the unpaid plan, though its macOS app was very user-friendly with a clean layout.
To sign up for a free ProtonVPN account, all you need is an email address. No credit card information or other details are required.
Compatible with macOS: Sierra 10.12, High Sierra 10.13, Mojave 10.14, Catalina 10.15, and Big Sur 11.
ProtonVPN also works on: iOS, Windows, Android, Kodi, and Linux.
Key Features:
10GB monthly data cap — can stream, browse, and torrent
Never logs or records activity or identifiable data — zero ads
Servers in 70 countries providing fast speeds in Canada, Germany, Netherlands, and the US (East and West)
Successfully unblocks Netflix, Disney+, and other streaming platforms, but doesn't support torrenting
Hide.me offers 10GB of free data each month, which is more than enough for casual browsing, checking social media, and streaming on YouTube. With my 10GB, I connected to Netflix US and streamed several hours of movies and shows in both HD and SD (the latter is less data-intensive).
All of Hide.me's features are secured with the same advanced protection as the paid plan. This includes 256-bit AES encryption, a strict no-logs policy, and kill switch so there's no risk of your information being exposed. It also gives you access to multiple VPN protocols, including OpenVPN, which assures me that hide.me takes the security of its users seriously. Based in Malaysia, Hide.me isn't legally required to track and log its users' data either — another way it protects your online activity and anonymity.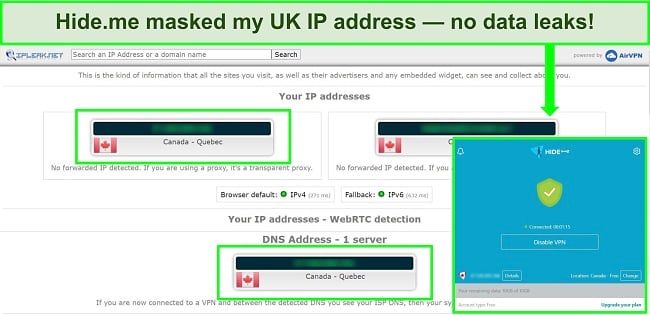 You can connect to servers in Canada, Germany, Netherlands, and the US (East and West) with Hide.me. While this is limited compared to a service like ExpressVPN, it gives you a range of servers to choose from based on your location.
My speeds were fast enough for basic, lag-free online activities during my tests, like browsing the internet and watching video clips. My fastest speeds were in Germany at 42Mbps and the Netherlands at 41Mbps, both of which are closest to my physical location in the UK. My slowest speeds were with the US West server at 29Mbps and Canada at 31Mbps. It's worth noting that Hide.me supports P2P file-sharing for torrenting within your data cap, though your speeds may be slow.
Hide.me claims to offer 24/7 customer support for both free and paid users, but this is misleading. You can only contact Hide.me through an email ticket system. It only took 3 hours before I got a helpful and informative response that fully answered my question. This is fast for a free VPN so I don't have any complaints.
The Mac app is basic but very simple to use. You don't even need to register — just download the app to instantly use Hide.me for free. Your complimentary plan will expire after 30 days but you can keep renewing it as often as you like.
Compatible with macOS: Catalina 10.15 and Big Sur 11.
Hide.me also works on: iOS, Windows, Linux, Chrome, and Firefox.
Key Features:
500MB monthly data allowance
Military-grade encryption secures your internet traffic
23 server countries, but slowest connection speeds
Limited streaming and torrenting due to data restrictions
TunnelBear's macOS app may have a playful bear theme but don't underestimate this free VPN's security features. Owned by cybersecurity company McAfee, TunnelBear uses military-grade protocols to encrypt your traffic and secure your private data when you're online. It also uses the OpenVPN protocol on macOS, which in addition to being open source offers faster, more secure connections than legacy protocols.
Even though the provider is owned by a US company and based in Canada (both in the Five Eyes Alliance), TunnelBear has a strict no-logs policy. None of your online history or data is tracked or stored, so you're completely anonymous. I was also pleased to see that TunnelBear is capable of bypassing the Great Firewall of China with its GhostBear Mode, which makes your encrypted data look like non-VPN traffic.
Despite being limited to 500MB of data per month, TunnelBear easily connected to Netflix in the US and the UK without being detected. However, I couldn't watch anything with such limited data.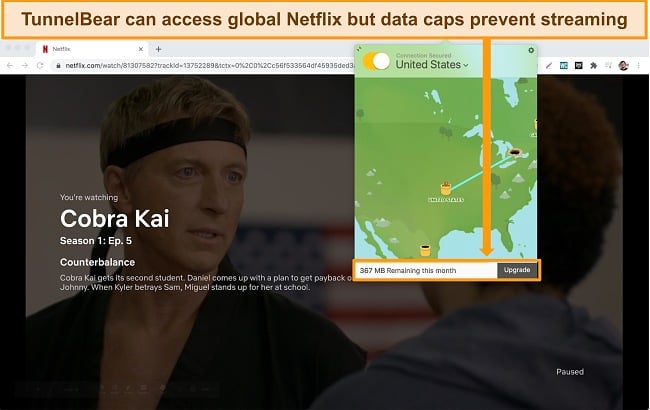 If you want more data to regularly stream, torrent, or download large files, you need to upgrade to TunnelBear's paid plan. However, I found this is enough for light online browsing (as long as you avoid loading pages with images and videos).
The biggest downside to TunnelBear is that my speeds were the slowest out of every VPN on the list. During testing, Australia was the slowest at 11Mbps, with the US slightly faster at 15Mbps and Germany at 14Mbps. The UK server was the best with speeds of 20Mbps.
Fortunately, downloading and installing TunnelBear is much faster — it only takes a few minutes to get the service for free on your Mac. You can sign up for TunnelBear with your name and email address only — no credit card required.
Compatible with macOS: Sierra 10.12, High Sierra 10.13, Mojave 10.14, Catalina 10.15, and Big Sur 11.
TunnelBear also works on: iOS, Windows, Android, Linux, Chrome, Firefox, and Opera.
Key Features:
500MB daily data allowance (15GB monthly)
Zero-logs policy for personal data but does share location with third parties
1 server in the US — fast connection speeds worldwide
Blocks access to streaming services
While you get 15GB of free data every month with Hotspot Shield, it's restricted to a maximum of 500MB per day. The 500MB daily allowance does run out quickly, so it's not ideal for streaming or downloading (just running a speed test used 200MB!). However, for day-to-day browsing and banking online, I found Hotspot Shield effective at protecting my data security.
I suggest using Hotspot Shield as an extra layer of security when connecting to public WiFi or unsecured networks, rather than as your primary VPN service. If you're concerned about online privacy, Hotspot Shield's privacy policy states that it doesn't log any of your personal data or activity. Your IP address information is deleted when you disconnect from the service. Unfortunately, like with most free VPNs, you'll have to deal with ads on its free plan.
Hotspot Shield's best feature is it's impressively fast for free Mac users, despite offering a single virtual US location. I dug a little deeper and discovered that Hotspot Shield uses a unique protocol called Catapult Hydra that's designed to improve connection speeds and reduce latency.
I ran a speed test using Ookla from my home in the UK and reached speeds of almost 103Mbps when connected to the US server. I expected Hotspot Shield to limit speeds for free users so I'm impressed that it was similar to my regular internet speeds. That said, I would like to see Hotspot Shield support additional VPN protocols like OpenVPN, as you can't set it up on other platforms due to the use of its proprietary Catapult Hydra protocol.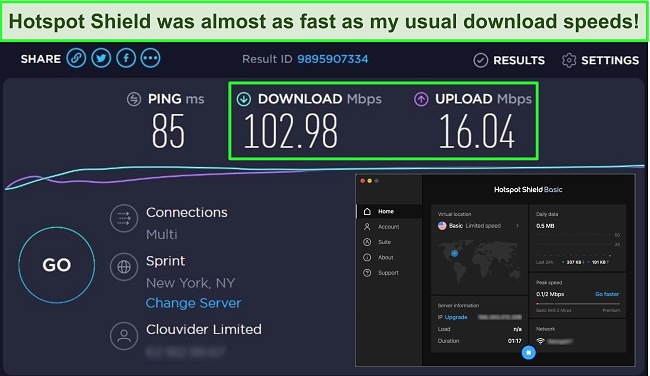 If you're looking for a free VPN that provides an extra layer of privacy on unsecured networks, Hotspot Shield is a good option. You can download the free app for macOS now to get started.
Compatible with macOS: Sierra 10.12, High Sierra 10.13, Mojave 10.14, Catalina 10.15, and Big Sur 11.
Hotspot Shield also works on: iOS, Windows, Android, Linux, Smart TVs, and routers.
Key Features:
2GB monthly data allowance
Logs some data but non-identifiable and never shared
Servers available in 38 countries — fast download speeds
Torrent-friendly for fast P2P downloads
Speedify's 2GB of monthly data is enough for light browsing, streaming, and torrenting. In my tests, I used Speedify to download a full-length HD movie (around 1.5GB) on my Mac in less than 15 minutes.
Much like Hotspot Shield, Speedify uses a proprietary protocol that it claims offers faster connections. While I was impressed with its performance, I don't like that Speedify lacks support for other protocols such as OpenVPN and Wireframe. There's no way to set it up manually through a third-party client, which limits you to only being able to use it within Speedify's official app.
I was concerned to discover that Speedify does track some user data, but felt better knowing that logged information is non-identifiable and never shared with third parties. Its Privacy Policy states that it only collects minimum details stored anonymously to improve your connection on PC or mobile.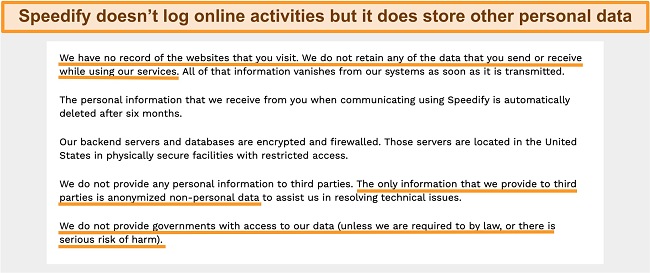 Unfortunately, the Speedify app for Mac doesn't have a kill switch. If the VPN encryption drops while you're torrenting, your true IP address may be at risk of being exposed. Another downside is the app, as Speedify isn't very user-friendly on Mac and I wasted a lot of time clicking unlabeled buttons.
I'm also glad that I could connect to BBC iPlayer and Disney+ in the US with ease — though Netflix and Amazon Prime Video both detected some of Speedify's servers and blocked their access. However, I was able to get past Netflix's restrictions using Speedify's US – New York server.
Although I found Speedify difficult to use, I was impressed that it was able to unblock Netflix, BBC iPlayer, and Disney+ in my tests. That said, using a VPN shouldn't be frustrating and you'll get a much more user-friendly experience if you use ExpressVPN and its easy-to-navigate Mac app.
Compatible with macOS: Sierra 10.12, High Sierra 10.13, Mojave 10.14, Catalina 10.15, and Big Sur 11.
Speedify also works on: iOS, Windows, Android, and Linux.
Key Features:
Up to 15GB of data to use with the free plan
Won't log identifying data but part of the Five Eyes Alliance
480+ global servers provide fast connection speeds
Struggles to unblock streaming sites like Netflix and Disney+
You can get 15GB of free data with Windscribe but you need to complete a few simple steps first. The free plan automatically comes with 2GB. You can upgrade to 10GB of monthly data by signing up with an email address. The last 5GB is available if you post about Windscribe on Twitter, which brings your data total to 15GB.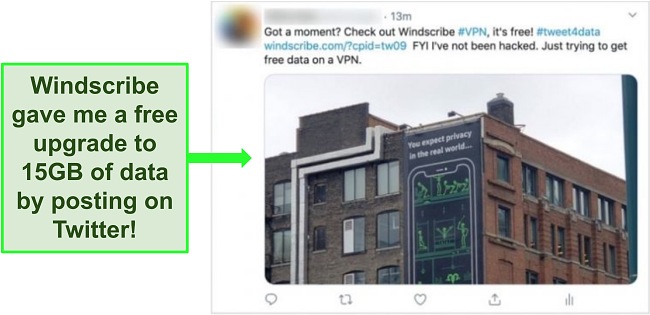 If you're concerned that Windscribe is subject to data retention laws and global intelligence-sharing alliances while based in Canada, you don't have to worry. Your personal details are safe as Windscribe has a real-time transparency report on its website proving that it has complied with exactly zero data requests.
Windscribe had fast speeds when I connected to servers in 60+ countries, including Canada, France, Hong Kong, the UK, and the US. Every server supports torrenting and is protected by 256-bit encryption. Windscribe lets you choose your VPN protocol. It selects IKEv2 by default but you can also select UDP and TCP OpenVPN or Windscribe's custom Stealth Mode, which is a good option if you're using it in restrictive countries like China. The issue here is that protocol configuration isn't available on the free plan, which means you'll have to upgrade to Windscribe Pro if you want to use it.
Even though Windscribe's free plan doesn't offer access to subscription-based streaming services, I still managed to unblock Netflix US on the Atlanta (Mountain) and New York (Empire) free servers.
Compatible with macOS: El Capitan 10.11, Sierra 10.12, High Sierra 10.13, Mojave 10.14, Catalina 10.15, and Big Sur 11.
Windscribe also works on: iOS, Windows, Android, and Linux.
The Hidden Risks of Free VPNs for Mac
While all of the free VPNs on my list are safe to use on your Mac, you need to be aware of the hidden dangers that free VPNs don't want you to know about.
1. Security and Privacy Risks
While some free VPNs rely on advertising to earn revenue, others collect your online activity to sell it to the highest bidder. This information may include:
Websites you've visited
Products you've purchased
Videos you've watched online
Your physical location (from your IP address)
This data is often sold to advertisers so they can bombard you with personalized ads. It could also be sold to governments, legal authorities, and even hackers, posing a serious security risk.
There's also a chance that the free VPN you download could be hiding malware. This can be hidden inside VPNs to steal your private data. You can be exposed to phishing scams, or your computer could get hijacked unless you pay a ransom. Downloading just any free Mac VPN isn't worth the risk to your security, especially when you can use a top-tier service like ExpressVPN risk-free for 30 days. It has military-grade encryption to protect your data.
2. Poor Performance Stops You From Streaming, Torrenting, and Browsing
Even the best free VPNs have limitations — services like Hotspot Shield deliberately block access to streaming sites to save bandwidth for its paying customers. Data caps mean you won't be able to stream, torrent, or browse as much as you want to. Limited server numbers can cause congestion, resulting in lag and delays. Overall, it's a frustrating experience that will cost you time and effort when you could be streaming your favorite show or downloading important files.
Using a free VPN might be fine for checking Google or social media, but you're likely to be disappointed for other online activities. To use the internet freely and securely, it's better to upgrade to a quality VPN service like ExpressVPN so you can get premium unlimited protection.
Avoid These Dangerous Free VPNs for Mac
To make sure you keep your Mac secure, don't download these VPNs:
Betternet — Sells your personal data to unverified third parties and is suspected of installing trackers and malware on user devices.
GOVPN — Claims to connect you to a VPN server, but your true IP address remains visible to all sites (and spies) online.
Hola VPN Free Proxy Unblocker — Zero servers, encryption, or privacy. It was even caught selling user information and bandwidth!
SuperVPN — Keeps connection logs, has concerning encryption levels, and is suspected of containing malware.
TurboVPN — Allows advertisers to add cookies to your browser to track your online activity and gather data.
VPNBook — Logs your IP address if you're even able to connect to its servers and customer support is not responsive to address concerns.
VPN Gate — Tracks and collects user data and is run by volunteers so anyone can spy on your online activity.
Secure your Mac with ExpressVPN
How I Tested the Best Free Mac VPNs
It can be tricky to choose which free VPN is the best, especially if you've never used one before. Here are the key features I looked for during my testing:
Data allowance — To avoid restricting yourself from streaming shows and movies, torrenting, or playing games.
Clear privacy policy — To know exactly what data they're collecting, as well as what they do with this information.
Global server network — Multiple global servers always give you an available server close to your location.
Fast speeds — Speed tests proved they were fast enough to stream videos, browse the internet, use social media, and download files.
Easy-to-use Mac app — User-friendly interfaces are easy to navigate without any technical knowledge.
I evaluated dozens of free Mac VPNs according to the criteria above — and that's why ExpressVPN is the #1 choice for unlimited data, top-notch security features, excellent speeds for streaming, and access to thousands of global servers. Although it isn't a free VPN, you can try ExpressVPN for yourself risk-free for 30 days using its money-back guarantee.
How to Download a VPN on Mac in 3 Easy Steps
Sign up for an account on ExpressVPN's website and download the VPN to your Mac.
Check your inbox for the confirmation email. Follow the instructions to set up your password.
Install and launch the VPN. Now you're ready to start using a VPN on your Mac!
Download ExpressVPN on Mac today
FAQ: Fast and Secure Free VPNs for Mac
What's the safest and fastest free VPN for Mac?
I tested and ranked the best free VPNs for Mac and while none of them are perfect, the top free option is ProtonVPN. It has unlimited data, a strict zero-logs policy to keep you securely connected, and zero ads. The only drawbacks to consider are that speeds can be inconsistent and you can only connect to servers located in Japan, the Netherlands, and the US.
If you want to use a VPN with no restrictions, the best option for Mac is ExpressVPN. You can try it risk-free using its 30-day money-back guarantee. Its military-grade encryption is ideal for privacy while browsing, banking, and online shopping. ExpressVPN also has fast speeds perfect for watching Netflix, Amazon Prime Video, Disney+, and more in UltraHD without any buffering.
What's the best free VPN to unblock Netflix on Mac?
To bypass Netflix's tough proxy detection, I'd suggest using ExpressVPN with its 30-day money-back guarantee. Its superior encryption can help you get around Netflix's detection technology to avoid the annoying proxy error message. This allows you to use ExpressVPN on your Mac risk-free for 30 days and watch as much Netflix as you want.
Most free VPNs block streaming services like Netflix, Disney+, and Amazon Prime Video to encourage you to upgrade to a premium plan instead. With this limitation, it's likely you won't be able to watch as much as you want even if you find a working server. It takes about 3GB of data to stream an hour of HD media and most free VPNs don't offer large data allowances. For unlimited streaming, you're better off using a premium VPN service.
Watch Netflix on Mac with ExpressVPN
Is there a good free VPN for torrenting on Mac?
For fully free torrenting, you should take a look at Hide.me. It supports P2P data transfers on all 5 servers, although you're limited to 10GB of monthly data usage.
If you don't want to deal with data limits, you can torrent with CyberGhost for free for 45 days with its money-back guarantee. It also offers dedicated P2P servers designed specifically for fast file-sharing without interruptions.
Why do I need a VPN for my Mac?
There's a popular myth that Macs are much more secure than Windows devices and aren't subject to cyberattacks. However, Macs have grown so popular that its users also get targeted from online threats and data theft. It's more important than ever to secure your Mac with a high-quality VPN that has the encryption, privacy, and speed needed to guarantee your online safety. The best way to protect your data is by using a VPN that also defends against malicious sites and services.
Secure your Mac with ExpressVPN
Which free VPNs work on macOS?
The free VPNs on this list support Sierra 10.12 or later. Earlier versions of Mac's OS aren't generally supported, although Windscribe has support available for OS X 10.11.
Can I use a VPN extension or app for Safari?
Unfortunately, there aren't any free (and 100% safe) VPN extensions or apps for Safari. However, the top free VPNs on this list are all compatible with Safari. When you're connected to a VPN server, this will automatically protect your Safari activity — so you don't need a separate app or extension to guarantee your security when you're online.
Several VPNs — like ExpressVPN, Hide.me, TunnelBear, and Hotspot Shield — have browser extensions available for Chrome and Firefox. This way, your browsing activity remains private without changing your overall Mac connection.
Can I use OpenVPN on Mac without a third-party VPN app?
Yes, but I don't recommend it. Many providers — including ExpressVPN — support the OpenVPN protocol and come with additional benefits like a kill switch and DNS leak protection. However, if you're rather not use third-party VPN software, you have a few options for manually configuring a VPN on your Mac:
Tunnelblick — Tunnelblick is a free, open source client that supports OpenVPN. In order to use it, you'll need access to a VPN server (either from another service provider or one provided by your company), as well as the OpenVPN configuration file (.ovpn) for the server(s) you wish to connect to. If you're technically proficient, you can also set up another computer or router to act as a VPN server.
The main issue with Tunnelblick is that it lacks the built-in protections provided by third-party VPN providers. Unless you set up tools like custom firewall rules or IP leak protection yourself, your internet traffic could be exposed.
Viscosity — Available for a one-time payment of $14 (though you can also try it free for 30 days), Viscosity is an intuitive VPN client that lets you establish fast and secure connections to external servers that run OpenVPN protocol. It's a great option if you're an advanced user and want to set up multiple VPN connections, but I'd avoid it if you're a relative newcomer and are looking for something a bit easier to use. It also doesn't have a kill switch, so your data may leak if your connection suddenly drops.
Protect Your Mac for Free With a Quality VPN
Finding a free VPN for Mac is more difficult than you'd think — very few are capable of providing you with enough data and many are downright dangerous to use. That's why I tested dozens of free Mac VPNs to find trustworthy services that protect your personal information online.
However, even the best free VPNs have restrictions. Weak security, small data allowances, fewer server options, slower speeds, and no access to streaming services like Netflix and BBC iPlayer are among those limitations. These restrictions can lead to a dangerous, frustrating, and time-consuming experience for you.
But don't take my word for it. You can try ExpressVPN for yourself for 30 days with its money-back guarantee. Its powerful security and encryption features protect your Mac when you're online. Its unlimited data lets you torrent and stream on Netflix, Disney+, Amazon Prime Video and more without bandwidth caps. Best of all, you really do get a full refund — I tested ExpressVPN's guarantee for myself and had my money back in less than a week.
Try ExpressVPN risk-free today!
---
Other Top VPNs That Work With Mac
Top Choice