6 Best (100% FREE) VPNs for Mac in 2021 (+Easy Setup Guides)
Last Updated by Chase Williams on February 17, 2021
As a proud MacBook user, I thought that finding a fast, reliable, and free VPN for Mac would be easy — but I was wrong.
Many free VPNs don't have native apps for Mac, which means you'll have to go through the complicated process of setting it up manually instead of a one-click download. Others are so slow you'll just want to uninstall it.
Most importantly, not every VPN on the App Store can be trusted — especially when it's free. I discovered that many free VPNs actually sell your personal data to advertisers in order to make money, which puts your privacy at serious risk.
To save you time and reduce the risk of you downloading a dangerous VPN, I tested dozens of free VPNs to find the fastest and safest options for Mac users. Every VPN on this list is operated by a trustworthy company, works on macOS and iOS, and is 100% free.
My top choice is NordVPN, which you can use for free for 30 days. I was so impressed by it, I actually signed up for a subscription for myself.
Quick Guide: Best Free (And Safe) Mac VPNs in 2021
Get the best free VPN for Mac!
6 Best Free VPNs for Mac (Updated 2021)
Unlimited data with fast speeds for bufferless streaming and torrenting
Dedicated apps for macOS and iOS
5400+ servers in 59 countries unblocks global content easily
Military-grade encryption, no-logs policy, and ad and malware blocker
Connects 6 devices at the same time
24/7 customer support on live chat
Cons:
Only free with the 30-day money-back guarantee
NordVPN is my top choice for Mac due to its premium features, including high-speed servers and tight security measures. You can only use NordVPN for free with its 30-day money-back guarantee, so it's a great option if you need a VPN for just a few weeks.
NordVPN has one of the biggest server networks with 5400+ servers in 59 countries. This ensures you'll always be able to connect to a fast server near your location. During my tests, I found this to be true as NordVPN offers consistently fast speeds on all its global servers. I got the best server speeds in the UK at 25.31 Mbps, followed by the US at 23.98 Mbps, Canada at 22.12 Mbps, and Japan at 18.74 Mbps.
I could even unblock streaming services like Netflix, Disney+, and BBC iPlayer. Netflix is actually one of the trickiest sites for VPNs to unblock — but I easily accessed Netflix US from my location in Turkey and streamed Parks and Recreation with nearly zero buffering. Since NordVPN offers unlimited data, I didn't even have to worry about using up precious bandwidth.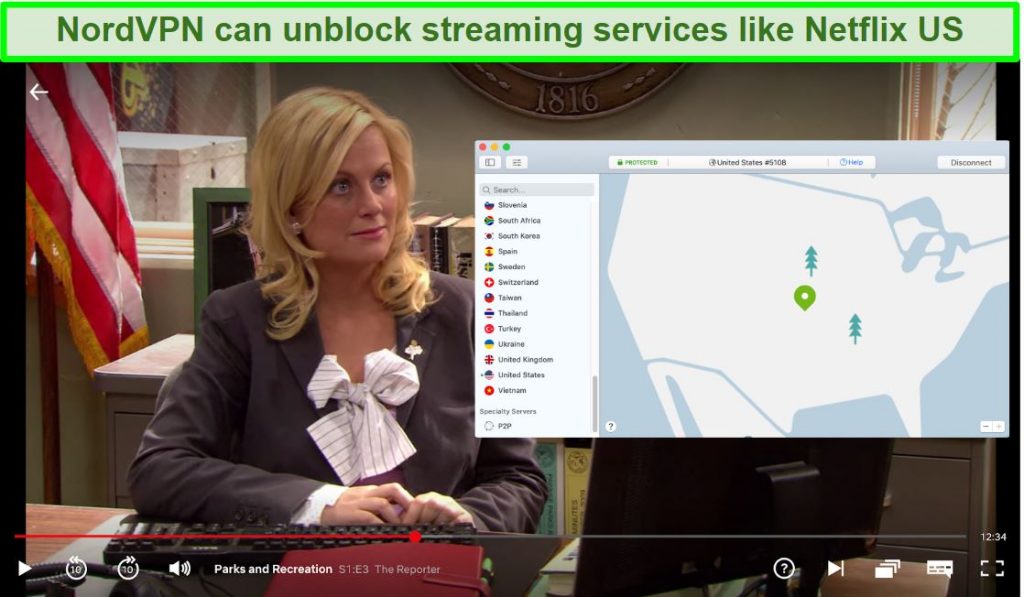 NordVPN will also keep your Mac safe when torrenting with 4,700+ servers dedicated to P2P file-sharing. You won't need to manually configure any settings either — just select a P2P server on the app to get a fast and secure connecting for torrenting.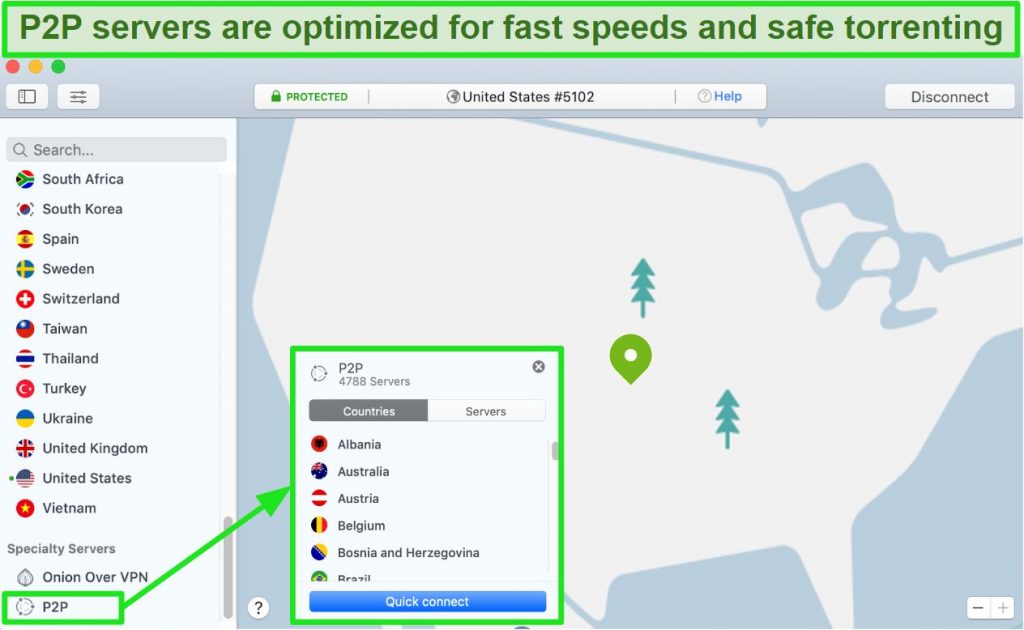 Military-grade encryption keeps your internet traffic secure and the strict no-logs policy prevents your data from being stored. If the VPN ever stops working, there's a kill switch that temporarily disconnects your internet so your activity always stays hidden. You can even block ads, malware, and trackers with the CyberSec feature. I used it to block ads on YouTube so I could stream with zero interruptions.
To ensure your Mac and other devices are always protected, NordVPN works on up to 6 devices at the same time. There's a dedicated app for iPhones, iPads, and Macs, and each app uses the same user-friendly interface. This makes it easy and seamless when switching between Apple devices.
To try NordVPN for free, don't forget to ask for a refund after you've signed up. I can promise you the 30-day money-back guarantee works as I've even tested it myself. It only took a few minutes to confirm the refund with a customer support representative on 24/7 live chat, and I got my money back within a week.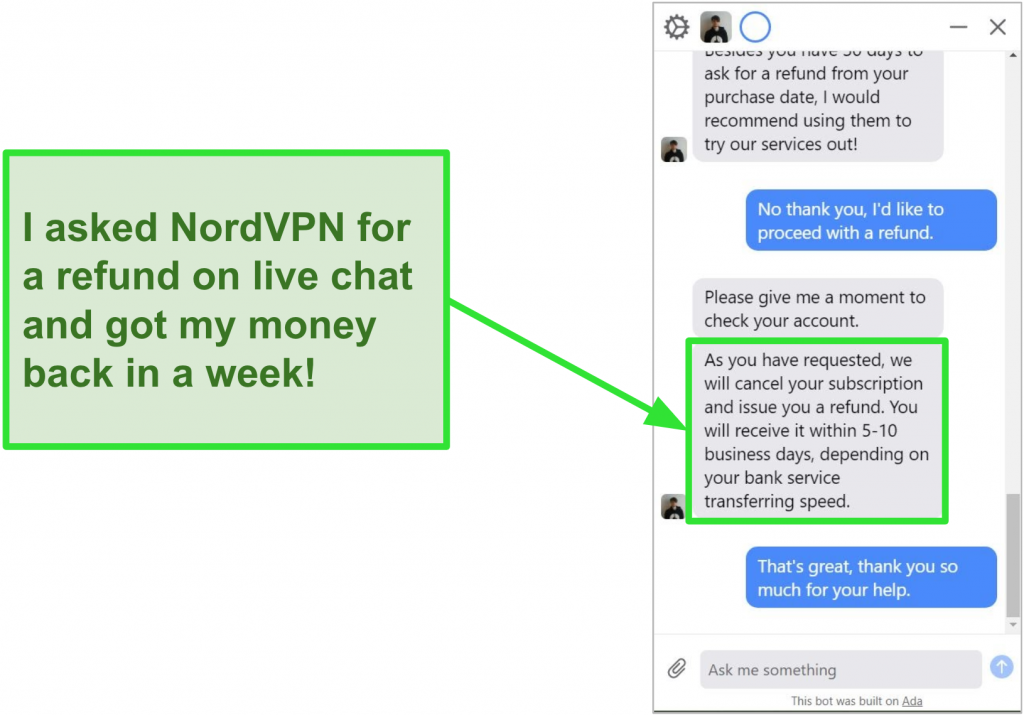 Compatible with macOS: 10.12 (Sierra), 10.13 (High Sierra), 10.14 (Mojave), and 10.15 (Catalina).
NordVPN also works on: iOS, Windows, Android, Linux, Chromebook, Blackberry, Raspberry PI, Windows Phone, Chromecast, Amazon Fire TV, Amazon Fire Stick, routers, and smart TVs.
Unlimited data allowance for online browsing
Native Mac, iPhone, and iPad apps
No-logs policy, zero ads, and AES-256 encryption
Customer support available on email
Based in Switzerland and outside the 14 Eyes Alliance
Cons:
Servers only available in 3 countries
Can't stream Netflix, Disney+, and more on the free plan
Supports a single device connection
No torrenting or P2P downloading
ProtonVPN provides unlimited data and powerful security features — all for free with zero ads. Is this too good to be true? Yes and no.
Your internet traffic is secured with military-grade encryption and none of your data is collected due to the strict no-logs policy. Even better, ProtonVPN is based in Switzerland, a country where mandatory data retention laws don't apply to VPNs. If you're a fan of encrypted email service ProtonMail, you'll also be happy to know that ProtonVPN was developed by the same team with a similar focus on privacy and security.
When it comes to performance, the biggest downside is that you can only connect to servers in the US, Netherlands, and Japan. This is the smallest server network on my list, and it limits your options if you want to access content in other countries.
My speeds were very inconsistent when I tested each country's servers. The Netherlands server was the fastest at 15.48 Mbps — but my speeds slowed down to 4.92 Mbps in the US and 4.45 Mbps in Japan. Since free users are all connecting to the same servers, it's highly likely that servers are overcrowded so speeds will slow down during peak times.


As with many free VPNs, you can expect customer service to be slow. I emailed ProtonVPN to confirm which servers were available on the free plan (I saw some discrepancies on the website), and received a response 7 hours later. However, I was still satisfied as the response was very detailed and friendly.
Every free user automatically gets a 7-day trial of the paid plan. The app reverts back to the free version afterwards with many premium features now off-limits. I did feel frustrated by the limitations of the free version once the trial was over, although the macOS app is very user-friendly with a clean layout.
To sign up for a free ProtonVPN account, all you need is an email address. No credit card information or other details required.
Compatible with macOS: 10.12 (Sierra), 10.13 (High Sierra), 10.14 (Mojave), and 10.15 (Catalina).
ProtonVPN also works on: iPhone, iPad, Windows, Linux, and Android.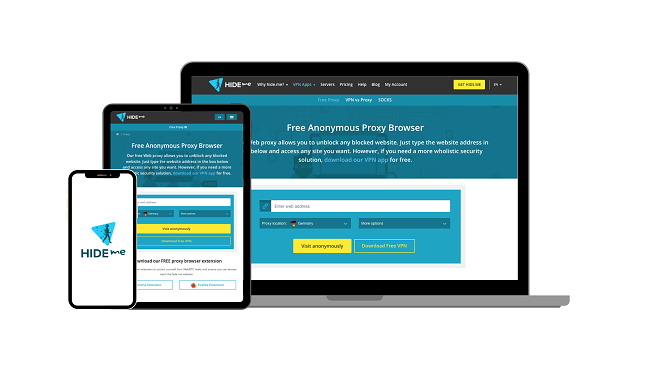 Pros:
10GB data allowance per month for browsing and torrenting
Dedicated apps for macOS and iOS
AES 256-bit encryption, kill switch, and zero-log policy
Customer support via email ticket system
Based in Malaysia and outside the 14 Eyes Alliance
Cons:
Only offers servers in 4 countries
Can't unblock Netflix, BBC iPlayer, and other streaming services
Supports only 1 device connection at a time
Hide.me offers 10GB of free data each month, which is an increase from the previous 2GB data allowance. The number of countries has also changed. You can now connect to servers in the US, Canada, Netherlands, and Germany (the Singapore server has been removed).
My speeds were fast enough for basic online activities during my tests, like browsing the internet and social media. My fastest speeds were in Germany at 16.27 Mbps and the Netherlands at 10.47 Mbps, both of which are closest to my physical location in Turkey. My slowest speeds were from the US server at 8.59 Mbps and Canada at 6.78 Mbps.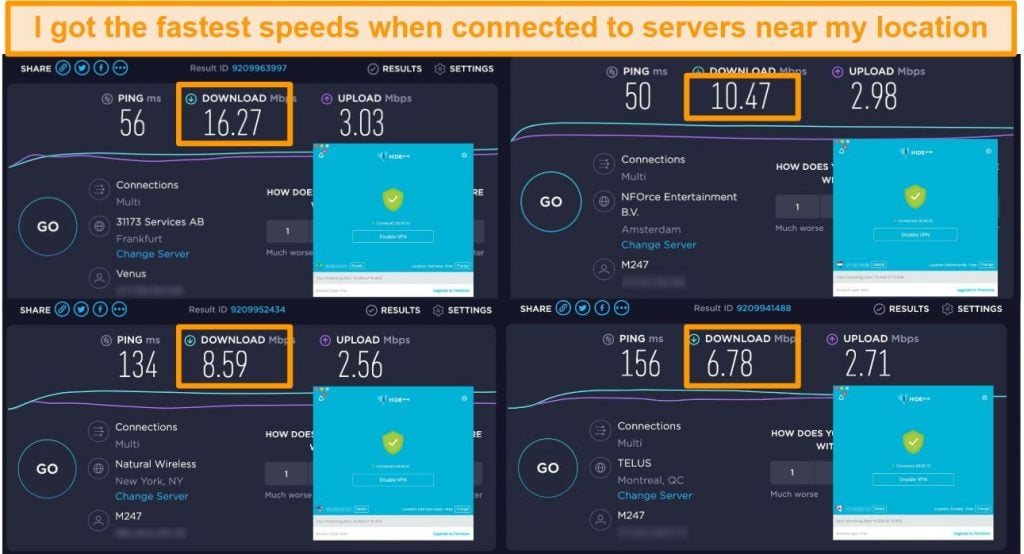 Free users get the same advanced protection as the paid plan. This includes 256-bit AES encryption, a strict no-logs policy, and kill switch, so there's no risk of your information being exposed. Based in Malaysia, Hide.me isn't legally required to track and log its users' data either.
Hide.me claims to offer 24/7 customer support for both free and paid users, but this is misleading. You can only contact Hide.me through an email ticket system. When I tested this, I didn't receive a response for 3 hours. This is still quite fast for a free VPN so I don't have any complaints.
The Mac app is basic but very simple to use. You don't even need to register — just download the app to instantly use Hide.me for free! Your free plan will expire after 30 days but you can keep renewing it as often as you like.
Compatible with macOS: Sierra (10.12), High Sierra (10.13), Mojave (10.14), and Catalina (10.15).
Hide.me also works on: iPhone, iPad, Windows, Android, Windows Phone, Linux, Blackberry, and routers.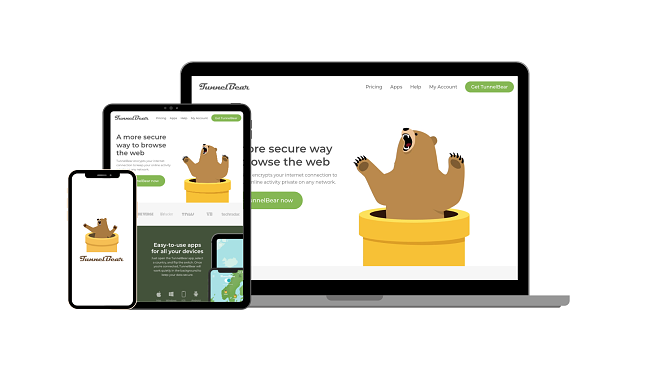 Pros:
Native apps available for macOS and iOS
Servers in 20 countries
Military-grade encryption with no-logs policy
Connect up to 5 devices at once
Torrenting and P2P file-sharing available
Customer support offered via email ticket system
Cons:
Only 500MB of free data every month
Slow to average speeds
No access to Netflix, BBC iPlayer, Disney+, and more
Based in Canada and inside the 5 Eyes Alliance
TunnelBear's macOS app may have a playful bear theme but don't underestimate this free VPN. Owned by US cybersecurity company McAfee, TunnelBear uses military-grade protocols to encrypt your traffic and secure your private data when you're online.
Even though the provider is owned by a US company and based in Canada (part of the 5 Eyes Alliance), TunnelBear has a strict no-logs policy. None of your online history or data is tracked or stored, so you're completely anonymous.
The biggest restriction is that you're limited to 500MB of bandwidth per month. If you want more data to regularly stream, torrent, or download large files, you need to upgrade to the paid plan. However, I found 500MB is enough for light online browsing (as long as you avoid loading pages with images and videos).
During my tests, I connected to servers in the US, UK, Germany and Australia, and my speeds were the slowest out of every VPN on my list. Germany was the slowest at 4.16 Mbps, with the UK slightly faster at 7.43 Mbps and Australia at 7.51 Mbps. The US server was the best with speeds of 10.54 Mbps.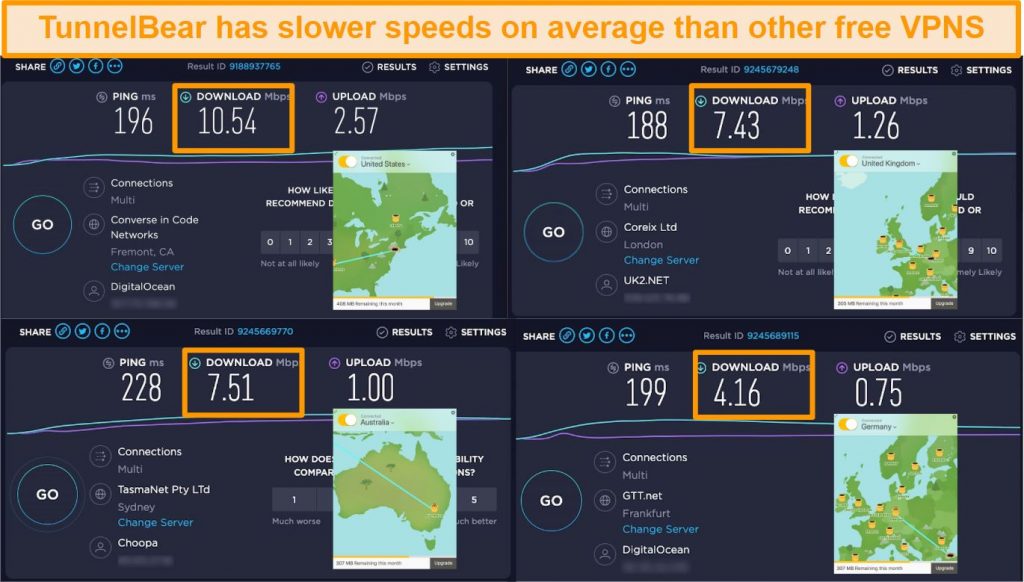 Apparently, you can earn an extra 1GB by tweeting TunnelBear but I believe this is an outdated campaign. I couldn't find any information on the website and when I contacted customer support, I never received a response.
It only takes a few minutes to get TunnelBear for free on your Mac. Sign up with your name and email address only — no credit card required.
Compatible with macOS and OS X: 10.10 (Yosemite), 10.11 (El Capitan), 10.12 (Sierra), 10.13 (High Sierra), 10.14 (Mojave), and 10.15 (Catalina).
TunnelBear also works on: iPhone, iPad, Windows, Android, Linux, Chromebook, Raspberry Pi, and Roku.
Get TunnelBear for free on Mac!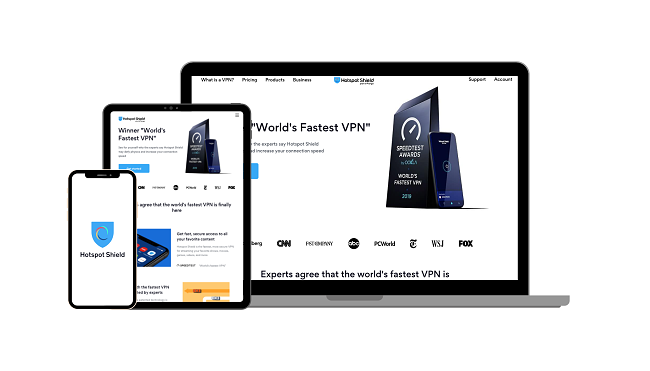 Pros:
500MB of data every 24 hours (totaling 15GB per month)
Native apps available for macOS and iOS
Military-grade encryption protects your internet activity
Customer support offered via email
Supports torrenting and P2P activity
Cons:
Displays ads during browsing session
Only 1 virtual server in the US
Can't unblock Netflix, BBC iPlayer, Disney+, and more
Based in the US and part of 5 Eyes intelligence alliance
Supports 1 device connection
Hotspot Shield offers military-grade encryption, a no-logs policy, and 500MB of data every 24 hours (the equivalent of 15GB every month). While this isn't enough data for downloading large files, you'll have no problem using social media, browsing the internet, or checking your emails.
Only 1 virtual server in the US is available on the free plan. When I tested the US server, I got speeds of 12.05 Mbps from my location in Turkey. You can probably expect faster speeds if you live in or closer to the US.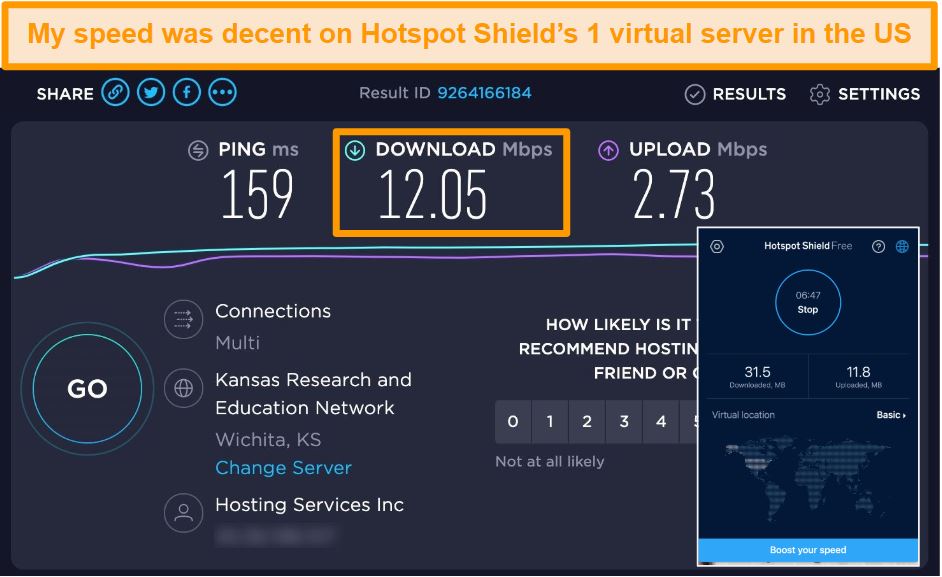 Unfortunately, there are some privacy concerns. Hotspot Shield's free plan is supported by ads, so you need to be comfortable with advertisers learning about your location, device, and IP address.


There's no kill switch on the Mac app either, so your internet traffic will be exposed if the VPN suddenly disconnects. Hotspot Shield is also based in the US and under the jurisdiction of 5 Eyes, although the no-logs policy prevents any activity being tracked while you're connected to the VPN.
If you're looking for a service that's highly secure, I'd choose NordVPN. But if you only need an extra layer of privacy when using public WiFi or other unsecured networks, then Hotspot Shield is a good option. Download the free app for macOS now to safely browse your favorite websites!
Compatible with macOS: 10.12 (Sierra), 10.13 (High Sierra), 10.14 (Mojave), and 10.15 (Catalina).
Hotspot Shield also works on: iPhone, iPad, Windows, Android, Windows Phone, Linux, Blackberry, and routers.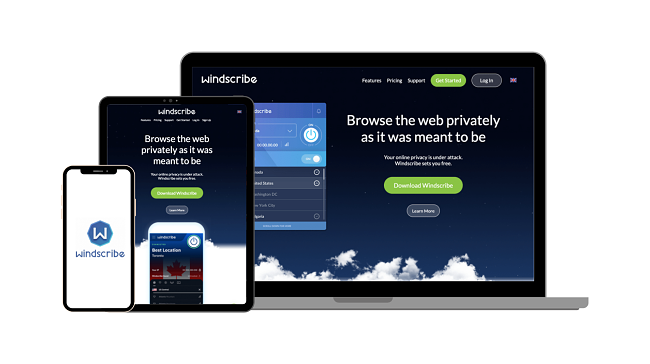 Pros:
Up to 15GB of data per month for browsing and torrenting
Native apps for macOS and iOS
Servers available in 11 countries
Advanced encryption and strict no-logs policy
Supports unlimited device connections
Customer service available via chatbot and email
Cons:
No access to Netflix, Disney+, BBC iPlayer, and more
Based in Canada within the 5 Eyes Alliance
Windscribe impressed me with its fast servers and generous 15GB of free data each month. When I was testing free VPNs, I found some providers offered unlimited data but were slow, or promised fast speeds but not consistently. Only Windscribe delivered a reliable performance every time.
You can connect to servers in 11 countries, including the US, Canada, France, Germany, the Netherlands, Norway, Romania, Switzerland, the UK, Turkey, and Hong Kong. Every server is protected by 256-bit encryption, which is one of the most secure encryption algorithms available.
Windscribe had consistently fast speeds in my tests. From my location in Turkey, I got 15.60 Mbps in the Netherlands (fastest server), 12.65 Mbps in the US, 11.13 Mbps in the UK, 11.07 Mbps in Hong Kong (slowest ever). All of these speeds are fast enough for most online activities, including shopping, downloading files, and even HD streaming.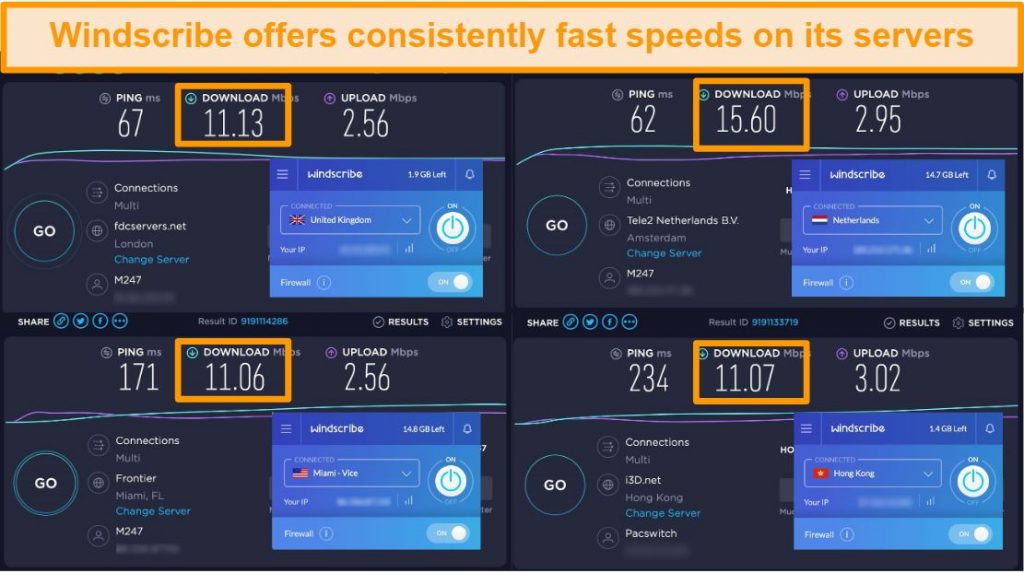 Like more free VPNs, you can't stream any subscription-based streaming service (this is reserved for customers on the paid plan). However, you can still enjoy YouTube and other free streaming platforms.
Windscribe is based in Canada, which is part of the 5 Eyes intelligence alliance with the US, UK, Australia, and New Zealand. This means you could potentially be at risk if any of these governments demands data from Windscribe. Fortunately, there's a strict no-logs policy so none of your online activities or IP addresses are ever recorded.
There's one more thing — you can get 15GB of free data every month but you need to follow a few steps first. The free plan automatically comes with 2GB. You can upgrade to 10GB by signing up with an email address. The last 5GB is available if you post about Windscribe on Twitter, which brings your monthly data to a total of 15GB.

Luckily, none of this takes very long and installing the app onto your Mac only takes 1 minute! Simply create a username and password to use Windscribe for free.
Compatible with macOS and OS X: 10.9 (Mavericks), 10.10 (Yosemite), 10.11 (El Capitan), 10.12 (Sierra), 10.13 (High Sierra), 10.14 (Mojave), and 10.15 (Catalina).
Windscribe also works on: iPhone, iPad, Windows, Linux, Android, routers, Amazon Fire TV, and Amazon Fire Stick.
The Hidden Risks of Free Mac VPNs
Warning: You may be putting yourself at serious risk by using a free Mac VPN! Before you start using a free VPN for your Mac, you need to be aware of the hidden dangers that free VPNs don't want you to know about.
1. Your Data Might Be Sold
Free VPNs still need to earn revenue. Unfortunately, your online browsing history is worth a lot of money, so many free VPNs will track, collect, and sell your personal data.
For instance, advertisers can buy your data to see what websites you've visited, which products you've purchased, what videos you've watched, and even deduce your physical location. Your device will then be bombarded with highly-targeted ads, which interrupts your activities and slows down your device (plus it's really annoying and creepy).
If an advertiser is buying your data, then that's actually the best case scenario. Your data can be sold to anyone with the money to pay, including governments, legal authorities, and even hackers.
2. Your Device Could Be Infected With Malware
It's frightening how many free VPNs contain malware, which is one of the biggest online security risks. Malware hidden inside VPNs can access your private data, which can then be used to:
Steal your usernames, passwords, and credit card details
Hijack your online accounts
Target you with spam and phishing emails
Collect your data and sell it to third parties
Lock your device and demand money in exchange for access
As I use my Mac for work and personal purposes, it would be disastrous if my confidential files were exposed online. That's why I'm super careful when downloading free VPNs on my Mac — the risk isn't worth saving a few dollars.
3. You Can't Freely Enjoy the Internet
It's not cheap to operate a secure VPN network, so the best free VPNs will offer a limited range of features in order to lure you into a paid subscription instead.
For example, it's likely you'll get a strict data allowance every month and if you exceed it, your speeds will slow down or you'll lose access to the VPN entirely. Another common restriction is a lack of server options, which means you'll be competing with hundreds of other free users. Unfortunately, overcrowded servers result in connection errors and frustratingly slow speeds.
To put it simply, free VPNs can't afford to operate thousands of servers all over the world and provide unlimited data. If you're only interested in browsing on Google or checking social media, then a free VPN might work for you. But if you want to stream TV shows and movies, torrent files, or play online games, then there's a high chance you'll be disappointed.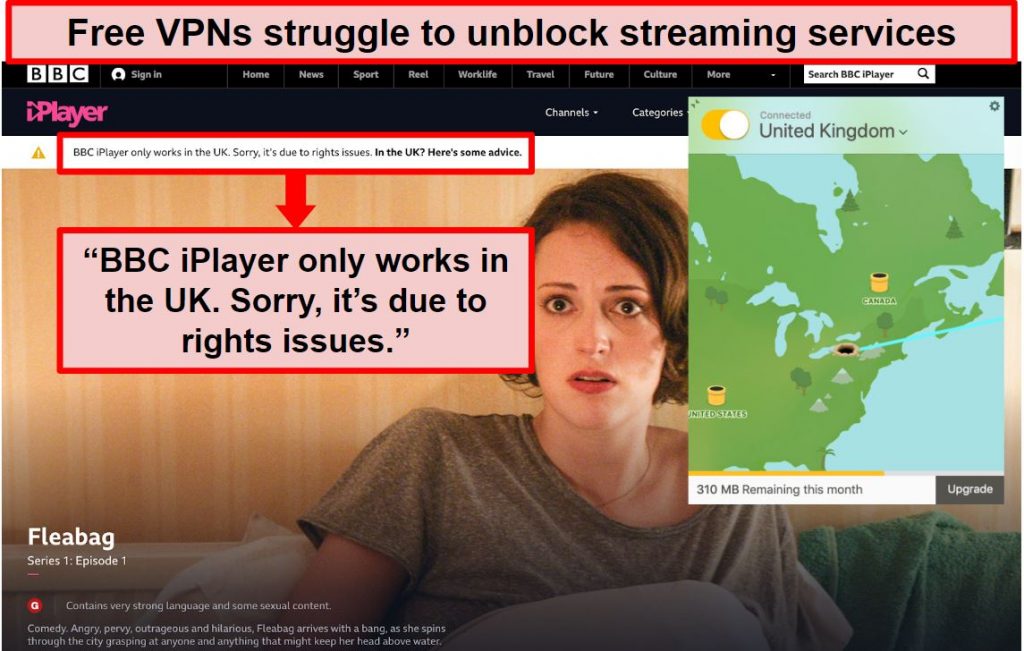 A free VPN is still better than using none at all, especially if you only need a VPN for a short period of time. But if you want to use the internet freely and securely, it's better to upgrade to a quality VPN so you can get premium protection for your Mac.
Want to get a quality Mac VPN for free?
NordVPN is the best for macOS
and it offers a 30-day money-back guarantee. This means you can use NordVPN for free! All you have to do is ask for a refund within the money-back guarantee period. I can confirm it works — I've even tested it myself!
Avoid These Dangerous Free VPNs for Mac
1. Hola Free VPN Proxy Unblocker
Hola is a popular browser extension on macOS that lets you access blocked websites for free. But what most people don't know is that Hola has an alarming history of abusing the privacy of its users.
Instead of managing its own network of servers, Hola uses a peer-to-peer system where your traffic passes through the devices of other users — and vice versa. This means you could be sharing your IP address with hackers and cybercriminals, and you could unintentionally get in trouble with the authorities.
Actually it's already happened. A few years ago, Hola was caught using its free users as a botnet. A botnet is a network of devices with bots installed on them. When you set up Hola on your Mac, you're essentially agreeing to install a bot. Whoever controls the botnet has the power to control your device. In this case, Hola sold access to its botnet to a hacker, who used this network to launch a cyberattack on the website 8chan.
The more concerning aspect is that Hola hasn't changed its business model since this incident. These security flaws make me very suspicious of its 5-star review on the Chrome Web Store. You simply can't trust Hola on your Mac or any other device.


2. VPN Gate
VPN Gate is a free VPN operated by volunteers around the world. Yes, that's right — literally anyone can volunteer to operate a server with VPN Gate. This also means that anyone can spy on your internet activity, which is a huge privacy concern.
Plus all of your user data is tracked, collected, logged, and displayed on the website for public viewing. Your IP address thankfully remains private, but it's still stored away in an internal database.

Even though this provider can help you overcome firewalls and censorship, VPN Gate is a bad choice if you value your privacy and security. The far better option is to get a VPN with a strict no-logs policy and secure server networks.
How to Choose the Best Free VPN for Your Mac
I know it can be tricky to choose between all of the VPNs, especially if you've never used a VPN before. So I've listed the key features you should look for:
Fast speeds — You need fast speeds to browse the internet, shop, bank, use social media, send emails, stream videos, and download files.
Generous data allowance — Get as much data as possible so you won't have to restrict any data-intensive activities, like streaming, torrenting, or playing games.
Global server network — Find a VPN with multiple servers around the world, so you'll always have an available server close to your location.
Clear privacy policy — A trustworthy VPN will tell you exactly what data it's collecting, as well as what it does with this information.
Protection for multiple devices — A VPN needs to be compatible with macOS and your other devices, whether it's a computer, tablet, mobile phone, or smart TV.
Easy-to-use Mac app — You shouldn't need technical knowledge to connect to a VPN, so ensure it's got a user-friendly interface.
I evaluated dozens of free Mac VPNs according to the criteria above — and that's why NordVPN is my #1 choice. You can try NordVPN for free with its money-back guarantee, and enjoy unlimited data, excellent speeds, and access to thousands of global servers.
Download NordVPN for free on Mac!
Easy Guide: How to Download, Set Up, and Use a VPN on macOS
How to Install a VPN on Mac
1. Get a VPN. NordVPN is my top choice for Mac (try it for free today!).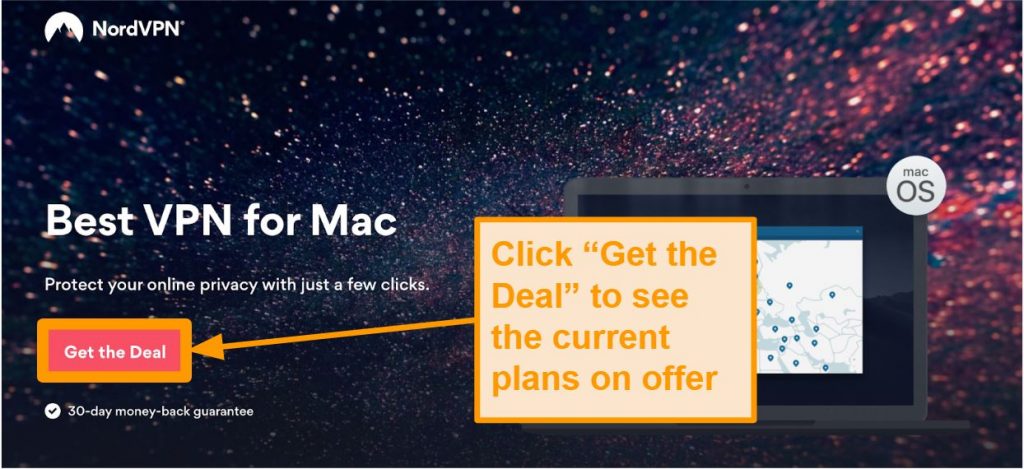 2. Select a plan. The best deal is the 2-year plan with 68% off and 1 month free — and it's fully refundable within 30 days.


4. Select a payment method and confirm your purchase. Don't worry — your money will return to the same account when you request a refund.


5. Activate your account. Check your inbox for an email from NordVPN and follow the instructions to set up your account.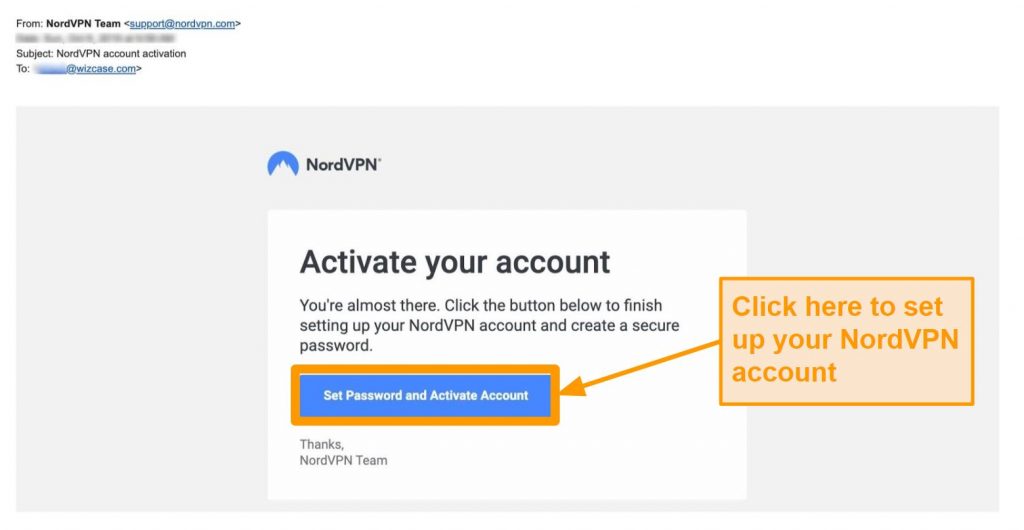 6. Once you've activated your account, it's time to download the VPN onto your Mac. You can either download the native app ("NordVPN IKE") or OpenVPN version, which has extra security features for even stronger protection.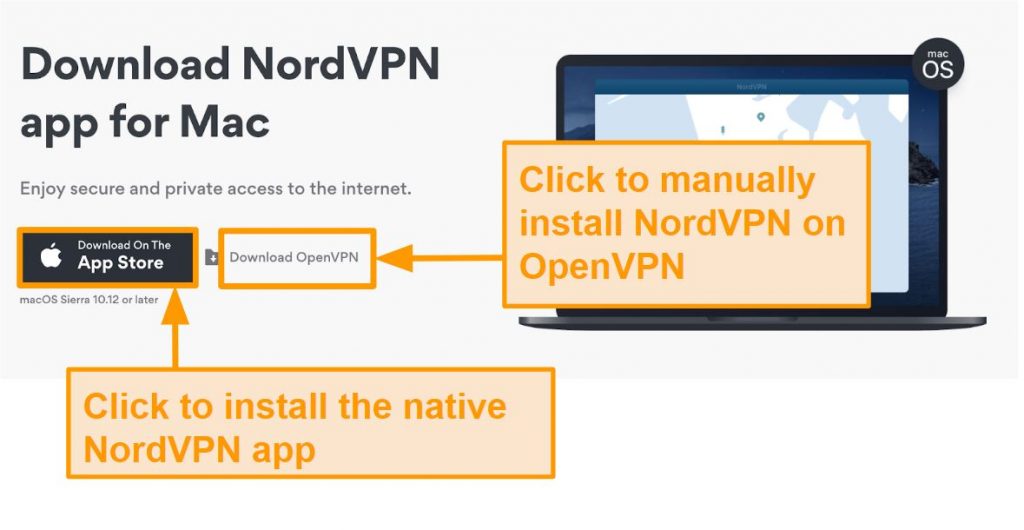 7. Install and launch NordVPN. Now you're ready to start using NordVPN on your Mac!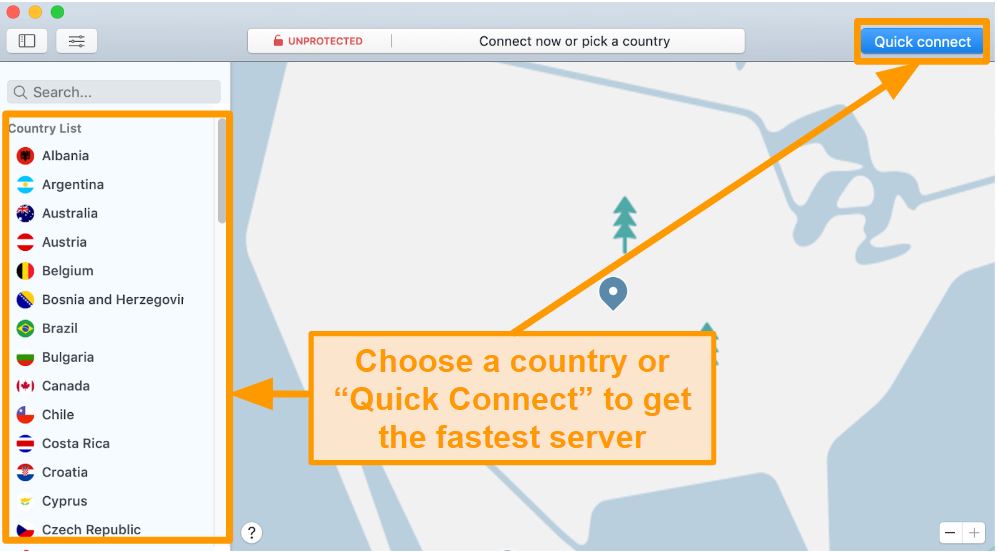 FAQs: Free VPNs and Macs
🤓 Aren't Macs virus-free? Why do I need a VPN for my Mac?
There's a popular myth regarding Apple products: "Macs can't get viruses and are more secure than Windows". But the truth is that Macs can be infected with viruses and malware — and just as many as Windows. Macs used to have a lower chance of being infected compared to Windows, but only because the small user base wasn't worthy of hackers' efforts. Since then, Macs have become popular enough to be a prime target for cybercriminals.
An example is the famous KRACK attack. A few years ago, macOS and iOS users were hacked through home and work WiFi networks. The WPA2 (WiFi Protected Access) encryption protocol, which protects WiFi-connected devices, had been cracked. Passwords, emails, photos, and other sensitive files were stolen. In fact, any device connected to the internet was vulnerable, including smart TVs and security camera footage.
Once your privacy is exposed online, it's too late to undo the damage. Even if a WiFi network requires a password, you can't assume that no one is watching. And everything you do on the internet is recorded: the websites you visit, the products you buy, and even your private messages on email and social media.
If you're serious about protecting your privacy, the best practice is to get a VPN to prevent anyone from spying on you, including the government, Internet Service Providers (ISPs), advertisers, and hackers.
Over the years, I've trusted NordVPN to safeguard my browsing history and other confidential files on my Mac. It protects me from hackers and malware, whether I'm at home, work, or using public WiFi networks. NordVPN offers a money-back guarantee, so you can use the service for 30 days and ask for a full refund afterwards.
Protect your Mac for free with NordVPN!
🤩 What's the best (free) Mac VPN for streaming Netflix?
As I love streaming on my MacBook, I was disappointed to find that no trustworthy free VPN works with Netflix. This perk is reserved for paying customers only. Whenever I tried to load Netflix with a free VPN, I got the Netflix proxy error instead:
Pardon the interruption
You seem to be using an unblocker or proxy. Please turn off any of these services and try again. For more help, visit netflix.com/proxy.
Error Code: M7111-5059
It's not just Netflix that won't work with a free VPN. You'll also be blocked from accessing other popular streaming services, including Disney+, BBC iPlayer, Hulu, Amazon Prime Video, ESPN+, and more.
If you want to stream global TV shows, movies, and even live events, I suggest getting NordVPN. While it's a premium VPN, you can use NordVPN for free with its money-back guarantee and get unlimited access to Netflix and more.
Watch Netflix with NordVPN for free!
🤑 Can I use a free Mac VPN in China?
It's extremely hard to find a free VPN that works in China. It's even harder to find a free VPN that's trustworthy and will properly safeguard your anonymity from the local authorities. Even premium providers like NordVPN can no longer break through China's internet censorship.
Some review sites claim that free Mac VPNs like Hotspot Shield and Hide.me will work — but this is completely wrong. I recently tested all the VPNs that claim to work in China and there are only 3 VPNs that can successfully overcome the blocks.
Out of these 3 providers, the best Mac VPN for China is ExpressVPN. I've tested the native app for macOS 10.10 (Yosemite) and above, and it's very user-friendly. If you're going to China for less than a month, you won't even have to pay for ExpressVPN. It has a 30-day money-back guarantee, so you can use the service first and ask for a refund later.
Use ExpressVPN in China for free!
Can I use a Mac VPN on my iPhone too?
Yes! Every free VPN on my list works on Macs, iPhones, and iPads. In fact, it's equally as important to protect your iPhone and iPad with a VPN.
If you've got non-Apple devices, I suggest getting NordVPN. This provider works well on Windows, Android, Linux, Blackberry, Amazon Fire TV, Amazon Fire Stick, and more. Personally, I use NordVPN on my Mac and iPhone, and share my subscription with my partner's Android phone and Windows laptop.
You can do the same with NordVPN's money-back guarantee — just don't forget to cancel your subscription within 30 days to get a full refund. NordVPN supports 6 device connections at the same time, so your entire household can be protected. Alternatively, you can click here to see the best free VPNs for any device.
How much data is enough for a month? 2GB, 10GB, or 15GB?
This depends on your online activities. For me, 15GB of free data per month wasn't enough since it's only equivalent to 500MB of data per day. I watch a lot of videos on social media, download and send files over email, and shop online, so I finished my monthly data within a day.
Even if you're limiting your online activities, it's still hard to stay within the data allowance. Simply connecting to a VPN will use up data!
Here are my tips to make your data last longer:
Use your mobile phone: Mobile-friendly websites are optimized to use minimal data for faster loading speeds. Don't forget to disable apps using background data.
Casually browse the internet: You won't use much data by searching on Google.
Avoid watching videos: You can go on social media, but don't upload files and make sure to turn off autoplay on videos.
Be careful when checking emails: You can read and reply to emails, but don't download large attachments.
Use an ad blocker: Ads will waste your data and increase page loading times.
Sadly, you can forget about watching videos, downloading torrents, or playing online games with only 500MB a day.
If you don't want to restrict your online activities, then I suggest upgrading to a premium VPN. You don't even need to spend money — you can get unlimited data with NordVPN for free with its 30-day money-back guarantee.
What is a VPN?
Short for Virtual Private Network, a VPN encrypts all of your Mac's internet traffic and reroutes it through an intermediary server. For instance, NordVPN has 1,800+ servers in the US. When you connect your Mac to a server in the US, all of your internet traffic is encrypted and now appears to come from the US.
You'll be anonymous as your device and location is hidden from spying third parties, such as government authorities, advertisers, and even hackers. With a VPN, you can even get around firewalls and internet censorship to access websites in other countries.
Quality VPNs have even more privacy and security features, such as secure servers for streaming and torrenting, ad blockers, and malware protection. NordVPN is my top choice for Mac as it offers unlimited use of its premium features — all for free when you use the 30-day money-back guarantee.
Don't Risk Your Mac — Protect Yourself With a VPN!
Finding a free VPN for Mac isn't as simple as it sounds. Not many free VPNs are worth the risk and some are downright dangerous. That's why I tested every VPN I've recommended above. With one of my trustworthy free VPNs, you can protect your personal data while using your Mac.
But even the best free VPNs on my list will have restrictions, such as slower speeds, fewer server options, small data allowances, and no access to streaming services like Netflix and BBC iPlayer.
That's why I suggest using NordVPN as its premium features are free for 30 days. You can enjoy:
Powerful security features to keep your Mac safe from cyberattacks
Strong encryption protocols to protect your identity and online activities from unwanted surveillance
Unlimited bandwidth for torrenting and streaming Netflix US, Disney+, and Amazon Prime Video
Access to blocked websites due to internet censorship or firewalls
---
Summary: Other Top VPNs for Mac in 2021
Rank
Provider name
Our score
Price