6 Best Free Mac VPNs to Download in 2022 (Works on All OS)
Last Updated by Kate Hawkins on August 01, 2022
As a proud MacBook owner, there aren't many free VPNs I'd be willing to download. Most free VPNs log or sell data to advertisers for revenue, and a few have even been known to contain hidden spyware and phishing scams.
To save you time, I tested over 30 free VPNs to find the best free Mac VPNs in 2022. However, I found most free VPNs are extremely limited with low data caps, 1 or 2 servers, and no streaming or torrenting allowed.
If you want a Mac VPN with no restrictions, I highly recommend ExpressVPN. It comes with a 30-day money-back guarantee, so you can try ExpressVPN on Mac and get a refund if you're not satisfied. I tested the refund policy myself and the money returned to my account in only 4 days.
Try ExpressVPN on Mac risk-free
Quick Guide: Best Free VPNs for Mac in 2022
Try ExpressVPN risk-free today!
The Best Risk-Free Mac VPNs (Tested August 2022
Key Features:
No bandwidth or data caps for endless streaming, downloading, and gaming
Audited no-logs policy, leak protection, and advanced encryption for online privacy
3000 servers in 94 countries for worldwide browsing
Native app for Mac (10.9 Mavericks) and higher, iOS, Windows, Android, and more
Supports 5 device connections at once
24/7 live chat and email support for all customers
While it's not free upfront, ExpressVPN is the best VPN for Mac and it's backed by a 30-day money-back guarantee. This means you can test ExpressVPN without any risk — and if you change your mind, you can claim a full refund with no questions asked.
I was impressed by ExpressVPN's blazing-fast speeds, especially when I used its priority Lightway protocol (which I recommend for the best combination of speed and security). I tested servers in the US, UK, Germany, and Australia, and my internet speed never dropped below 89Mbps from a baseline of 115Mbps. I didn't even encounter buffering or lag while I streamed Netflix, Disney+, Amazon Prime Video, or Hulu.
With 3000 servers in 94 countries, it's easy to find a fast ExpressVPN server near you. I didn't even have to manually search for the best server in any given country. Once I chose a specific country, the Mac app automatically connected me to the fastest server when I clicked the giant power button. I could even save shortcuts to my favorite websites or apps on the app's home screen.
ExpressVPN secures your Mac's internet traffic in multiple ways. Its AES-256-bit encryption is of the highest standard, so no hackers or trackers can monitor your activity. It features a kill switch that cuts the internet if the VPN connection is interrupted, preventing data leaks. Your Mac is further secured with DNS, IP, and WebRTC leak protection.
As an extra safeguard, ExpressVPN uses RAM-based servers that completely wipe all user data with each reboot. It's not physically possible for your data to be stored on these servers — and even if a server was seized by the authorities, no data can be recovered. This was even proven in a real-life case in Turkey. To top it off, ExpressVPN's strict zero-logs policy has been verified by PwC in an independent third-party audit. As such, ExpressVPN is one of the best VPNs for both online privacy and freedom (it even works in China!).
You can secure 5 devices at the same time or configure ExpressVPN with your router. This way, every device using your WiFi is connected to ExpressVPN.
You don't have to take my word for it though. You can try ExpressVPN risk-free for yourself to see if it's right for you. There's a "no questions asked" refund policy, making it quick and easy to use the 30-day money-back guarantee if you're not satisfied. When I tested it, my refund was approved in less than 1 minute over live chat and the money returned to my account in just 4 days.
Try ExpressVPN on Mac risk-free!
Key Features:
Unlimited bandwidth for streaming, torrenting, and gaming
Kill switch, leak protection, no-logs policy, and encryption secures your Mac
8200 servers in 91 countries for global connections
Dedicated app for Mac (10.12 Sierra upwards), iOS, Windows, Android, and more
Allows 5 device connections at the same time
Customer support available 24/7 via live chat and email
CyberGhost is a premium VPN that you can use for free for45 days with the money-back guarantee. All you have to do is request a refund within the first 45 days and you'll have unlimited access to every advanced feature. This is ideal if you're traveling overseas temporarily and you want to keep watching your favorite Netflix shows, or if you only need a VPN for a few weeks.
During tests, I was particularly impressed by CyberGhost's optimized servers available on the Mac app. These servers are specially configured for specific streaming platforms (like Netflix), fast and safe torrenting, and low-ping gaming. CyberGhost's team regularly tests the servers to ensure they're working properly, which saved me time finding the best connections. I didn't have any issues with lagging or interruptions while connected.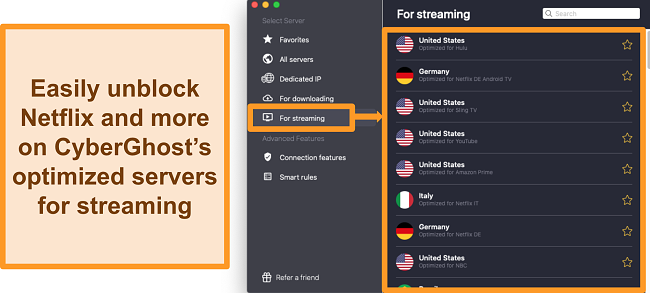 CyberGhost's optimized servers are significantly faster than its standard servers. During my tests, CyberGhost's dedicated servers were 30% faster on average than the regular servers. This is especially important if you live somewhere with slower internet speeds as it could help mitigate any speed loss from an encrypted connection. With these fast speeds, I could stream Netflix without buffering, torrent 40GB files in just over an hour, and even play online games with minimal lag.
CyberGhost has an impressive network of 8200 servers in 91 locations, so you'll always find a local server that offers reliable connections. It never took longer than 5 seconds to establish a link and near-instantly secure my Mac traffic.
CyberGhost uses military-grade encryption and IP, DNS, and WebRTC leak protection to keep my Mac traffic private and anonymous. I ran multiple leak tests while connected and CyberGhost passed them all with zero leaks. Its RAM-based servers are also incapable of logging or storing any user data. However, I would like to see CyberGhost undergo an independent security audit to confirm its zero-logs policy.
You can try CyberGhost on Mac for free for 45 days with its money-back guarantee. Getting a refund is easy as CyberGhost has a no questions asked policy. My own refund was processed in less than 5 minutes and I had my money back in a week.
Try CyberGhost for free on Mac
Key Features:
500MB free daily data allowance (15GB monthly)
No identifying logs and military-grade encryption keeps you safe
1 free server in the US
App for macOS Sierra 10.12 and higher (plus iOS, Windows, Android and more)
Supports 1 device connection only
Email support available for free users
Hotspot Shield is impressively fast for a free VPN, despite only having 1 US server location. From my location in the UK, I ran a speed test and reached almost 103Mbps when connected to the US server. I expected Hotspot Shield to limit speeds for free users, so I'm impressed that it was similar to my regular internet speed of 115Mbps. Hotspot Shield uses a unique protocol called Catapult Hydra designed to improve connection speeds and reduce latency — and it works well.
I ran multiple DNS, IP, and WebRTC leak tests and found Hotspot Shield kept my data private and secure within the encrypted tunnel. Hotspot Shield's privacy policy states that it doesn't log any of your personal data or activity, and your IP address information is deleted when you disconnect from the service.
While you get 15GB of free data every month with Hotspot Shield, it's restricted to a maximum of 500MB per day. The 500MB daily allowance runs out quickly so it's not ideal for streaming or downloading (just running a speed test used 200MB!). Unfortunately, you'll have to deal with ads on the free plan, which uses up more data.
While the website states that only the premium plan can unblock subscription-based streaming platforms, my team and I managed to access Netflix and Hulu every now and then. Unfortunately, if you're lucky enough to get a working connection, 500MB of daily data is only enough for about 40 minutes of SD streaming anyway.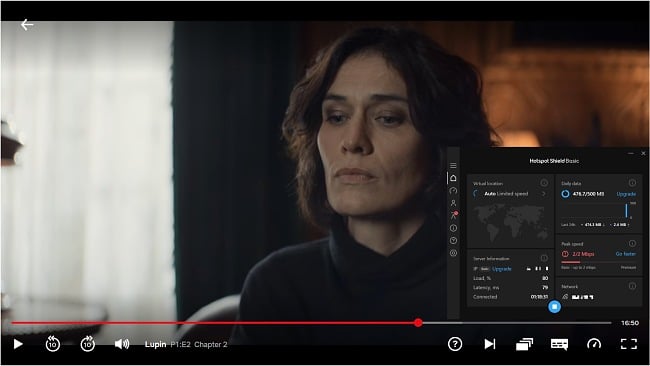 Hotspot Shield doesn't provide live customer support for free users. However, there is an extensive FAQ help section on the website and you can contact a representative through email. I sent an email about Hotspot Shield's Catapult Hydra protocol and received a detailed and helpful response in 2 hours.
I suggest using Hotspot Shield as an extra layer of security when connecting to public WiFi or unsecured networks, rather than as your primary VPN service. You can download the free app for macOS now to get started quickly — you don't even have to enter any payment details or even create an account.
Try Hotspot Shield for free on Mac
Key Features:
500MB of free data per month
Servers available in 48 countries (includes the US, UK, and more)
Advanced encryption, no-logs policy, and anonymous GhostBear mode
Dedicated app available for macOS (Sierra 10.12 and up)
Allows 5 device connections and works on iOS, Windows, Android, and more
Customer service available over online ticket system
TunnelBear's macOS app may have a playful bear theme but don't underestimate this free VPN. Owned by cybersecurity company McAfee, TunnelBear uses the OpenVPN protocol and military-grade standards to encrypt your traffic and secure your Mac. TunnelBear also uses SHA256 data authentication and Perfect Forward Secrecy via 3072 bit DH key exchange. Basically, this means it's extremely difficult for your data to be seen, tracked, or hacked when you're connected to TunnelBear.
Your browsing activities and personal identity is protected by a strict no-logs policy. None of your online history or data is tracked or stored, so you're completely anonymous. TunnelBear even publishes a yearly transparency report, allowing you to see how many data requests have been made by official court subpoenas. To date, TunnelBear has provided no user data despite receiving more than 30 court-ordered requests as there simply isn't any data to share.
During tests, TunnelBearunblocked Netflix without being detected. Unfortunately, the monthly data cap is only 500MB — only enough for casual online browsing (as long as you avoid loading pages with images and videos!). If you want more data to regularly stream, torrent, or download large files, you need to upgrade to TunnelBear's paid plan.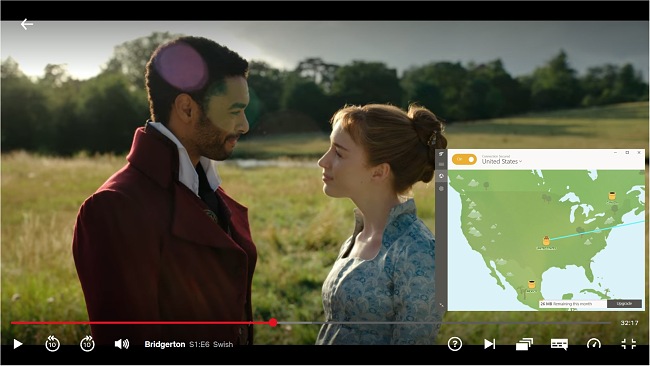 Another downside is the slow speeds, which dropped more than 80% from my base speed of 115Mbps. During testing, Australia was the slowest at 11Mbps, with the US slightly faster at 15Mbps and Germany at 14Mbps. The UK server was the best with speeds of 20Mbps. I recommend you connect to servers nearby for the fastest speeds.
It only takes a few minutes to get TunnelBear up and running. You can download TunnelBear for free on Mac with your name and email address — no payment details necessary. You can even reach out to TunnelBear's ticketed customer support system if you have any questions. I sent an email about an issue I had connecting to BBC iPlayer (answer: it works but you might have to try different UK servers) and had a response in less than 24 hours.
Try TunnelBear for free on Mac
Key Features:
10GB free monthly data cap
5 free server locations in Canada, Germany, Netherlands, and the US
Military-grade encryption with leak protection, no ads, and zero logs
Native app for macOS Catalina 10.15+ and iOS, Windows, Android and more
Only allows 1 device connection at a time
Customer support available over online ticket system
Hide.me's free features have the same protection as the paid plan. This includes 256-bit AES encryption, a no-logs policy, and kill switch so there's no risk of your information being exposed. It also provides access to multiple VPN protocols, including OpenVPN, which assures me that hide.me takes user security seriously. Based in Malaysia, Hide.me isn't required by law to log any user data either.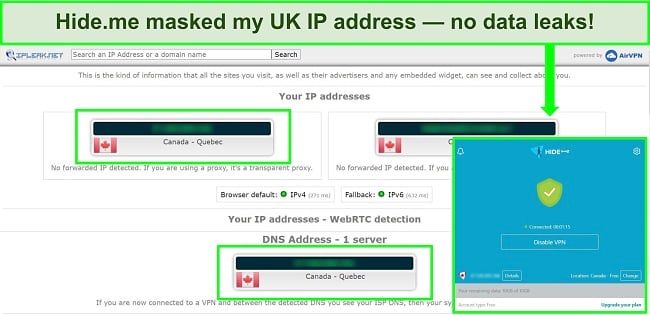 The free plan comes with 10GB of data each month, which you can use for torrenting and streaming on Mac (I could even access Netflix!). I especially liked Hide.me's split tunneling feature, which helped me use my data more efficiently. I could choose to route specific websites and apps through the VPN's encrypted connection — and only the encrypted traffic counts towards my data allowance.
You can connect to servers in Canada, Germany, Netherlands, and the US (East and West). I enjoyed the fastest speeds near my location in Germany and the Netherlands (over 40Mbps), although my speed dropped by 74% when I connected to the US West server.
Best of all, Hide.me's app is fully optimized for macOS and compatible with Apple Silicon, which powers the newest Mac devices. I found the app ran more smoothly than other VPNs that aren't optimized for Mac. Unfortunately, you can only use Hide.me on 1 device at a time, so you can't connect your phone to the VPN simultaneously.
You can only contact Hide.me through an email ticket system. It took 3 hours before I got a helpful and informative response that fully answered my question.
Hide.me operates slightly differently to other free VPNs — your free plan expires after 30 days but you can renew it as many times as you like. Better still, there's no registration required. Simply download the Mac app to use hide.me for free.
Key Features:
Unlimited monthly data for free
3 free servers in the Netherlands, Japan, and the US
No-logs policy, zero ads, and multiple layers of encryption
Dedicated app for Mac (Sierra 10.12 and higher), iOS, Windows, and Android
Supports 1 device connection only
Fast customer support via email
ProtonVPN has unlimited free data and no ads for an uninterrupted browsing experience on Mac. I could watch Netflix in HD quality with every server I tested without having to watch my data cap. I was also pleased to find ProtonVPN was developed by the same team as ProtonMail, with a focus on privacy and security.
All internet traffic is secured with layers of encryption: an AES-256 cipher, SHA-348 hash, and RSA-4028 handshake, and Perfect Forward Secrecy. This ensures any private data can't be seen by hackers, advertisers, or other unwanted third parties.
Unfortunately, you can only connect to servers in Japan, Netherlands, and the US on ProtonVPN's free plan. My internet speed slowed down by more than 50%, which I assume is due to server overcrowding. From my base speed of 115Mbps, the Netherlands option was fastest at 45Mbps. My speeds reduce to 29Mbps for the US and just 15Mbps for Japan.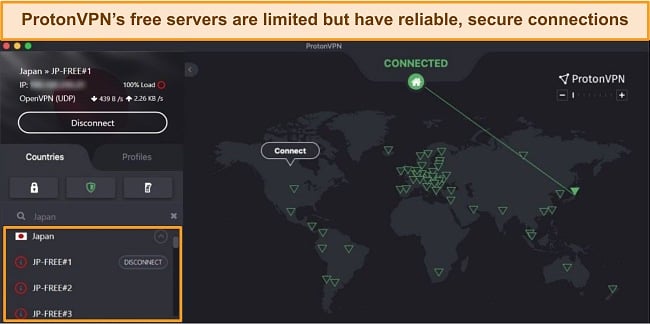 None of these servers support torrenting either, which is a shame given the unlimited data. As torrenting is data-intensive, ProtonVPN reserves torrenting for its paying users.
While I felt frustrated by the limitations of the unpaid plan, ProtonVPN's macOS app was very user-friendly with a clean layout. To sign up for a free ProtonVPN account, all you need is an email address. No credit card information or other details are required. If you have any questions, you can raise an online ticket on the website. When I asked ProtonVPN to confirm which servers were available on the free plan, I received a response just 7 hours later.
Comparison Table: Best Free VPNs for MacBook, iMac, Mac Mini and More
Try ExpressVPN risk-free today!
How to Choose the Best VPN for Mac in 2022
It can be tricky to choose which free VPN is the best, especially if you're new to VPNs and trying to work out the technical jargon. Here are the key features I looked for:
Data allowance — I recommend at least 10GB of monthly data for streaming or downloading. However, 500MB per month is likely enough if you only need a VPN for casual browsing (like checking emails).
Top-tier security and privacy — All VPNs include a minimum of AES-256-bit encryption, leak protection, and a kill switch. The privacy policy should include clear statements about non-identifiable data collection and use, and how any data is shared with third-parties (like advertisers and law enforcement).
Fast global servers — Multiple global servers allows you to easily find an available server close to your location. This improves your overall speed and means you can access streaming accounts like Netflix US.
User-friendly Mac app — I looked for apps that are easy to navigate without any technical knowledge. Every VPN app also had to work with all versions of Mac, plus other devices and platforms like iPhone, iPad, Windows PC, and more.
Responsive customer support — If an issue arises or you have a question, you should be able to rely on fast and effective support to provide a solution. At a minimum, I expect an email response within 24 hours.
I evaluated 34 free Mac VPNs according to the criteria above and found ExpressVPN is the #1 choice for Mac. It offers unlimited data, top-notch security features, excellent speeds for streaming, and access to thousands of global servers. Although it isn't a free VPN, you can purchase ExpressVPN with confidence as it's backed by a 30-day money-back guarantee. If you change your mind, you can get a full refund with no questions asked.
Does Your Mac Really Need a VPN?
While Apple devices have excellent in-built security, Macs are still targeted by online threats and attempts to steal user data. Data theft can happen any time you connect to the internet. Once your traffic starts traveling from your device, it can be intercepted by hackers and spies (or even surveilled by your Internet Service Provider!).
When you download a quality Mac VPN, your online traffic is encrypted through a secure tunnel so no one can see what you're doing. For example, when you're torrenting, your Internet Protocol (IP) address and other data is exposed to other people connected to the same torrent. Hackers can use this information to trace your device and even launch malware attacks against your Mac and home network. However, a VPN connection masks these sensitive details so you can torrent knowing your private data is secure.
The Hidden Risks of Free VPNs for Mac
Not every free VPN is safe to download onto Mac. When I tested free VPNs on my MacBook, I was alarmed by all the shady free VPNs posing as "safe". Below are the main dangers I found:
1. Security and Privacy Risks
While some rely on advertising to earn revenue, many free VPNs collect your online activity to sell it to the highest bidder. This information may include:
Websites you've visited
Products you've purchased
Videos you've watched online
Your physical location (from your IP address)
At best, your private data will be sold to advertisers (who then bombard you with personalized ads). The worst case scenario is your data being sold to governments, local authorities, and even hackers — all of which can pose a serious privacy breach. Unfortunately, some free VPNs even have hidden malware inside. This exposes your Mac to phishing scams or even ransomware.
2. Poor Performance
The reality is that even the best free VPNs have flaws. For instance, Hotspot Shield only provides 500MB a day to save bandwidth for its paying customers. It's frustrating when you can't stream or download what you want — all because of a strict data allowance. Limited server numbers can cause congestion, resulting in lag and delays.
In short, it's an annoying VPN experience that will cost you time and effort when you could be streaming your favorite show or downloading important files.
Warning! Avoid These Dangerous Free VPNs for Mac
To make sure you keep your Mac secure, don't download these VPNs.
Betternet — Sells your personal data to unverified third parties and is suspected of installing trackers and malware on user devices.
GOVPN — Claims to connect you to a VPN server, but your true IP address remains visible to all sites (and spies) online.
SuperVPN — Keeps connection logs, has concerning encryption levels, and is suspected of containing malware.
TurboVPN — Allows advertisers to add cookies to your browser to track your online activity and gather data.
VPNBook — Logs your IP address if you're even able to connect to its servers and customer support is not responsive to address concerns.
VPN Gate — Doesn't require an account, but it openly tracks and collects user data. VPN Gate is also run by volunteers, so anyone can spy on your online activity.
Download the safest VPN for Mac
How to Download and Setup a VPN on MacOS in 3 Easy Steps
Download a VPN to your Mac. ExpressVPN is the best VPN for Mac with fast speeds, reliable server network, high-level security, and a 30-day money-back guarantee.
Check your inbox for the confirmation email. Follow the instructions to set up your password.
Install and launch the VPN. Now you're ready to start using a VPN on your Mac!
FAQ: Fast and Secure Free VPNs for Mac
What's the safest and fastest free VPN for Mac?
I extensively tested and ranked the best free VPNs for Mac and although none of them are perfect, Hotspot Shield outperformed the rest of the competitors. Unfortunately, it still comes with plenty of limitations. You only have 500MB of data per day, patchy access to streaming services like Netflix, and only 1 US server available.
If you want to use a VPN with no restrictions, the best option for Mac is ExpressVPN. Its military-grade encryption is ideal for privacy while browsing, banking, and online shopping. ExpressVPN also has a high-speed network of 3000 servers in 94 countries for watching Netflix, Amazon Prime Video, Disney+, and more in UltraHD without any buffering.
Try ExpressVPN on Mac risk-free
What's the best free VPN to unblock Netflix on Mac?
I found a few free VPNs that work with Netflix, but none work 100% of the time. Most free VPNs block streaming services to encourage you to upgrade to a premium plan instead. Unfortunately, most free VPNs don't have large data allowances either. You're usually stuck with around 500MB to 15GB per month (as a reference point, it takes around 3GB of data to stream 1 hour in HD).
I suggest using a proven Netflix VPN instead. I've had the most success with ExpressVPN, which easily gets around Netflix's VPN detection technology to avoid the annoying proxy error message. While it isn't free, ExpressVPN is backed by a 30-day money-back guarantee. This means you can try ExpressVPN with Netflix for yourself and if you're not satisfied, you can get a full refund.
Is there a good free VPN for torrenting on Mac?
Out of all the 100% free (and safe!) VPNs on the market, Hide.me is the best option for torrenting as it has 10GB of free data per month. However, you're restricted to servers in Canada, Germany, Netherlands, and the US. So please make sure you check the local laws in those countries before torrenting — my team and I don't condone any illegal activities.
If you don't want to pay for a torrenting VPN, you can always check out CyberGhost. This is a premium VPN with unlimited data, 8200 servers in countries, high-level encryption, and a strict no-logs policy. The only catch is that you can only use CyberGhost for free for 45 days.
Which free VPNs work on Mac?
All the best free VPNs for 2022 have custom apps for Mac (Sierra 10.12 and later). Earlier versions of macOS aren't generally supported, although ExpressVPN does support Mavericks 10.9 and later.
Alternatively, you can manually set up a VPN on your Mac. I recommend using either the OpenVPN or IKEv2 protocols. Macs have built-in IKEv2 support, which you can find and configure in the System Preferences. This allows you to set up a VPN connection without the need for a third-party app. IKEv2 support still requires configuration files from a VPN provider though, so you'll need to sign up for a VPN. You can't use IKEv2 support to set up a VPN connection without the configuration files.
If you want to set up OpenVPN on your Mac, Tunnelblick is a free open-source client that supports OpenVPN. In order to use it, you'll need to sign up for a VPN and download its OpenVPN configuration file (.ovpn) for the server(s) you wish to connect to. The main issue is that Tunnelblick lacks the built-in protections provided by third-party VPN providers. Unless you set up tools like custom firewall rules or IP leak protection yourself, your internet traffic could be exposed.
Viscosity is a paid VPN client for connections to external servers that run the OpenVPN protocol. It's a great option if you're an advanced user looking to set up multiple VPN connections. However, I'd avoid it if you're a relative newcomer and are looking for something a bit easier to use. It also doesn't have a kill switch so your data may leak if your connection suddenly drops.
Does a free Mac VPN work on iOS, Android, and other devices?
The best free Mac VPNs in 2022 have apps for all major devices and operating systems, including iPhone, iPad, Windows PC, Android, and Linux.
As one of the top overall VPNs for Mac, ExpressVPN has native apps for iPhone and iPad. You can even download it onto your router to link ExpressVPN up with your Apple TV. While it's not completely free, ExpressVPN is backed by a 30-day money-back guarantee. This allows you to try it first and see it meets your needs — if not, you can easily ask for a full refund.
Protect your devices with ExpressVPN
Is there a free VPN browser extension for Safari?
Even though the best free Mac VPNs have browser extensions for Chrome and Firefox, I couldn't find any free (and safe) VPNs for Safari. Not that it really matters — when you connect to a VPN, it automatically protects all your internet activity. You don't need a separate VPN browser extension specifically for Safari.
Can I get a free VPN for Mac without registering?
Yes. Many of the best free Mac VPNs don't require any registration. You don't have to enter your email address or create an account to download the VPN.
How do I change my IP address on Mac?
You can change your IP address with a VPN for Mac. With an encrypted VPN connection, your true IP address is hidden and replaced with an IP from the VPN's server. You don't have to make any manual configurations — it's as easy as choosing a server and clicking "connect." To make sure the VPN has changed your IP address, you can check with our useful IP address tool here.
You also have the option to use a proxy server to change your Mac's IP address. This similarly masks your IP address and replaces it with a new one like a VPN. However, a proxy server doesn't provide the security of a VPN connection and could leave you exposed to hackers and tracking software. For maximum safety and anonymity online, I recommend using a VPN to change your IP address.
Protect Your Mac With a Quality VPN
Downloading just any free Mac VPN isn't worth the risk to your security. That's why I tested 30+ free Mac VPNs to find trustworthy services that protect your personal information online. However, even the best free VPNs have restrictions like limited servers, data, and access to online apps and websites.
If you're willing to invest in your Mac, I suggest you try a premium VPN with a money-back guarantee. You're entitled for a full refund if you find it's not right for you. Better still, you'll be protected by powerful security and encryption features, and you have unlimited data for torrenting and streaming on Netflix, Disney+, Amazon Prime Video and more.
But don't take my word for it. You can try ExpressVPN on your Mac to make sure it works for you. ExpressVPN is backed by a 30-day money-back guarantee (no questions asked), so you can get a refund if it doesn't meet your needs. I tested the money-back guarantee for myself and had my money back in less than a week.
---
The Best VPNs for Mac in 2022 (With Money-Back Guarantees)