7 Best Private Search Engines (Top Google Alternatives) in 2023
It's scary to realize that every online search, YouTube comment, and Google Maps session is logged to track you. Although you can adjust your browser settings to stop some eavesdropping, you'll lose some of the personalization used for relevant searches.
Not even incognito mode will protect your search data. Without encryption, your IP address remains exposed to trackers and cybercriminals. That's why, in addition to a private search engine that doesn't log your activities, you need to keep your connections safe with a VPN.
I tested over 25 VPNs and ExpressVPN is the best for anonymous search, with top privacy features like TrustedServer Technology. Plus, a 30-day money-back guarantee lets you try ExpressVPN risk-free. If you're not satisfied, you can easily get a refund.
Search privately with ExpressVPN
Quick Guide: Best Private Google Alternatives in 2023
Search privately with ExpressVPN
Private Search Engines That Offer the Most Privacy
1. Startpage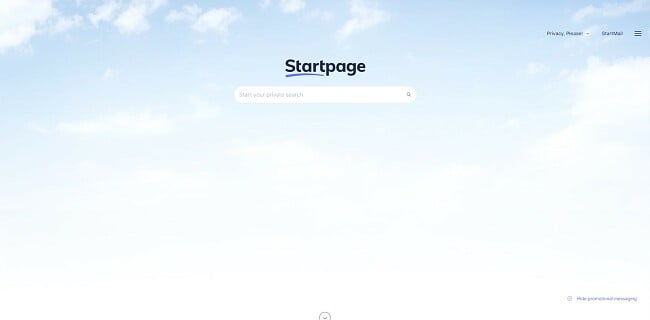 Established after Google became popular as a way of making searches on the site anonymous, Startpage submits your query to Google through its own servers. It then returns your results without Google's knowledge of who made the search request. Just make sure to install Startpage on Chrome to block cookies and trackers from remembering your device.
Unlike Google, Startpage doesn't collect or store personal data like your IP address or search history. After going through Startpage's privacy policy I saw that it only keeps a single cookie to remember your preferences, and doesn't track or identify you. This cookie disappears entirely if you don't visit the site for 90 days.
Unfortunately, Startpage is based in the Netherlands, which is a member of the 9 Eyes Alliance. That means the search engine is obligated to provide users' data if there's a request from the Dutch authorities. However, even if the police demanded to see your data, Startpage doesn't collect or store anything.
When Startpage was acquired by a company called System1, I was concerned that it could weaken the search engine's privacy policy. But Startpage clearly states that it operates independently and continues to provide quality results without collecting your personal data.
During my tests, searches on both Startpage and Google returned similar-quality results. It also copies Google's style of adding information boxes on the side of the page. The differences were that sometimes searches didn't include images, maps, and videos like Google does, and Startpage's results took noticeably longer to load.
Startpage makes money with contextual advertising. When I searched for perfume, the search engine showed ads on top of my search results. During my tests, these personalized results were erased after I closed my browser tab and re-loaded Startpage. This confirmed that it kept no history of my activities.
I tested Startpage's filter, and it worked well for separating results by region and removing adult content. I could also disable Startpage's promotional content on the search results page for a less cluttered experience. Another standout feature was the "Show Proxy Safety Suggestions" option. It warned me if I was about to visit a site that's been flagged for security risks like malware.
2. Qwant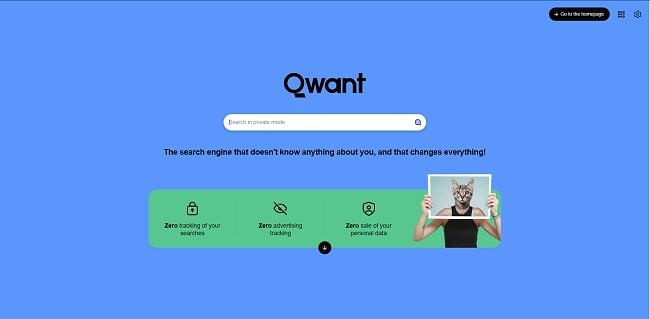 Qwant is a top choice for privacy since it doesn't track your search history or install advertising cookies. It collects nothing that can be used to identify you — there's only one cookie to remember your settings, and it reveals nothing about you to third parties.
Since Qwant doesn't track your activities, my results weren't influenced by previous searches. During my tests I looked for local computer stores and got a high level of relevance that was similar to Google's. However, there weren't as many results when I tried to research specialized topics like software coding.
Like Startpage, Qwant's revenue comes from selling ads on results pages. Unfortunately, these ads are sourced from Microsoft Bing's network based on your keywords and geographic location. Qwant also sends some of your data to Microsoft to give you more relevant results. But checking its policy, I was relieved that Qwant hides personal details like your location and IP address from Microsoft.
This is especially important since Qwant is headquartered in France, a member of the 9 Eyes Alliance of governments that collects and shares your online data. If French authorities demand information about your searches, Qwant only has masked data that can't be linked to you. But if you don't like the idea of some things being visible to third parties, connect to a top-rated VPN for privacy like ExpressVPN before searching on Qwant.
There are 3 safe search levels included to protect young users, but Qwant goes a step further than other search engines to be family-friendly. Qwant Junior is the first search engine to allow children aged 6 to 13 to explore the internet without adult content. This version of Qwant is free and doesn't have ads.
3. Searx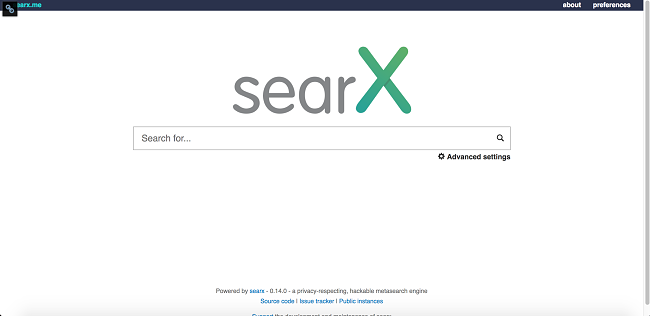 Searx is an open-source engine that aggregates results from more than 80 other sites including Google, Bing, Yahoo, and others. You use it by finding an online "instance," which is essentially a web page that gives you access to a server that runs Searx's software. This makes Searx decentralized — anyone can run an instance by downloading the program.
Instances can either be public or private, and public instances are listed in the "Public Instances" section of Searx's homepage. Both public and private Searx instances are anonymized, displaying the IP address of the instance instead of your own.
Public instances are open to anyone with the URL, but private ones are only available to select people. The downside is that many of Searx's public instances are blacklisted by search engines due to flags for suspicious traffic coming from the host IP addresses. This can drastically reduce the number of search results you get.
You can even host Searx on your own private server to make it 100% anonymous and search without having to trust any third party. This also avoids congestion that can cause issues on public instances.
To keep your data hidden, Searx never uses identifying cookies or records anything about you when it sends your query to search engines. It hides the referring pages and search data from the result pages you visit, and deletes them once you leave the site.
The preferences menu lets you decide which engines you use and specify search categories like images, files, videos, and social media. Your settings are saved in an anonymous browser cookie. Plus, there are 30+ languages to choose from along with several themes to customize your experience.
Unlike Startpage and Qwant, Searx doesn't serve ads. It relies on donations via Liberapay, Buy-Me-A-Coffee, and cryptocurrencies to cover its costs.
4. MetaGer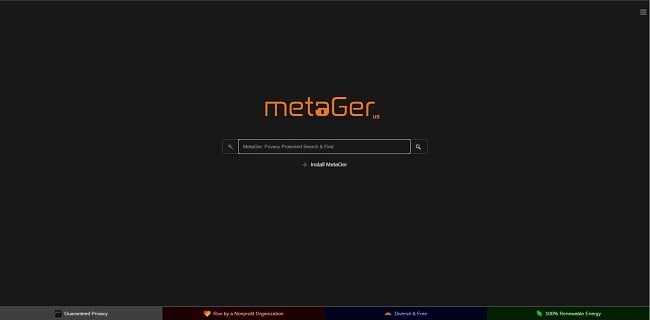 MetaGer is an open-source metasearch engine. To get your results it uses indexes from Yahoo, Bing, Scopia, Kelkoo, and others, plus some indexes of its own. During my read of its privacy policy, I was glad that it doesn't use cookies or other tracking methods.
However, I did find some disturbing information that MetaGer complies with data requests from authorities when legally obligated. Though it isn't clear what data will be shared under which circumstances, MetaGer's transparency statement reveals it hasn't processed any data requests in the past 5 years. It collects as little data as possible so your identity can't be connected with any of your searches.
To accomplish this, your queries on MetaGer are channeled through a proxy server to hide your IP address. To use the proxy and avoid third parties from tracking you, click the "open anonymously" button that appears below each search result.
Some of the data that MetaGer stores include your full IP address with a timestamp of when you searched, but only for up to 96 hours. MetaGer does this to limit the number of search queries that can crowd and slow down the search engine.
It also supplies the first two blocks of your IP address (the first and second sections separated by periods), and non-identifying data about your browser and operating system to its advertising partners. Your search term and results themselves are kept for a few hours as well, but without your full IP address to link the searches back to you.
With all this data being collected, it's unsettling that MetaGer is based in Germany, a 14 Eyes Alliance country. This means that MetaGer will hand over the data it has on you if there's an official request. It doesn't store data permanently, and only shares non-identifying information. However, the only way to make sure your searches are totally anonymous is by pairing MetaGer with one of 2023's top VPNs.
To pay for its operations Metager uses advertising, donations, and membership fees. Though its non-personalized ads weren't intrusive in my experience, you can become a paid member to get rid of them completely.
During my tests, MetaGer's most useful settings were a domain filtering feature and an option to remove adult content. Plus, you can decide which search engines you'll get results from.
5. Ecosia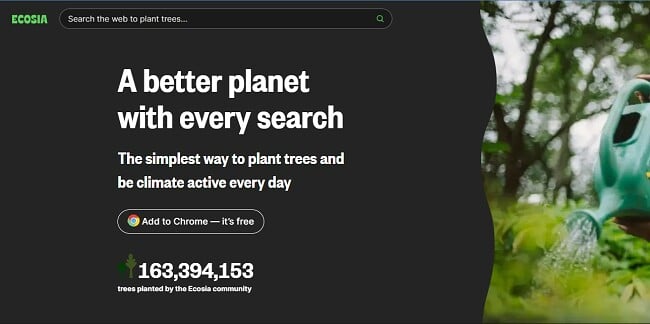 Ecosia is a search engine with a mission — it donates 100% of its profits to environmental organizations. More than 80% are used to plant trees around the world, and the other 20% is split between various ecological charities.
Your Ecosia results start with sponsored ads that the search engine uses to make money. It doesn't sell your data to advertisers or use external tracking tools, and Ecosia protects your searches from eavesdroppers using SSL encryption.
When I set the safe search option on the strictest level and made an explicit search, it filtered out almost all adult content. I also like that Ecosia lets me customize my search experience with personalization settings. The feature improved my results by referring to my previous searches using Bing, which Ecosia relies on to grab results.
When you use personalized search Ecosia stores part of your IP address, your search term, your operating system, and some other data for 7 days. Bing keeps your data for 18 months. With normal non-personalized searches, your obfuscated IP address and query are kept by Microsoft (Bing's parent company) for 90 days and then deleted.
If you don't want past searches to influence your current searches, you can turn off the feature in the settings. But you'll also need to enable "Do Not Track" in the browser or it automatically turns on personalized results.
Like MetaGer, Ecosia is based in Germany which is a 14 Eyes Alliance member. If you like using Ecosia and want to support its mission, just use it with a VPN to keep your searches 100% anonymous.
6. Brave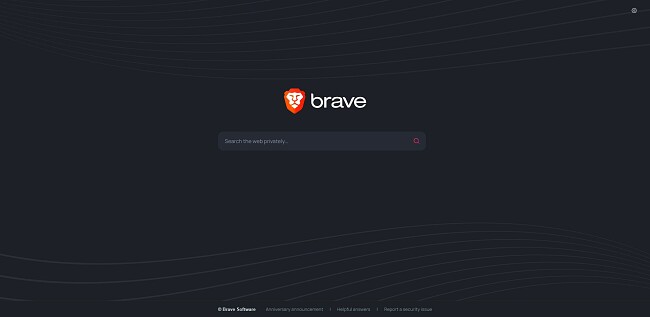 Although Brave used to rely on Google to fetch results, now it uses its proprietary Web Discovery Project to index and show search results while keeping you anonymous. It relies on Bing for image search but doesn't reveal your data to Microsoft.
Since this is a newer search engine, its search results aren't as accurate as Google's. To fix this, Brave Search has a Google Fallback Mixing option to do your search separately on Google and mix in some of the results. This gave me more accurate and diverse results during testing and doesn't share any data with Google.
Brave Search doesn't track or sell your search history, IP address, or other data. Though ad-supported, it doesn't host ads that track or identify you. However, you can upgrade to Brave Search Premium to eliminate ads completely.
You can change the language to UK English, US English, French, German, or 6 others. Other settings let you change its theme to dark mode, tweak its safe search filters, change your region, and more.
I also found an Anonymous Local setting to tailor a search to my real location while maintaining my privacy. During my test of the feature, it referred me to the same local restaurants that came up on Google for the same keyword. Brave used my IP address to get my location but didn't store or connect it to my profile. I verified this by doing the same search a few days later with the feature turned off, and my results were different.
Many of the private search engines on this list are based in countries that share surveillance data on web users, and Brave is no different. This search engine's headquarters in the US is concerning since this country is a founding member of the 5 Eyes Alliance. If you don't want to take Brave's word for it that they don't log your data, use Brave Search with a top VPN for total anonymity.
7. DuckDuckGo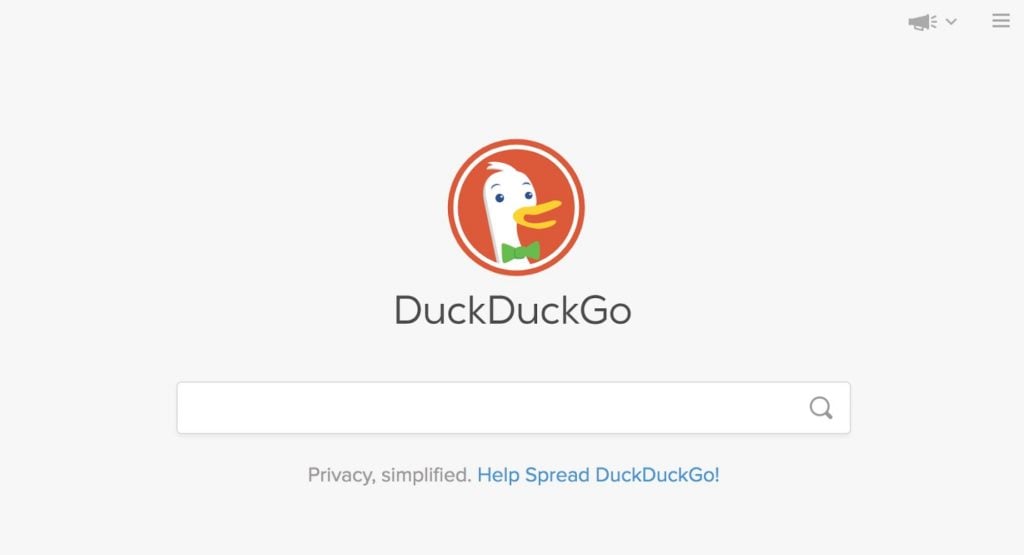 DuckDuckGo is based in the United States, a founding member of the 5 Eyes Alliance. This means it's obliged to share your personal details and search queries with the authorities when requested.
To investigate, I read the search engine's privacy policy and saw several other issues. DuckDuckGo saves your search history, although it claims that your searches can't be linked to your identity. It also earns commissions from affiliates like Amazon and eBay, which are known for tracking users. However, it states that none of your information is shared with any of the sites DuckDuckGo works with such as Yahoo.
DuckDuckGo doesn't mention in its privacy policy what data is shared with Yahoo or how long it's retained, but Yahoo does collect personal information when you use it independently of DuckDuckGo.
I also discovered that DuckDuckGo paused its partnership with a Russian search engine called Yandex and announced that it deprioritizes sites linked to Russian disinformation. Since it isn't clear how disinformation is classified, this is a form of censorship because DuckDuckGo favors certain political opinions in your results.
Despite these privacy concerns, DuckDuckGo has many positives. It provides tracker-free search and although it makes money from advertising, DuckDuckGo doesn't use targeted ads. The ads I saw were based on my search term rather than my browsing or purchase history.
It also has many customization features. For example, you can make region-specific searches and safe search to block adult material. I could even adjust the font, font size, and page width, and save the settings to non-personal browser cookies.
The search engine also has Bangs, which are shortcuts to search directly on other sites like Amazon, YouTube, Yahoo, Flickr, and others. For example, to search for a remote-controlled drone on Amazon, just type "a! drone" and the a! will signal to DuckDuckGo that you want to search for a drone product on Amazon.
Protect your privacy with ExpressVPN
4 Reasons You Should be Using a Private Search Engine
1. No Third-Party Tracking
Private search engines don't track you or share your data with third parties. When you're not tracked, you see fewer ads. Your online activities won't be fed into algorithms owned by huge corporations to make money off you.
You have a basic right to privacy. To avoid becoming a product for big companies and shady marketers, your search results should remain private and independent of your browsing history.
2. Hide Your Location
Traditional search engines record your IP address, allowing them to see your location. For example, Google Maps knows every destination you've searched and visited using its app, and this information is used to build a profile of you. This isn't just creepy, it can be dangerous — especially if your location is leaked to criminals.
3. Protect Your Personal Information
If you close your computer without logging out of your social media, financial account, or shopping sites, your information remains vulnerable. Many private search engines log you out when your device goes into sleep mode to protect your data from thieves, as well as nosy friends and family members.
4. Exercise Your Privacy Rights
Whether or not your online activities can be seen by a third party or used for advertising, you should have the right to decide. Information is valuable — you should know what data about you is collected, how long it's retained, what it's used for, and who gets to see it.
Most private search engines provide some customization in this area, though some still retain your IP address for some time. The only way to be sure your location and IP address aren't exposed is to connect to a top-quality VPN like ExpressVPN before you search. This hides your IP address so none of your searches can be linked to your identity.
Stay private online with ExpressVPN
How to Keep Your Searches 100% Private With a VPN
Get a top VPN — I recommend ExpressVPN to get the best privacy features. It's been proven to hide your search data because it underwent a full audit by PwC.
Use a privacy-focused browser — Anonymous browsers minimize tracking and cookies, and some of the search engines on this list have extensions for extra privacy.
Log out of everything — Sign out of Gmail, Yahoo, Amazon, and other accounts before searching because these sites track you while logged in.
Download a strong ad blocker — A strong ad blocker prevents ads from collecting your data for advertisers or installing trackers on your devices.
Search privately with ExpressVPN
Best VPNs to Use with a Private Search Engine in 2023
Key Features:
3,000+ servers in over 105 countries to search privately from anywhere
Military-grade 256-bit encryption, a Network Lock, and TrustedServer technology ensure your searches are anonymous and your connection is virtually unhackable
24/7 live chat and email support, plus video tutorials and FAQs
Connect up to 8 devices at the same time
30-day money-back guarantee on all plans
ExpressVPN keeps your searches private with proprietary TrustedServer technology, using RAM-based networks to make it impossible to log your search or browsing data. The technology has been independently audited for peace of mind, along with ExpressVPN's other privacy and security features like:
A Network Lock that automatically disconnects your devices when the internet is unsteady to prevent your search data, location, and IP address from being exposed
DNS leak prevention hides your IP address when you search and browse the web
A location in the British Virgin Islands that's outside the 14 Eyes Alliance countries that collect and share your online activities with foreign intelligence agencies
Anonymous Bitcoin payments via BitPay so you can sign up without revealing your identity
Military-grade AES 256-bit encryption and Perfect Forward Secrecy that constantly changes your security keys, making your data almost impossible to hack
Throughout my tests ExpressVPN had the highest speeds even compared to other top VPNs. After I connected to a server in the US, I made a Startpage search for DIY costume ideas and my results took less than 3 seconds to load. Long-distance servers usually take longer to send your browsing data back and forth, but I didn't notice any difference when I tested ExpressVPN's server in New Zealand over 8,000 miles away.
The VPN also works with all my devices I use for search like my Windows computer, iPhone, and Android tablet. ExpressVPN maintained a stable connection even when I secured my searches on 8 devices simultaneously, which is the maximum that it allows.
The only slight downside to ExpressVPN is that it's more expensive than the other VPNs on this list. But in my opinion its TrustedServer technology makes it more than worth the investment. It gives me peace of mind that my real IP address can't be logged by the private search engines I use or by ExpressVPN itself.
To get the best price, I recommend checking out the 1-year + 3 months plan for $6.67 per month when you subscribe to ExpressVPN to search privately. It has a 30-day money-back guarantee that I tested by asking for a refund via 24/7 live chat. My request was approved within minutes, and I had my money back in 5 days.
ExpressVPN works on: Windows, Mac, Linux, Android, iOS, Chrome, Firefox, Amazon Fire TV, Fire TV Stick, Kindle Fire, Nook HD, and more.
Search privately with ExpressVPN
2023 Update! ExpressVPN has dropped prices for a limited time to a crazy $6.67 per month for the 1-year plan (you can save up to 49%) + 3 months free! This is a limited offer so be sure to grab it now before it's gone. See more information on this offer here.
Key Features:
10,200+ servers in more than 100 countries to search privately from anywhere
Military-grade 256-bit encryption and headquarters outside the 5/9/14 Eyes Alliances that collect and share your online data for surveillance
Get support via 24/7 live chat, a ticket system, and online guides
Web search on 7 devices simultaneously
45-day money-back guarantee on all plans except the 1-month option
CyberGhost's WiFi protection keeps your searches private on unsecured networks like at airports and coffee shops, which are popular targets for hackers. You can use search engines on public networks safely and anonymously This setting connects CyberGhost automatically before your device makes any unknown connections, making it impossible to search until you're fully-protected.
I was glad to learn that CyberGhost is based in Romania, a privacy haven that's not part of any surveillance alliances. That means it has no legal obligation to log or share data like your search keywords or what sites you visit. Its other security and privacy features include:
DNS leak protection to keep your real location and IP address hidden
A kill switch that keeps your searches private when your internet connection is unstable
Premium NoSpy servers owned and managed internally to prevent data rental centers from accessing your search data
Military-grade 256-bit AES encryption that keeps your connections secure from third parties
My CyberGhost speed tests showed only a 7% reduction from my baseline performance, which was too small to be perceptible when I did a Startpage image search. After connecting to nearby servers, my query about external hard disks loaded photos just 2-3 seconds. Plus, its servers performed consistently when I tested video searches on DuckDuckGo during different times of day.
The only con to CyberGhost was its faraway networks could be a bit slow compared to ExpressVPN. However, it wasn't a big deal since I don't need super-fast connections just to use search engines. I also never had drop-outs or other network issues even when I connected 7 devices, the maximum number allowed per CyberGhost account.
Researching the best deals, I liked the 2-year + 4 months plan since it's $2.03 per month and comes with a 45-day money-back guarantee. If you try CyberGhost with your preferred search engine and decide it's not for you, you can just ask for a refund. I requested mine via 24/7 live chat and got my money within a week.
CyberGhost works on: Windows, Android, iOS, Mac, Chrome, Firefox, routers, Amazon Fire TV, consoles, and more.
Search privately with CyberGhost
Get Black Friday Deal and Cyber Monday Deal from CyberGhost! You can subscribe to CyberGhost for as low as $2.03 per month + get an extra 4 months free with the 2-year plan (save up to 84%)! This is a limited offer so grab it now before it's gone. See more information on this offer here.
Key Features:
35,000+ servers in 91+ countries to search anonymously from anywhere
Military-grade 256-bit encryption, DNS leak protection, and a kill switch to keep your online activities safe and private
24/7 live chat, email support, and an online knowledge base
Search privately on up to unlimited devices
Get easy refunds with the 30-day money-back guarantee
PIA has MACE to block ads, ad trackers, and malware on search engines, which sometimes host dangerous links that run scripts or that violate your privacy. Although the private search engines on this list don't use trackers themselves, some ads they host could still contain malicious links or hidden bots. MACE blocks these, stopping suspicious URLs from harming your device.
Apart from that, PIA also has:
An advanced kill switch to keep your devices offline until the VPN is connected
Private payment methods using gift cards from major brands like Walmart, Nike, Starbucks, and more
Military-grade 256-bit encryption so that no one can intercept or monitor what you're searching for online
Despite all its privacy and security features, there is one issue — it's located in the US, which is the heart of the 5 Eyes Alliance. But since PIA has a strict no-log policy, my data stays hidden as long as I connect to the VPN before I use a search engine or browse the web.
With PIA's fast speeds, I could search for and watch game cutscenes on Ecosia and Searx without interruptions. I also liked that I could connect up to unlimited devices at the same time to watch movie trailers on my iPhone, read reviews on my tablet, and then search for the movies on Netflix on my laptop.
I found a range of flexible plans that make PIA one of the best month-to-month VPNs. In spite of its small con of being located in the US, PIA has the lowest price point of any other VPN on this list. The 2-year + 4 months plan is only $2.03 per month.
If you decide to try PIA to use search engines privately, it comes with a 30-day money-back guarantee. When I talked to a 24/7 support agent about a refund, I was asked to fill out a form and got my money 8 days later.
PIA works on: Windows, Android, iOS, Mac, Linux, Chrome, Firefox, consoles, and more.
Get PIA's Black Friday Deal! You can subscribe to PIA for as low as 2.03$ per month + get an extra 4 months free with the 2-year plan (save up to 84%)! This is a limited offer, so grab it now before it's gone! See more information on this offer here!
FAQs About Private Search Engines and VPNs
Does private search actually work?
Yes, but only to a degree. For total anonymity, privacy, and security, you need to search using one of the best VPNs for private search engines.
Private search engines protect against cookie-based tracking as they only use anonymous cookies and delete them when you close your browser. This prevents you from being targeted for online advertising based on what websites you visit.
However, using private search doesn't make you fully anonymous online. A long list of suspects could potentially see your searches, location, and other data, including cyber criminals. The only way to guarantee privacy is by using a VPN to encrypt your traffic and hide your real IP address and location.
Can I use Google privately?
Not really. It's possible to increase your privacy considerably by changing your account settings if you always connect to one of the top VPNs before using Google. Just keep in mind that as long as you're logged into Google, some tracking will always occur.
That's why I recommend using a search engine that doesn't track or log any information at all, and only use search engines when you're connected to a a VPN.
Can I use a free VPN to search the web privately?
It's possible, but I don't recommend it since most free VPNs have limited features and questionable privacy policies. Although there are some reliable and safe free VPNs, most limit your bandwidth or have very few servers which can result in overcrowding and slow speeds. In the worst cases, free VPNs upload malware to your device to steal and sell your data.
It's better to take advantage of the 45-day money-back guarantee of a premium VPN like CyberGhost. You can use it for free by asking for a refund within the 45 day refund window and avoid the risks of free VPN apps.
Bottom Line
Using private search engines is a smart way to reduce the amount of your online data that could be compromised. Yet, across nearly all search engines, data such as your IP address and location continues to be gathered and retained for a duration, particularly during personalized searches.
To prevent your IP address from being exposed to search engines, advertisers, and cybercriminals, you need a VPN. I've tested 30+ VPN providers for anonymous search and ExpressVPN is the best, with top privacy features and super-fast speeds. Plus, it offers a 30-day money-back guarantee so you can try ExpressVPN with search engines risk-free. If you're not satisfied, you can get a full refund.
---
Summary: More Top VPNs for Private Search