How to Watch the NHL from Anywhere in the World in 2019
Last Updated by Adam Wagner on November 06, 2019
There's nothing more frustrating than missing your favorite team's NHL game. Unfortunately, broadcasters often block live NHL streaming based on your location, preventing you from watching the match. But you're not only affected if you live outside of the US and Canada — even paying subscribers of ESPN+ and NHL.tv are subject to location-based viewing restrictions.
Luckily, a good VPN can unblock and live stream the NHL from wherever you are. After conducting a series of tests, I've identified the three best VPNs that will allow you to bypass the blackouts. This means you can watch region-specific NHL matches from anywhere in the world.
Here are simple steps you can follow for using a VPN to watch the NHL games on NBCSN, ESPN+, Hulu Live, NHL.tv, and more.
Watch the NHL games with a VPN today!
3 Simple Steps to Stream the NHL on NBCSN
NBC Sports is only available in the US. Here's how you can watch the latest games for free from outside the US:
Open your VPN and connect to a server located within the US.
Go to the NBC Sports website, enter any valid US ZIP code, and start streaming!
3 Simple Steps to Stream the NHL on ESPN+
ESPN+ is another great way to stream games but content is restricted from outside the US, unless you take the following steps.
Open your VPN and connect to any server located within the US.
Log in to ESPN (or create an account) and enjoy the game!
3 Simple Steps to Stream Hockey Night in Canada on CBC
Free live streams of NHL Night are only available in Canada, but a VPN will get you full access online.
On game night, open your VPN and connect to a Canadian server.
Navigate to Hockey Night in Canada's website (cbc.ca) and get ready to cheer!
3 Simple Steps to Stream the NHL with Hulu Live, YouTube TV, or Sling TV
You can watch the latest NHL games on YouTube TV, Hulu Live, or Sling TV with a VPN.
Open your VPN and connect to a server that's located within the US.
Sign in to your account (or create an account if you don't have one) and start streaming!
Bypass Blackouts with NHL.tv
Depending on where you're located, you may be subject to blackouts preventing you from watching games on NHL.tv. This is due to sole broadcasting rights in some regional markets, which means you can't watch your team play for up to 48 hours after the game has aired.
But there is an easy way to watch the games in real-time — and that's by using a VPN. A VPN allows you to stream blocked games by connecting to a server that's outside the blackout zone. Just follow my three simple steps below:
Sign up for a VPN with plenty of US-based servers and fast speeds.
Connect to a server located outside the city where the game is being blacked out.
Sign into NHL.tv (or create an account if you don't already have one), find the game that was blacked out, and enjoy!
Bypass NHL blackouts with NordVPN
How a VPN Protects Your Privacy
Short for Virtual Private Network, a VPN creates a secure and encrypted connection between your device and the internet via a private network of servers. Websites won't be able to identify your real location, because all they can see is your VPN server's Internet Protocol (IP) information instead.
A reputable VPN will have a global network of servers. This means you can use your VPN to connect to other countries and unblock geo-restricted content — like the NHL and other streaming sites— while keeping your online activity private.
You should only use quality VPNs with top encryption protocols. This ensures your data remains safe from your Internet Service Provider (ISP), government organizations, advertisers, and hackers.
Top 3 VPNs for Streaming NHL Games
There are many VPNs on the market but only a few services will guarantee high-quality NHL streaming. Whether it's due to slow speeds, a lack of servers, or an inability to bypass geo-restrictions, the wrong choice could leave you disappointed.
Here are my top VPN picks for streaming the NHL, no matter your location.
1. NordVPN — The Most Servers in the US and Canada
Key Features:
1,847 servers in the US and 416 in Canada
Military-grade AES 256-bit encryption
No-log policy
24/7 live chat and email support
Connect 6 devices simultaneously
30-day money-back guarantee
NordVPN has close to 6,000 servers and over 1,800 located in the US, which makes it a great choice for watching the NHL. You can even connect up to 6 devices at once, which means your entire household can enjoy live streaming their favorite sites at the same time.
With competitive prices, great streaming speeds, and excellent customer support, I'm yet to be disappointed by NordVPN's performance. The tests I've done with NordVPN have shown that this service consistently delivers a bufferless streaming experience, so you won't have to worry about lags mid-game.
I recommend you try NordVPN out with its 30-day money-back guarantee, which is completely risk-free.
Watch the NHL with NordVPN today!
2. ExpressVPN — Unbeatable Security and Fast Speeds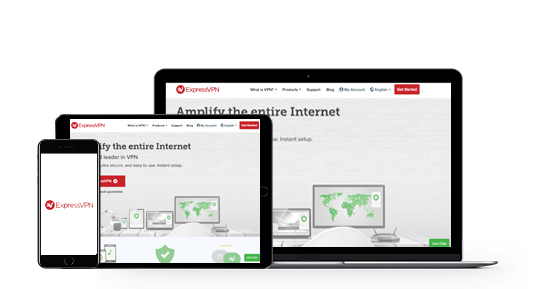 Key Features:
500+ servers across 30+ locations in the US and 5 server locations in Canada
Advanced OpenVPN protocol and AES 256-bit encryption
No-log policy
Live chat and email support available 24/7
Protect up to 5 devices at once
30-day money-back guarantee
I find ExpressVPN consistently performs well in terms of security and streaming speeds. Located outside the 14 Eyes in the British Virgin Islands and boasting proprietary TrustedServer technology, this is one of the best providers I've tested that truly keeps your data secure.
When it came to bypassing geo-restrictions, I wasn't disappointed either. I had no issues streaming NHL games at top speeds, without any buffering issues whatsoever.
You can try ExpressVPN for 30-days with its money-back guarantee — so you'll only pay if you're fully satisfied with the service.
3. CyberGhost — The Best on a Budget
Key Features:
830 servers located in the US and 211 in Canada
AES 256-bit cipher and SHA256 for authentication
No-log policy
24/7 customer support with guides available on website
Connect 7 different devices at the same time
45-day money-back guarantee
My final recommendation, CyberGhost, is another solid option. When reviewing this VPN, I was happy to see that CyberGhost offers servers that are dedicated exclusively for streaming. Additionally, it has an incredibly user-friendly interface, which is perfect if you're new to the world of VPNs.
CyberGhost offers competitive pricing and a generous 45-day money-back guarantee. This means you'll have plenty of time to determine if the service is right for you before committing to anything.
Can I Use a Free VPN to Watch the NHL?
While there are several reputable free VPNs, I strongly suggest you avoid using a free VPN to stream video content.
With most free VPNs, you only get a limited amount of data and access to select servers, most of which can't bypass geo-restrictions or handle streaming. On top of that, servers are usually inundated with new users.
In short, free VPNs are an unreliable and frustratingly slow experience. Instead of a free VPN, I recommend you take advantage of the money-back guarantee from premium VPN services, like NordVPN and ExpressVPN.
You can then stream the NHL in HD and real-time — for free — as long as you ask for a refund within 30 days.