How to Watch Love Island (US and UK) For Free
Last Updated by Nick Soucy on January 12, 2020
How to Watch Love Island UK
All the hot and steamy drama of Love Island UK is back on TV for its sixth season and we have the hack you need so you won't miss a thing, even if you're out of the UK.
All you need is a VPN that will assign a UK IP address and then you can stream all the episodes on the ITV Hub.
But wait, we said we have a free hack, and the VPNs that can access ITV all cost money, so what's the story.
All the VPNs that we recommend come with free trials or money-back guarantees. This means that you can watch a few episodes for free, and only pay for the VPN if you see it brings you the value they promised.
3 Steps to Watching Love Island Season 6 From Anywhere
Get a VPN that works with ITV. We recommend ExpressVPN, it's great for streaming and comes with a 30-day money-back guarantee.

Connect with a UK server

Create a free account at ITV and stream on ITV2
Best VPNs for Streaming Love Island UK
There are a few factors that we look at when deciding what VPNs to recommend for streaming a show like Love Island.
For starters, it needs to have UK servers and avoid being blocked by the ITV Hub geo-blocks. Next, it needs to have unlimited speeds and data so that you can watch in HD without worrying that you'll exceed a data limit a have the show interrupted or streaming in low-quality. This takes the free VPNs out of the equation because even if they could avoid detection, they have speed and data restrictions.
1. ExpressVPN – Top overall VPN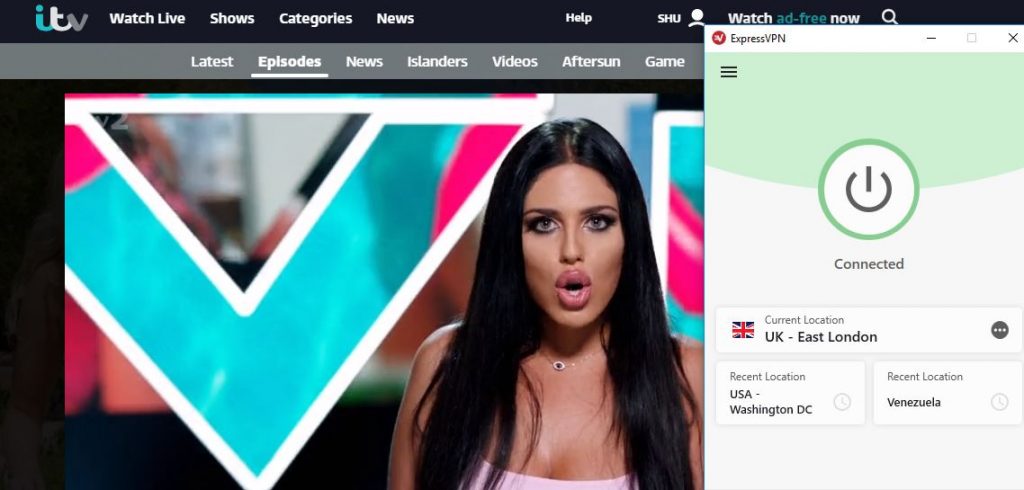 ExpressVPN is the leading VPN for a reason. It's easy-to-use and has incredible speeds, which is great for streaming. We put their money-back refund to the test and had no trouble getting a refund. Although, we think that you'll be so happy with it that you won't need to try and get your money back before the month is up.
2. NordVPN – Optimized for Streaming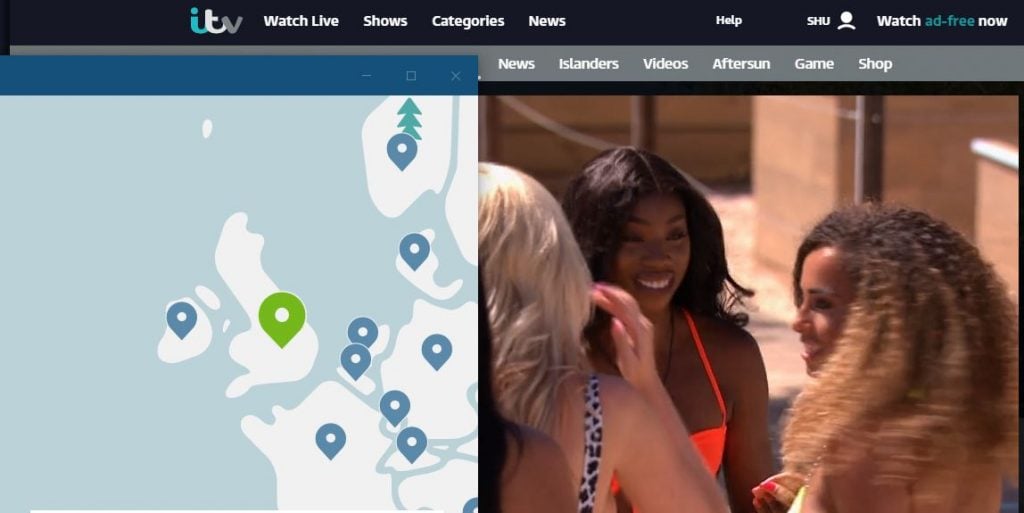 There are a few things that set NordVPN apart for the other VPNs on the market. One if they have several hundred servers in the UK, which helps avoid overcrowded servers and unnecessary slowdowns and the other is the price. You can use this NordVPN coupon and save big when you get an extended plan, and still, if you're not happy, you can return it with 30 days.
3. CyberGhost – 45-day money back guarantee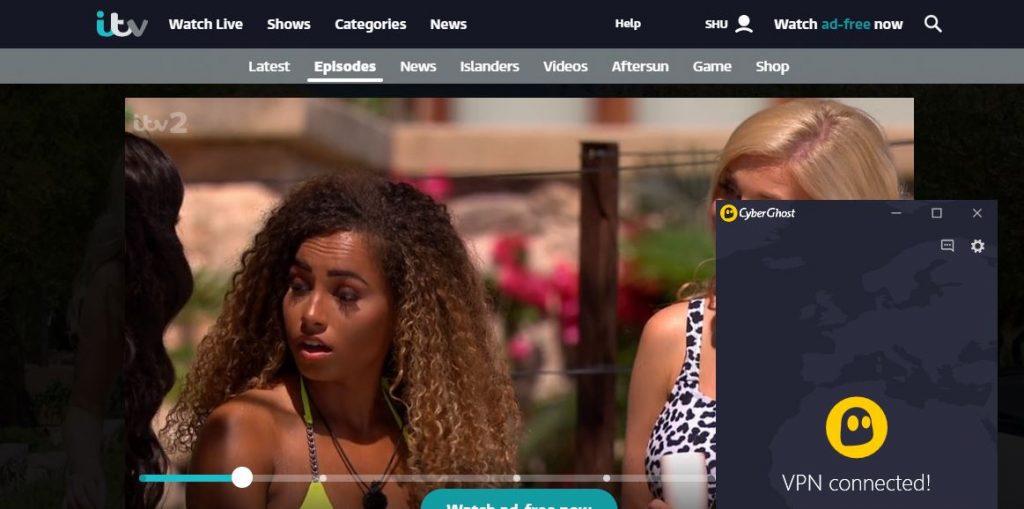 When it comes to VPN for streaming, CyberGhost is usually up near the top of the list. All of their UK servers will work just fine with the ITV Hub, which makes it a great choice for streaming Love Island. It's an easy-to-use app that will quickly connect at high speeds and has no data limits.
How to Watch Love Island US From Outside the US
Get a VPN. We recommend ExpressVPN because of their amazing speeds. Click on the button below and enjoy up to 49% savings.
Connect with a US server.
Go to CBS.com and find the full episodes, which are available the morning after the broadcast.
If you're using one of the recommended VPNs and you get an error message saying the page won't load, try either clearing your cookies or opening the page in Incognito or Private Mode and it should start playing.
Top 3 VPNs to Watch Love Island US
To catch up with all your favorite personalities and on-screen romance, you'll need a reliable VPN that encrypts your data, keeps your identity secure and delivers fast speeds for American-based servers (because nobody wants to deal with endless buffering).
The VPNs below all have large networks of U.S.-based servers and rank among the top VPN choices for privacy, performance, ease of use, and excellent streaming speeds.
1. ExpressVPN – Fastest VPN on the market is great for streaming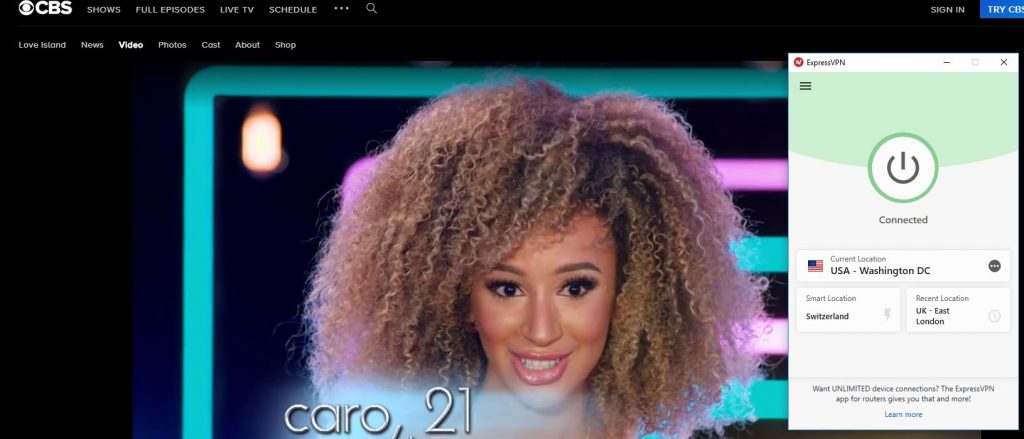 Top-rated by customers and review critics alike
3,000 + servers
User-friendly options to choose your own server location
160+ server locations
Unlimited bandwidth
30-day money back guarantee
2. NordVPN – Uses Smart Play technology for high-quality streaming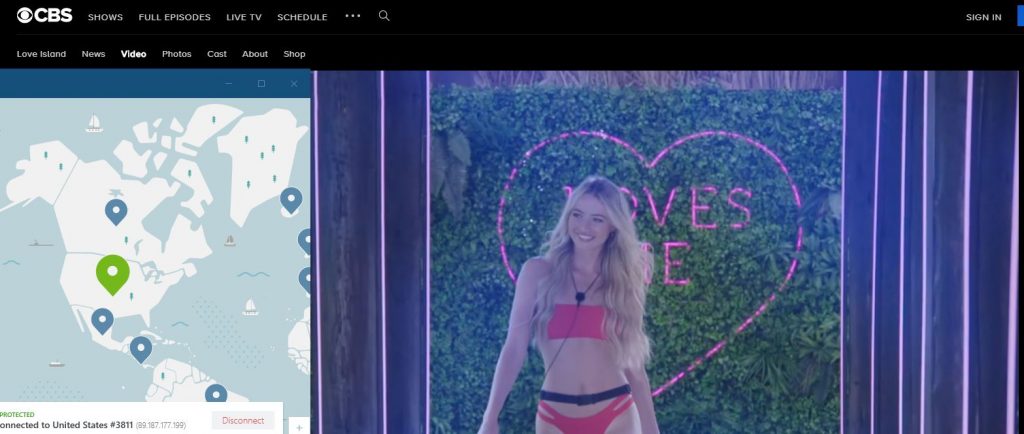 Unblocks U.S. streaming content
Military-grade security protection
Securely masks your IP address
Has a strict no-logging policy
Accepts Bitcoin, for added financial privacy
30-day money back guarantee
3. CyberGhost – Has CBS optimized servers

Easy setup experience and user-friendly interface
Doesn't keep any logs
More than 3,000 VPN servers across 60 countries
Unlimited data usage for streaming and downloads (which is great for binge-watching Love Island US).
45-day money back guarantee
Can I Use a Free VPN to Watch Love Island
As the saying goes, "you get what you pay for" and that is never truer than when dealing with a VPN.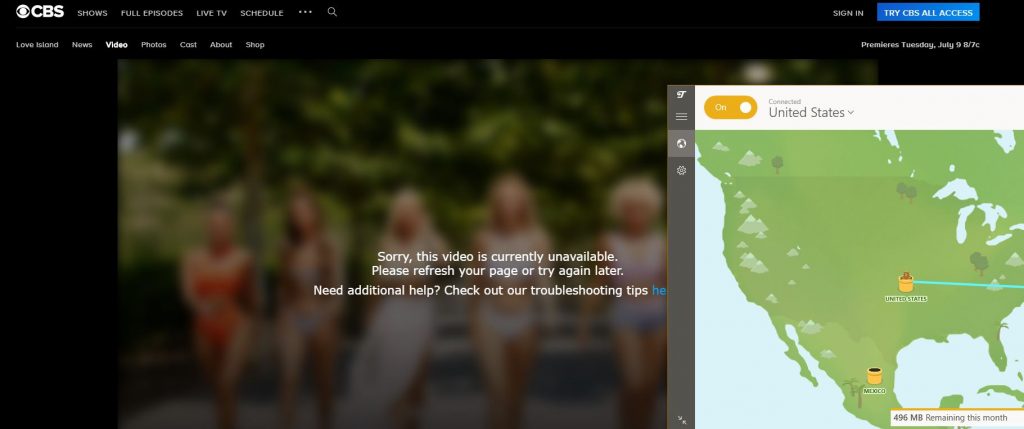 While there are times when a free VPN can be used, streaming TV shows isn't one of them for several reasons.
Free VPNs will usually be detected by the website as being a proxy IP address and will be blocked.
They have limited speeds so you'll have to suffer through buffering pauses throughout the show
They will typically limit their data, either per day or month, which means that you'll be limited when it comes to watching.
Instead, if you're looking to save a few bucks, you can find some great VPN coupons here or get a free trial with a premium VPN.
How Does a VPN Bypass Regional Blocks?
A high-quality VPN will use its secure tunneling technology to mask your IP address and keep your data away from any prying eyes. It allows you to watch American shows even if you are living (or vacationing) overseas.
Why do you need a VPN with American servers? Because the entertainment licenses for the U.S. version will geo-block the signals of any non-American IP addresses trying to watch the show.
After the amazing success that the Love Island franchise has seen in Australia and the UK, the hit reality show is now in the US as well.
You can watch all the steamy drama by visiting CBS.com and watching the full episode for free.
However, the website is restricted to users in the US, so if you want to see what's happening on Love Island US from outside the US, you will need a VPN to make it seem as if you're in the US and then you can enjoy the stream for free. It really isn't complicated, just follow the three steps below and you'll be all set.