How to Cancel ProtonVPN and Get a Refund — the Results Will Surprise You

Last Updated by K. Andreas on September 05, 2019
We tested ProtonVPN for 30-days and then put their refund policy to the test. We're happy to report that we received a full refund even though we signed up through their special deals page for the cheapest plan.
We used ProtonVPN for 30 days so we could get the full experience of its ProtonVPN features and servers and then went through the cancelation and refund process.
This guide will show you how to cancel, and the steps you'll need to go through to get your money back.
If you're looking for a replacement VPN, check out ExpressVPN for risk free for 30 days.
Quick Guide: 4 Steps to Getting a Refund From ProtonVPN
Contact ProtonVPN via the support form.
Formally request a refund.
Downgrade to the free tier.
Contact support again via email.
Complete Guide to Canceling ProtonVPN
To give you first-hand information, we first subscribed for one of the plans, and then tested how they handle their refunds.
Step 1: ProtonVPN does not currently have a live chat option, so you'll have to contact them via email to cancel your subscription, which they plainly show on your account dashboard when you log in.
Step 2: To begin the process, head to their support form on their site, and fill in the information requested.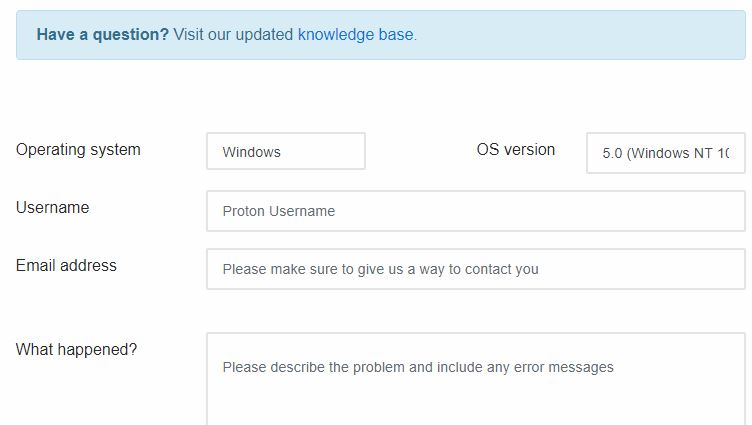 Step 3:
After submitting the form, you'll get a
confirmation email
. After a few hours, we received a follow-up email from a support team member asking for the reasons for the cancellation and asking for any suggestions.

Step 4:
You can reply in any format, and give your reasons. You'll receive a reply in a few more hours with
instructions on how to get the refund, which is to downgrade to the free tier and then notify them
after doing so.

Step 5:
After following up with the support team to inform them of the free tier downgrade,
we had our money back in the account within two days
.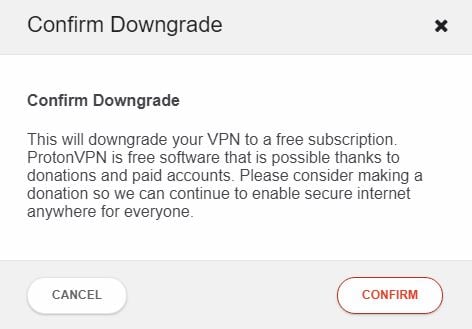 Who is eligible for the money-back guarantee?
Since this is a money-back guarantee, anyone who requests a refund and cancels the paid plan within 30 days is eligible.
ProtonVPN will understandably ask for the reasons you're canceling, but you can say you didn't like it or give them specific reasons.
Final Word
Although it would be nice to click on a button and cancel your paid plan and receive a refund at the same time, the process for getting a ProtonVPN refund is not overly complicated.
Regardless of your reason, if you ask for a refund within 30 days, and downgrade your tier, you'll get a refund.
To make the process a little quicker, we recommend downgrading to the free plan before asking for the refund with customer support. You'll likely skip a step and get your money back a little faster.
ProtonVPN is true to their word about their money-back policy, which makes their VPN genuinely risk-free.