How to Stream Wilder vs. Fury for the WBC Belt on Dec. 1st
Last Updated by Gray Williams on January 23, 2019
Boxing fans are getting amped up for the long awaited match-up of undefeated heavyweights Deontay Wilder vs Tyson Fury as they battle it out for the World Heavyweight Championship.
Showtime owns the exclusive rights to the fight and will be broadcasting it on PayPerView in the US and the UK. If you're not in the US or UK the only way to (legally and safely) stream the fight is by using a VPN. Even if you have a cable subscription to any of the broadcast partners, you will only be able to purchase and watch the fight if you are in the country. By activating your VPN you will be able to login to your cable account, purchase the PPV and enjoy the fight.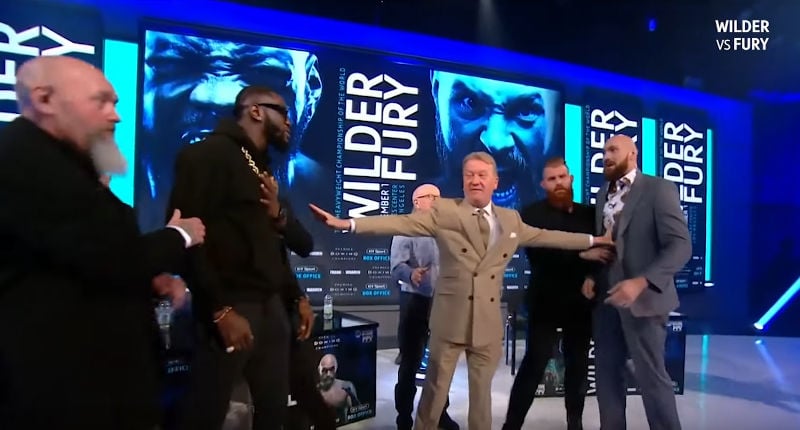 Screen shot from the pre-fight press conference
How to Watch Wilder vs. Fury on Showtime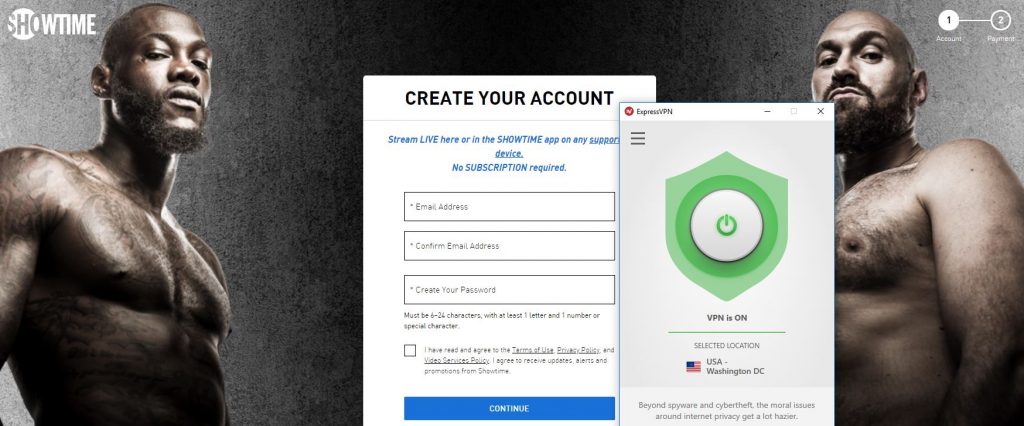 You don't need a subscription to Showtime to purchase the fight, but you will need to either be in the US or have a VPN that can bypass the Showtime geo block.
We recommend you get ExpressVPN, it's won't throttle your speeds and it will successfully bypass the Showtime geo block. (It also has 30-day money back guarantee)
Connect to a US server
Create an account on Showtime and proceed to the payment page. (You will either need a US credit card or a PayPal account for the purchase)
Tune in on December 1st at 9:00 pm (EST)
Details on Wilder vs. Fury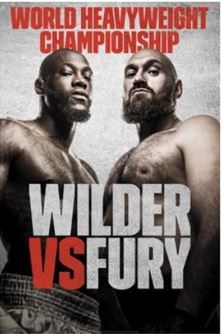 Deontay Wilder vs. Tyson Fury is scheduled for Saturday, December 1st. They will both compete for the WBC Heavyweight title and it's sure to be one of the most watched in history. The event airs from the Staples Center, a 21,000-capacity arena located in Los Angeles, CA. This main event begins around 9 pm Eastern Time.
For years, Fury and Wilder have been craving a heavyweight showdown. When negotiations fell through between Anthony Joshua and Wilder, it became the perfect opportunity for these two to meet up. The winner will probably fight Joshua Wembley in just a few months. With that in mind, there's a lot for both of these fighters to consider.
Don't underestimate Wilder; his record is 40-0 with 39 KOs. It should be interesting to see how Fury holds up to this after his extended absence from the sport. In fact, it's only the third fight since he made his comeback. We hope he is just as sharp as when he beat Wladimir Klitschko back in 2015.
Best VPNs to watch Wilder vs. Fury
Rank
Provider name
Our score
Price
Top Choice

Top Choice

Top Choice

Avoid a Free VPN to Watch Wilder vs. Fury
It seems tempting to use a free VPN when you want to watch Wilder vs. Fury. You must avoid this because most free VPNs fall short in numerous ways. They might include one of these reasons or many.
Limited bandwidth
Lack of server options
Shady business practices
Lack of transparency
Vulnerability to viruses and web attacks
Third-party ads
Data given to ISPs, government, or snoopers
Client computers used in bot attacks
Final Thoughts
No matter where you are and what your plans are, on December 1st history will be made. You owe it to yourself to plan accordingly and get your ducks in a row for seamless viewing of this fight.
Then, all that's left to do is sit back and enjoy the night of excitement.