How to Pay for Disney+ From Anywhere — Still Works in 2023!
It's not easy to pay for Disney+ if you're not in the right country. Disney checks your IP address and the country of your payment method when you sign up — and blocks your subscription if it doesn't match.
Luckily, there are still options if you're working abroad or your credit card expires when you're on vacation. A Virtual Private Network (VPN) can connect you to its global network of servers, allowing you to pay for your Disney+ account with a local IP address.
The best VPN in 2023 is ExpressVPN with 3,000+ servers in 94+ countries, on top of blazing-fast speeds. You can try ExpressVPN with Disney+ risk-free as it's backed by a 30-day money-back guarantee. If you're not satisfied, it's quick and hassle-free to get a full refund (no questions asked).
Pay for Disney+ with ExpressVPN
Quick Guide: How to Pay for Disney+ From Abroad in 2023
How to Pay for Disney+ on the Google Play Store
You can employ this approach if you possess an Android mobile device or tablet, a smart TV, or an Amazon Fire TV or Firestick. It's important to ensure your phone remains nearby, as Google occasionally employs phone verification to confirm that you and your account are located in the same country.
How to Pay for Disney+ on Apple iTunes
To pay for Disney+ on iTunes, you'll need a Mac, iPhone, iPad, or Apple TV.
Pay for Disney+ with ExpressVPN
How to Get a Virtual US Gift Card for Disney+
If you don't want to sign up through either the Google Play Store or Apple App Store, you can add funds to a virtual US card and pay for your Disney+ subscription.
How to Sign Up for Disney+ With PayPal and Revolut
Disney+ accepts PayPal as a payment method, but only if your PayPal location matches your Disney+ country. If you're setting up a new PayPal account outside of the US, you'll need to use a VPN to ensure your account is US-based and you can pay for Disney+ without issue.
Pay for Disney+ with ExpressVPN
The Best VPNs for Disney+ in 2023
Key Features:
ExpressVPN has super-fast global servers for streaming Disney+. I only experienced a small drop of 18% from my standard internet speeds — this is impressive considering some servers were 15,000km away. In all cases, my download speeds were fast enough for Ultra HD streaming with no lag, buffering, or interruptions.
As a big streaming fan, I was even more excited to find that ExpressVPN works with Netflix US, Amazon Prime Video, HBO Max, Hulu, SlingTV, YouTube TV, DAZN, BBC iPlayer, and more.
It takes less than 5 minutes to download the VPN app onto Windows, Mac, iOS, and Android devices. You can also set up MediaStreamer to reroute your internet traffic through private DNS servers in the US. MediaStreamer connections aren't encrypted, but it's useful if you want to stream Disney+ on a device that doesn't support VPNs (like game consoles). Alternatively, the router app allows you to connect every device in your household to ExpressVPN.
You can rest assured your Disney+ login credentials and other data will never be logged or stored by ExpressVPN. All internet activities are secured by military-grade encryption, a kill switch, and leak protection. ExpressVPN's privacy policy has also been independently audited, guaranteeing that none of your browsing history is ever tracked.
You can try ExpressVPN with Disney+ risk-free as it's backed by a 30-day money-back guarantee. if you're not fully satisfied you can get a refund with no questions asked. I tested the process myself and arranging a refund was easy. I contacted the 24/7 live chat and an agent handled my request in less than 5 minutes. I had my money back in just 5 days.
Key Features:
CyberGhost has a range of optimized servers specifically for streaming Disney+ in the US, Italy, and India. These servers are regularly tested by CyberGhost to ensure you get smooth connections every time.
If you want to access Disney+ in another country, you can connect to one of CyberGhost's standard servers. However, not all standard servers worked with Disney+ — for example, the Las Vegas and New York servers worked, but nowhere else in the US. You may need to connect several times to find a server that works or reach out to customer service if issues persist.
CyberGhost has a generous 45-day money-back guarantee, which is ideal if you only need a VPN for a short time. You can even try CyberGhost with Disney+ and get a full refund once you're finished. The money-back process is very simple, taking a live chat agent just a couple of minutes to arrange my request. I had the money back in my account in less than a week.
Key Features:
Private Internet Access (PIA) has an enormous network of over 35,000 servers in 84+ countries. During testing, PIA had no issues connecting to Disney+ with servers in Australia, Canada, France, India, Netherlands, Thailand, the UK, and US.
Nevertheless, I noticed an average slowdown of about 44% in my speeds. This reduction was particularly noticeable when I was linked to servers located far away. I suggest transitioning from the OpenVPN protocol to WireGuard, as it can help alleviate the loss of speed. However, please be aware that if your internet connection is already slow, you might still encounter a noteworthy decrease in performance.
You can use PIA on unlimited devices on just a single account. You can even try Private Internet Access with Disney+ at no risk to you with the 30-day money-back guarantee. If you change your mind later, it's easy to get a full refund.
Watch Disney+ with Private Internet Access
Key Features:
NordVPN is one of the best VPNs on the market — and you can get super cheap prices when you sign up for a long-term subscription. One thing to note, however, is that when it's time to renew your subscription, prices do increase quite significantly.
I was particularly impressed with the high performance of every server I tested. Just because a VPN has thousands of servers doesn't mean they all work. Servers can still struggle to unblock local sites — and some can even fail to connect completely. However, I easily unblocked Netflix, Disney+, Hulu, Amazon Prime Video, BBC iPlayer, and HBO Max on multiple servers in the US and UK.
I did, however, have issues with using NordVPN's native Fire TV app. Although it worked and unblocked some streaming services, it sometimes had issues unblocking Netflix US and kept crashing. I also found that NordVPN's user interface for desktop devices was less user-friendly than ExpressVPN and CyberGhost.
NordVPN has the following security and privacy features:
AES 256-bit encryption
kill switch that cuts your internet access if your connection to a VPN server drops suddenly
built-in ad and malware blocker, so you don't need a third-party ad blocker
fully audited no-logs policy (audited by PwC) – NordVPN doesn't store any personal or identifying data while you're connected to the VPN
In addition, NordVPN includes Threat Protection that protects you from viruses, infected websites, and trackers – and it works whenever you have the NordVPN app open, even if you're not connected to a VPN server.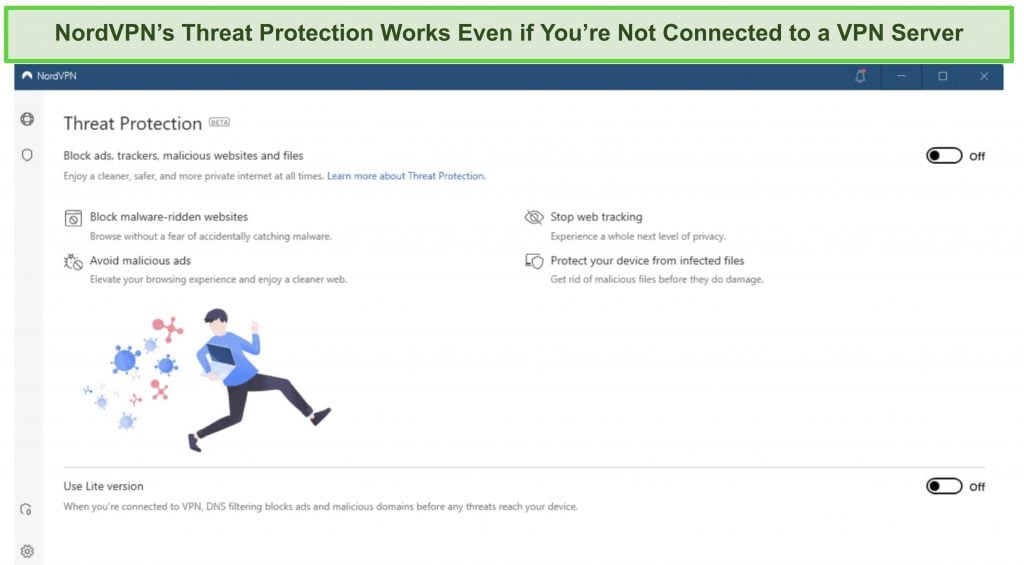 With plans that cost as little as $3.19 per month, it's easy to find a NordVPN subscription plan that suits your needs. You can also stream, torrent, and browse for free for up to 30 days with its money-back guarantee. I tested this to ensure that you'll really get your money back. At first, the support team tried to give me an extended trial period — but they initiated my refund right away after I told them I wasn't interested in the extension. I got my money back in 6 business days.
Key Features:
Surfshark offers the best value for money out of every premium VPN on the market. You can connect an unlimited number of devices with a single subscription, which means you can use Surfshark on all your devices without getting logged out.
I tested Surfshark's simultaneous connections on 2 PCs, 2 phones, a Fire Stick 4K, and an iPad. My connection remained reliable on all 6 devices. Even while I was actively streaming on all my devices, my average speed was 112 Mbps — fast enough for UHD quality.
When I saw the price of this service, I thought it couldn't possibly have top-grade security features for such a low price, but I was pleasantly surprised.
Surfshark has the following security and privacy features:
AES 256-bit encryption on all devices, with ChaCha encryption available for Android users
Wireguard VPN protocol enabled by default
diskless, RAM-only servers to protect your privacy (no data can be physically extracted from any servers)
kill switch (although this isn't enabled by default)
IP and DNS leak protection
Surfshark offers two-factor authentication (2FA) on your account. This feature requires you to enter an extra code before you can log in to ensure that only you can access your account.
While Surfshark does have slightly fewer global servers than rivals such as CyberGhost and PIA, I didn't experience any issues during my tests. I easily connected fast working servers every time, and I had excellent speeds for streaming Netflix in UHD, downloading torrents, and browsing the internet.
You can try Surfshark for yourself with the 30-day money-back guarantee. It has plans that cost as little as $2.30. Requesting a refund is easy with Surfshark's live chat feature. Although the support team asked why I wanted to cancel my subscription, I had no problem getting my money back (and it only took 4 days!).
Comparison Table: 2023's Best VPNs for Disney+ Ranked
| | | | | | |
| --- | --- | --- | --- | --- | --- |
| | Unblocks Disney+ | Speeds | Servers | Device Limit | Money-Back Guarantee |
| ExpressVPN | ✔ | Excellent | 3,000+ in 94+ countries | 8 | 30 days |
| CyberGhost | ✔ | Fast | 9,600+ in 91+ countries | 7 | 45 days |
| Private Internet Access | ✔ | Fast | 35,000+ in 84+ countries | unlimited | 30 days |
| NordVPN | ✔ | Fast | 5,700+ in 60+ countries | 6 | 30 days |
| Surfshark | ✔ | Fast | 3,200+ in 100+ countries | unlimited | 30 days |
FAQs: VPNs and Disney+
Don't Miss Out on Your Favorite Disney+ Shows
While traveling internationally, you may encounter difficulties when attempting to subscribe to Disney+ if your payment method doesn't align with your current location. However, there is a solution. By utilizing a reliable VPN service, you can conceal your IP address and conveniently subscribe to the streaming platform regardless of your location.
I tested over 50 VPNs and I found ExpressVPN is the best choice for Disney+ in 2023. Its global server network has fast speeds and unlimited bandwidth, making it ideal for binge watching shows on Disney+. You can even try ExpressVPN with Disney+ for yourself. If you're not satisfied, it's hassle-free to get a full refund within 30 days.
---
Summary — Best VPNs for Disney+ in 2023