3 Best VPNs for Chile to Avoid Government Censorship
Last Updated by John Bennet on June 22, 2022
Planning to travel to Chile? Reside in Chile?
In Chile, you'll find numerous reasons for using one of the best VPNs. While net neutrality is in place, the government isn't always treating its citizens the way they should.
Limitations in Chile
Chile has net neutrality legislation already in place, so there's technically not supposed to be any restriction on Internet content. Unfortunately, that isn't the case.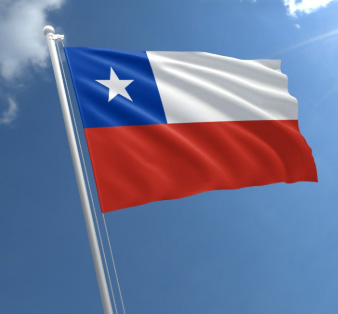 Freedom of expression is not occurring in Chile despite these laws. A blogger named Rodrigo Ferrari is facing a prison sentence for administering a parody Twitter account of the wealthy businessman, Andronico Luksic.
While they claim everything is treated with fairness in Chile, we found that to be untrue. The government is happy to share that they'll take down anything not complying with their principle or moral policies.
If net neutrality were indeed in place, there would be no such limitation on freedom of expression or speech.
We also see many people complain about the inability to access P2P and torrenting websites. On top of that, the Chilean government orders ISPs to pass along details of anyone engaging in copyright infringement.
Does this sound like net neutrality to you? If not and you wish there were a way around this, you've come to the right place.
In this article, we will educate you about 3 VPNs that will give you access to whatever it is you need access to as well as P2P and torrent sites. Not to mention the security and privacy that you need to stay under the radar of the Chile government and ISP logs.
Here are our

top 3 recommended VPNs

to use in Chile
ExpressVPN is listed as one of the popular VPNs because it tends to be the fastest. ExpressVPN is also simple to set up on multiple platforms like Linux, Android, iOS, MacOS, and Windows.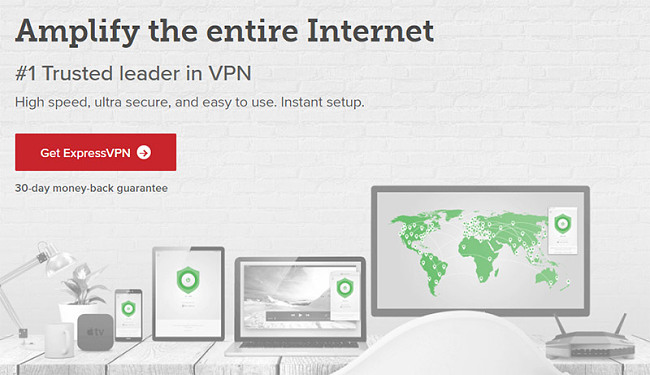 ExpressVPN has thousands of servers across the globe, including an additional nine servers located in South America with one situated in the heart of Chile.
With their dedicated P2P and BitTorrent support, you can partake in your favorite online activities without restrictions. Because ExpressVPN is based out of the British Virgin Islands, they don't have to keep any logs, so there's no reason to think your data is compromised either.
Encryption with ExpressVPN is strong, and they also support OpenVPN protocol as well. In addition, ExpressVPN users have access to unlimited bandwidth.
If you aren't sure that ExpressVPN is right for you, they do offer a 30-day money-back guarantee for peace of mind.
NordVPN is one of our favorites mainly because of the superior protection they provide. This robust VPN service is filled to the brim with features but still has a user-friendly interface.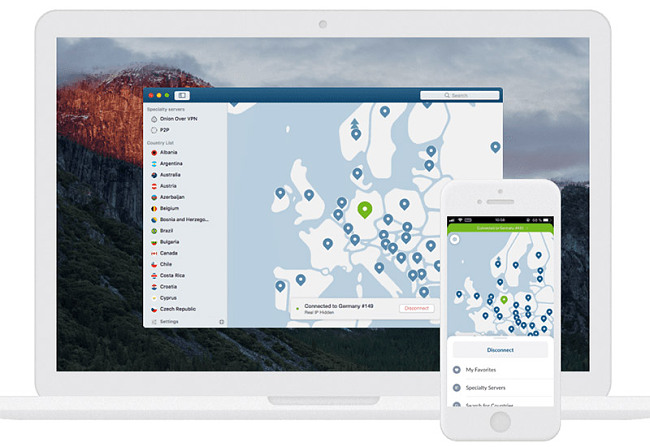 NordVPN even includes an ad block with their services, which is a nice bonus. With NordVPN, you have the power to connect up to six devices at once. This is plenty for the entire family to remain protected.
Using Netflix and other sites is simple with NordVPN's dedicated servers. In fact, they have a plethora of servers located around the world, including some in Argentina, Brazil, and Chile.
NordVPN is based out of Panama and doesn't retain any user logs. If the government ever came to them for information about you, they wouldn't have it to turn over.
Just like with ExpressVPN, you'll have a 30-day money-back guarantee, giving you the time to decide if NordVPN is right for you.
Traveling to any country, including Chile is easy to do with VyprVPN. This VPN allows you unlimited access to the Internet, free of restrictions and content blocking. VyprVPN also bypasses the country's blocks and restores your Internet freedom.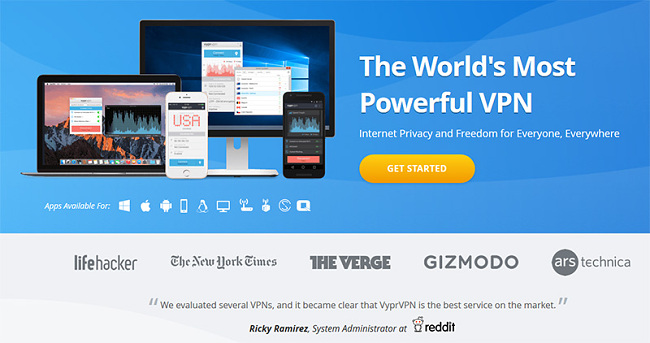 VyprVPN gives users access to more than 200,000 IP addresses on over 700+ servers worldwide. They also use 256-bit AES encryption to make all your data unreadable by data sniffers, ISPs, and hackers.
By using this VPN, it's the best way to utilize the free Wi-Fi hotspots in the country without fear of identity theft or credit card fraud.
VyprVPN is based in Switzerland where they don't have to report anyone's activities. VyprVPN offers a three-day free trial, which is usually enough to see if it will work for you.
Reasons to Get the Best VPN in Chile
If you plan a trip to Chile and want to access sites with geo-blocks, one of the best VPNs for Chile is your answer. It's crucial that you choose a VPN service that has servers in the country of the websites you wish to visit. For example, if you want to see the latest shows on Netflix, you'll want a VPN with locations in the United States, like ExpressVPN. If, however, you prefer to watch BBC Prime, then a server in the UK is best for your needs, like NordVPN for example.
Another important reason to use a VPN is to protect your privacy. Even if the online censorship doesn't affect you directly, there's still the concern over online security. Malware attacks happen every day with hacking at an all-time high these days.
By using a VPN, you're protected by a high standard of encryption. This protects your online identity and safeguards your data from snoopers.
We don't recommend doing any banking or sensitive transactions without the use of a dependable VPN service.
Some people outside of Chile want a VPN that has servers inside the country. That's because several popular sites are only accessible with a Chilean IP address. La Cultura Entretenida is an excellent resource if you want to learn more about cultural entertainment in the region before visiting. Another one travelers search for is La Ruta de Amazonía, which teaches about the Amazon trail.
Protect Yourself From Snooping in Chile With a VPN
While Chile's Internet policies look great on paper, don't be deceived. The country's cyber policies violate your freedom of speech and expression.
While the case of Ferrari made national headlines, there are bound to be many others locals scrutinized for their online activities in the country. You have the right to express yourself freely on social media and view the content you want without someone looking over your back.
Invest in one of our top 3 recommended best VPNs for Chile and maintain the privacy you deserve.