ExpressVPN vs IPVanish Tested 2022: Which Is Really the Best?
Last Updated by Meg Leach on July 01, 2022
With so many VPN providers claiming to offer the highest speeds, best server network, and strongest security, it's difficult to know which service to go for. So, I put ExpressVPN and IPVanish through rigorous tests to find out which one is the top VPN. I looked at basics like server selection and speeds, then investigated more technical aspects like security, torrenting capabilities, and advanced settings.
After extensive testing, I had to pick ExpressVPN as the winner It has faster speeds, broader streaming capabilities, stronger security, and even works in China (few providers do). However, IPVanish is still a strong choice at a significantly lower price tag than ExpressVPN. You can also try IPVanish for yourself risk-free with its 30-day money-back guarantee, but it's only valid if you get the 1-year.
ExpressVPN is one of the best VPNs on the market, which justifies its higher cost in my opinion. You don't have to take my word for it though. ExpressVPN is backed by a 30-day money-back guarantee, so it's completely risk-free. If you subscribe to ExpressVPN to see for yourself and find it doesn't fit your needs, you have 30 days to get a full refund (no questions asked).
No Time? Here's a 1-Minute Summary
Rating
9.9/10
9.0/10
Pricing
$6.67 with a 1-year
$3.33 with 1-year
Streaming
Reliably accesses Netflix, Amazon Prime Video, Hulu, Disney+, BBC iPlayer, ESPN, DAZN, and more
Only works with Netflix and Disney+
Servers
3000+ servers 94+ countries
2000+ servers in 75+ countries
Speed

Local speed test: no decrease in speed
Long-distance speed test: 37% speed decrease

Local speed test: 1% speed decrease
Long-distance speed test: 91% speed decrease

Security

AES-256-GCM encryption
Lightway, OpenVPN UDP/TCP, IPSec/IKEv2, and IPSec/L2TP protocols
DNS and IP leak protection
Kill switch
TrustedServer technology available on limited devices

AES-256-GCM encryption
OpenVPN and IKEv2 protocols
DNS and IP leak protection
Kill switch

Torrenting
Higher security and allows torrenting
Adheres to policies set by the Digital Millennium Copyright Act
China
One of the best VPNs for China
Doesn't work in China
Gaming
1.3X increase in latency compared to baseline
2.3X increase in latency compared to baseline
Device Compatibility
All major operating systems, but only allows 5 simultaneous connections
All major operating systems and allows unlimited device connections
Company Jurisdiction
British Virgin Islands (outside the 5/9/14 Eyes)
US (inside the 5/9/14 Eyes)
Privacy Policy
Independently audited no-logs policy
Internally audited no-logs policy
Payment Options
Credit cards, Paypal, Mint, and Bitcoin
Major credit cards and PayPal
Customer Support
Fast and helpful 24/7 live chat, email, and ticket support
Live chat, phone, email, and ticket support with helpful but slow responses
ExpressVPN vs IPVanish: 13 Categories of Comparison
IPVanish offers lower prices than ExpressVPN but after extensive testing, ExpressVPN beat IPVanish in 11 of 13 comparison categories.
1. Pricing — IPVanish Has Great Low-Cost Options but ExpressVPN Has a Free Trial
IPVanish wins this category because it's significantly cheaper, especially if you get a 1-year. However, ExpressVPN does come with more features. Depending on what you're looking for, its higher price might be worth it.
| | | |
| --- | --- | --- |
| | ExpressVPN | IPVanish |
| Best Deal | $6.67 on a 1-year | $3.33 on a 1-year |
| Money-Back Guarantee | 30 days on all plans | 30 days on the annual plan only |
| Free Trial | ✔ | ✘ |
Both VPNs offer generous no-questions-asked money-back guarantees, but you should know that IPVanish's money-back guarantee is only applicable if you buy a 1-year subscription. The best deal is IPVanish's 1-year, which you can get for just $3.33. However, ExpressVPN offers a 7-day free trial for Android. While IPVanish used to have the same offer for iOS users, it now doesn't offer a free trial at all.
IPVanish's low cost makes it a good budget option — it costs a lot less than ExpressVPN on a monthly plan. However, ExpressVPN is still a great value for all the powerful features it offers. Plus, ExpressVPN has a free trial for Android and a more flexible guarantee policy, which gives us a tie for the pricing category. You don't need to take my word for it though — you can try all of ExpressVPN's features now and decide for yourself if it's as good a value as I say. If you disagree and aren't satisfied, you can get a refund within 30 days.
2. Streaming — Only ExpressVPN Works With All Major Services
I tested how well ExpressVPN and IPVanish work with popular streaming sites and found that ExpressVPN unblocks a much wider variety of services than IPVanish.
Both VPNs were able to access Netflix libraries in the US, Canada, Japan, and the UK. However, ExpressVPN also successfully accessed several other streaming services that IPVanish couldn't like Hulu, HBO Max, and BBC iPlayer. Its whole network uses obfuscation (which hides that they are VPN servers), and is optimized for streaming. That's why it was able to unblock every premium service I tried to watch TV, movies, and sports.
While IPVanish has a "scramble traffic" option that allegedly gets past filters by hiding the fact that you're using a VPN, it didn't seem to do anything when I tried to use it. I found that I had less success with IPVanish, as I could only watch Netflix in a few countries and Disney+ US with it.
| | | |
| --- | --- | --- |
| | ExpressVPN | IPVanish |
| Netflix | US, Canada, UK, Asia, Europe, Oceania, Latin America, Middle East, Africa | US, Canada, UK, Germany |
| Hulu | US | ✘ |
| Amazon Prime Video | US, Canada, UK, Asia, Europe, Oceania, Latin America, Middle East, Africa | ✘ |
| Disney+ | US, Canada, UK, Asia, Europe, Oceania, Latin America, Middle East, Africa | US |
| HBO Max | US, Canada, UK, Asia, Europe, Oceania, Latin America | ✘ |
| BBC iPlayer | ✔ | ✘ |
| Paramount+ | US, Canada, Latin America, Europe, Oceania, Middle East | ✘ |
| Peacock | ✔ | ✘ |
| SlingTV | ✔ | ✘ |
| Philo | ✔ | ✘ |
| Kodi | ✔ | ✔ |
Both streaming services provided speeds fast enough for watching my favorite programs in HD. That means that this category's winner is based purely on how many streaming services each VPN worked with. Since ExpressVPN accessed all of the major streaming services I tested, it wins this category.
ExpressVPN also has a MediaStreamer feature that lets you unblock streaming sites without using the VPN app. This could be helpful if you have a device that doesn't support ExpressVPN, or if downloading new apps is blocked on your network.
While other VPN review sites make it sound like MediaStreamer is a feature within ExpressVPN's app, it actually involves getting server details from your ExpressVPN account and entering them into your device's network settings. MediaStreamer is slightly technical and you're unlikely to ever need it, but the feature is a nice one to have in case you have a streaming emergency and can't use ExpressVPN directly.
Stream lag-free with ExpressVPN
3. Servers — ExpressVPN Has a Larger Global Network
ExpressVPN is the winner of this category as it has almost twice as many servers and locations.
| | | |
| --- | --- | --- |
| | ExpressVPN | IPVanish |
| Server Number | 3000+ servers | 2000+ servers |
| Server Countries | 94+ countries+ countries | 75+ countries |
| Countries in the Americas | 16 | 9 |
| Countries in Europe | 47 | 32 |
| Countries in Asia/Pacific | 27 | 9 |
While both VPNs have servers in the US and Europe, ExpressVPN has servers in over 20 different US cities, while IPVanish has about 20% fewer. More servers in a given country or location increase your ability to be able to find a local server. It also minimizes the chance of server overload, so you'll get faster connection speeds.
ExpressVPN is excellent at working in heavily censored countries like China, Saudi Arabia, and Russia. Meanwhile, IPVanish admits its service is blocked in many of those regions and cannot guarantee it will work.
Connect to global servers with ExpressVPN
4. Speed — ExpressVPN Is One of the Fastest VPNs on the Market
ExpressVPN wins this category as it has consistent speeds on both local and distant servers. Its Lightway VPN protocol is optimized for fast performance — even faster than OpenVPN (which IPVanish defaults to). While IPVanish offers the faster WireGuard protocol as part of its Beta Program, this version of the app may experience glitches since it's still being tested.
You should know that several factors can impact speed such as server traffic and distance from the server you connect to, so you might not get the same results as I did.
Local Speed Test Results
I found that there was no loss of speed when connected to either ExpressVPN or IPVanish's local servers. I only experienced a drop in download speeds of 3% (my base internet speed is 180Mbps) with both VPNs, which really impressed me.

Long-Distance Speed Test Results
I was a little disappointed that ExpressVPN decreased my download speeds by 37% when connected to a remote server in Australia. However, IPVanish suffered a lot more with a 91% loss of speed.

Mobile Speed Tests
When I tested ExpressVPN and IPVanish's mobile apps, I got slower speeds with both VPNs. ExpressVPN only gave me 21Mbps, while IPVanish returned speeds of almost 28Mbps. That means if you're an Android or iOS user, you may get slightly faster speeds with IPVanish. On desktops, however, ExpressVPN was a whole lot faster.
IPVanish's speeds on distant servers weren't enough for HD streaming. I recommend you try ExpressVPN to access local content while abroad if it's important to you.
5. Security — ExpressVPN Keeps You Safe With Stronger Protection Features
ExpressVPN and IPVanish have very similar security features. Both offer the encryption standard expected from top-rated premium VPNs. However, ExpressVPN has stronger protocols and RAM-only servers, which helps it provide better security for its customers.
ExpressVPN
IPVanish
Encryption
AES 256-bit encryption
AES 256-bit encryption
VPN Protocols
Lightway, OpenVPN UDP/TCP, IPSec/IKEv2, and IPSec/L2TP
OpenVPN UDP/TCP, IKEv2
No-Logs Policy

✔

(externally audited)

✔

(internally audited)
Kill Switch
Available on Windows, macOS, Android ( 7.4+), Linux, and routers.
Available on Windows, macOS, and Android
Leak Protection

✔

✔

RAM-Only Servers

✔

✔
Encryption Standard
Both ExpressVPN and IPVanish have military-grade AES 256-bit encryption. This means you're getting the best protection available and your information is safe with either VPN. However, ExpressVPN's encryption is more advanced — it uses 4,096-bit RSA keys compared to IPVanish's 2,048-bit RSA.
ExpressVPN also has cipher block chaining to hide the fact that you're connected to a VPN server. This is a more powerful technology for getting past VPN filters than IPVanish's standard OpenVPN obfuscation. With cipher block chaining, ExpressVPN can even work securely in countries with internet firewalls (like China and the UAE).
Encryption Protocol
ExpressVPN and IPVanish both use OpenVPN, UDP/TCP, and IKEv2 protocols. All of these protocols are perfect for banking, surfing the web, and gaming, so it's a good sign that both VPNs offer these.
ExpressVPN also offers the Lightway protocol, which works better with fluctuating connections. It delivers faster speeds and stronger security than OpenVPN or IKEv2. IPVanish doesn't have an equivalent protocol yet.
Kill Switch
Both providers' desktop apps have a kill switch to shut off your internet if the VPN connection is unexpectedly lost, protecting your data and keeping you anonymous. They also both have the option of maintaining access to devices on your local network even if the kill switch is activated. For example, you could still use a local printer or access files on a local server, but you won't be able to use your web browser until you reconnect the VPN.
On Android, you can activate a kill switch for either VPN by changing your Android's network settings. However, IPVanish has no notification when the kill switch activates, which would have been useful. By contrast, ExpressVPN always notifies you with a message and sound as soon as your kill switch is set off.
Leak Protection
If you rely on a VPN to get around government censorship policies, you need to make sure your data doesn't leak. Both ExpressVPN and IPVanish have excellent DNS leak protection that keeps your information hidden.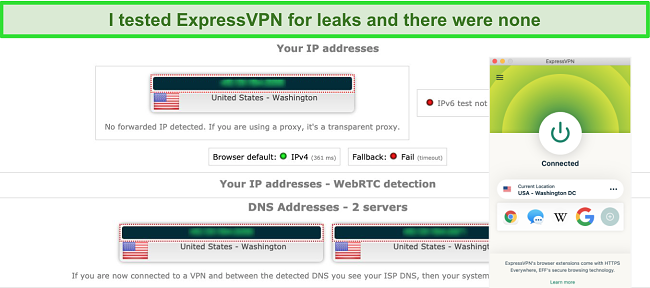 My location stayed hidden while using both ExpressVPN and IPVanish, and I ran multiple leak tests for both services to ensure that my data was secure at all times.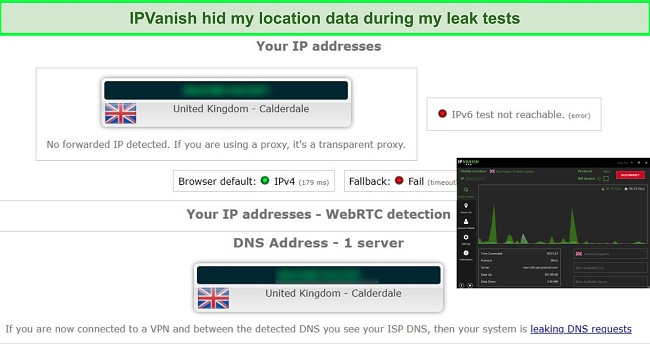 RAM-Only Servers
All of ExpressVPN's servers are RAM-only, meaning that the servers don't store data. So customer information can't be recovered even if the servers are seized. Running RAM is a key feature of ExpressVPN's TrustedServer Technology. With TrustedServer, the entire network is reinstalled fresh for every reboot. The system was audited by PriceWaterhouseCoopers, a trusted consulting firm, and their report was that ExpressVPN's servers run just as advertised.
On the other hand, IPVanish doesn't have RAM-only servers. For a company with a questionable logging history, this is a concern for me.
With additional encryption protocols and the benefit of RAM-only servers, ExpressVPN has more security features to keep your information secure.
Protect your data with ExpressVPN
6. Torrenting — ExpressVPN Has Faster Speeds and More Torrenting Support
While both ExpressVPN and IPVanish allow torrenting, ExpressVPN is the winner since it supports torrenting on all of its servers.
Torrenting Safety
ExpressVPN's security features and no-logs policy makes it a great choice for torrenting. More importantly, I like that ExpressVPN has how-to documentation about P2P on its website. It's also headquartered in the British Virgin Islands, which isn't subject to international data-sharing agreements or copyright enforcement.
On the other hand, IPVanish states in its Terms of Service that downloading any copyrighted materials can violate your contract. It's also located in the US, a country known for strict copyright laws and internet data collection.
Just remember that sharing copyrighted material (even if you own a copy) is illegal, and I don't condone breaking the law with or without a VPN. However, the fact remains that ExpressVPN is the more torrent-friendly option.
Torrenting Speed
Most VPNs that support torrenting have P2P servers which provide faster speeds for a better download experience. ExpessVPN's full server network is optimized for torrenting, which is great since you don't have to find a specific server for downloading.
IPVanish also doesn't have any dedicated P2P servers. This means you'll get the same speeds and security afforded to the whole server network. The one potential advantage of IPVanish for torrenting is its SOCKS5 proxy option. This free proxy server speeds up your torrents, but has weaker security since it doesn't encrypt your data. Still, it's a nice option to have.
Torrent safely with ExpressVPN
7. China — ExpressVPN Is One of the Best VPNs for China
China employs the most rigorous firewalls to prevent people inside the country from accessing unapproved content. VPNs are always working to try and get around these firewalls, but very few are successful.
Unfortunately, I can't recommend IPVanish for use in China. After extensive testing, I found it's not able to get around the tough firewalls the Chinese government uses. IPVanish also has support articles that say it's unlikely to work.
While traveling to countries with strict government censorship, you need a VPN that is proven to work. ExpressVPN works diligently to maintain its ability to work in China, which is why it wins this category. Bear in mind that non-government-approved VPNs are illegal in China, but there's been no record of tourists getting in trouble for using one.
8. Gaming — ExpressVPN Provides Excellent Speeds for Gaming
A VPN can hide your IP address from DDoS attacks and give you a more direct connection to gaming servers for faster gameplay. ExpressVPN provided me with faster speeds, low latency, and safety from hackers.
Gaming Speed
When you're playing with other people online, you need to have a fast connection while gaming. If you don't, you'll suffer from more lag and you're likely to be an easy target for opponents.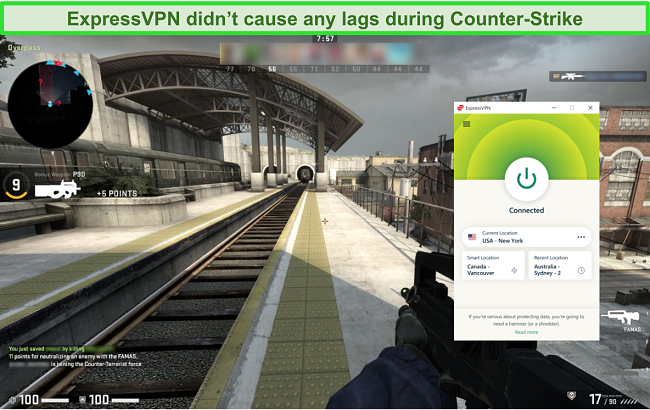 Two significant metrics that impact lag in gaming are ping and latency. While running speed tests, I paid careful attention and I found ExpressVPN had consistently low ping, especially compared to the ping I got with IPVanish.
Gaming Security
DDoS attacks (Distributed Denial of Service Attacks) are becoming commonplace in the gaming world as people get more competitive. Hackers target your IP address and overload your connection, causing lag or even crashing your server.
The best way to protect yourself against DDoS attacks is to use a VPN that hides your real IP address. Luckily, both IPVanish and ExpressVPN hide your IP address which helps prevent DDoS attacks.
ExpressVPN and IPVanish both support routers, which can help protect your video game consoles. By connecting your router to your ExpressVPN or IPVanish account, you can protect a Playstation, Xbox, and Nintendo Switch.
For gaming, ExpressVPN is the superior VPN with its fast speeds and low ping.
9. Device Compatibility and App Differences — ExpressVPN Works on the Most Popular Devices
ExpressVPN has native apps for a variety of operating systems, connected devices, and routers. IPVanish doesn't support as many devices, but it does have unlimited device connections. This lets you use it on all your devices at once, plus share your account with friends or family.
Device Compatibility
Both ExpressVPN and IPVanish offer native apps for Windows, macOS, Linux, Android, iOS, and more. However, ExpressVPN supports game consoles like Nintendo Switch, PS4, Xbox One, and Samsung Smart TVs as well.
IPVanish allows unlimited device connections, while ExpressVPN only allows up to 5. However, you can connect ExpressVPN to your router to protect all the devices on your network.
App Differences Between Operating Systems
ExpressVPN works on Windows 7, 8, and 10, making it one of the best VPNs for Windows. It also works on other popular operating systems, like macOS, iOS, and Android.
I found ExpressVPN's interface minimalistic and easy to learn, which makes it ideal for beginners. The interface is similar across all the platforms, so you don't have to learn how to use a new app each time you connect.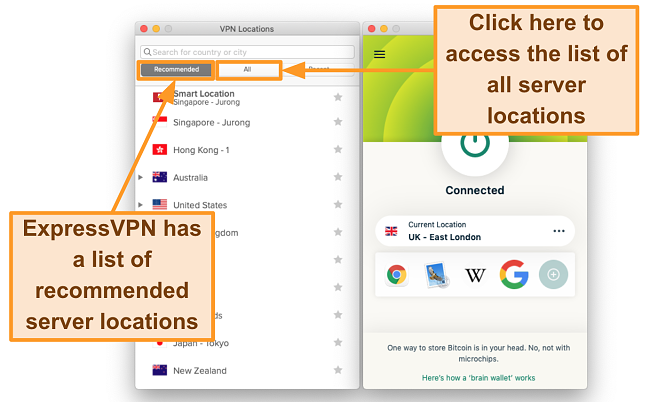 I found IPVanish's interface less user-friendly and more overwhelming, even though I have a background in cybersecurity. Its desktop client is cluttered and shows information that may not be relevant to every user (like time connected or data usage). It also shows all of the server options right on the front panel, which adds clutter to the interface. By contrast, ExpressVPN's desktop apps have more advanced features, such as a split tunnel to exempt certain apps or websites from the VPN.
Fortunately, I found IPVanish's Android and iOS apps more streamlined and intuitive because they have options separated on different pages (such as the server list in another tab, rather than on the main page). I preferred this layout over having everything on the main screen, which can be overwhelming. Both VPN's mobile apps include an array of options in the settings menu like starting the VPN on device startup, a selection of protocols, and other options.
This category ends in a tie because each provider has such strong selling points. ExpressVPN has more widespread device compatibility, more user-friendly apps, and split tunneling in its desktop and iOS versions. However, IPVanish has unlimited device connections (which is a huge benefit) and offers split tunneling on Android (but not on other devices).
10. Company Jurisdiction — ExpressVPN Can Keep Your Information Private
ExpressVPN wins this category as it's based outside of the 5/9/14 Eyes alliances.
| | | |
| --- | --- | --- |
| | ExpressVN | IPVanish |
| Company Headquarters | The British Virgin Islands | US |
| Inside the 5/9/14 Eyes | Inside the 5/9/14 Eyes | ✔ |
| Warrant Canary | ✘ | ✘ |
The 5, 9, and 14 Eyes intelligence alliances are groups of countries that share digital information. The United States is part of the 5 Eyes alliance, which makes it generally unpopular for VPNs. This is a red flag, given that IPVanish is based in Los Angeles, California.
That means that if the US government or local law enforcement puts pressure on IPVanish to share its information, it's obligated to do so. This is concerning, as IPVanish has a history of sharing user information with the government to aid in criminal investigations.
One thing I'm disappointed with is that neither VPN has a warrant canary available on their websites. Warrant canaries inform users whether a service provider has been served with a government subpoena despite being prohibited from revealing the subpoena exists. In other words, if a warrant canary is posted on the site, users can assume no subpoena has been issued. While I'd like to see ExpressVPN and IPVanish adopt warrant canaries, I'm still reassured that no identifiable user data would be revealed if either service was issued a subpoena given their no-logs policies.
While I still trust IPVanish due to its extensive security features, I have to give ExpressVPN the edge because it falls outside the jurisdiction of the 5, 9, and 14 Eyes intelligence agreements.
Stay anonymous with ExpressVPN
11. Privacy Policy — ExpressVPN Is Certifiably No-Logs
ExpressVPN has a solid no-logs policy that has been independently verified by a rigorous third-party audit in 2020. IPVanish claims to be no-logs but has actually handed over customer data to government agencies.
Logging Policies
ExpressVPN and IPVanish both claim to have zero-log policies, meaning they don't even collect connection logs, which many companies use for service maintenance. However, in 2016 IPVanish cooperated in an investigation with the US government and shared customer information for use in a court case. At the time, IPVanish was owned by Highwinds Network Group. The new owners of IPVanish have publicly stated that it's now 100% no-logs.
Unfortunately, IPVanish has yet to prove this claim with a privacy audit.
ExpressVPN has participated in a PwC audit, which made sure the service was truly no-logs. The results of the audit came back overwhelmingly positive. In addition, Turkish authorities demanded logging information from ExpressVPN for an investigation. ExpressVPN refused, and the authorities seized the server but got no customer data thanks to this logging policy and its RAM-only servers.
Keep your device secure with ExpressVPN
12. Payment and Refunds — ExpressVPN Accepts More Payment Methods
ExpressVPN is the winner of this category as it accepts any anonymous payment method, including Bitcoin. Even better, ExpressVPN's money-back guarantee covers all of its subscription plans, while IPVanish only gives refunds for its 1-year subscription.
Payment Methods
| | | |
| --- | --- | --- |
| | ExpressVPN | IPVanish |
| Credit or Debit Cards | ✔ | ✔ |
| PayPal | ✔ | ✔ |
| Bitcoin | ✔ | ✘ |
| Mint | ✔ | ✘ |
| Other Payment Methods | Diners Club, JCB, Alipay, Union Pay, and many more | Diners Club and JCB |
ExpressVPN and IPVanish both accept major credit cards, Paypal, and a few other popular payment methods. However, ExpressVPN accepts Bitcoin, which is a truly anonymous payment method that keeps your identity a secret from your VPN.
One small plus to IPVanish is that it offers SugarSync, a cloud storage solution with 500GB of storage space. However, you have to pay an additional fee to add cloud storage to your IPVanish subscription. It's a small price increase, so if you need cloud storage anyway it's a great option.
Money-Back Guarantees
Both ExpressVPN and IPVanish have 30-day money-back guarantees, which lets you get a refund if you change your mind. With a fully automated method of requesting a refund, IPVanish makes getting your money back absolutely effortless. If you cancel your IPVanish account within 30 days you'll automatically get a refund for your subscription. However, its refund policy is only valid with the1-year and it doesn't offer a free trial.
To get a refund from ExpressVPN, you'll have to contact customer support. With a no-questions-asked policy, getting your money back is really easy. I contacted an agent via 24/7 live chat and asked for my refund, and they processed my request right away.
Unfortunately, IPVanish only gives refunds for its yearly membership, while ExpressVPN gives refunds for all its plans. ExpressVPN also offers you a one-week trial if you're an Android user. That makes ExpressVPN the clear victor in this category.
Try ExpressVPN risk-free today
13. Customer Service — ExpressVPN Has Quicker Support in More Channels
ExpressVPN's customer support is eager to help and responds quickly to customer service questions. While IPVanish's support AI is fast, I found I often had to wait a long time to get help from an agent.
Customer Service Speed
ExpressVPN customer support agents answered my emails in about an hour. IPVanish's AI email response was fast at 10 minutes, but questions that required a human to answer took almost a whole day. However, IPVanish's AI provided an adequate answer most of the time, which meant I didn't have to talk to a person to get support.
The 2 VPNs are evenly matched when it comes to their live chat times. Though again, IPVanish relies on an AI, and it takes a few minutes to get in contact with an actual agent.
ExpressVPN
IPVanish
Live Chat

✔

✔

Average Wait Time for Live chat
27 seconds with an agent
Immediately by AI,
2.5 minutes with an agent
Email Support

✔

✔

Average Wait Time for Email
1 hour 45 minutes
10 minutes by AI, 18 hours by an agent
Ticket Support

✔

✔

Phone Support

✘

✔

Online Knowledge Base

✔

✔

FAQ

✔

✔

Video guides

✔

✔
Customer Service Knowledgeability
Generally, I found that both customer service teams were knowledgeable. However, when I contacted an IPVanish agent, I sometimes got a less helpful answer. The agent answered my question but didn't send me any support articles to help me get things set up.
I found ExpressVPN offered a much more helpful service. The response times were faster and the emails had plenty of additional resources to help me resolve my questions.
Questions
Initial Response Time By Email
Query Resolved
Number of Emails
ExpressVPN
Does ExpressVPN have split tunneling on iOS?
1 hour 48 minutes

✔

1
What is TrustedServer technology?
1 hour 46 minutes

✔

1
IPVanish
Can I use IPVanish to Unblock Netflix
19 hours 45 minutes

✔

1
How do I install IPVanish on my Samsung Smart TV
16 hours 57 minutes

✔

1
While I appreciate using an AI to get assistance faster, I found IPVanish's agents less helpful overall. It was also strange that despite both providers having an online knowledge base, ExpressVPN has a more extensive FAQ. ExpressVPN's customer support is quick, in-depth, and knowledgeable — that's why it wins this round.
And the Winner Is…ExpressVPN
After running ExpressVPN and IPVanish through a gauntlet of tests, ExpressVPN won in 11 categories. Here is the breakdown of the winning VPN for every category:
IPVanish is a great budget option and allows an unlimited number of devices under one login. You can download IPVanish without risking your money using the 30-day money-back guarantee to test it out at no risk to you.
However, ExpressVPN is superior — in fact, it's the best VPN on the market as of July 2022. I was impressed by its faster speeds and advanced security features, all of which outperformed IPVanish. It even works with every popular streaming service (like Netflix), as well as censored countries like China and Turkey.
If you want to try ExpressVPN, it's also backed by a money-back guarantee of 30 days, so you can see first-hand why it's so good. If you're not satisfied, you can easily get a refund over 24/7 live chat from the customer support team (no questions asked).
---
Other Top VPNs in 2022