How to Live Stream Sports for Free Online (Updated 2022)
Last Updated by Julia Olech on August 01, 2022
The internet is full of free options for live streaming sports. With apps and downloads available for all of your devices, you can watch the game, tournament, or match from wherever you are! But there's a catch — sports broadcasting rights restrict live streaming to specific locations. This means depending on where you're located, you may be blocked from watching your favorite sports teams.
The best way to bypass black outs and live stream sports is to use a VPN. I've tested several services to find the most reliable options for accessing the game from anywhere and maintaining fast streaming speeds. ExpressVPN is my top choice as I was able to live stream sports in HD with close-to-zero buffering.
Below, I'll show you how to use a VPN to stream any live sports game without restrictions — no matter where you are in the world.
Watch sports anywhere with ExpressVPN
Are You Struggling to Watch Your Favorite Games?
You can live stream most major sporting events for free. However, because of the frustrating broadcasting rights I mentioned before — you need to be in a specific country to watch certain games.
When you use a VPN, you can choose from a list of servers all over the world. Once you're connected, your true location is masked. The streaming service will be tricked into thinking your location matches the VPN server you're connected to and give you access to the game!
Here's a list of all the places you can live stream sports. Remember, you'll need to use a reliable VPN to access these services from anywhere.
American Football
Athletics
Baseball
Watch baseball now with ExpressVPN!
Basketball
Cricket
Live stream cricket with ExpressVPN!
Cycling
Golf
Hockey
Stream every hockey game with CyberGhost!
Motorsports
Mountain Biking
Netball
Watch sports online with ExpressVPN
Rugby
Soccer
Tennis
Wrestling
Other
3 Easy Steps to Watch Sports Online With a VPN
Get ExpressVPN and watch sports!
Top VPNs for Streaming Live Sports
Key Features:
ExpressVPN has super-fast speeds — essential for watching live sports in HD. Thanks to fast connections across its global servers, my streams never lagged so I didn't miss a big moment during a game.
ExpressVPN servers are designed to retain high quality streams. When I tested servers in multiple locations, the connection was always reliable and consistent. I never experienced annoying buffering or lags while streaming any sports channel.
I tested the US server — my speed was 71Mbps. When I connected to the UK, my average speed was 80Mpbs. Both of these speeds are more than enough for streaming in 4K HD (the highest quality).
You can try ExpressVPN with its 30-day money-back guarantee. If you request a refund before the end of the month, you'll get a full refund no questions asked.
Watch live sports with ExpressVPN!
Key Features:
CyberGhost has optimized servers for streaming sports. You can connect to servers specifically for streaming ESPN+ (US), Eurosport (UK), Globo Sportv (Brazil), and Fox Sport (Brazil).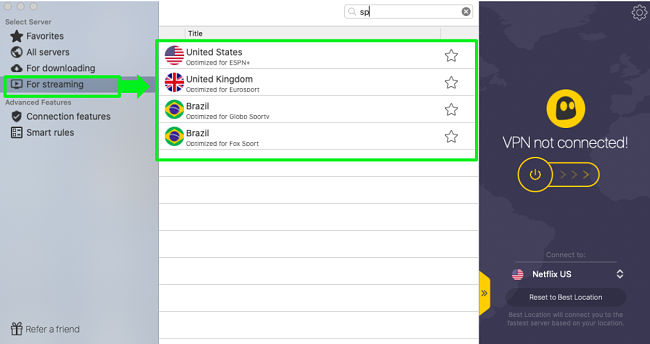 I tested the US server optimized for streaming ESPN+ — my average speed was 260Mbps! With speeds this fast, you'll be able to stream without lag or buffering on all 7 of your devices at once.
Unfortunately, my tests showed that CyberGhost isn't accessible in China, so I don't recommend it if you're living or traveling there.
CyberGhost has a generous 45-day money-back guarantee. You can stream live sports for over a month and get your money back if you aren't happy.
Enjoy live sports with CyberGhost
What Sports Can You Watch With a VPN?
Depending on your location, there's bound to be restrictions on streaming services or sporting channels. That's why a VPN is the best solution, as you can access every service. Make sure you choose a secure VPN with servers available in the countries you want to stream from.
With a VPN, the options are endless! You can watch UEFA Champion and Europa Leagues, Premier League, Bundesliga, Series A, MLS, LaLiga, FI, NBA playoffs, MotoGP, NHL, NFL, Tour de France, Giro d'Italia, UFC, La Vuelta, the ICC Cricket, tennis opens, and many more — no matter where you are. With the right VPN, you'll have access to any sporting event you can name.
Stream sports from anywhere with ExpressVPN!
Connect to Any Country and Stream Live Sports
You can use a VPN server to connect to any country you want and stream live sports like you're actually there. While there are plenty of free options available, paid streaming services offer you a wide variety of sports channels.
Sling TV offers 3 different subscription options — all of which include sports channels like ESPN, Fox Sports, TNT, NFL Network, Golf Channel, and BeIN US. With a Sling TV subscription and a VPN with reliable US servers, you'll be able to stream any of these channels regardless of your actual location.
SkySports and BT Sports offer packages that will let you choose from an extensive range of sporting streams. As they are UK-based, you'll need to connect to a UK server before you can access them.
If you want to stream European sporting events and matches, EuroSport is the best service for you. You'll need to connect to a server in any EU country to gain access.
Unlike the options I just listed, beIN Sports has a global network and broadcasts games from all over the world. Although it's based in the Middle East, this service airs all major worldwide sporting events, like the English Premier League and the Bundesliga.
Watch your favorite sports with ExpressVPN!
Stream Legally — Watch out for Copyright Risks
Even though it's legal to buy a subscription to any streaming service, depending on your country, it may not be legal to access them using a VPN. It's important that you stay within the law, or you could be fined under a copyright act.
While I don't condone the illegal use of VPNs to access copyrighted material, I believe VPNs are needed to ensure your safety and privacy while streaming. Using a VPN keeps your online activity anonymous, meaning government agencies can't track you.
Stay anonymous with ExpressVPN
Don't Miss Your Favorite Sports Games!
Whether you like to watch football, basketball, baseball or cricket — you can catch every second of every game by live streaming with a VPN. My top pick, ExpressVPN, will give you fast streaming speeds so you never miss a touchdown, goal, or slam dunk!
A VPN isn't just great for watching sports. With a quality VPN, you can stream your favorite shows and movies on Netflix, Hulu, BBC iPlayer, and more.
---
Summary: These Are The Best VPNs for Live Streaming Sports in 2022