5 Best VPNs for the US (Updated Local Servers in 2021)
Last Updated by Chase Williams on March 01, 2021
Important! If you are outside of the United States, you will not be able to access some local sites and streaming content. Many websites (such as US Netflix and local banks) are famous for strict geo-restrictions, which prevent you from viewing their content while abroad.
A VPN hides your true geographic location by giving you an American IP address. This tricks websites into thinking that you're in the US even if you're abroad.
Regardless of where you are in the world, the right VPN can help you bypass frustrating content and website restrictions. If you're an American citizen traveling overseas, a VPN can help you access your favorite US-exclusive content. Similarly, if you're in the US, it can get you access to content from around the globe. If you want to access US shows, online games, and online banking services from anywhere in the world, I highly recommend you try NordVPN's free trial.
A VPN also keeps your personal information safe. American internet surveillance laws allow your data to be monitored and/or sold to third parties. The news about mass internet surveillance really worries me — that's why I started using a VPN to protect my data at home and abroad.
To save you time researching the available options, I've tested dozens of VPNs and compiled a list of the 5 best VPNs that you can try free for a month — risk-free. Plus, I've listed 3 easy steps for you to get a US IP address in under 5 minutes.
3 Easy Steps to Get a US IP Address
Quick Guide: Best VPNs for the US
5 Best VPNs for the US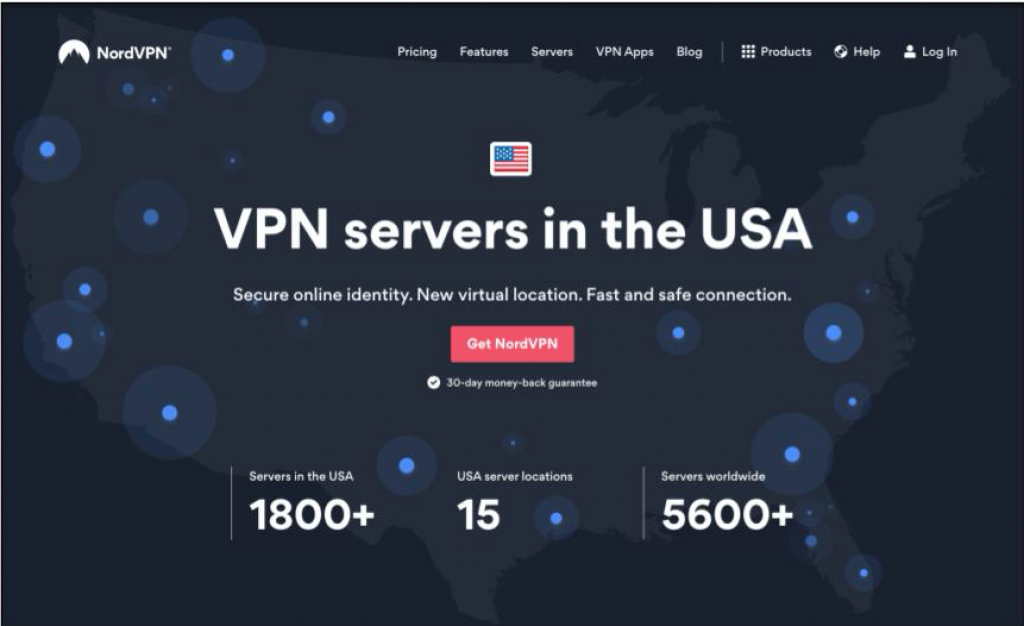 Key Features:
5,600+ servers around the world with 1,800+ servers in the US
Military-grade encryption and CyberSec software to keep your browsing secure
Strict no-logs policy and an automatic kill switch to protect your data
Secure up to 6 devices with one subscription
Dedicated P2P servers to ensure fast torrenting
NordVPN is my top choice because of its many US server options — it has around 1,000 more US servers than any other VPN on this list. With so many options, you won't have to worry about crowded servers and slow speeds.
All of NordVPN's 1,800+ US servers can get around geo-restrictions. Even US Netflix's tough geo-blocking technology is no match for NordVPN. I was able to stream a Star Wars marathon on US Netflix even though I was in the UK. Plus, I could access all the local web pages I wanted (like my online bank account) with no issues.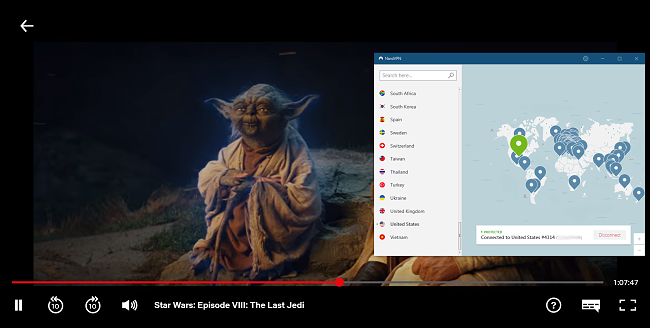 NordVPN is also one of the fastest VPNs around. During my tests, connection speeds were fast enough to video chat without interruptions. In addition, I never encountered any buffering issues or lag when streaming on Netflix or MLB. NordVPN's SmartPlay feature always connects you to the best server available — which ensures you can watch your favorite shows without buffering.
Aside from fast speeds, NordVPN uses military-grade encryption and an automatic kill switch to protect your privacy even if you get disconnected. Considering mass internet surveillance in the US and abroad, I wanted a VPN that lives up to its security promises. The idea of someone else reading my online messages and browsing history worries me, so I put NordVPN to the test.
I performed DNS leak tests with NordVPN by connecting to its different servers worldwide (I tested with its Australia, Germany, Japan, and New Zealand servers). It never revealed my real geographic location so I knew that my information was secure. NordVPN also has a strict no-logs policy to keep your data private and unique CyberSec technology that blocks harmful malware.
The only tiny drawback I experienced with NordVPN was related to its reimbursement process. For Apple devices, you have to go through the Apple Store to get your money back. However, if you buy a subscription directly from NordVPN,the purchase and refund processes are easy.
If you're not ready to commit to a subscription yet, I recommend you try NordVPN for free for 30 days using its money-back guarantee. If you cancel the service within this period, you can use one of the best VPNs available for about a month without paying a cent.
NordVPN also unblocks: Netflix, YouTube, Facebook, Twitter, WhatsApp, HBO, Hulu, Spotify, Amazon Prime, BBC iPlayer, and more.
NordVPN works on: Android, Windows, macOS, iOS, Android TV, Linux, Chrome extension, Firefox extension, and some routers.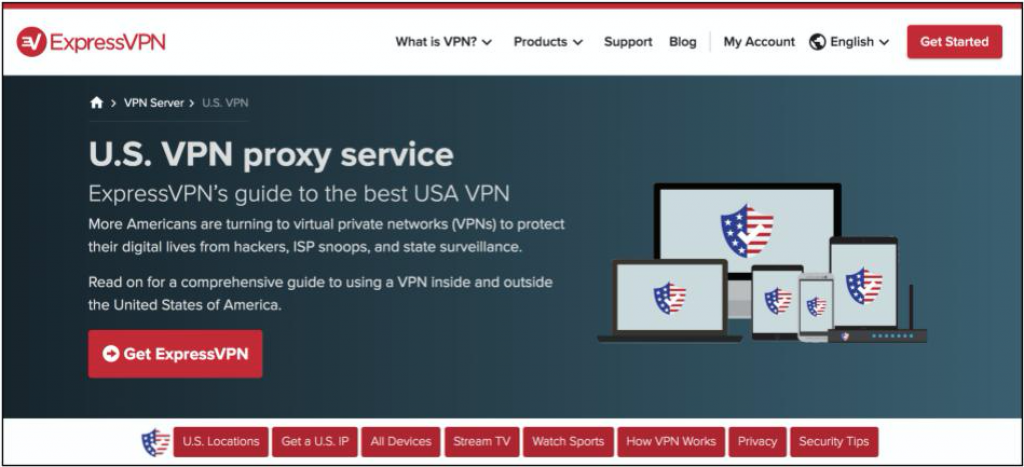 Key Features:
3,000+ servers worldwide, 25+ US servers
Top-tier encryption and TrustedServer technology to keep your data private
Zero logs policy and an automatic kill switch for security
Protects up to 5 devices at the same time
Supports torrenting
ExpressVPN has a well-deserved reputation for getting around strict geo-blocking technology. Within seconds of starting the app, I was able to use its Smart Location feature to connect to the USA Miami – 2 server and log in to my Bank of America account.
ExpressVPN is also one of the few VPNs that is able to get around geo-restrictions on multiple platforms like US Netflix, HBO, and Hulu. This means you can easily watch your favorite shows on different streaming platforms while abroad. ExpressVPN is also one of the few VPNs that can get around the Great Firewall of China — so, if you're headed to China on business or a vacation, it is one of the few VPNs that can give you access to your email or Netflix shows.
When I tested ExpressVPN, I thought that my connection might slow down when I was streaming Stranger Things since I was thousands of kilometers away in the UK — but I was wrong. It connected me to US Netflix quickly and let me watch in UltraHD with no buffering. ExpressVPN's lightning-fast speeds ensure you'll never have to wait around for slow loading times or experience annoying lag while streaming.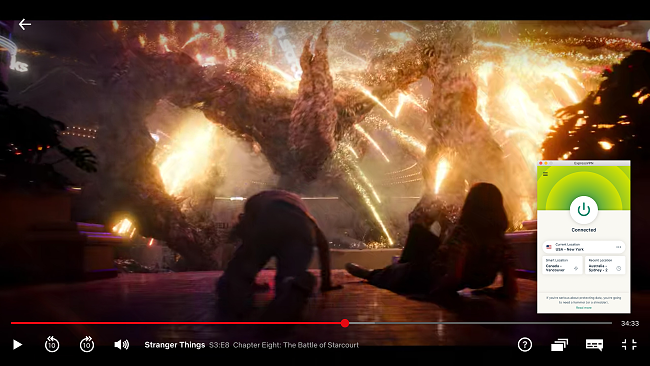 In addition to fast speeds, ExpressVPN has some of the strongest security features available. It uses the same level of encryption as the US government and has a strict no-logs policy. ExpressVPN is also the only VPN on this list that uses TrustedServer technology to wipe your data from its servers' RAM every time you disconnect. This means that third parties can't monitor you because ExpressVPN doesn't keep information about your online history. Like NordVPN, ExpressVPN has proven its privacy promises through independent security audits.
Despite its unique security and fast speeds, ExpressVPN didn't beat out NordVPN because it only has around 25 US servers available. Although I didn't have as many server options, I was still able to access all the sites and streaming platforms I wanted with fast speeds.
Don't take my word for it — the best way to know if a VPN is right for you is to test it out yourself. Try Express VPN's 30-day money-back guarantee so you can try it out for free. You can get your money returned if you don't like it by using this risk-free trial period. I put ExpressVPN's money-back policy to the test and got my refund within 5 days.
ExpressVPN also unblocks: Netflix, YouTube, Facebook, Hulu, HBO, WhatsApp, Soundcloud, Spotify, Pinterest, and more.
ExpressVPN works on: Windows, Android, macOS, iOS, Linux, some routers, Chromebook, Kindle Fire, Nook, Chrome, Firefox, games consoles, and Smart TVs.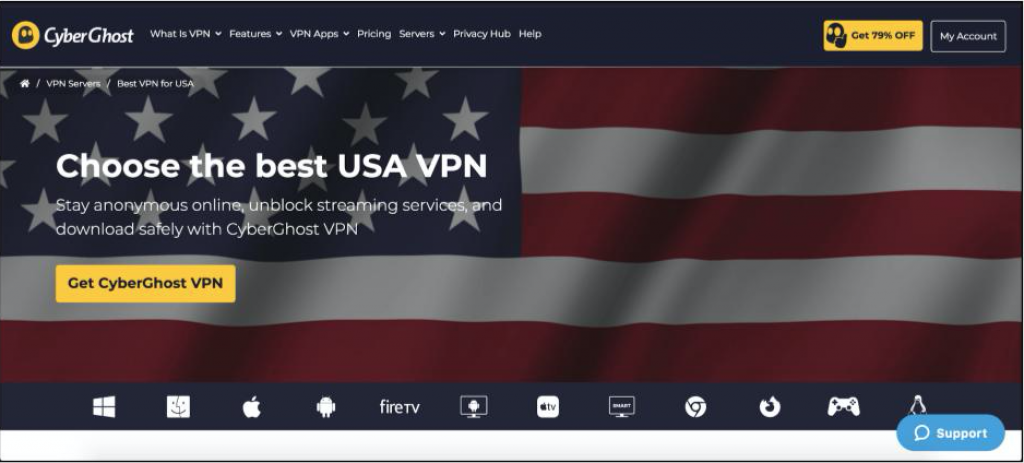 Key Features:
830+ American servers
AES-256-bit encryption to keep you safe
Does not keep logs in order to keep your information private
Protects up to 7 devices at the same time
Supports fast torrenting
Aside from hundreds of US server options, CyberGhost is the only VPN on this list that has special servers optimized for streaming. These optimized servers are located in the US and around the world. As a big fan of American movies on Netflix and UK shows on BBC iPlayer, I was very impressed that these servers (I tested the London and Chicago servers) let me stream without buffering.
To keep you safe from prying eyes, CyberGhost also offers premium security features. It uses the same level of encryption as the US military to prevent hackers, ISPs, and government surveillance spies from monitoring your online activity. CyberGhost has demonstrated that it is serious about its security promises — through numerous law enforcement investigations, it has proven that it doesn't have user logs to hand over, even when legally required to do so. This means you can be certain that no one is tracking your activity when you use CyberGhost.
CyberGhost also has built-in malware protection and adblockers to prevent interruptions like auto-play videos. I was glad that there weren't annoying advertisements popping up while I was streaming.
Since I plan to vacation there soon, I was disappointed to learn that CyberGhost does not work in Turkey. A VPN is definitely necessary to protect your privacy in this country — the Turkish government promotes intense surveillance and censorship. Its bans are so strong that VPNs like CyberGhost don't work there. According to my team's extensive testing of hundreds of VPNs, you can try NordVPN to keep you safe abroad even in countries like Turkey.
CyberGhost offers you the longest money-back guarantee of all the VPNs on this list. While most premium services offer a standard 7-day trial period or 30-day money-back guarantee, I was very impressed that CyberGhost gives you a full 45 days to try its service at no risk to you. This lets you use one of the best VPNs for accessing US content abroad for free for over a month.
CyberGhost also unblocks: Facebook, YouTube, Instagram, Wikipedia, Twitter, and more.
CyberGhost works on: Windows, macOS, Linux, iOS, Android, Chrome, Firefox, Android TV, Fire TV, and Fire Stick.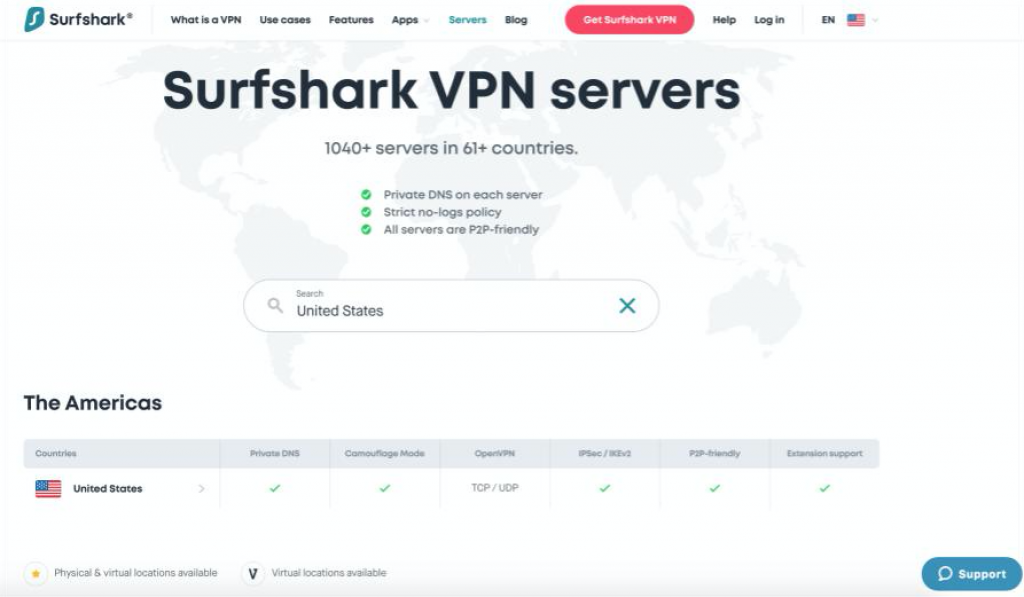 Key Features:
25+ US servers
256-bit AES encryption and CleanWeb technology keep you secure
No-log policy
Protects an unlimited number of devices with 1 subscription
Torrenting supported
Ads can really ruin your user experience. For that reason, I was excited to try Surfshark's CleanWeb feature, which protects you from pop-ups, malware, and other threats. In my tests, I found that sites with auto-play ads were blocked and pages loaded fast. Surfshark's security stops hackers, advertisers, and other spying eyes from accessing your personal information.
Aside from solid security, Surfshark's Whitelister feature lets you choose which sites or apps bypass your VPN connection. I had never seen a function like this on a VPN and wasn't sure if it would work. I was surprised that it let me stream US Netflix while checking out the news in my true UK location. Surfshark makes it easy to stay connected and protected without the need to disconnect and reconnect your VPN.
On top of these unique features, Surfshark is the only VPN on this list that offers protection for an unlimited number of devices. Considering this generous protection, I was impressed that it is also one of the most affordable premium VPNs available. Cost-effective protection like this is difficult to find.
One issue I experienced was that Surfshark's ticket and email-based customer service were slow to respond. I waited for 7 days to receive an email response. However, the live chat representative responded to me in just over 5 minutes. They also helped me connect to a US server easily. If you need help troubleshooting with Surfshark, I recommend you use the live chat option.
Surfshark offers a 30-day money-back guarantee so you can try it out for free at no risk. I tested their guarantee out and got my money refunded within 8 days so you can rest assured it works. Be aware — when I went through the refund process, customer service told me that the refund time frame for PayPal (1-2 business days) is faster than for credit cards (7-10 business days).
Surfshark also unblocks: Netflix, BBC iPlayer, Vudu, HBO, Twitter, Facebook, and more.
Surfshark works on: macOS, Windows, Linux, iOS, Android, Chrome, Firefox, Smart TVs, Xbox, and PlayStation.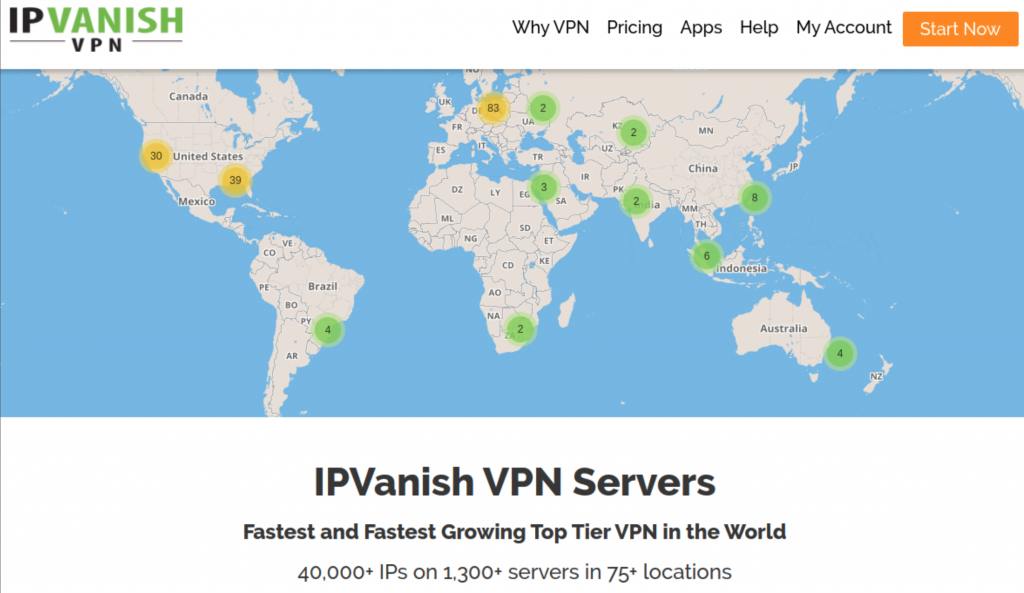 Key Features:
699+ US servers
256-bit AES encryption
No-logs policy
10 simultaneous connections
SOCKS5 proxy for torrenting
I was impressed when I found that IPVanish offers nearly 700 American servers. With so many options, I was confused as to why it's not more popular. During testing, I found out why — although IPVanish's US servers allow you to bypass many geoblocks, it doesn't let you access US Netflix while abroad. I was disappointed that I couldn't stream my favorite US Netflix shows.
If streaming from US Netflix while abroad isn't important to you, IPVanish may still be a good choice. It is able to stream from other platforms like Hulu. Although I did experience some buffering, the connection speeds were still fast enough to let me enjoy the Mission Impossible on Hulu.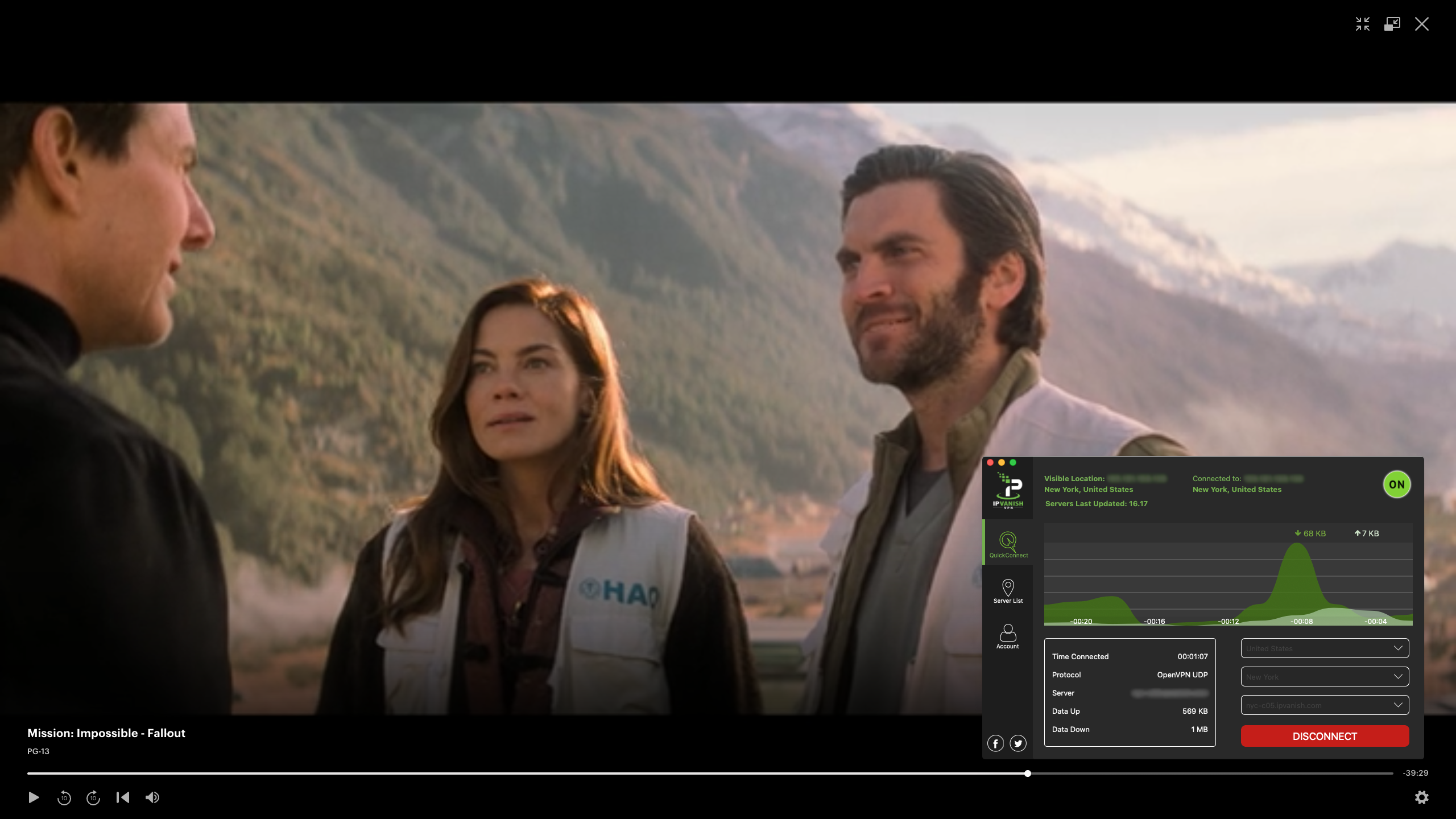 IPVanish offers many of the same industry-standard security protections as other premium VPNs. Features like top-tier encryption and a strict zero-logs policy keep your data secure. I was also impressed to learn that IPVanish owns and operates its entire network of servers — this reassured me that my data would be safe because this prevents hackers and external server owners from spying on user information.
If you want to try it, I recommend you take advantage of IPVanish's 7-day money-back guarantee. This trial period is perfect to try out its features on short trips abroad.
IPVanish also unblocks: Facebook, Skype, Twitter, Spotify, YouTube, and more.
IPVanish works on: Windows, macOS, iOS, Android, Windows phone, Linux, ChromeOS, and routers.
How to Choose the Best VPN for the US
With so many VPNs on the market to choose from, it can be hard to make a decision about which one to get. I chose the VPNs on this list according to these important criteria:
Strong encryption: The US has internet surveillance laws that allow the government to collect and store your data. Plus, hackers are a threat wherever you may be located. Make sure the VPN you select has at least AES-256-bit encryption to keep you safe.
Proven ability to bypass geo-blocks: A VPN should let you access your favorite content. If you want to stream US Netflix, remember that not all VPNs can get around its strict geoblocking. Look for a VPN that has been tested with this platform to make sure you'll be able to access US content.
Fast speeds: VPNs can slow down your connection. Make sure your VPN offers fast speeds and that it doesn't have a data cap.
Servers: Most VPNs have US servers available. However, if you intend to use your VPN for other countries, check if it has servers in those regions.
Why You Need a US IP Address
Stream US content abroad including Hulu, HBO, and Amazon Prime. Remember that the US also has exclusive access to the largest Netflix library in the world.
Check your online banking from anywhere, as many American banks have strict geo-blocks to prevent fraud.
How a VPN Gets You a US IP Address
A VPN acts like a secret, secure tunnel that connects your device to the internet. Information sent through this tunnel is hidden. That means private data like your real IP address (and thus true geographic location) can't be seen by others. This protection also prevents third parties from tracking your online activity.
When you connect to the internet with a VPN server, you're given an IP address associated with that server. For example, when you connect to a server in New York, the IP address you're given is also from New York. This makes it seem like your device is located in a different place. That's one of the ways VPNs can keep your data hidden from streaming services, government organizations, and hackers.
Since a VPN can give you an American IP address abroad, you can use it to get by geo-blocks. This gives you the ability to access streaming, online banking, and other services restricted to the US.
Try NordVPN's 30-day money-back guarantee
Can I Use a Free VPN to Get a US IP Address?
It's true that a number of free VPNs can connect you to US servers — but I wouldn't recommend them. Although some free VPNs offer decent service and security, most have serious issues in both areas. A VPN should give you greater safety and freedom on the internet, but many free VPNs do the opposite.
To begin with, the majority of free VPNs can't break through geo-restrictions to let you access your favorite content. Others have data usage caps that make it impossible to stream even if you can find the programs you want. Personally, I wouldn't want a VPN that can't let me stream while abroad — even if it is free.
Aside from this limitation, many of these services are slow. Crowded servers cause slow connection speeds which may make it hard to even connect at peak times.
Worse yet, numerous free VPN services have major security problems. Some make money by selling data about you to third parties. Other services have been involved in malware and fraud scams. A VPN should keep you safe from prying eyes — not expose you more!
To avoid these serious privacy and connection problems, I recommend you try a premium VPN like NordVPN. Services like these work well and ensure your information is safe from prying eyes.
Warning — Why You REALLY Need a VPN in the US
Warning! The extent of the NSA's internet surveillance has been revealed in recent investigations related to Edward Snowden, Facebook, and other scandals. The US government has been found to keep surveillance records on billions of domestic and international internet users.
Use a VPN even when you are within US borders to avoid having your data monitored without your permission by the US government.
Protect your privacy with NordVPN
How to Save on VPNs for the US
Getting the best security and fastest US connection speeds shouldn't have to break the bank. All of my recommended VPNs have money-back guarantees so you can try them out before you subscribe. Plus, you can check out these deals for more savings on some of the VPNs on this list.